Luxury Traveling with Paul Gauguin Cruises
By Addie Strickland | Photography courtesy of Paul Gauguin Cruises
Experiencing different cultures through travel is a luxury of its own. From the natural beauty of remote destinations to being surrounded by the whispers of centuries-old or ancient cultures, no single trip can truly be compared to another except in one area—the travel experience. Paul Gauguin Cruises is a luxury small-ship cruise line that creates highly tailored itineraries for your coveted vacation time. Inspired by the art of impressionist Paul Gauguin, the ship and its destinations directly reflect some of his French Polynesian masterpieces. The line's ship, MS Paul Gauguin, cruises through French Polynesia and the South Pacific to immerse guests in the islands' rich cultural heritage.
Find inspiration as you travel to the picturesque islands of Bora Bora, Mo'orea, Tahiti, and many other South Pacific islands. Aboard Paul Gauguin, guests will marvel at the diversity of the island landscapes and enjoy parts of the world exclusive to Paul Gauguin Cruises and its operator, luxury cruise purveyor PONANT. Created for maneuvering through the shallow waters of the South Pacific, Paul Gauguin is a boutique cruise lover's dream. Her unique design allows her to port at smaller, more remote destinations inaccessible to larger ships. One private destination includes Paul Gauguin Cruises' islet, Motu Mahana, nestled in the chain of Society Islands.
It's one thing to be surrounded by natural beauty, but understanding the culture and ways of the people there can take a travel experience to the next level. Paul Gauguin Cruises wants each adventure to be enjoyable and educational for every guest. Hence, its team works with local cultural experts to offer opportunities such as learning a traditional dance, taking a class on weaving a hei from freshly picked flowers and greenery, or getting a ukulele lesson from a local musician. This immersive approach allows guests to take home more than just pictures and supports local people and small businesses.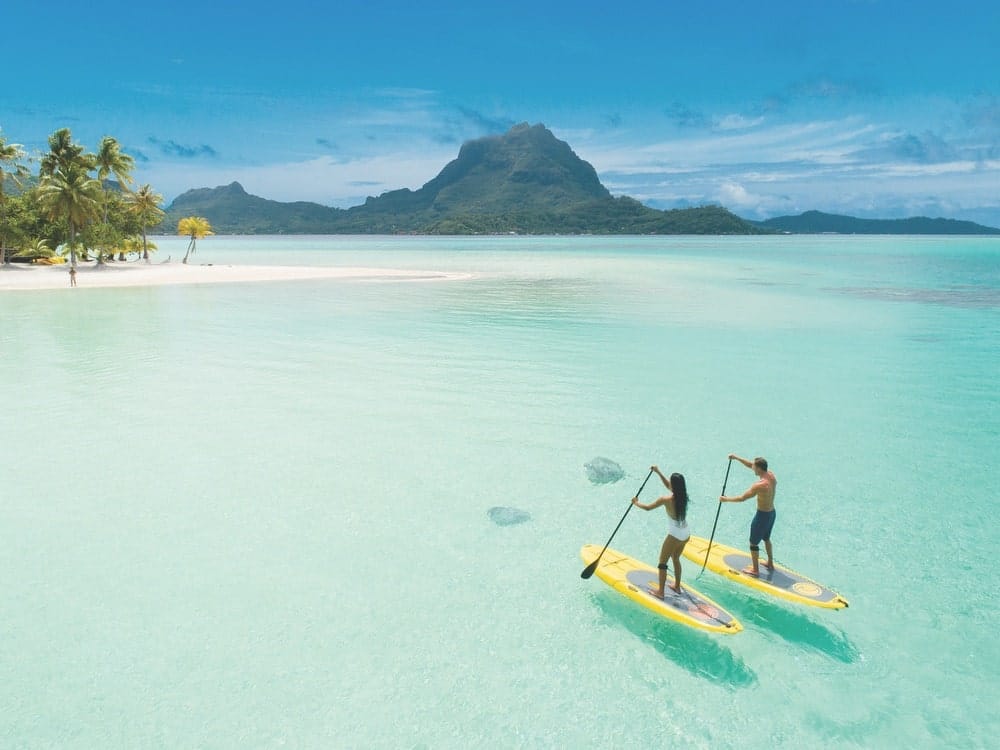 Paul Gauguin Cruises is also dedicated to protecting the environment in which its ship travels. The cruise line partners with Te mana o te moana, a South Pacific marine conservation organization, to genuinely educate passengers on how to fully and sustainably enjoy the beautiful biosphere around them. Guests can expect presentations led by marine biologists or oceanographers and outdoor excursions in which all are encouraged to participate. Knowledge is power, and the more we know about the world around us, the greater our appreciation for it will become.
Pushing the boundaries of high-end travel by incorporating environmentally sustainable ethics and intimate experiences, Paul Gauguin Cruises also stands for luxury and freedom from your worries.
As a small cruise ship, MS Paul Gauguin has 165 newly renovated staterooms and can accommodate up to 330 guests. With 209 crew members onboard, the ratio of crew to guests is one of the highest of any luxury cruise ship. The warm and friendly local islanders, Les Gaugins and Les Gaugines, work as hosts, storytellers, and entertainers to bring authentic culture onboard. The ship's interior design is also heavily influenced by the elegant Polynesian heritage of the surrounding islands to offer guests a fully immersive, educational voyage and delight all their senses. In 2024, the cruise line will also provide brand-new itineraries and maiden ports for its trips to Tahiti, French Polynesia, Fiji, and the South Pacific. It's still early enough to start planning next year's holiday!
Pushing the boundaries of high-end travel by incorporating environmentally sustainable ethics and intimate experiences, Paul Gauguin Cruises also stands for luxury and freedom from your worries. Its all-inclusive itineraries allow guests to curate the vacation of their dreams beforehand and then enjoy the peace of mind that comes with knowing every detail is already taken care of when they embark. From gourmet dining at every meal to handpicked adventurous excursions, each day is filled with exactly what you want to do. Spend your vacation time actually vacationing.
— V —
---
Visit PGCruises.com to start planning your island escape!
ARTICLE CATEGORIES