Three Hot Caribbean Destinations
By Kelsey Ogletree
A trio of island resorts boasts beauty, luxury, and relaxation—and plenty of heart and soul too. One of them might just become the escape you return to again and again.
When you return home from a vacation, what do you remember most? Sure, tropical cocktails, fresh seafood, and lounging on the beach are all fond memories. Then they fade, along with your golden tan, and you're left with only Instagram posts. These three Caribbean resorts, however, make a longer-lasting impression, thanks to the staff at each one, who not only welcome you to the property but also make you feel like family.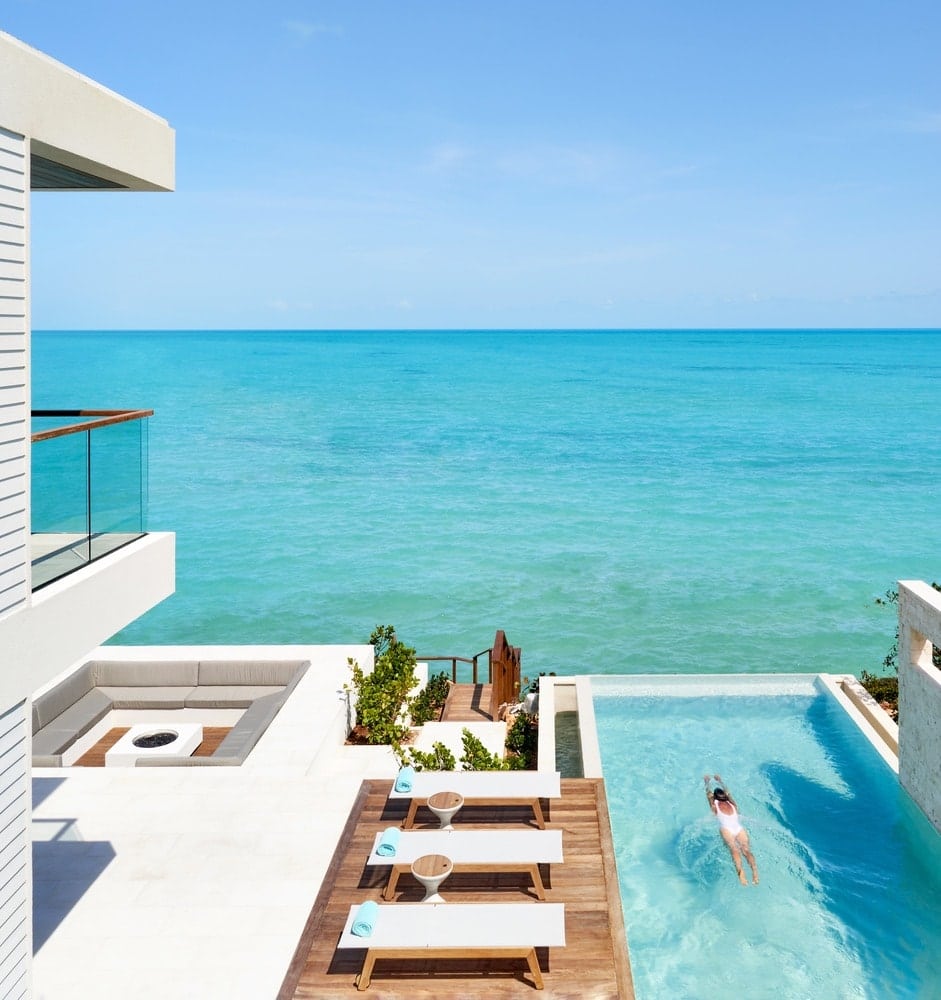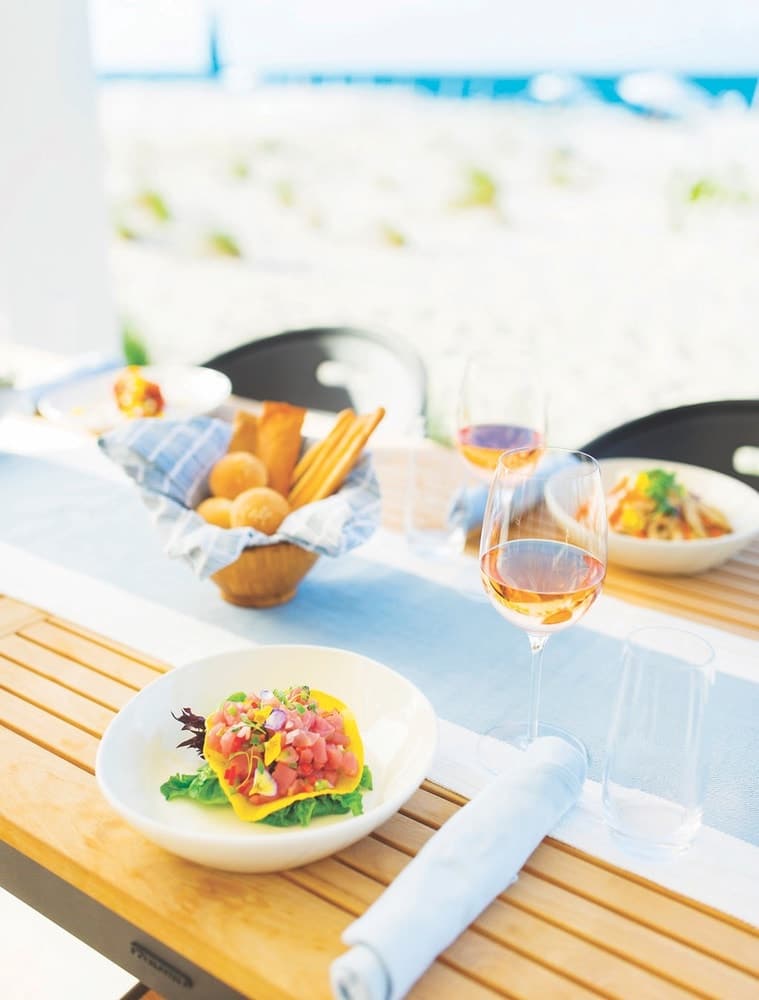 Kitties and Kin in Turks & Caicos
If you catch a morning flight from Miami, you'll likely arrive at Turks and Caicos's Wymara Resort and Villas before your room is ready. That's perfectly OK, though, as kicking back in the open-air lobby beats being at the office any day. Relax with a citrusy cocktail, complete with a fresh pineapple wedge and an extra pour of Bambarra Gold rum (made on the island), and enjoy views of the pool and Grace Bay Beach.
The condo-hotel property is only a fifteen-minute ride from Providenciales International Airport, and within the next fifteen minutes, you're likely to make a friend or two. Rolf Lippuner, a Four Seasons veteran and native of Switzerland who joined Wymara as general manager in 2019, will probably stroll by with a personal welcome. You'll know him by his cheerful demeanor and sporty red Bally shoes he calls his "speed racers." But he's not just friendly for show; it's part of assimilating with the culture of the island.
Vivek Thorave, who is originally from India and most recently worked at a resort in Seychelles, manages Wymara's food and beverage program. When you run into him on the boardwalk leading to the ocean—or on your way to Pink Bar, the beach bar specializing in rosé wines—he's happy to regale you with all kinds of stories and ensure you won't go hungry. You might also meet staff member Budlot, who rotates among the two restaurants on property but can provide stellar recommendations at Zest (try the wood-fired jamón blanco pizza). Budlot will also share a little history of Turks and Caicos—and introduce you to GiGi.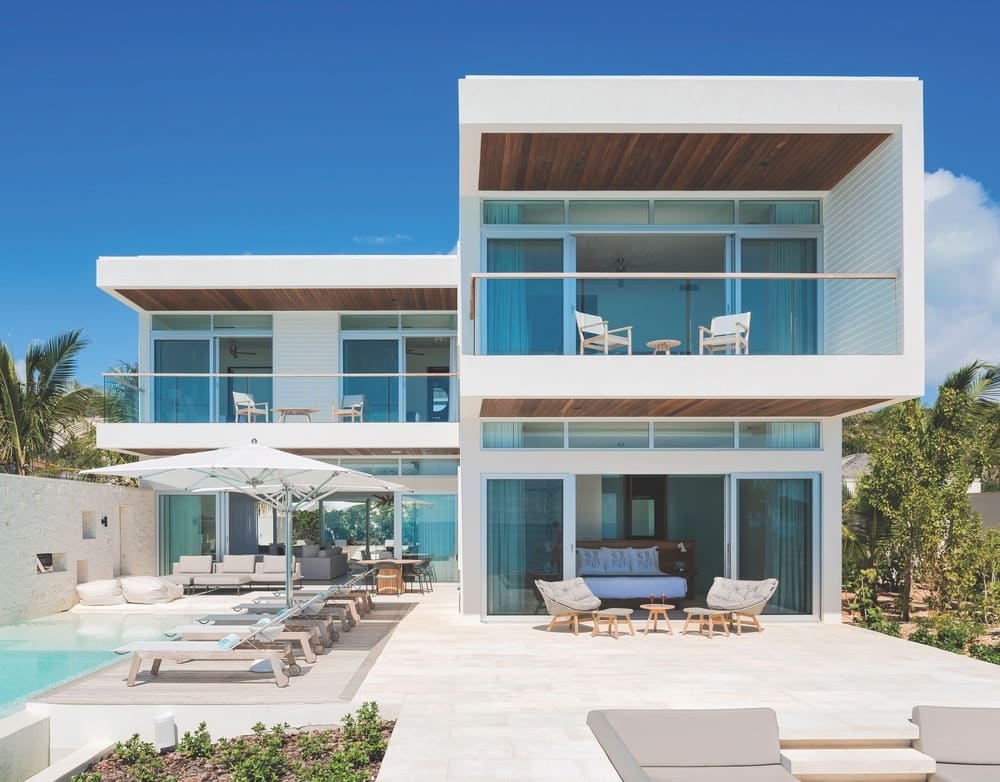 A veteran of the resort, GiGi only comes around at dinnertime—maybe he's captivated by the glorious sunsets too—hates getting sand on his feet, and is a superpicky eater (shrimp only), yet is beloved by everyone he meets. GiGi is the resident tabby cat; he was born on property ten years ago and never left.
Many guests who've been to Wymara say it's one of the only places they can truly relax. Strolling past pops of fuchsia bougainvillea and admiring the aqua-blue waters will instantly transport you to vacation mode. Upgrades to each of its ninety-one rooms and suites begin in January. But it's the people here who make Wymara feel like a destination you never want to leave.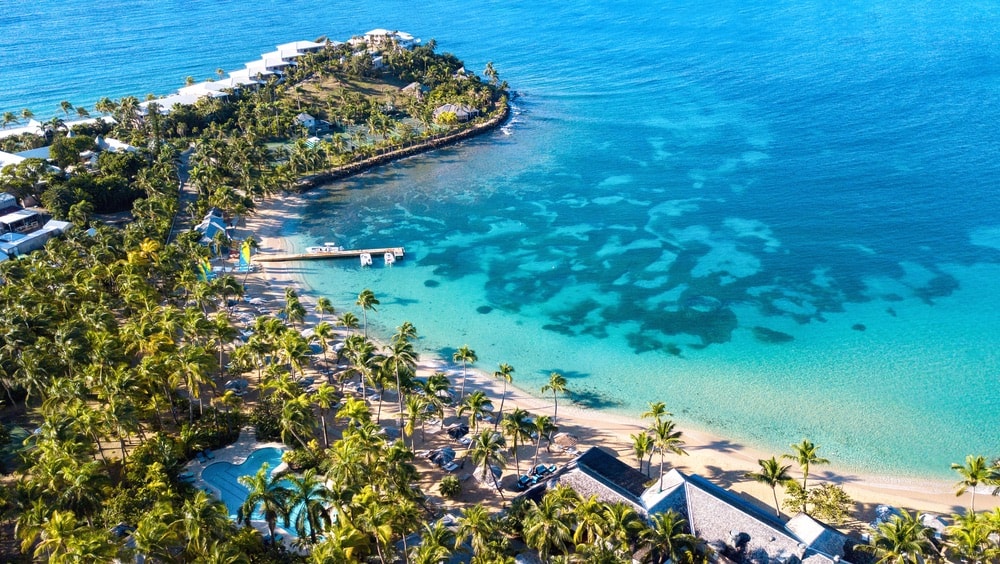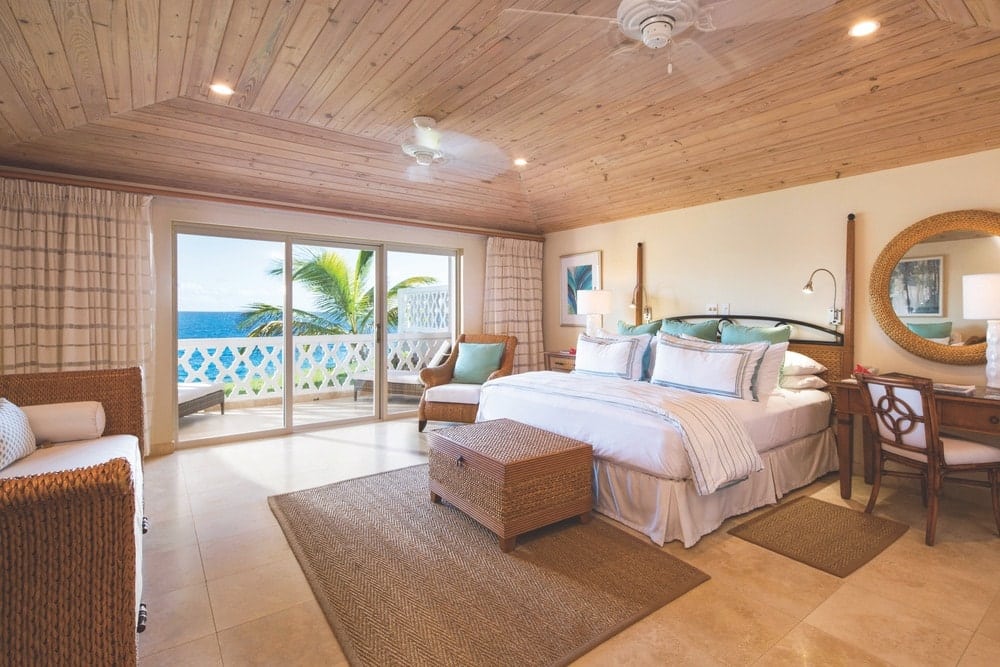 That Family Feeling in Antigua
There's a certain allure about visiting a new place when you travel, but once guests discover Curtain Bluff in Antigua, they tend to be lifelong return guests. Wendy Eardley, the resident manager at the seventy-two-room resort, was born in Antigua and grew up in Canada, then returned as a young adult. "I came back on vacation and ended up not leaving," she says. That was thirty-three years ago, and Wendy has now spent her entire working career with Curtain Bluff.
She's far from the only one to do so. Most of the staff here are lifers, having been here for twenty to thirty years or more. A former fighter pilot, the late Howard Hulford, opened the property as a twenty-two-room resort on the south coast of the island in 1962 for his family and friends. He couldn't have imagined what it would grow into today—but the charm of the original sanctuary he created remains.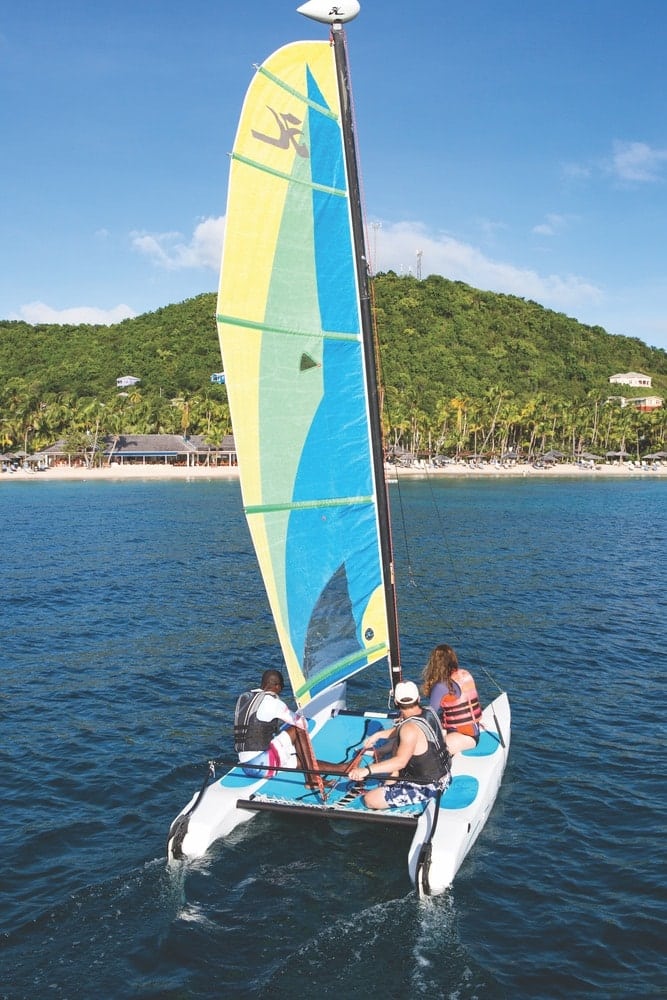 Hulford's wife, Chelle, still lives on the property in Bluff House, greeting guests like old friends. She hosts a weekly sunset cocktail reception at her home to toast returning guests, even giving out gifts (wrapped personally by Chelle) to those with significant anniversaries. (For example, ten-year return guests receive a silver tray; twenty years, a gold tray; thirty years, a crystal clock. Two fifty-year repeat guests have earned the opportunity to stay for free for life.) Rob Sherman, Curtain Bluff's managing director for the past quarter century, gives a funny speech. "You get to feel special," Wendy says. "The sun sets right into the sea in front of you. Words cannot express what it's like to actually be here."
When you are here, one big perk is that all activities are included with your stay, from snorkeling and kayaking to wakeboarding and excursions on a Hobie Cat (a small sailing catamaran). Curtain Bluff also recently became a PADI-certified resort, for adventurous guests who want to dive. Those who prefer relaxation can head to the tranquil spa, where every treatment room has views of the sea. You'll have plenty of time to figure out your itinerary once you arrive, with the help of Morris—a forty-year veteran and the most requested driver, who knows the island better than anyone—or one of the senior managers, who escort all guests to their rooms. "It's not a hotel you're coming to," says Chelle. "It's an extended home."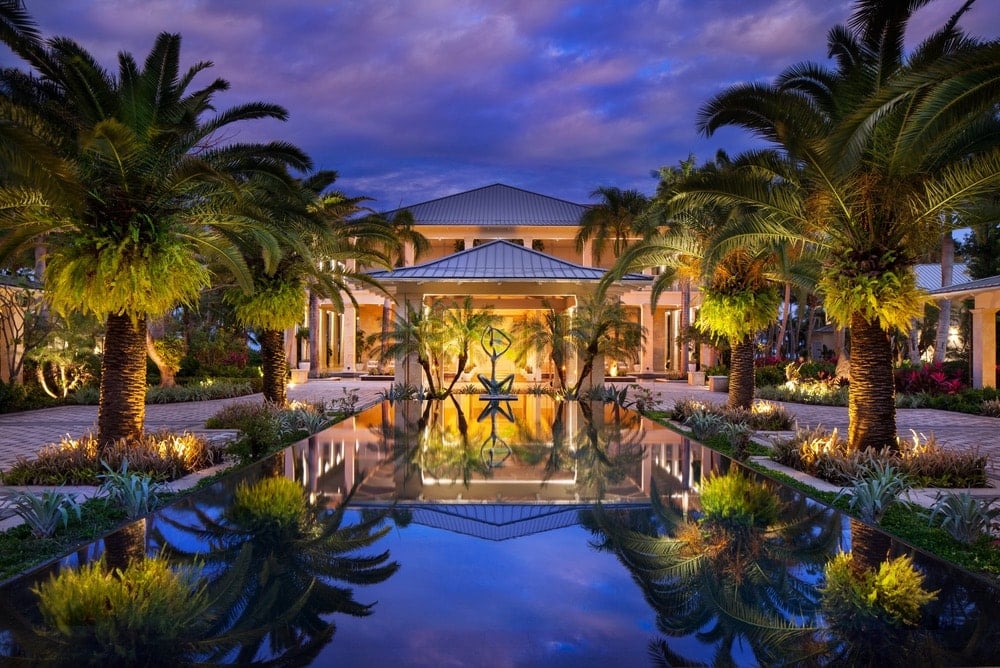 Personalized Luxury in Puerto Rico
A trip to St. Regis Bahia Beach begins before you arrive at the family-friendly, 139-room Puerto Rican resort, which reopened in December of 2018 following a top-to-bottom restoration post-Hurricane Maria. After booking, you receive a personalized email from your butler, who can assist in coordinating every detail of your visit, including transportation, logistics, and activities—and even share ideas on what to pack.
It's part of a resort-wide mentality of anticipating needs and taking hospitality to a new level, and no one does that better than Pancho. (His real name is Francisco García, but he goes by his nickname to everyone he meets.) "Pancho is one of those people whom guests are looking for throughout their whole stay," shares general manager José Torres. Blessed with a gift for storytelling, Pancho can share endless tales about the island, the environment, and wildlife on the property, which is surrounded by El Yunque National Forest.
As much as guests love him, Pancho also has many fans on the staff. On one occasion, after Pancho shared a story about mofongo, a traditional Puerto Rican dish not found on the menus at either restaurant on property, the culinary team helped him to make it to wow a guest.
Another service rock star on property, says José, is Esteban Díaz, who is a server at the pool restaurant, Seagrapes, and an extended part of the concierge team. When Esteban noticed a gentleman at the pool using a straw to hold the page in the novel he was reading, he handcrafted a bookmark out of local materials for him. The guest wrote José a thank-you note for having such a remarkable person on staff. "Esteban has a smile from cheek to cheek," says José. "There's a certain area at the pool that has more guests sitting there because they want to be near him."
Nearly everyone on staff is from Puerto Rico, so the culture of the island comes to life during your stay. With its location in a natural reserve and spanning 483 acres of private beach land, St. Regis Bahia Beach is the type of place where relaxation sets in so deep, you're able to carry a little piece of it home with you.
— V —
---
Kelsey Ogletree is a Chicago-based writer covering travel, wellness, and design for publications that include Robb Report, Shape, Architectural Digest, and more. Always on the hunt for stories and forever a notetaker, she never leaves home without her mini Moleskine and at least two pens.
ARTICLE CATEGORIES