Jewels to Last a Lifetime
By Sallie W. Boyles | Photography by Romona Robbins
On bended knee, he takes her hand and asks, "Will you marry me?" The delight in her eyes encourages him to reach into his pocket for a black velvet box. The engagement ring inside demonstrates his commitment, and judging by the way she can't wait to see it on her finger, he determines her answer is yes.
The scene reflects one of the most commonly imagined romantic proposals, but no two engagements begin the same. From private moments to momentous parties, a world of personal, religious, cultural, and familial influences shape the betrothal. Nevertheless, among countless marriage rituals, the rings are universally symbolic.
The idea of exchanging rings to signify the eternal bond between a man and woman dates back (at least) to ancient Egypt. Believing that the physical heart and spiritual soul were connected, and that the ring finger on the left hand had a vein that went directly to the heart, the Egyptians wore bands made of braided hemp and reeds on the same finger modern brides and grooms reserve for their wedding rings. In contrast, an ancient Roman groom of the elite class would present an iron wedding band to his bride, but this was more likely to denote his possession of her rather than his devotion.
People have used several types of wedding rings since then. The puzzle ring, also originating centuries ago in the Middle East, ensured a wife's fidelity to her husband by requiring her to keep it on her finger. Comprised of several interlocking bands to form an intricate knotted pattern, the complicated ring, if removed, became nearly impossible to reconstruct. Fashioned similarly to the puzzle ring, the gimmal ring, widely used in Europe during the sixteenth and seventeenth centuries, contained two interlocking bands. Until the couple married, the man and woman each wore a piece, but both rings were joined at the wedding for the bride to wear from that time on. The poesy ring, also from the Renaissance period, was made of sterling silver and inscribed with a love poem (or poesy) or other loving words.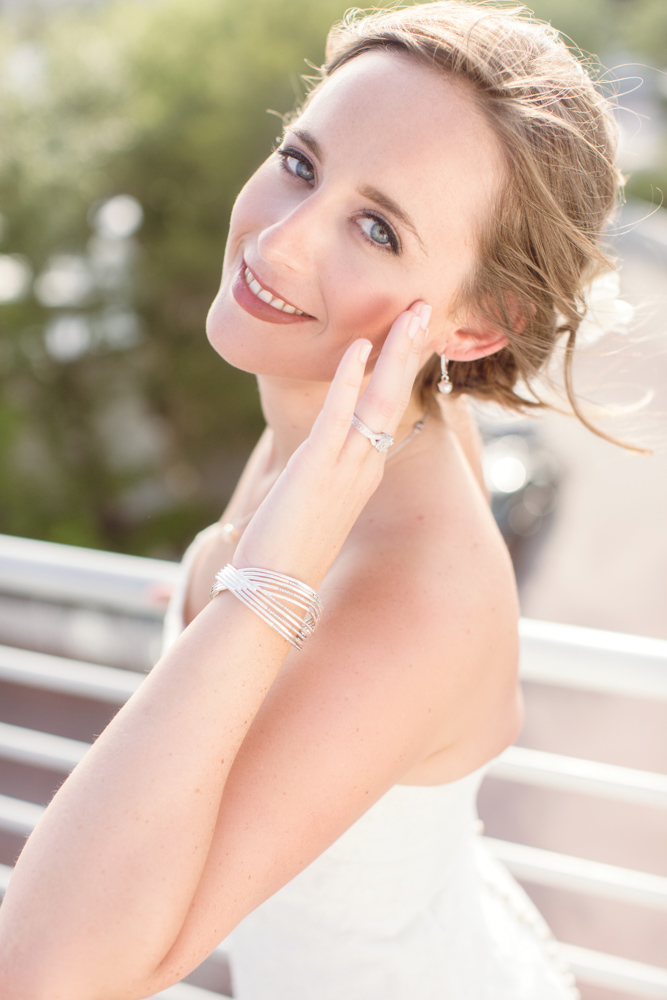 Inspired to give his bride several sentimental gifts during their nuptial ceremony in 1475, Costanzo Sforza, a prominent Italian warlord, was the first groom known to produce a diamond wedding ring. Two years later, Archduke Maximilian of Austria presented the first historically documented engagement ring, also a diamond, to Mary of Burgundy. Perhaps they were struck by the romantic notion of Cupid and his diamond-tipped arrows!
For hundreds of years, only nobility could afford precious stones. Also, certain religious groups, including the Puritans, shunned such frivolous adornments. Thus, a groom in Colonial America typically gave his bride a thimble, a useful gift that served a dual purpose: the rim, when removed, could be worn as a wedding band.
By the 1700s, romantic betrothal rings were no longer reserved for aristocracy, and many featured gemstones. During the same period, Brazilian diamond deposits were discovered. Supplies continued to expand, granting affordability, when African diamond mines were discovered in the 1870s. Around that time, the beloved Queen Victoria's attachment to an enamel ring with a single diamond given to her by Albert during their courtship sparked a European demand for the solitaire.
Diamond engagement rings, however, didn't catch on in the United States until the 1930s. The De Beers Company, possessing a monopoly on the South African diamond mines, needed a new pitch to ignite sales in the U.S., a market viewed as having great potential. By embarking on a campaign that featured glamorous movie stars in diamond jewelry, the company grew sales by 55 percent in just three years—during the Great Depression. Ironically, economic uncertainty probably boosted diamond sales: people who had money were inclined to buy assets that would hold their value.
The majority of the items we sell lend themselves to works of art for the woman, hinting that he can determine quite a bit about the bride by the cut of stone she prefers.
At the end of World War II, De Beers plunged into the marriage market. Establishing the diamond engagement ring as the modern-day standard, the company's 1947 slogan of all slogans, "A Diamond Is Forever," resonated. Emanating an ethereal light and sparkle, the stone, durable and timeless, reflected a groom's pure love and enduring commitment to his bride.
The diamond remains the most popular choice for wedding jewelry today, but according to Tim Scott, manager at Reeds Jewelers in Destin, Florida, the bride-to-be's personality most influences the gemstone she desires, as well as its shape, size, and setting. "The majority of the items we sell lend themselves to works of art for the woman," he says, hinting that he can determine quite a bit about the bride by the cut of stone she prefers.
"The most popular shape, the round brilliant cut, generally appeals to a more conservative or traditional woman," says Tim, who finds that the princess cut, which has a square or rectangular face, often attracts a more fashion-forward woman. Noting that the cushion cut is quickly gaining ground, he points out that the shape has soft edges like the round cut, yet dares to be different.
Metal choices also make a statement. While many love the richness of platinum, white gold offers the look for less money, allowing a greater investment in the stone. "More and more customers are also drawn to rose gold," Tim adds, explaining that it's often used as an accent with white. Yellow gold appeals to distinct market segments as well. "Our job as jewelers," he adds, "is to mimic the customer's personality or emotion in order to help interpret what she would wear."
Although she's likely dreamed of the moment of receiving her engagement ring since childhood, today's savvy, self-assured bride isn't shy about making her preferences known.
Although she's likely dreamed of the moment of receiving her engagement ring since childhood, today's savvy, self-assured bride isn't shy about making her preferences known. She'll steer her groom by sharing her picks from Pinterest and other online sources, and sometimes even accompanies him to the jewelry store. "Satisfying her is easier when the lady is in front of us," Tim affirms, "but she still wants to be surprised when she sees her engagement ring for the first time." Accordingly, he reports that most men finalize the purchase when she is not present.
Tradition also prevails in terms of who pays for the ring: the man. "I know of only one instance during my twenty years in the jewelry business of the bride and groom splitting the cost," he reveals.
The wedding band purchase, however, is different. "Couples tend to pick out their bands together," says Tim, who advises the man to leave the wedding band decision to his fiancée after she has her engagement ring. "Women want their rings to fit without gaps, but usually prefer a band that accents and frames the engagement ring almost as a side note. They often love small, feminine details, like engraving and mill graining around the band." Likewise, a bride today is less concerned about her groom's band matching hers.  Many couples, in fact, choose a metal such as tungsten or titanium for his ring to save money.
No matter their budget, customers also enjoy designing their own wedding rings. "We do a lot of CAD/CAM designs," says Tim. "One of my first customers to create an original engagement ring was a military pilot engaged to a social worker. He and I sat in my office for hours over several appointments designing an intricate mounting. The profile (or side) included an R for their initial, and the ring had numerous twists and turns with pavé diamonds. Without the center stone, the ring was $10,000. She wanted a sapphire, so when it came time to choose one, he left the decision to her, although the setting would still be a surprise.
Clients relate to me and to Reeds because they know we're meeting their needs while upholding certain standards and telling them the truth.
"She had no clue about how to select a sapphire," Tim continues, "so I showed her a $3,500 natural sapphire and $300 sapphire grown in a lab. The $300 stone had perfect color, but when she chose it, I asked if she was sure and let her know that the ring her fiancé had made for her was significant." The bride replied that she loved the laboratory stone, but even more important to her was having peace of mind that "no little boy went into a dark mine" to obtain the sapphire she would wear every day on her finger.
"Customers are now extremely conscientious about how the item was sourced and how miners were treated," Tim continues. When diamond shopping, for instance, they value the Forevermark by De Beers, which signifies quality and comes with a pledge the stone is responsibly sourced. "De Beers is also building homes, schools, and hospitals, and buying goods and services from the local communities where they mine," Tim says, drawing a comparison to Reeds Jewelers, which has thrived since 1946 by operating with integrity. "Clients relate to me and to Reeds because they know we're meeting their needs while upholding certain standards and telling them the truth. Our underlying statement is to treat others how we would want to be treated."
Founders Bill and Roberta Zimmer opened their original store in Wilmington, North Carolina. Now in eighteen states, Reeds remains a family business under the leadership of their son Alan Zimmer, who has been instrumental in modernizing to serve the many ways customers shop. "The culture of Reeds allows managers and associates to stretch out beyond the borders of the stores to procure whatever it is we require to satisfy the individual's needs and desires," says Tim.
For many of today's brides and grooms, the priority isn't necessarily to follow traditions or to catch the latest trends. Instead, embracing the idea of wedding bands and engagement rings, they most appreciate meaningful, beautiful symbols that articulate who they are and how they feel about one another.
— V —
---
Reeds Jewelers in Destin, Florida Hours of Operation: 10:00 a.m. to 9:00 p.m., Monday–Saturday 11:00 a.m. to 7:00 p.m., Sunday Reeds.com
ARTICLE CATEGORIES