By Anne W. Schultz
Photography by Jeremy Koreski
It would be irreverent to whip out a cell phone and chatter away in this towering cathedral of trees, where the only sound I hear is the creaking of their massive trunks. Fortunately, no one is using a cell phone. Like us, they are caught up in the glorious spectacle of nature playing out in this "microcosm of Canadian wilderness." Sometimes a place is more than just a destination to check off your bucket list. Sometimes it changes you, yanks you out of your day-to-day sameness, and leaves a deep and lasting impression on your soul. Vancouver Island in the Canadian province of British Columbia is such a place.
Maybe it's the immense scale of its raw nature—its grandeur and wild ruggedness—but a cell phone seems transient in this ancient landscape where some trees live for a thousand years. There is a power in wilderness: an energy force you can sometimes feel. We met a whale-watching guide who shared her experience diving with whales. "As I dove alongside the whale, I felt his song vibrating through every organ in my body. A biologist who dove with me explained whales adjust their sonar to your sound waves and can communicate with you. I'll never forget it," she exclaimed.
Ample opportunities for such life-changing adventures abound on this 280-mile-long island where nature reigns. Few places offer such diversity in climate, culture, and geography packed into so a small space. Tramp endless trails through skyscraper trees or rocky bluffs above the sea. Stroll surf-pounded beaches tracked by bears and cougars (some five thousand live here in the largest concentration worldwide). Excursion boats ply the isolated waterways of Clayoquot Sound searching for whales and sea lions. Yet you're never far from world-class lodges, B and Bs, cottages, and family resorts. The Pacific Northwest led the sustainable food movement, so restaurants serve local produce and fresh seafood cooked up West Coast–style. And the people are some of the kindest, friendliest, and most courteous around.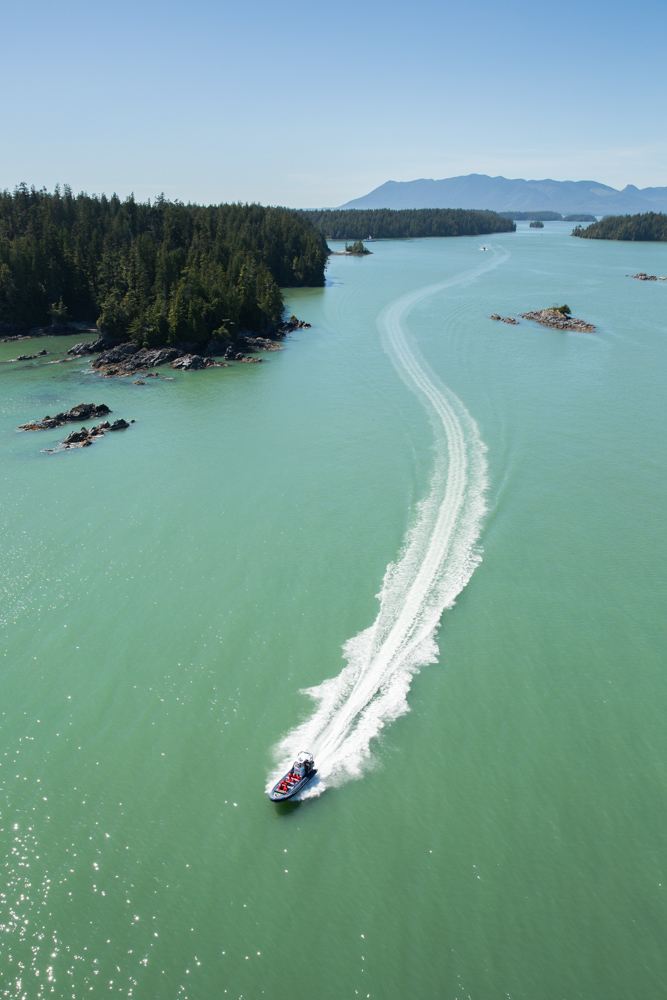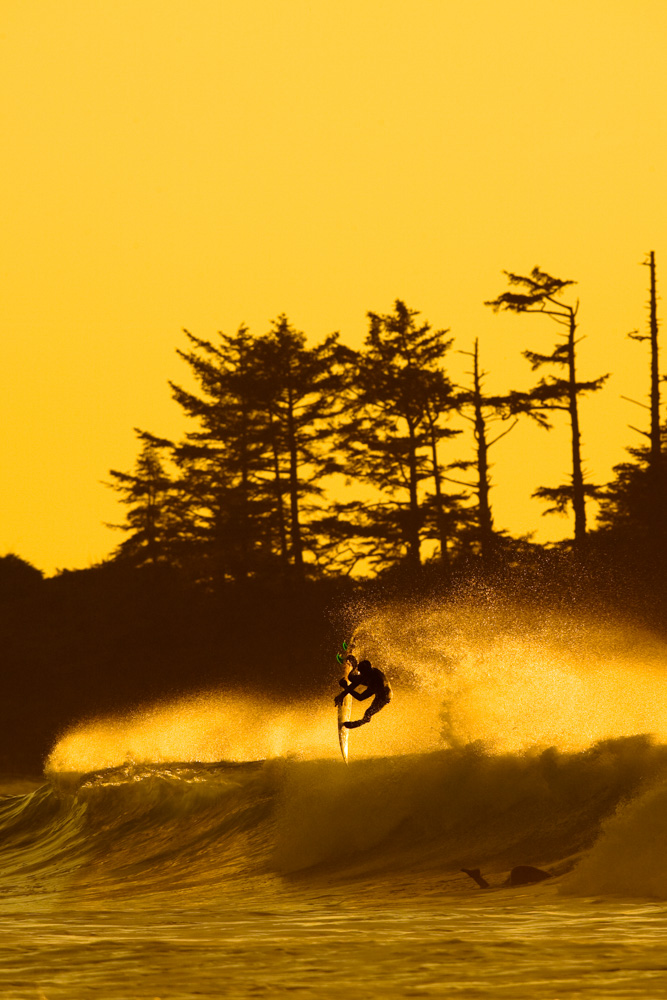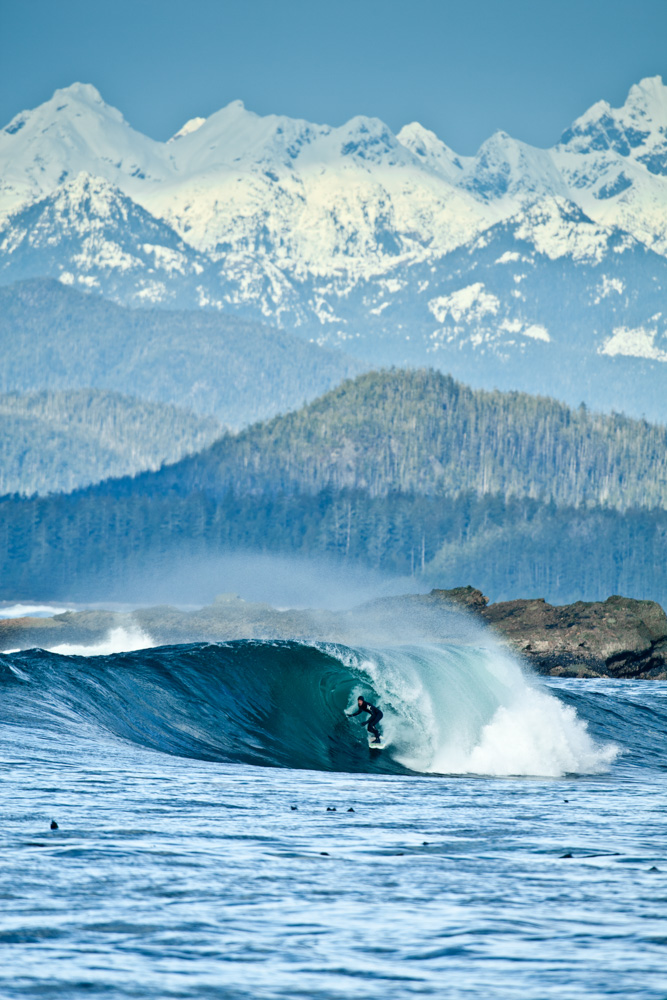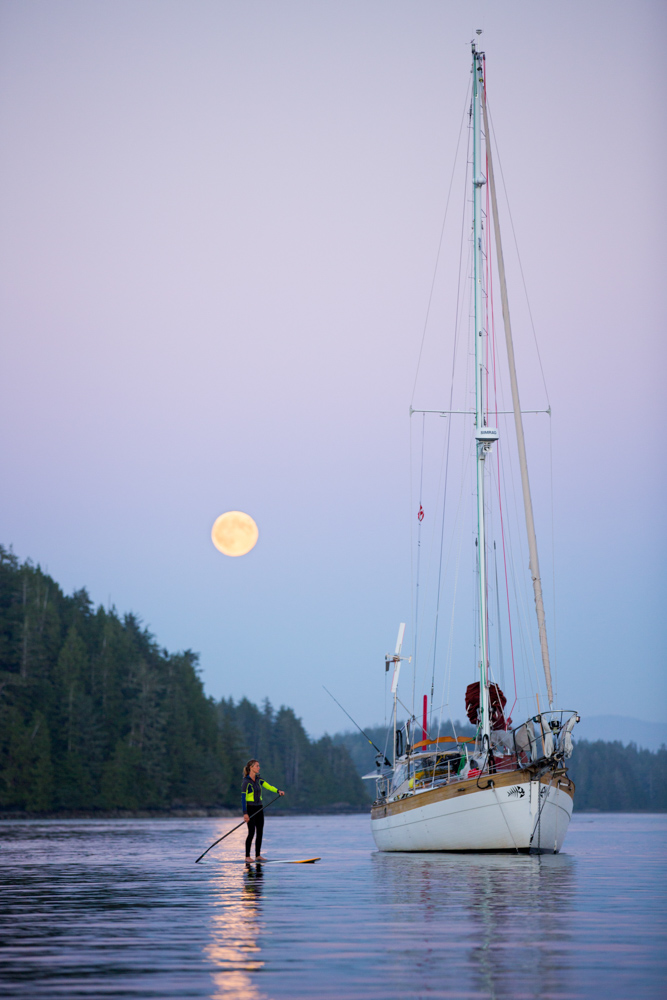 Vancouver Island kept bleeping on my radar screen. I kept bumping into people who raved about it. I kept reading about it in travel magazines where it showed up on a regular basis as one of the best destinations in North America. "People come from all over the world to see a Canadian wilderness with few people around," confirmed one shop owner. Now it's our turn. To guarantee there are few people, my husband and I visit in June, avoiding the July–August tourist season.
Ample opportunities for such life-changing adventures abound on this 280-mile-long island where nature reigns.
Journeys begin in Victoria, British Columbia's capital, located on the island's southern tip, where ferries or flights arrive. One of the oldest cities in the Pacific Northwest, Victoria began as a trading post for the Hudson's Bay Company in 1843. Wilderness will still sometimes find a way to spill over into this vibrant harbor city. Even at a bastion of British civility like the Empress Hotel where high tea is served, a cougar once roamed into the parking garage! At the Royal BC Museum, which is ranked among the top five museums in North America, learn about the First Nations peoples, whose history in what is now British Columbia dates back more than ten thousand years. The museum displays one of the world's best North Pacific Coast indigenous art and culture collections, including historic hand-carved totems.
From Victoria drive north to the east coast and linger awhile before crossing over to the wilder west where 90 percent of the land is preserved in the Pacific Rim National Park Reserve and the Clayoquot Sound UNESCO Biosphere Reserve.
---
The East Coast: From Cowichan to Campbell River
Stretching for 125 miles, the midsection of Vancouver Island provides a sunny, drier climate as it's shielded from Pacific storms by the central mountain range. The area boasts charming seaside villages and old-school resorts fronting long hard-packed beaches. Several provincial parks offer activities such as hiking, boating, kayaking, and camping.
Inn the Estuary
Inn the Estuary is conveniently located—and is aptly named—as elegant suites overlook an extraordinary estuary created by the owners. Transforming a neighbor's Christmas tree farm into a thriving estuary would be a daunting task for most; but Marianne and Harold Robinson pulled it off beautifully. "We first purchased the property on Nanoose Bay as an investment as it bordered an eighty-acre national wildlife refuge," explained Harold. But after spending time here and falling in love with the landscape, Marianne had other ideas. "Why not build a home, as this could be beautiful once we restore the estuary," she suggested. Five years ago they acquired permits and worked with an environmental biologist to turn their dream into reality. While building, they lived in the independent suites that now serve as guest quarters. "We never appreciated nature until we started observing it more closely," says Harold. "Now we are passionate about preserving it."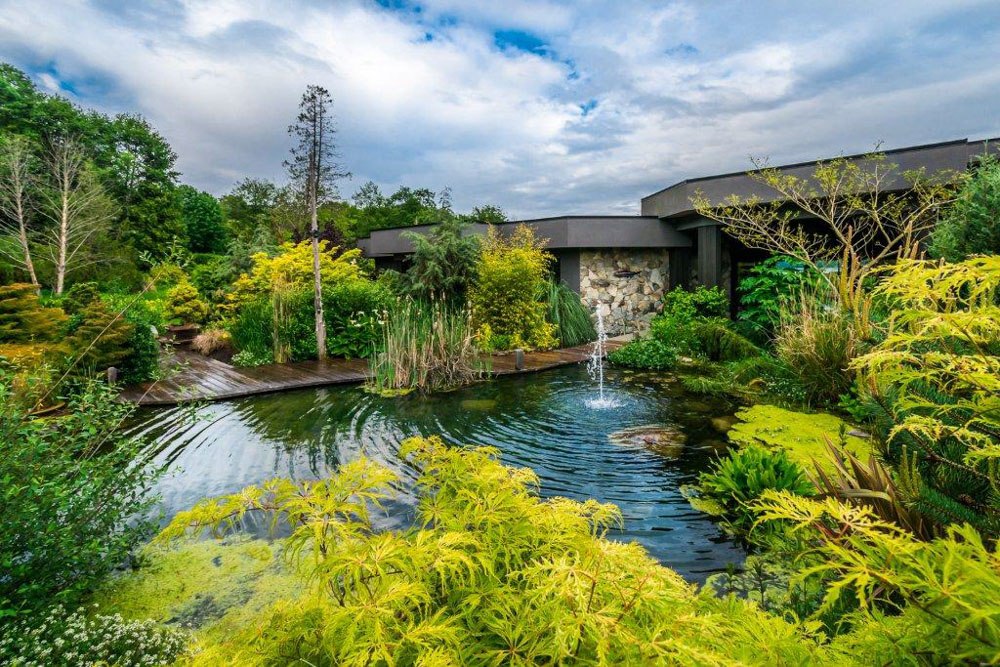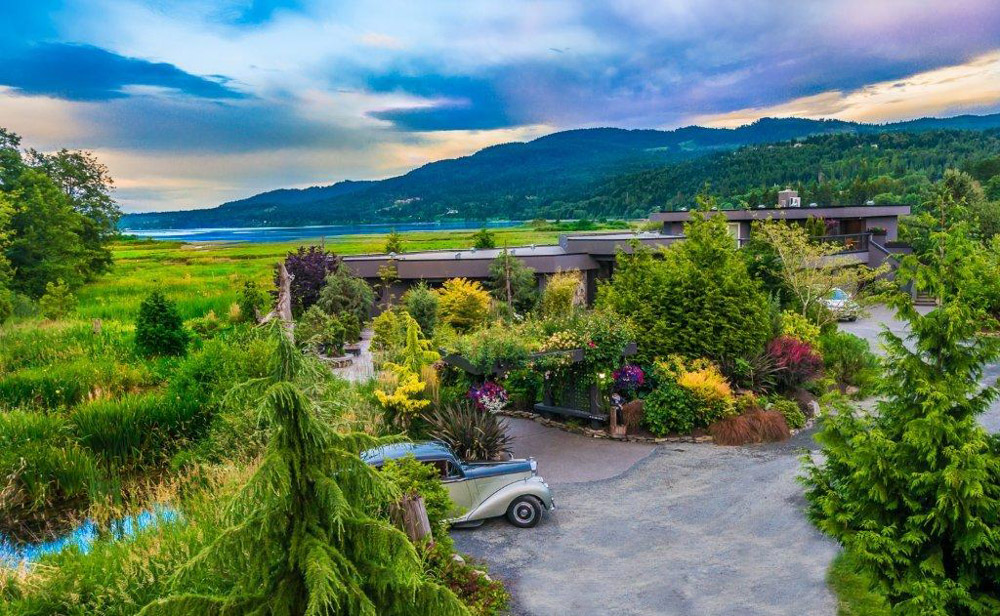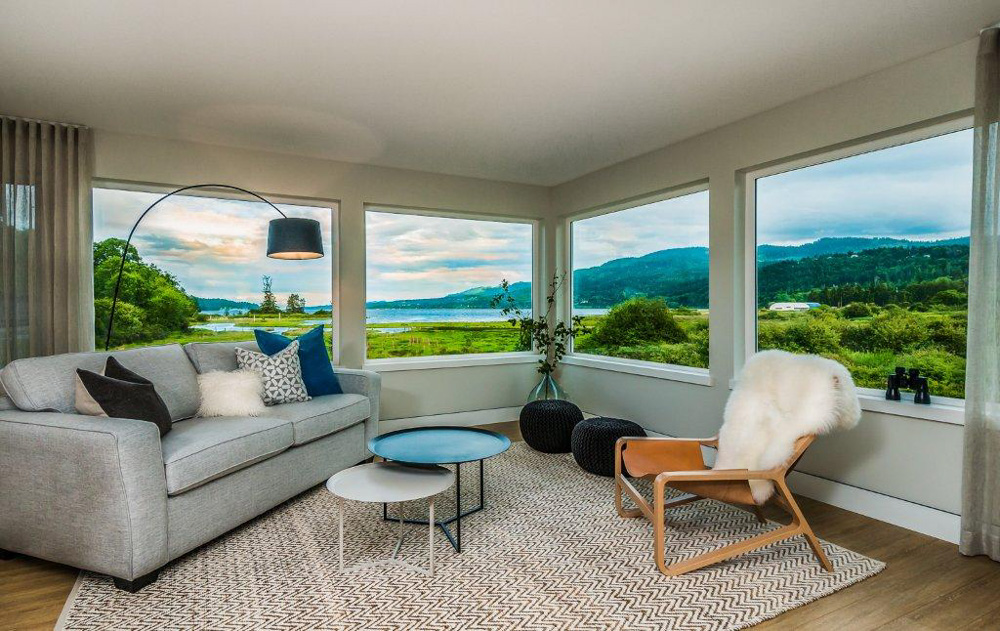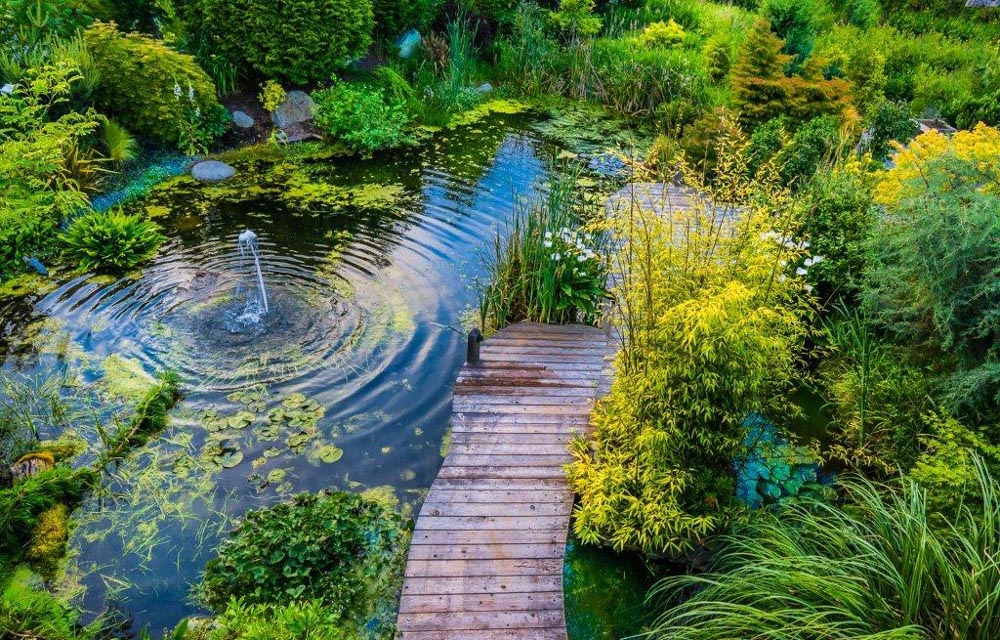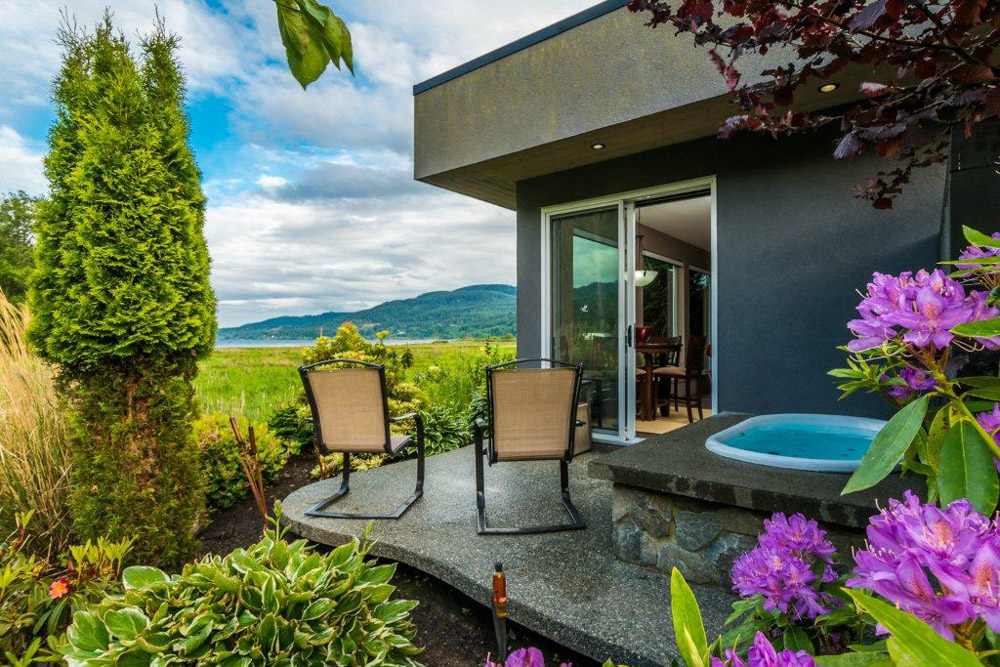 Bird-watch from the comfort of your living room through walls of glass or from a soaking tub on your private patio. Spacious suites are decorated in soothing earth tones. Plush couches, leather easy chairs, and cozy fleece throws ensure relaxation. The Robinsons learned how to please guests by operating a B and B in Nanaimo for ten years. They stock refrigerators with breakfast fixings so guests can enjoy their morning privacy. They add niceties like hot cocoa, microwave popcorn, and complimentary DVDs. They are always available to help. It's hard to leave this cushy atmosphere, but day trips beckon.
Inn the Estuary Hosts: Harold and Marianne Robinson www.InnTheEstuary.com InnTheEstuary@shaw.ca (250) 468-9983
Strathcona Park Lodge & Outdoor Education Centre
The only lodging near Strathcona Provincial Park, this resort resembles an Alpine village with its rustic hand-hewn lodge and collection of cottages scattered around a glassy lake so still it mirrors jagged snow-peaked mountains, trees, and clouds above. It is British Columbia's oldest adventure lodge, founded in 1959 by Jim and Myrna Boulding, both Canadian schoolteachers who wanted to educate children and families about nature. Their mission statement reads: "To teach the wonder, spirit, and worth of people and the natural world through outdoor pursuits."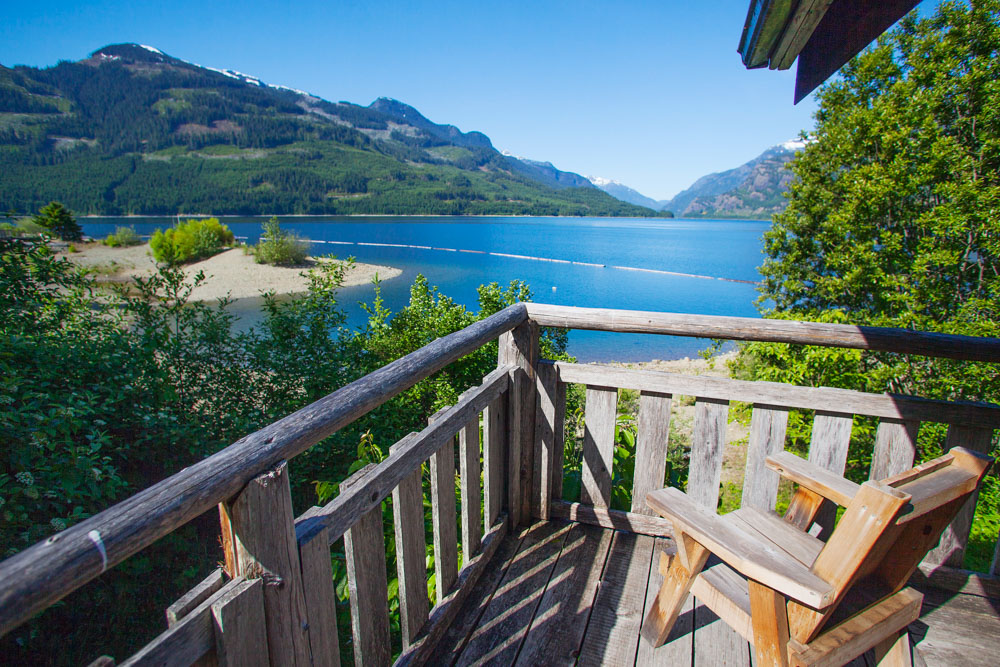 School children arrive in early summer for educational activities, while July and August are reserved for visitors drawn by the many adventure tours offered. Some of these include kayaking, stand-up paddleboarding, orienteering, and zip-lining. An experienced staff plans wilderness adventures at the park. "We attract amazing youth from all over the world through our leadership training program. Even Olympians come here," says David Boulding.
Designated a park in 1911, Strathcona is BC's oldest and, at six hundred thousand acres, one of its largest. Tucked along the central mountain range, it protects such superlatives as the island's highest peak and BC's highest waterfall. The park encompasses lakes, old-growth forest, and vast wilderness tracts, along with glaciers and treacherous alpine terrain. Trails range from casual strolls to arduous multiday hikes through wilderness. Feel like the first humans on earth as you have the park mostly to yourselves.

Strathcona Park Lodge & Outdoor Education Centre www.StrathconaParkLodge.com Info@StrathconaParkLodge.com (250) 286-3122
Strathcona Provincial Park www.env.gov.bc.ca (250) 474-1336
---
The Wild West Coast
Travelers sense something wild and woolly is ahead as the road to the west coast zigzags into torturous switchbacks and precipitous drop-offs, but nothing prepares them for the stupendous scenery. This isolated coast is the traditional territory of the First Nations and a remote fishing and logging region that had no public road access until the 1950s. Much of it is now preserved in rocky headlands, dense forests, and wilderness beaches stretching thirty miles from Ucluelet to Tofino. Ucluelet, the smaller laid-back town, makes an ideal base.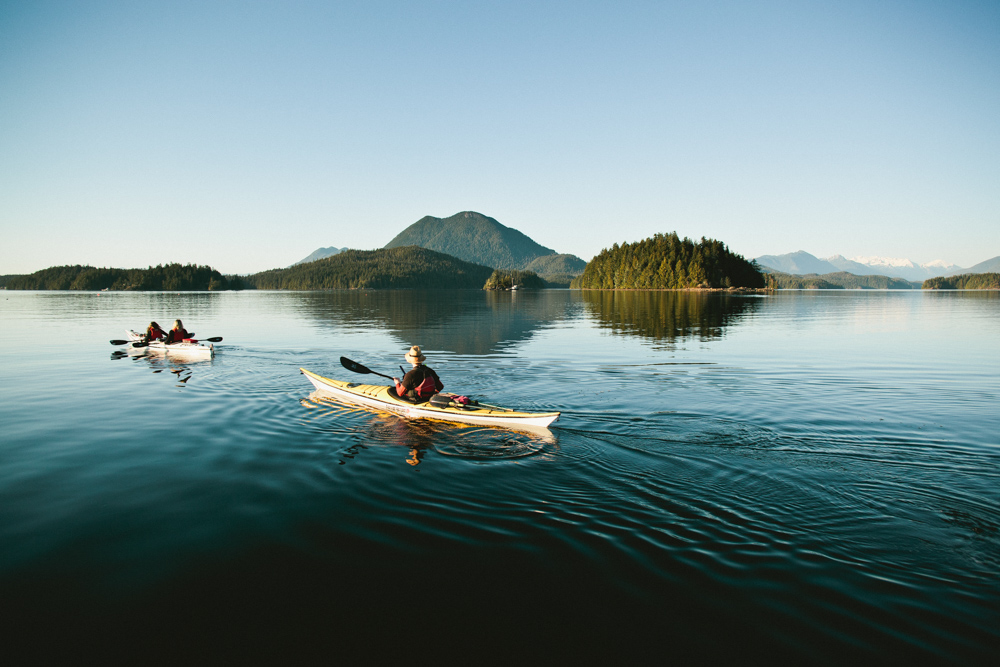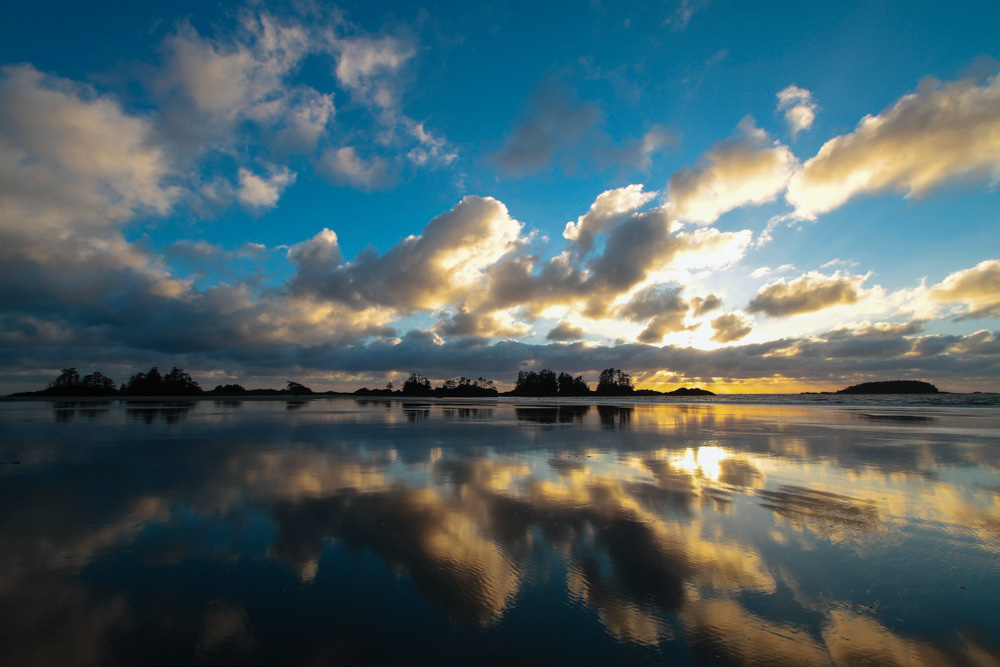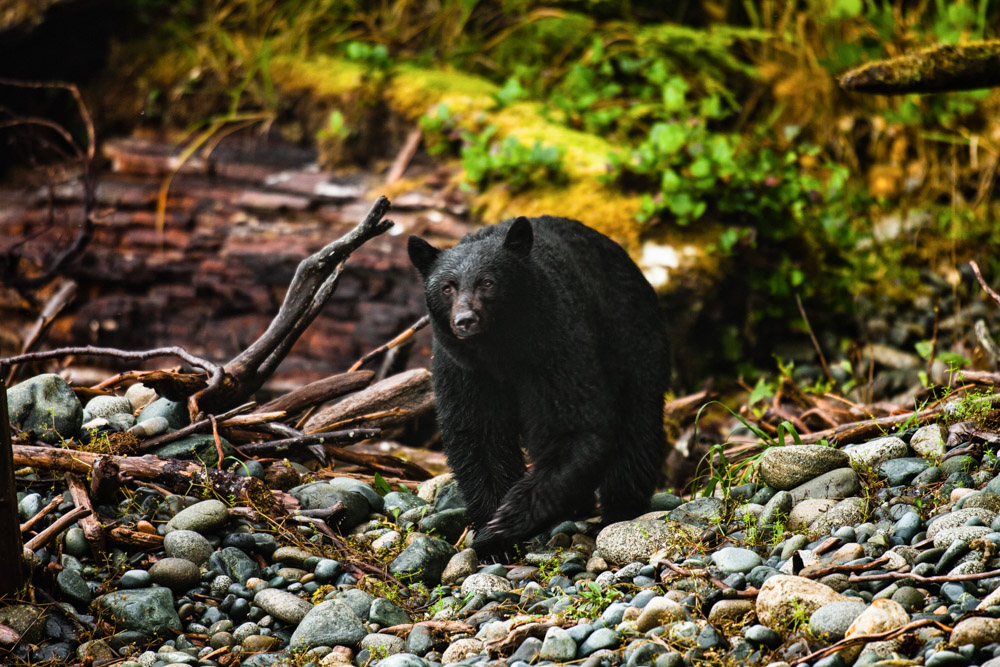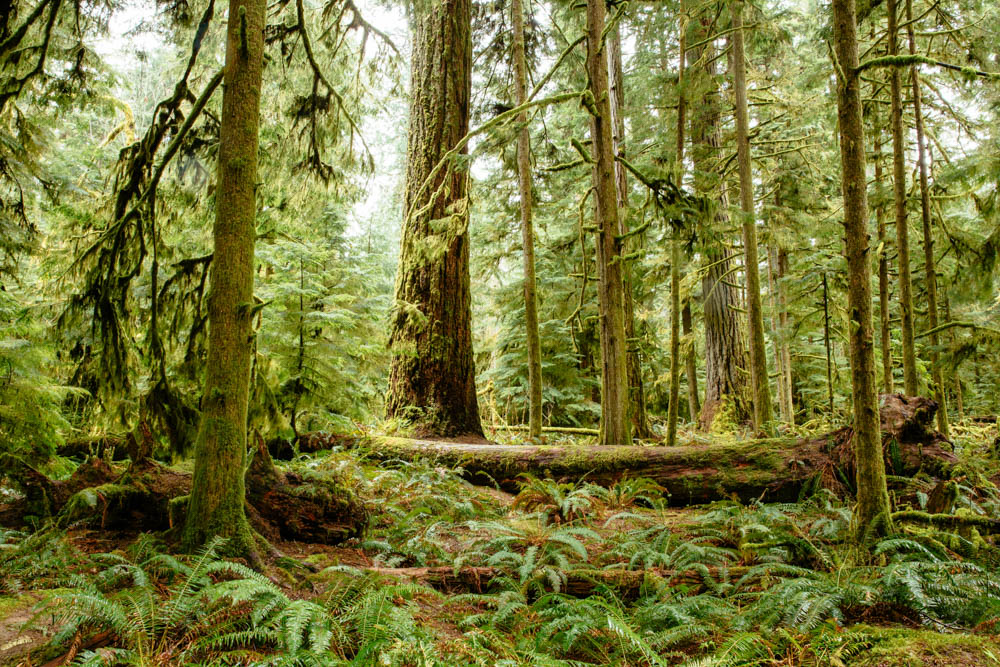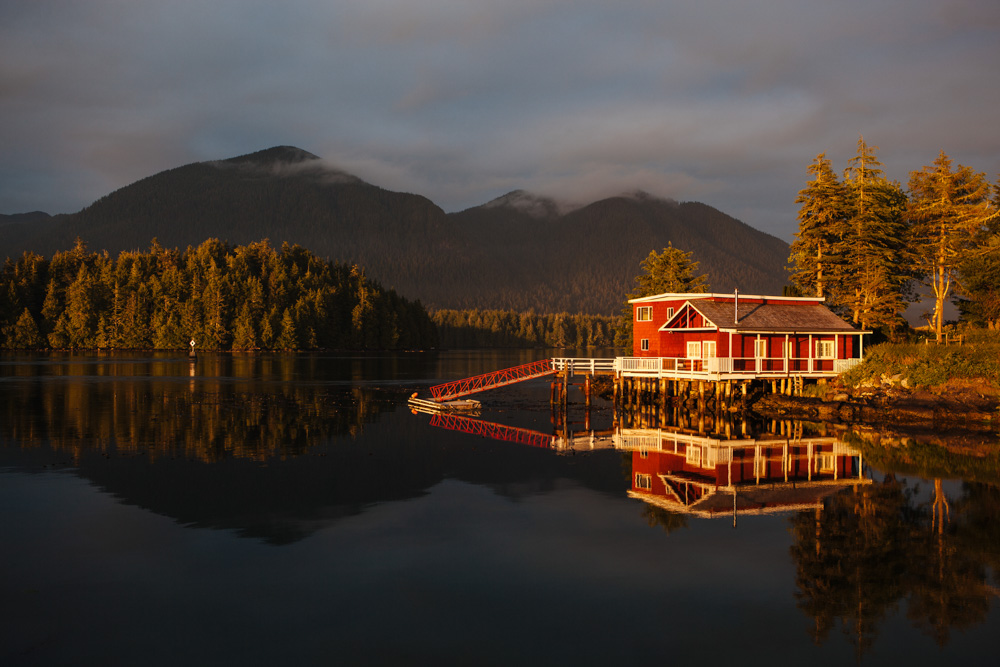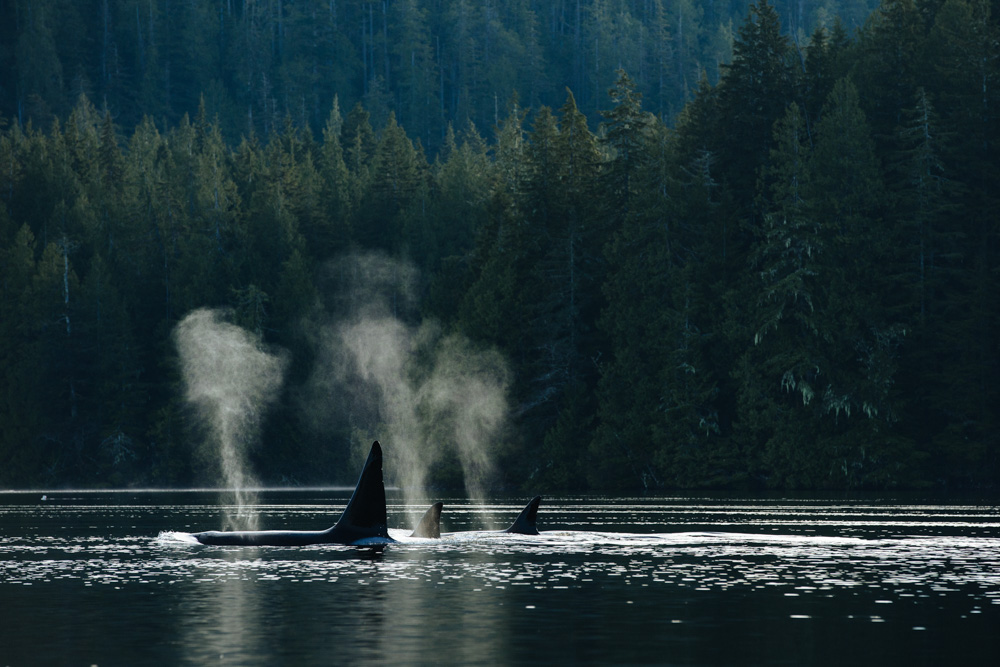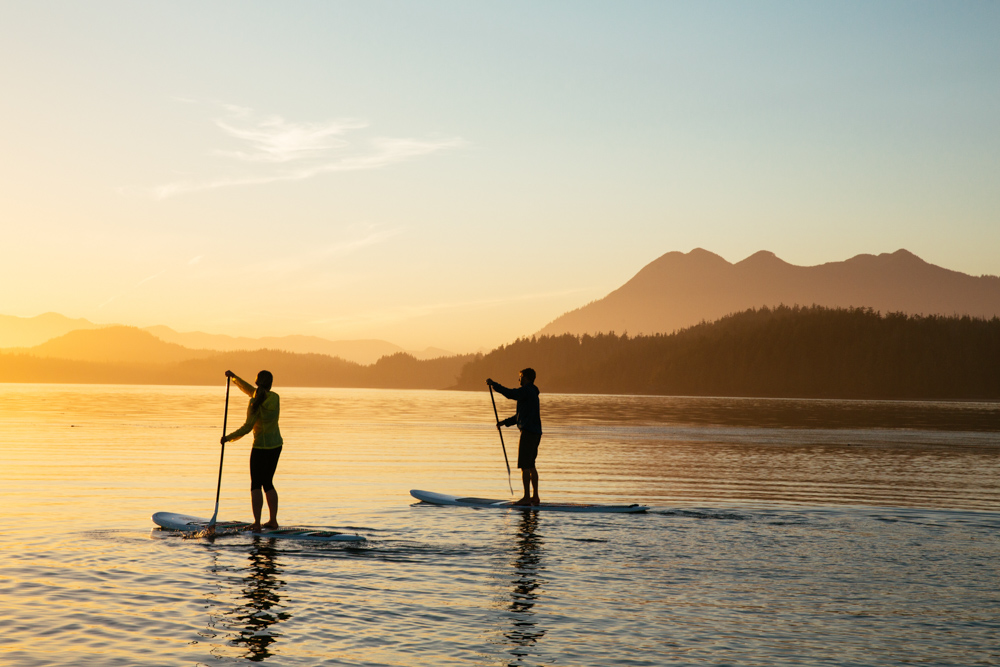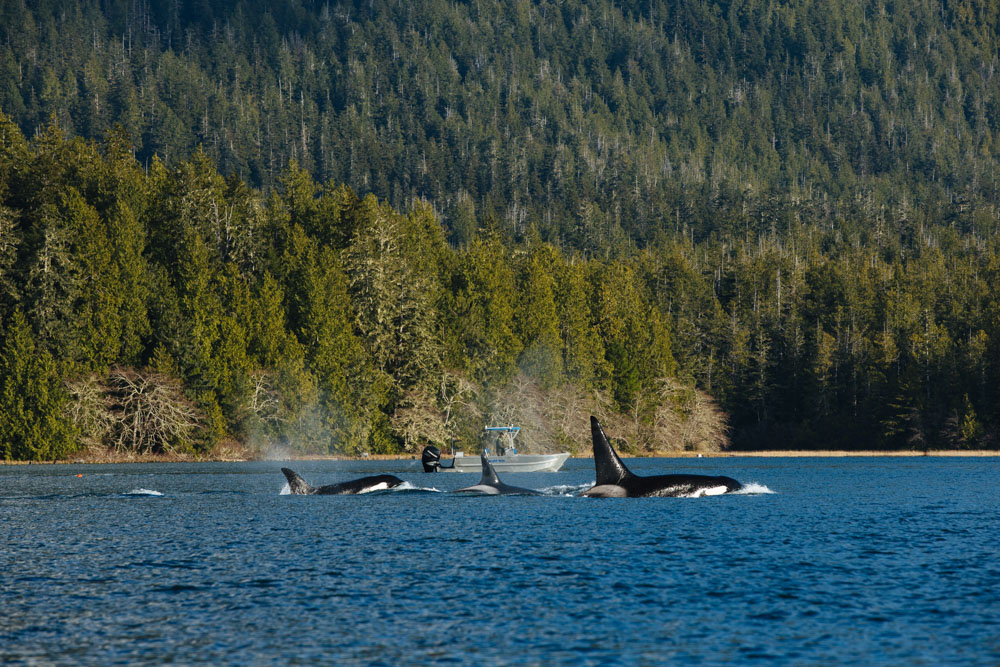 Beachwood Guesthouse
"Bird-watching is fantastic as the waterfront is a nature preserve," says Joanna Maltby, describing her vacation home overlooking Ucluelet Inlet and Kvarno Island. Nature is viewed from nearly every room inside the two-bedroom home or from outdoors on a deck. The spacious open floor plan with vaulted ceiling is flooded with light from skylights and large windows. Guests love the well-stocked kitchen, the bookshelves filled with games, books, and DVDs, the heated bathroom tile floors, and the fireplace. "We are only two minutes from the Wild Pacific Trail and five minutes from Pacific Rim Park," explains Maltby. She provides an insider's list of things like favorite trails, restaurants, and outfitters.
Access trails off the highway to the Long Beach unit of Pacific Rim National Park Reserve, one of Canada's most famous parks (it attracts a million visitors a year). The park preserves the Canadian portion of coastal temperate rain forests that stretch along the Pacific from California to Alaska. These rain forests are lush like their tropical relatives, but the dominant trees are conifers rather than tropical species. Moisture in the form of snow, fog, or rain—at least one hundred inches a year—is the key ingredient for the exuberant growth. A park pamphlet describes it this way: "No matter where you are in the park, if your feet aren't in salt water, you are probably in the rain forest."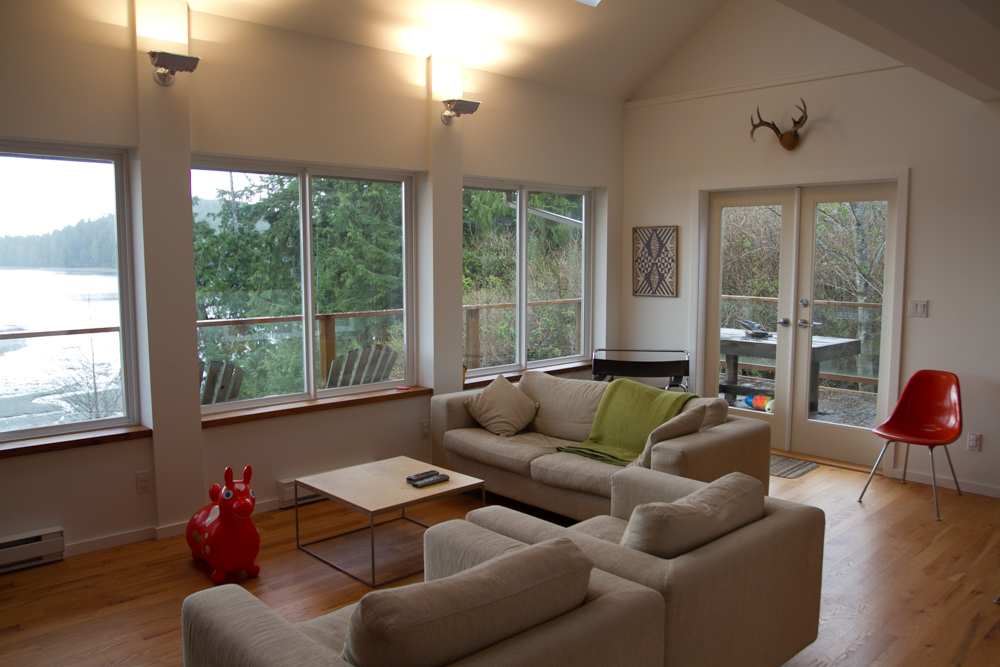 Trails and boardwalks meander from shoreline to higher elevations, giving hikers exposure to the four different zones where primary trees (Sitka spruce, western hemlock, western red cedar, and shore pine) appear in various forms. What each forest looks like depends on factors like topography, nutrients in the soil, exposure to wind, salt, and sand, and human activity.
See how a harsh environment affects trees at the Shorepine Bog Trail. A boardwalk takes visitors through a bizarre landscape of stunted trees rising from a spongy carpet of sphagnum moss. Deprived of adequate nutrition, these trees are short like bushes, yet some are over three hundred years old. Look down at the tiny sundew—the same carnivorous plant found in northwest Florida bogs—to realize how interconnected our planet truly is!
It's a lush world of ferns, emerald-green mosses, and masses of plants that spring up from the moist forest floor in countless shades of green.
For a dramatic contrast, try the Rainforest Trail. Look up at the majestic trees so tall and massive that people become dwarfed—like small children sheltered by a family of benevolent giants. It's a lush world of ferns, emerald-green mosses, and masses of plants that spring up from the moist forest floor in countless shades of green. Search the canopy for glimpses of sky and sunlight filtered through lacy openings between pine-needled boughs.
The Schooner Cove Trail leads to a rocky shore with tide pools where another universe is exposed at low tide. Clamber over rocks and see how animals survive without water by closing up until the high tide returns. Look for colorful anemones that resemble flowers but are actually animals that sting their prey. Nuu-chah-nulth elders refer to low tide as "the table being set" because of the seafood they harvest in this intertidal zone.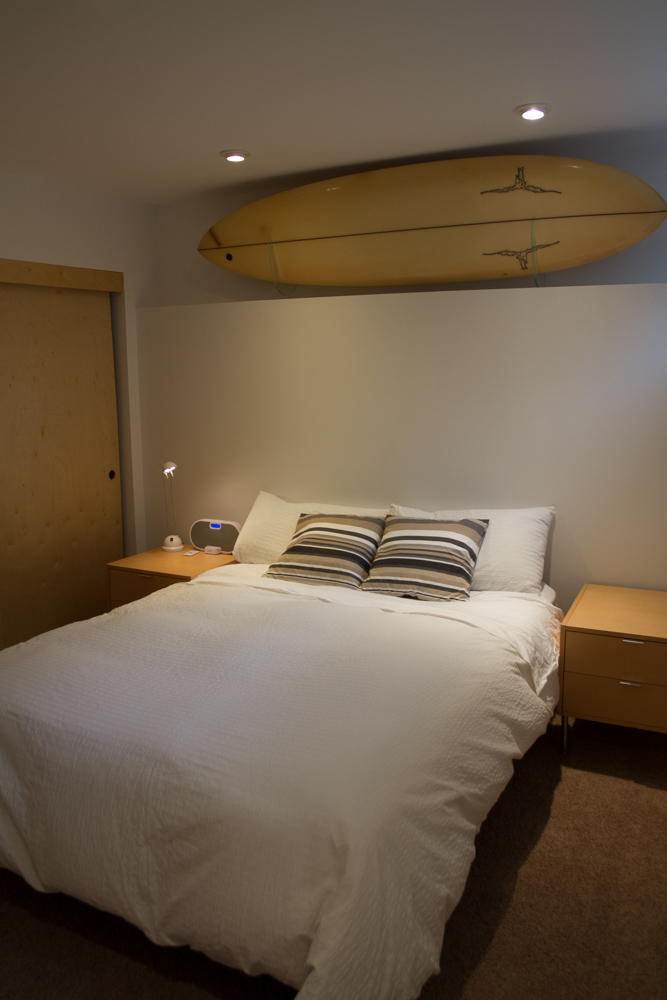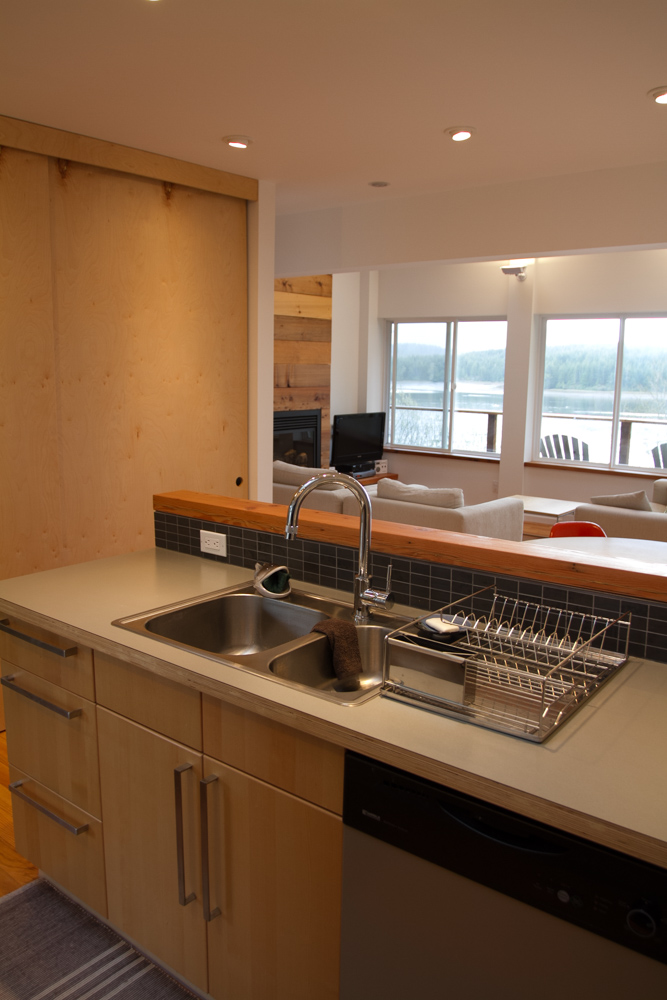 Learn more about the Nuu-chah-nulth First Nations people at the Kwisitis Visitor Centre overlooking Wickaninnish Beach. Life-size replicas of a long house and realistic figures on a whale hunt illustrate their culture and traditions. Giant murals depict marine mammals and rain forests. Hike one of theirhistoric trails behind the center.
Ferocious winds and waves rolling in from Japan have splintered the peninsula into the ragged fingers of inlets, bays, and coves of Clayoquot Sound. It's one of the world's richest ecosystems, best explored by boat from Tofino. Leave at dawn with Mike White of Browning Pass Charters to observe black bears foraging for breakfast on the beaches. Hefty bears toss large boulders aside as if they were beach balls. "Watch these two," White alerts his passengers. "This is mating season and it looks like we've got a male and female courting." What an amazing opportunity to experience the wonders of the wild at fairly close range.
The wilderness here appears more peaceful and free than the so-called civilization we have contrived.
"Guaranteed sightings since 1982," advertises Jamie's, a respected whale-watching outfit. The captain gives a running commentary about whales as the sixty-five-foot boat streams past Meares Island to open ocean. "In April, about twenty thousand gray whales migrate here from their Baja California birthplace. They consume about a ton of krill a day. Orcas prefer fish from deeper ocean," he explains. He points at a plume of spray before a whale emerges, its sleek gray body glistening wet. Jamie's did it again! The boat passes a sea lion colony before heading in from amazing encounters with creatures of the deep.
Beachwood Guesthouse Ucluelet, BC Hosts: Joanna and Jon Maltby www.vrbo.com/308807 BeachwoodVacationRental@gmail.com
Pacific Rim National Park Reserve www.pc.gc.ca PacRim.Info@pc.gc.ca (250) 726-3500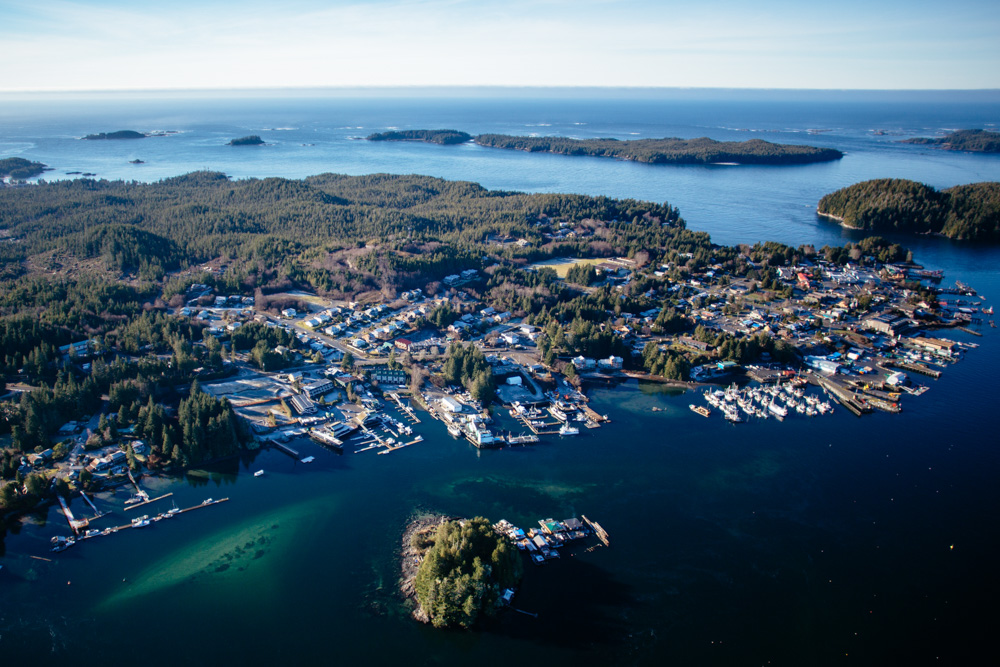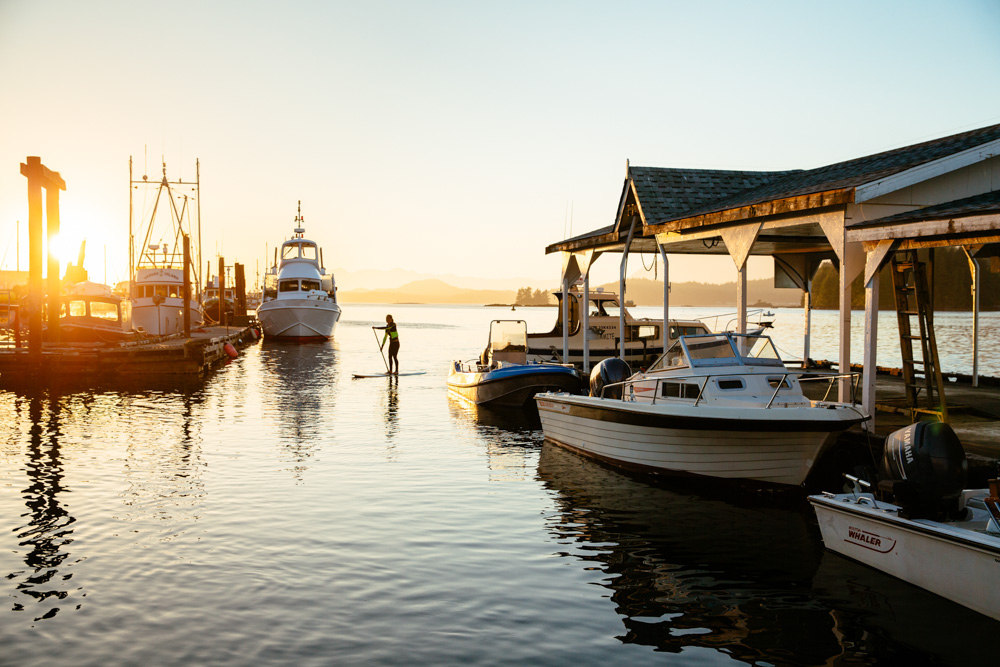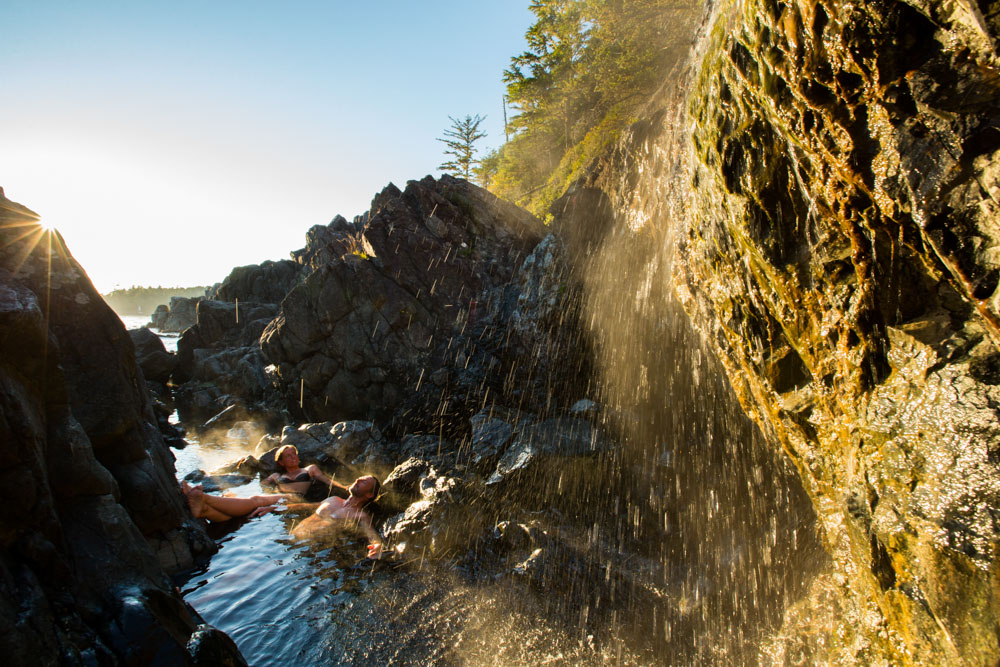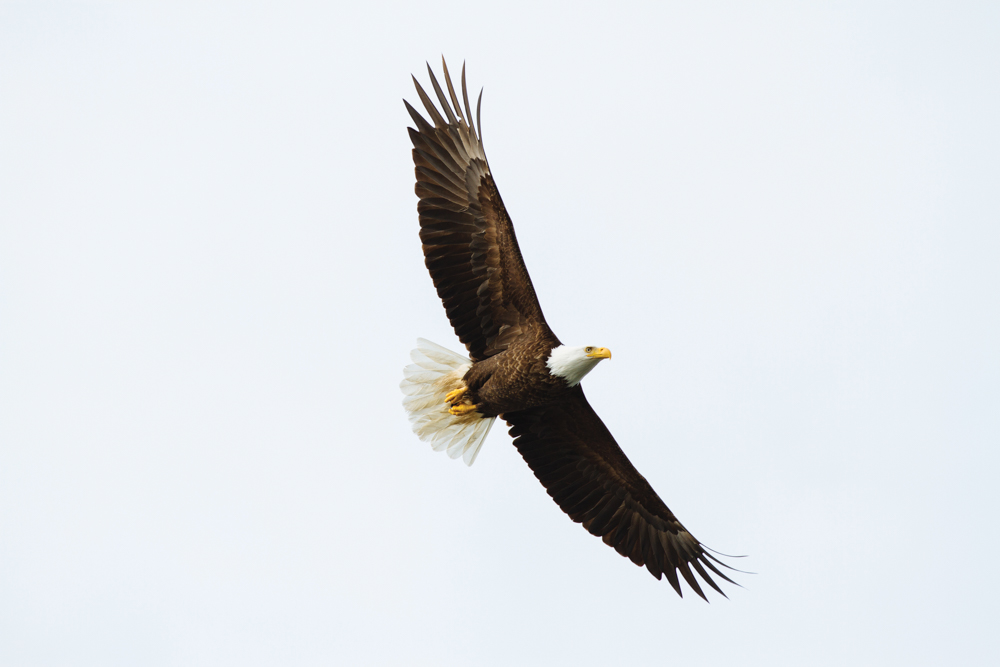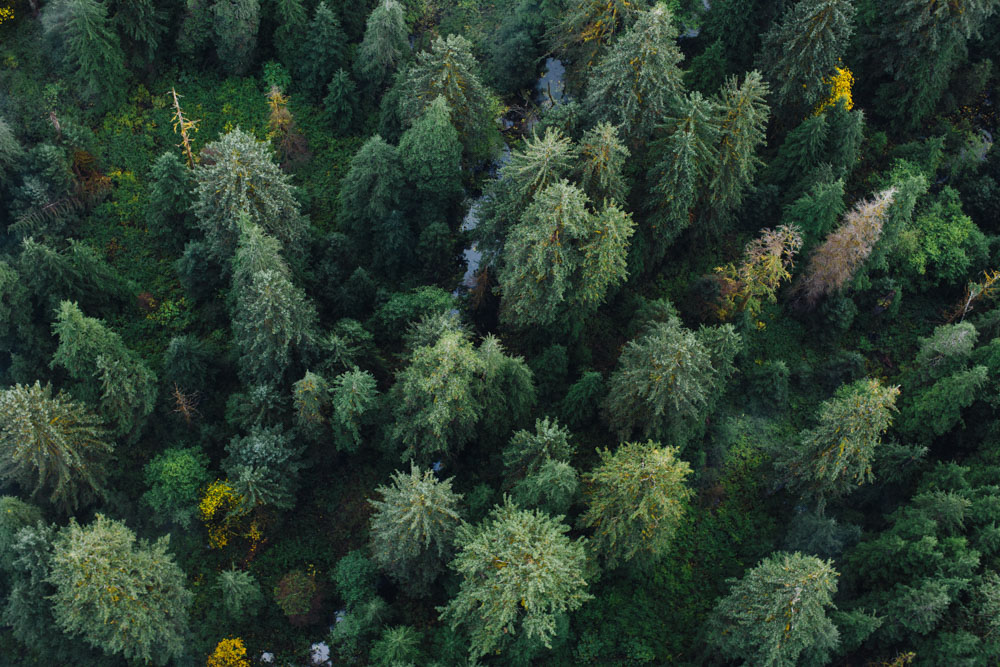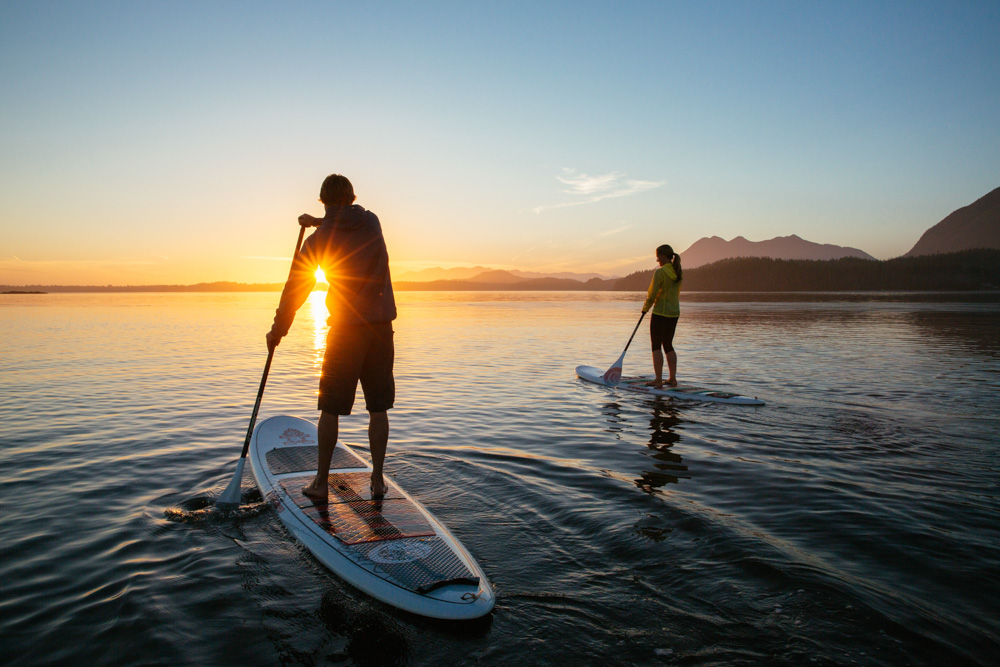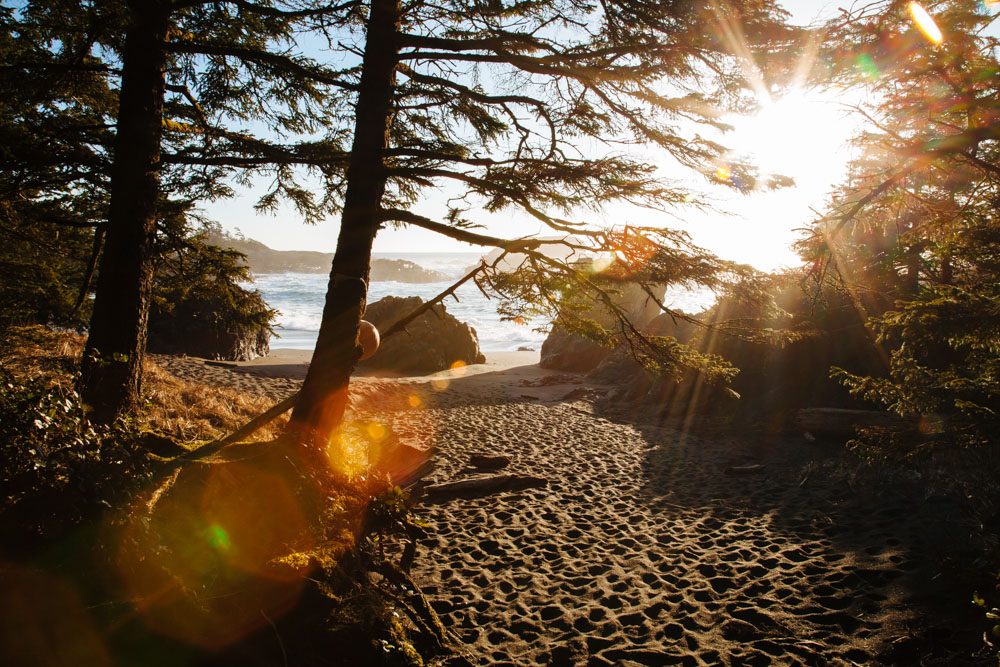 The wilderness here appears more peaceful and free than the so-called civilization we have contrived. It speaks more of the underlying spirit of God working in perfect harmony and awesome beauty. It's more like a sacred dance orchestrated by an Unseen Hand, where everything instinctively knows its part in the ongoing pageantry of life. Where trees march down mountains, where salmon leap upstream, where amorous bears cavort on beaches, while whales sing in the ocean depths and dolphins click out tunes—all communicating the glory of God.
Visit Vancouver Island and let the wonders of the wild touch your soul like they have mine.
---
Other Places to Stay
To rough it in style, try "glamping" at Clayoquot Wilderness Resort—accessible only by floatplane or boat. Rates begin at CAD$4,750 per person for an all-inclusive three-night stay. Visit WildRetreat.com or call (888) 333-5405.
For winter storm watching, you can't beat the Wickaninnish Inn, a stylish five-star lodge south of Tofino. The Wickaninnish Inn is a member of Relais & Châteaux, an association of the world's finest hotels. For information, visit www.WickInn.com, send an e-mail to Info@WickInn.com, or call (250) 725-3100 and (800) 333-4604.
Outfitter Information Browning Pass Charters www.BrowningPass.com Info@BrowningPass.com (250) 725-3435
Jamie's Whaling Station www.Jamies.com Info@Jamies.com (250) 725-3919 or (800) 667-9913
— V —
ARTICLE CATEGORIES