An Update of Classic American Men's Apparel
By Ainsley Rogers
When it comes to men's style, perhaps no figure is more iconic than the American gentleman. A dashing character, his carefully selected attire is as much a part of his mass appeal as the chivalry for which he is known. But where would our gentleman be without a lady? Isn't it true, after all, that behind every great man is a great woman? It was with this thought that I went to New York Fashion Week Spring 2013, where I was assigned to pay special attention to the men's collections. My initial approach: Be on the lookout for the women who designed for men and therefore were responsible for their style.
I freely admit to being a woman with an intense interest in fashion, and I believe wholeheartedly that women dress for women. Prior to fashion week, I would have confidently stated that the same applied to men as well—that is, that they also dress for women. What man hasn't asked for fashion input from a wife or girlfriend? Yet as each spring men's collection appeared, I began to notice that the creators were, in fact, men. My conviction rapidly slipping away, I was forced to ask myself, "If women dress for women, for whom do men dress?"
The runways were teeming with eclectic combinations of classic men's staples in different patterns and colors.
The Gentleman Gets a 2013 Update
Many of the spring 2013 lines included the same wardrobe pieces shown in a variety of ways—clean-lined trousers, fitted blazers and suits, and a never-ending assortment of collared shirts. The runways were teeming with eclectic combinations of classic men's staples in different patterns and colors—a tribute to the time-honored gentleman, but with modern execution. Cotton cable-knit sweaters tied around the shoulders of handsome models were a bit predictable, but this kitschy mainstay has persisted for decades. It was also refreshingly American in a Euro-inspired realm.
Bespoken Clothiers' spring line included quirky combinations paired with traditional American pieces, as bold prints and pops of color brightened up the otherwise monochromatic, tailored looks. The J.Crew men's collection was also devoid of embellishment, opting instead for strategic color. Men's design director Frank Muytjens admitted being inspired by Ellsworth Kelly's color-blocked paintings. Relying heavily on bold hues and, again, interesting combinations of classics in place of intricate details, the runway looks fused rugged menswear with the preppier elements characteristic of the J.Crew label.
Continuing the rugged-meets-preppy idea, Todd Snyder's line kept the details to a minimum and focused on the basics to create an easy-to-wear American sportswear line. Blazers with pocket squares worn over colored shorts and hoodies zipped over dress shirts were just a couple of the combinations that reflected the unconventional—yet all-American—male.
John Bartlett celebrated his twentieth year in the industry with a line dedicated almost exclusively to linen. While safari jackets, Bermuda shorts, and pastels dominated the collection, the designer's softly tailored suits stole the show. One notable example was a pink linen suit that put an ultramodern twist on classic menswear—although the average guy may find it a bit intimidating to wear in his day-to-day life.
Traditionally known for shocking, artistic designs, Zang Toi's often-shirtless models walked the runway in relatively tame combinations of slacks, sport coats, and suspenders—some in pastels, some in neutrals, but all with a big impact produced almost solely by menswear staples. Tommy Hilfiger's new line also surprised many in attendance, as bold-hued stripes graced the runway in a variety of sizes and primary colors. Perry Ellis by Duckie Brown, meanwhile, veered in the opposite direction with a completely neutral and minimalist spring line that channeled a military vibe.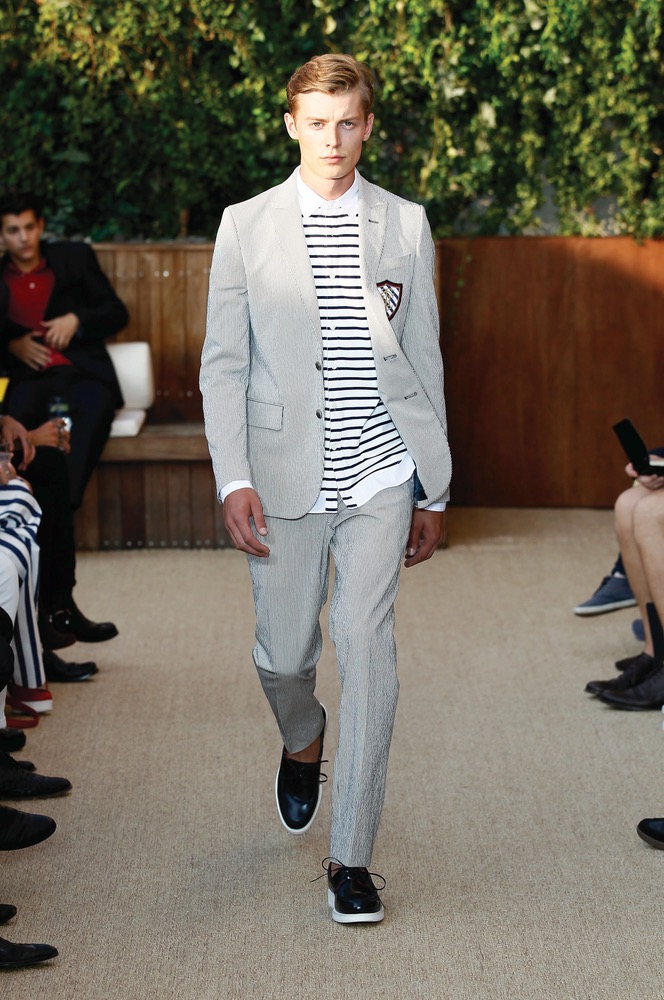 Fashion is black and white for guys... Men wear clothes they can move in, live in, and feel good in, without much more analysis.
Behind the Line: Designer Style
The runway turned out to be very informative in my quest to unravel the secrets of men's attire. However, it was beyond the runway—or should I say behind the runway—where I began to understand men's style inspiration, thanks to the acclaimed designers who led me there. For the most part, the spring 2013 men's collections were easy and unfussy, and it was for this simple reason that the answer to my question eventually dawned on me: Men dress for themselves, in the most uncomplicated and efficient way possible.
Let me add that I appreciate that men express their individuality through wardrobe choices just as women do. However, men don't subject themselves to the frivolities of high fashion in the same way. I've endured four-inch heels in the rain and will likely do so again. For men, fashion is simple. If they like it, they buy it and wear it. If they don't, it stays on the rack and doesn't sell. Fashion is black and white for guys, unlike the many shades of gray that define women's attire. Men wear clothes they can move in, live in, and feel good in, without much more analysis. This is why the gentleman's style has prevailed throughout history—it just works for men.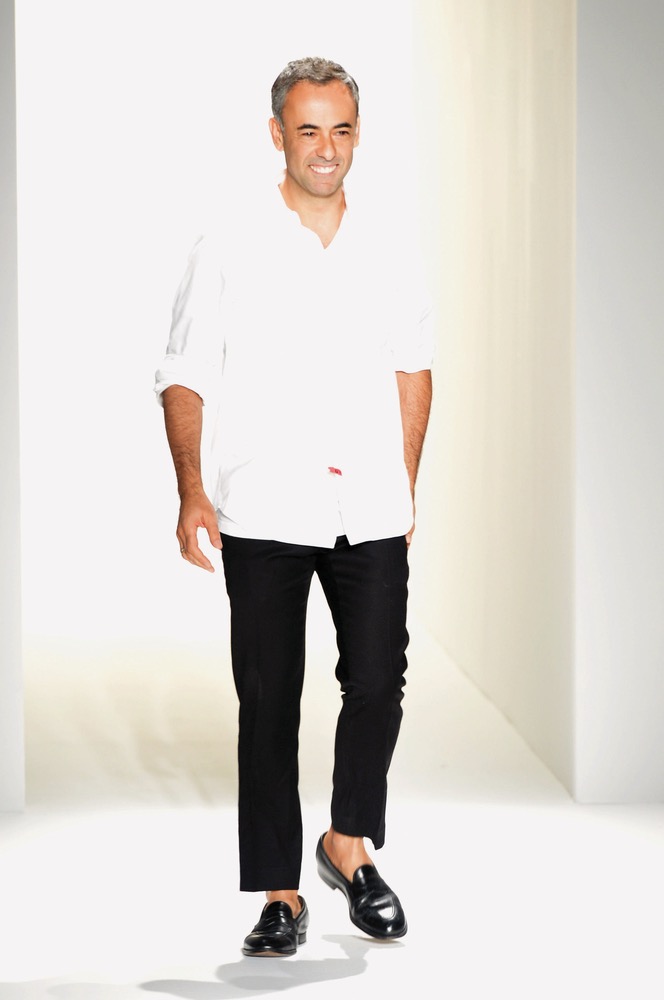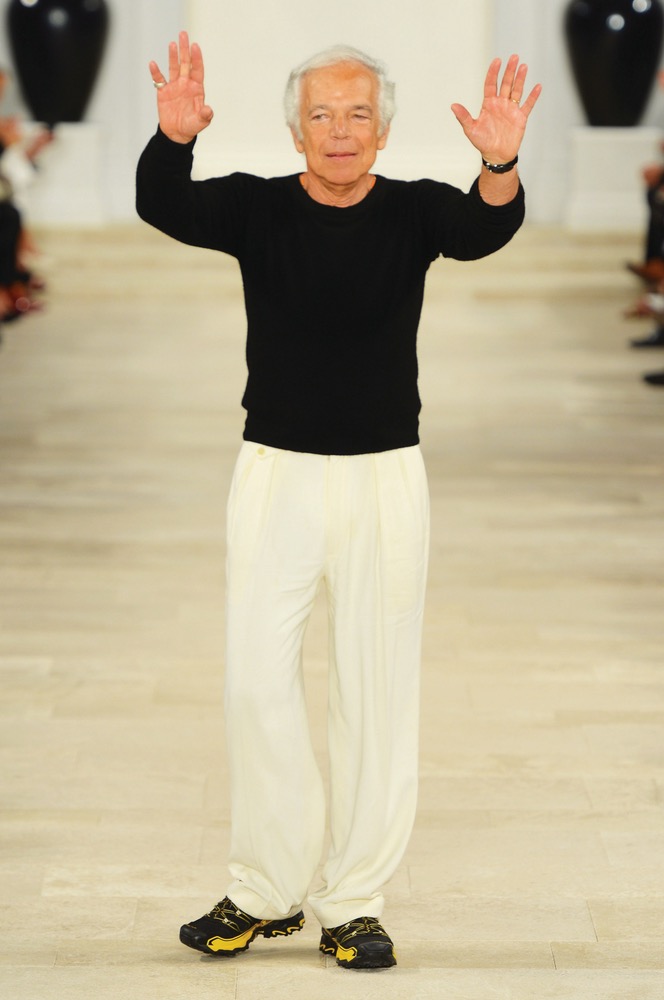 The male designers at fashion week proved this point. Despite any theatrics attached to their collections, these tastemakers all dressed similarly in simple, functional styles. It's these designers who, when the work day is over, know how to style their pieces in a way that says, "These are the clothes I live in." Tommy Hilfiger, Zac Posen, Ralph Lauren, Mark Badgley and James Mischka of Badgley Mischka, Gilles Mendel of J. Mendel, and so many other male designers took their bows from the runway while wearing straightforward styles that were both chic and unpretentious.
If New York Fashion Week Spring 2013 communicated one thing about what men should expect for the upcoming season, it's that gentleman's style is here to stay. The look can, of course, be updated by thinking outside the box when it comes to combining traditional elements with a little extra color or texture. A man might dress down a classic suit by pairing it with a gray or plaid shirt instead of the traditional white dress shirt, for example. He might choose to trade neutral ties for unexpected pops of color, or forgo a tie completely and opt for a pocket square in a bold, graphic print. For the more adventurous (and often, ahem, younger) man, colored shorts or pants are an easy way to make a modern statement and, paired with a neutral or denim button-up shirt or a sweater, still make for a relaxed, fuss-free outfit. Dressier separates can be combined with casual sweaters, hoodies, or shorts.
Tailored pieces with clean lines made of rich fabrics and colors permeated the style scene long before there were fashion critics or street-style bloggers proclaiming their allure. This style's recurring popularity is all about the classic American gentleman—one who is dressed in chic yet masculine attire that elicits both respect and admiration. Of course, the most important element, as I discovered, is that the style satisfies the man's tastes as he gets dressed—for himself.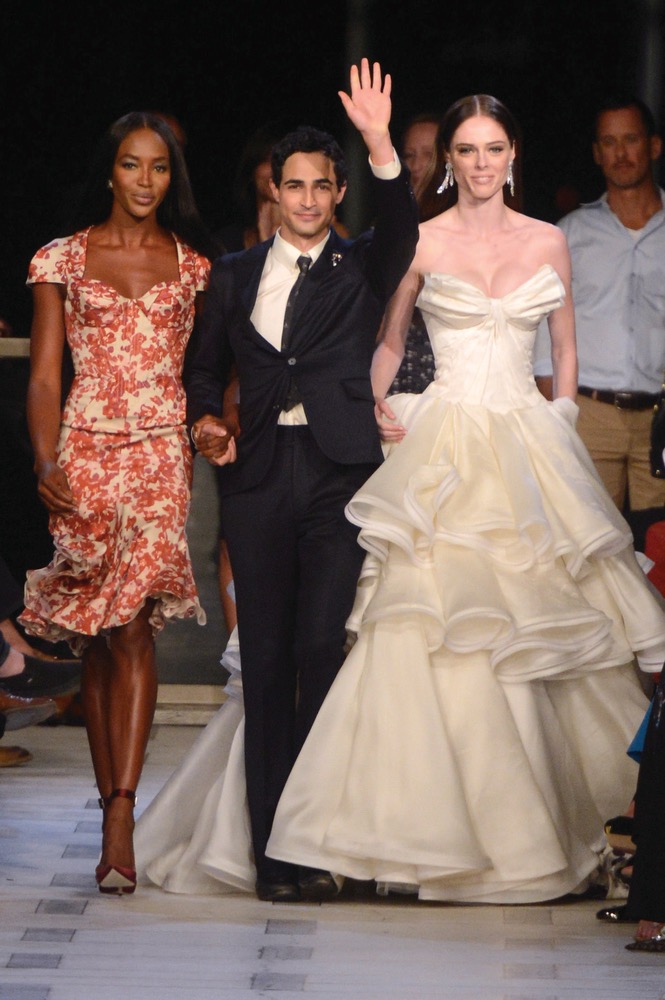 — V —
ARTICLE CATEGORIES