By Xenia Taliotis | Photography courtesy of World Storytelling Cafe
"I tell stories because I see the impact they can have," says Zouhair Khaznaoui. "They can entertain, they can help us forget our troubles, they can bring laughter or tears. They can take us to places we will never, ever be able to go—ten thousand years into the future, ten thousand years into the past, into space. They can inspire. They can comfort. They can teach."
Khaznaoui is a professional storyteller, a hlaykia, in Marrakesh—where the oral storytelling tradition, hikayat, dates from the city's birth more than a thousand years ago. In those early days, the storytellers would take their positions on the main square, Jemaa el-Fna, to ply their trade. This was their stage, and each night they shared it with musicians and fortune-tellers, snake charmers and dancers, and with their audience, people who would weave among them, gravitating towards the halqa, or story circles, of those whose narratives enchanted.
I tell stories because I see the impact they can have," says Zouhair Khaznaoui.
At the end of the performance, the listeners would pay what they could and disperse. The next night they would do the same, seeking out their favorite storytellers. "Sometimes the big epic stories would continue at the same time each day, for months and months, sometimes for a year or even longer," says Richard Hamilton, author of The Last Storytellers, which recounts the decline of storytelling in Marrakesh. "The tellers had a huge repertoire—their fables, fairy tales, and creation myths borrowing from the rich traditions of the cultures that came to the city."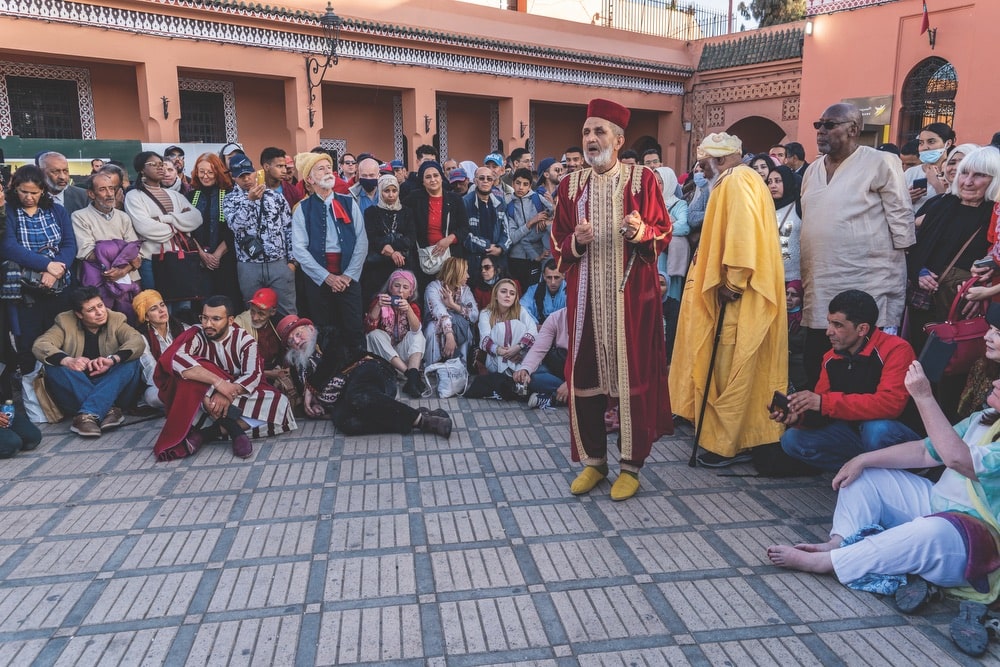 Principal of these were Arabs from the Middle East, Berbers from North Africa, and people from sub-Saharan Africa. Over the centuries, their stories became part of the fabric of Marrakesh's own narrative. Gradually the skill of the hlaykia became known and celebrated throughout much of the world.
In 2001, UNESCO proclaimed Jemaa el-Fna as a Masterpiece of the Oral and Intangible Heritage of Humanity in recognition of its significance as a venue for storytellers. One of its goals was to offer protection both to the square and those who performed there, as UNESCO's report carried a warning: the traditional practices they hoped to preserve, which had prompted them to list Jemma el-Fna, looked set to "suffer acculturation."
The caution proved prescient, and sadly, acculturation did indeed happen, causing grievous injury to the storytellers and the art itself. The arrival of modernity in the form of television, mass tourism, traders settling in Jemaa el-Fna to sell what they could to those tourists, and, most recently, cell phones drove hikayat to near extinction.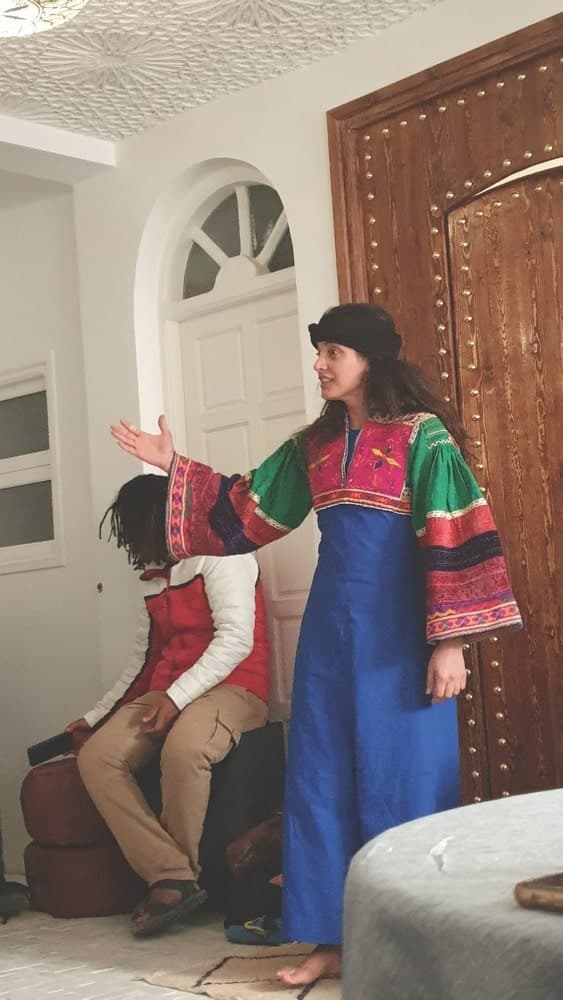 In an article he wrote for the BBC in 2014, Hamilton recounted a conversation with a hlaykia where the man told him there was no longer space for storytellers, that their voices had been engulfed, swallowed by the merchants jostling for the tourist dollar. Hikayat was "nuanced," said Hamilton. "It had not kept pace with the noise and general madness of Marrakesh," and it was dying.
When he wrote that article, there were very few hlaykia left in Marrakesh—Hamilton thought perhaps only two. All seemed lost, but then—just as in the best fairy tales—two remarkable interventions were set up by British people whose love for Morocco runs deep. First came Mike Richardson's Cafe Clock in 2014, a lovely space in a traditional riad where locals and tourists can meet for enriching cultural and culinary experiences. Vital to its work is its apprentice program for young storytellers: revered master hlaykia Hajj Ahmed Ezzarghani not only teaches his trainees the ancient stories but also how to tell them, how to build suspense, how to time the denouement—the essentials of the oral tradition.
It was great to see how much people appreciated the event. Stories are so important. They are part of our culture, but also of our future. They can help the world heal.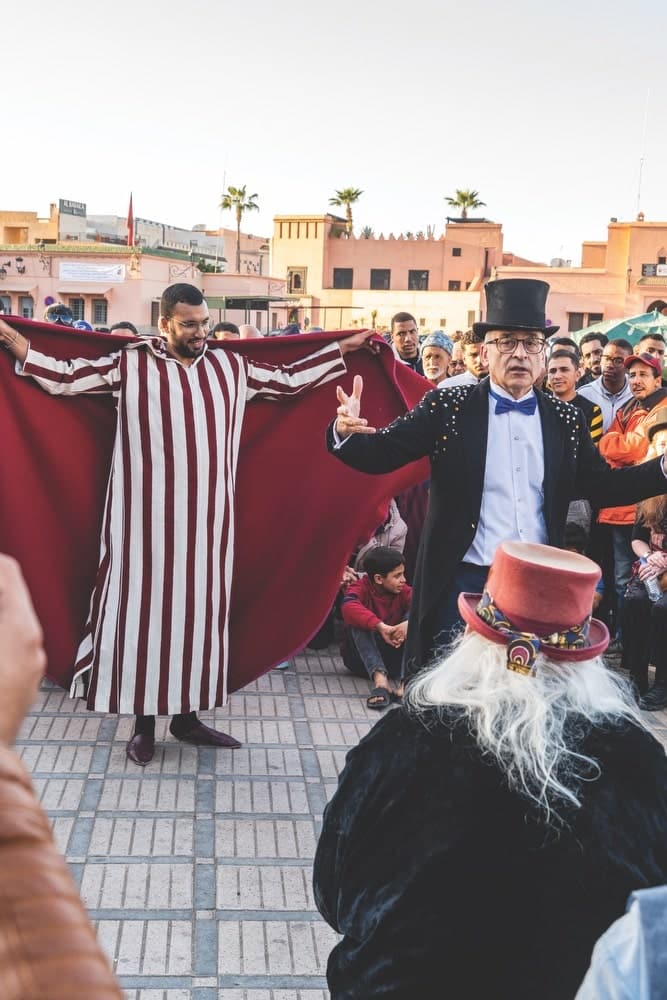 Mike Wood and Lucie Andersen-Wood, owners of the second enterprise, the World Storytelling Cafe, had planned to open a diner with two performance rooms—also in a riad—just before the pandemic hit in 2020. They had staff in place and had enlisted the help of John Row, a world-class teller whose connections in the storytelling world span continents, and were ready to open—when Marrakesh closed.
"We had already started to develop a website, so when we went into lockdown, Mike and John put all their energy into the virtual cafe," says Lucie. "We saw how the pandemic was hitting performers globally, so our project became bigger and bigger. Within a few months, we had two hundred tellers from around the world, all reciting their stories online and finding a potential income stream. We stuck to the performers' traditional method of passing the hat around for gratuities, only it was a virtual hat. Audiences showed their appreciation, and for some of our tellers, that money was the difference between feeding their families and not."
The online cafe is ongoing, with audiences logging in daily to hear stories live or look through the archive for a story they'd like to listen to. And in February, the World Storytelling Cafe finally celebrated its physical launch with its inaugural weeklong Marrakesh International Storytelling Festival. This brought forty of the world's best-known tellers to the city to perform in cafes, riads, museums, and, of course, in the square. It was, says Khaznaoui (a former Cafe Clock apprentice who is now a regular performer at World Storytelling Cafe), a wonderful celebration, marking the city's awakening after lockdown and the awakening of interest in hikayat. "It was great to see how much people appreciated the event. Stories are so important. They are part of our culture, but also of our future. They can help the world heal."
Lucie agrees. "This is one of our key aims," she says. "While it's essential to preserve heritage and tradition, there is also a need to think about the future, and in particular to use stories to educate." She also hopes to show women and other marginalized groups that they can have different roles other than the oft-stereotypical ones depicted in mainstream media. "I'm a counseling psychologist and psychotherapist, so I've seen how great an effect the stories we are told and the ones we tell ourselves can have on us. If you can help someone reframe their own narrative so that, for example, they view themselves as a survivor instead of a victim, you might enable them to change patterns of behavior that are holding them back." In addition, the Word Storytelling Cafe encourages storytellers worldwide who've thus far been denied opportunities to come forward with their tales. "We want to see new writing. We want to hear the voices of all people, regardless of the color of their skin, their gender, their religion, and regardless of whether they are disabled or neurodiverse," Lucie says. "This is a new chapter for storytelling in Marrakesh and around the world—an ever more colorful and enriching one."
— V —
---
The next Marrakesh International Storytelling Festival will be held February 12-19, 2023. Visit WorldStorytellingCafe.com to learn more.
Xenia Taliotis visited Marrakesh as a guest of Riad Spice (RiadSpice.com). Rates start at $158 per night, including breakfast. Guests can also enjoy the facilities of nearby sister property Riad Star (RiadStar.com), including a spa, hammam, and cooking school.
Xenia Taliotis is a UK-based editor and writer who covers lifestyle, travel, well-being, property, and finance for a number of publications, including The Telegraph, Christie's International Real Estate, Women's Health, and VIE.
ARTICLE CATEGORIES