The Best from COLA 2 COLA®
By Phil Cowart  |  
Photography by Troy Ruprecht
If there was one truism I learned growing up, it's that "life ain't fair," followed shortly by "the fair doesn't come till Friday." So I had realistic expectations that things would not always work out the way I wanted them to. Then one day, while minding my own business, I was given the opportunity to travel along our beautiful coastline in the pursuit of the best barbecue in Northwest Florida—COLA 2 COLA®. My first thought: life might not be fair—but it sure is great! So, with my arm fully twisted, I considered how to review something so complex and steeped in history.
Let me just start by saying I love the South. And by extension I love barbecue. In my mind, the two go hand in hand and barbecue is as much about the culture as it is the food. It is a shared experience for friends and neighbors. The grill or smoker is a sacred gathering place, a place where patience is first learned and then perfected. One afternoon with an ice-cold drink and a few burnt fingertips can replace years of therapy in an office.
I was seeking the soul of barbecue. This meant finding more than just an appetizing dish—I needed an authentic experience. To get that experience, I had to search for restaurants off the proverbial beaten path—the type of joints that can only be found through hearsay or driving with no destination in mind.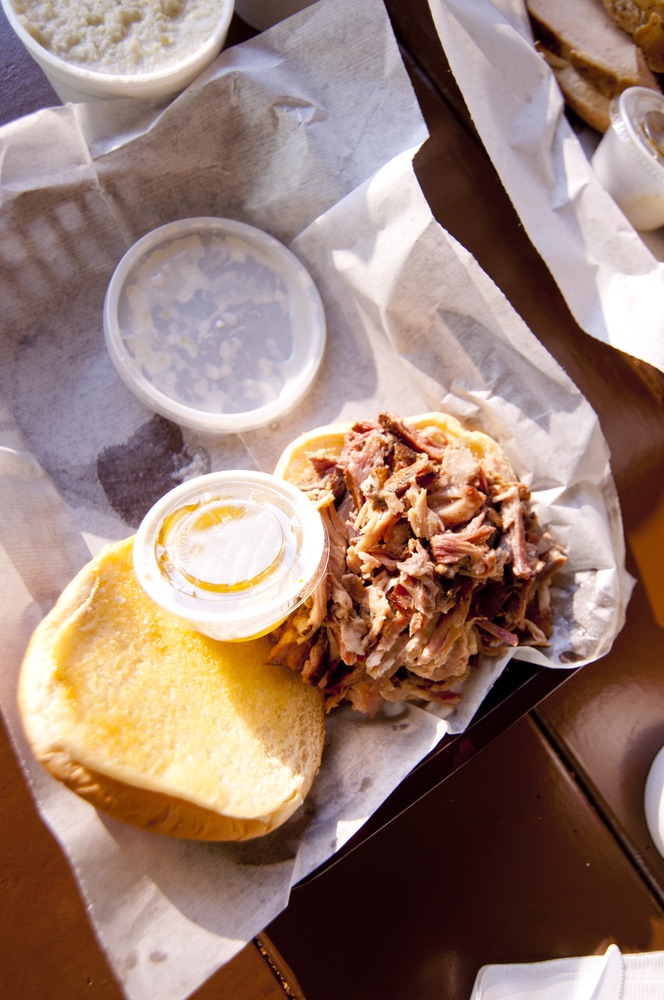 My menu consisted of what I consider to be the staples: a pork sandwich, barbecued chicken, coleslaw, potato salad, and a glass of sweet tea. Now, it is here that I feel the need to take a second to stress the importance of sweet tea. If I was forced to condense all the culture, complexities, and simplicities of a barbecue experience into one thing, it would be sweet tea. Sweet tea is to barbecue what alcohol is to karaoke. Sure you can sing in front of your closest friends and complete strangers without it, but is anybody going to have a good time? Sweet tea is the first impression on my taste buds, and it can make or break the entire barbecue experience. So with all the above in mind, Barefoot BBQ was the first stop on my barbecue adventure.
Barefoot BBQ
2235 East County Highway 30A, Seaside, FL 32459
850.534.0313
"Murph" is the driving personality behind Barefoot BBQ. Murph lives for barbecue. Once he started talking about his passion, I knew I was going nowhere soon—not that I wasn't trying. He toured me around his operation, showing me with great pride the smoker that slow cooks his select pork. He threw me right into the middle of his cramped Airstream—in the middle of the Seaside lunch rush—so I could "feel the excitement." Barefoot BBQ thrives in the small Airstream space, serving over a thousand people on busy days.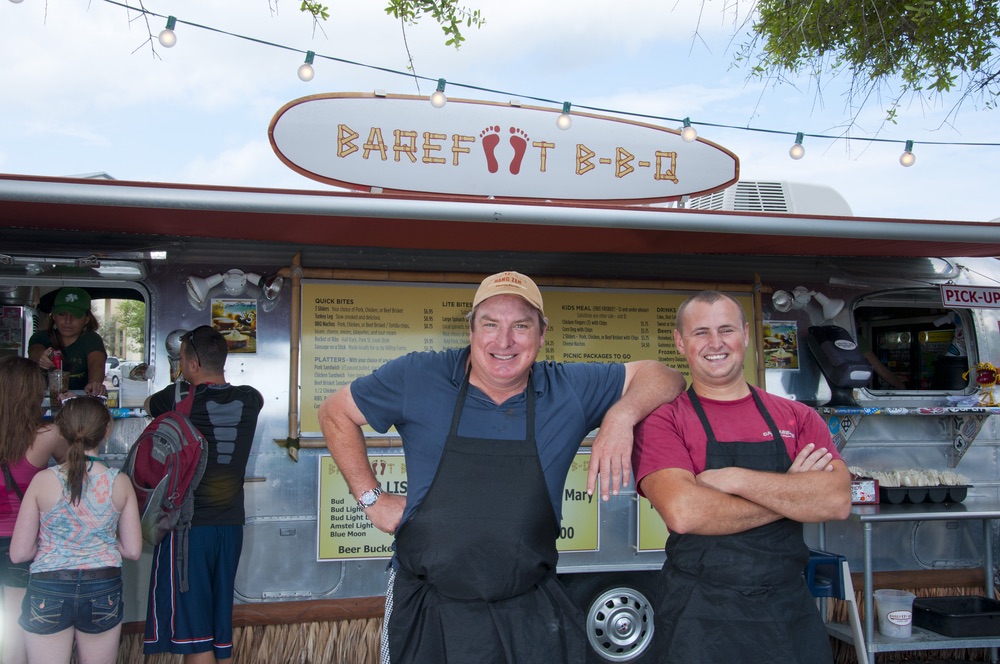 Having moved to the area from the Virgin Islands, Murph brought a unique island flavor with him. This was nothing like the barbecue that I was used to. The seasoning was spicy, and fresh fruit was used liberally. The Caribbean influences were everywhere, from the surf-inspired sauces—Hang Ten and my personal favorite, Hot Lava—to the fresh pineapple in the coleslaw. The natural sugars in the pineapple transformed simple cabbage into something that could easily substitute for dessert. And no regular pork would be worthy of thirty hours of attention from his smoker. No, this was Kurobuta pork, the most delicious pork known to man. Murph replaces the traditional bun with two pieces of Texas toast, which left me wondering if I had been doing barbecue wrong my whole life. During my taste trials, Eli, the man who operates the smoker, would appear every minute or two with a new serving of chicken for me. Each time he would say, "It's the best chicken you will ever taste. It will make you forget about that last bite." And he was right!
The general atmosphere at Barefoot BBQ is an interesting blend of sidewalk dining and beach bungalow. It offers the perfect escape from the beach but lets you be a part of the excitement of the Seaside town square. Relaxed at my table with a large biodegradable cup of sweet tea, I felt at home while the entirety of Sgt. Pepper's Lonely Hearts Club Band played behind me. Great food, nice people, sunny days. Barefoot BBQ was a great reminder of why people love our area so much.
Lillie's Q
9848 Highway 98, Miramar Beach, FL 32550 850.654.3911
Nothing evokes Southern hospitality better than a wraparound porch—like the one at Lillie's Q. Porch dining with a glass of sweet tea and friendly patrons.
Upon taking my seat, my neighbors struck up a conversation. Home. Our chat first began with an impromptu history lesson of the Florida Panhandle but then switched to something more serious—barbecue. They told me that I had to try the pork first. Who was I to disagree? The sandwich was full of large chunks of tender pork that was so moist, I ate the first half before remembering to add the sauce. Of the sauces I tried, Hot Smoky was my favorite, with a slightly spicy kick. Following my sandwich was an old classic with a new twist—coleslaw with generous portions of sweet relish.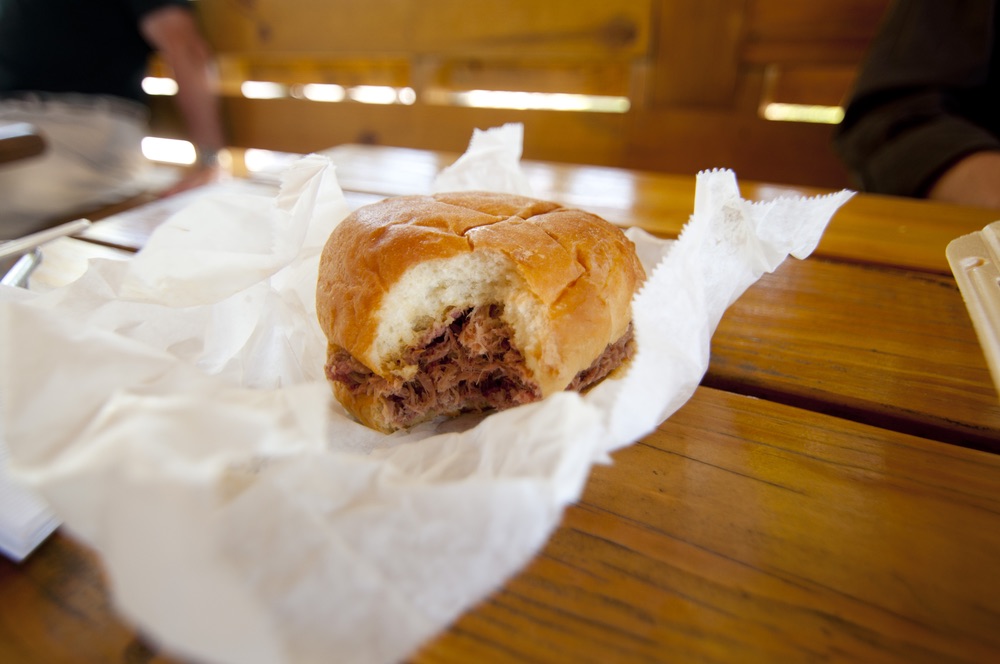 The barbecued chicken was too tempting to put off any longer. It had a nice thick, charred skin to trap the moisture in, but I learned my lesson with the pork and searched for my sauce before I started. Now to find just the right sauce. But wait—could it really be true? My newfound friends at the next table had a bottle of white sauce labeled Ivory. When people discuss barbecue sauce, the debate often rages over mustard- and ketchup-based sauces. Rarely mentioned is the wonderful mayonnaise-based sauce originating from North Alabama. It may sound unconventional—and as an Alabama native, I may be a bit biased—but barbecued chicken was made for white sauce. The charred skin and the tangy sauce seem to melt together. Being the only restaurant on my list with white sauce, Lillie's Q holds a special spot for me. Check it out—you just might find your new favorite sauce!
Rib Shack of Navarre
9532 Navarre Parkway, Navarre, FL 32566 850.936.4244
I know it's a good day when I walk into a barbecue restaurant with the taste of sauce from the previous hangout still in my mouth. I got to the Rib Shack at the perfect time—3:45. Too late for the lunch crowd and too early for the dinner masses. The Masters was on TV and with just the waiter and me occupying the entire restaurant, I knew there was no rush. Before I glanced at the menu, we spent a few minutes speculating whether or not Tiger ever had a chance to recover his former glory.
I recalled, when visiting certain parts of Florida as a child, there being a very distinctive taste about the water which permeated into the tea in a disappointing way. My first impression hadn't been the greatest—even though the tea was freshly brewed and plenty sweet, the salty taste of the water could not be ignored. I had eloquently deemed it "Florida Water" back then; however, I later discovered that it was referred to as soft water.
The pork at the Rib Shack was on the sweet side and was well complemented by their barbecue sauce, which has sweet and tangy Asian influences. The potato salad was fresh and very tasty; large chunks of crisp celery paired well with the creamy potatoes. The coleslaw was underwhelming; it had all the ingredients of slaw but nothing to make it special. Most of the Rib Shack could be described as conservative, as not many risks were taken with the food. The one exception was the barbecued chicken sandwich. A hybrid of barbecue and burger with lettuce, tomato, and pickles on a traditional bun, it was the best item on the menu.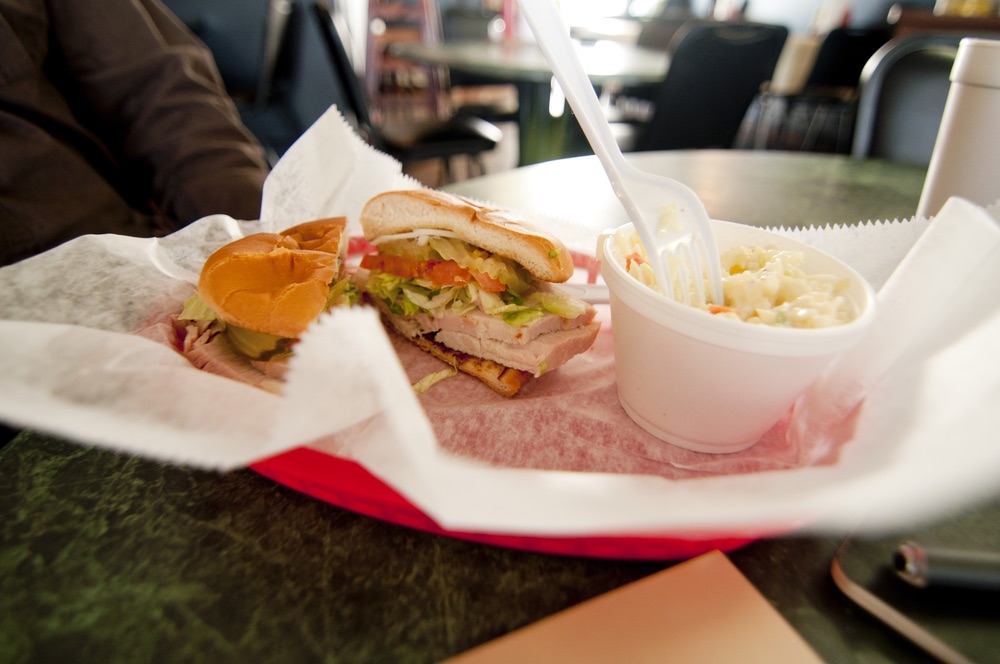 Paul Gant's Bar-B-Que
470 Highway 98, Port St. Joe, FL 32456 850.227.9311
I was off to the far reaches of Port St. Joe for my next stop. Right off Highway 98, Paul Gant's is a simple, hand-painted trailer in a gravel parking lot—that's it. I have high hopes for any food joint where the prime dining option is the hood of a car. I was greeted at the window by a man who refers to everyone and everything as "friend"; he was enjoying himself, singing songs while he filled orders. He lamented over the fact that they had sold all of their peach cobbler, a specialty of theirs. Thinking they had a knack for sweet things, I ordered my sweet tea with maybe a little too much gusto. My god, this is how tea is supposed to taste. It was perfect. It was frothy and brewed with heaps of pure sugar. I switched to the meatier aspects of my meal, which were firmly planted on my hood. I poured the delicious sauce, a thin mixture of mostly vinegar and ketchup, equally on my pork and chicken. This was no frills at its finest: meat, sauce, and a little bread to mop up with. (And I used every bit of that bread!) The pork was as it should be—tender and juicy, and the chicken was ... sweet! It tasted like a sugary glaze was used right before the chicken was taken off the grill. It still had the smoky taste I was looking for, but the sweetness gave it that extra oomph.  The ambience and the food were so simple that ordering sides seemed unnecessary fluff. My biggest complaint about Paul Gant's is that it is located too far away for me to frequent at least once a week. Although it does have a trailer hitch: anyone who operates in a moral grey area, has a truck and a penchant for fine barbecue, call me—I have an idea.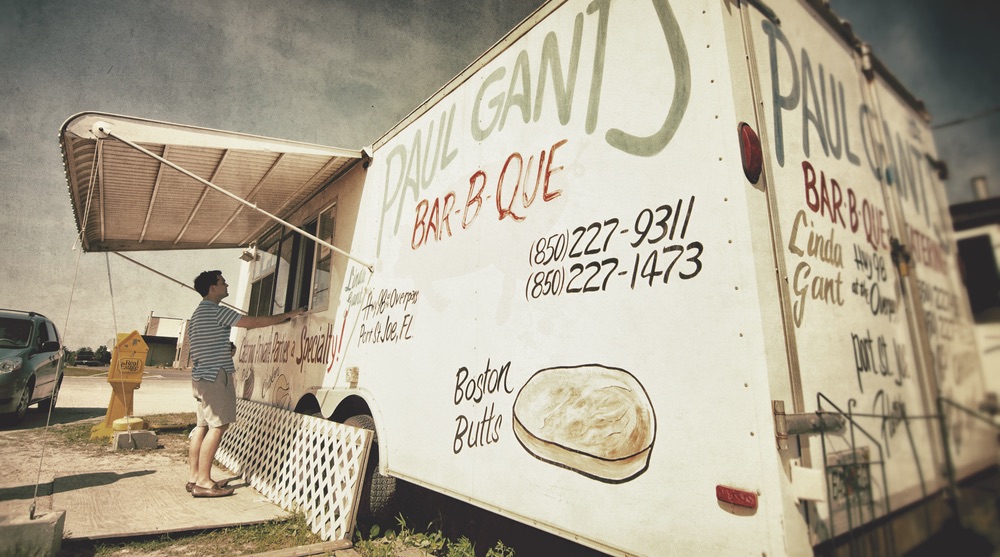 Sea Breeze Bar-B-Que
1139 North Tyndall Parkway, Panama City, FL 32404 850.785.7242
We've heard the saying all our lives—"Don't judge a book by its cover." Well, that's not true for barbecue. If the cover looks pristine and perfect, best be movin' on. I want the book with the torn cover, smeared with dirt, and with a little bit of an edge to it.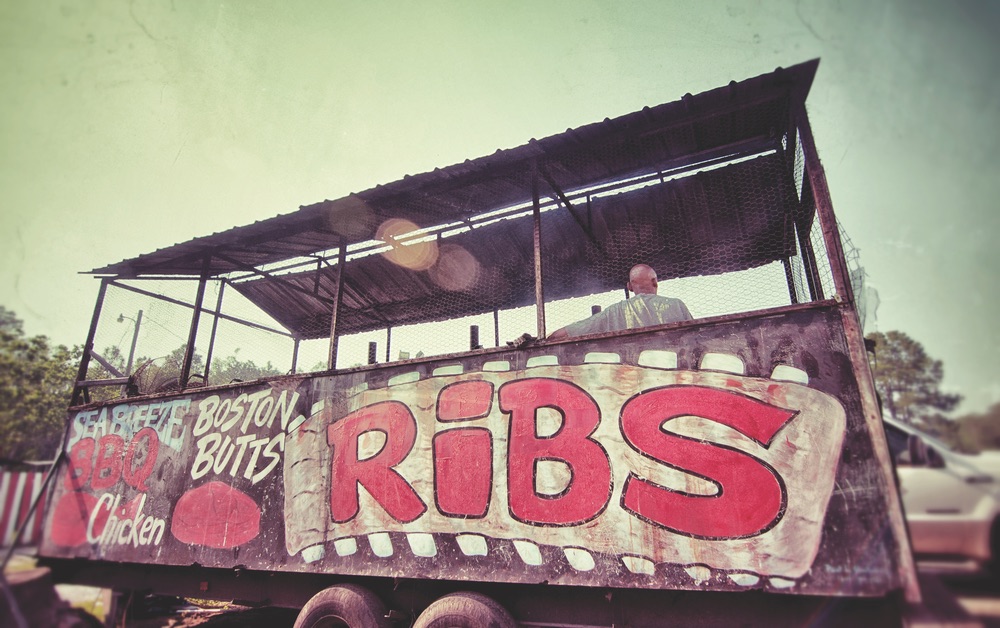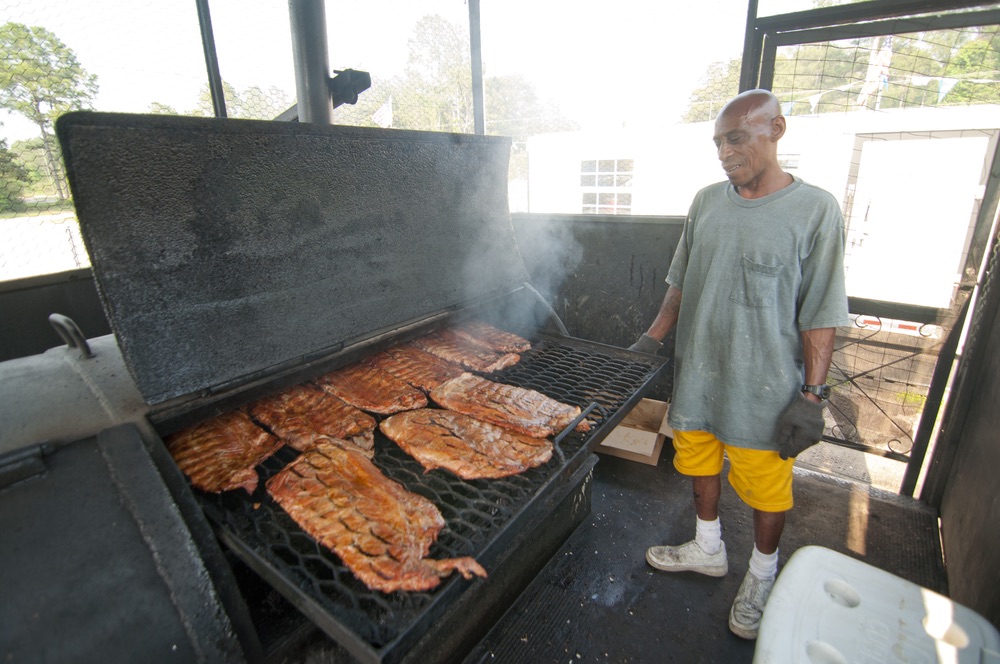 I passed Sea Breeze and had to pull a U-turn after what I saw. An overgrown field next to a gravel parking lot with a trailer in front of what looks to be an automobile graveyard? Sounds perfect! I could hear the gospel music blaring even before I turned off my car. The first person I talked to was out back operating the massive smoker. He gave me a little history about the place—turns out that Sea Breeze is the sister restaurant to Paul Gant's. What can I say? Seeing as I had eaten less than an hour before, I ordered a slightly smaller meal—a pork sandwich and coleslaw—expecting more of the same. I couldn't have been more mistaken. The trailer and setting were about the only similarities the two shared. First of all, this place had the most bizarre sweet tea I have ever experienced. The tea was bright yellow and had a strong lemon taste. Honestly, I didn't mind the mix-up, as I was getting a little burnt out on sweet tea. (If you tell anybody I said that, I will deny it and then I will come find you.) The coleslaw was the perfect side dish, not an overpowering element by itself but with enough heft to balance the pork. I was a little wary of the sandwich at first. Its plain sesame-seed bun looked like it might have been more at home in a fast-food restaurant. The bun, however, held a bounty of chopped pork and sauce. This was the thick, brown sugar type that has the consistency of molasses, and the pork was almost dripping into my lap. It was love at first bite. I spent as much time eating as I did learning the unconventional wisdom of barbecue from my friend in the smokehouse. He had an interesting way of comparing lessons of barbecue to lessons of life. Who knew chicken was such a mighty metaphor? I left Sea Breeze Bar-B-Que with the strange feeling that I had just left an after-church picnic on a summer Sunday.
MJ's BBQ
1316 Beck Avenue, Panama City, FL 32401 850.215.5937
I give up. I concede. Barbecue, you win. My waitress, Debbie, gave me her sincerest condolences when she learned that MJ's BBQ was my third stop since lunch. The matriarch of the establishment, Sheila, was tickled that a write-up of her diner was headed for the pages of a magazine. If you ever find a restaurant staffed entirely by multiple generations of one family, you should order everything on the menu. Before having the chance to order, Sheila kept bringing me little samples of her favorite items. Their version of sweet tea was a fifty-fifty mixture of sweetened tea and unsweetened tea, although at this point, my blood sugar level might have made me the sweetest thing within five miles.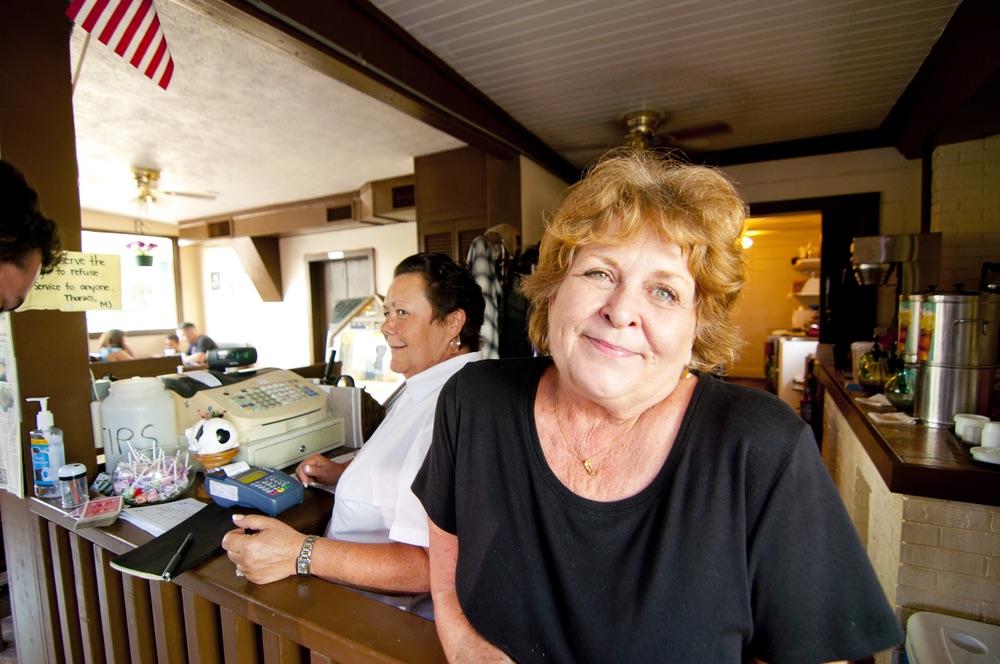 Then, out of nowhere and without any sort of explanation, Sheila plopped a deck of old playing cards down on the table and walked off. So, after a quick game of Indian Poker (in which I won $8.25, thank you very much), she reappeared with peach cobbler. "Want to know the secret ingredient?" Sheila asked. "Cocaine!" she responded with a giggle. "It's how we keep the customers coming back!" This kind of humor (because it clearly was a joke) made me feel right at home. Shortly afterwards, my order came out, and Debbie and I joked about the secret recipe for the family sauce.  She kept offering to tell me as she playfully tugged at the handle of a large butcher knife. I decided it was best to let it slide and just enjoy it.
The sauce I am referring to was one of the spiciest sauces of the day's taste test. I would guess that there was a hint of cocktail sauce in there, most likely from adding horseradish to a ketchup-based sauce. (If I vanish without reason, you will know that I am close.) The potato salad was excellent—thick and eggy. At this point, what more can you say about pork? It's smoky? Check. Tender? Check. So delicious that it causes you to find the limits of how far your stomach can stretch? Check. But I forced myself to save that little bit of extra room for the chicken. The chicken seemed to be baked with edges seared on a grill. Not the most traditional barbecued chicken, but the searing was done with seafood seasoning—a very moist and delicious creation.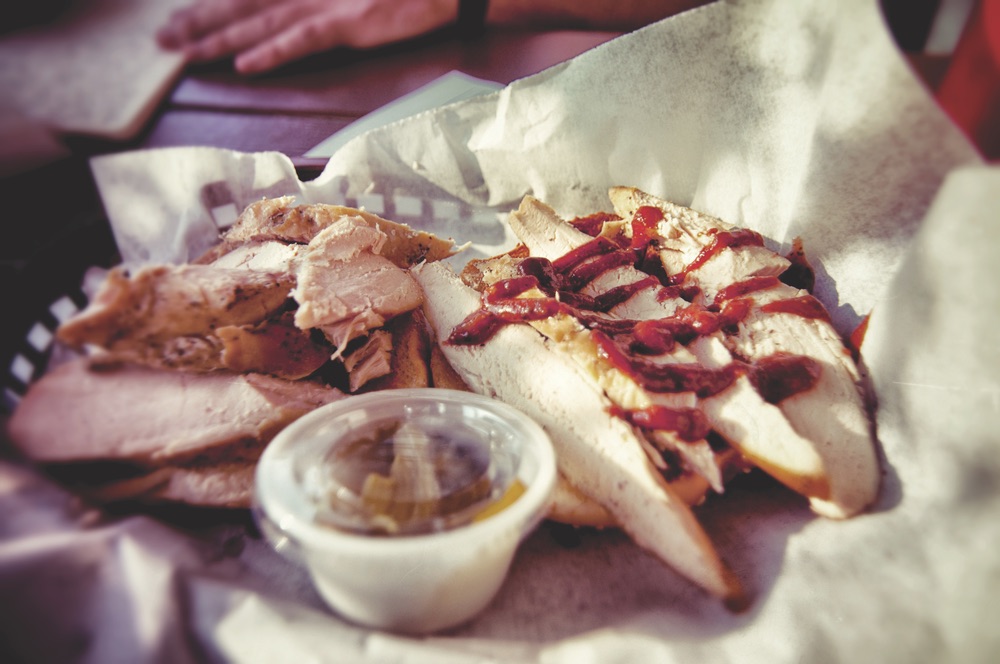 At the end of my taste test, I had sampled six barbecue restaurants over the course of three days. And I could think of only one thing after it was over: whether I should have barbecue for lunch the next day or wait a couple of days. Either I'm a glutton for punishment or our area is blessed with some of the best barbecue in the South. Now you know where to look!
— V —
ARTICLE CATEGORIES