By Sallie W. Boyles
For those seeking glam and elegance, The Shops of Destiny, located on Highway 98 next to Destiny East's main entrance, offer an abundance of both without putting on airs. As independent retailers, the owners reveal a remarkable depth of knowledge and business savvy. Clearly, they know what it takes to attract and keep a customer base of discriminating shoppers. Beyond their sought-after products and services, they emit a congenial, down-to-earth vibe that makes doing business with them a pleasure.
The Shops of Destiny retailers share an entrepreneurial spirit that involves a passion for making customers happy, but a few have something extra in common: a family connection. The shopping center's developer, Jason Romair, is the son of Frank Romair (owner of GG Bloom), brother of Kirstie Carollo (owner of Bella Beach Home) and brother of Marisa Fortenberry (owner of Kiki Risa). Unbelievably to some who have struggled in family enterprises, this is a highly supportive group who are not only proud of one another, but they credit one another for their successes.
A behind-the-counter look inside The Shops of Destiny reveals why customers and competitors alike are taking note.
If searching for the key to AvantGarde Salon's success, you'll quickly uncover  the passion and drive of Joseph Rogers. Attending cosmetology school while still in high school, he dreamed of owning a prominent hair salon. Having grown up in Destin, he was just nineteen when he opened AvantGarde Salon in the Destin Commons shopping center. Rogers then tripled his hair care business when he launched AvantGarde Salon and Spa, which added full-service treatments by masseuses, estheticians and nail technicians.
Rogers, still attending to his personal clients four days per week, has earned numerous accolades from patrons and peers. For the past decade, Salon Today, the industry's premier publication, has counted AvantGarde among the nation's top two hundred salons. To remain on top, senior staff members continually evaluate the latest trends and techniques, which they teach in-house during monthly training sessions.
Attracting and promoting top talent, AvantGarde employs four different levels of stylists. Sami Jones, manager of AvantGarde Salon and Spa, explains that all employees are carefully vetted to ensure excellence. Fresh Talent, the newest full-time stylists, have graduated cosmetology school as well as trained on the floor with AvantGarde's seasoned personnel as assistants for at least nine months before acquiring their own clients. The progression continues to Advanced Fresh Talent, to Advanced Stylists, to Senior Stylists, who are the salon's educators. "Our pricing scale reflects the varying levels of experience," says Jones, adding that the options appeal to a broad customer base.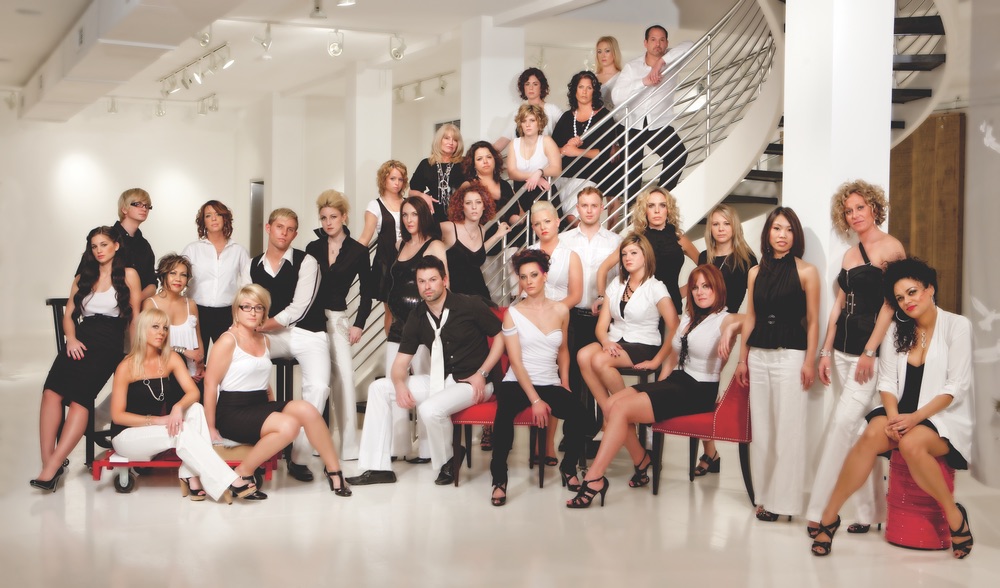 Patrons further value the spa's organic products and naturally healing approach to achieving beauty. "As an Aveda salon, our products—from hair color to skincare—are 98 percent organic," says Jones. "It always smells great in here." Additionally, she says their process is high touch, not high tech. "For example, instead of using microdermabrasion to exfoliate, we offer a botanical (plant-based) peel that is far less irritating to the skin."
Starting with healthy skin and hair, AvantGarde wants clients to look their best through every trend. Jones emphasizes that applications that improve the integrity of the hair, such as prepping before styling, are priorities. For a seasonal sparkle, many are adding lowlights or warming up with chestnuts and reds. "We're also enhancing with chunks of colors in hues of brown, red and purple," she says.
The management further believes in enhancing lives by supporting meaningful causes. Whether to protect the environment, generate breast cancer awareness, or help local children in need, Jones says that they regularly donate their services—the best of what AvantGarde has to offer—to raise funds and make a difference.
To find meaning in her life, Kirstie Carollo, owner of Bella Beach, does not have far to look. A devoted wife and mother of eight children ranging in age from six weeks to eighteen years of age, she has achieved success in a field that she loves.
"I've always loved to decorate," says Kirstie, "but when I first opened the store, I thought, 'How can I handle this?' My children have always been my priority."  Nevertheless, her family's encouragement and support—including children who are willing do chores and grandfathers who happily transport kids to sports—and, most especially, her faith have kept Kirstie on track. When her mother-in-law, Lucille Carollo, a seasoned interior designer, agreed to manage the business, everything fell into place.
Technology also helps. "I have everything on my iPhone," says Kirstie, who uses it to take photos of her clients' homes and record measurements, and then goes home to work. Still, she is often on the go with projects across the Gulf Coast, including in her home state of Louisiana. "I recently completed an 8,000-square-foot home in New Orleans and a loft in the warehouse district,' she says.
Closer to home, she is decorating a model home in WaterColor, Santa Rosa Beach, Florida. "The design is crisp and clean, modern with a beachy feel," says Kirstie. While white is predominant, bold accents give each room its own personality: charcoal grey with a punch of yellow in the den; a blue and white scarf print in the master bedroom; a lime green and white lattice print in a secondary bedroom; tan linen and ocean blue in another bedroom; tan linen and white in a fourth bedroom.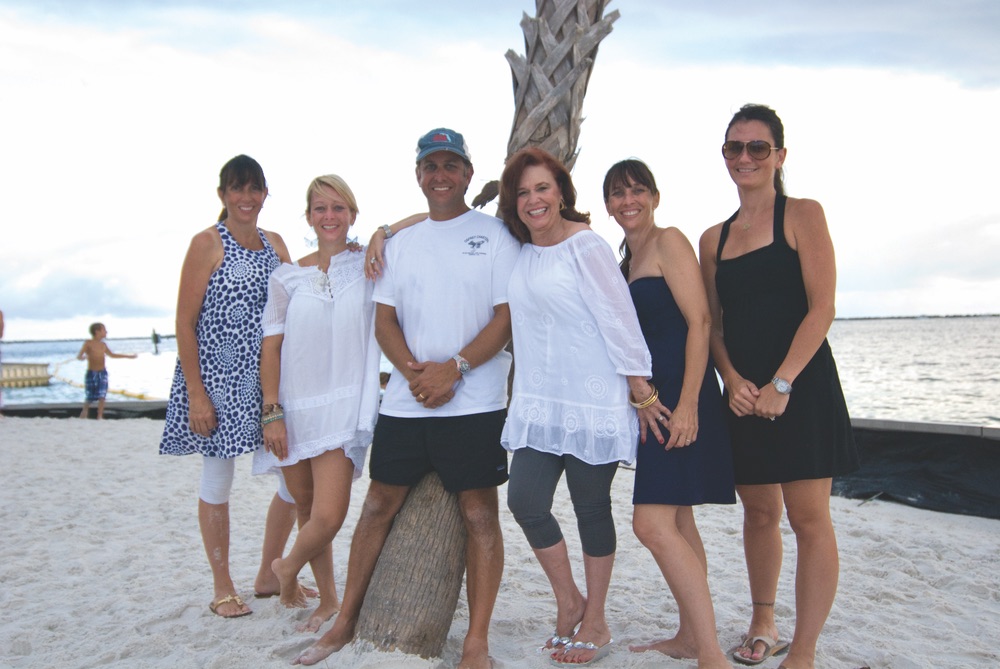 In contrast, one of her favorite projects, the last home she remodeled with a local artist, reflects her preference for European/French country, which is also the theme inside Bella Beach. "It was elegant," says Kirstie, who mentions canopy beds, white slipcovers on the sofas, sea grass rugs." Pale sea blues, greens, and whites made up the color palette.
Undoubtedly, their Louisiana roots influence Kirstie and Lucille, who are glad to see outdated Florida decor trends being replaced by a light, airy Florida aesthetic that contains a touch of New Orleans. "I'd see it in Veranda or Architectural Digest, but I could not find it anywhere on the coast before I opened Bella Beach," says Kirstie. "I definitely felt that our store filled a void in the marketplace."
Along with accessories and art, including originals by local artists, Bella Beach carries well-known furniture brands—Drexel Heritage, Stanley, Lexington, Aidan Gray and Bernhardt—plus a number of boutique lines. "We also have several lines of upholstery," says Lucille, who loves to blend clean-lined furniture, contemporary art and traditional pieces. "The looks we create will remain in vogue for years," she adds.
From the way this daughter-in-law and mother-in-law genuinely admire and care for one another, their business relationship will also endure.
When it comes to timeless designs, GG Bloom is a reminder that fresh flowers enhance any decor and that creativity takes natural beauty to another realm. Many, therefore, are surprised to learn that this business was launched on an impulse.
Frank Romair, the proud patriarch of his entrepreneurial family, and his wife, Mary, had moved to Destin to retire. Though busy with their children and grandchildren, they missed being business owners. After working with son Jason in developing The Shops of Destiny, home to two of his daughters' boutiques, Frank wanted to open an establishment that would please Mary as well as complement his daughters' boutiques. Since they had owned a thriving restaurant on Lake Pontchartrain, Frank suggested a coffee shop. Mary, however, nixed the idea when she considered rising for work every day in the predawn hours. Since Mary had thirty years of floral design expertise, they decided she should exploit her passion for flowers.
Offering an array of flowers and greenery, both fresh and silk, Mary spends much of her time creating custom arrangements for clients' homes and offices. Holiday projects keep her especially busy. "We'll handle every detail of the decorating and then take it all down at the end of the season," says Mary. One of her favorite jobs is assembling the backdrop for Santa's spot in Rosemary Beach's town center, where children and families gather to take photos.
She also enjoys inspiring others with her in-store arrangements, and for Christmas, the options are abundant. Some trees set a traditional or woodsy tone with ice skates, cotton and huge pinecone ornaments, while others sparkle with bling. "Customers love our color-themed trees, especially the aqua and bronze," says Mary, adding that trees flocked in red or white are also popular. "People also love the Grinch-green tinsel!" While many customers linger over choices, others run in and out on a mission. "I've had several quickly purchase a fully adorned tree they've been admiring through the window," she says. Mary also makes life easier for many professional decorators, who grab her ready-made arrangements.
Though pleased to oblige any whim, her general style is Southern. "We frequently use hydrangeas," Mary says, "and we stick to a natural look, even when we're working with silk."
The self-proclaimed errand-delivery boy for GG Bloom and for his children's enterprises, Frank acknowledges that his wife makes the important decisions. "Mary is the heart and soul of this business," he says.
In turn, Mary concedes that Frank is the heart of his family. "He can name all twenty-four grandchildren in order of birth without skipping a beat," says Mary. Indeed, for Frank and Mary Romair, the bottom line is about family.

Kate Powell, owner of Beautiful Lights, also started out in a family business—her father's electrical construction company in Louisiana. Though she majored in art and design at LSU, her dad encouraged her to change direction for a more lucrative career. Following his advice, she learned to estimate electrical construction costs for industrial and commercial projects, and she continued in that field for twenty years.
"Over time, I got burned out and wanted to return to an artsy frame of mind," says Powell. To transition her career, she managed a successful lighting store. Though her boss's financial problems forced him to close the store, the experience enabled Powell to see the potential value of owning such a business. Consequently, she launched Beautiful Lights.
"I now design with lighting," says Powell, who loves to brighten her clients' lives. Serving a broad clientele, she takes on residential and commercial projects, remodeling jobs and brand-new construction, and contemporary to traditional designs. "With my artistic background and electrical experience, I guide clients and explain what they can feasibly accomplish," says Powell. Since rearranging or adding lighting can get tricky, the earlier she is brought into the process to consult, the better.
"I love to work with people who come to me before they have a lighting layout," says Powell. "Most wait until their contractor sends them to the lighting store, but by that time, they usually don't have enough money set aside to incorporate the best choices."  Consequently, one of her most enjoyable jobs entailed working with a prominent designer who was building her own home. "As a professional who has had her homes featured in all the magazines," Powell says, "she appreciated the importance of lighting in terms of design and ambience. She took care of her lighting first so that everything she wanted would be covered in the budget."
Most have spending limits, so Powell recommends timeless designs for key areas. "Don't splurge on a trendy chandelier that will soon look dated," she says. "Instead, get the latest look in an inexpensive lamp that you won't mind switching out." Rather than a major fixture, she will also suggest alternatives that could be more pleasing to the eye. "The desired ambience could result with lighting effects that are hidden by furniture or architecture, so you don't even know the source."
Today, mixing it all up—artsy, edgy, traditional—is also hot. "Lighting styles tend to cycle in ten-year periods," says Powell. "Brass and gold are returning, and blingy crystal is in, but today's chandeliers are not what you'd find in your grandma's home." On the coast, a wispy white, shabby chic Hamptons-style is back, punctuated with sea glass and aquamarines.
No matter an individual's design preferences, Powell begins with a vision that perceives every lighting element as a work of art. "If you trust me," she says, "you'll love the result."
Marisa Fortenberry echoes that sentiment—"trust me"—only her specialty is women's fashions. Growing up in her family's premier Louisiana clothing store, Fortenberry says that operating a boutique is second nature. Like her four sisters, each of whom own thriving retail stores, she was attending New York shows with her parents by age twelve. Learning everything they could about fabrics and design through years of exposure to the business, she and her sister, Kirstie Carollo, launched Kiki Risa in 2000. When Carollo left to pursue home interiors, Fortenberry's husband, John, joined the business. Recently, the couple opened a second store in Mountain Brook, Alabama.
While Fortenberry doesn't hold a design degree, she clearly has a knack for dressing her customers, who range in age from twelve to well past eighty. Her staples include timeless labels—Theory, Susana Monaco, Nicole Miller, and Three Dots—to which she adds the season's hottest trends from up-and-coming names in fashion. "We've carried most of the same designers since we opened ten years ago," Fortenberry says, "but there's always something new in the mix."
In addition to the retailer's great everyday looks, including seasonal boots and sandals, Kiki Risa is also a go-to resource for ball gowns. "We have beautiful dresses for mother of the bride, debutante and prom," says Fortenberry.
Another factor in her success is Fortenberry's personal style. "We are superfriendly in here and low key," she says. "I love to take care of my customers in a way that makes them comfortable without too much fuss." As they sit on the sofa and sip a Coke, Fortenberry is pleased to pull outfits with accessories for them to try on. "I love making people feel happy and good about themselves, especially when they listen to my suggestions!"
When it comes to making decisions, Fortenberry acknowledges that being quick on her feet is one of her most important assets, especially now that she has four little girls—ages two, four, six, and eight—and is pregnant with her fifth, a boy due in February. "I don't stay on any one issue for long," she says. "When I go on buying trips to New York and Atlanta, I accomplish everything in one day so that I can come right home."
Her life, in fact, is all about home and family. "Each new baby comes to work with me," Fortenberry says. "It's over when they learn to walk." If family traditions continue with the next generation, however, her children will be back when they're old enough to work.
For the foreseeable future, at least, The Shops of Destiny will remain a prime destination for savvy consumers who appreciate good taste and enjoy being treated like family—in a good way!
— V —
---
AvantGarde Salon, Inc. Open Tuesday–Thursday and Saturday, 9 a.m.–6 p.m.; Monday and Friday, 9 a.m.–7 p.m.
Bella Beach Open Monday–Saturday, 10 a.m.–5 p.m.
GG Bloom Open Monday–Saturday, 10 a.m.–6 p.m.
Beautiful Lights Open Monday–Friday, 10 a.m.–5 p.m. and by appointment
Kiki Risa Open Monday–Saturday, 10 a.m.–6 p.m.
ARTICLE CATEGORIES