Northwest Florida's Hidden Gems
Story and Photography by Romona Robbins
Every year, millions of people flock to Northwest Florida from every direction, anxious to dip their toes in the warm waters of the Gulf of Mexico. But beelining to the beach means bypassing a different side of Florida's Panhandle—one that is every bit as unique and nowhere near as salty.
Florida is home to over seven hundred freshwater springs. Just a short drive from what's known as the Emerald Coast—the area that stretches from Destin to Panama City Beach—lies a vast system of waterways fed by many springs. These aren't your everyday swimming holes; they are diverse ecological playgrounds. But before we get into that, allow me to nerd out on them for just a bit:
When water permeates and dissolves the limestone directly beneath us, it causes sinkholes and extensive cave systems. Springs form where the excess groundwater exits the aquifer (also known as karst springs). Springs are categorized by their magnitude (first magnitude through eighth magnitude), which is the amount of water discharged per day in cubic feet per second. A first-magnitude spring pumps out the highest volume, which starts at one hundred-plus cubic feet per second—about sixty-five million gallons of water per day! An eighth-magnitude spring trickles less than a pint per minute. So, if you are looking for a solid spring to visit, look for first- through third-magnitude springs. These are the ones worth grabbing your snorkeling gear and taking a dip!
There are about forty documented springs in Bay, Walton, Washington, and Holmes Counties in Northwest Florida, all of which are a constant 68 degrees year-round. I haven't visited them all yet, but here are a few of my favorites so far.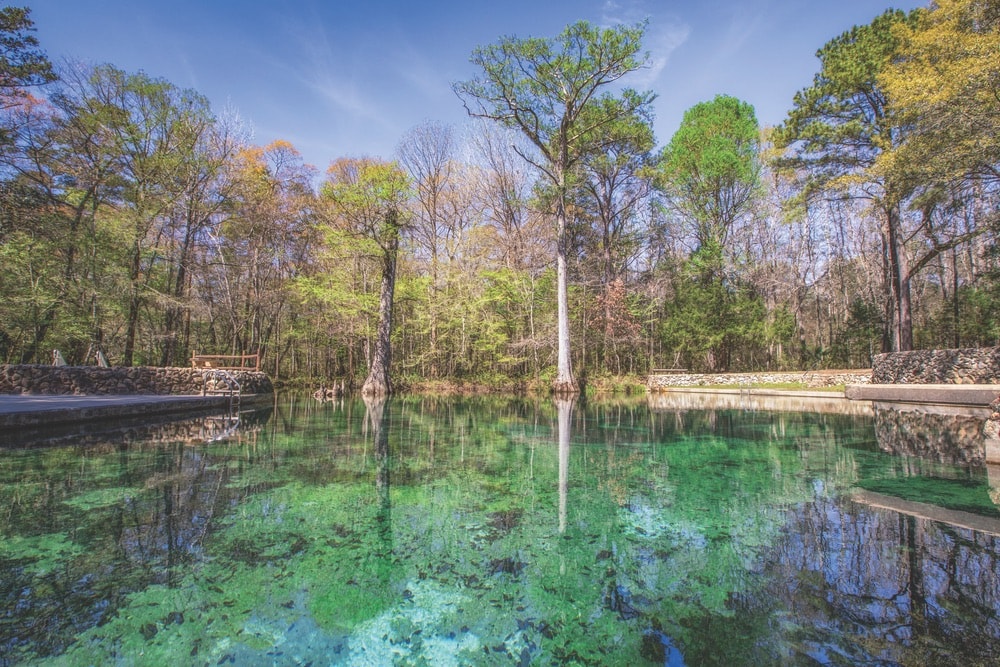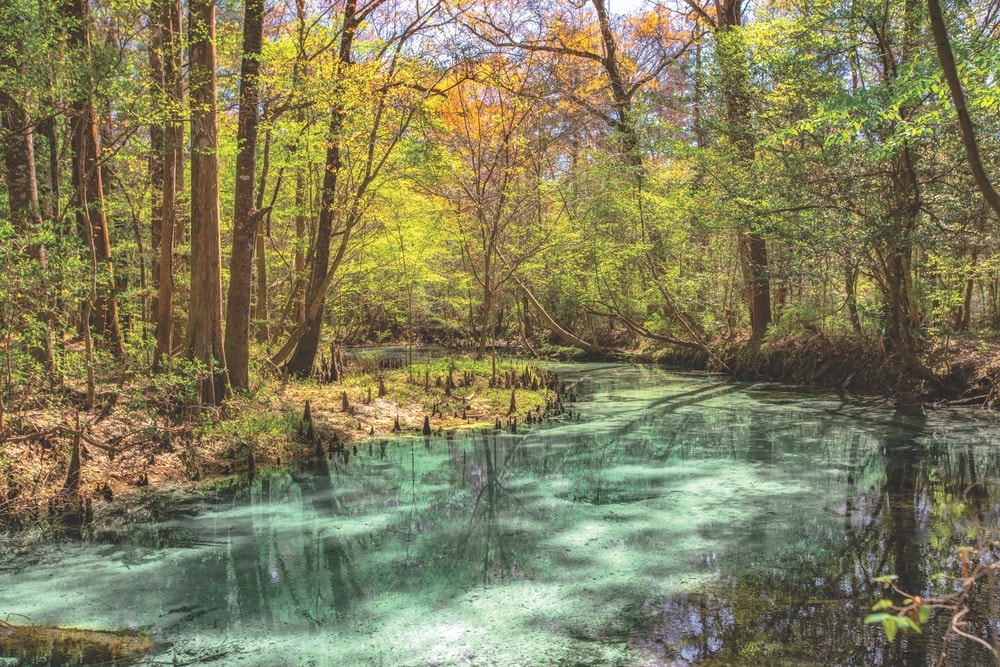 Ponce de Leon Springs
When it comes to simplicity, convenience, safety, and good old-fashioned family fun, there are plenty of springs, such as Vortex and Morrison, which you can drive right up to and access via a boardwalk or dock (or, preferably, a rope swing). These are the springs I think of when I picture the classic blue "swimming hole," and Ponce de Leon Springs perfectly epitomizes that vision. This crystal clear second-magnitude spring pumps fourteen million gallons of freshwater every day. It was privately owned by the Smithgall family back in the 1920s, and they converted it into a local family hangout complete with a high-dive platform and even a skating rink. These days, Ponce de Leon Springs is a state-owned park, so its amenities aren't as outlandish, but there's still a concrete dive platform along with picnic tables, barbecue grills, pavilions, and nature walks. Ponce de Leon is the perfect spring for my hubby and me to visit with our five-year-old daughter for a quick half-day trip from Destin.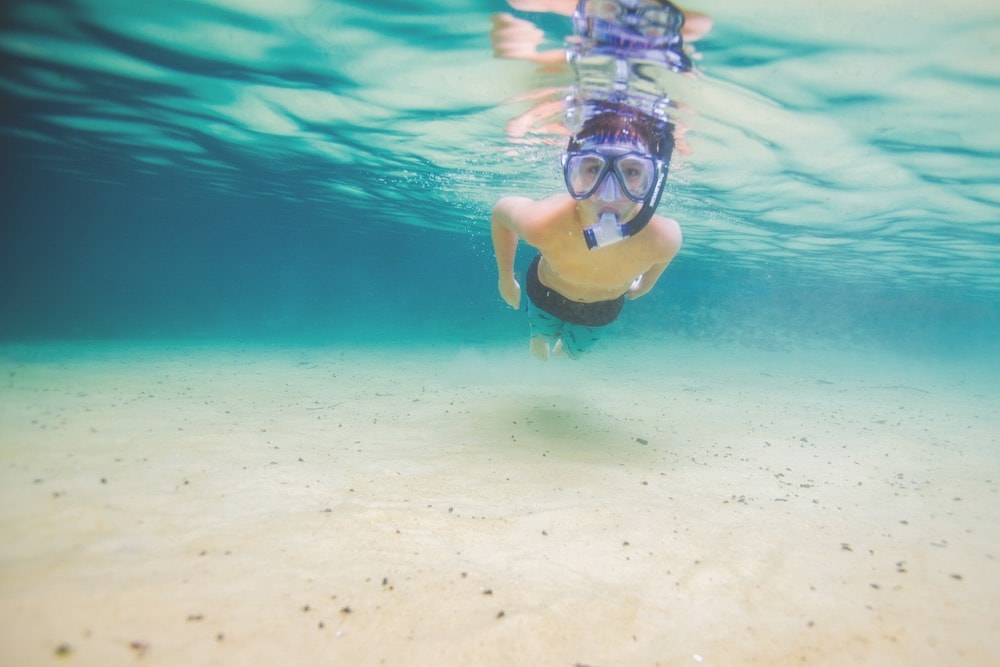 Econfina Creek
If you're looking for something a little more ambitious, then pack (or rent) a water vessel (like a kayak, paddleboard, inner tube, or canoe) and go "spring hopping" down one of the waterways it feeds. Probably the most well known near the Emerald Coast is Econfina Creek, and for good reason. Econfina runs twenty-six miles through Bay and Washington Counties, from Deer Point Lake all the way to the Gulf of Mexico. The most popular section is a five-mile stretch with eleven named springs to explore, including a first-magnitude, four second-magnitude, and six third-magnitude springs.
For a recent full-day excursion, I packed a cooler and met up with a group of old friends. We rented over a dozen canoes from Econfina Creek Canoe Livery and paddled through the hilly limestone landscape that is enveloped by a variety of Appalachian vegetation. It rained off and on that day, which affected how vibrant the blue-green springs would typically be, but it also created a mysterious mist that danced over the water and added to the beauty around us. Sharing this experience with a rowdy group of fun people made it even more special. There is nothing better than disconnecting from technology and reconnecting with Mother Nature and each other. Pace yourself, though, as it takes six to seven hours from start to finish, which can lead to exhaustion—or a severe hangover— depending on your "paddling" technique.
We rented over a dozen canoes from Econfina Creek Canoe Livery and paddled through the hilly limestone landscape that is enveloped by a variety of Appalachian vegetation.
Apart from water excursions, Econfina boasts other exciting outdoor activities, such as hiking trails, horseback riding, and camping. It even has cascading waterfalls from an elevated creek. It truly is a local favorite.
Holmes Creek
If you're more of an adventurer looking to find something different without driving into the eastern time zone, then you're in luck. Deep in the backwoods of Washington County, you'll find Holmes Creek. It is by far my favorite waterway in our area. This wonderland of flora and fauna merges with the Choctawhatchee River and is fed by thirteen pristine springs. It has a thirty-four-mile paddle trail that starts at Burnt Sock Landing and ends at Cedar Tree Landing, with numerous access points in between. This semitransparent waterway meanders through cypress-tupelo swamps and wetlands. Its most well-known spring is the second-magnitude Cypress Springs, located north of Vernon. It has two vents at the bottom of the spring where the water discharges, creating a brisk current. Giant bald cypress trees hug its shoreline. The land is privately owned by Nestlé, but the good news is that waterways are fair game, so you can still take the plunge if you have a boat, kayak, canoe, or paddleboard.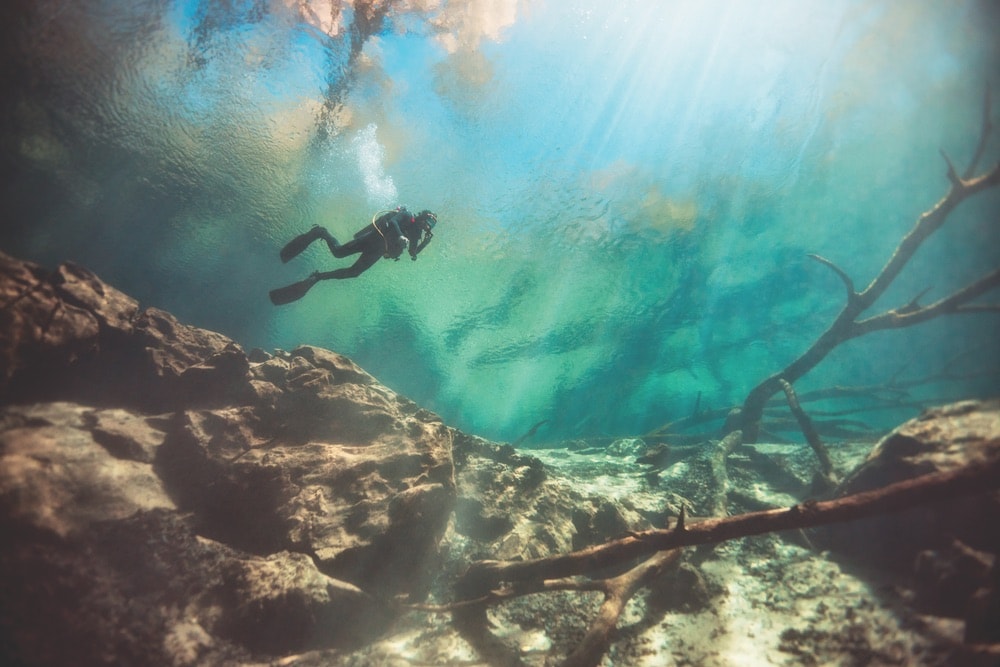 With a max depth of twenty-nine feet, Cypress Springs is perfect for snorkeling, and divers can kick alongside a variety of fish and other freshwater critters. But if you are feeling more adventurous and have your cave-diving scuba certification, then head south of Holmes Creek down the river from Boynton Island. I was fortunate enough to connect with locals Torrey Blackmon and his wife, Candice, the owners of Holmes Creek Canoe Livery. They offer canoe and kayak rentals and shuttle services (for privately owned water vessels as well), and they also facilitate diving tours and "primitive camping," which is the perfect break for those living life in the fast lane.
The land is privately owned by Nestlé, but the good news is that waterways are fair game, so you can still take the plunge if you have a boat, kayak, canoe, or paddleboard.
Holmes Creek is Torrey's stomping ground, and his knowledge of the area is unsurpassed. My dive buddy, John Hott of Ocean Technology Systems, and I recently joined Torrey and his son for a two-day private tour to see what so many Northwest Florida tourists (and locals) have been missing. There was a winter chill in the air, and fall colors still lingered on the trees in mid-March. The best part? Not a soul in sight. At one point, we were so far out in a tributary, we saw a coyote swim across the river in broad daylight (if only I'd had my telephoto lens on to capture it)! Not only did Torrey take us to his secret dive spots tucked away in remote streams to discover untouched caves and caverns, but he also helped me rediscover my own backyard.
So, as you can see, the springs of Florida's Panhandle offer boundless recreational opportunities for ecotourism, diving, snorkeling, swimming, paddling, and fun with friends and family.
These waterways may have similarities, but each is unique. More importantly, each is a window to the health of our groundwater and is vital to the many ecosystems of the area. If you want to escape the traffic, the sweltering summer heat, and tourists as far as the eye can see, then head to the springs. Just be mindful of leaving them the same way you found them—pristine.
— V —
---
To learn more or to plan your visit to Northwest Florida springs, visit WaltonOutdoors.com.
Romona Robbins is a Northwest Florida photographer and dive master who specializes in travel and underwater photography. Over the past decade, she has worked on many network, commercial, and independent projects in over thirty-five countries for clients such as National Geographic, Travel Channel, Lonely Planet, and, of course, VIE.
ARTICLE CATEGORIES