By Matthew Christ | Photography by Michael Granberry
Sandra Brooks, the creator of a distinctive line of jewelry that fuses antique gemstones with modern design, has had multiple careers including high school English teacher, owner of a successful marketing company, and life coach—but never did she intend to become a maker of high-end jewelry.
"It was totally an accident," Brooks tells me during our interview at Amavida Coffee in Rosemary Beach. "I saw a jade artifact online and I was fascinated." After contacting the seller only to find that he had recently sent the antique jade pendant to an artist friend in Spain, Brooks was referred to an antique dealer who dealt in historic jade pieces. She decided to buy a few pieces of antiquarian jade to use as focal points for personal pieces of jewelry.
Yet once she started wearing her jewelry in public, her designs started attracting the attention of others around her. "What is that on your neck and where did you get it?" Brooks recalls one owner of a San Francisco art gallery asking her as she walked through the door. After explaining that she had designed the necklace herself around a 2000-year-old jade artifact, the gallery owner insisted on representing her work on the spot. "And I thought, 'Represent my work?'" Brooks says laughingly. "So I went home and thought to myself, 'Wow, maybe other people are really drawn to this combination of antiquarian jade and modern design. Maybe others will recognize its unique value.'"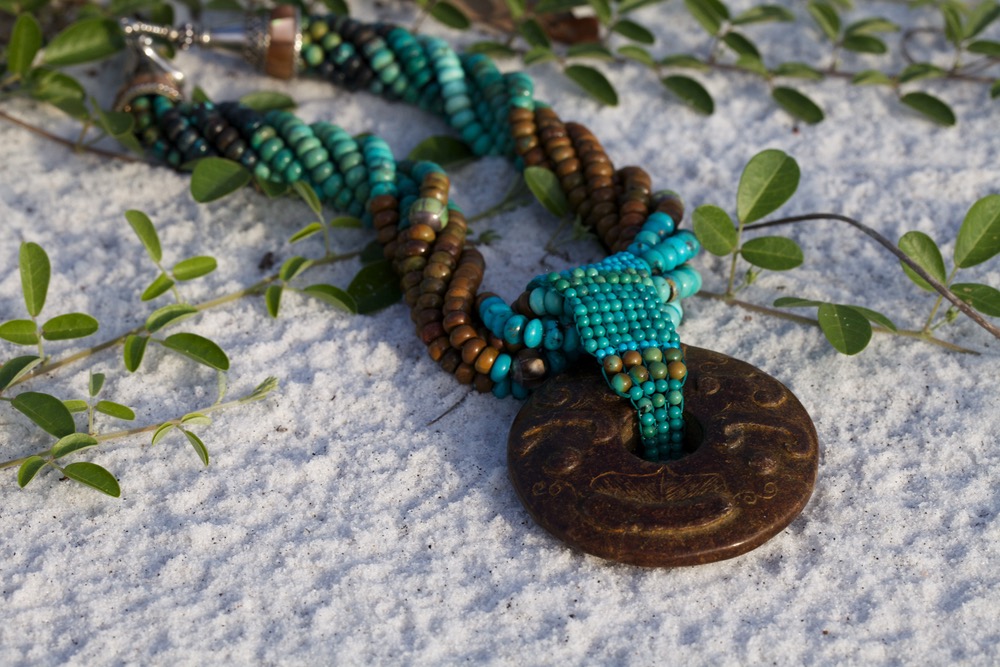 After sending the gallery some of her jewelry, Brooks found herself suddenly fielding requests from the gallery to create more pieces as they were quickly selling out. It wasn't long before other galleries and jewelry shops across the country began representing what would become known as the Sandra Brooks Collection.
Flash forward a decade, and Brooks's collection has expanded from a couple of necklaces to an entire online inventory (www.sandrabrookscollection.com) of her original designs featuring a whole multitude of earthly gems, from vibrant turquoise to metallic gray pearls. Her jewelry has been worn by many notable women, including Sue Grafton, author of the Kinsey Millhone mystery series, and Elizabeth Gilbert, the author of this summer's blockbuster novel and movie, Eat, Pray, Love. Part of Brooks's success is that her jewelry is not just beautiful and rare, but original as well. Despite the exclusive use of the term, "original" might be an understatement. Two necklaces that Brooks showed me each featured large, carved Chinese jade pendants dating from 2000 BC that were found in an archaeological dig. And, while she's interested in precious and semi-precious gemstones, Brooks doesn't focus her artistic energies on typical gems. Sure, precious gems and gold can be found on many of her pieces, but they often play a supporting role, used to enhance the anchor stone, which, in Brooks's pieces, may be a large chrysocolla drusy, a brilliant blue topaz, or an ancient jade pendant.
Jade is what started Brooks on her journey of the jewelry trade, and it is the stone that many of her clients have emotionally reacted to the most. "Sometimes the jade can become hot on a person and other times it becomes cold. It depends on the energy of the person," Brooks says. She's convinced that the ancient metaphysical belief that jade can calm the mind and unleash positive emotion still holds true today. "Some people are just drawn to certain pieces. It's almost magnetic," she tells me. "Now, I don't have an explanation for that, but it does seem that jade has a mystical and magical quality to it." According to ancient Chinese customs, Brooks explains, people who wear a piece of carved jade will be blessed with happiness, health, prosperity, and protection. That's perhaps the reason why so many warriors in history wore jade pendants as they marched into battle.
Cost-wise, most of Brooks's collection is currently priced between $1,000–$3,000 (some are higher), but she recently created a line of jewelry that is less expensive, giving more people the chance to own a piece of history with her modern design aesthetic. She'll also create commissioned works for clients, collaborating with them on personalized jewelry pieces.
Part of what makes Sandra Brooks's collection so unique isn't just the visual distinctiveness of her art, but the story behind each piece she sells. Accompanied with the jewelry, Brooks will include a small card detailing the origin of a particular piece of antique jade, explaining, for example, how one piece's carvings imply that warriors in the Ming Dynasty wore it. She'll also include an authentication certificate for each antique jade pendant she sells, something that is sure to calm jittery buyers afraid of purchasing one of the many pieces of fraudulent jade currently on the market.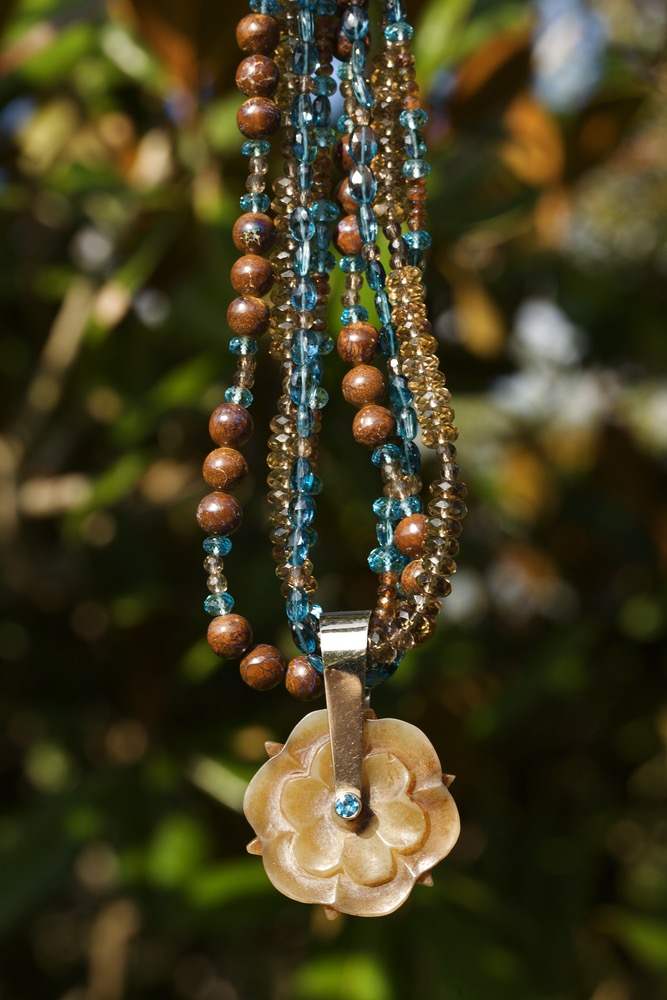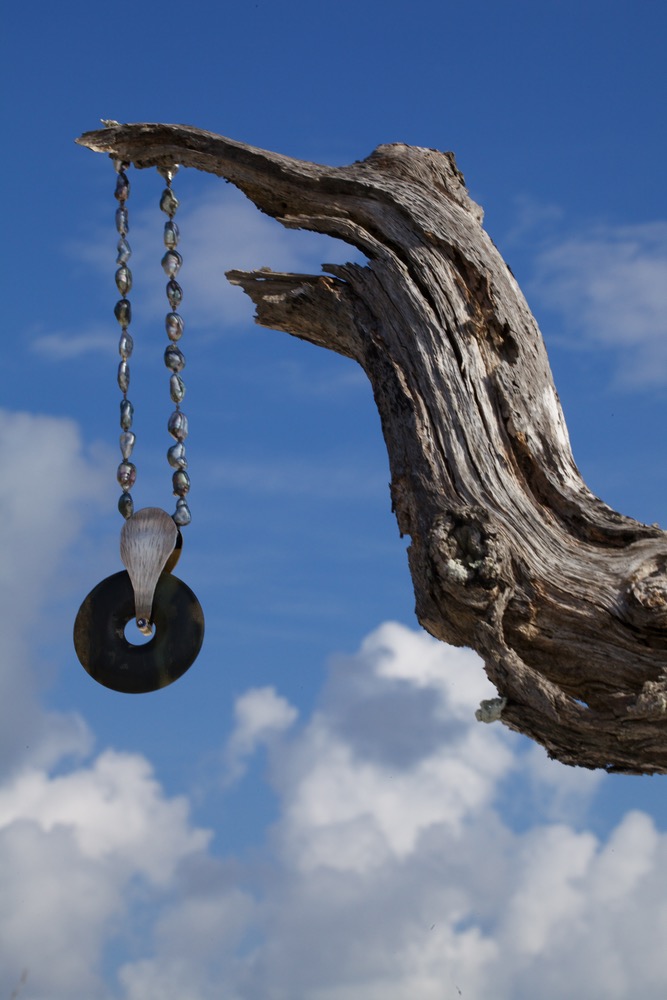 But what fulfills both Brooks and her clients is the fact that at the end of the day, a Sandra Brooks Collection piece is more art than simple jewelry. "They are all one of a kind," she says. "They're art pieces." Much more than a run-of-the-mill status symbol, each piece holds an emotional connection to an ancient past yet retains a hold on the modern world with Brooks's distinctive design imprint.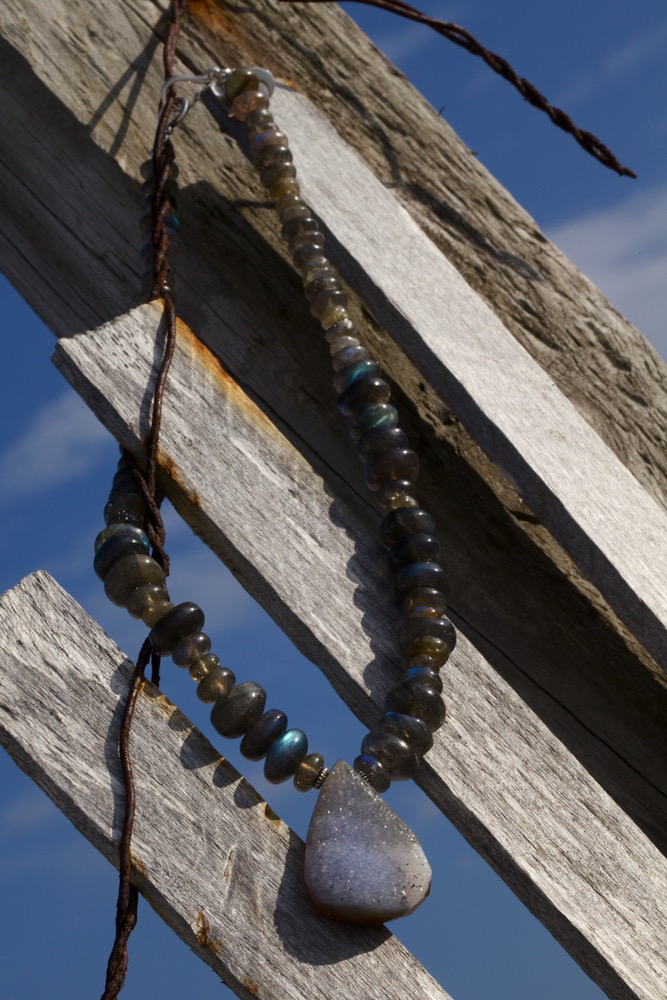 For more information about Sandra Brooks's jewelry, please visit her website www.sandrabrookscollection.com or she may be contacted directly at (602) 330-4141.
— V — 
ARTICLE CATEGORIES