By Suzanne Pollak
When I was a child, I napped on terraces in Tripoli and Benghazi overlooking the Mediterranean Sea. The North African sun burned my fair skin during afternoon siestas, but what seeped into my soul were the calls to prayer bellowing from the mosques spread out over the Libyan cities. Those chants that filled the air are like part of my DNA. Now the church bells in Charleston, South Carolina, ringing all day on Sundays and intermittently throughout the week, punctuate my porch sit-ins.
Long before I moved to Charleston, I lived in and loved our African outdoor rooms. In Enugu, Nigeria, the upstairs square terrace became an astronomy lab. We looked through my father's telescope and listened to him explain the vast black sky—the names of the stars, the solar system, the movement of the comets—before the civil war began and we left my father and the country, before bombs reduced our home to rubble.
Our piazza in Accra, Ghana, spanned the back of a doughnut-shaped prefabricated house on stilts. The piazza was our party space, our movie theater, and our newsroom. My father, a spy by day and a music master by night, recorded reel-to-reel tapes with songs that made diplomats and other dignitaries whip their hips, rocking their scotches and martinis and turning the terrace into a jungle nightclub. When we were lucky, the American embassy received year-old movies, which we projected onto the side wall. The most surprising moment on that terrace came the night we gathered around a transistor radio and heard "one small step for man, one giant leap for mankind" as Neil Armstrong walked on the moon.
Now the daily rhythm of church bells in Charleston seeps into my soul. One bell tower starts ringing, then, seconds later, a different church peals its sound across the sky. No wonder Charleston's nickname is the Holy City. The bells fill outdoor rooms with music, order, and grace.
These are special spaces that allow us to watch clouds moving across the sky or birds flying in formation, all while protecting us from a sudden rainstorm or the blazing sun.
Charleston's single and double porches have long been synonymous with hospitality to the tune of those bells. We entertain on our piazzas all year long because the temperate climate offers a type of living not available in many urban environments. These are special spaces that allow us to watch clouds moving across the sky or birds flying in formation, all while protecting us from a sudden rainstorm or the blazing sun.
On a windy winter afternoon, there is no better place to sit than on the terrace with a loved one, wrapped in blankets while sipping smoky Hu-Kwa tea sweetened with honey from the bees in the backyard. In summer, the porch ceiling fan whirls full speed, and ice buckets stay filled with large cubes for the five o'clock cocktail hour, when bourbon and drops of bitters aid in watching the sun set and the moon rise.
Communication is different on porches, upstairs and down. Why? Spaces affect people's behavior. On a ground-floor porch, one converses with neighbors across the garden, or possibly one meets a passing stranger who might transform her life. Elevated porches are a different environment: exotic, hidden, and perfect for private, uninterrupted conversations—honest, vulnerable, and open—a place to forge a deep connection. They make the perfect nest for daydreaming on a Sunday while listening to church bells ring continuously for half an hour, sounding out hymnal refrains at the opening and closing of a service.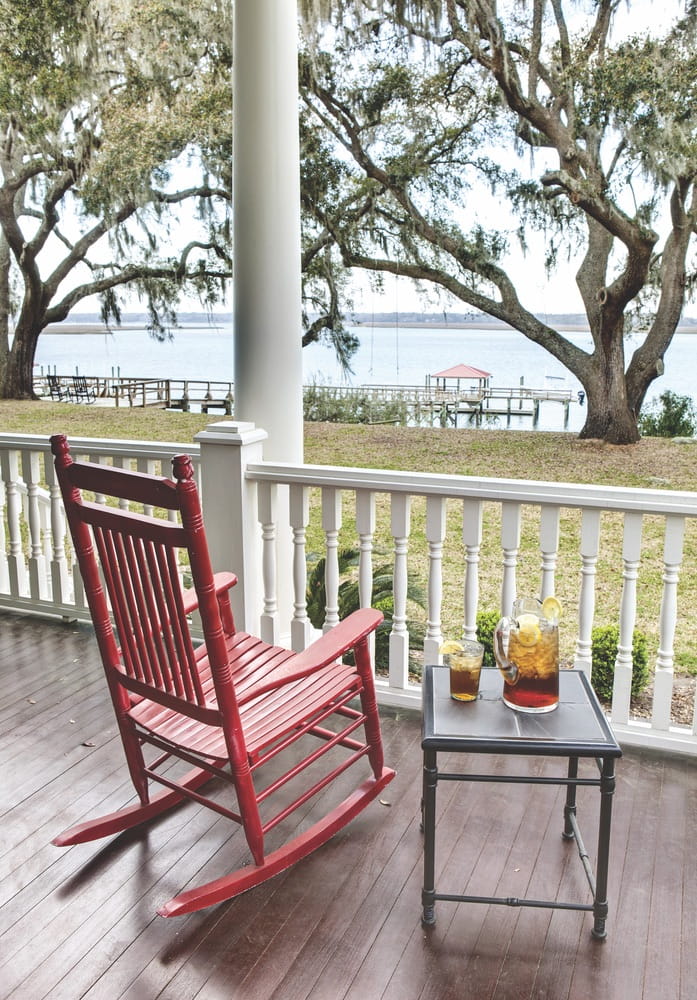 Outdoor rooms and fresh air make people looser and able to talk more freely, telling truths more comfortably. People behave and think a certain way in an interior room and often say what they've said before. Four interior walls may hem one in psychologically. Outside, it's easier to say things you have never said, perhaps even startling yourself. Spending a good portion of the day on a porch can make you feel differently too. Porch life is less chaotic. Fresh air calms, and though you might sit on the porch all day, you won't feel cooped up. The porch becomes your cozy little outdoor cocoon, a safe sanctuary.
Nap on a terrace, drink on a porch, or hang out in a garden and the music of the outdoor room becomes part of your inner vibe. Decades after living in Libya, hearing a Muslim chant still calms me instantly, but it also reminds me of the shortness of life. The moments always cast a long shadow of those who went before and those who are not even born. The chants and bells will continue. Old houses, even decaying ones, last longer than human life. The sounds connect us to the past and the future but are of the moment. These sounds have been the music of outdoor rooms in Benghazi, Tripoli, and Charleston for hundreds of years and will keep ringing long after we are gone.
— V —
---
Suzanne Pollak, a mentor and lecturer in the fields of home, hearth, and hospitality, is the founder and dean of the Charleston Academy of Domestic Pursuits. She is the coauthor of Entertaining for Dummies, The Pat Conroy Cookbook, and The Charleston Academy of Domestic Pursuits: A Handbook of Etiquette with Recipes. Born into a diplomatic family, Pollak was raised in Africa, where her parents hosted multiple parties every week. Her South Carolina homes have been featured in the Wall Street Journal "Mansion" section and Town & Country magazine.
ARTICLE CATEGORIES