Final Destination: Paradise
By Lisa Burwell  |  
Photography by Jack Gardner and Troy Ruprecht
On a balmy evening last September, we drove toward the eastern end of Walton County on Florida's sparsely traveled Scenic Highway 30A. The arrival at our destination could not have been more majestically announced; like oversized bookends, an impressive pair of white masonry structures greeted us. These mammoths anchor the east and west entrances of our destination, Alys Beach, a monochromatic master-planned resort town with stark white all-masonry architecture inspired by the West Indies and Bermuda and a pinch of Mediterranean Morocco thrown in for good measure.
Our mission: To see firsthand what it was like to be tourists in our own backyard—to enjoy a "mini-staycation"—a close-by getaway. With guests arriving from out of town, it was serendipitous to have received a gracious invitation from Alys Beach to experience a first-class holiday at the prestigious resort. And, like so many vacationers do, we planned our retreat as if it were a family reunion—one that would create lasting memories.
Planning and preparing for a vacation is usually fraught with anxiety. Itineraries, logistics, and the sheer drudgery of travel can sometimes be overwhelming. It usually seems that there is too much to do and too little time to do it in. And then—you arrive! Successfully vacating daily responsibilities is a feeling that can only be described as euphoric. Ah! Paradise!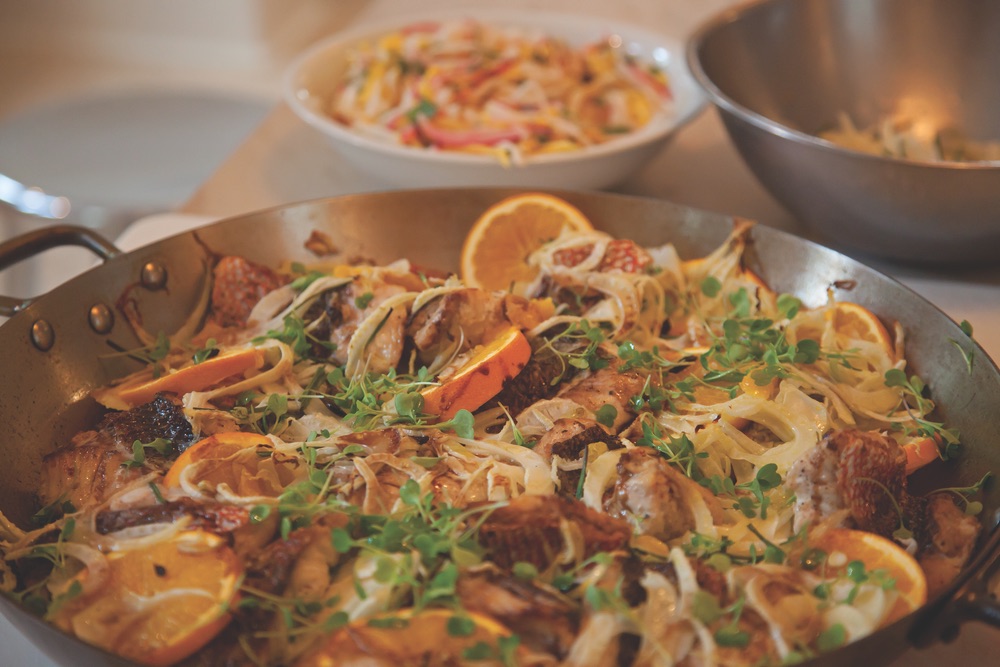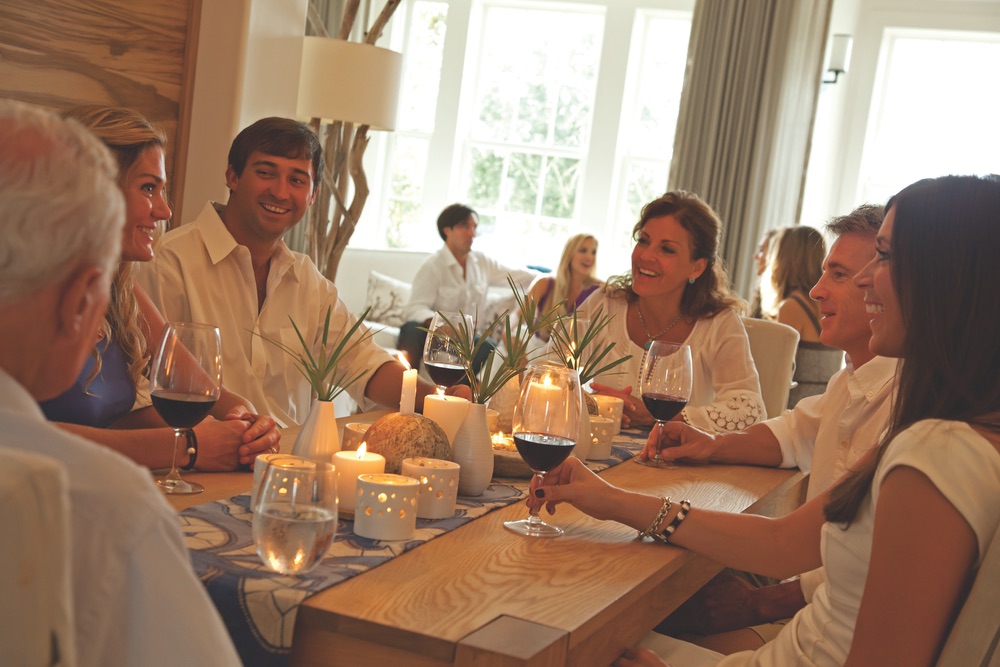 The vacation we had planned was different from most—our "port of call" was less than ten minutes from home, greatly minimizing our stress! After registering, I arranged a tour so that our visiting guests could get the lay of the land in the resort town, which is without a doubt soon to be a world-class destination. With its picturesque and sometimes whimsical architecture, Alys Beach is expertly planned around streets and pedestrian walkways with curious and inviting nooks and crannies. For the seasoned traveler, this gem of a resort, nestled within the unique setting of coastal Northwest Florida, is a sight to behold. And locals like myself, already familiar with Alys Beach, are constantly amazed at this awesome refuge that is steadily unfolding right before our very eyes.
As part of our check-in, we received parking and pool passes, a list of local restaurants, an informational map of the community, and a tour of 46 Charles Street North, our home for the next three nights. Like teens that had just arrived at camp, we chose our favorite rooms in the spacious 3,000-square-foot home, which had a central courtyard and soothing sounds coming from a wall fountain. The main living area, the planned setting for the next evening's dinner party, consisted of a large chef's kitchen, a spacious dining area with a table that sat eight, and a great room with a fireplace and expansive floor-to-ceiling windows. We were excited!
The next morning, we ambled across the street to the intimate Fonville Press where, over coffee and fresh pastries, we studied our new surroundings. Elegant simplicity abounds in this sleepy village of perfection. Despite the saturation of bleached-white on the buildings all around us, one doesn't feel the slightest hint of monotony. The varied shapes of the structures, the interesting door and window openings, and the exquisite attention to detail all provide an extremely diverse and rich architectural palate. In juxtaposition to all the white, there are splashes of color sprinkled around the town: poppy-colored umbrellas at Fonville Press; lime green umbrellas at Caliza Pool; a charming, old-fashioned mobile hot dog stand dressed in navy and white stripes; and sage green umbrellas at George's Restaurant.
The remainder of our day was filled with lounging poolside and a light lunch at Caliza, then getting ready for a dinner that would be prepared by the chef de cuisine at Alys Beach. We felt lucky to be able to share this experience with our friends.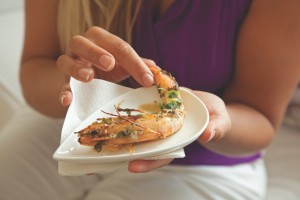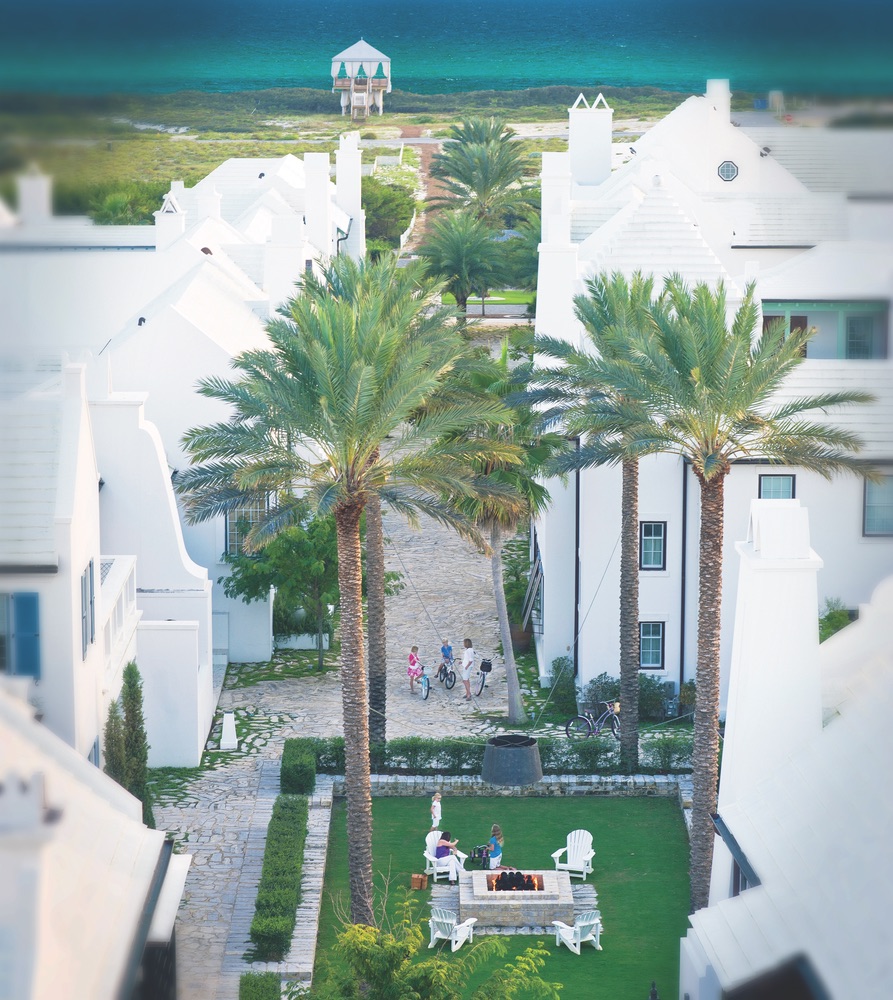 The Dinner Party
Getting dressed for a soiree and not having to leave the house is an indescribable treat! It felt a little decadent, but that's what a vacation is all about—treating yourself right. A gourmet seafood feast was prepared right in our vacation home: light, flaky triggerfish and beautifully prepared grilled shrimp paired with wine selected by the chef. A captivated audience watched intently as the chef explained the ingredients and the preparation of each dish. A great dinner with friends and family made for one of those once-in-a-lifetime events that will stay in our memories forever!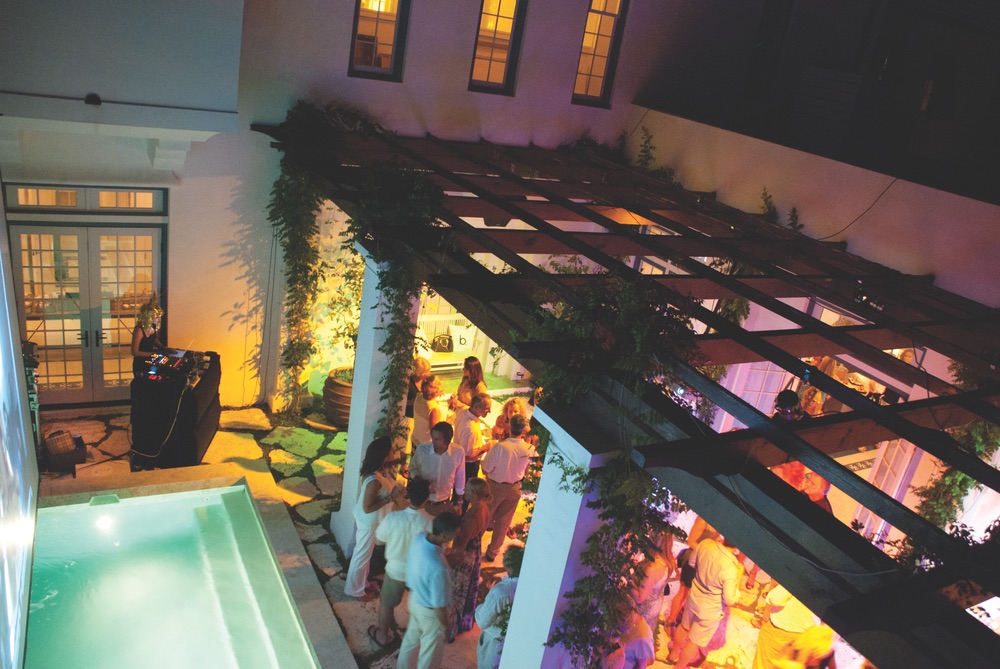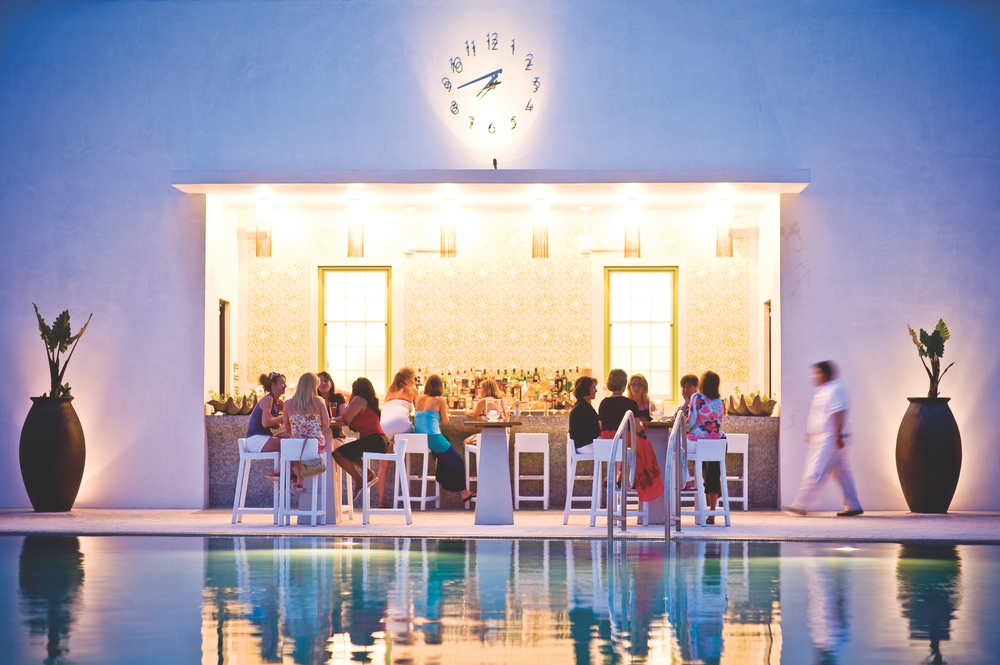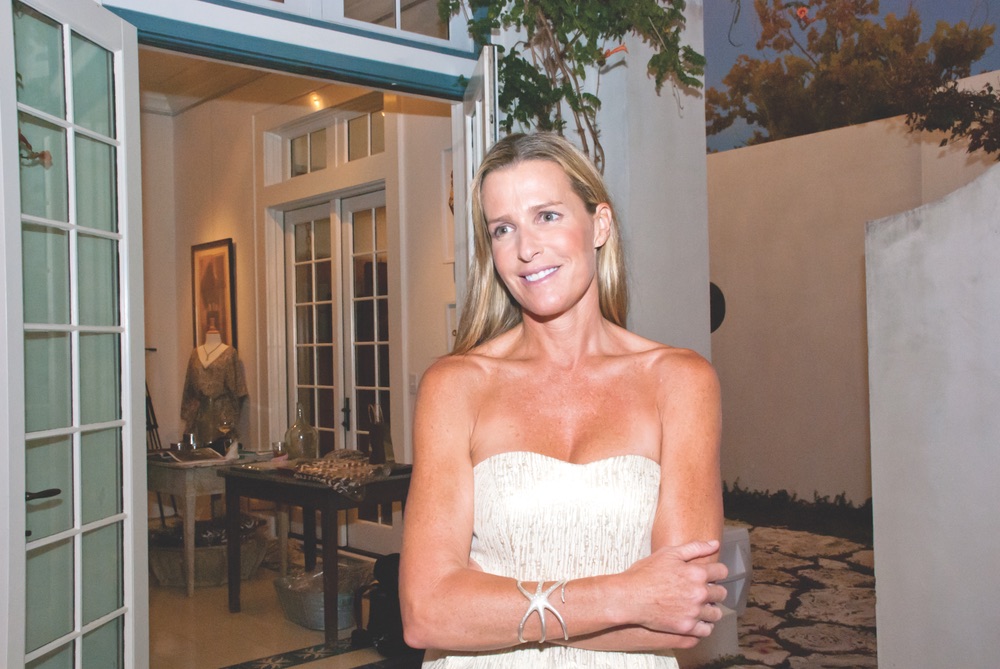 Eateries in Alys Beach
As for dining in Alys Beach, not only can you have an on-site personal chef arrange a picnic basket for an intimate outing to the beach or prepare a feast in the comfort of your home, but there are also some great eateries located on property. Each of these excellent options has a completely different ambience.
George's at Alys Beach Highway 30A – 30 Castle Harbour Drive (850) 641-0017 www.georgesatalysbeach.com A perfect beachy-casual spot for lunch or dinner Monday–Saturday Lunch 11 a.m.–3 p.m. Dinner 5 p.m.–9 p.m.
Poolside Dining at Caliza Restaurant 23 Nonesuch Way (850) 213-5700 www.calizarestaurant.com Fresh local seafood, grilled steaks, and pastas Open to the Public Tuesday–Saturday 5:30 p.m.–9:30 p.m.
Piper's Highway 30A (850) 213-5500 A mobile cart that serves original Chicago-style Vienna Beef hot dogs and triple-decker sandwiches
Fonville Press 147 N. Charles Street (850) 213-5906 A chic coffee and sundry shop Open 7 days Saturday–Thursday, 7:00 a.m.–5:00 p.m.; Friday, 7:00 a.m.–9:00 p.m.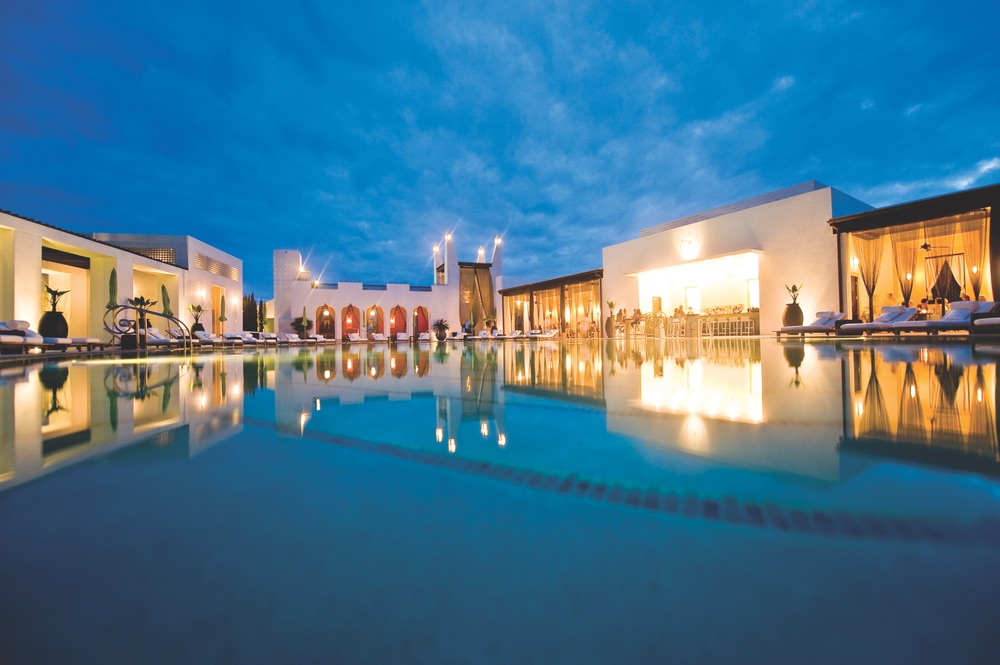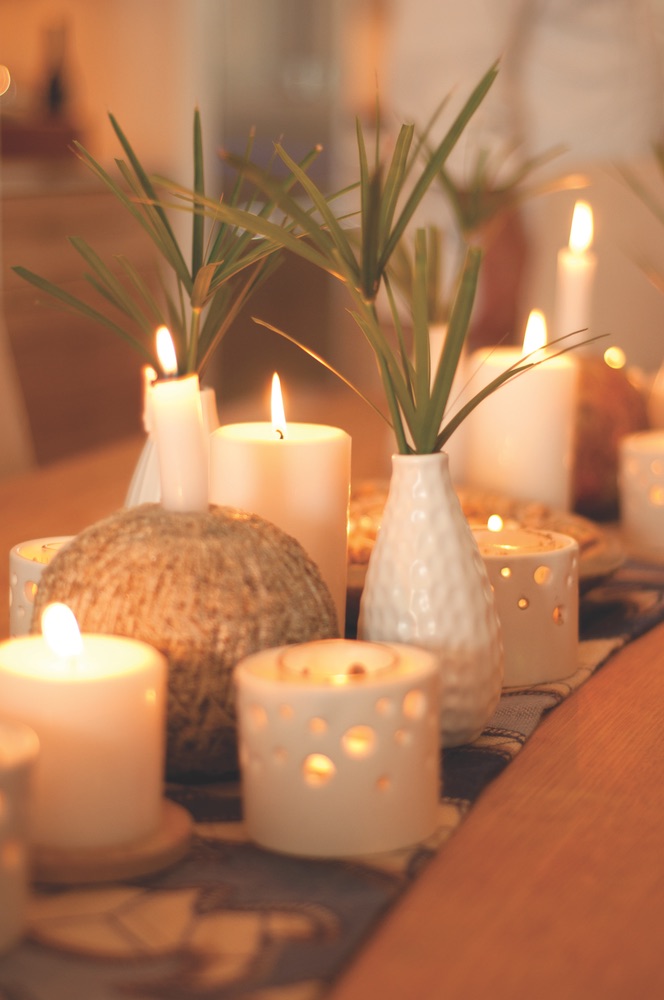 Arts & Entertainment at Alys Beach
As evidenced in the magnificent architecture and town planning of Duany Plater-Zyberk and Company (DPZ), a passion for the arts thrives in the 158-acre Alys Beach.
A resort town rooted with a cultural heart and soul, some of the hippest events in the area happen at Alys Beach. One of them, now in its fifth year, is Digital Graffiti, which will take place on June 8 and 9 of this year. During the world's largest digital projection art festival, competing artists from around the world use the latest technology to project original works onto the town's iconic white walls—this is a must-see event. Visit www.digitalgraffiti.com to learn more.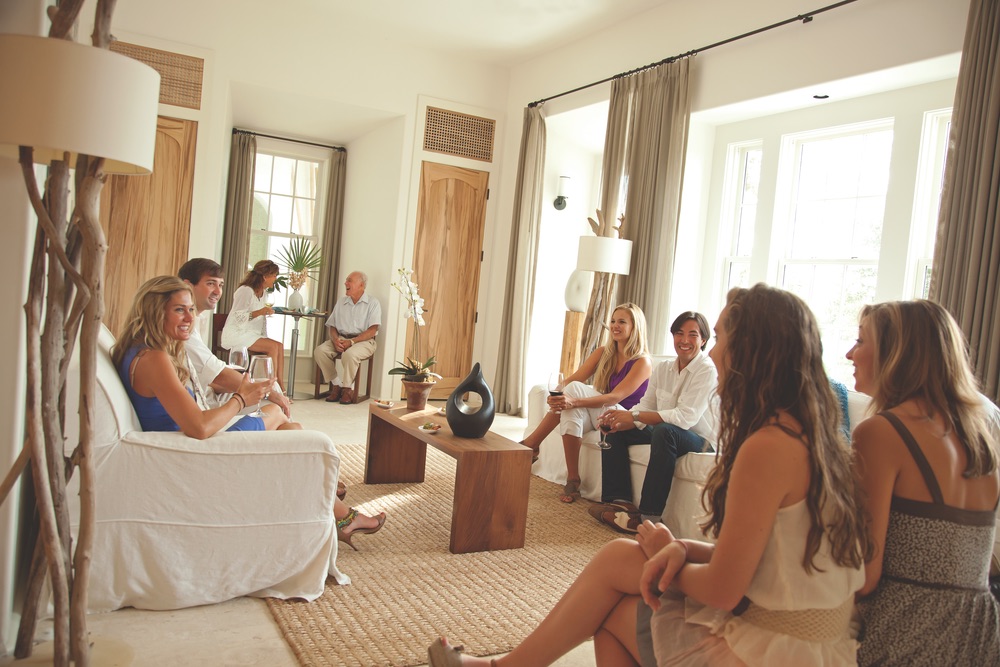 The Alys Beach Foundation is proud to welcome back Sinfonia Gulf Coast for a concert under the palms in the amphitheater on Sunday evening, May 29 at 7:30 p.m. Singer Robert Shaw and the Lonely Street Band will join the orchestra with their "Celebrating Elvis" show. Visit www.sinfoniagulfcoast.org for tickets.
Studio b. is a unique venue with a collaborative spirit, bringing the best of the best together in the fields of art, photography, food, wine, words, and music. Studio b. is billed as a playground for the imagination. 
Ahh, the hope and promise that vacations offer—to be renewed, rested, and ready to return home. I endearingly refer to our stay at Alys Beach as my "Alys in Wonderland" ... it is a magical place!
For reservations and information on Alys Beach, please visit www.alysbeach.com or call 866.732.1760 (toll free).
— V —
ARTICLE CATEGORIES