By Anne Hunter
Photography by Jack Gardner
As Point Washington's only spa retreat takes shape, Dr. Eric Scheufler and Eve Emelianova show us how to take a bite of a very scrumptious apple.
Though the idea of a twenty-first century Garden of Eden may seem like a faraway dream, leave it to oral surgeon Dr. Eric Scheufler and artist Eve Emelianova to transform it into an urban reality. Eric describes East of Eden as "a retreat, a garden, a gallery, a spa, and a yoga studio," while Eve explains it as "a way of living—one that speaks to the mind, body, and spirit." Their opposing mindsets make for robust debates between the rogue scientist and the esoteric artist, but Eric and Eve are devout in their shared mission. Who better to bring healing and inspiration to the community than this duo, who share individual passions on sacred ground?
Surrounded by trees between the waters of the Gulf of Mexico and Choctawhatchee Bay, and resting on four acres in the coveted Point Washington State Park, East of Eden is the ultimate escape for any nature lover looking for comfort and luxury, the perfect hideaway from the beach or city, and an abundance of privacy. The art of effortlessly balancing a medical practice and a spiritual experience for their guests is a year-round endeavor that Eric and Eve have perfected since opening East of Eden two years ago. "Our vision was to create a place for a healing experience that is surrounded by nature," says Eric. "I initially loved the property because of the trees, the proximity to the bayou, and the relative obscurity."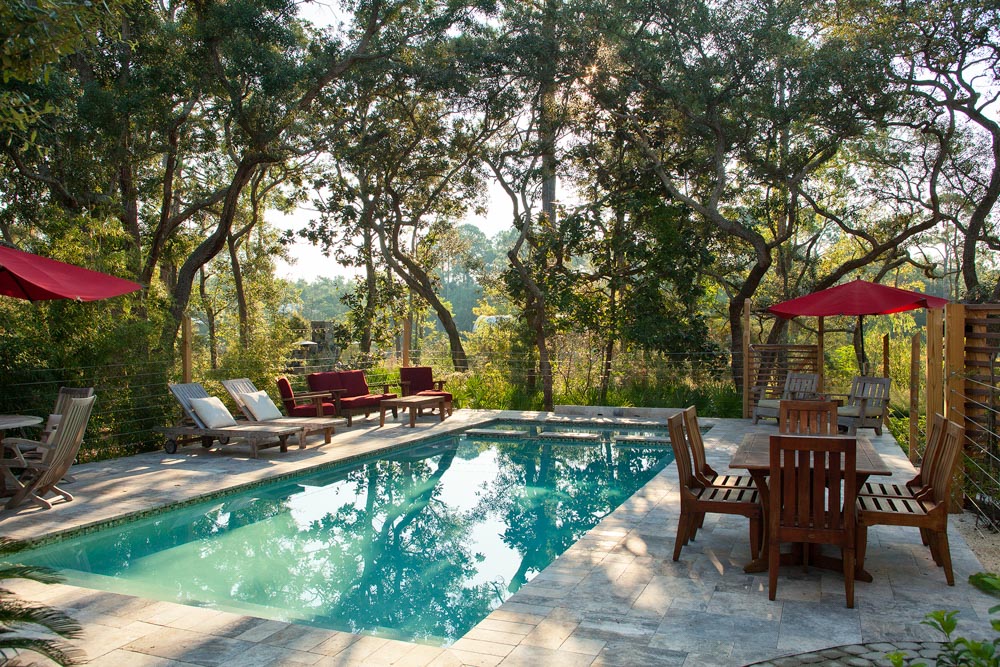 Eve
Born in Russia as Evgenia Emelanova in 1979, Eve Emelianova studied Roman-Germanic philology with a major in English and German. The trained interpreter/translator always had a passion for foreign cultures and a talent for interpersonal communication. "My love for travel led me to the United States in 2005, and I changed my name to Eve," she recalls. "It was a leap of faith to go from Moscow, where I worked as the personal assistant to Russia's former minister of customs, to the tiny, beautiful coastal Florida village of Seagrove, where I embraced the roles of wife and mother. I did not really know why I made that move; I just followed some kind of inner pull." As it turned out, a decade later, Eve would become an integral force in the world's first New Urbanist towns, of which East of Eden is undoubtedly a part.
"To me, East of Eden is more than just a retreat, a spa, and a yoga studio—it is a place where my inner shift happened," Eve expounds. "It happened not only to me, but I see it in so many people who have spent some time here. It is such a delight to hear a first-time yoga student share excitedly his or her experience, to see them come back and bring their friends, or to host a tired traveler at one of our cozy rentals and hear them say they do not want to go back home."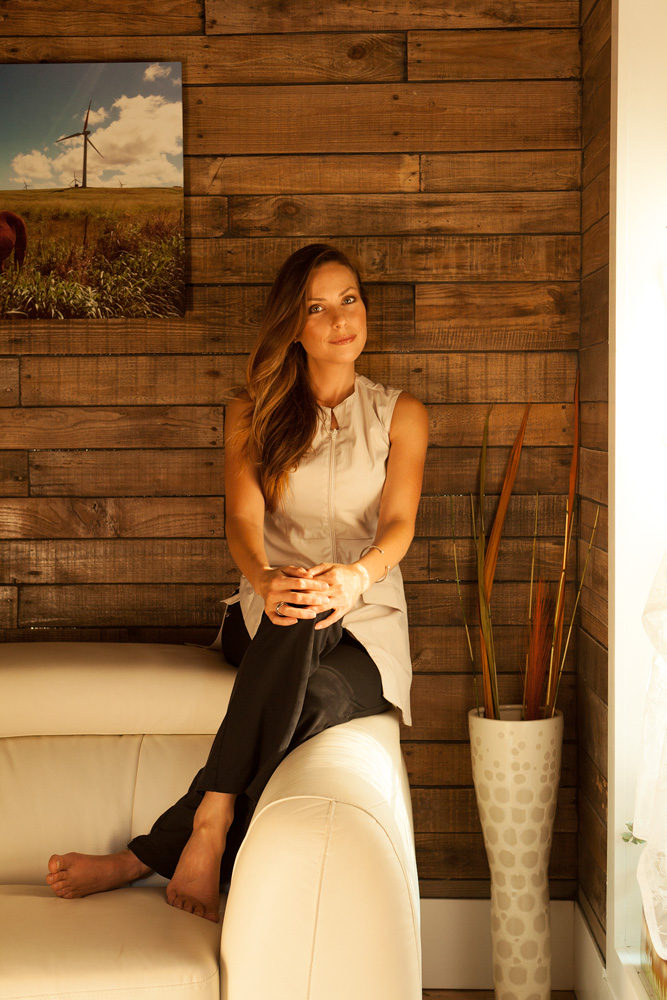 Eric
"I became an oral surgeon because I wanted a greater combination of medicine and dentistry, and it also gave me greater opportunities and job diversity for the future," says Dr. Eric Scheufler, who grew up in the Midwest and moved to Pensacola, Florida, ten years ago to open his first dental practice. Eric was accepted into a landscape architecture school in Utah and had originally intended to become an art major, which explains the beautifully landscaped gardens at Eden. "I didn't really have a master plan on how to design the grounds; I just created them." Like any everyday genius, Eric's mind bounces from one project to the next, but unlike many, his projects actually come to fruition. His interests are broad and varied.
An art collector, Eric's first art purchase occurred in New Orleans in 1996 when he was in medical school. "It was called Souls East Souls West," he says. "When I look at it, it takes me back. I remember being in medical school, where I felt like I was losing my creativity due to the mundane process of residency. I felt very lost at this time of my life, and that painting helped me make sense of it all." East of Eden houses much of Eric's art collection, including paintings by David Harouni, Allison Wickey, and Justin Gaffrey. "I also have several pieces of art by my very talented niece, Shannon Cooke, who is a naturally gifted artist. She is also an English teacher at South Walton High School." Shannon is the artist behind the original Sunrise through the Trees mural inside the Eden Yoga Dome.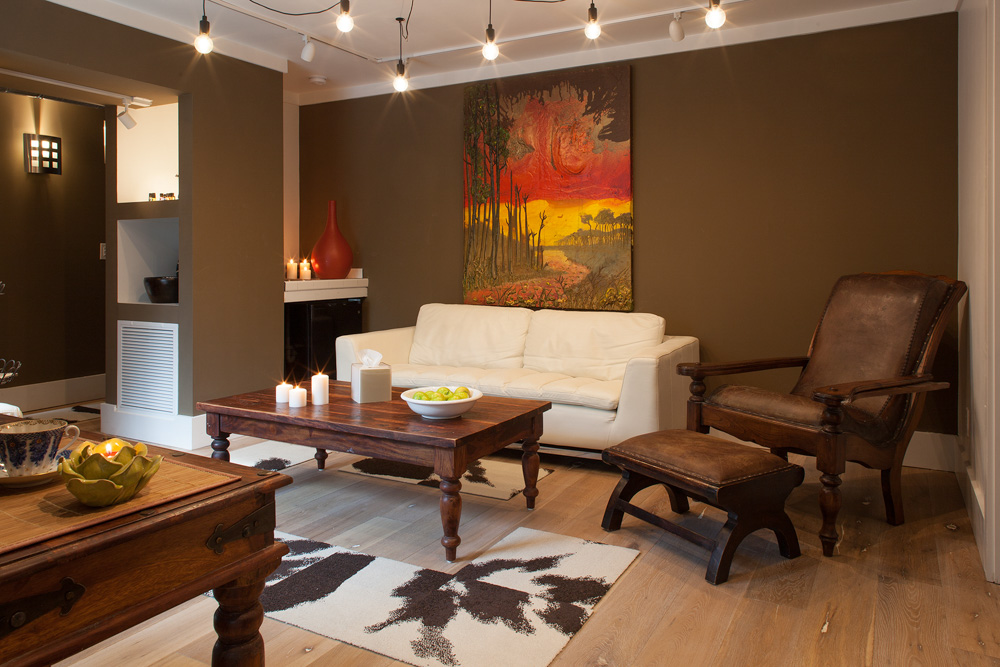 Eric is also a car collector. "I have a 1972 Chevy pickup, a 1964 Lincoln convertible, and a 1968 Lincoln limousine," he says. He forgot to mention the 1986 Blue Bird Wanderlodge RV, which is currently being remodeled. "I think that the limousine is my favorite; it's of museum quality, has an interesting history, and is completely untouched and in original condition." Eric also appreciates an Airstream trailer. Two of them sit on the grounds of Eden. "They are being retrofitted into elegant bungalows for short-term stays; they feature claw-foot tubs."
Just when you might think Eric has enough on his plate, he introduces a barn to Eden. "I love old barns," he says. "I remember them well growing up in the Midwest." Eric's plan for a barn at Eden includes two loft apartments and a large open area for events, from weddings to yoga retreats. "It will be a large eighty-by-thirty-five-foot gambrel-style barn built in a historic pattern that replicates the way they were built in the past." He will also be incorporating different aspects of agriculture associated with barns and farming. "We will have beekeeping, fruiting trees, plants, and aquaponics—all in an organic fashion. We are also in early talks with Jenifer Kuntz of Raw and Juicy to incorporate a kitchen for healthy food on the property."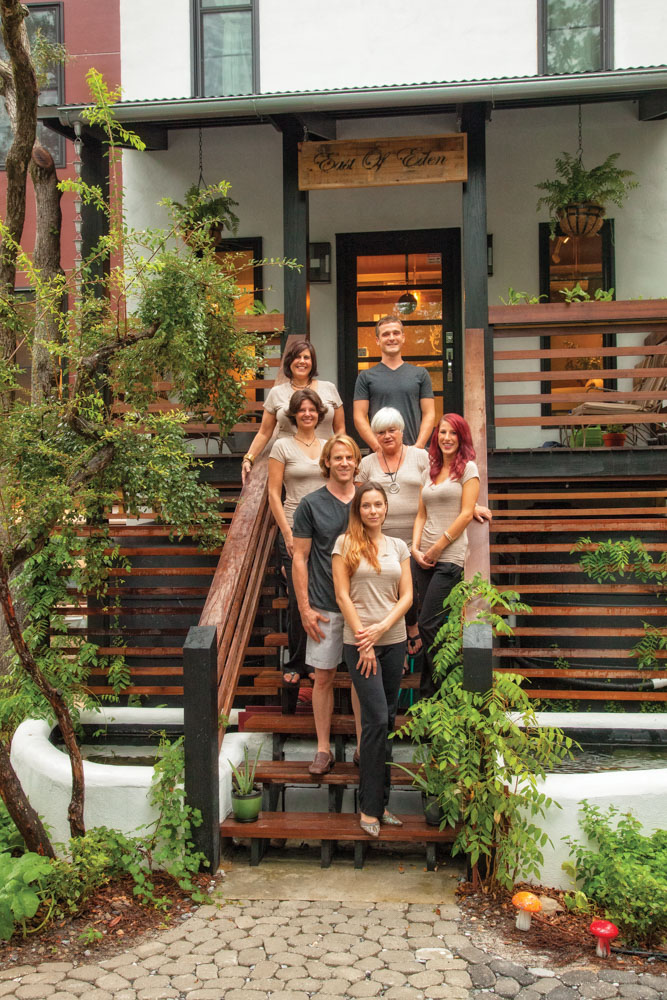 Laura
"Laughter is the best stretch!" instructor Laura Bailey muses, as morning sunlight filters through the open window inside East of Eden's Yoga Dome. The reflection of natural light off of the white domed ceiling illuminates the altar, where lighted candles and photos of gurus from India are flanked in front of a mirror that holds a reflection of the majestic oak trees outside. Laura has just finished a grueling one-hour workout with her students. Known for her creative yoga sequencing, Laura is not your typical yoga instructor; a class with her leaves you feeling that you might actually be in training to become a yoga master.
"The athlete who is in top form has a quiet place inside himself, and it's around this that his movements occur," Laura explains. "My classes take students on a journey inward to find and hold that center so that the action originates from the core." Once you get there, which miraculously happens within the first ten minutes of class, Laura effortlessly guides you through a series of intelligent sequencing to an energetic vinyasa flow that feels like a choreographed dance. "Within a few months of continuous practice you'll begin to see the beauty and grace of your yoga and, more importantly, your true self," Laura says. It's her compassion that is key to making her students feel comfortable. From the beginners to the experienced yogis, Laura has a gift for connecting singular students to the larger whole. "When the breath and body are synchronized with the mind, the practice becomes a meditation in action. With this movement, you lose nothing but your limitations and you can participate at any level." The result is a startling feeling of triumph, as if you have climbed Mount Everest with the snap of Laura's fingers. "There's a center of quietness within, which has to be known and held," Laura says. "Know thyself."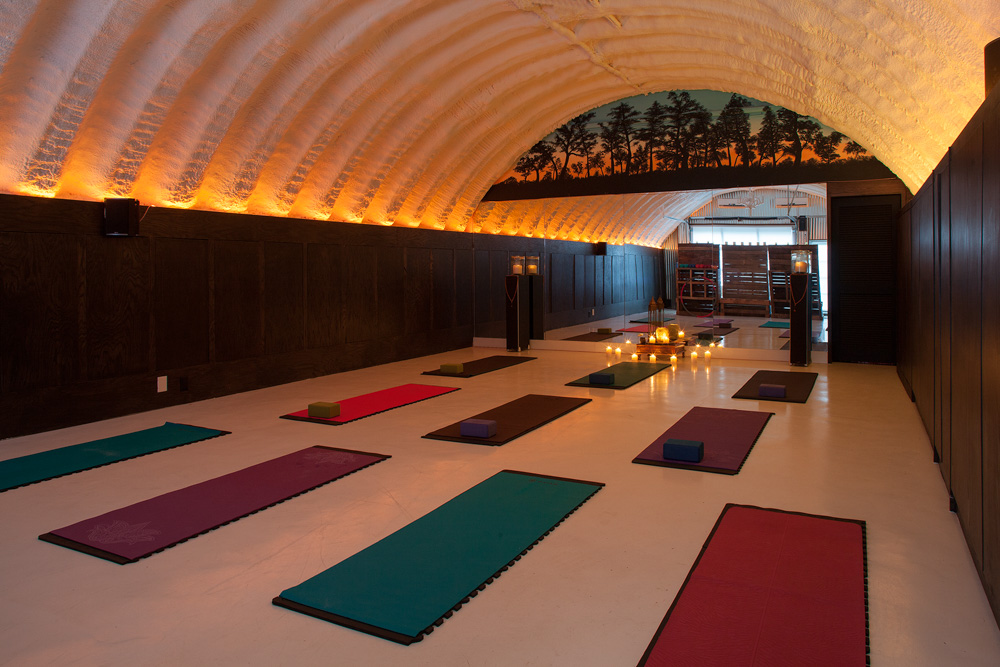 Cindy
Cindy L'Abbe moved to Florida's Emerald Coast in the early 1960s. She and her husband have made their permanent home among the scrub oaks, magnolias, and saw palmettos in a coastal dune lake community along Scenic Highway 30-A. As a teacher and guide, she is passionate about integrating deep compassion and contemplative time in nature with the arts in order to achieve spiritual growth. Her guidance is a means for individuals to rediscover, embrace, and live soul-centered lives.
Cindy has spent the past twenty years immersed in wild, uninhabited places studying and learning the means to integrate the interdisciplinary fields of eco-psychology, nature-based soul development, and contemplative and ancient wisdom traditions. Many of these studies involved up to two-week overnight intensives deeply immersed in the wilds throughout the United States. Cindy holds degrees from George Washington University (BA) and Florida State University (MS) in the fields of education, human development, clinical mental health, and human social structures. Her graduate studies included additional certifications in the fields of trauma and the arts. She is also certified as a Florida Master Naturalist.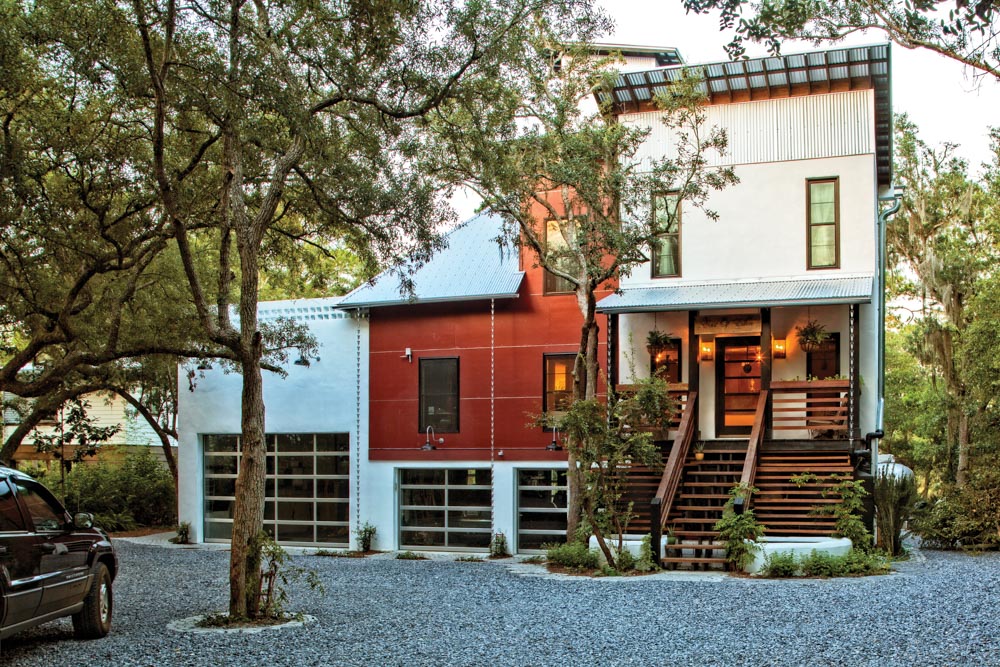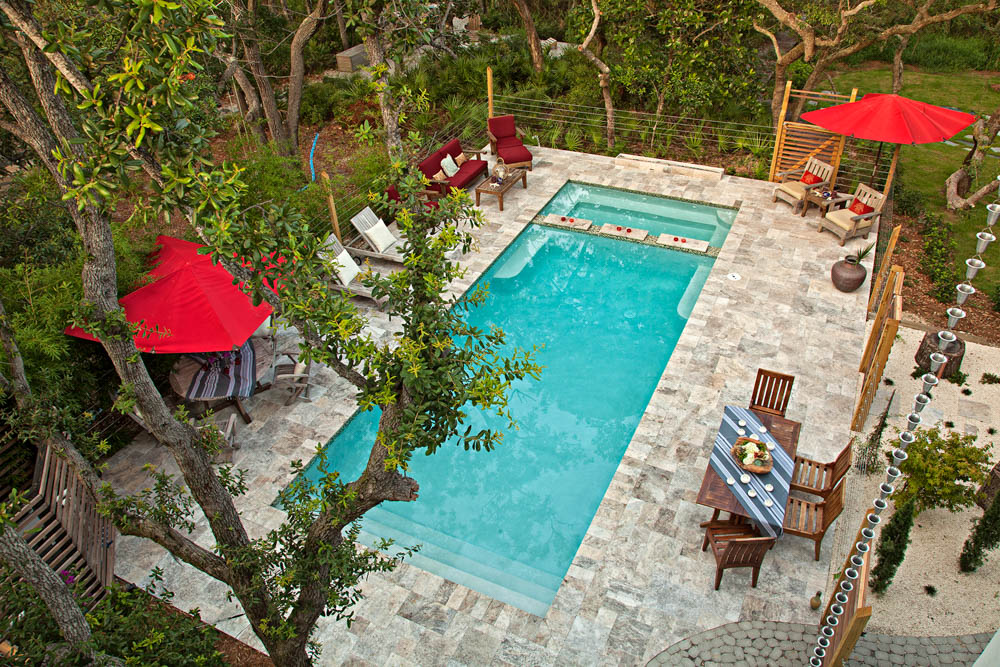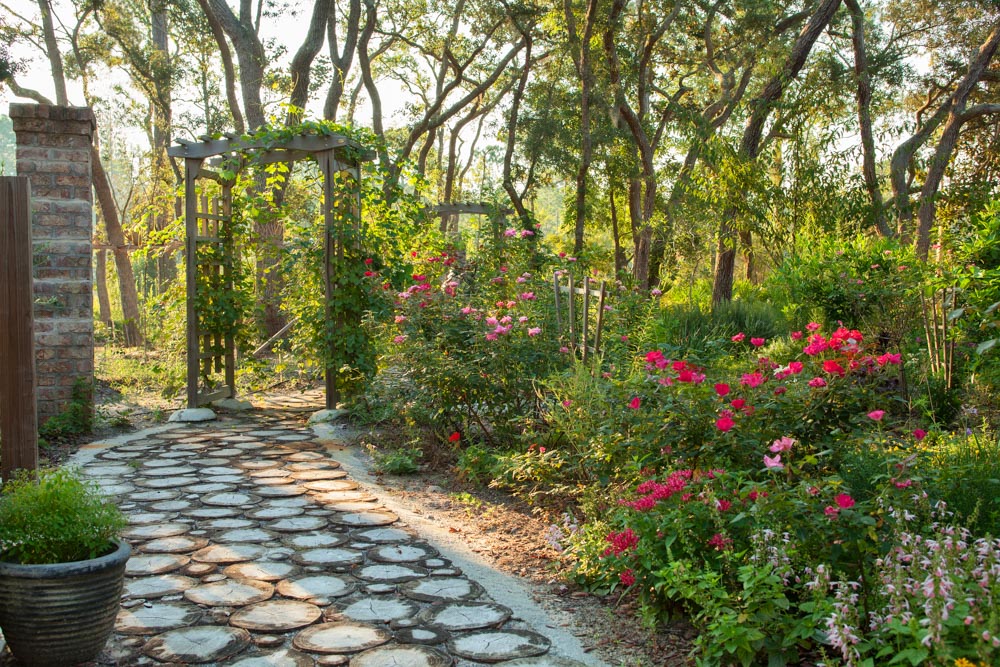 The Soul of Eden
When it comes to the soul of East of Eden, Eve draws inspiration from Cindy. "Since early childhood, I experienced a deep connection with Point Washington State Forest and the Eden area," Cindy says. "I was fascinated when I learned that a retreat had been established here. Throughout my life, I've tried to pay attention to what resonates, to what calls to me and says, 'Pay attention to this.' So, I immediately called and accepted an invitation to view the retreat, and that's when I met Eric and Eve.
For us to mature as humans, we are challenged to take an inward journey that is necessary for our souls' growth.
"When I pulled into Eden for the first time, I sat in awe under the majestic oaks. As I stepped onto the grounds, every fiber of my being said, 'This is it!' Someone had created a sanctuary not only for the mind, body, and spirit, but also for the often-neglected development of the soul. This is a place where the work of stepping into the light, developing higher consciousness, deepening one's faith, and tending to our bodies and soul can be embraced while immersed in nature."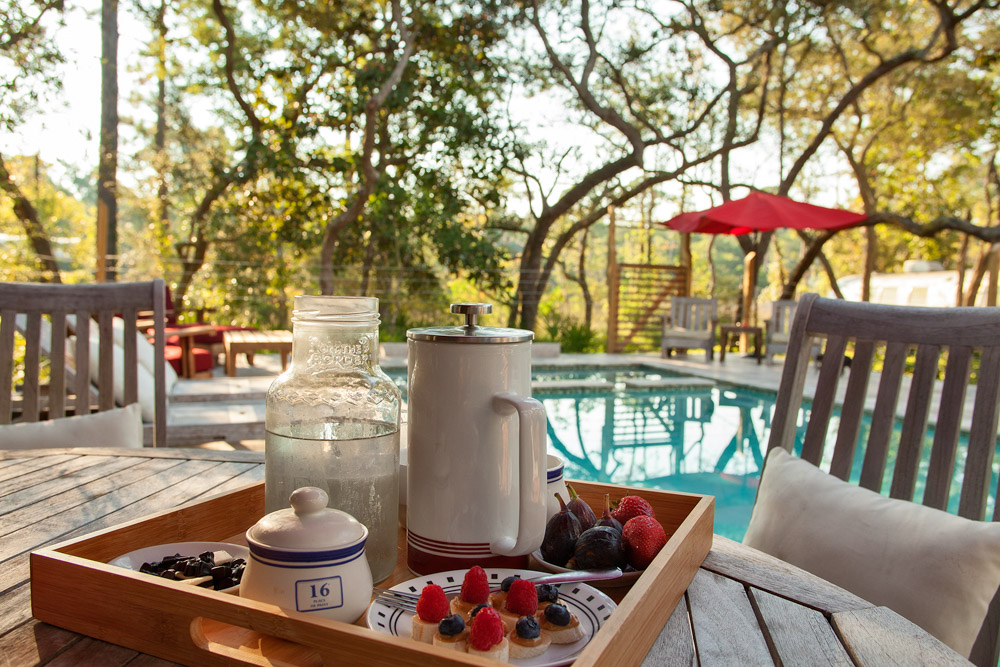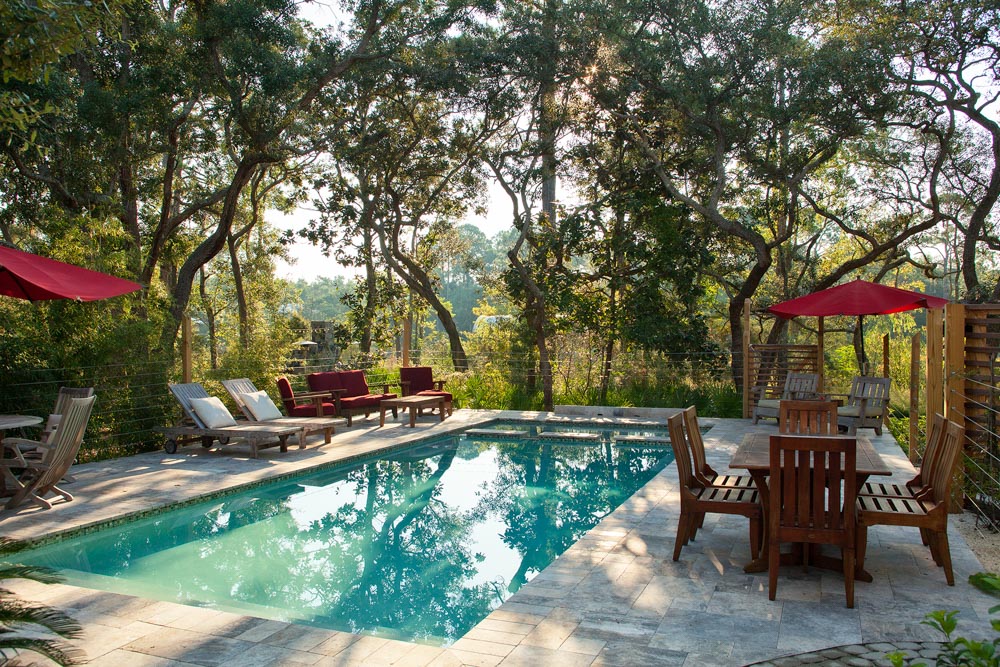 Cindy is right, adds Eve, who explains, "For us to mature as humans, we are challenged to take an inward journey that is necessary for our souls' growth. Yet our religious, mental health, cultural, and social structures often do not support this process." For those thrust into this process, there are even fewer venues to serve as the sacred place needed to navigate this journey. "Eden offers learning opportunities and professional guides, like Cindy, for our guests to be safely guided into shadow work. Here, they are able to knowingly enter the underworld journey and safely pass through what seasoned depth psychologists understand as 'the dark night of the soul.'"
Cindy further expounds, "In the dark night of the soul, we have the opportunity to mine for the gold within our own psyches—psyche is the Greek word for 'soul.' We begin to remember the soul's essence through contemplative walks and extended time in nature and wild, uninhabited places. If we are guided to weave in and out of this soul journey and we are able to immerse ourselves in nature and the healing arts, all of these practices have the potential to lead us to our inner spirit, which ultimately guides us to transcendence.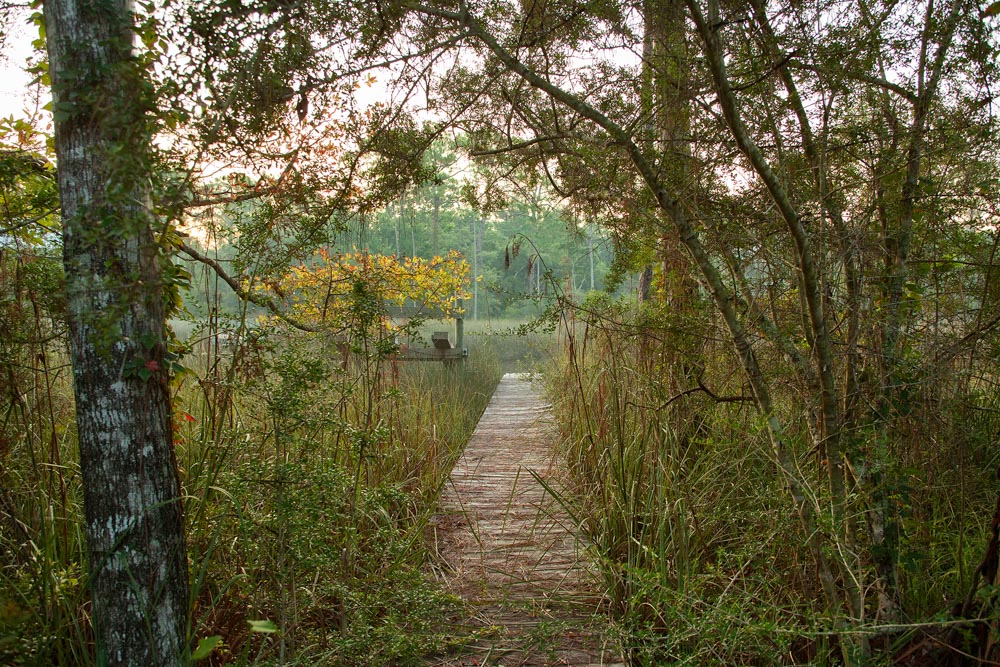 "Here in the Southeast and throughout the world in Christian teachings, the connection to the Holy Spirit resonates; and everyone knows the biblical story, beginning with Genesis and the Garden of Eden. We recognize with ease that any place referred to as Eden or the Garden of Eden is a sacred space, and it brings to our visual and spiritual senses a place of natural beauty, peace, and innocence. Eden is a place to be and to return to. When Eve bit the apple, it was considered the fall of man, which is a metaphor for stepping onto the path of connecting to a higher power. This is the essence of East of Eden. It is a wonderfully unique retreat where one is able to learn, grow, and heal at all levels necessary in becoming whole."
"It couldn't be more true," says Eve, as Eric nods in agreement. He adds, "What I value most is that the end result of what Eden becomes will depend on the people that come together as a result of it. It's rewarding to watch it all unfold."
— V —
---
The Faces of Eden
Dr. Eric Scheufler, owner, DMD, MD, PA, oral and maxillofacial surgeon, and antiaging therapist
Eve Emelianova Blair, creative director, director of operations, and licensed aesthetician
Cindy L'Abbe, clinically educated and trained psychotherapist, naturalist, and trauma specialist
Michele "MJ Yogi" Jorge, acupuncture physician and Hatha yoga instructor
Marie Boularand, certified naturopath, emotional healing, and bio-decoding expert
Laura Bailey, yoga vinyasa flow instructor
Nancy Gross, gentle yoga instructor and Ayurveda
Tammy Binkley and Shantaya, Bhakti flow instructors
Kevin O'Brien, roots yoga instructor
Jenifer Kuntz of Raw & Juicy, nutritionist and detox specialist
Shanda Beste, inner chi specialist
Prudence F. Bruns, PhD, Transcendental Meditation and Ayurveda
Joel Mitchell, myofascial release therapist
Natalie Ittu, hairstylist
Elizabeth O'Brien, licensed massage therapist and awakening session therapist
The Spaces of Eden
The Zen Gardens
The Carriage House
The Yoga Dome
The Loft
The Apartment
Two Airstream Trailers
Saltwater Pool
Fire Pit and Outdoor Pizza Oven
The Dock
The Pool
The Services at Eden
Educational workshops, lectures, and seminars
Therapeutic massage
Botanical facials
Antiaging procedures
Acupuncture
Naturopathic consultations
Emotional healing and German medicine-based biodecoding
Traditional Finnish sauna and aromatherapy
Wet steam therapy and chromotherapy
Various styles of yoga
ARTICLE CATEGORIES