Ashley Longshore for Clé de Peau Beauté
By Tori Phelps  |  Photography courtesy of Ashley Longshore
When the Pop Art superstar teamed up with the iconic beauty brand, it was a walk on the wildly creative side.
Ashley Longshore doesn't paint strong, powerful women because she wants to be them. She already is them. A phenomenally successful artist whose work is collected by celebrities and a long list of devoted fans, she's riding a wave of talent and business acumen right into a holiday collaboration with Clé de Peau Beauté and a book deal with publishing powerhouse Judith Regan.
That's one book you'll want to pick up. This straight shooter with audacity to spare refuses to adopt a "public face" and a "private face"—a common side effect of achieving prominence. She's just Ashley: enviably confident, hilariously frank, and unrepentant about the curse words that pepper her speech, a by-product of the passion she feels for whatever topic she's discussing. It's not for shock value; it's just her. And if some are left clutching their pearls in dismay? Well, her give-a-damn is broken.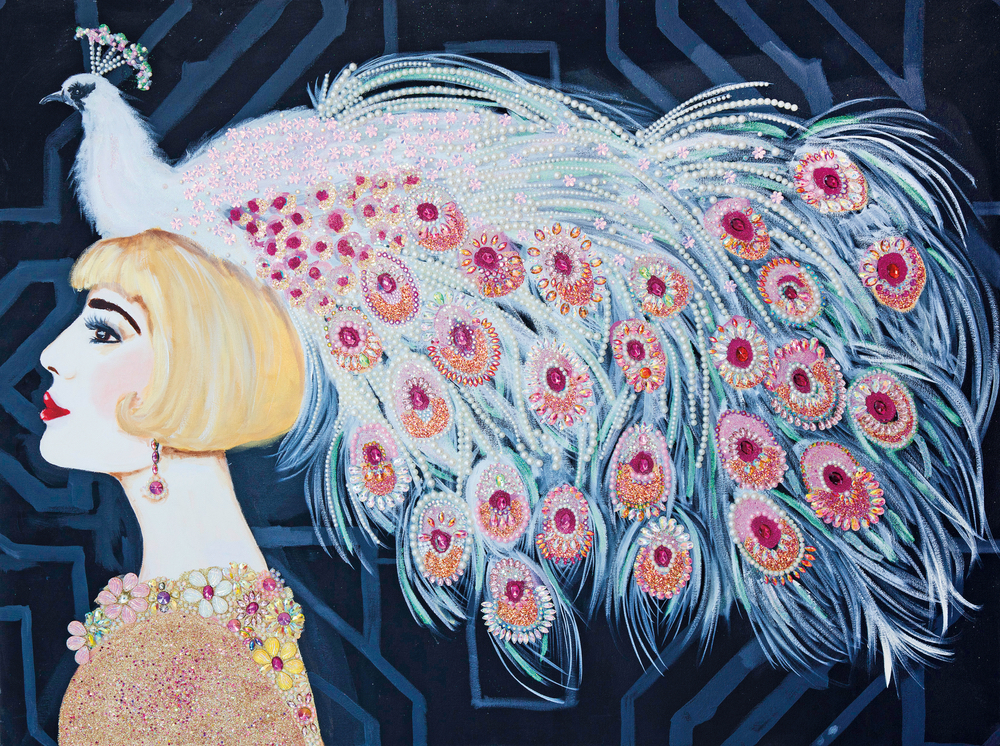 A born-and-bred Southerner, Longshore now lives and works in New Orleans. She loves everything about the South—from the food to the men—but she feels most at home in the free-wheeling Crescent City, where inspiration comes easily and its bold, untamed spirit matches her own.
That spirit confounded her mother, who tried to channel her daughter's energy into anything and everything that might hold her attention. Nothing took. It wasn't until college, armed with an American Express card her father had given her, that she bought a paint kit. "I just sat down and absolutely lost myself in it," she recalls. "And then I thought, 'My God, can I make a living from this?'"
As it turns out, she could. She went about her art career strategically, concentrating on the business as well as the creative side from the very beginning. History is littered with now-revered artists who were poverty-stricken unknowns during their lifetimes. It wasn't a blueprint Longshore was eager to follow.
Instead, she played a numbers game. She exhibited anywhere she could, and if people wanted to see her art, she packed up every piece and drove to their homes. That was eighteen years ago, mind you; today, buyers come to her.
And, boy, do they come.
Loads of celebrities have added Longshore's Pop Art to their collections, a fact that she's not too cool to admit is pretty cool. However, she's also quick to point out that she appreciates every single one of her collectors, from the movie stars to the young couple who saves for six months to buy a painting. There's an intimacy to the transaction, she contends, because the truth is that someone is choosing to buy her thoughts and live with them.
There's an intimacy to the transaction, she contends, because the truth is that someone is choosing to buy her thoughts and live with them.
Longshore is perhaps most famous for her Audrey and Frida series. Open about her often-contentious relationship with her own mother, Longshore says that painting Audrey Hepburn and Frida Kahlo, whom she calls mother figures, simply makes her feel good. In her own life, she surrounds herself with powerful women and sees the paintings as a continuation of that. "I think people respond to the honesty of it," she says of their popularity. "When I paint Audrey, having her beauty around me makes me feel stronger, makes me feel brave, makes me feel happy. When I paint someone like Frida and see that wild, bohemian look in her eye, she's so strong it just makes me feel safe."
Longshore's artistic energies, not limited to canvas, frequently venture into mediums from film to furniture. Asking her to choose a favorite form of expression is like asking her to pick the best part of a twelve-course meal, she chides.
She recently added another course to the meal that is her life, courtesy of a 2016 holiday collaboration with Clé de Peau Beauté. Though regularly courted by big names, she had never before agreed to a collaboration with a beauty brand. Why this one? "I said yes because they are, to me, the pinnacle of luxury in the makeup world," she explains. "They're the Hermès of the makeup world."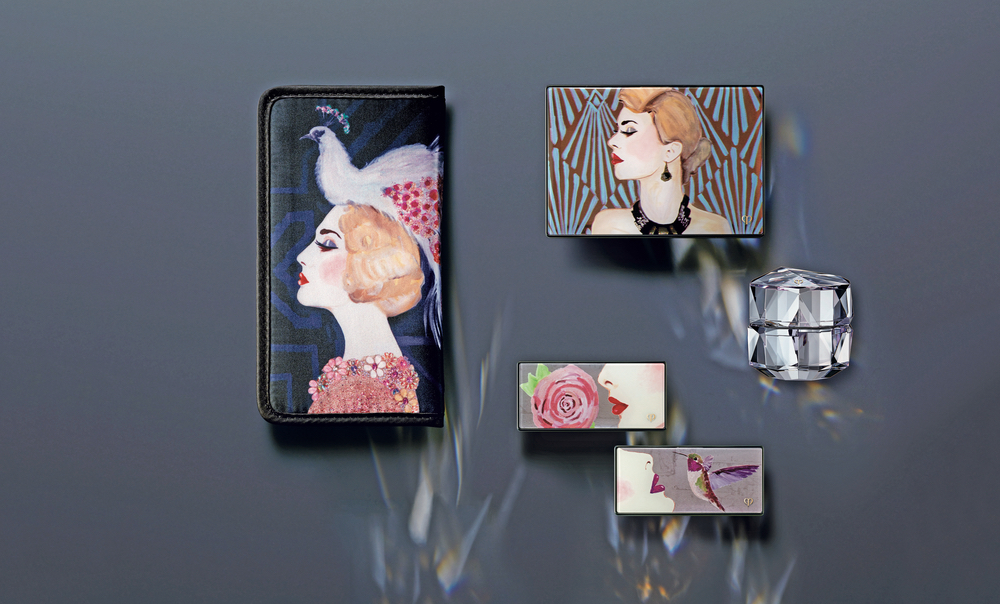 Longshore refuses to take part in projects that aren't in line with her own brand. A fat paycheck isn't worth it and, fortunately, isn't needed. Clé de Peau Beauté won her heart not only because of its best-of-the-best reputation but because of creative director Lucia Pieroni's impressive arts background. The deal was sealed when Longshore discovered the theme of the collection: a Tamara de Lempicka-esque Art Deco celebration of radiant feminine strength. "I feel like I capture that really well in my artwork," Longshore says. "And I love Art Deco; I'm obsessed with Art Deco."
And customers are obsessed with the Longshore-Clé de Peau Beauté partnership. Record numbers of people turned out for a trunk show at the Dallas Neiman Marcus, and the line has sold faster than any other Clé de Peau Beauté holiday collaboration. Longshore is understandably proud of the enthusiastic reception, especially given that she had complete artistic freedom with the package designs. She drew inspiration from the camellia, the symbol of Clé de Peau Beauté, as well as the Art Deco era's joyful take on beautifully resilient women.
The holiday collection also benefited from Longshore's built-in audience. She convinced Clé de Peau Beauté to let her team run with the marketing, assuring the company—correctly, as it happens—that her collectors would snap up the products.
The iconic beauty brand entered into lots of new territory with this collaboration. Longshore is the first artist whose name appears on the packaging and the first artist to attend the global release. This one, which took place in Shanghai, included a Q and A session featuring Longshore and Clé de Peau Beauté brand muse Amanda Seyfried, whom Longshore calls "so gorgeous."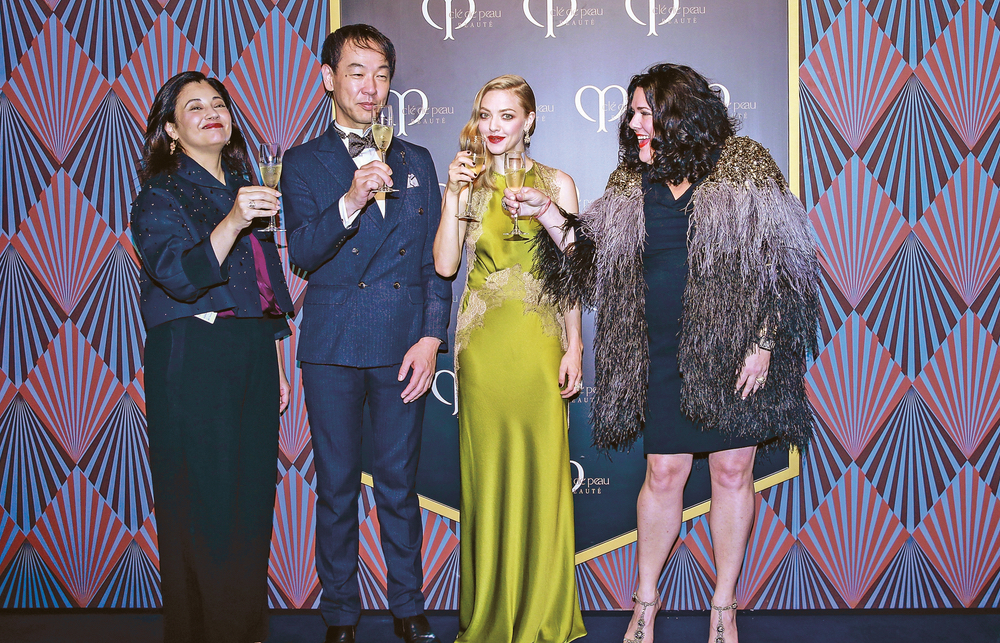 Clé de Peau Beauté also agreed to feature Longshore's original art alongside the makeup and skincare products on its website. Unsurprisingly, the artwork has sold well, too.
Getting to the launch stage with this collaboration hasn't been all fun and games and hanging out with Amanda Seyfried, though. "It's been an unbelievable amount of work," she admits. "But anything that's worth it, you have to work for. If it was easy, everyone would be doing it."
"Easy" isn't a word Longshore seems familiar with. Many artists in her position would consider lying on a beach somewhere for a few years, but that's the last thing on her mind. "Am I slowing down? You can quote me on this: F*** no."
Insisting she's never been so inspired in her life, Longshore is also not so coincidentally free of the fear that plagued her as a young artist and has built up the capital to do pretty much whatever she wants. She can, for example, write a candid memoir, You Don't Look Fat, You Look Crazy: An Unapologetic Guide to Being Ambitchous, at the request of publishing mogul Judith Regan.
Her fans will be happy to know that she's not abandoning the women who've helped her get this far, though. Audrey, Frida, and the other luminous women she paints are her virtual girl squad and visual reminders to be brave, to be strong, and to be present. She's a big believer in celebrating today, perhaps because she's so in love with where she is right now.
Up next is a book tour in support of her memoir, on sale starting in February, and a home line debuting this spring. That's in addition to the recent release of fifty highly coveted small paintings and, of course, her Clé de Peau Beauté work. If you're tired just thinking about all that, you're the only one. "I wake up so happy and excited and inspired and motivated every morning because of all the opportunities that are happening," she says. "I can't wait to get to my easel when I'm done with this interview so I can start painting."
We'll let you get to it, Ms. Longshore.
—V—
---
ARTICLE CATEGORIES