Tap into the Area's Tastiest Microbreweries and Gastropubs
Story and Photography by Kim Duke-Layden
In 2005, my husband, John, and I took a two-week biking trip through Belgium that forever changed our lives—for the better. Around every hop-and-barley-filled bend, we discovered "beer nirvana"—Belgian beer. After returning home, our days of swigging mass-produced, lackluster lager were over! Instead, we continued cultivating our palates and appreciation for stellar craft beer, which to our surprise did not require us to venture abroad. Traveling to Maine, Montana, or Maui, and numerous places in between, we repeatedly stumbled upon world-class American craft brews—beers with an annual beer production of six million barrels or less.
Closer to home during the past few decades, a surge of microbreweries and alehouses have washed ashore in the Sunshine State, with the highest concentration appearing in or around Central and South Florida. Lucky for us, the craft beer craze has finally spread to our own COLA 2 COLA® backyard and is creating one heck of a fermentation frenzy. Join me and my drinking buddy and husband, John, on a sudsy sojourn in search of the best pint pit stops from Apalachicola to Pensacola.
The Owl Cafe Tap Room
75 Commerce Street, Apalachicola, Florida 32320 850.653.1910 www.owlcafeflorida.com
The Owl Cafe, Apalachicola's wine and gourmand destination for the past fifteen years, added a laid-back roost in December 2011, where in-the-know craft beer connoisseurs have been flocking ever since. Enter the Tap Room from the northwest end of the rambling former post office and discover an inviting turn-of-the century gastropub with a witty sense of humor, like its mother-daughter co-owners and accomplished chefs, Susan and Cassie Gary. (Rex Humphries is also a co-owner.) Hanging from original, exposed, redbrick walls are colorful paintings by local artists and comical beer-related signs, like the one above the restroom that reads, "Beer Return." Written on huge chalkboards between "Beer Heaven" and "No Crap on Tap" are sixteen microbrews on draft. Another thirty domestic and international craft beers are available in cans or bottles.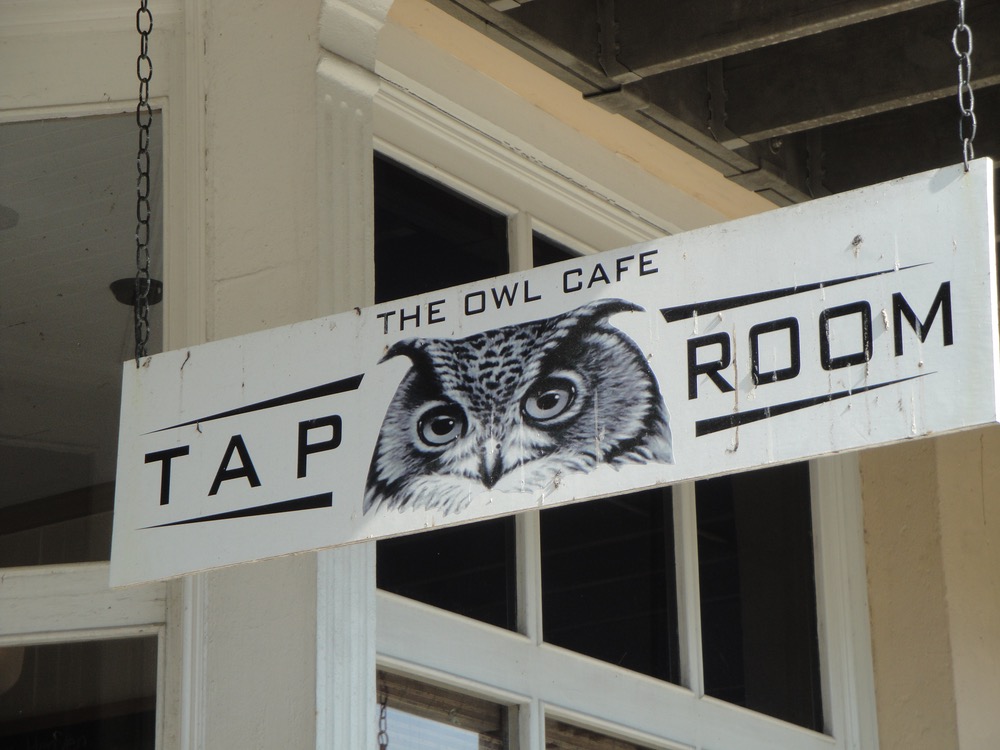 John and I walked across the original hardwood floor and bellied up to the Tap Room's prized possession—a hundred-year-old, twenty-four-foot-long mahogany bar. Cassie joined us and told me about a chance encounter several years ago at a microbrew pub in Atlanta, where she tasted a Bell's Two Hearted Ale—her first craft beer. The experience "rocked her world" and ultimately inspired the creation of Owl Cafe's Tap Room. Their drafts constantly change with each keg rotation, which reflects Cassie's menu approach—"so many beers to try, so little time." Within a few years, expect a few taps to feature Oyster City Brewing Company beer, brewed on-site.
Variety also appears in the Tap Room's draft sizes: five, twelve, and sixteen ounces. By ordering the smallest pours, we tackled the entire list of intriguing libations—all in the name of research, of course. Customizing our four-sample flights was almost as much fun as drinking them. By the end of dinner, we had buzzed through them all, plus a few repeats of our top picks.
Killer beer isn't the only thing that rocks at this locals' haunt. Don't pass up the Tap Room's gourmet pub grub. One of my "OMG" recommendations are the duck confit fries—a mound of crispy fries topped with slow-roasted, pulled duck confit and cracklings, crispy prosciutto, and melted Gruyère cheese. Hands down the best freakin' fries I ever tasted! Craving meat? Order the char-grilled alligator sausage topped with honey-caramelized onions and sauerkraut. Stick a fork in me 'cause I'm done!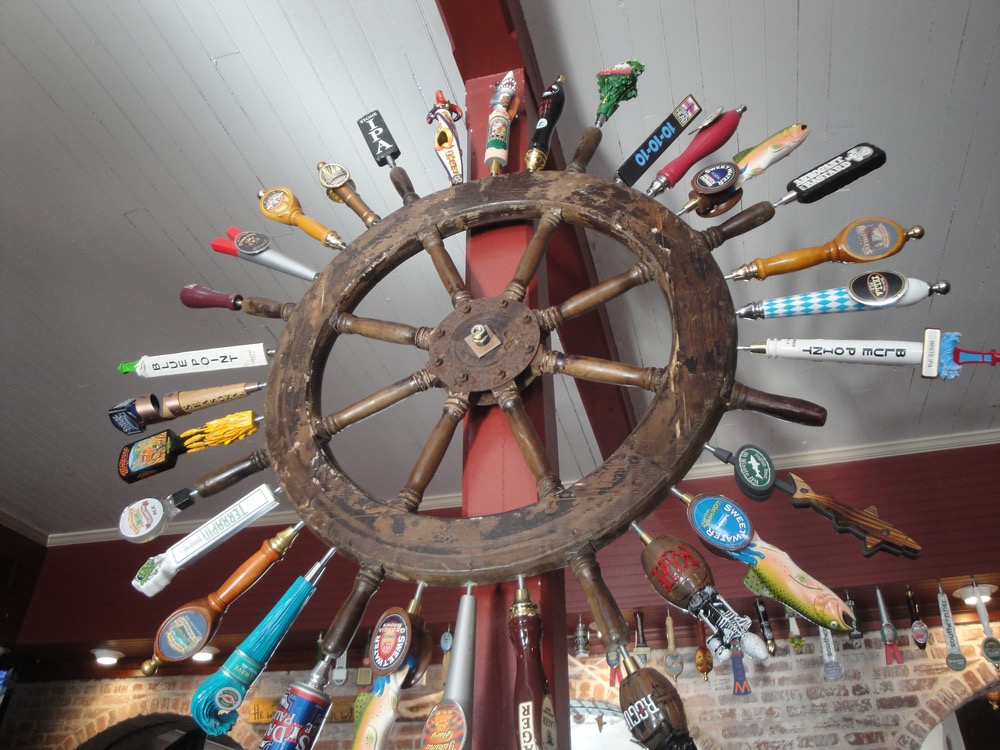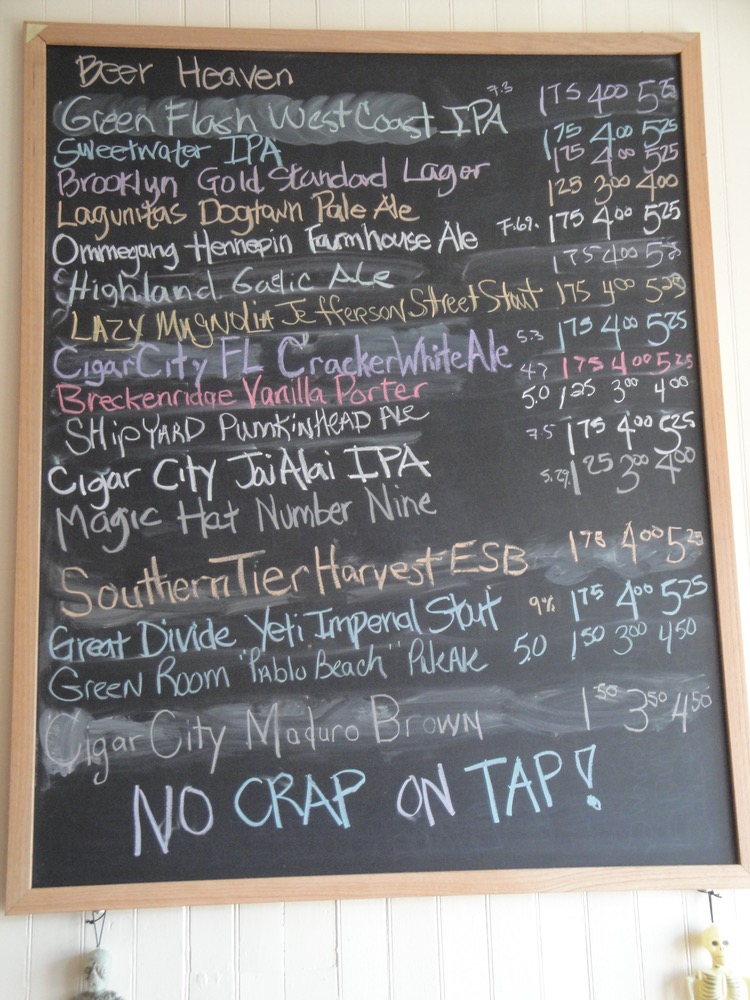 Fishale Taphouse & Grill
7715 Front Beach Road, Panama City Beach, Florida 32408 850.640.1410 www.fishales.com 
If you associate "beer" and "Panama City Beach" with an image of PBR being funneled through a beer bong, then you haven't been to Fishale Taphouse and Grill. Last winter, experienced restaurateurs and co-owners Leo and Selma Hill completely overhauled the old Casa de Fogo Brazilian Grill building. It now houses Fishale Taphouse and Grill, an edgy gastropub with high, exposed ceilings, dark walls, and stained concrete floors. Lined behind the long stainless-steel bar are sixty-five beer taps that shimmer like the Radio City Rockettes. Flowing from their spouts are primo craft brews that have beer aficionados, both near and far, hailing high fives!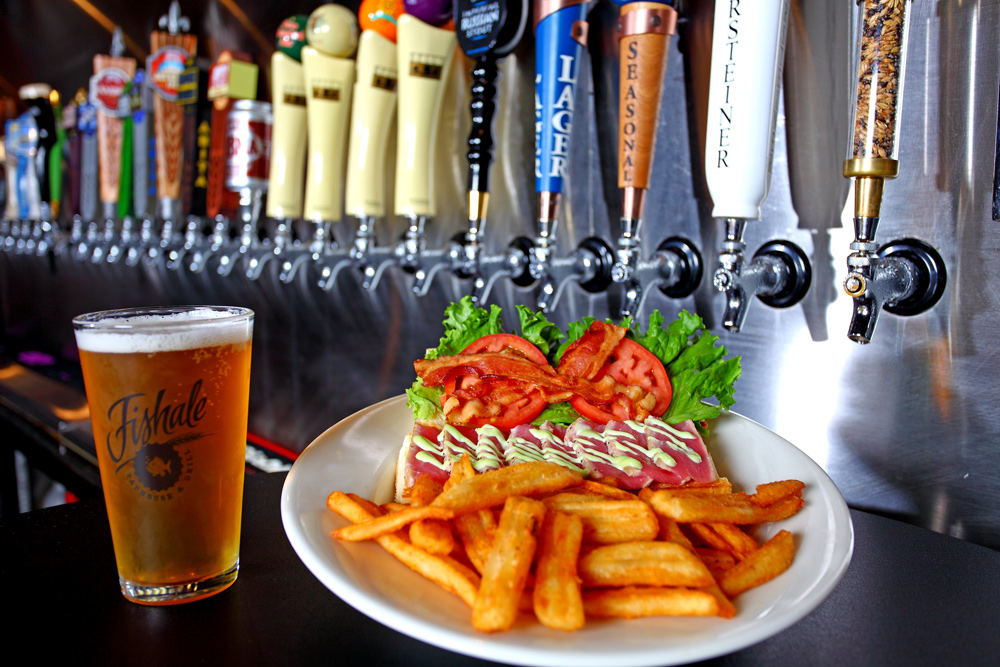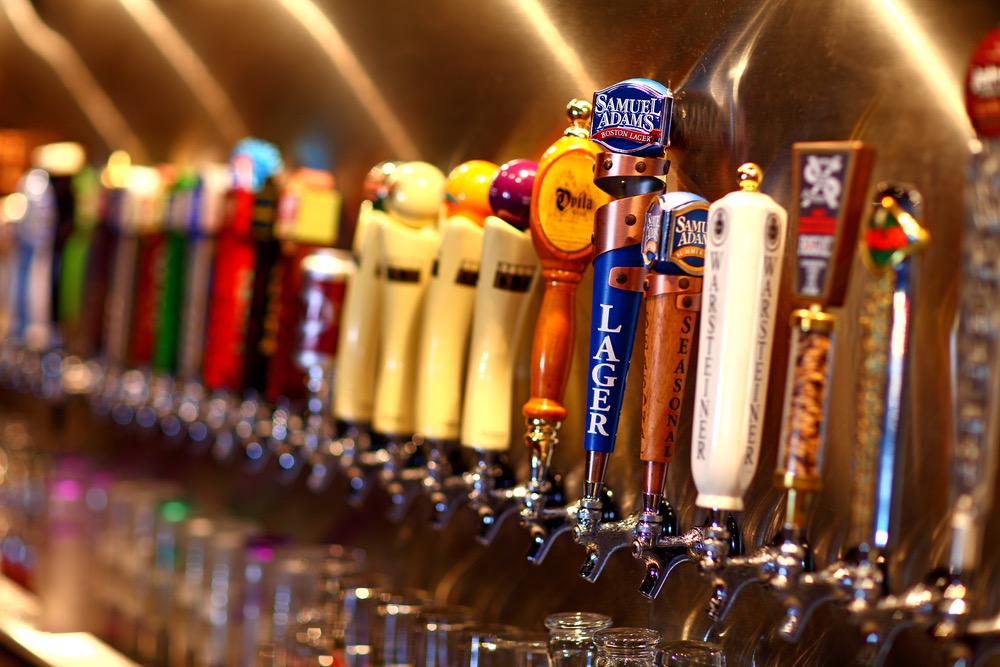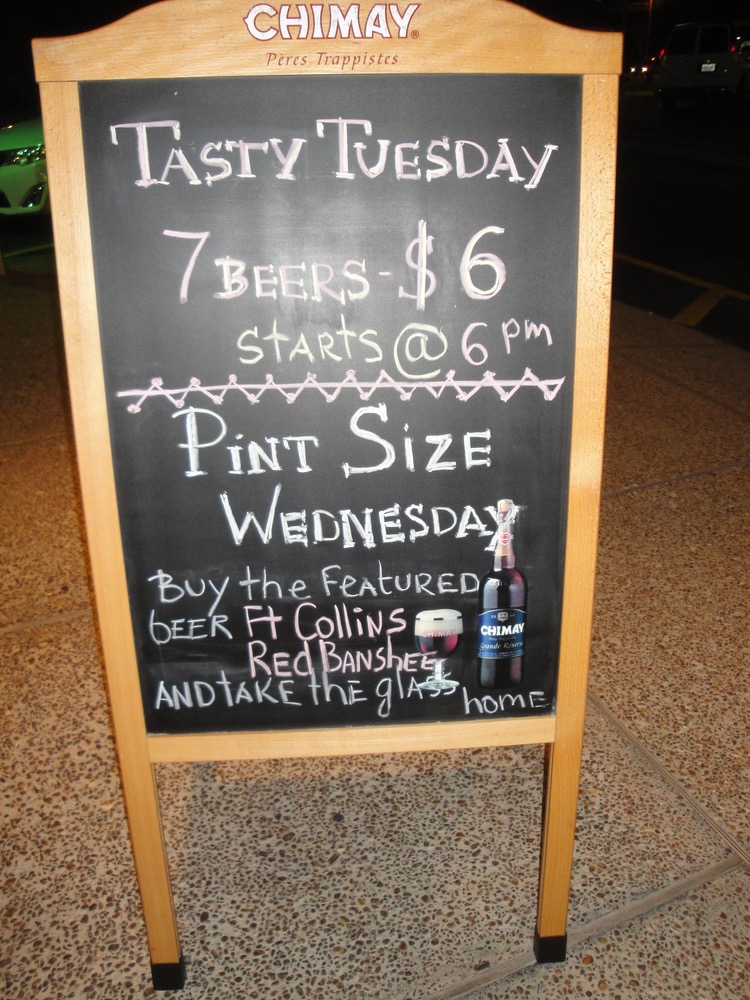 John and I snagged a four top near the fireplace, where Selma joined us. Her personality, summed up in a word, is "passionate," which also reflects Fishale's motto, "Lovin' Life!" And lucky for us, Selma's unbridled amore for craft beers, which started several years back during an impromptu stop at a brewpub in New Mexico with Leo, eventually evolved into one kick-butt alehouse. American-made craft beers dominate Fishale's drafts—seven are from Dogfish Head alone, including Selma's favorite brew, Dogfish Head 90 Minute IPA. For something a little different, try the hop blends at Fishale, like the "Terminator" (Turbodog layered with Andygator), or the "Black & Blue" (Guinness and SweetWater Blue).
Want to expand your horizons without draining your wallet? Join Fishale for Tasty Tuesdays and get a flight of seven beer samples for $6. The rest of the week, create your own four-sample paddle for $8.50, or pay two bucks more for a higher-gravity version (more alcohol content). With all that paddling, you're bound to work up an appetite. And if you have a hankering for some tasty, fresh seafood, you're in the right place. Chef specialties are crab-cake tacos and an ahi tuna BLT with wasabi mayo. Although the latter was tempting, I ordered ahi tuna steak with a sweet, spicy glaze. John's classic beer-battered fish and chips were just as mouthwatering.
By next summer, look for Fishale to test the waters with a few of its own microbrews. Careful—if they taste as good as the grub, you may get hooked!
McGuire's Irish Pub & Brewery
600 E. Gregory Street, Pensacola, Florida 32502 (850) 433-6789 & 33 E. Highway 98, Destin, Florida 32541 (850) 650-0000 www.mcguiresirishpub.com
McGuire's Irish Pub has been an area institution for "Feasting, Imbibery, and Debauchery" (as their slogan goes). Having opened in Pensacola in 1977, it bears the distinction of being Florida's first craft beer brewery. Nearly twenty years later, owners McGuire Martin—whose clan hails from Galway, Ireland—and his Mississippi maiden, Molly, opened a second location overlooking Destin Harbor. With hardwood floors, brass railings, vintage memorabilia, and staff dressed in turn-of-the-century garb, McGuire's has re-created the feeling of an authentic old-world Irish saloon. Covering the ceilings and walls like paper shamrocks are more than a million autographed one-dollar bills, a ritual that Molly inadvertently started when she tacked up their first customer's tip as a sign of luck. Rounding out the eclectic motif are trophy heads of various wild game, including the moose, McGuire's beloved mascot, which you may find yourself kissing before the night's end. Hey, it's a tradition! Pucker up!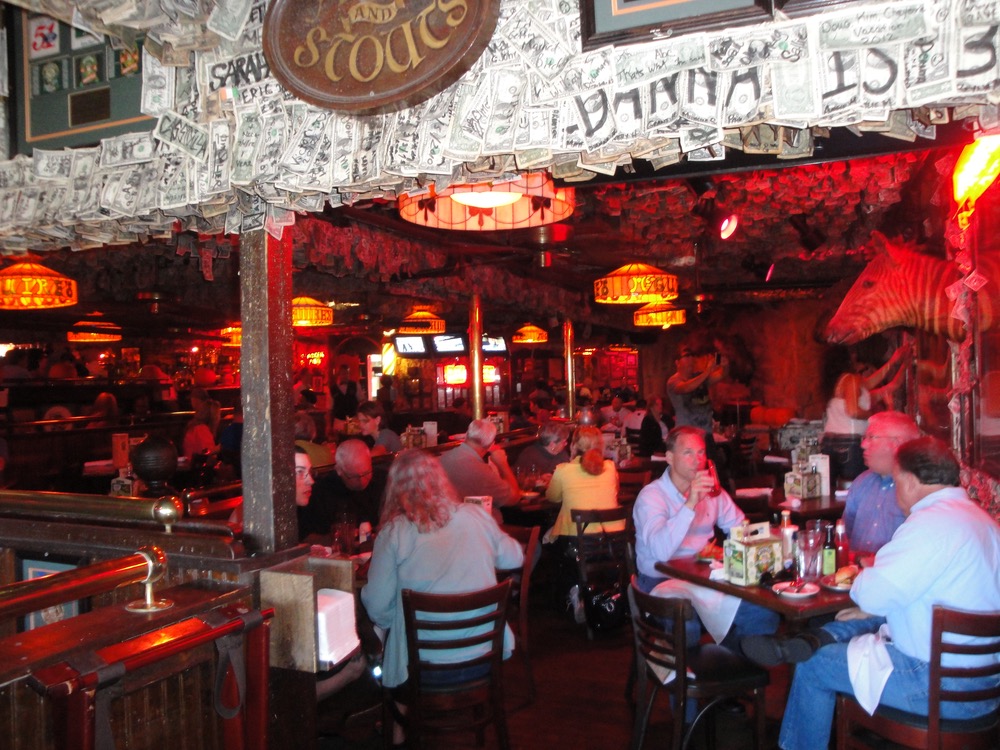 At McGuire's first location, which was originally an old firehouse, John and I were concluding a Pensacola pub crawl with a final round at McGuire's before calling it a night. The featured entertainer kept a lively vibe in the dining room so we sat down and shared a sampler flight of McGuire's beers, which are brewed on-site in traditional oak and copper tanks using their secret yeast recipe. McGuire's brews light ale, red ale, raspberry wheat ale, porter, and stout, plus a seasonal rotator. What made our Irish eyes smile most was their number-one seller, Irish Red Ale. Even famed brewmaster George Killian gave McGuire's red ale an official "thumbs up," according to McGuire's guest relations manager, Perry Hunter. Our second pick was McGuire's rich, smooth porter, which won Florida's 2008 Beer Championship. You're in luck—McGuire's Millennium Ale, bronze medal winner of the 2006 World Beer Cup, is back as the seasonal rotator for January and February.
The rave reviews this gastropub has received aren't just for the brews; their cuisine is critically acclaimed as well. Named a "Top 10 Florida Restaurant" consecutively every year since 1994, McGuire's has achieved Golden Spoon Award Hall of Fame status, according to Hunter. McGuire's extensive menu includes both Irish and seafood fare—but the tavern specialties are hand-cut USDA steaks and ten-buck Blarney Stone–sized burgers grilled to juicy perfection. For lighter bites, I recommend steamed mussels and Irish "boxties" (breaded and fried mashed potatoes), washed down with another Irish red. Sláinte!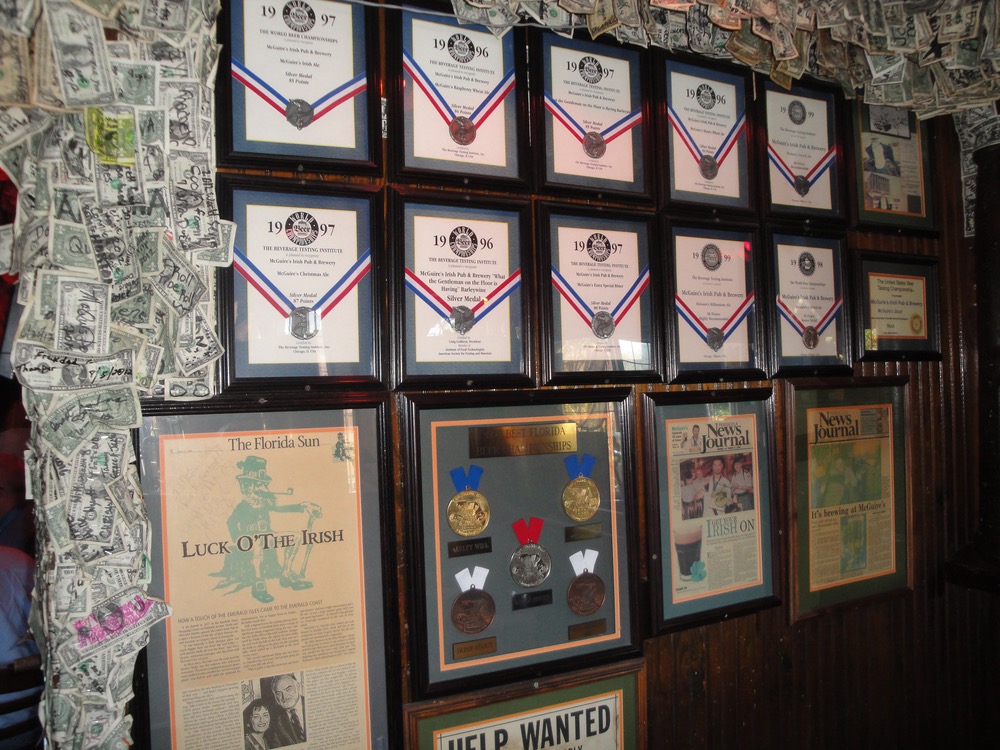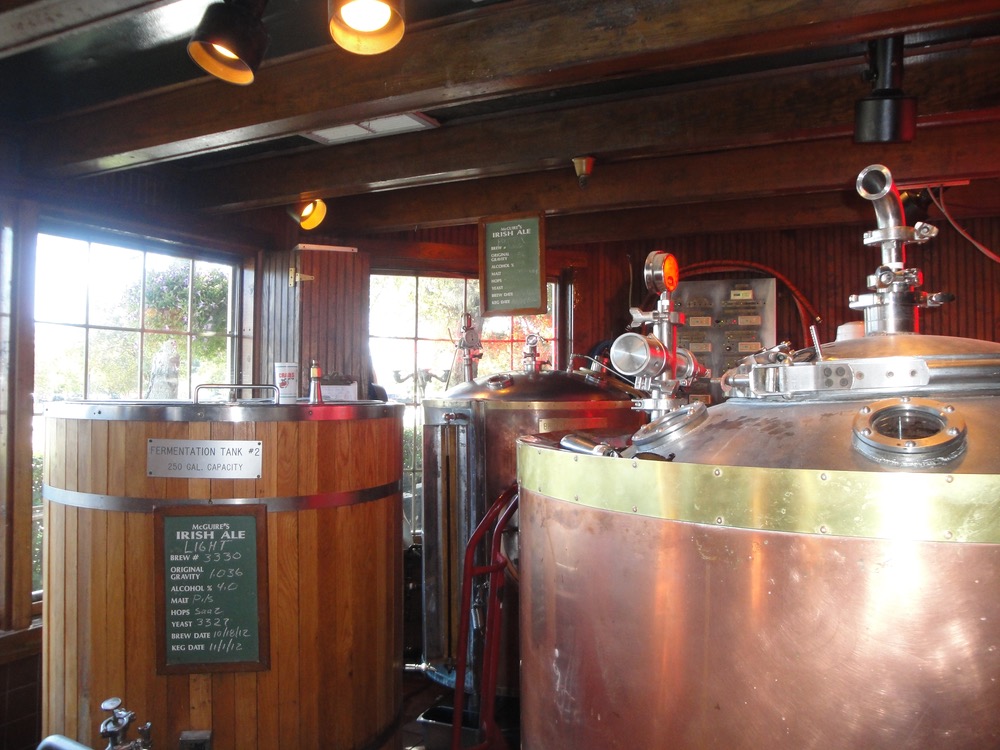 Props Brewery & Grill
255 Miracle Strip Parkway SE (The Shoppes of Paradise Pointe), Ft. Walton Beach, Florida 32548 (850) 586-7117 www.propsbrewery.com
Before relocating to Hurlburt Field a few years back, USAF C-130 pilots Mike Kee and Nathan Vannatter were accustomed to living in places run amok with microbreweries. Before long, these ale-loving airmen began pursuing their dreams of opening a brewery in what Mike calls "Florida's last bastion for craft beers to take hold" because at the time, McGuire's was the area's only microbrewer. In December 2011, Mike and Nate landed Props Brewery & Grill at the foot of Brooks Bridge, making it Fort Walton Beach's first microbrewery.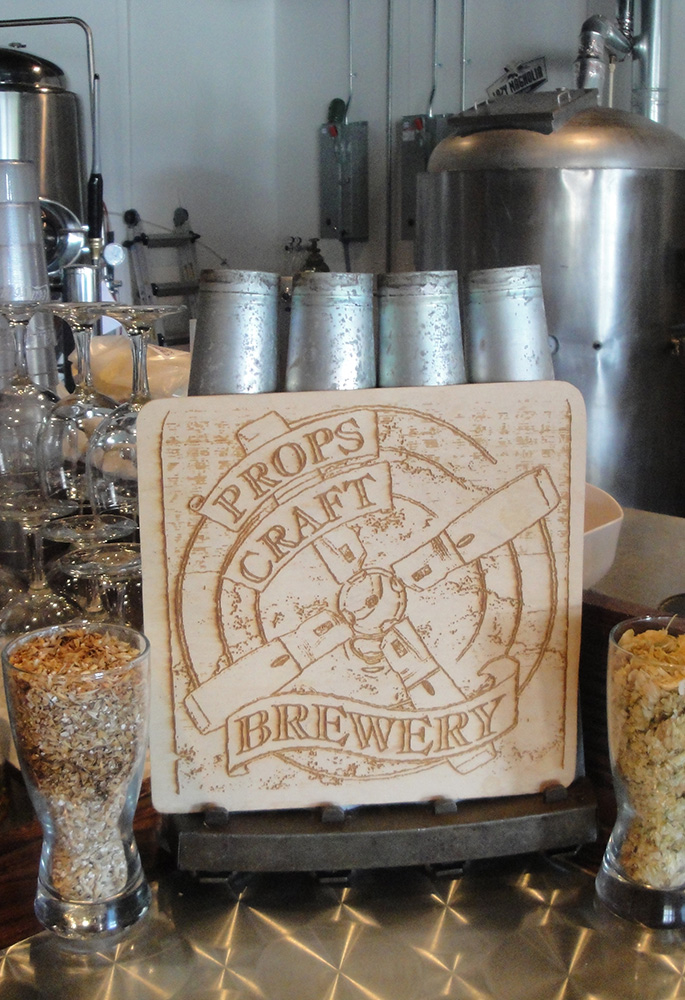 John and I walked inside Props and were greeted by friendly staffers and whiffs of aromatic ale. Suspended from the open-grid ceiling, a 330-pound DC-3 propeller slowly rotates. Large shell casings are stacked on the stainless steel bar top that winds along the full length of "Frankenstein"—Props' own nickname for its bank of mismatched brewery equipment. Numerous flat-screen televisions line the steel-blue walls, which make this locals' hangout especially popular with sports fans, like the owners' buds from the 39th Airlift Squadron. Painted on one wall are the names of the Props Regulars Club members who each polished off one hundred pints in sixty days!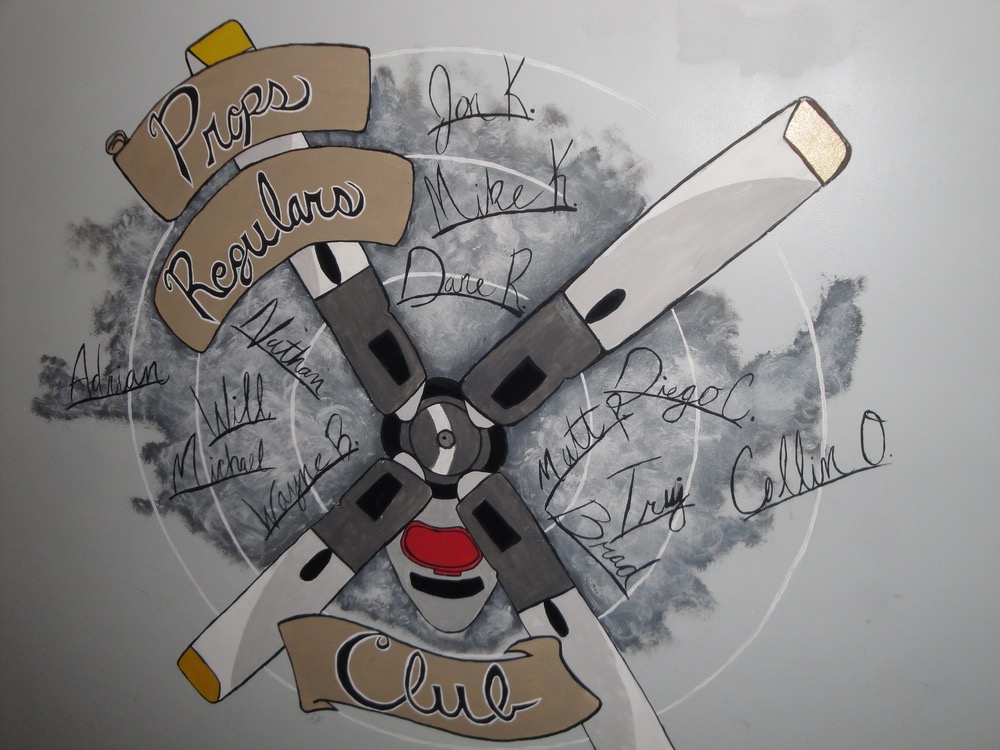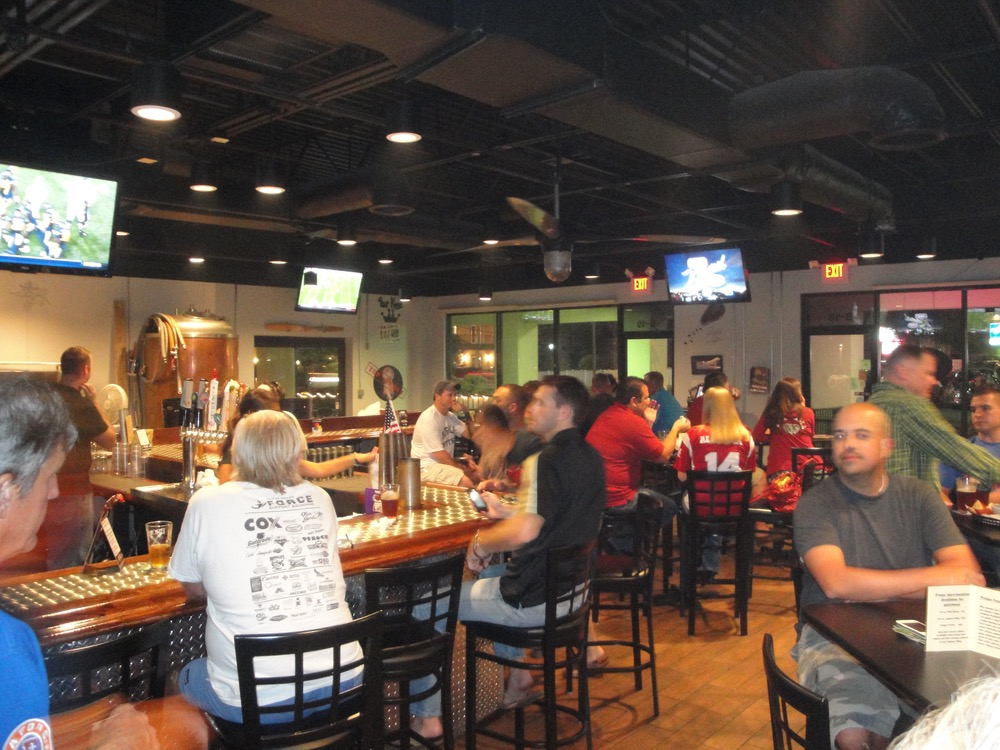 We commandeered a high top, and our bubbly waitress brought us tastes of each of Props' year-round ales: Flying Coffin IPA, Four Kings Brown Ale, and "Blonde" Bomber Ale. All hit the spot. But as they say, opposites attract—John preferred the "blonde," and I chose the smooth "brunette." Recently, Chocolate Stout joined Props' brewski battalion, promoted from an "oops" mistake to seasonal rotator and then to full-fledged regular. Expect their squadron of private-label craft beers to double within the next five years.
After dinner, Mike Kee and general manager Brian O'Neill stopped by our table for a chat. As a former backyard brewer, Mike, who has perfected his recipes over the past five years, said the best part of the biz—aside from getting the obvious imbibing bennies—is witnessing the "Wow! This tastes great!" conversion that ensues whenever he introduces a non-craft beer drinker to his or her first high-quality beer. The same can be said about Props' hefty portions of "made-from-scratch" chow. John devoured his fried barley-breaded tilapia sandwich—another of Mike's recipes—and my blackened-fish tacos were right on target. Salute!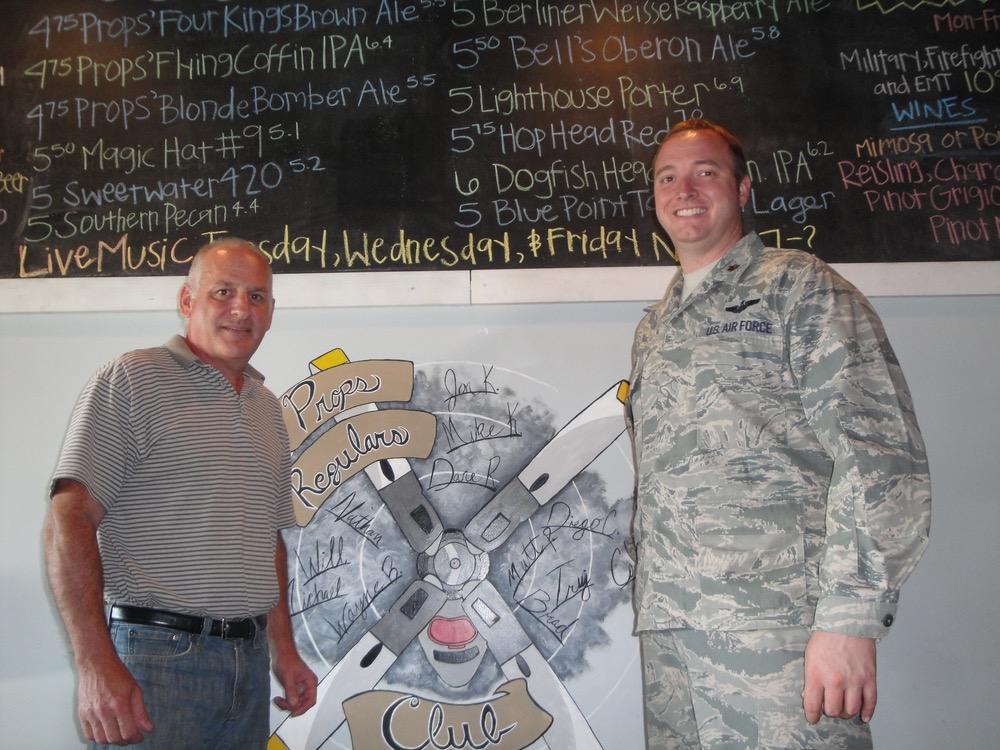 Pensacola Bay Brewery
225 East Zaragoza Street, Pensacola, Florida 32502 (850) 434-3353 www.pbbrew.com
Nestled within the heart of the City of Five Flags' historic district, Pensacola Bay Brewery (PBB) is fittingly situated just one block from its namesake. Outside the redbrick building's breezy, dog-friendly patio with umbrella seating and pirate flags, wedding guests from the church across the street mingle with bikers, business professionals, and students. Inside the tasting room, the pungent smell of beer permeates the air. Above the cozy L-shaped bar, dried hop garlands dangle from wood beams, immediately transporting me back to Belgium. A pirate motif and wooden barrel tables with stools create an inviting Cheers-meets-buccaneer feel. Behind closed sliding glass doors, shiny metal tanks provide a sneak preview of where the booty is brewed.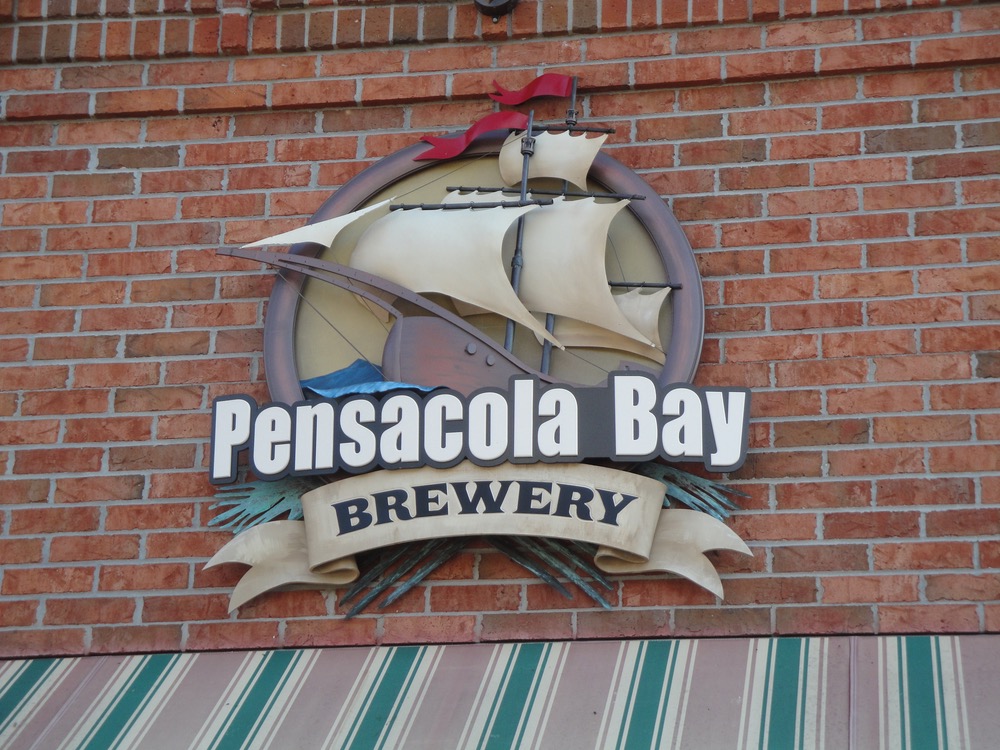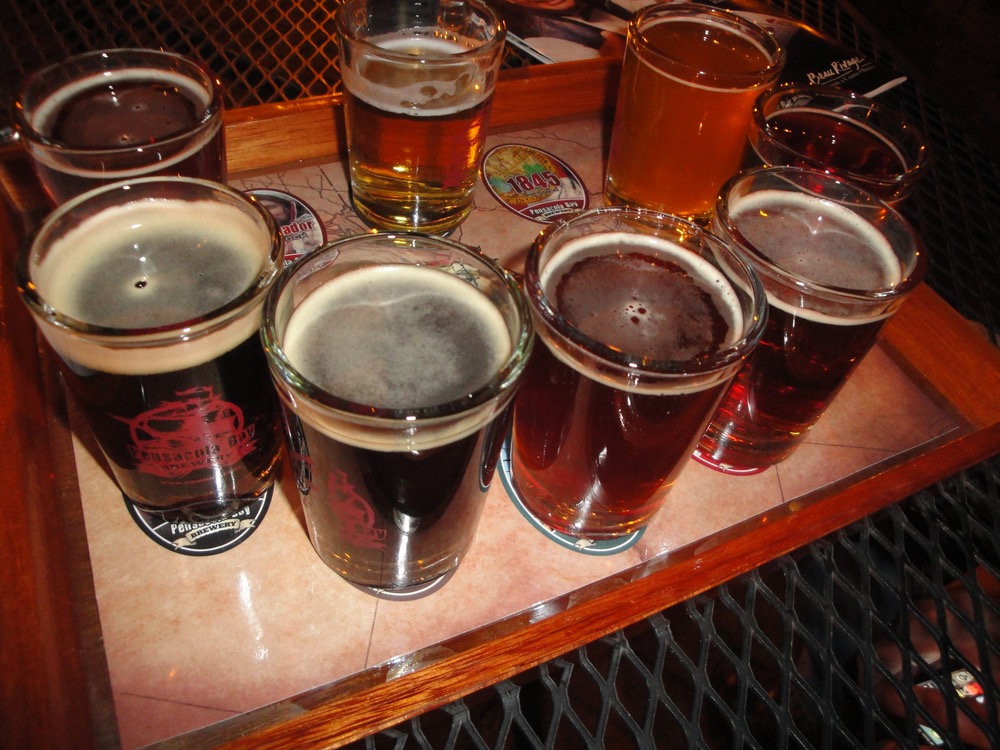 Free tours, given on Fridays and Saturdays at 3:30 p.m., are led by master brewer and co-owner Mark Robertson, who has been backyard brewing for twenty-five years. After the tour, Mark and I kicked back on the sunny patio with a cold pint and shot the breeze about his favorite topic—beer! Since opening PBB in November 2010, Mark and his partner, Elliott Eckland, have built the business up from three to eight craft beers, including seasonal rotators, which they distribute throughout Florida's Panhandle. Along with porters and ales, PBB brews a stout, a doppelbock, a pilsner, a raspberry wheat, and a German-style kölsch. All drafts can be sold to go in thirty-two-ounce "flip tops" or 128-ounce jugs called "growlers," whose unique name dates back decades to when beer was carried in covered pails—as the carbonated air escaped through the lids, it made a growling sound.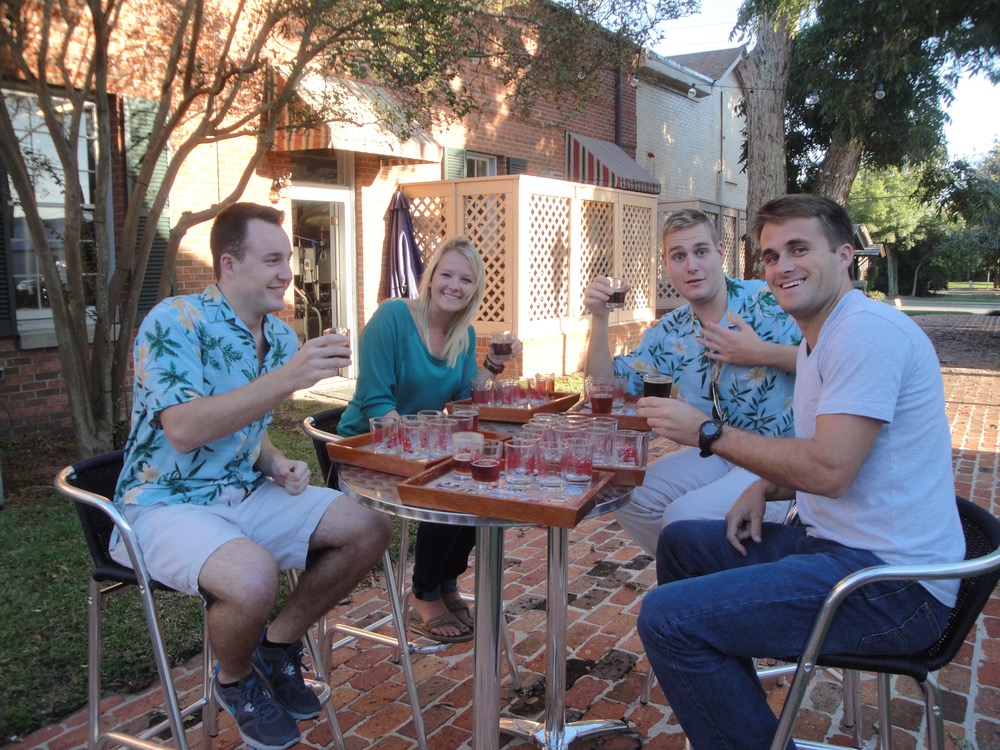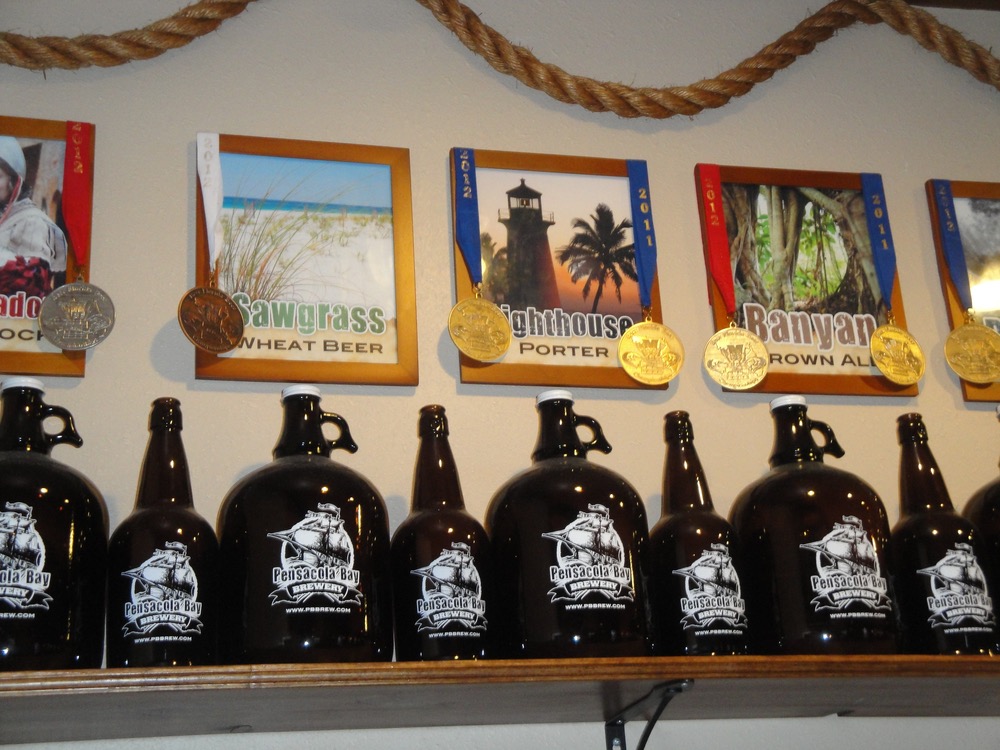 Later that evening, John and I returned to wet our whistles with a sampler flight—eight beers for $9.50. The seasonal rotator, Pensacola Bay's ESB (Extra Special Bitter), is worth its weight in gold. This velvety ale has become so popular it will likely become a regular soon. Due to stringent alcohol laws regarding off-premises beer distribution and on-site food service, PBB can't sell sustenance other than chips and crackers. However, you can BYO or order delivery from several nearby eateries. Also, bring cash or an ATM card. Sorry, no credit cards. Regardless of the time of day or evening, PBB is an übercool locals' pub that beckons you to stop in for just one more pint—or two.
Hopjacks Pizza Kitchen & Taproom
10 South Palafox, Pensacola, Florida 32502 (850) 497-6073 www.hopjacks.com & Hopjacks Filling Station 3101 E. Cervantes Street, Pensacola, Florida 32503 (850) 466-2327  
Last but not least—especially for the quantity of craft beers—with one hundred twelve taps and seventy-five or more bottled beers, Hopjacks Pizza Kitchen & Taproom in downtown Pensacola is a beer lover's mecca and a must-stop on any pub crawl. This bar-restaurant has racked up slews of awards for its brews, food, and party-hearty attitude; it has also been named one of the nation's "Top 150 Beer Bars" by DRAFT Magazine.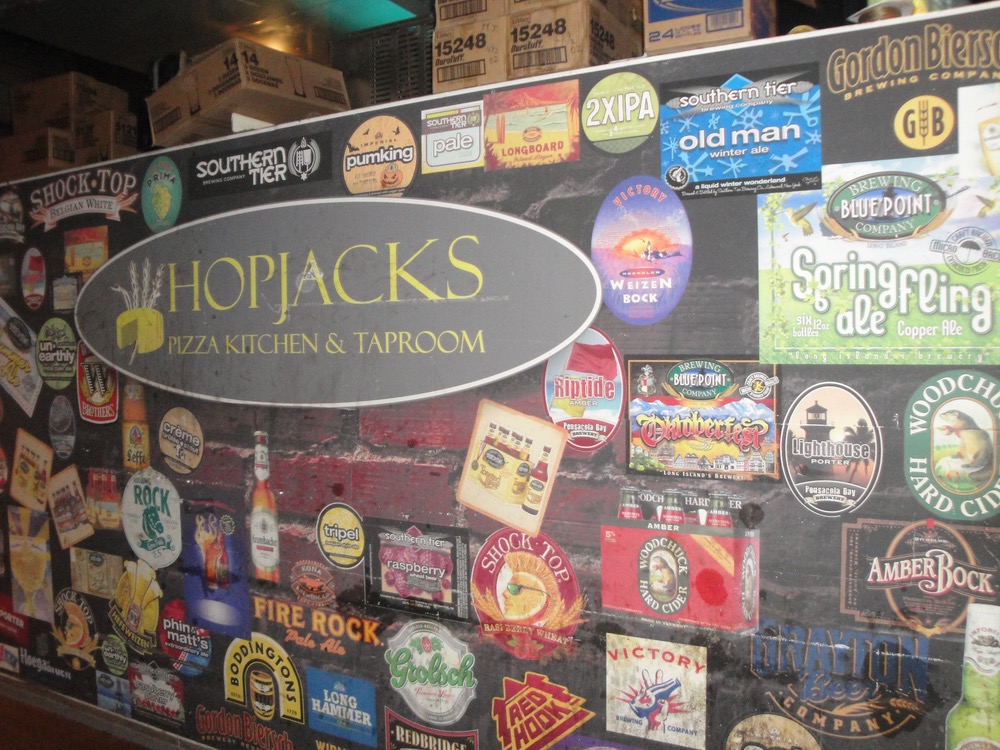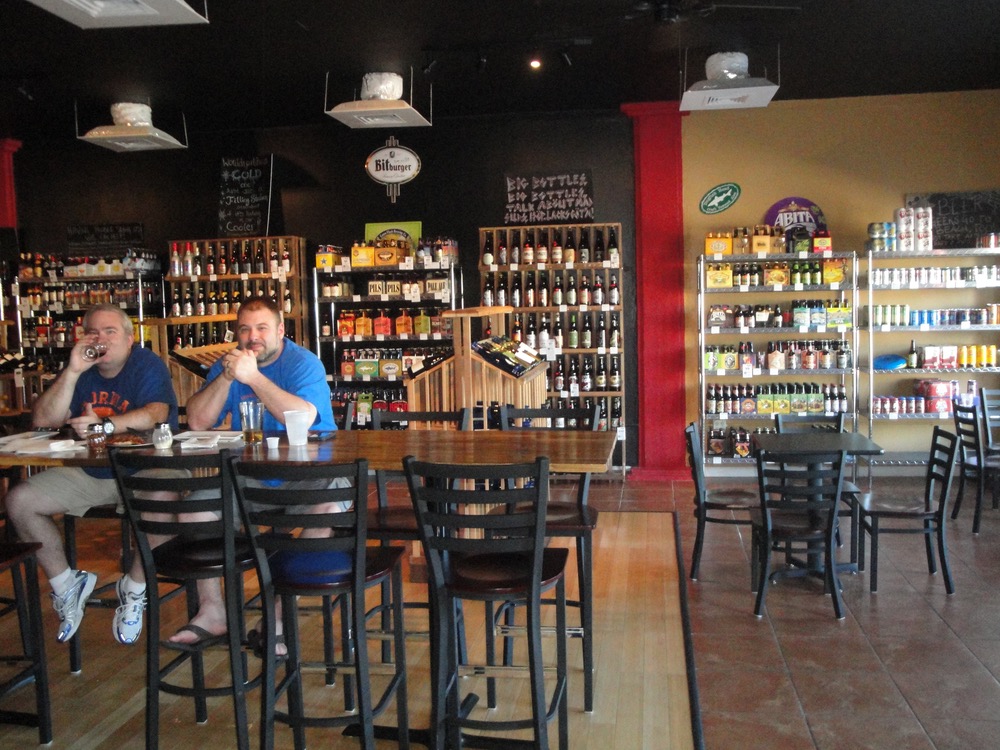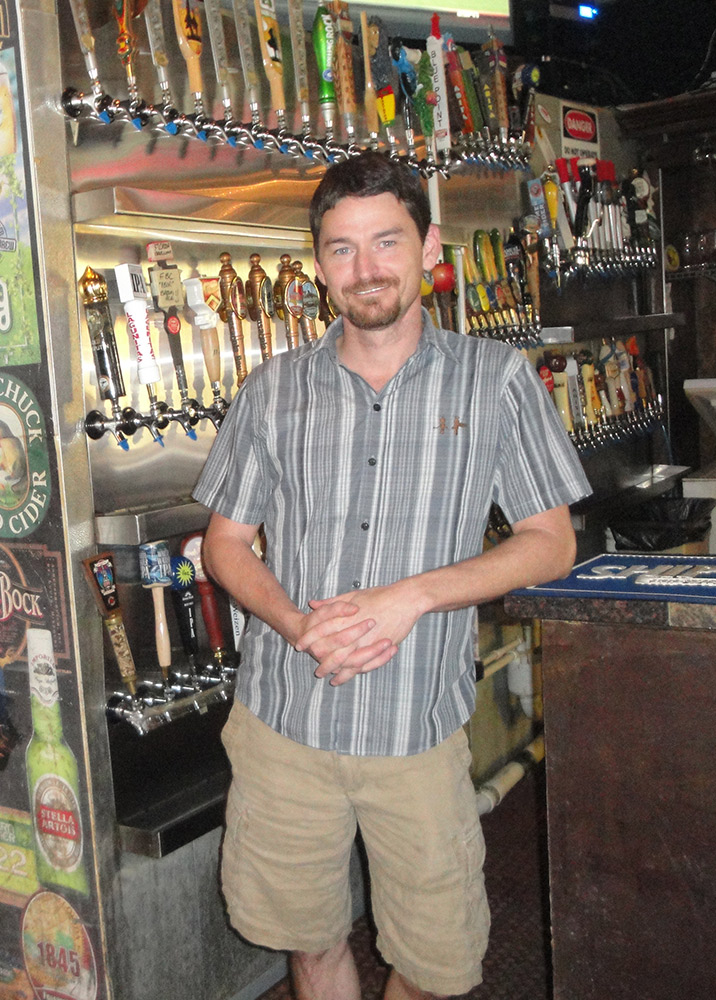 In 2007, professional chef Joe Abston, a graduate of Johnson and Wales University, detected a few underserved niches in Pensacola's landscape of late-night bites and craft brewpubs. So, the reformed "swill seeker" took a gamble by tossing in his toque and opened Hopjacks in what was then considered one of Pensacola's defunct downtown districts. Joe not only hit a home run with Hopjacks, but this young entrepreneur has become somewhat of a "pied piper of South Palafox" by significantly contributing toward the area's thriving revitalization.
Our pit stop at Hopjacks coincided with one of Pensacola's Gallery Nights, which occur on select Friday nights during the year. During a Gallery Night, downtown Pensacola becomes one continuous block party, featuring live bands, art exhibits, and food booths (www.downtownpensacola.com). We arrived during Hopjacks' first dinner rush—the second one starts at midnight—and the centuries-old building was buzzing with activity. Inside, we snagged two stools and pulled up to the long, communal high top that runs down the center of the boisterous cavern-like room. Next to the bar, one wall is covered with four rows of taps stacked on top of one another, the most I have ever seen.
Alongside world-class beers, killer pizzas are Hopjacks' other specialty—but they ain't your average pies. Toppings include herb-roasted duck and filet mignon. To offset the high-carb crafts, we ordered Hopjacks' petite pita pockets. Mine had blackened shrimp with grilled peppers and onions, and John's was stuffed with juicy Italian sausage. Combined with a side of award-winning Belgian fries and washed down with pints of Dogfish Head, dinner was pure perfection!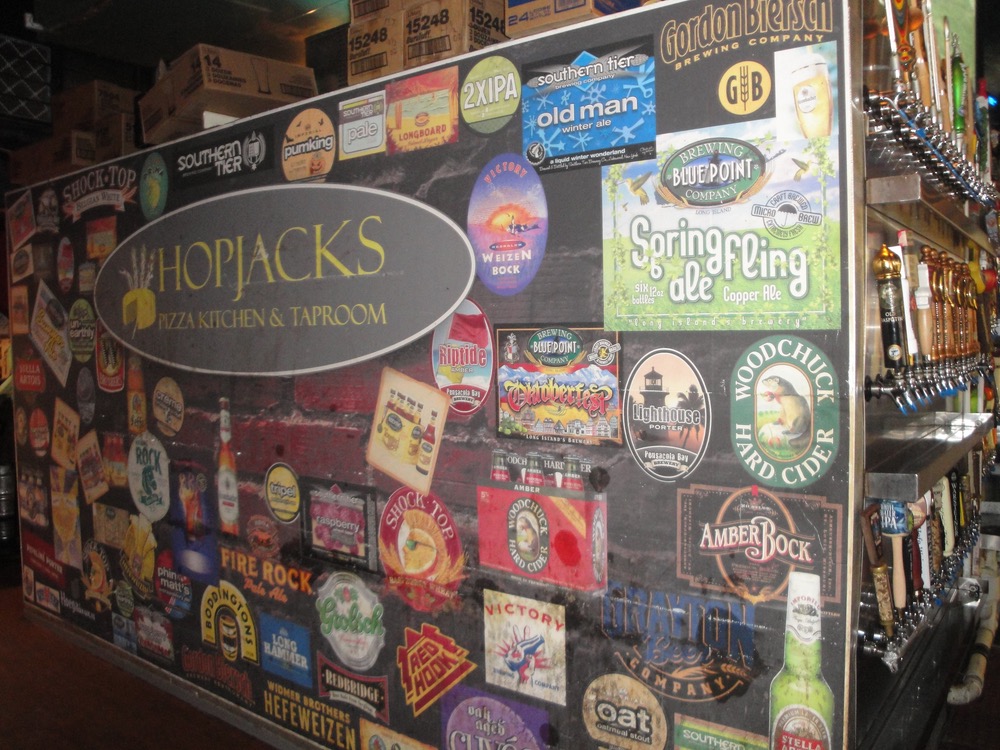 For an exceedingly scaled-down version of Hopjacks, try Hopjacks Filling Station, which is a combination retail beer market and tasting room. Thirty-three specialty brews are rotated on tap, many of which are hard-to-come-by gems. Create your own four-sample flights with help from their beer sommelier. Besides pizza and fries, artisanal cheeses and charcuterie are available.
Cheers!
Honorable Mentions
Prost to the above pale ale pioneers, who together are blazing a trail along Northwest Florida's Panhandle one pint at a time. Thankfully, the path is becoming more populated, with these other pit stops worth pursuing: Chan's (several locations spanning from Panama City Beach to Pensacola); Hofbräu Beer Garden (Panama City Beach); Baytowne Beer Garden (Sandestin Golf & Beach Resort); Mellow Mushroom (Destin), Miller's Ale House (Pensacola), Salty Duck (Fort Walton Beach), Shades at the Loop (Inlet Beach), and World of Beer and The Tin Cow (both in Pensacola). After all, life is too short to drink cheap beer!
— V —
---
Kim Duke-Layden, an international adventurer with insatiable wanderlust, lives at Sandestin Golf and Beach Resort with her husband, John, and is a Realtor® for The Premier Property Group at Grand Boulevard. Contact her at kim@theppg.net.
ARTICLE CATEGORIES