An Architect's Vision
To envision a home before it becomes bricks and mortar is a feat of epic proportions. Studying the lot's topography and making a building program work within the constraints of landscapes, codes, and clients' desires are tantamount to working with a real-life puzzle. There are many variables to navigate during the conception of a vision and its execution, but this is where it all begins. Gerald Burwell, the principal architect and founder of the firm Burwell Associates based in Grayton Beach, Florida, speaks the language of architecture fluently. A man of precision and attention to detail, he has also been the publisher of VIE magazine since its inception and vice president of The Idea Boutique marketing and branding agency, putting those skills to use to ensure beautiful products for clients across the US and beyond.
Most recently, Burwell was selected by real estate developers Carl and Tamara Tricoli as the architect of record for their nine-home project in Seagrove Beach, Florida, in the private, gated community of Heritage Dunes. The first of those homes is The Heritage – A VIE Legacy Show Home, which sets the standard for the following eight and is a stunning testament to the talented team the Tricolis have assembled, starting with Burwell's master plans. The VIE team is especially excited and proud that Burwell designed the magazine's fifth show home and sat down with him to discuss it in more detail.
VIE: How did you meet Carl and Tamara Tricoli, the owners of Bella Mare Real Estate Holdings, who are developing nine custom homes in Heritage Dunes?
Gerald Burwell: I connected with Tamara and Carl through local colleagues and friends Gay and Jeff Landreth from La Florida Real Estate. It was a great opportunity that seemingly came out of nowhere for me, but I'm incredibly grateful for it. I had designed a couple of homes for clients of the Landreths, so this was a sort of kismet connection as they were helping the Tricolis look for an architect for the Heritage Dunes development project.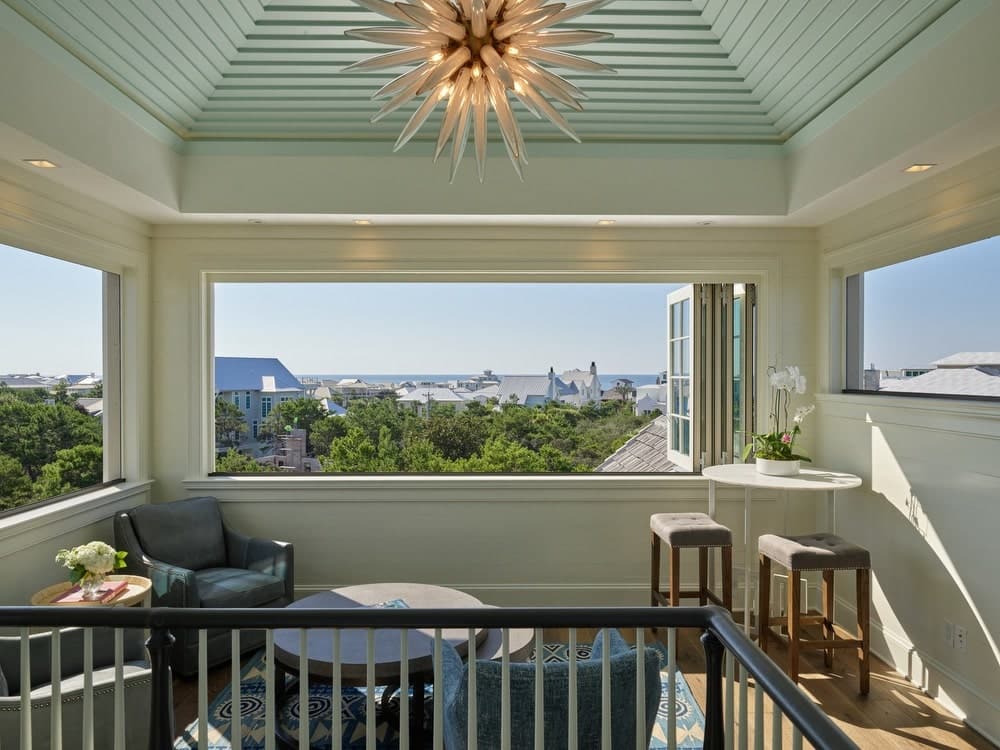 VIE: Tell us a little about the process of creating these nine unique homes, beginning with The Heritage – A VIE Legacy Show Home on Lot 24.
GB: This project comprises nine residential lots on the north side of the Heritage Dunes neighborhood, a very private development that is, in a way, a real "sleeper" overlooked by many potential buyers over the years. Investors were looking mainly for rental properties, which are not allowed here, so when the area's full-time and second-home owners market boomed thanks to COVID-19, it became an incredible opportunity.
We started with Lot 24, just south of Scenic Highway 30-A, and it became our show home for the entire development. The design approach had many aspects; there were several primary characteristics that I wanted to incorporate in all nine homes, as well as secondary details to help make each one unique. We also wanted to address the connection to the activity and excitement of the 30-A area, being in such a central location to Seaside, Alys Beach, Rosemary, and WaterColor—all these fantastic destinations—but create a true enclave within this private community where the owners can retreat at the end of the day and spend quiet mornings.
VIE: What was the inspiration behind the design of The Heritage?
GB: The heart of the home's design is the pool and the surrounding courtyard. The home's views are primarily to the south, toward the Gulf, which creates a private niche as you face away from Highway 30-A itself. Focusing the floor plan in this direction gave a natural sense of protection and an exclusive feel. Homeowners will have a beautiful Gulf view from the fourth-floor tower, a central location within the north side of Heritage Dunes, and a view of Scenic Highway 30-A and the bike path through north-facing windows.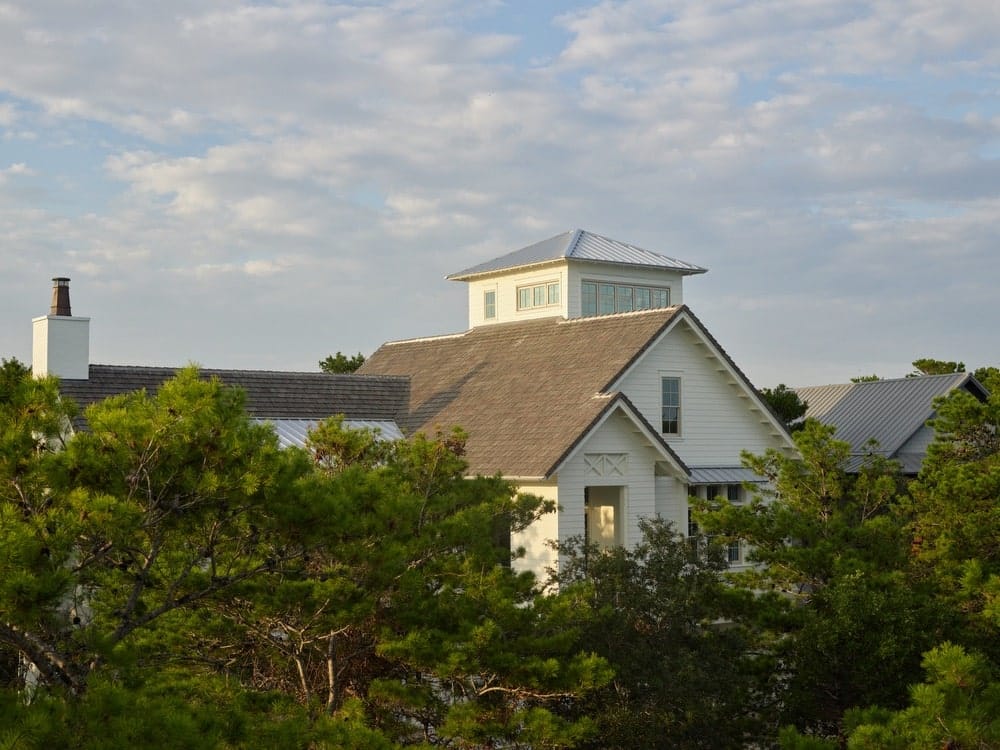 Many things influenced the design—it would take hours to go more in-depth on them—but a lot of my influences come from my upbringing, spending a lot of time around the Middle East and experiencing different cultures as my family traveled. The courtyard approach on The Heritage, especially, created a semi-private area, with a custom wooden screen element acting as a fence in front of the courtyard. That type of structure is found in many Southern gardens, but we used it here in a way that creates a sense of privacy but still appears welcoming toward the rest of the Heritage Dunes neighborhood. It is also reminiscent of elements in Arabian architecture, like the mashrabiya style of open latticework, which I was exposed to growing up in that region.
VIE: The architectural style of The Heritage seems different from many homes in the area. What is that feeling that makes it so unique?
GB: The inclusiveness of the home and how it addresses the neighborhood are what make it unique. It doesn't wall itself off; it kind of beckons visitors as well as invites the homeowners to partake in the neighborhood and its beautiful views. For example, the Juliet balcony on the front of the home allows the residents to walk outside and take a peek at the community or say hello to a passing neighbor.
The courtyard approach on The Heritage, especially, created a semi-private area, with a custom wooden screen element acting as a fence in front of the courtyard.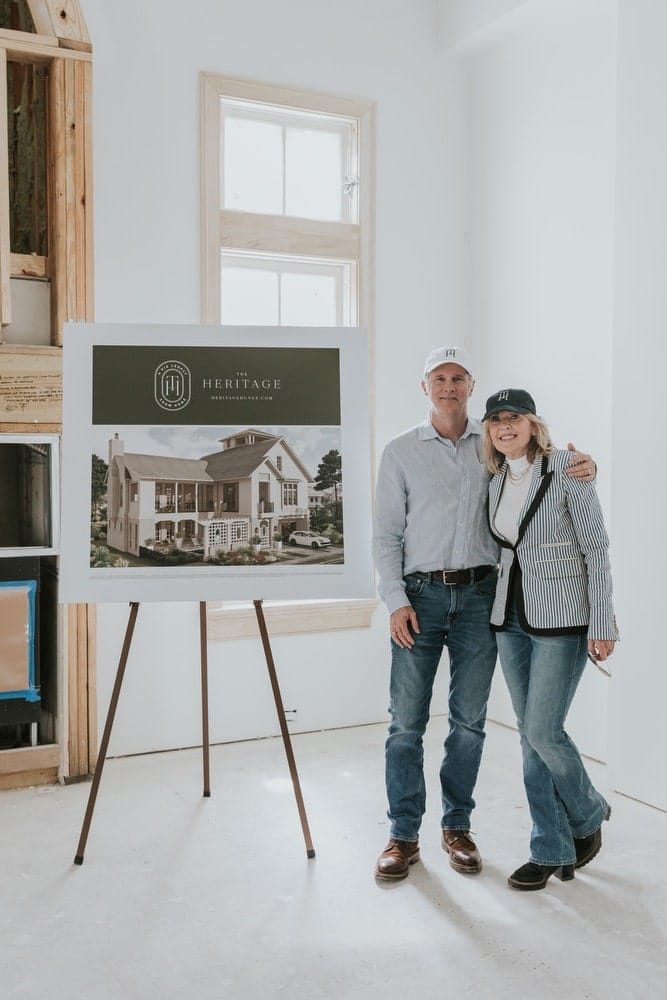 I would describe the architectural style as coastal classic Southern. "Classic Southern" was determined by Bella Mare to be the common thread in the design of all nine homes. The coastal part comes from using materials that will hold up to the harsh elements—the winds, rain, and salty air coming off the Gulf, especially. Each of these homes will also have a Gulf view thanks to expansive towers and balconies that make great focal points for the lifestyle Carl and Tamara wanted to create for their buyers. These are homes where families will live, vacation, and make memories, hopefully for generations. It brings in that "legacy" concept captured in the branding and storytelling perpetuated by the team at VIE and The Idea Boutique.
VIE: What has it been like working with Bella Mare and the other team members on this nine-home project?
GB: The project as a whole has been a fantastic experience. Working with a client like Bella Mare is a dream come true; it's rare to work with someone with the means and the foresight to take on something of this scale. I had almost a blank canvas to do whatever I wanted in terms of designing these homes. Working with Grand Bay Construction, whose team is very energetic and experienced, brings so much to the table with resources and overcoming challenging times with a pandemic and the supply chain issues as a result. They've kept their heads cool and kept this project moving in a way that I'm not sure anyone else could.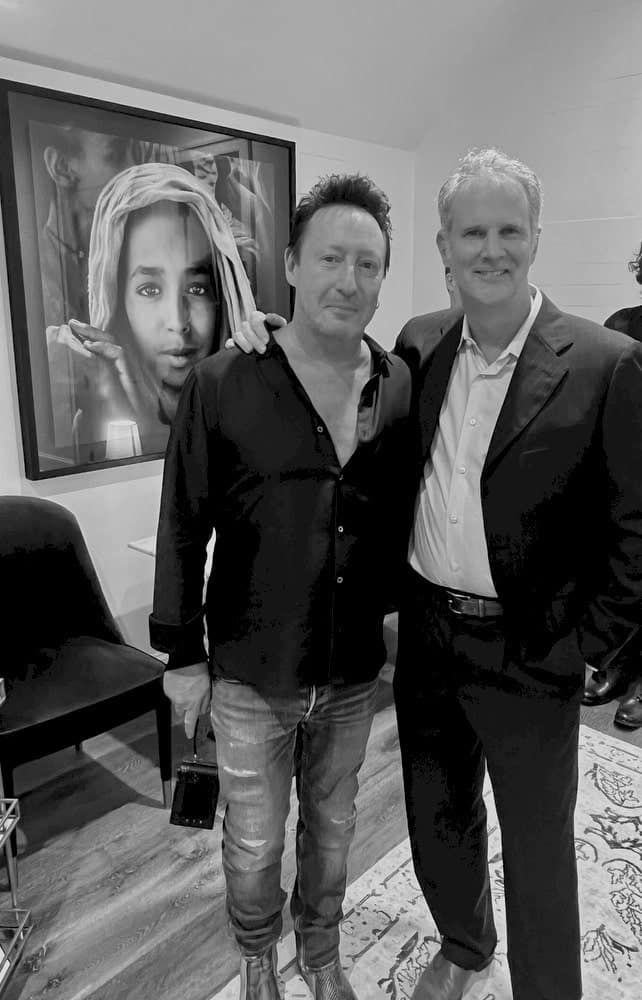 Also working with partners like E. F. San Juan, who has been an amazing resource for windows and doors, as well as exterior and interior trim and stair parts, has been amazing. Edward and Mary Kathryn San Juan and their team at this fourth-generation family millwork business, including sales rep Todd Oliver, were great. They have a proven process and quality that is unmatched in their field.
Patrick Hodges of Patrick Hodges Land Studio has a pedigree not commonly found in the business—not just in this area but overall. He has been a joy to work with, and I'm continually impressed by his talent.
Duce May of Duce & Company, the interior designer, is a character who really enjoys his craft and the evolution process of creating interiors. He likes bringing a little drama and an element of surprise into these homes—they are a stage or a canvas where he can truly express that joy and convey it to others when they walk through each room. His refreshing eye came through on this project.
Having La Florida on board, with their knowledge and expertise of this area's real estate market, has also been an invaluable asset throughout this process.
VIE: What were some of the biggest design challenges for Lot 24 and the other Heritage Dunes homes being developed by Bella Mare Real Estate Holdings?
GB: One of the keystone elements of the home is the tower, which affords tremendous Gulf views. The lot is on the northernmost edge of Heritage Dunes, and it was predetermined when the project began that Bella Mare wanted all nine homes to be able to see the Gulf. Even before the design started, I knew that creating tower views from all these lots would mean it was paramount to do a study ensuring that we got the optimal angle from each of the towers. We used 3D modeling to accomplish this—something that wasn't available until the last five or six years, so working with that tech was a fun challenge. It let me study the views with the client and the real estate broker, La Florida, before designing the homes, so we could make sure the buyers would get the most out of their new residence. We also had to ensure the tower on each of the nine homes wouldn't block the view of any others not yet built, so we put a master plan together to position all the towers in the optimal location.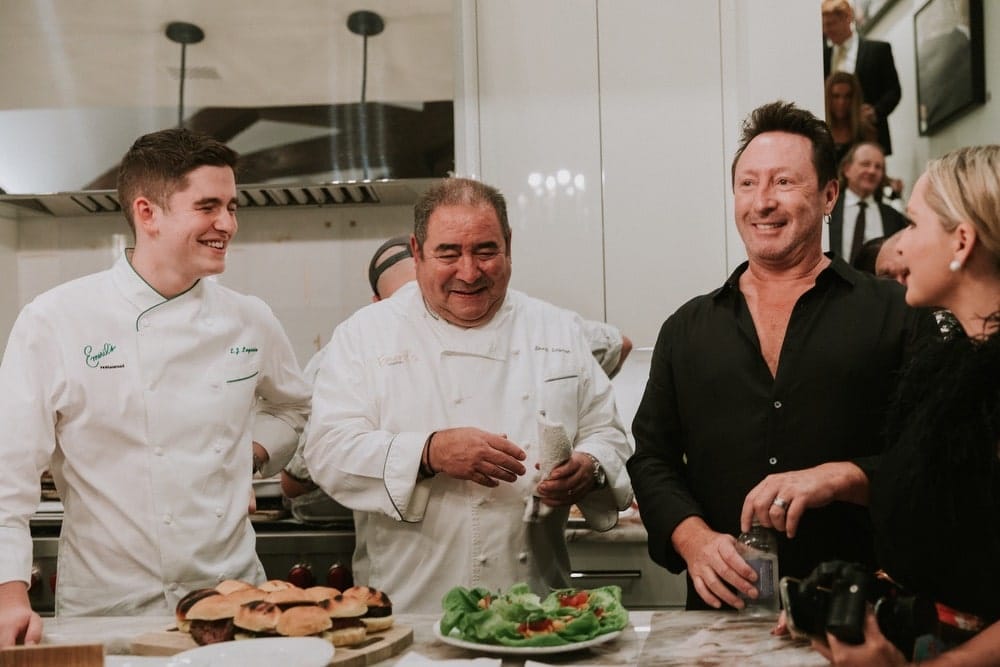 These are also environmental preserve lots, meaning there's a limited area you can develop on them—the design has to be almost surgically carved into the preservation areas within this development to leave the natural surroundings undisturbed. This and the tower element were substantial parts of the design program and a driving factor in creating all nine homes, which meant generating a unique floor plan for each one.
VIE: How did you feel seeing the result of all that hard work during the grand reveal of the VIE Legacy Show Home in September, including a big celebration with celebrity guests?
GB: The project alone, even without being a show home, is not something that comes around very often for an architect. It's already so unique, so adding that extra element of being a show home took it over the top. The fact that Julian Lennon was part of this show home, providing his photography to display throughout it and joining us for the grand reveal—along with chefs EJ and Emeril Lagasse cooking in the show home kitchen—was unbelievable. I'm not sure that word even really cuts it, as it's a once-in-a-lifetime opportunity to be part of a project with partners of this caliber. It was almost too much to fathom, and I'm truly grateful to be involved.
I love our team, which was assembled before we ever introduced Lot 24 as a VIE show home. Elevating the status of this home with it being the fifth VIE show home really brought us all together to make it the best it could be. The whole ball of wax of this home is just top-notch—the developer, the team, the broker, the marketing, the magazine—I've never seen anything like it. I don't know how many other architects get to have this kind of experience.
VIE: How do you feel as you continue designing the remaining Bella Mare Real Estate homes in Heritage Dunes? Do you believe these nine unique residences will leave a positive mark on the community?
GB: The original developer of Heritage Dunes put a lot of thought into the property's future as a true community. It's a Gulf-front neighborhood with a private beach, a pool complex, gated entry, and a restriction on short-term rentals while preserving as much of the natural habitat as possible. The biggest challenge for me was putting a design program together that made sense for the market and would bring a good ROI to the client, all in an attractive package that honored the vision for this previously established community. I think we will accomplish that and help build a neighborhood that homeowners will love, giving them a sense of pride and a place to spend time with their families for years to come.
It's really important to me, as an architect, to create and present something unique but timeless, something classic that won't go out of style. That's what drives me in any project, but for this one, it was crucial. All these elements had to come together successfully. An important aspect for me in any floor plan is that the home must feel like a part of the person inhabiting it—like the home "hugs" you when you walk in, and you feel like you belong there.
— V —
---
Visit BurwellAssociates.com or follow on Instagram @burwell_associates to see more projects or get in touch.
ARTICLE CATEGORIES