Critic's review by Barbara Lippert |
Photography Courtesy of Amazon Prime
From the start, we know just how key the Mrs. part is to The Marvelous Mrs. Maisel, the seductively designed, beautifully acted, compulsively bingeable thirteen-episode series now streaming on Amazon Prime.
The show opens with a wedding, at which the twenty-one-year-old "good girl" bride steps up and offers a charming toast.
A quirky, dark-haired, model-attractive, fast-talker type, Miriam "Midge" Maisel is exactly the kind of loveable but complex main character whom her much-worshipped TV creator, Amy Sherman-Palladino, excels at developing.
As the pop-cultural savant behind Gilmore Girls (more alliteration), Sherman-Palladino is known for her enchantingly clever, rat-a-tat-tat dialogue for women. She tends to flawlessly deliver on tone, mood, and the interaction between mothers and daughters; she also sparks amusing banter between the sexes.
Gilmore Girls, a 2001 cult classic so popular that it keeps coming back, featured Lorelai Gilmore (played by Lauren Graham) in real time, as, yes, a quirky, dark-haired, model-attractive fast-talker-type in Stars Hollow, Connecticut.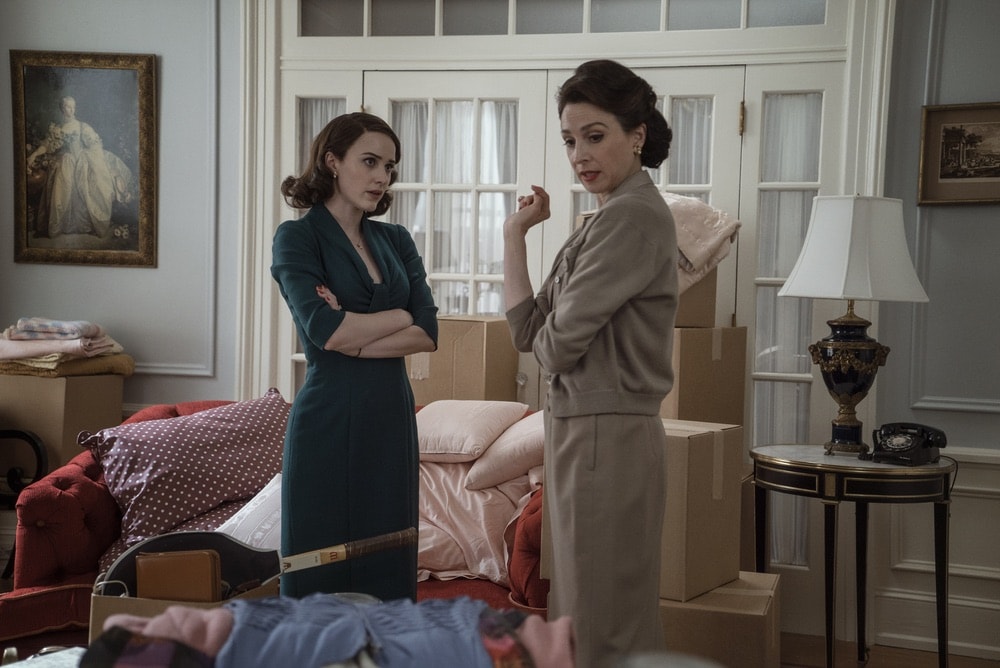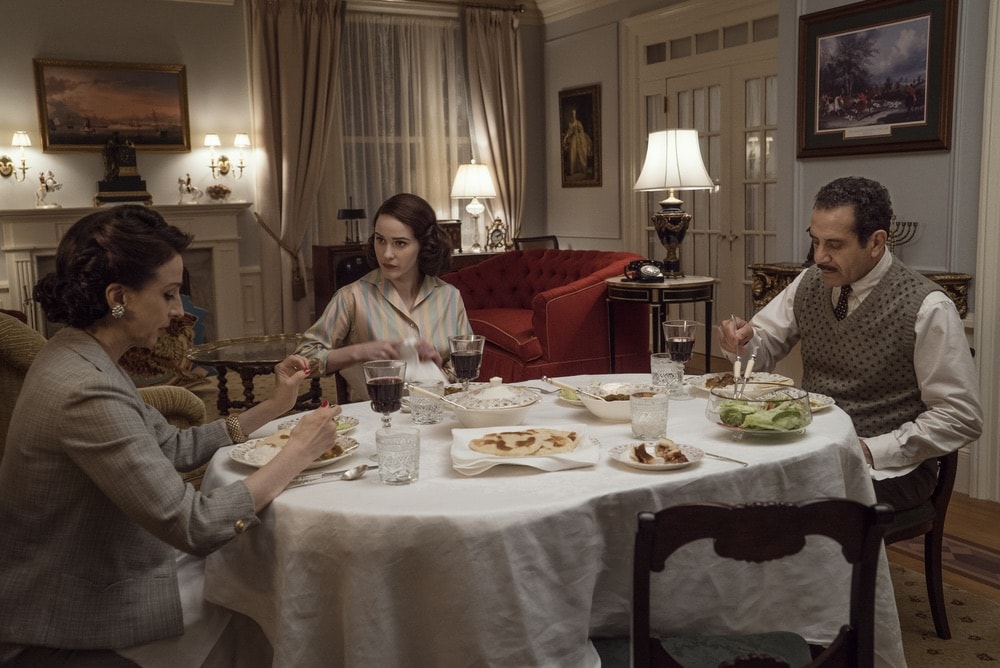 Gilmore defies her old-money Waspy family's sense of propriety by having her baby, Rory, at the tender age of sixteen and moving out to make her own humble way in the world. Go back to 1958 and substitute an upper-class Jewish family for a Waspy one, and the expansive "classic six" apartments in the prewar doorman buildings of New York City's Upper West Side for that starchy Connecticut manor, and you get the Maisel milieu.
The searingly smart Mrs. M. is played by the beaming Rachel Brosnahan, who is flat-out terrific in the role.
Unlike Lorelai, however, Midge intends, with every fiber of her being, to live the life of a perfect wife and mother that her appearance-obsessed Jewish parents demand of her. She certainly conforms: as was the norm, she gets her (more-important) "Mrs." degree directly after getting her BA.
Midge has so internalized the need to be feminine and perfect that she rises before dawn to do her hair and put on her face before her husband awakens.
Five years later, she now resides in a surprisingly ritzy apartment (in her parents' building) and, as if on command, has two perfect children.
But something in the story line had to give, I guess, and it was the time with, or character development of, the children. Thus, we mostly see the back of Midge's four-year-old son's head as he watches Howdy Doody on television or scoots ahead of the carriage that she wheels into her parents' apartment to dump the pair there.
But the baby girl's large "Yalta forehead" (which might make her "look like Winston Churchill") is a concern to Midge's mom (played by Marin Hinkle) and, therefore, to Midge too, who often measures it.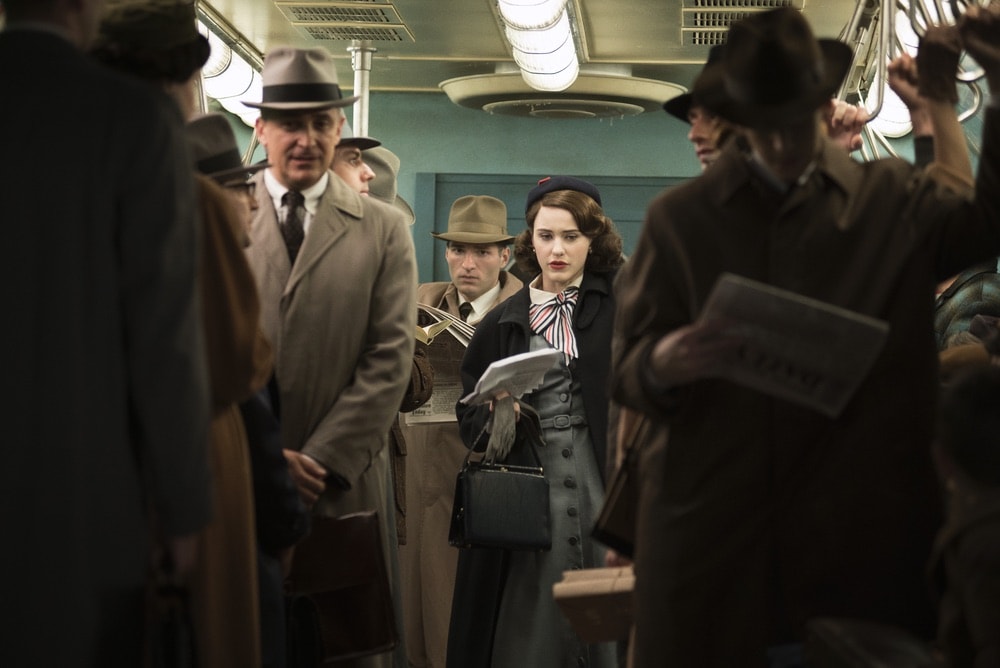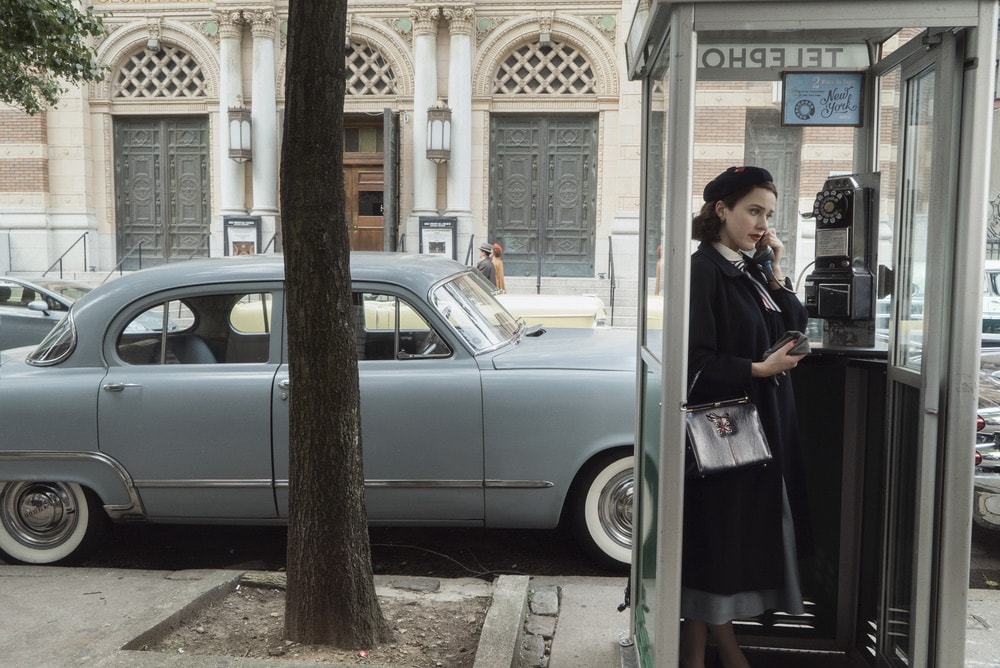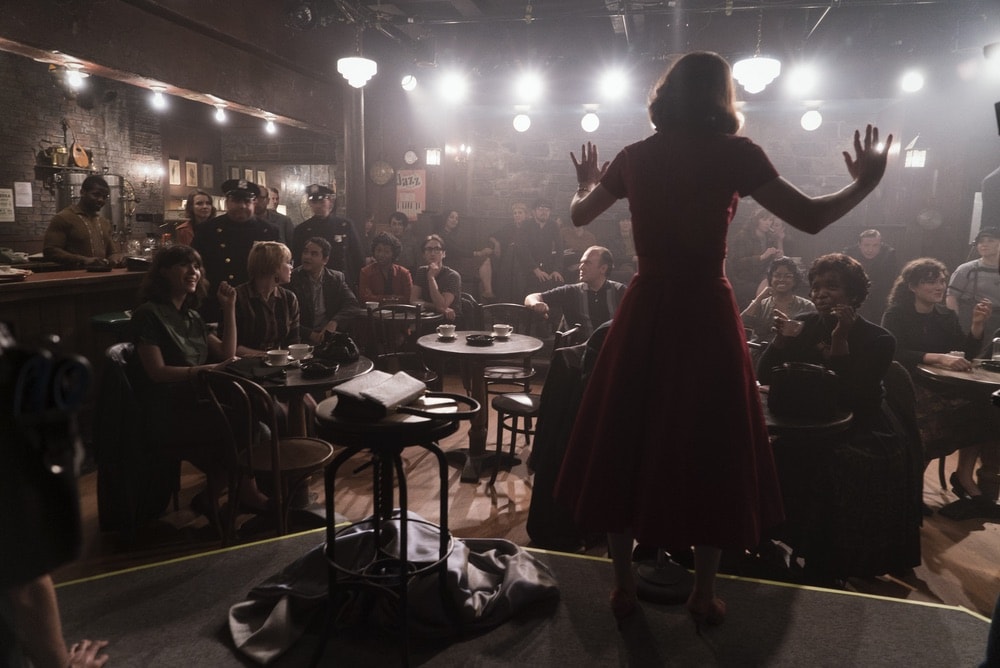 That's just one part of her mom's rigid perfectionism. Having been brought up by such a neurotic, Midge keeps herself in tip-top military shape, often tape-measuring her own perfect calves, ankles, and thighs and recording the numbers in her diary. Midge has so internalized the need to be feminine and perfect that she rises before dawn to do her hair and put on her face before her husband awakens.
It's an exhausting ruse to keep up. Above all, she's supposed to show absolute wifely devotion to her husband, Joel Maisel, who, from the beginning, seems like a loser. He does something vague in his uncle's business, which looks like a Mad Men–style office in Midtown, but he dreams of being a comedian.
Midge, too, harbors a secret: those downtown trips dragging a brisket gave her a taste for what she knows is

her

calling as a comic.
So, Midge supplies everything he needs, boosting his ego and editing his work. She even trades her brisket (the Jewish stuff gets a tad stereotyped) for Joel to have a better time slot onstage at the Gaslight Cafe, an actual comic and folk venue that opened in 1958, also known as the Village Gaslight. The name takes on a literal meaning for the people who get shut out or bomb there.
And bomb Joel does, on what turns out to be stolen material.
The set proves so humiliating to his ego that Mr. Maisel goes home, packs a suitcase, and leaves Midge for his secretary, a woman so dumb she can't even sharpen a pencil. "It's electric!" Joel says, defending her.
Thus, Midge is left to unpack her entire life. A divorced woman defying the cultural, social, and family norms of 1958 provides an infinitely rich setup.
Her parents blame her and demand that she get her husband back. Even being with a lying, cheating loser is better than being single, the thinking goes.
Midge and her kids end up moving in with her parents, and she regresses to her teenaged status: begging for a TV for her pink, virginal bedroom and having a curfew.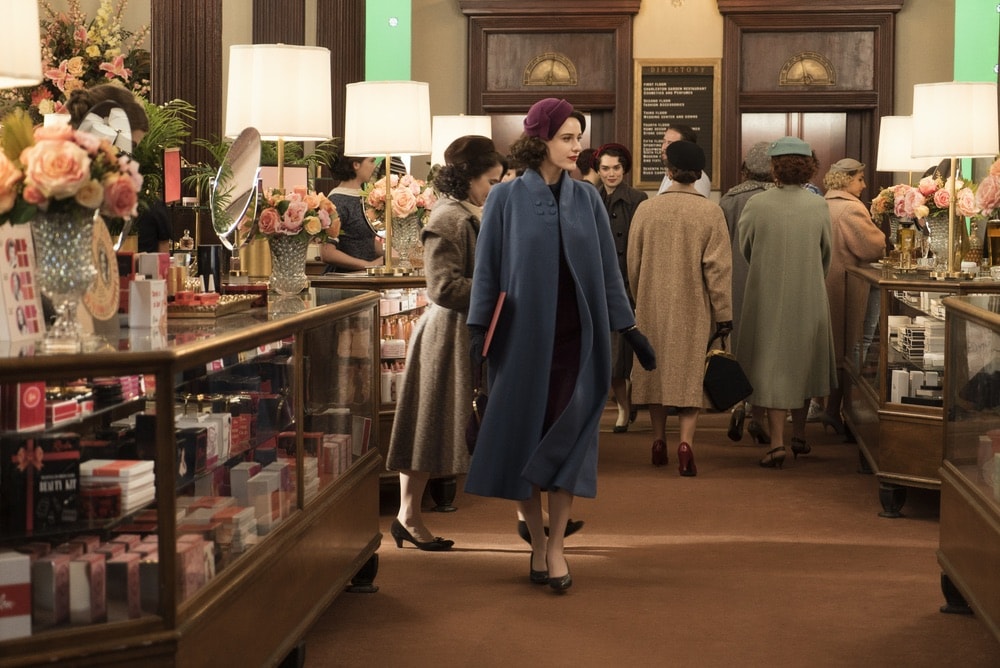 She takes a job behind a makeup counter at B. Altman. But, as with the duality theme in Mad Men (also a rich visual love letter to midcentury Manhattan), in which Don Draper changed his name and identity, Midge, too, harbors a secret: those downtown trips dragging a brisket gave her a taste for what she knows is her calling as a comic.
Thus, she begins an uptown/downtown divide: by day, she's a proper uptown mother and daughter, and by night, she sneaks down to the club, where she lets loose (with booze and marijuana), gets arrested with Lenny Bruce, and increasingly feels at home on the stage. But she thinks telling her parents the truth would kill them.
If you think about it, I Love Lucy was all about a ditzy housewife who was desperate for some limelight, to get out of the house, and to be part of a larger world, even if it meant lying to Ricky.
Midge's period wardrobe is terrific and sometimes includes Lucy-like coats. The show is set about five years ahead of the 1963 publication of The Feminine Mystique by Betty Friedan, a book that helped ignite the women's movement, which started flourishing by the early 1970s. As a suburban wife and mother herself, Friedan famously said that she had to keep her book and magazine writing a secret from her neighbors because, at that time, it was more acceptable for her to be a closet alcoholic than to pursue an outside profession.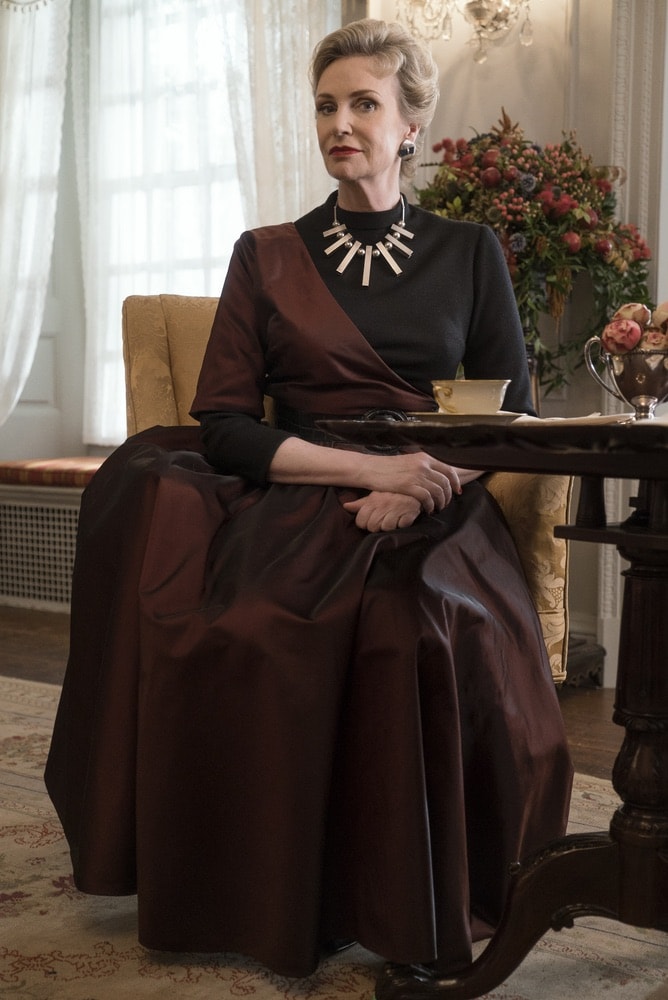 That's why all the ads of the time sent experts inside the house to help lonely housewives keep up the sparkle: a giant in your washer, a dove in your kitchen, the Ty-D-Bol Man in your toilet. Leaving home was a threat.
And just as with this column, some viewers might get a little frustrated with the slowness of the pace till they get to the point—like—"When is she gonna become a famous comedian already?"
All I can say is that it's worth the wait. It becomes a running joke that Midge picks all sorts of awful fake stage names for herself in her on-and-off-again performances—an illustration of how hard it is to establish an identity.
Things really get interesting by episode seven, when through her agent, Susie (the fantastic Alex Borstein), Midge gets to meet the dean of women comics, Sophie Lennon, played by the always-excellent Jane Lynch.
An amalgam of many female comediennes from Sophie Tucker to Totie Fields, Phyllis Diller, and even Joan Rivers, Sophie plays the role of an old-fashioned, crude, zaftig housewife, making jokes about how fat and ugly she is. Both Phyllis Diller and Joan Rivers had to walk a tightrope of self-deprecating jokes and have some sort of shock appeal—Diller in her wigs and outfits, Rivers with her mean mouth, calling out "tramps."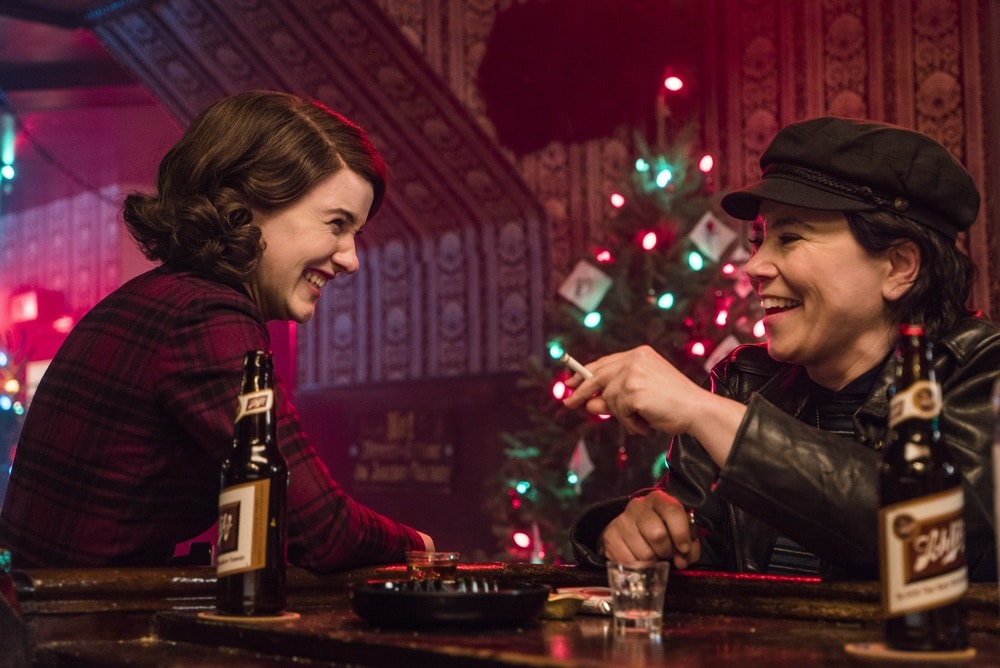 Sophie invites Midge to visit her at home—a virtual museum of female duality. It turns out that she lives in a mansion with uniformed servants and wears a fat suit to perform in. (Actually, Rivers lived like royalty, too, in a gilded palace on Fifth Avenue.)
Sophie asks Midge what her "gimmick" is as a comedian. "You can't go up there and be a woman," she tells her. "You've got to be a thing."
She also tells her that if she's attractive and sexy, men will want to have sex with her, not laugh at her jokes. Sadly, even some sixty years later, this is still a thing: just ask Amy Schumer or Mindy Kaling.
"Why do women have to pretend to be something that they're not?" Midge asks at a career-killing (some might say self-sabotaging) gig in which she outs the hypocrisy of Sophie Lennon. "Why do we have to pretend to be stupid when we're not stupid? Why do we have to pretend to be helpless when we're not helpless? Why do we have to pretend to be sorry when we have nothing to be sorry about?"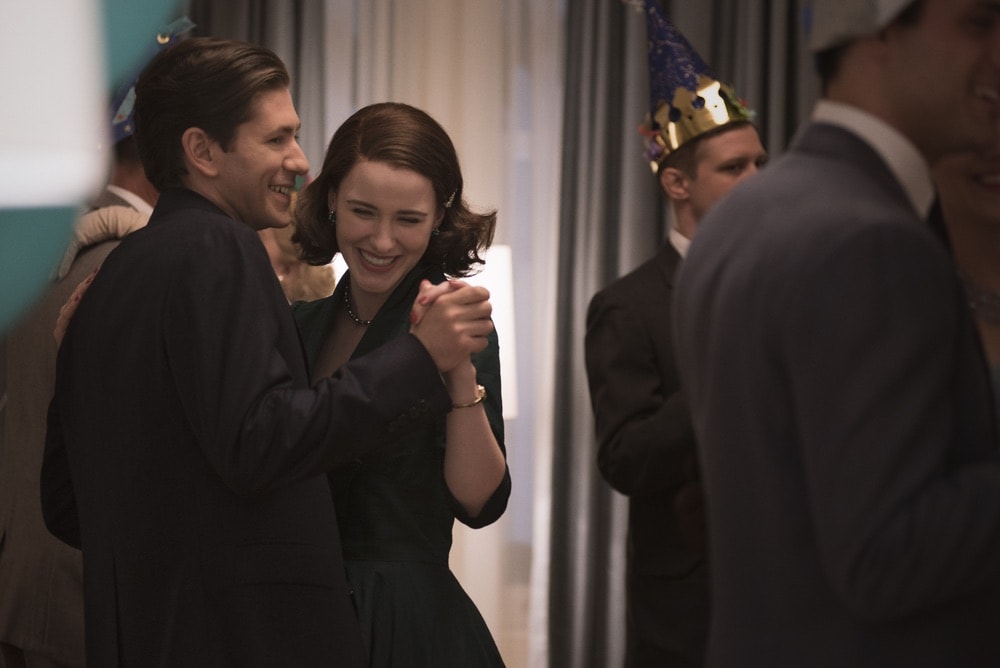 The last episode of the season is funny, rich, deeply satisfying, and ends with a coda to the opening wedding toast: Midge on stage at the Gaslight, where she finds her look, her name, and her flow. She is indeed marvelous, and it's exhilarating to watch.
There are no easy answers to what's ahead. Her ex, Joel, seems to be coming around. Will he accept her success?
To add another layer to the girdles and the irony: having established herself, can Midge be marvelous and still be married?
Stay tuned, fellow Maisel maniacs. Amazon has committed to the second season, and I bet it will be amazing.
— V —
---
Barbara Lippert writes about media, politics, ads, and women. Currently, she's a columnist for Ad Age; previously she wrote Mad Blog for MediaPost.com, which started out as an episode-by-episode deconstruction of Mad Men. For many years she was an award-winning ad critic for Adweek and has also written for New York magazine, Vogue, Glamour, Newsweek, the Washington Post, and the New York Times. She lives in New York City.
ARTICLE CATEGORIES