By Cylinda Marquart
---
"At some point, you realize that maybe it wasn't really that other person or thing, but your own doing." —Romona Robbins
---
Ophelia, William Shakespeare's heroine of unrequited love and the longtime muse of painters, poets, and the brokenhearted, shows us her modern yet hauntingly timeless face in photographer Romona Robbins' seminal work, "The Many Sides of Ophelia."
As a travel and editorial photographer, Robbins saw her native Highway 30-A, Grayton Beach, Cape San Blas, and the islands of the Okaloosa Sound as the setting for the archetypal female character's journey of deep sorrow, madness, and loss of self.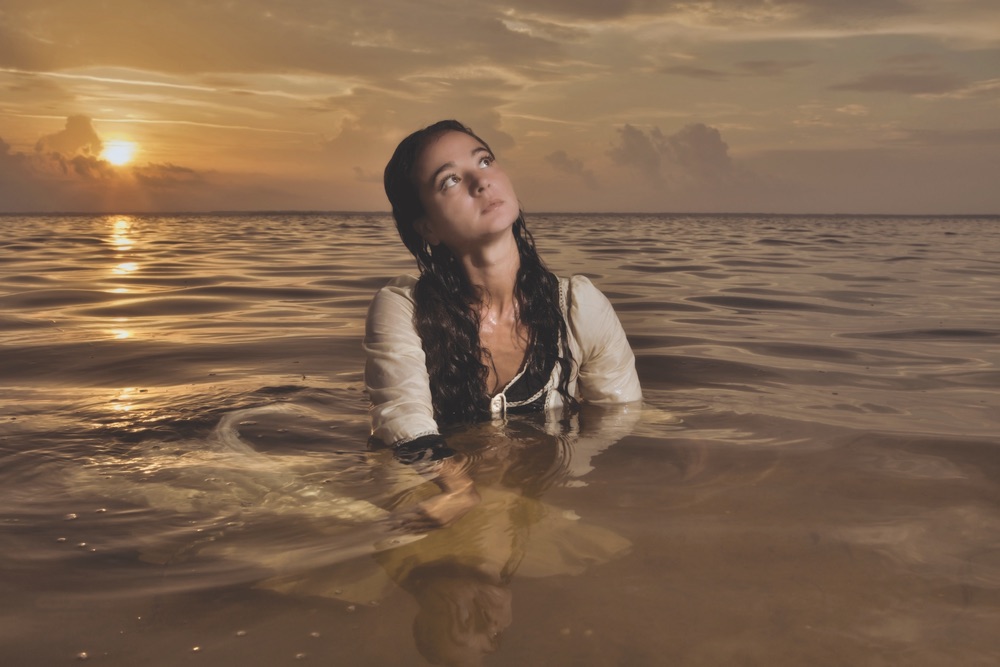 Robbins' treatment of the character allows the viewer to peer into Ophelia's mind and get a sense of her emotions as she experiences the subjective states of longing, betrayal, and surrender, objectified and made viewable in photographs. In the work titled Betrayal, Ophelia gazes at a tightly layered, prickly green artichoke, while in the distance a masculine form hovers, blank but imposing; the empty suit is suggestive of an absent lover, a father figure, or possibly the roles of men in society itself. Robbins makes use of the symbolic qualities of light and darkness in the piece Effete Love. The playful folds of Ophelia's maidenly hem and gentle hands cup a nest with a single broken egg, provocatively illuminated and empty, but heavy from the shadows enveloping her form.
The Ophelia of William Shakespeare's Hamlet was also depicted with symbols and codes that communicated visual and mental clues to the audience. Carrying wildflowers after her perceived "madness" had set in, she howled songs of death, grief, and the loss of feminine innocence while dancing wildly at court. Robbins' choice of symbols reflects the environment she grew up in; the unstrung cello of Madness sits on a boardwalk path that winds through an opaque curtain of Grayton State Park's pine flatwoods, which separate her from the water. In Begin, Ophelia emerges from the waters of Port St. Joe with the sunrise.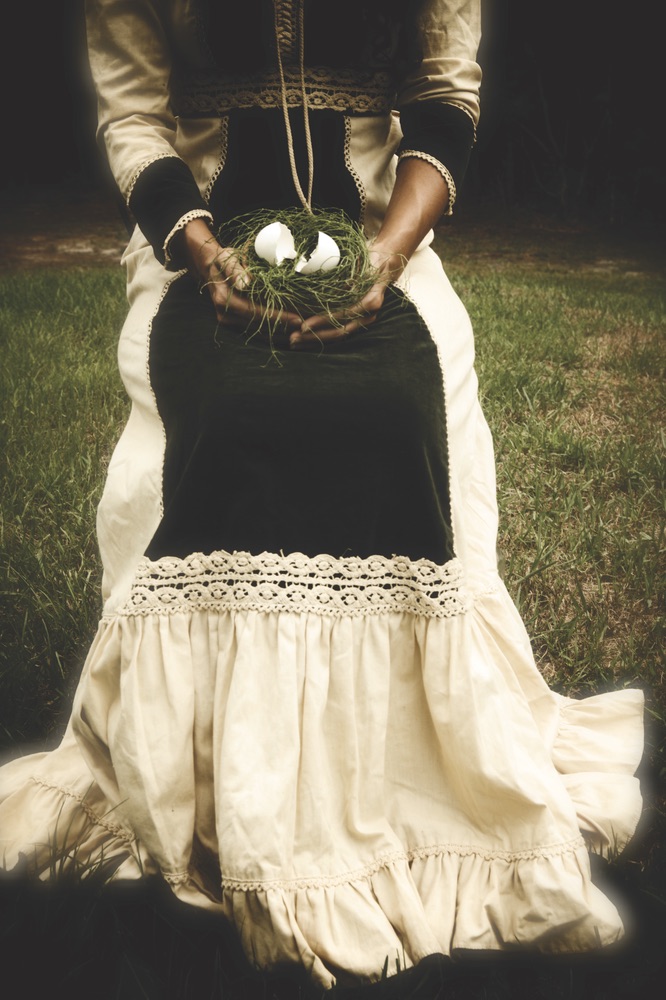 Shakespeare used Ophelia to allude to the universal human themes of death, loss of control, pregnancy, and suicide. With "The Many Sides of Ophelia," Robbins suspends value judgments of these philosophical and complex topics and offers instead emotions in a raw, pure state, allowing for a completely subjective interpretation by each individual who views them. It was the idea of an individual journey that led Robbins to decide to use one model instead of many. Ophelia is portrayed by local musician and dancer Meredith Snow. For Robbins, Snow has quiet grace, femininity, and a certain vulnerability and freedom. She chose Snow as the singular Ophelia in this series of photographs so viewers could form an emotional connection with her on this journey.
Ultimately, Robbins' journey with Ophelia is one in which she says:
When I was much younger, I was in a relationship with someone—I obviously had much to learn about life and myself. I see it more clearly today, but back then, I lost myself in someone else. It was an unhealthy relationship. It's easy to get caught up in that negativity. But in the end, it's your choice to pull through it or stay put. I look back now, and I am grateful for all the experiences—the good and the bad. They shaped me into what I am today.
Photographer's Q&A:
What were some of the technical aspects of this project?
Robbins: All of the images were shot digitally in RAW format on a Canon 5D Mark II with mild color and level shifts in the post-production process. I chose darker, more muted colors to create the mood and played with the natural light conditions of the day.
What were some of the particular challenges that came with shooting this set of photographs?
Robbins: When I started this project, I had an image in my mind for each photograph; I drew them out on paper, but my final photos rarely matched my drawings. The feeling of "serendipity" I got when I didn't get the image I had planned for, but ended up with one better than I'd imagined, was my greatest pleasure. I consider the "harmonious marriage" of photography to be that moment of symmetry when the left-brain technical and right-brain creative come together. Of course, all of this takes patience, and anyone who knows me will tell you that it's not something I'm well known for.
As a biologist and travel photographer, what aspects of those experiences did you bring to this project?
Robbins: To be a biologist, you have to be a good observer, and the same applies to photography. On assignments, I usually handle the still photography while my husband (a documentary filmmaker) shoots video and other media. We're usually on a tight schedule, and because we are exploring the area as we are working, we have little control of our environment and what we will encounter. With little choice, I've had to adopt a "run-and-gun" style of photography. When I decided to shoot the Ophelia project and started to scout locations, I began seeing our area with fresh eyes. There are many beautiful, wild, and natural places here on the Panhandle. I feel blessed to live here.
What brought you to the field of photography?
Robbins: I actually started out as a painter. During college, I took a photography course and used my father's old Nikon and dabbled in the darkroom a bit. At that time, I used black-and-white film and would tint prints with oil pastels by hand. After that, I put up the camera for a while and turned to painting and language study, as I was living abroad in Asia. I had a few exhibitions while I was in Taiwan, and, partly because the painting process was so painstaking and as I'm not known for my patience, I returned to working with the camera and substituted the darkroom with Photoshop. I'm self-taught and most of my knowledge comes from researching technical studies of lighting and experimenting with various methodologies of taking pictures.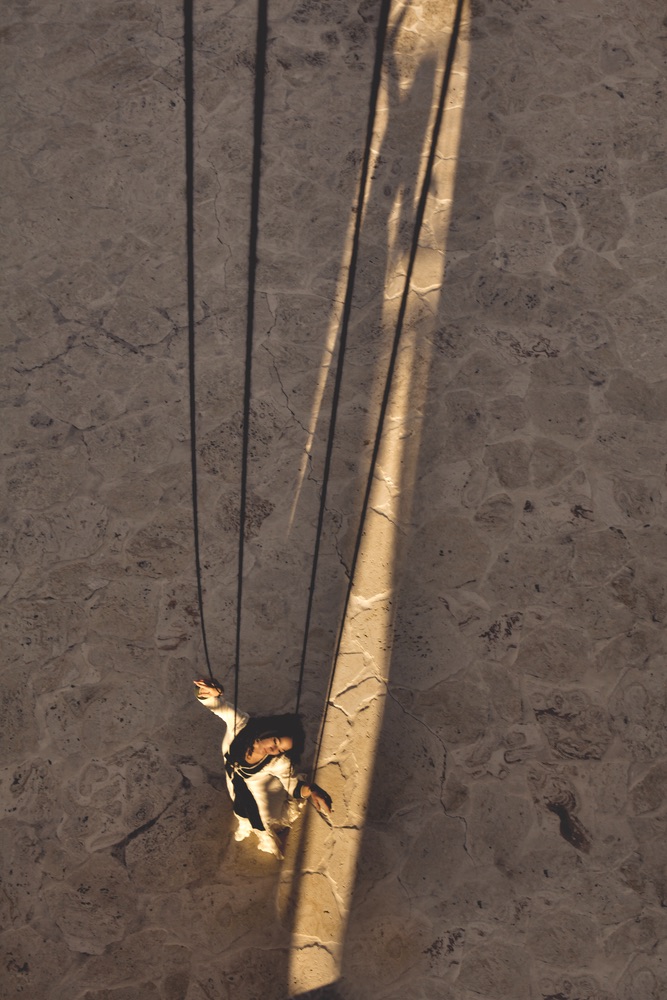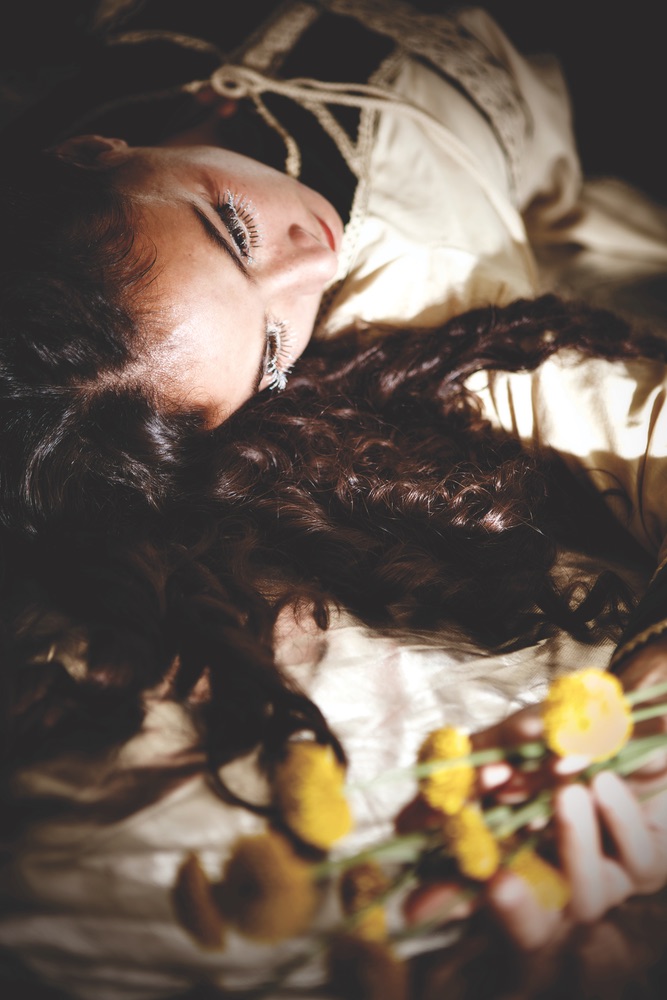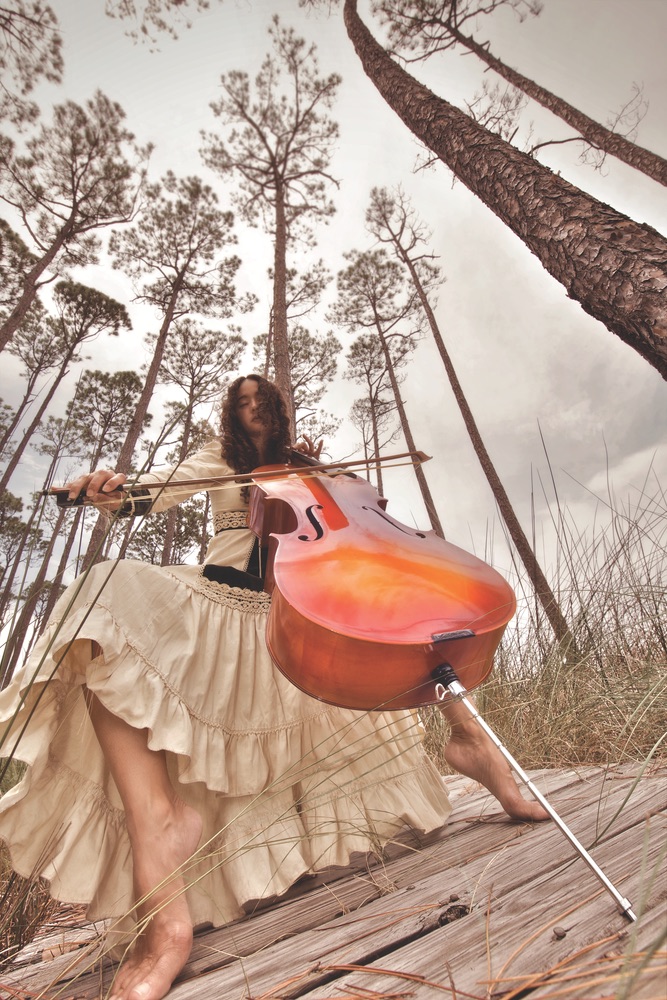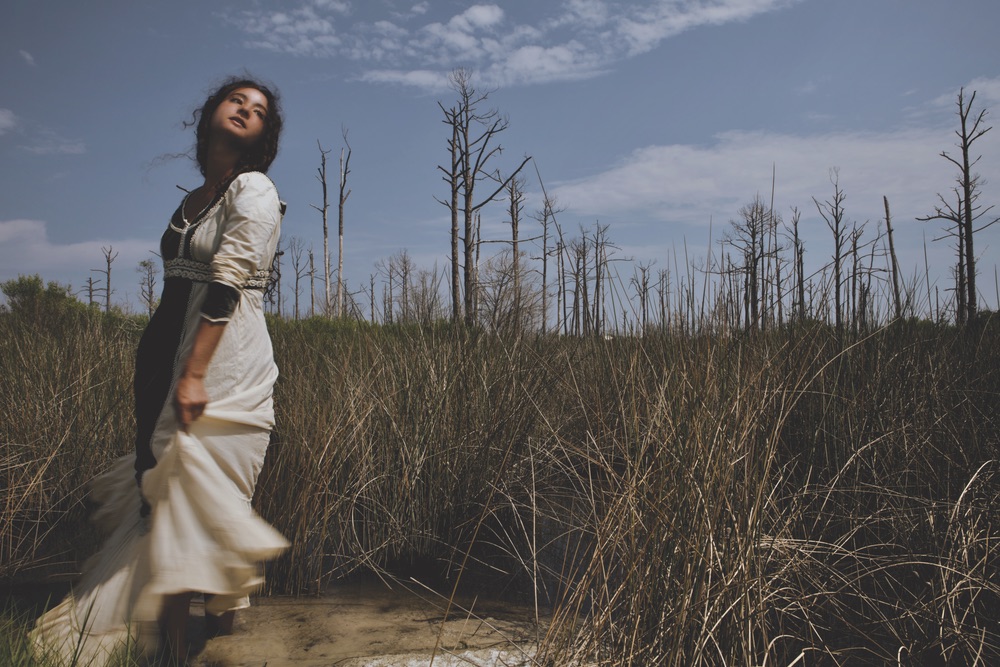 What do you want readers to take away from this project and these photos?
Robbins: I want people to connect with these images and walk away with their own interpretations. I created this project to remind myself of that person that I once was and the person that I am today. This was and continues to be a personal project that gives me control, but it is nerve-racking to expose myself. It is like having that bad dream where you are standing naked in front of an audience. Some people will get it and others will not; it is all subjective. I created this project for myself, but I wanted to illustrate stories of everyday life situations that people could relate to, albeit through my own lens.
Cylinda Marquart is a Tokyo-based writer and bon vivant.
— V —
ARTICLE CATEGORIES