A Legacy Behind the Scenes
By Jordan Staggs
Before it could become the 4,800-square-foot custom masterpiece it is today, The Heritage – A VIE Legacy Show Home was just an idea. Birthed and nurtured by a host of creative minds and business leaders, this is truly a show home that will create a lasting legacy for its residents. As the winds gently whisper through the sea oats on the dunes of the nearby Gulf of Mexico, those who live in the private community of Heritage Dunes experience a refined yet relaxed way of life. This is the story of how a show home is made and how this one, in particular, will give way to eight more unique luxury residences in its wake.
When Tamara and Carl Tricoli chose the quaint Heritage Dunes neighborhood for their first Gulf Coast development through their company, Bella Mare Real Estate Holdings, it was with the vision of a lifestyle off of Scenic Highway 30-A but still in the heart of the beloved destination. The area affectionately called 30-A, parallel to sugar-white-sand beaches and warm turquoise waters, is known as a retreat for the affluent families of the Southeast and beyond. It is also a creative paradise, offering boundless inspiration, nature, world-class dining and events, and architecture rivaling any renowned destination. Its prolific New Urbanism towns, including Seaside, WaterColor, Alys Beach, and Rosemary Beach, are connected by enclaves of private residences that offer locals and vacationers a sense of belonging to the beach, with flatwoods trails, colossal sand dunes, and rare coastal dune lakes scattered among them.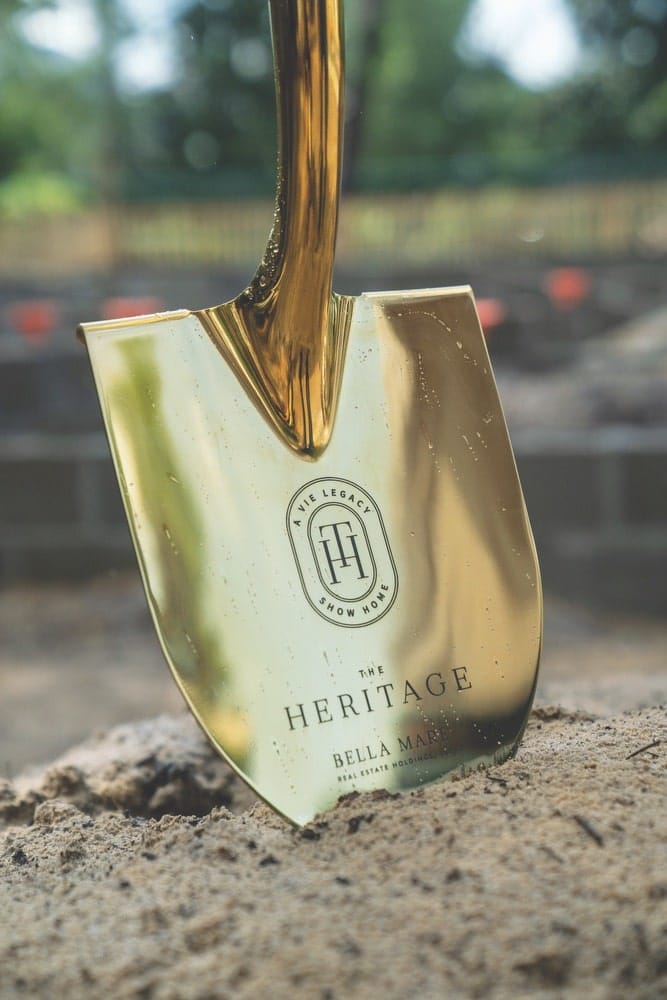 Heritage Dunes offers a rare nonrental gated escape right in the heart of 30-A in Seagrove Beach, Florida. The neighborhood comprises only about thirty homesites, a private neighborhood pool, and a private beach walkover with stunning views. "We discovered Heritage Dunes was about a seven-minute walk up the beach from our house, and we loved it the first time we saw it," says Tamara.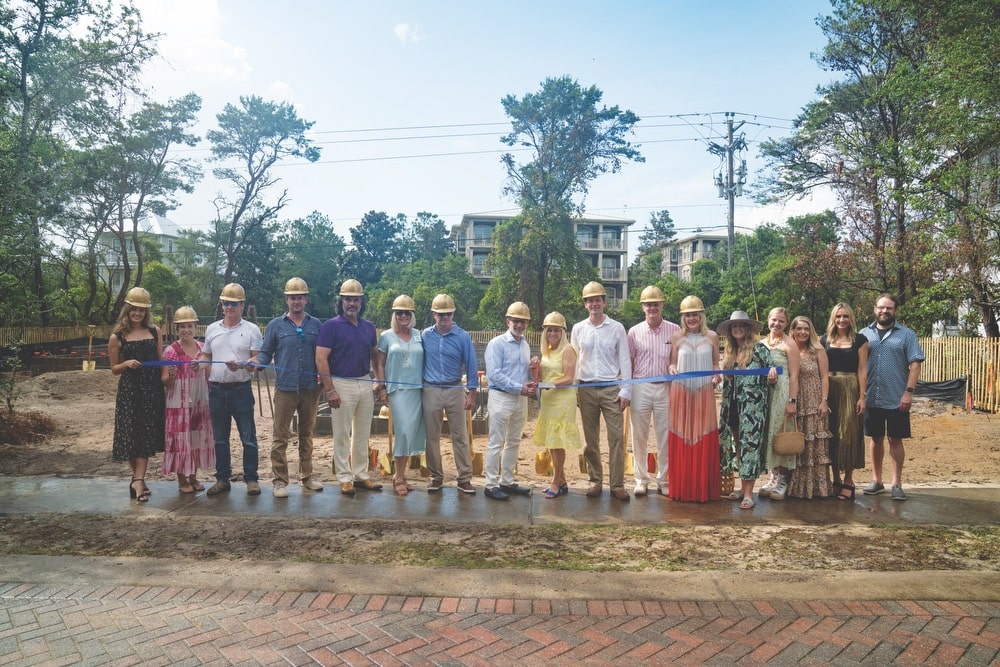 The Tricolis purchased nine lots there and began building an elite team of partners to design, develop, and sell these nine Bella Mare Exclusive Homesites, including real estate broker Gay Landreth of La Florida Coastal Properties, Chris Burch and the builders at Grand Bay Construction, and architect Gerald Burwell of Burwell Associates. Interior designer Duce May of Duce & Company, who has worked with Carl and Tamara on numerous homes over the past few years, was hired to curate the sophisticated yet comfortable furnishings, gorgeous finishes, lighting, and more. Master land planner Patrick Hodges designed and implemented an idyllic courtyard-style pool deck and landscaping. Local fourth-generation custom moulding and millwork provider E. F. San Juan worked with Weather Shield to provide windows and doors, as well as custom interior doors, stair parts, and the showstopping Euro-Wall Systems folding windows in the fourth-floor tower. Maison30a Home + Garden provided beautiful outdoor furnishings and planters. Other partners included Bevolo Gas + Electric Lights, Ralph Lauren Home, Brown Jordan, CDC Woodworking, Century Furniture, Coastline Kitchens & Bath, Hard Rock Stone & Tile, KOHLER, Linn's Prestige Kitchens & Baths, Mobile Appliance Co., Moza & Company Tile + Stone, Pavilion Outdoor Furniture, STARK Carpet, Theodore Alexander Furniture.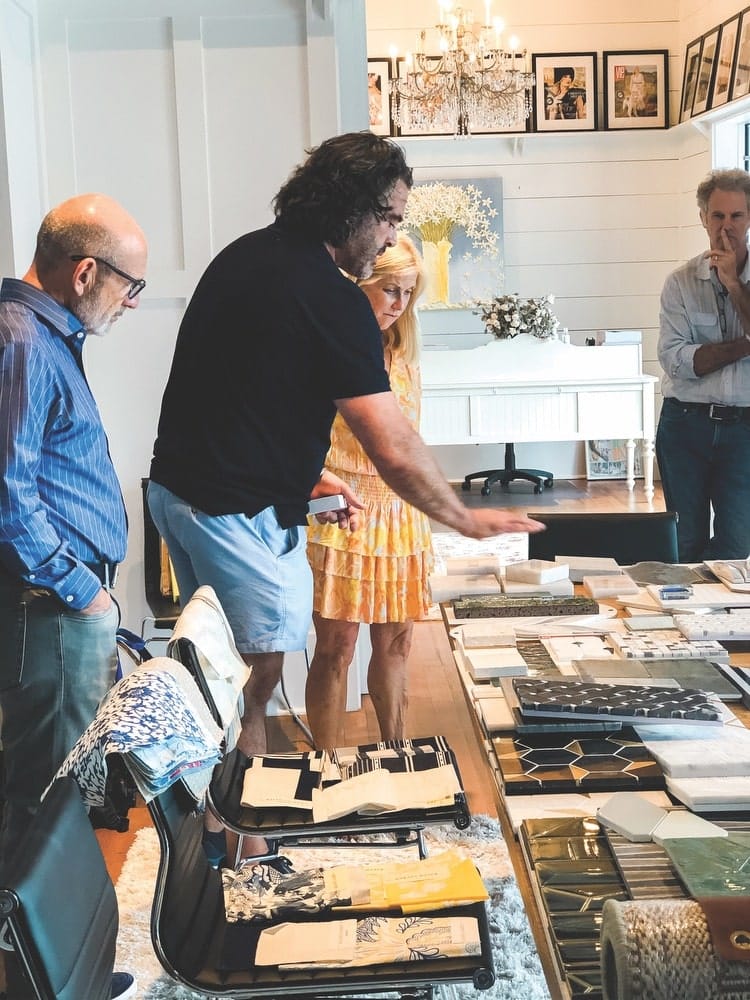 As the winds gently whisper through the sea oats on the dunes of the nearby Gulf of Mexico, those who live in the private community of Heritage Dunes experience a refined yet relaxed way of life.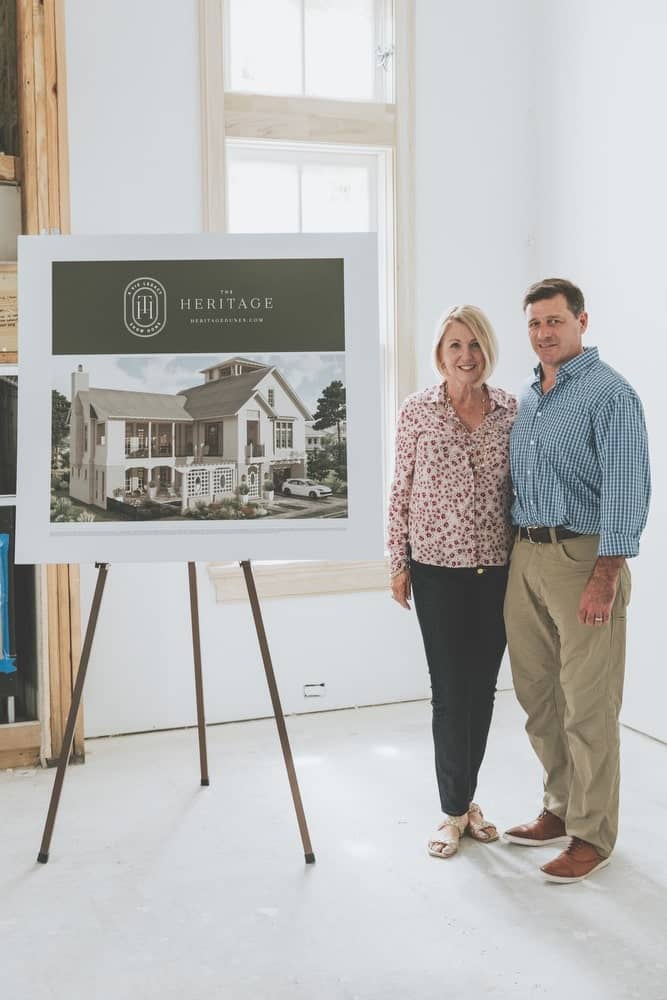 VIE magazine, a luxury lifestyle publication entering its fifteenth year of publishing, is the presenting media sponsor of the show home. Its founder and CEO, Lisa Marie Burwell, and the publishing team at The Idea Boutique also designed the branding, storytelling, and marketing materials for the house and neighborhood. "This is the magazine's fifth show home, and they just keep getting better and better," says Lisa. "My husband, Gerald Burwell, became the architect for the nine homes in Heritage Dunes. I was looking at his sketches and drawings for the first one and thought they were absolutely amazing—not that the show homes we've done in the past weren't. We decided it was something we needed to explore as a possible show home, even though we had just finished the fourth one about six weeks earlier. We brought the idea to Carl and Tamara Tricoli, and their excitement confirmed that it was the right move, along with the A-game team they assembled to make it happen."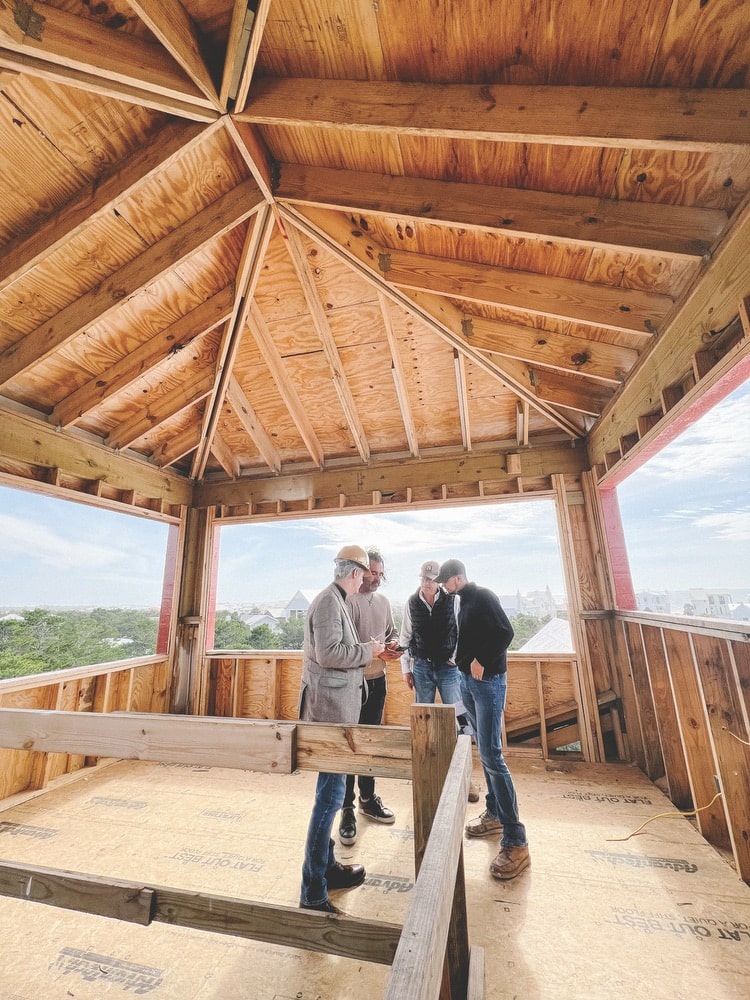 A grand ribbon-cutting ceremony and celebration took place at the Lot 24 homesite in Heritage Dunes in June of 2021, welcoming area real estate professionals and media to learn more about the nine Bella Mare residences coming to the neighborhood. The event featured a tented soirée on the beach with bohemian coastal decor by Fresco Picnic Co. and catering by Éclat 30a and Saint Pablo.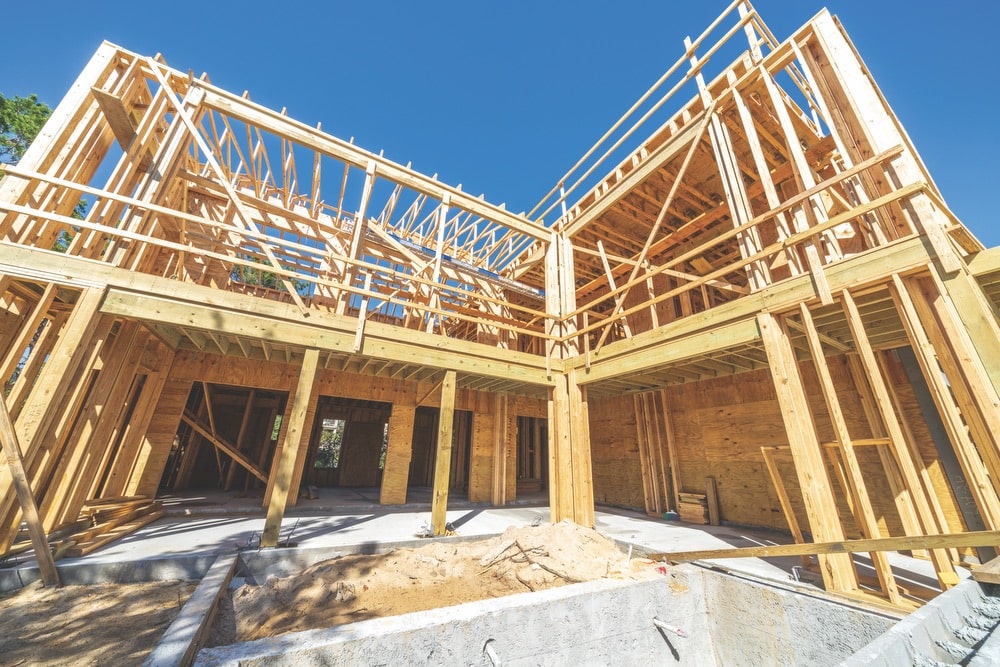 From there, Grand Bay Construction and the rest of the team hit the ground running to build this four-bedroom home featuring five bathrooms, three half-bathrooms, multiple living rooms and flex areas, an office, a private plunge pool, three wet bars, an elevator, a fourth-floor tower living space with stunning Gulf views, and more.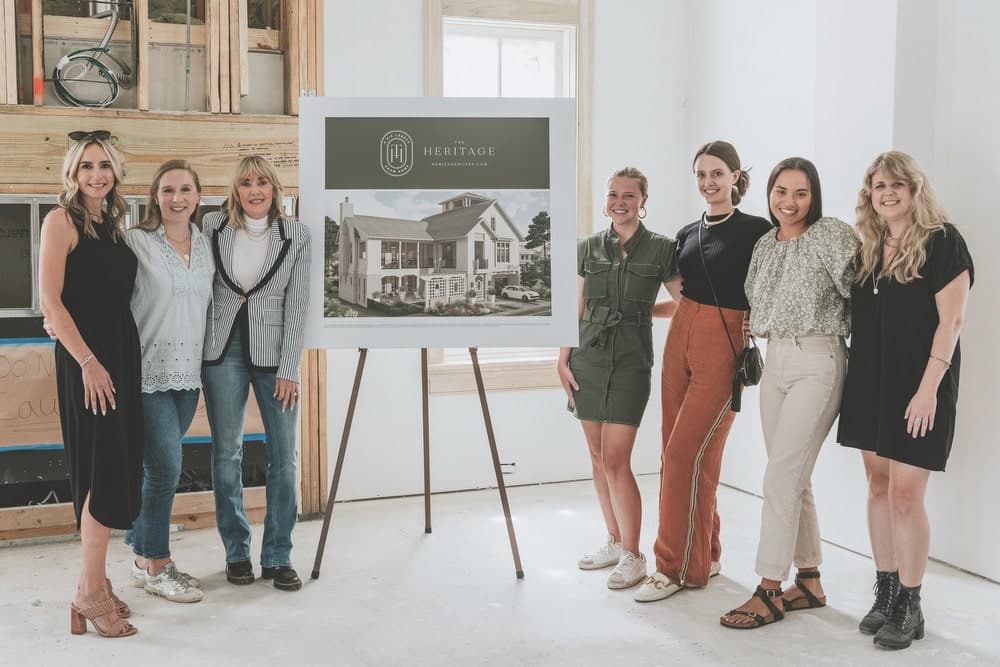 In the meantime, the sales and marketing teams at La Florida Coastal Properties and VIE/The Idea Boutique created logos and branding, built a Heritage Dunes website, shared the story and images on social media so the community could stay connected, and prepared for the official launch of Lot 24 and its eight Bella Mare successors. "We had so much passion, energy, and enthusiasm for this project and a clear picture of what we thought the brand for this home should be," says Lisa Burwell. "It's filling a niche in the marketplace and is unlike any other homes in the area—they are all beautiful and spectacular, but there is something very different about this one. Our creative director Tracey Thomas, communications director Jordan Staggs, and the whole team did a great job bringing this home to life before it was even out of the ground."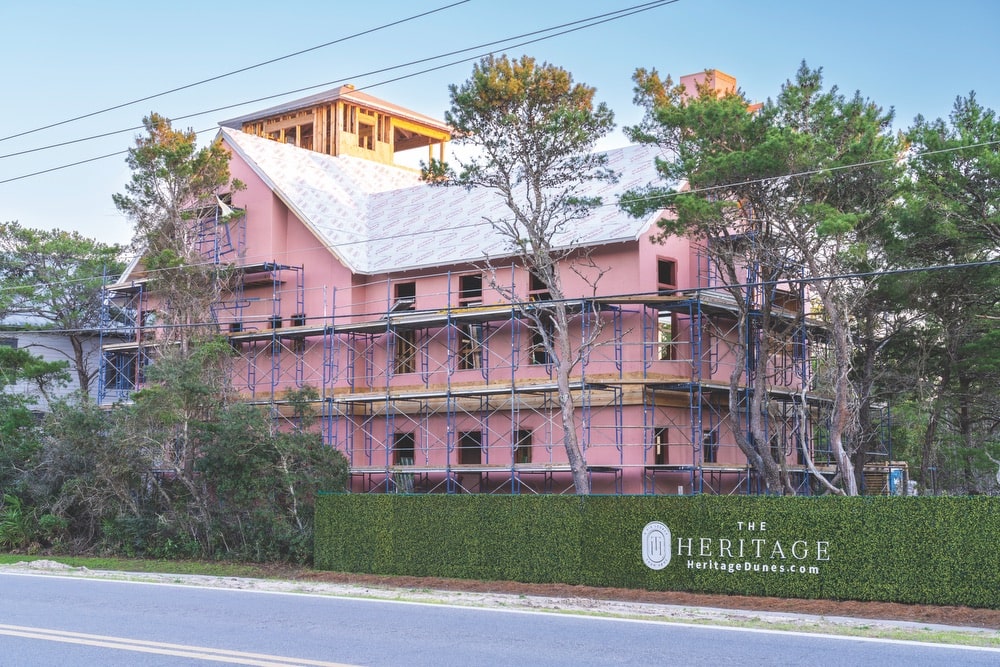 "Our team had many meetings and charrettes to decide the name of the show home. We wanted to create a brand that showed and reflected nostalgia," says Tracey Thomas. "We looked at the days of Jackie O and JFK, how simple and beautiful life seemed to be back then, and decided to name it The Heritage—also playing off the neighborhood itself. It's a place where friends and family can gather and enjoy each other's company in a slower-paced, simpler lifestyle."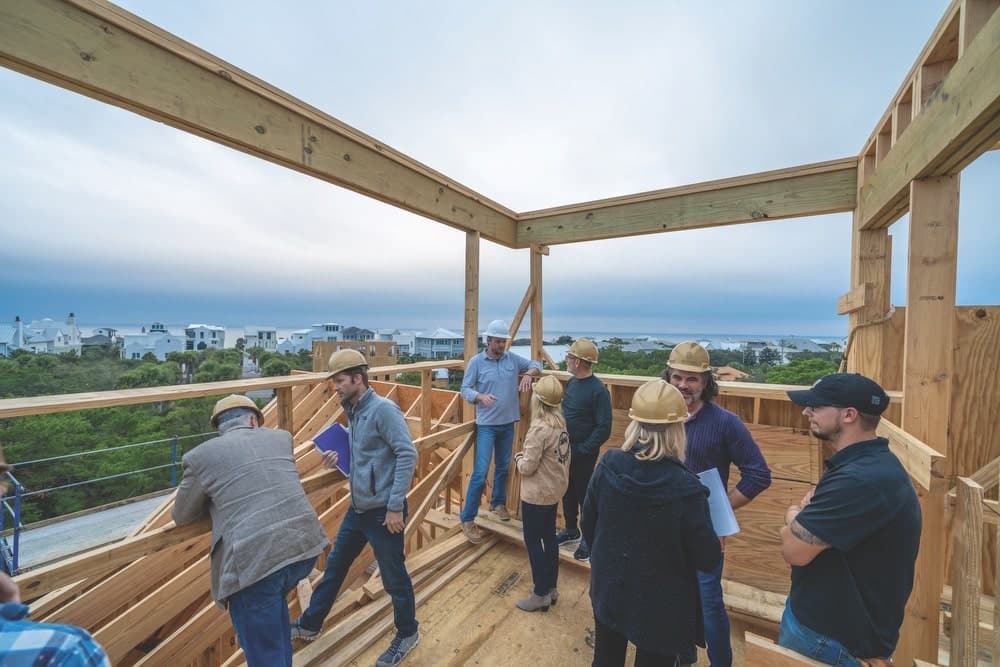 The Heritage – A VIE Legacy Show Home grand reveal party on September 16, 2022, shaped up to be a monumental debut for the neighborhood. VIE's 100th Issue cover star, international musician, artist, writer, and philanthropist Julian Lennon, joined the celebration and exhibited over forty of his fine art photographs throughout all four floors. Chef E.J. Lagasse, the son of Emeril Lagasse and current patron chef at Emeril's in New Orleans, prepared an array of food in The Heritage kitchen and on the grill on the second-floor terrace, with Emeril himself making an appearance to assist and oversee the evening's culinary offerings. Paul Sutton Bourbon, Better Together Beverage, Odd Pelican Beer Co., Grayton Corner Cafe, Chef Jim Richard, and Bouj & Co. champagne cart provided bubbles, beer, wine, bourbon, and specialty libations, while Coastal Coffee Bar Co. was onsite creating specialty coffee drinks.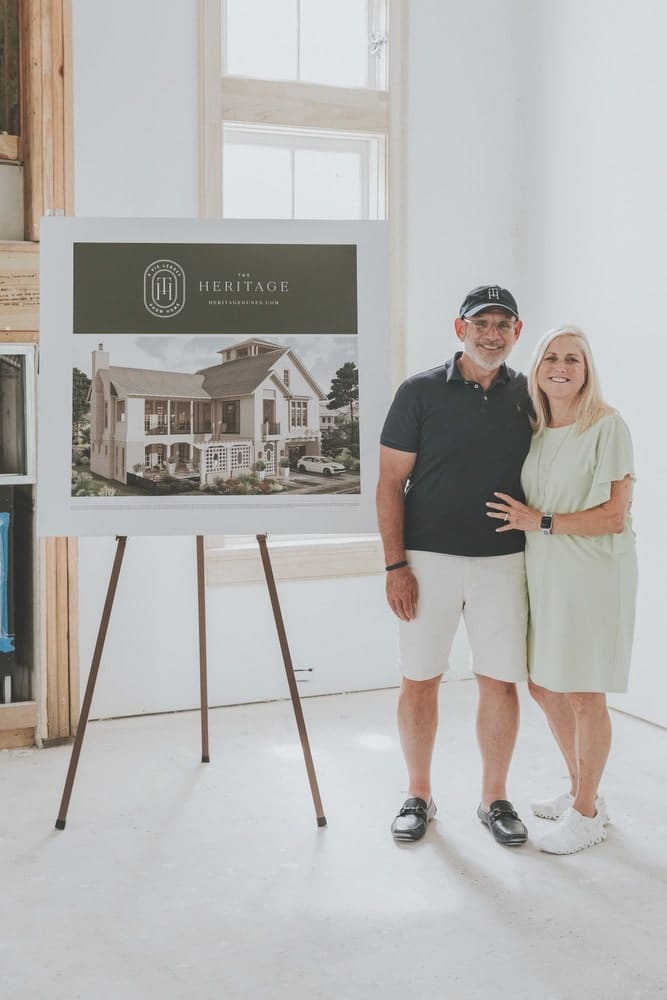 The home looked stunning thanks to event design by Grove Fisher of Fisher's Flowers and Allyson Longshore of Metamorph Blooms, along with Duce May's immaculately appointed interiors. A baby grand piano, courtesy of Sinfonia Gulf Coast, was manned throughout the evening, providing a gentle ambience downstairs as Julian Lennon's latest album, Jude, was piped through the full-home sound system throughout the rest of the house. A lively crowd comprising real estate professionals, show home partners, local philanthropists, and special friends and guests gathered to tour the home and celebrate together for a great cause—the capital funding campaign for Point Washington Medical Clinic.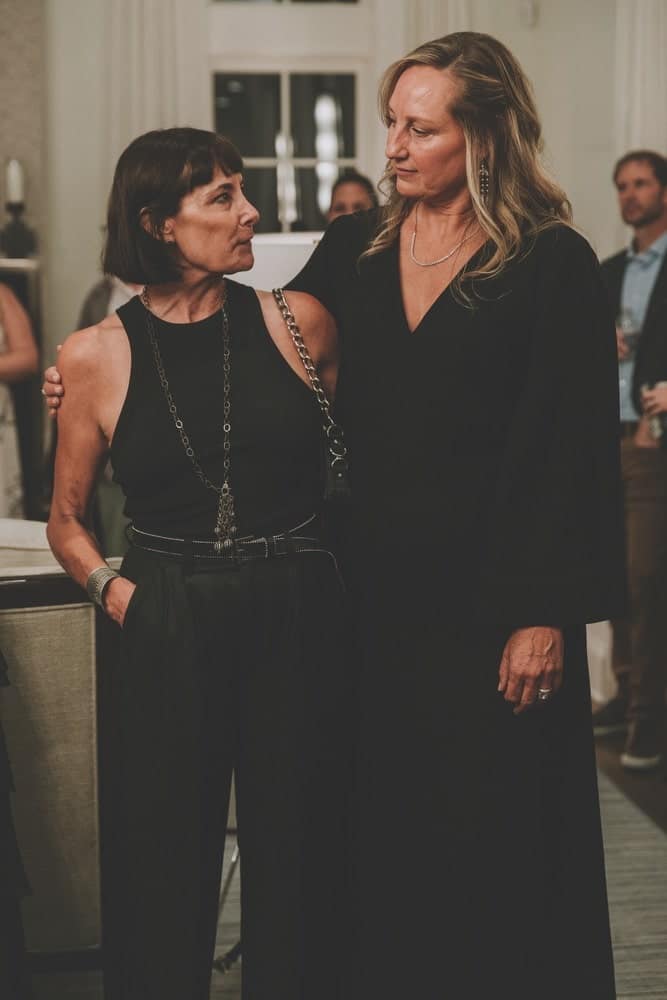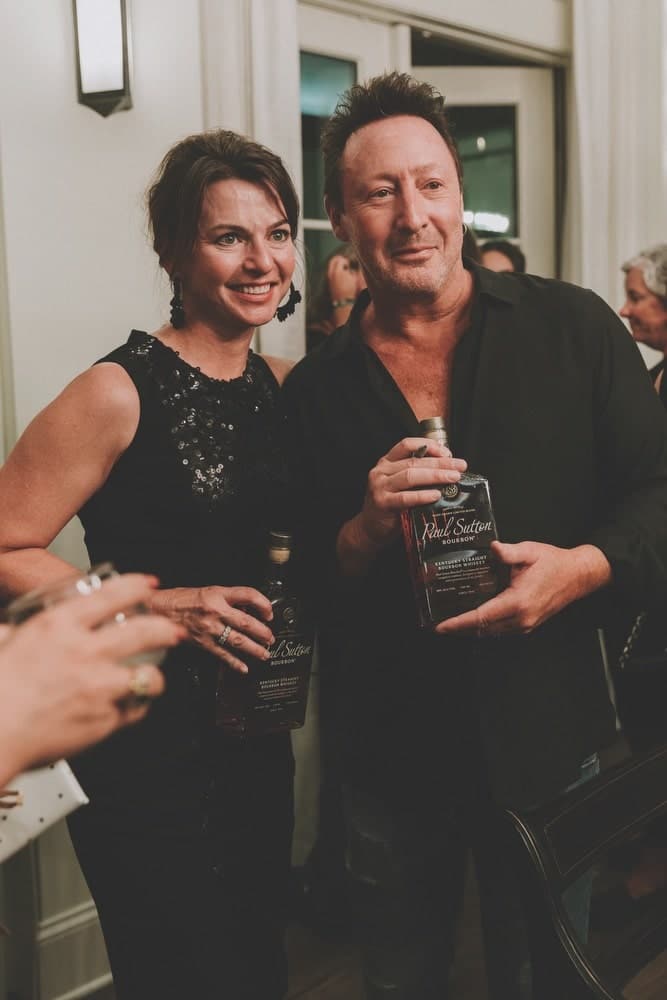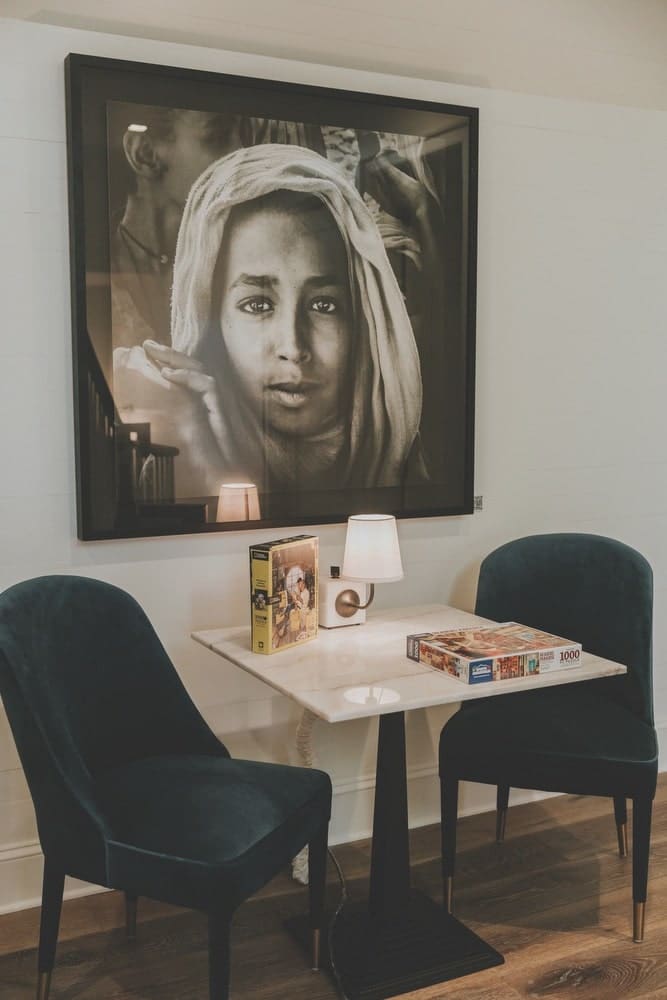 Dr. Hillary Glenn and her team at the PWMC have operated out of the Point Washington United Methodist Church in Santa Rosa Beach, Florida, and their mobile medical unit for the past several years, providing primary care to the community on a nonprofit basis. The clinic's goal is to give quality health care and education to all, despite a patient's means or insurance status, creating a "radically inclusive" environment to ensure a thriving population in Walton County and its neighboring areas. Developers Carl and Tamara Tricoli of Bella Mare Real Estate Holdings visited the site of the future permanent clinic to speak with Glenn and her team and were touched by the impact the PWMC is having—and could have—on the community. They decided to name the PWMC the official nonprofit partner for The Heritage. All funds from ticket sales from the grand reveal party supported the clinic, along with a portion of proceeds from Julian Lennon's fine art photography sales and profits from a silent auction featuring luxury items and experiences donated by generous local community members. The Tricolis also presented a custom portrait of Julian Lennon created by pop artist Ashley Longshore to the clinic, where it will hang in the new facility expected to open next spring. All in all, the show home grand reveal raised over $66,000 for the PWMC!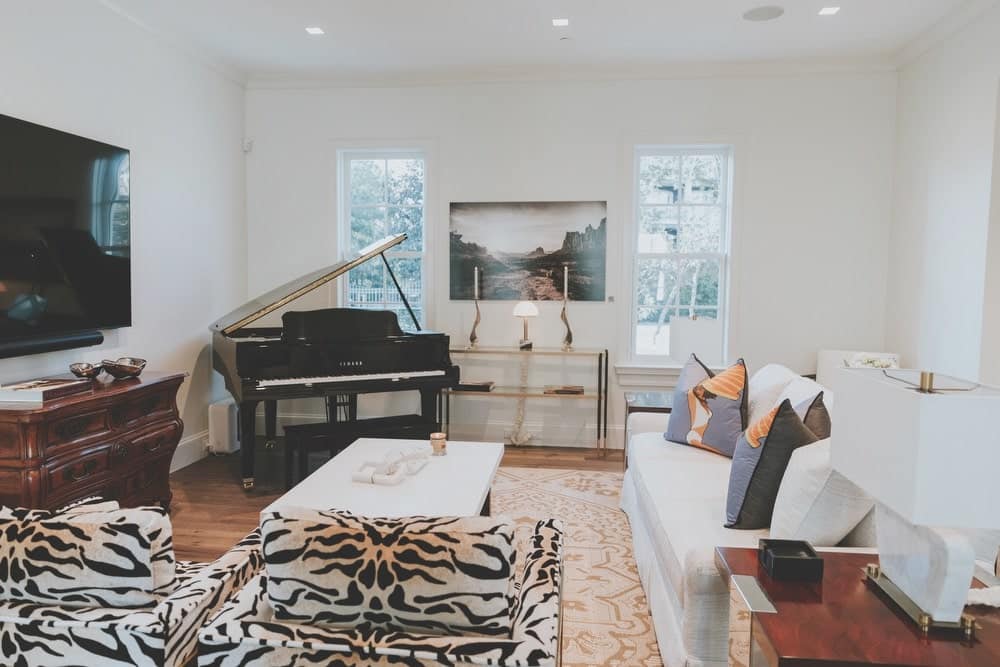 Seeing The Heritage come to life has been its own reward.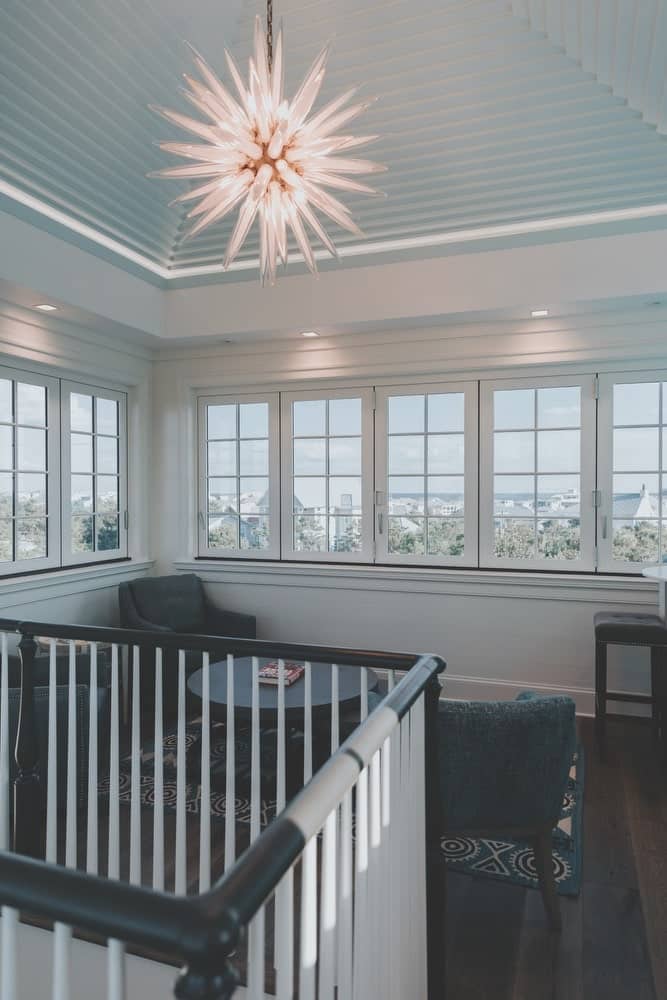 Although the grand reveal of The Heritage – A VIE Legacy Show Home had passed, the work was far from over. VIE and photographers Chandler Williams, TJ Smartt, and Andrew Brooks of Modus Photography planned a two-day lifestyle photo shoot for the home, the fruits of which you see on this Show Home Issue cover and throughout its pages. La Florida Coastal Properties also staged a real estate shoot, highlighting all the bells and whistles throughout the home for their MLS listing. In addition, open houses and showings got underway for Lot 24, and Burwell Associates and Grand Bay Construction continue to shift focus on completing the remaining eight Bella Mare homes coming to Heritage Dunes. The VIE team's storytelling continued through this special edition of the magazine and an accompanying video documentary, The Making of a Show Home, created in partnership with Modus. Visit our video channels on YouTube, Vimeo, and our social media accounts @viemagazine to see it soon!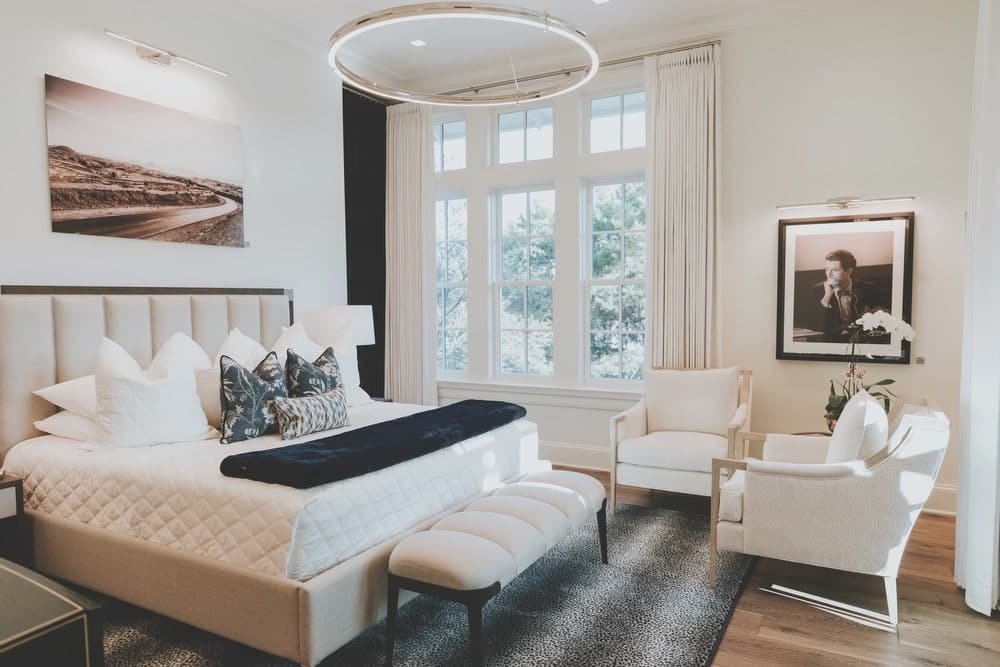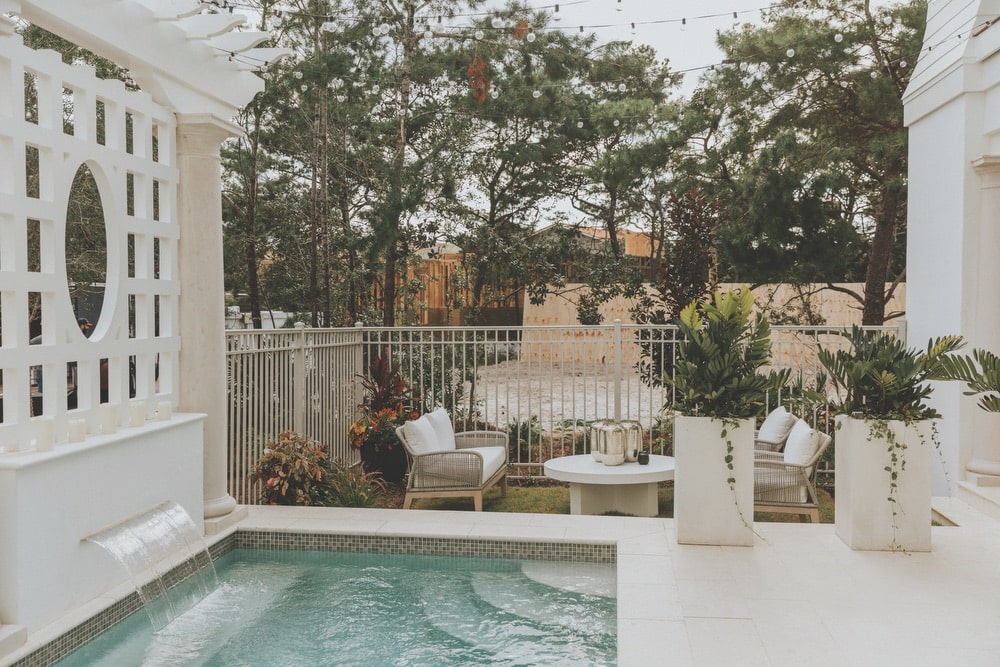 While most will look at The Heritage and see a beautiful home where a family can live or vacation and enjoy the natural beauty of the Gulf Coast for generations, those behind its creation see a job well done. Two years of team-wide conference calls, creative charrettes, blueprints, renderings, plans, deadlines, and arduous work have resulted in something to be proud of and admire. Although it was a grueling and fast-paced process to complete this magnificent show home in just about eighteen months from the time of groundbreaking (and longer with the planning and design stages), seeing The Heritage come to life has been its own reward. We look forward to seeing the rest of the Bella Mare Real Estate Holdings projects come to fruition, rounding out a truly beautiful place to live, work, and play in Heritage Dunes on 30-A.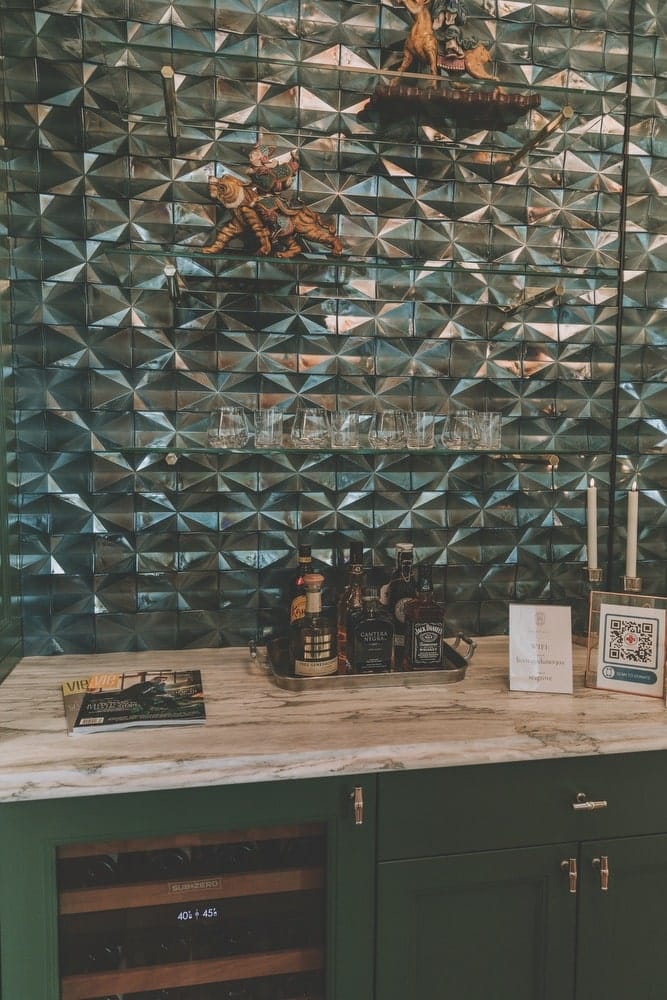 — V —
---
Visit HeritageDunes.com to learn more and keep up with all nine Bella Mare Real Estate Holdings custom residences in the community. Contact broker Gay Landreth at La Florida Coastal Properties with any sales inquiries regarding The Heritage and other Bella Mare homes in Heritage Dunes: broker@laflorida.com or (850) 231-7896.
ARTICLE CATEGORIES