What's All the Uproar About?
By Kim Duke-Layden
If you'd asked me a year ago what I thought about lionfish—those exotic, tiger-striped creatures with manelike pectoral fins that have captivated aquarium patrons and fish tank enthusiasts for decades—my answer would have been significantly different from what it is today. Thanks to the grassroots effort that Capt. Anderson's Marina in Panama City Beach, Florida, has been spearheading during the last several years, I now know this beautiful but lethal undersea predator has nearly been the kiss of death to the seafood industry along the southeastern Atlantic Coast and in the Caribbean—and it's now threatening the Gulf Coast waters.
In 2010, scientists named the lionfish invasion as one of the top threats to global biodiversity. You're not alone if you find it astonishing that such a relatively small fish (typically shorter than eighteen inches and weighing less than three ounces) could cause such devastation. The truth is lionfish are carnivorous eating machines. Known for reducing native fish populations by up to 70 percent, they feed on countless sea species, including juvenile grouper and snapper, shrimp, and other small crustaceans. The insatiable lionfish also devours its prey at a rapid rate, swallowing one to two whole fish per minute, and has the ability to expand its stomach up to thirty times its normal size. Some coastal areas have estimated that these prolific poachers consume as much as seven thousand pounds of prime seafood per acre, per year!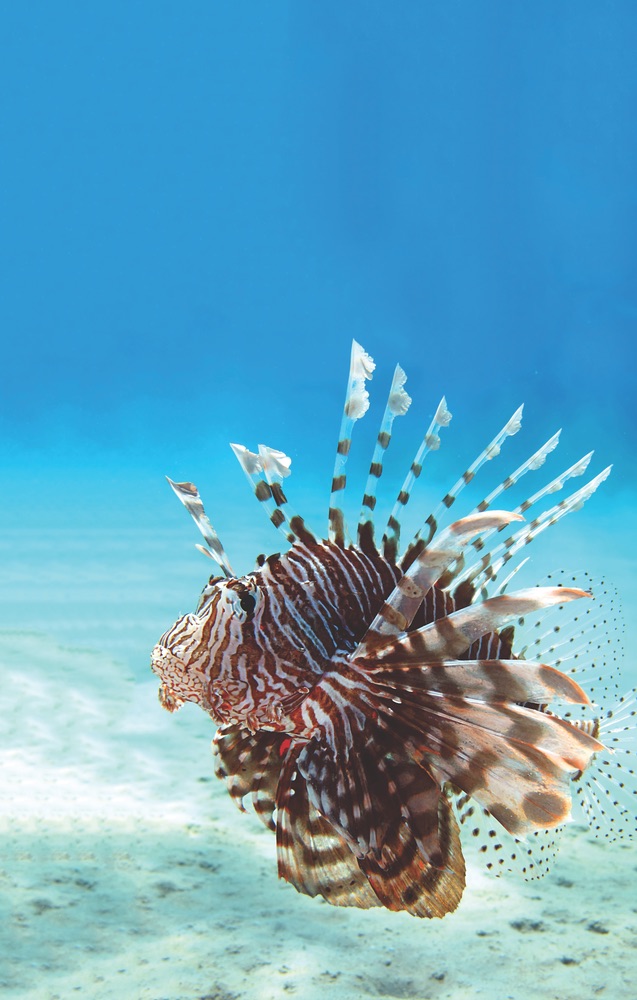 A Population Explosion
The swelling population of this invasive species is adding even more momentum to their wave of destruction. Recent studies of Northwest Florida's lionfish invasion report the population has doubled every year since 2010, with an estimated thirty thousand to forty thousand eggs being spawned every two to four days. The gluttonous lionfish is indigenous to Indo-Pacific waters; therefore, it has very few predators on this side of the world. Although man is one such predator, fishing for lionfish can be very problematic as these thriving invaders typically don't bite hooks, and nets aren't effective among the intricate reefs and wreckage where lionfish tend to live. Spearfishing is the best way to catch lionfish.
There are various theories as to how these indomitable invaders came to inhabit the warm, nutrient-rich waters of the Atlantic near the southeastern U.S. and eventually the Gulf of Mexico. While some theorists blame hurricanes or ballast water from transcontinental ships, the lion's share believes that releases of lionfish from aquariums, whether accidental or deliberate, are the real culprits.
Regardless of how they got here, everyone seems to agree that it's a big problem. In 2010, the Florida Keys National Marine Sanctuary was so desperate to eradicate the lionfish that it started issuing licenses to divers so they could legally hunt the invasive species within the normally protected confines of the sanctuary. This unprecedented allowance, which the preserve has not given for any other species, became a catalyst for conservation groups and communities across the eastern United States to follow by organizing lionfish competitions, often with sizable cash prizes.
How to Tame a Lionfish
Capt. Anderson's Marina has been leading Panama City Beach's fight against lionfish for the past three years by creating awareness through events such as the Lion-Tamer Dive Tournament. The first two were held in conjunction with the annual Panama City Beach Seafood and Music Festival in October 2012 and 2013. Devout educator and lionfish eradicator Capt. Ron Spriggs was instrumental in the competition's inception. Although Spriggs had organized several spearfishing tournaments in the past, initially he had concerns about being able to raise awareness of this horrific predator and drawing enough participation to make an impact.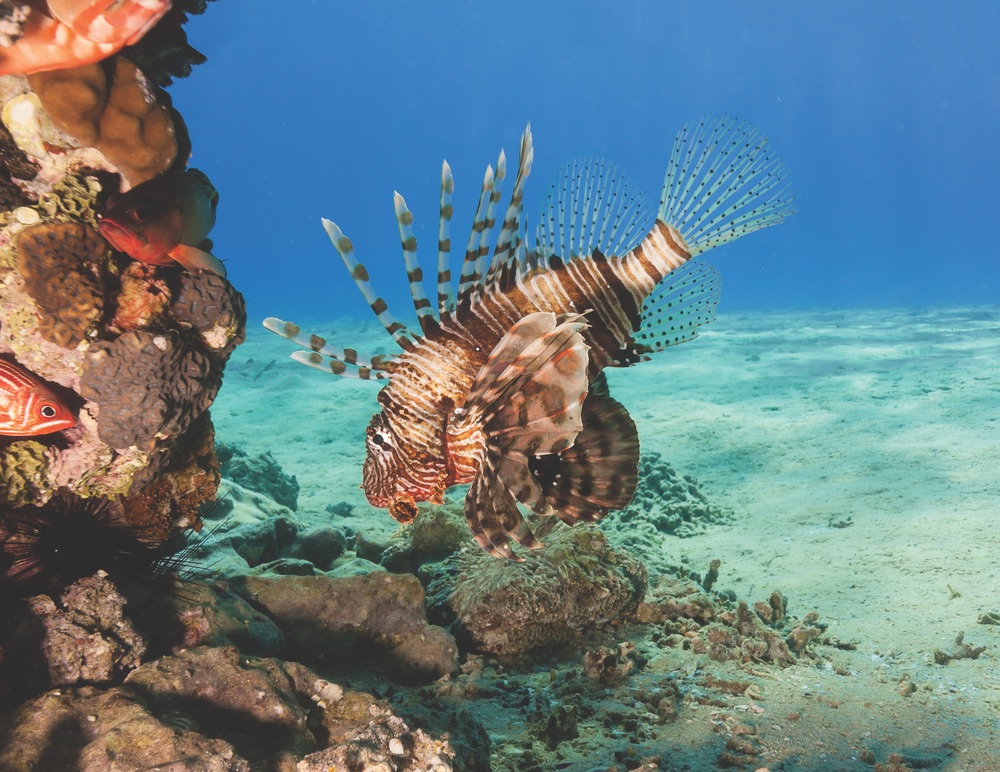 But then he had an idea—and gave it a twist. Spriggs explains, "I knew 'spearos' couldn't resist a tournament with our local game fish that happen to be in season at the time of the tournament—grouper, amberjack, different species of snapper, et cetera. But to ensure that the divers didn't set their sights on only the 'sexy fish' and ignore the lionfish, I had to somehow tie the two together. So, I made a game of it and designated the lionfish as a wild card. No matter the size of the lionfish, it would count as one pound and could be added to the weight of any one of their tournament fish."
Spriggs's idea was a hit, and by last October's second Lion-Tamer Dive Tournament, participating spearos nabbed nearly two hundred lionfish. Even more impressive, the tournament winner was thirteen-year-old Courtney Galbreath, who speared twenty-three lionfish!
Recently, the third Lion-Tamer Dive Tournament, cosponsored by Diver's Den and the Guy Harvey Ocean Foundation, drew even more attention and yielded another record number of lionfish when it was held July 26 as part of Panama City Beach's Ocean Week event.
"We brought in more than 450 lionfish—and, had all the boats made it back before the cutoff time, the count would have been at least five hundred," says Michelle Gerth, associate manager for Capt. Anderson's Marina. Diver Carol Cox took top honors as the master eradicator, spearing 129 lionfish, and, while this year's record-setting results were impressive, they were also bittersweet to Gerth. "While it's awesome that we more than doubled last year's lionfish totals, that means there are more and more lionfish out there. Holding these tournaments annually or biannually is a great start, but we need to continue the education efforts for all divers to remove them from our local waters throughout the year."
Look for the upcoming fourth Lion-Tamer Dive Tournament and workshop to be held over Columbus Day weekend on Saturday, October 11, as a precursor to the following week's 2014 Panama City Beach Seafood and Music Festival, held October 17 and 18.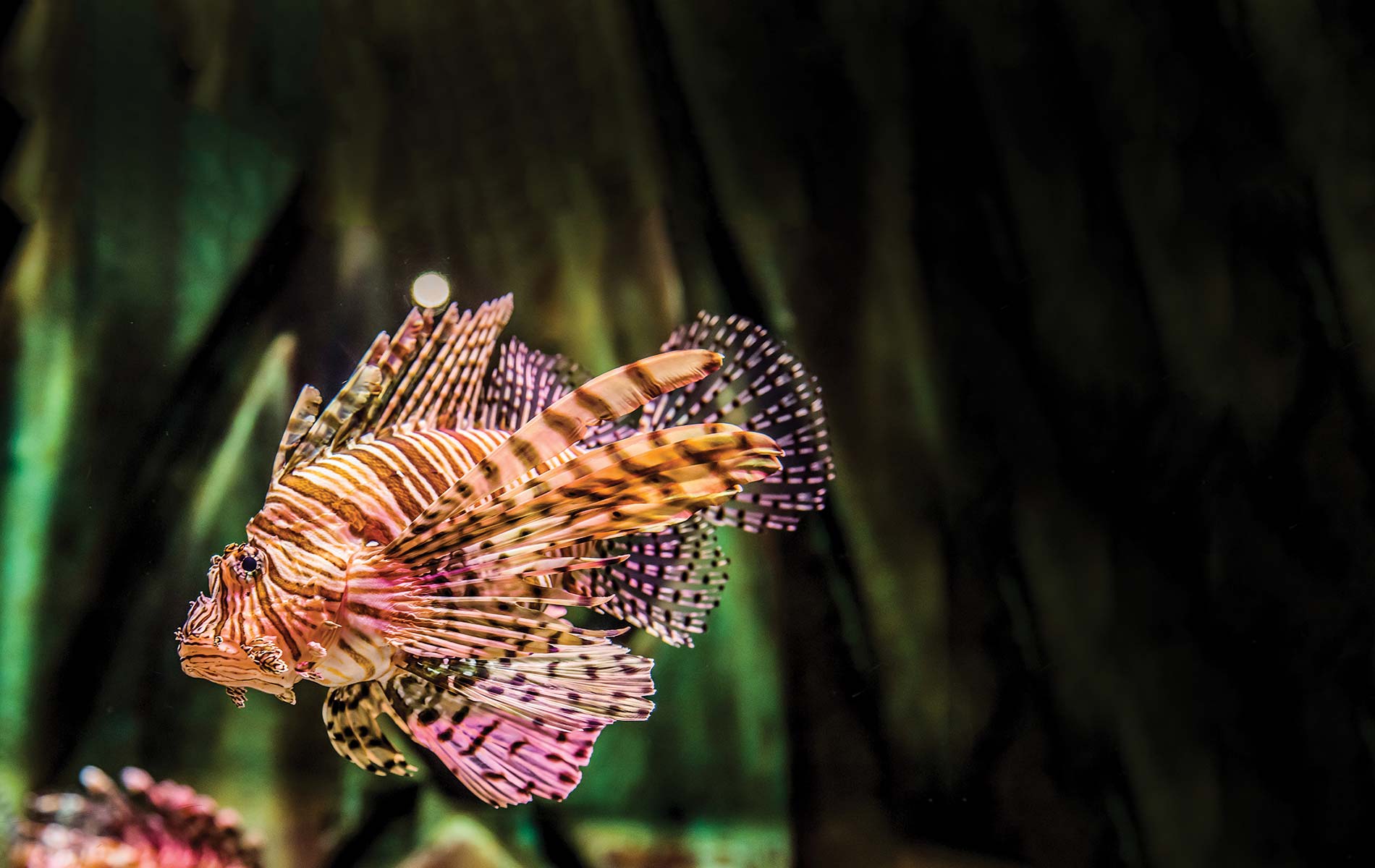 Beat 'em at Their Own Game
Several Northwest Florida businesses have recently stepped up to add more traction to the lionfish marathon. Diver's Den has upped the ante by placing a bounty on all lionfish, which includes monthly promotions with in-store credits given for each lionfish handed over. The folks at Guy Harvey are working with the state of Florida on obtaining legislation to legalize lionfish traps. Jackie Rinker, sales director for Clear Channel Communications, was instrumental in forming a task force of volunteers who are making it their goal to take the lionfish awareness campaign to the next level, including driving a demand for lionfish consumption as well as a means for consumer procurement.
Along with the National Oceanic and Atmospheric Administration and the Reef Environmental Education Foundation, Capt. Anderson's Marina has hopped on board the "If you can't beat them, then eat them" bandwagon by hosting lionfish cooking demonstrations and tastings. It's the hope that by educating consumers about the delicious, mild-flavored lionfish—it has been likened to grouper—they will be less leery of eating the venomous fish. The venom is contained in the pectoral fin but when properly filleted, the lionfish is perfectly safe to eat.
Click here to view a lionfish filleting demonstration by the Emerald Coast Reef Association. 
Hopefully, in the not-so-distant future, lionfish will be a familiar offering on restaurant menus and in seafood markets. In the meantime, if you are able to acquire some lionfish, try out Capt. Ron's famous ceviche recipe. To find out more about the efforts of Capt. Anderson's Marina to eradicate lionfish, visit captandersonsmarina.com.
— V —
---
Capt. Ron's Ceviche

Ingredients
Juice from 4 or 5 large limes per pound of protein (fish, scallops, shrimp, etc.)
Lionfish or substitute: red snapper, sea bass, grouper, amberjack, or other mild white fish
1 bunch of fresh cilantro per pound of protein or to taste
Finely diced red onion to taste
Finely diced ripe avocado (1/2 an avocado per pound of protein)
Finely diced ripe mango (1/2 a mango per pound of protein)
Very finely diced jalapeno pepper to taste (seeds removed)
Anaheim pepper to taste (seeds removed)
Coarse ground sea salt to taste
Fresh ground black pepper to taste
Ground thyme to taste
1/3 cup Mea Ploy sweet chili sauce per pound of protein
Cut seafood into chunks, no larger than half an inch. Combine all ingredients in a large bowl and stir thoroughly to coat all ingredients in lime juice. Cover and refrigerate for three hours, stirring occasionally. Serve with crackers or chips of choice, such as Tostitos Hint of Lime tortilla chips.
ARTICLE CATEGORIES