Reel It In
By Harry Campbell
Ireland offers some of the best and most affordable fishing for Atlantic salmon, sea trout, and native brown trout in the world. Blessed with a vast system of pollution-free rivers and loughs (lakes), prolific aquatic insect hatches, healthy runs of salmon and sea trout, and a rich cultural history of sport fishing, Ireland's many angling opportunities attract visitors from all over Europe and North America.
There are few outdoor experiences that rival fishing from a traditional Irish lough boat or along the bank of a famous salmon river with an experienced Irish ghillie at your side. Fortunately, the Great Fishing Houses of Ireland, a premier group of the ten finest fishing lodges, hotels, and resorts in Ireland, makes it easy to research and plan an exquisite angling holiday.
Every member of the Great Fishing Houses of Ireland must meet the most stringent standards of
service, offer superior accommodation, and have the highest quality premises, facilities, and fishing to provide guests with the finest experience possible. Each establishment is run by people with keen, personal interests in sport fishing, or they have passionate fishing specialists on their staff who understand their fisheries and what it takes to have an enjoyable fishing day on their waters. Helpful advice is always available from both house employees and ghillies—and from the other angling guests staying there too.
All of the member houses offer access to private fisheries, from exclusive salmon beats on the fabled River Moy and Munster Blackwater to beats on the Owenmore, Dawros, Cong, Delphi Bundorragha, Inagh, and Owenduff rivers. Lough fishing opportunities include the world-famous Corrib as well as Connemara's Inagh, Derryclare, Ballynahinch, and Screebe loughs. All of the houses have expert fisheries' managers and seasoned ghillies on their staffs, and many offer fly-casting tutoring and on-stream fishing instruction.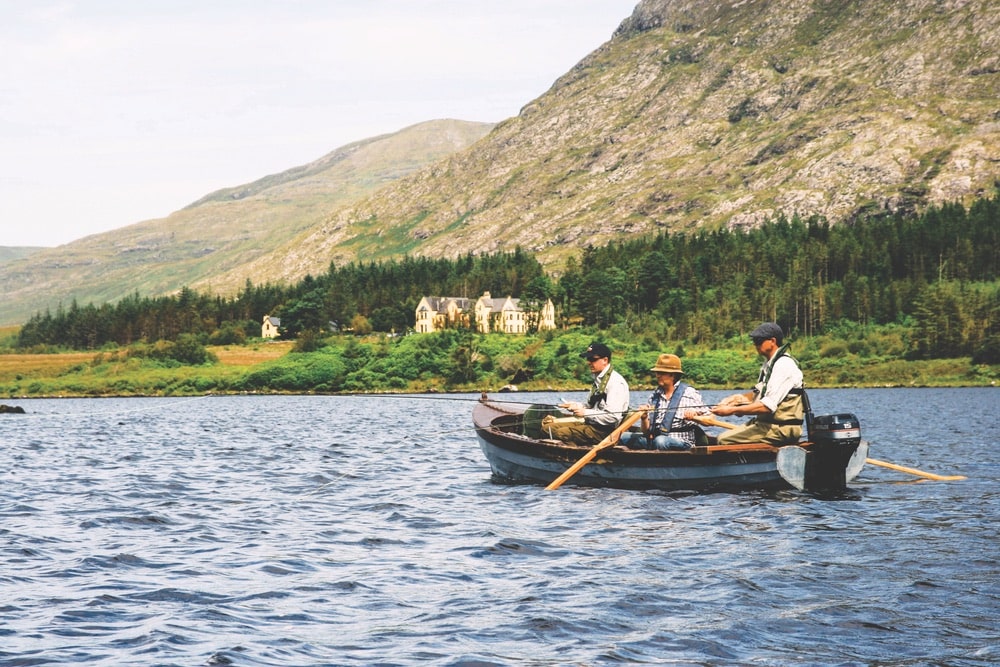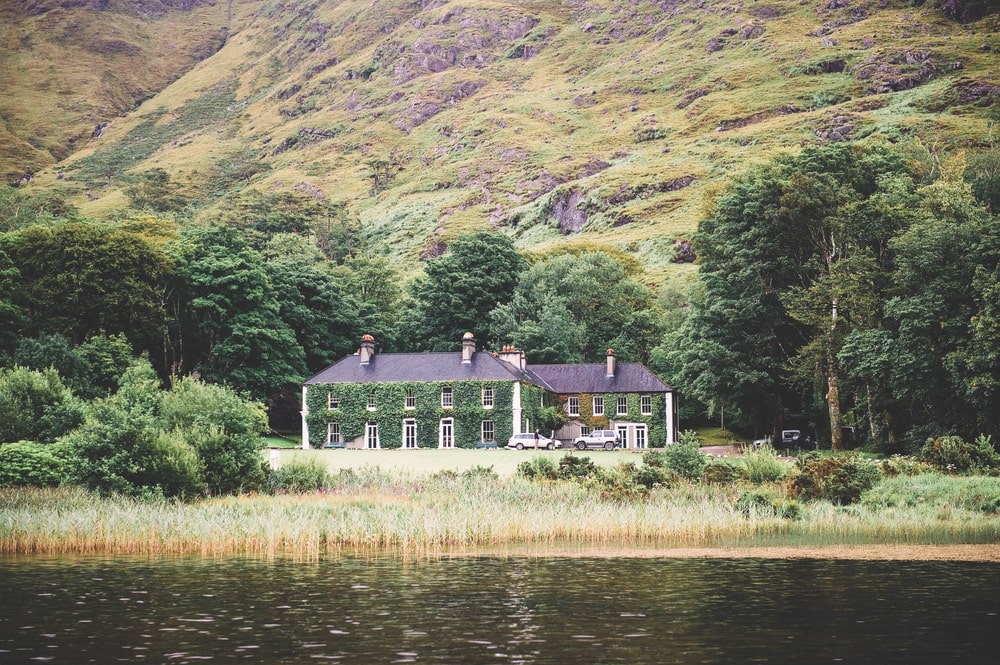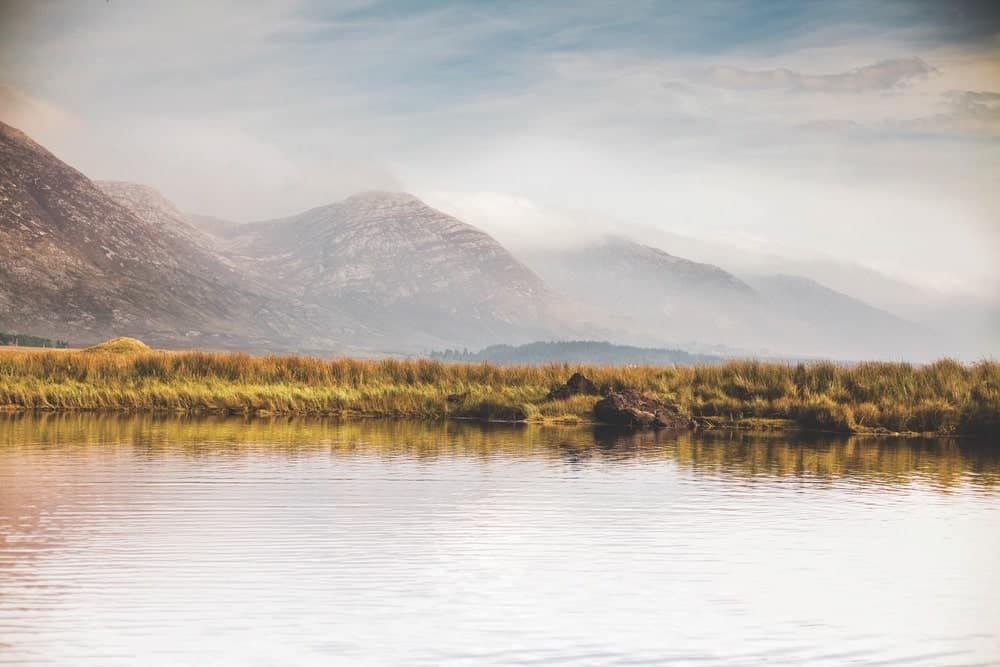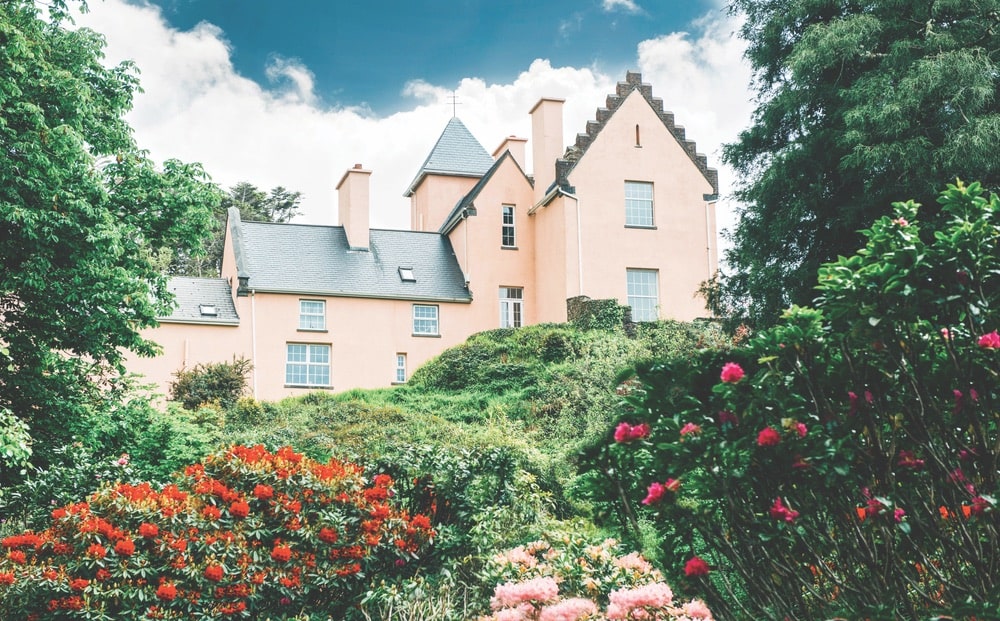 Fishing tackle and related equipment are available for hire at every member's house, and salmon flies, trout flies, and fishing licenses (required for salmon and sea trout) are sold on-site. Most of the houses also offer rod rooms, drying rooms, freezers, and, in some cases, smokeries.
While all of the members cater to anglers, unlike many other fishing resorts and lodges, the Great
Fishing Houses of Ireland also offer an array of additional activities, including hill walking, cycling, horseback riding, golf, tennis, falconry demonstrations, shopping in nearby villages and towns, touring the Irish countryside, visiting Neolithic and other historic sites, and afternoon tea—or merely relaxing in incomparably beautiful surroundings. On-premise amenities often include comfortable sitting rooms with open fireplaces, flower gardens and hiking paths, outdoor tables and chairs, fitness centres, indoor pools, and health spas.
All of the houses serve traditional Irish breakfasts, with most offering award-winning fine dining in elegant surroundings with locally sourced beef, lamb, and seafood. Many have cosy, full-service, wood-panelled pubs in addition to their dining facilities, and all offer picnic lunches for angling and non-angling guests.
Fortun­ately, the Great Fishing Houses of Ireland, a premier group of the ten finest fishing lodges, hotels, and resorts in Ireland, makes it easy to research and plan an exquisite angling holiday.
The Great Fishing Houses of Ireland works closely with Inland Fisheries Ireland at both the local and the national levels to enhance trout and salmon populations through maintaining and improving habitat, monitoring water quality, keeping accurate catch records, and encouraging catch and release among all of their guests. The Great Fishing Houses also works cooperatively with Fáilte Ireland, the national tourism development authority, and Tourism Ireland, responsible for marketing the island of Ireland as a holiday destination, to present their unique Irish angling destinations. Accommodations range from comfortable guest houses to historic sporting hotels, gracious country houses, and luxurious four- and five-star resorts—so there is a Great Fishing House for every budget. Every house is unique with its own distinctive decor and ambience, surrounded by a wide choice of awe-inspiring Irish scenery.
In the north of County Mayo, you can choose between the magnificent Mount Falcon Country House Hotel, a four-star Victorian Gothic manor house on a 100-acre estate in the legendary Moy river valley, and the elegant Rock House, an early nineteenth-century sporting lodge on the rugged Atlantic coast and a stone's throw from the Ballycroy National Park, Europe's last true wilderness.
Farther south in County Mayo you'll find the majestic five-star Ashford Castle, once the ancestral summer home of the Guinness family, which overlooks Lough Corrib at the mouth of the Cong River, and the famous Delphi Lodge, tucked in the heart of the remote and beautiful Delphi Valley. This historic nineteenth-century fishing lodge was built for the Second Marquess of Sligo.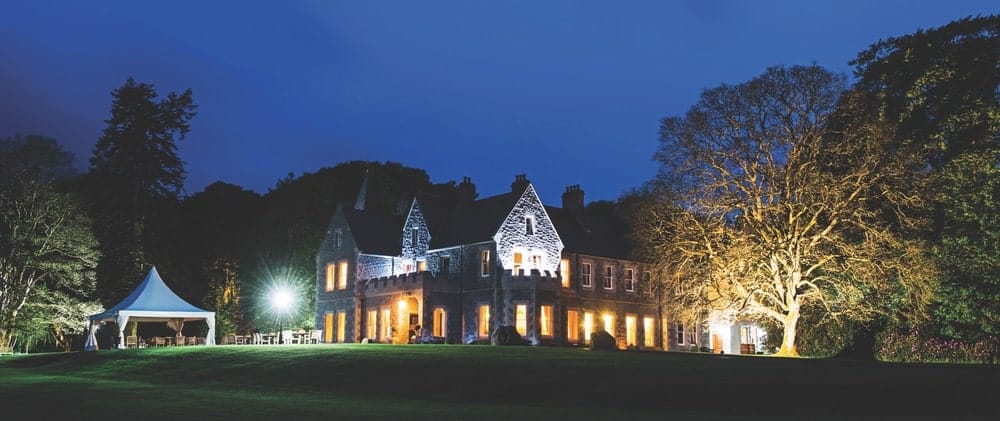 In the heart of County Galway's Connemara, you'll discover the charming Lough Inagh Lodge Hotel, a boutique nineteenth-century fishing lodge overlooking a wilderness lough and surrounded by Connemara's tallest peaks; the handsome Ballynahinch Castle Hotel, a four-star luxury hotel set in a private 700-acre estate of woodland with a magnificent salmon river flowing outside your hotel room's window; the cozy Camillaun Lodge, a comfortable, contemporary fishing lodge located on the outskirts of Oughterard, which is the unofficial fly-fishing capital of Ireland; the elegant Screebe House, a seaside Victorian-era hunting and fishing lodge with luxury accommodations, 40,000 acres of hunting, and exclusive fishing on twenty lakes and rivers; and the four-star Renvyle House Hotel and Resort, an architecturally important Arts and Crafts style country house with a sea view on 150 acres of woodlands and gardens with a private lake and ocean beach.
Farther south in the lush Blackwater Valley of County Cork, there's the stately Longueville House, a spectacular Georgian mansion (c.1720) on a 500-acre wooded estate overlooking the valley, and the award-winning Ballyvolane House, a luxurious, 500-year-old country house surrounded by beautiful gardens, woodland paths, and pastures filled with grazing cattle.
A trip to Ireland should be on every serious angler's bucket list, and the Great Fishing Houses of
Ireland's website will provide everything a traveling angler needs to know when researching and planning a visit—including an introduction to each member's facility and fishery—with links to each member's website along with detailed descriptions of over thirty of the very best rivers and loughs in Ireland. So, whether you are an experienced hardcore fly fisherman seeking a new trout or salmon angling adventure or someone who would like to try the sport for the first time, choosing one of the Great Fishing Houses of Ireland is sure to provide a superb, all-inclusive angling experience.
— V —
---
To learn more, log into their website, IrelandFlyFishing.com.
ARTICLE CATEGORIES