Get Lost on Little Palm Island
By Lisa Marie Burwell | Photography courtesy of Little Palm Island Resort and Spa
The drone of the diesel engine was mesmerizing, sending a familiar and comforting vibration through the mahogany hull. As The Truman splashed through the light chop of the bay waters on a balmy Sunday afternoon, the wind gently tossing my hair, I stared with glorious anticipation toward the final prize of my journey. Who hasn't fantasized, at least once or twice in their life, of being whisked away by private plane to a remote tropical island? Daydreaming of wonderful places and experiencing new adventures is part of my DNA, but even so, it was difficult to believe it was happening as I set foot on the welcoming planks of the boardwalk at Little Palm Island Resort and Spa in the Florida Keys.
Little Palm Island has seen a long and interesting history, having as many different incarnations as it has had owners: it was a regular retreat for President Harry S. Truman and a setting for the filming of PT-109, the Warner Brothers 1962 film starring Cliff Robertson in his role as John F. Kennedy. Its latest reincarnation is the brainchild of the Noble House Hotels and Resorts, which purchased the property and reopened it in 1995 following a multimillion-dollar renovation. The island is actually only an islet—a coral reef that has slowly gathered sand, vegetation, and wildlife to become the five-acre tropical wonder that it is today. But don't let the small size fool you. In its current configuration, this little gem can deliver a weekend experience that other, much larger resorts only wish they could live up to.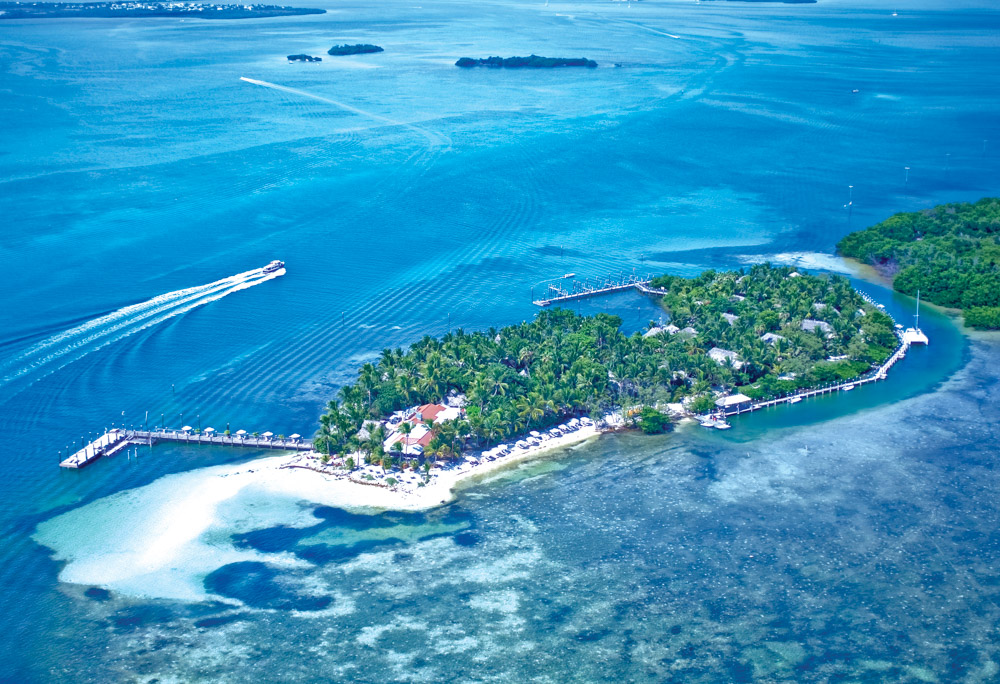 The island's remoteness is definitely part of the charm and gives it an exclusive ambience—one where relaxation and anonymity reign supreme.
This brings me to the purpose of my trip: I was on a forty-eight-hour getaway jaunt with my husband, which is partly the reason I endearingly call this story "The Great Escape." It was a surprisingly short period of time, but because it was so magical, it felt much longer—and that is always the sign of a good respite! We departed from Panama City Beach, Florida, aboard a Cessna 206 with our capable Island Air Express pilot, Ron Jarmon, at the controls and arrived at Key West International Airport after a picture-perfect three-hour flight (it seemed shorter; Ron is a good conversationalist). Little Palm Island's mainland welcome center, only a thirty-minute drive away is where the The Truman—the resort's classic wooden motor launch, named after the former President—departs from on its regularly scheduled excursions to Little Palm Island. The trip out takes around fifteen minutes.
Pulling up to the dock, all guests were warmly received by their designated Little Palm greeter. While our luggage made its way to our bungalow via an electric cart, our gracious host gave us a personal walking tour of the property, pointing out important highlights, interesting tidbits, and other good things to know—such as the use of mobile phones is prohibited on the island. The staff at Little Palm does everything it can to provide guests with a stress-free zone, which includes a guarantee that guests will not be accosted by the insensitivity of others scrambling for ringing phones or the inappropriate behavior of telephone conversations in public. For adult travelers seeking blissful peace and relaxation, this is an adults-only getaway, so this is one vacation destination where children (even the four-legged variety) are not allowed.
There are a total of fifteen thatched-roof luxury duplex bungalows; this allows for no more than sixty guests on the island at a given time. Accessible only by boat or seaplane, the island's remoteness is definitely part of the charm and gives it an exclusive ambience—one where relaxation and anonymity reign supreme. Freely roaming Key deer unabashedly greeted strolling guests while the birdcalls from a hundred tropical bird species lilted through the air. Taking in the sights and sounds of the island, I realized that this was a "South Seas meets Swiss Family Robinson" retreat. I had never experienced anything like it before—it was perfection!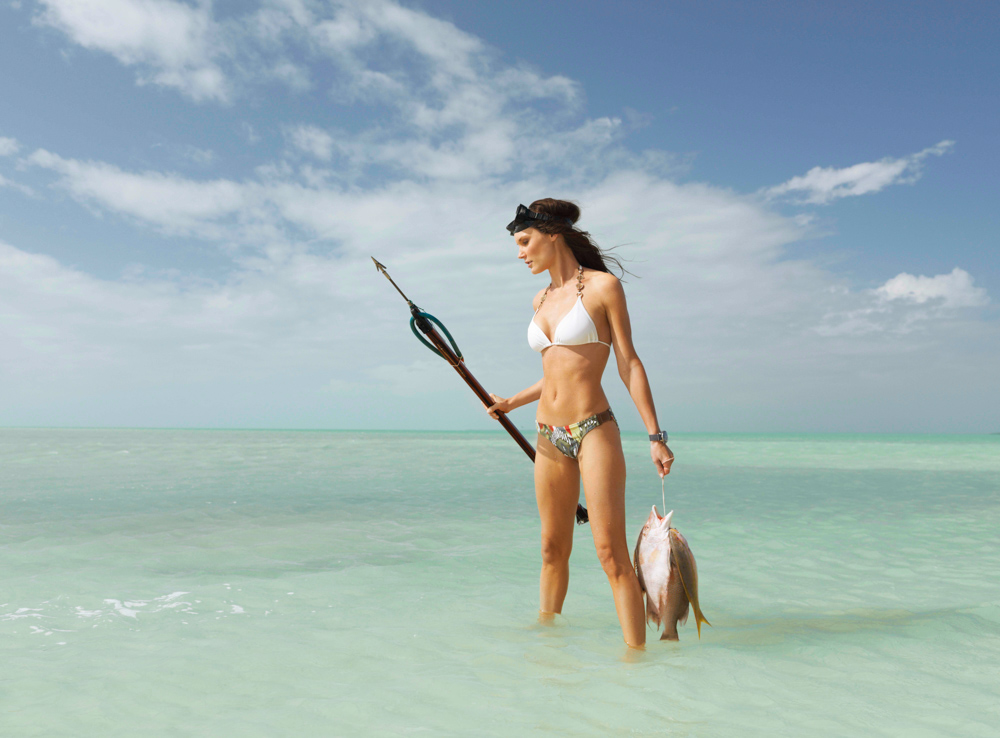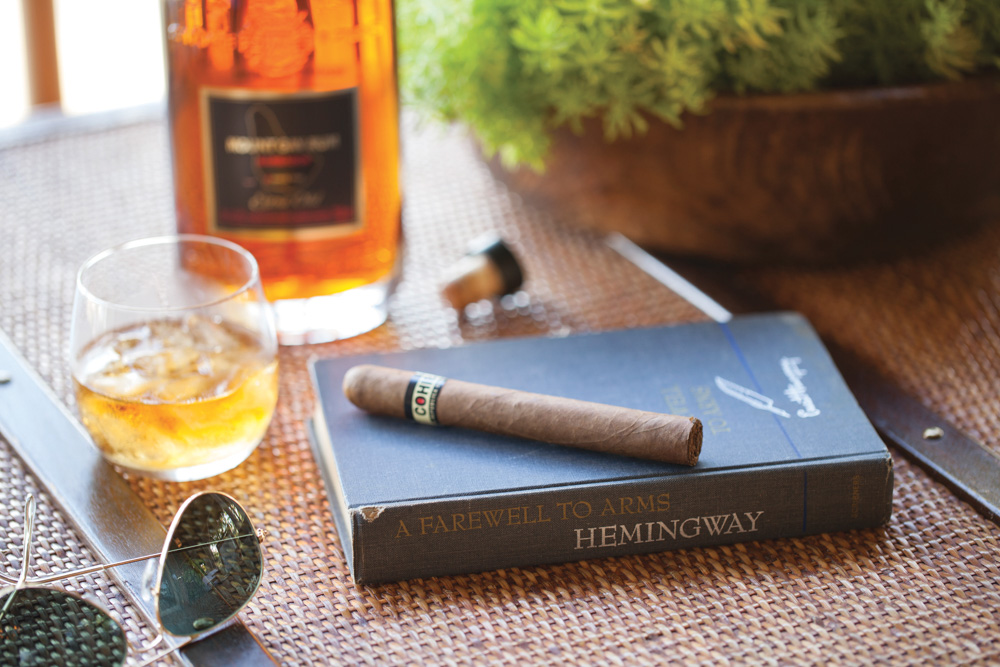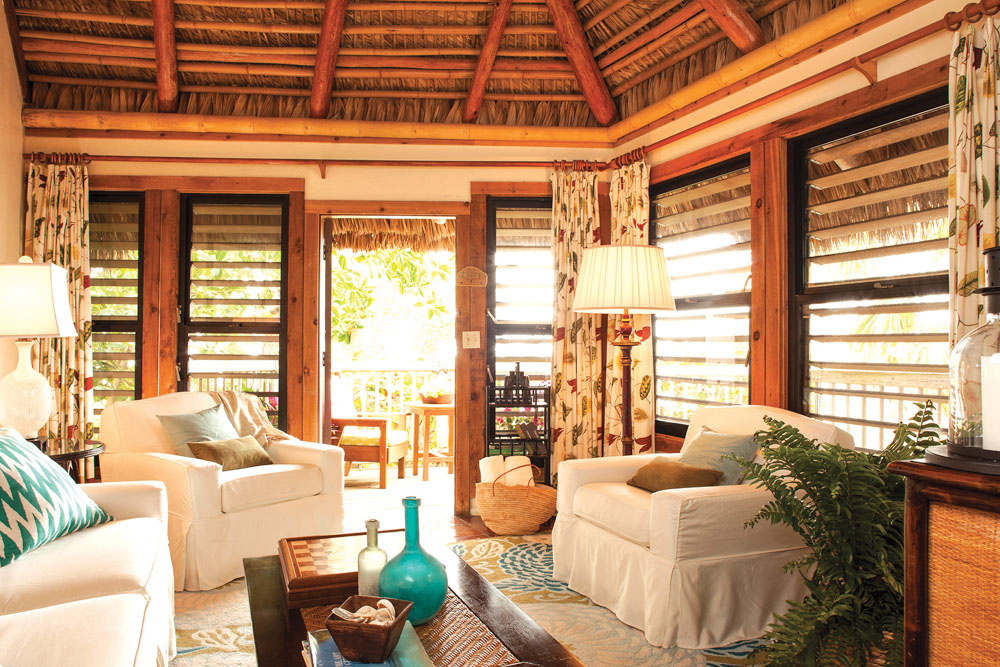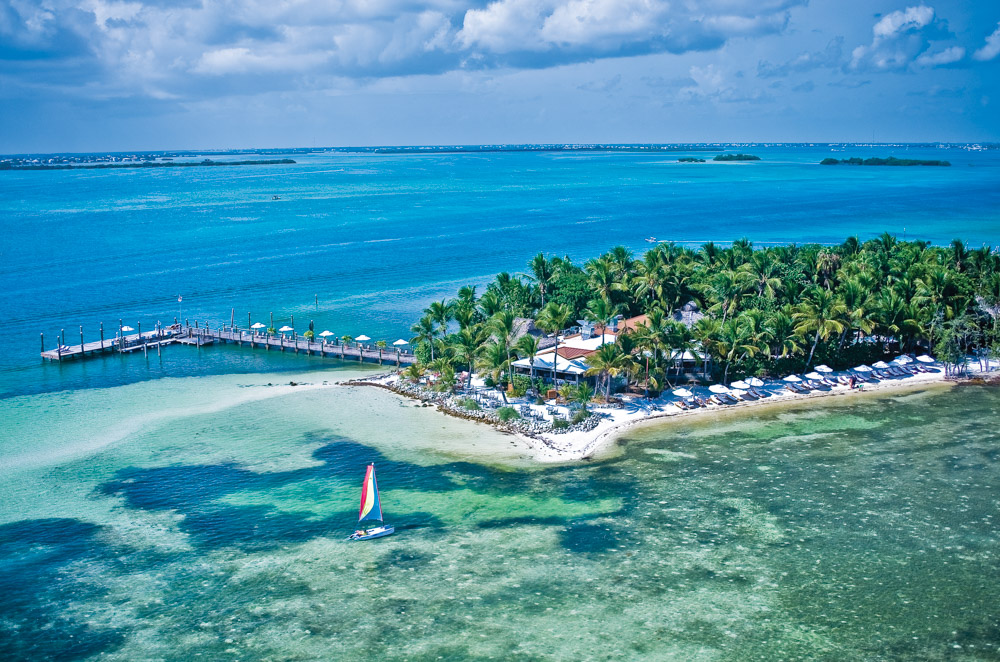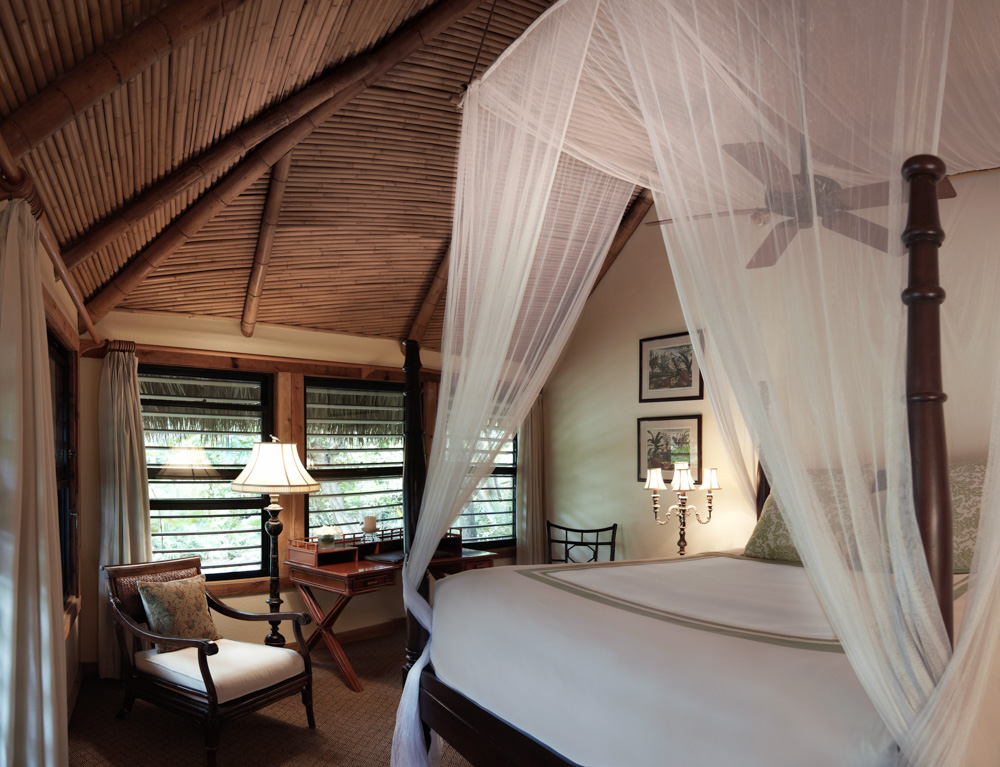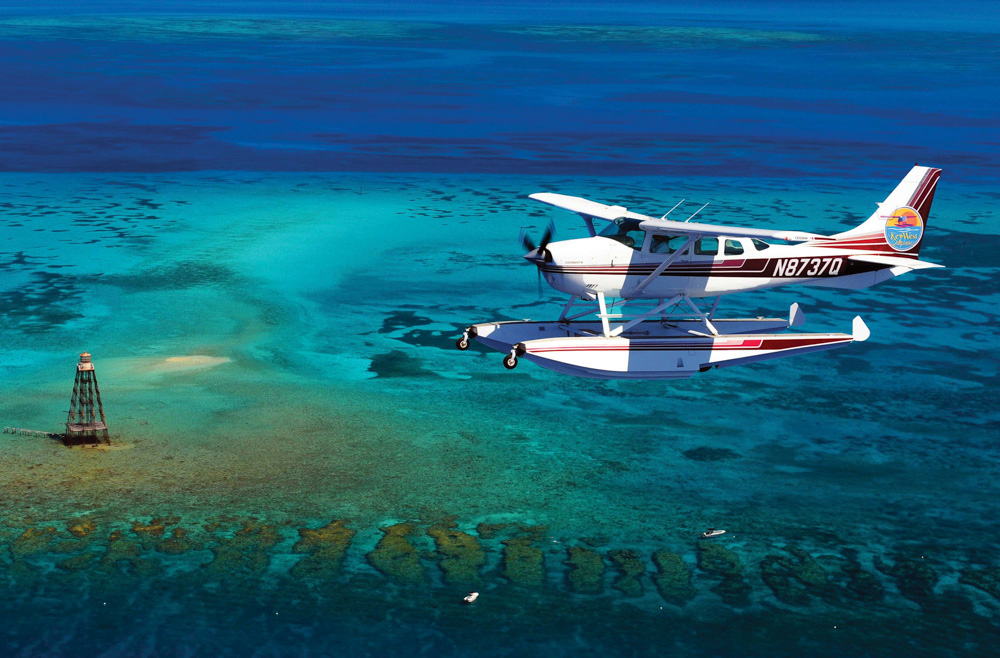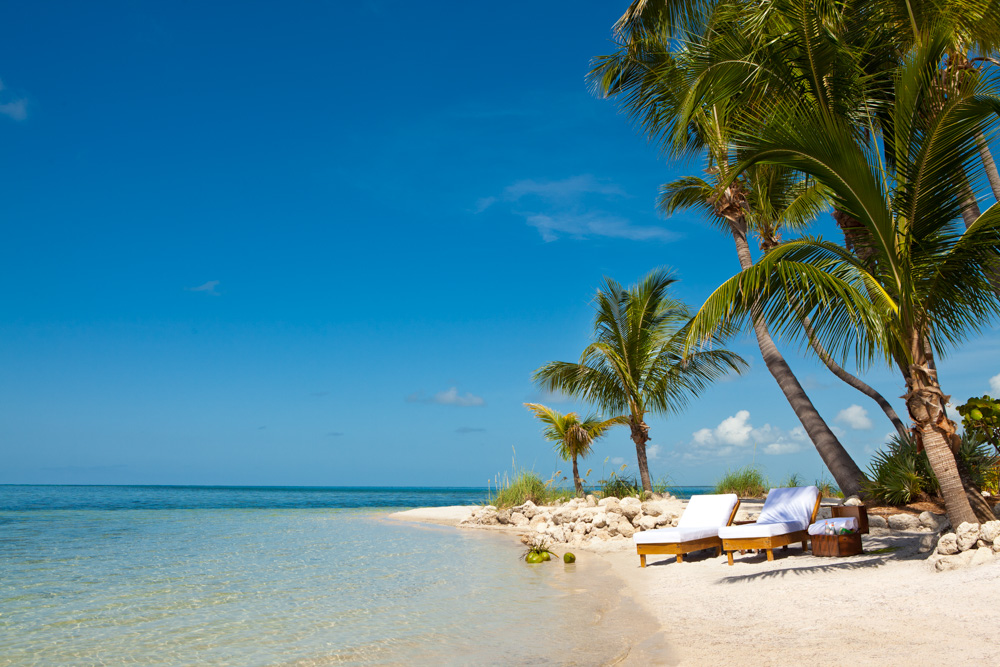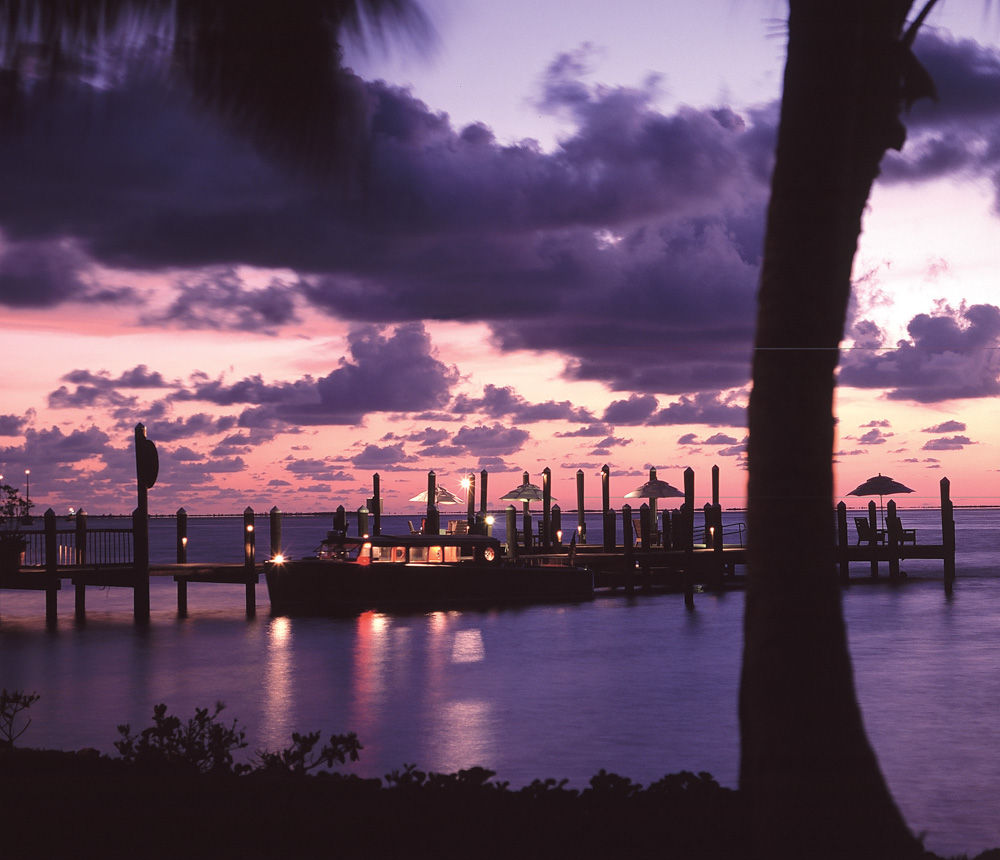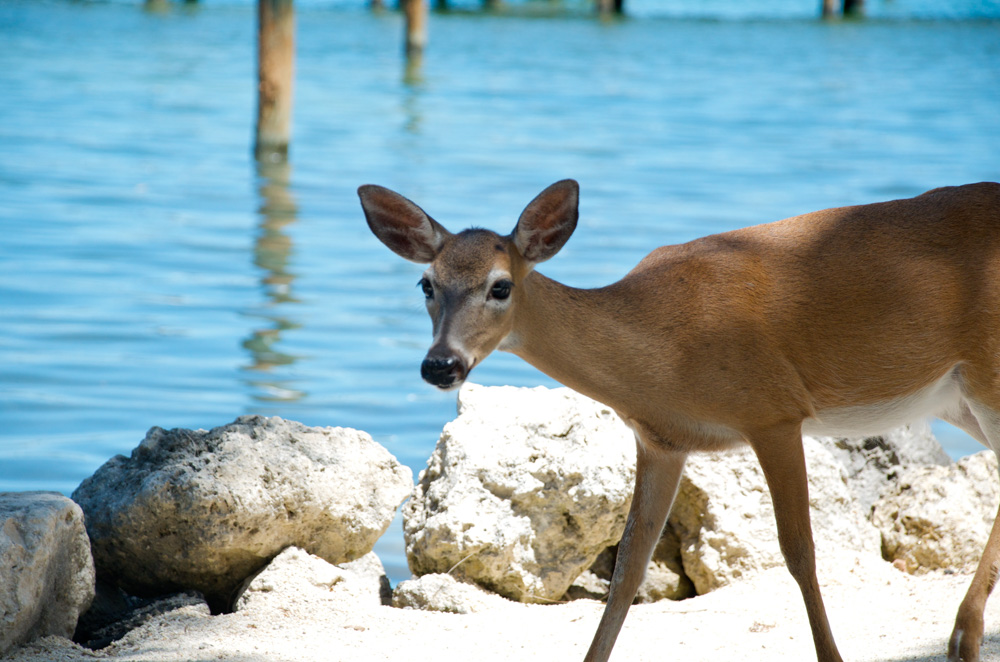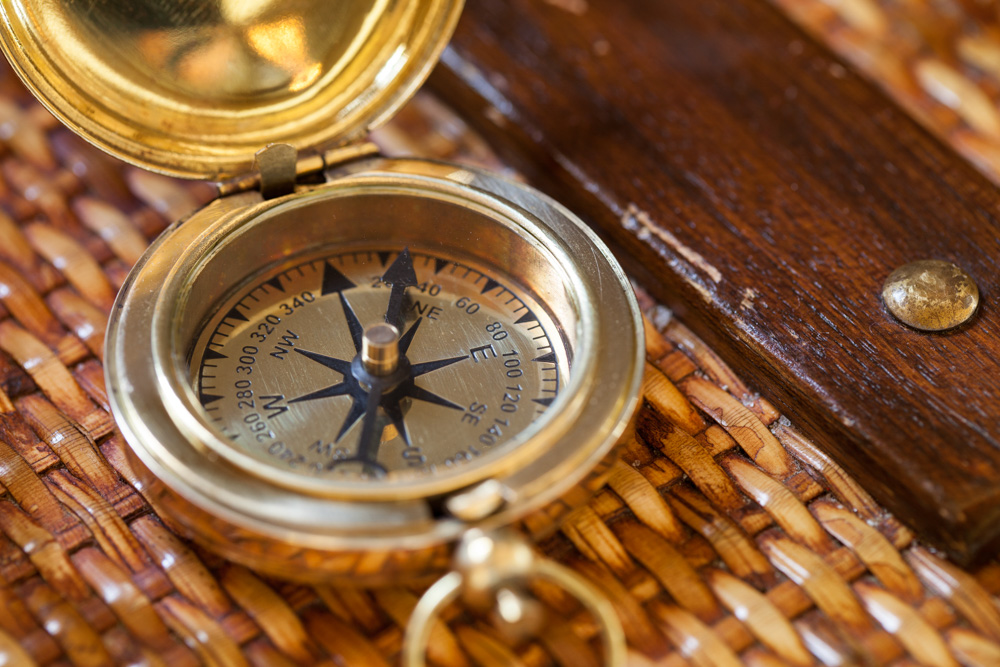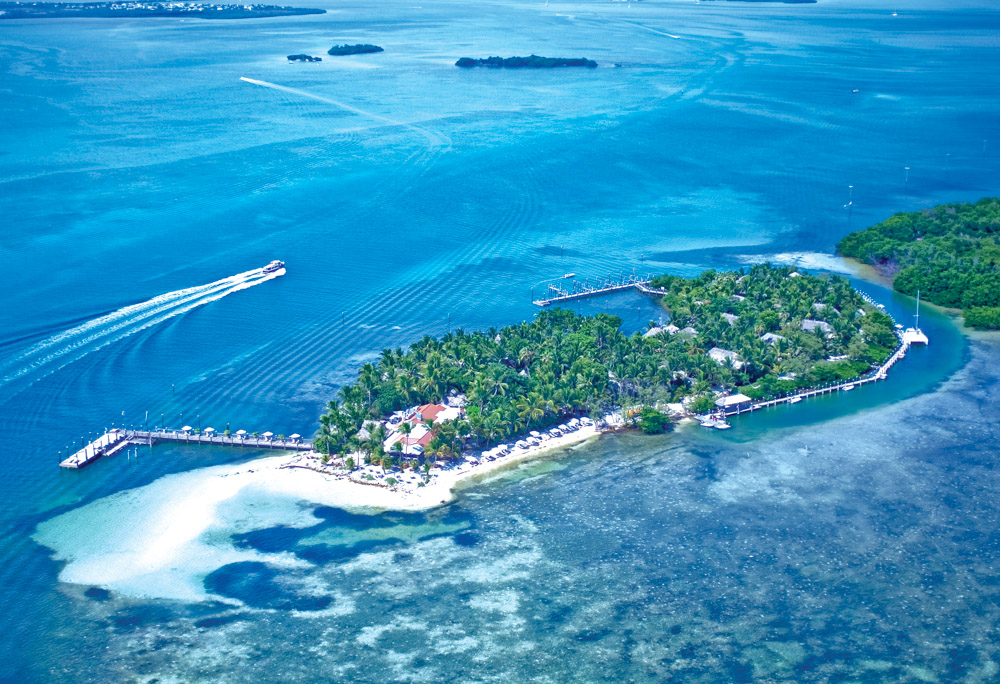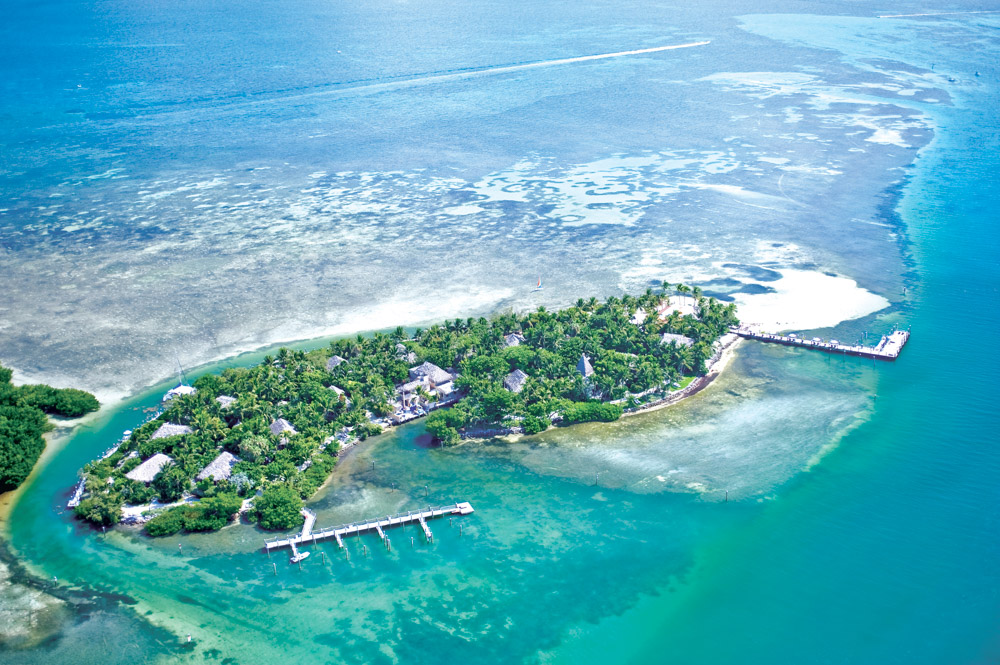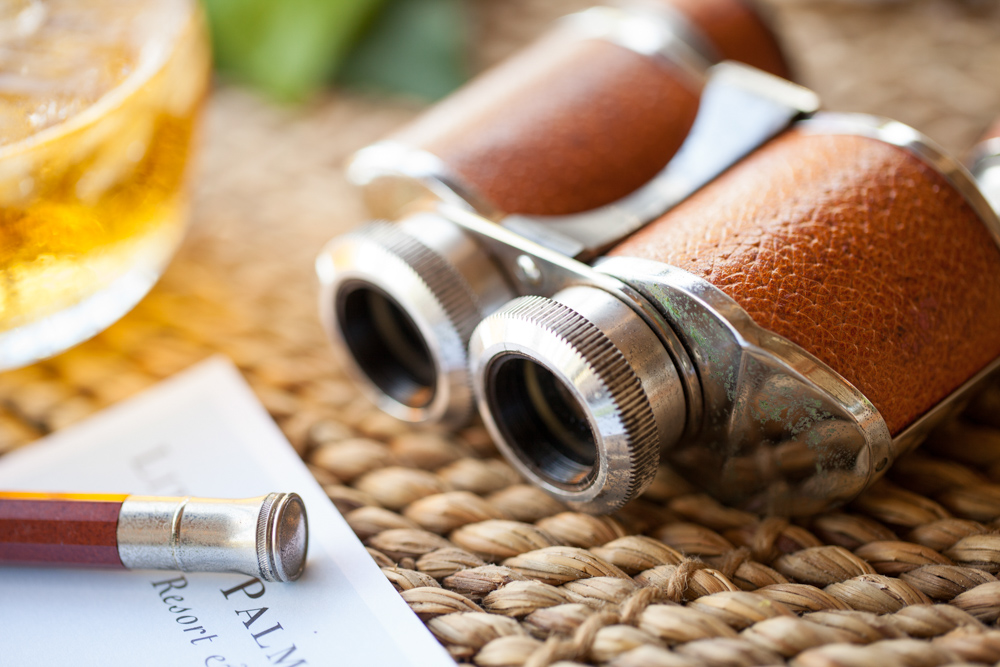 As is the custom for all guests, our surname graced the rustic wooden marquis at the base of the steps to our quarters. This small detail added to the excitement of the special weekend we were about to experience. From the exterior, our quarters for the weekend could best be described as a very modestly crafted thatched-roof bungalow on an elevated pile foundation. However, once inside, we were greeted by champagne and hors d'oeuvres in an upscale West Indies interior: vaulted ceilings, a sitting room with woodwork and furniture of rich mahogany, colorful woven rugs and fabrics, and vintage accessories and fixtures. The bedroom boasted an elegant four-poster adorned with white gauze fabric to emulate mosquito nets from days gone by. The bathroom was equally impressive with a freestanding porcelain soaking tub, old-world chrome fixtures, and all-stone flooring, vanity, and shower surround. Wooden-slatted window shutters added an authentic tropical detail as well as privacy.
Televisions and Wi-Fi are purposely absent from the bungalows to encourage guests to fully partake in all that Little Palm has to offer—which is everything you need (or might wish for) while on a tropical island retreat. If the open water is your style, call the marina to schedule a fishing charter. The beach activities include sailing, stand-up paddleboarding, or just relaxing on a chaise lounge and overlooking the serene Straits of Florida. After spending time on the beach or on the open water, cool down at the intimate and inviting lagoon-style pool, which is naturally shaded by large tropical tree canopies. While there, quench your thirst at the convenient tiki bar. Since absolute self-indulgence is condoned, try a selection of packages at the full-service SpaTerre, which also has a well-equipped fitness center. And if you don't see anything that interests you, don't be too shy to ask the island concierge—chances are there is an activity just perfect for you.
My favorite of all the amenities on Little Palm Island is the restaurant—simply named "the Dining Room"—with Executive Chef Roly Cruz-Taura at the culinary helm. The Dining Room's rustic ambience looked like Ernest Hemingway himself might have inspired it. The walls were tastefully adorned with beach life memorabilia, fine art, and photographs from Little Palm's past lives. The covered veranda is particularly cozy and relaxing. With Little Palm being just ninety miles from Cuba, the food is influenced by Cuba's zesty Caribbean flare in a style called "Floribbean"—a gourmet fusion of Floridian, European, Asian, and Caribbean flavors. Since the menu changes nightly, indulgence is recommended: that mouthwatering temptation may not be there the next day. Cuban-born Luis Pous, the restaurant's former executive chef, now oversees all of the kitchens within the Noble House Hotels and Resorts family.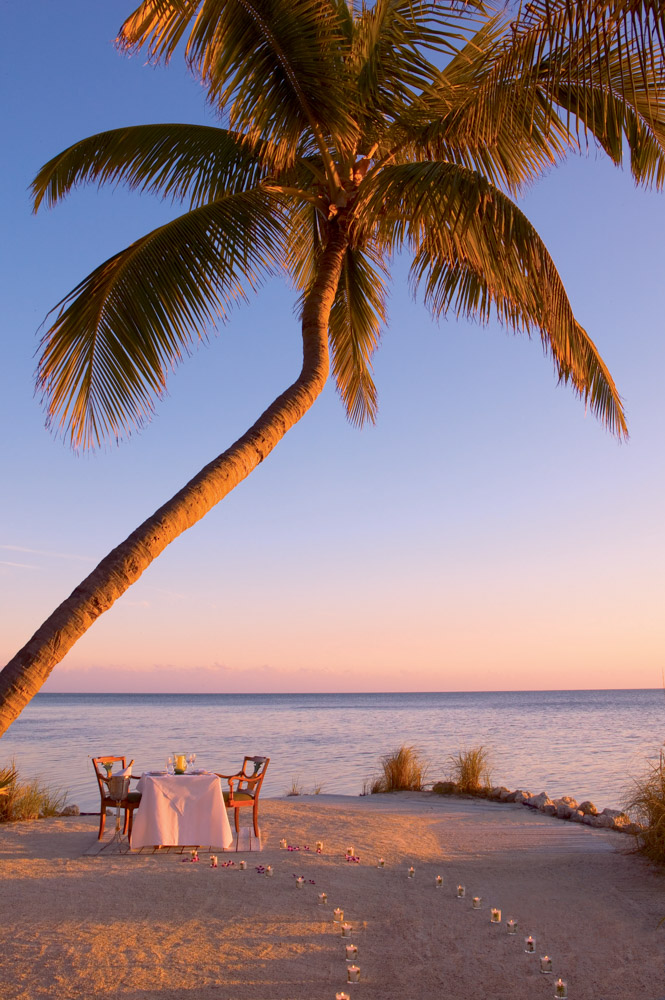 With Little Palm being just ninety miles from Cuba, the food is influenced by Cuba's zesty Caribbean flare.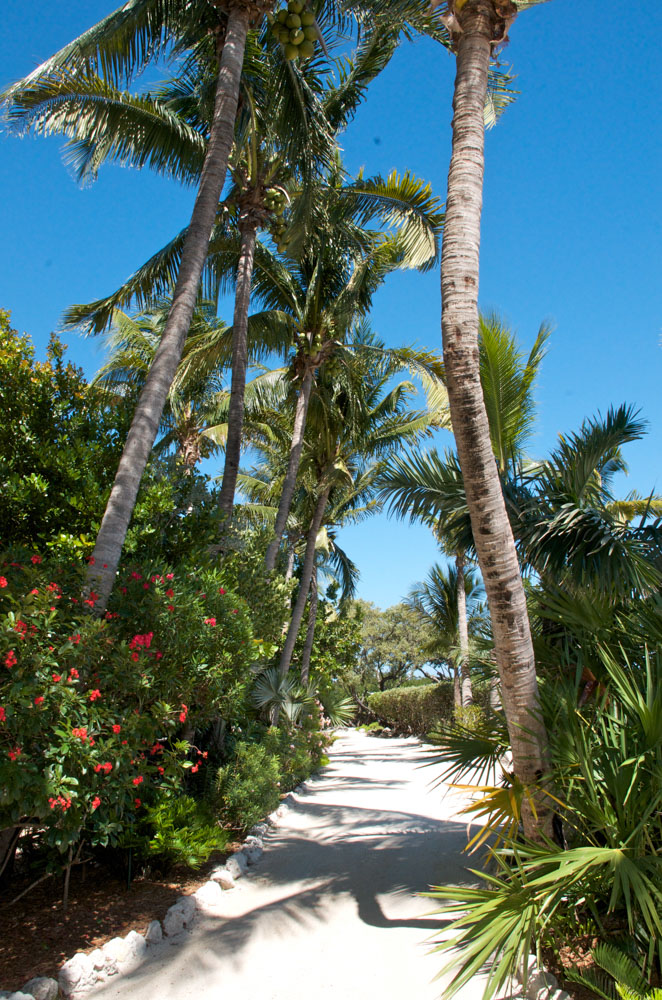 On the second night of our stay, the Dining Room was to play host to a big highlight of our trip. We were on assignment to cover a private beach concert by the legendary Dr. John, part of the resort's Sandbar Sessions—a musical event series that is truly unparalleled. Another fabulous meal on the island was ours that evening as we dined on the porch overlooking the beach and the empty stage, which would soon be filled with a legend and his band.
I know enough about Dr. John and his music to know that I like his style (Who hasn't heard "Right Place Wrong Time"?) and to respect his longevity. What I didn't know was his mystical-meets-voodoo stage vibe, complete with a skull placed prominently on his piano. His sound has been described as a musical gumbo composed of blues, rock, R&B, zydeco, jazz, and standards. This eight-time Grammy Award winner and his megatalented band, the Nite Trippers, was off the charts as they jammed under the moon and stars for an intimate audience of about a hundred people. Watching Dr. John move from playing piano to a solo on guitar to sticks and chicken bones was something to behold! Read more about this legend in the article "Just What the Doctor Ordered – Right Place Right Time." We must have been in the right place at the right time because we were sitting with our toes in the sand a mere four feet from the band. This surreal experience only added to what already felt like a dream.
During our dinner prior to the concert, I noticed the slowly blinking red light of a buoy off in the distant waters. I let my imagination run away with me and conjured up a story that it was a sign to me that we had reached the end of the earth and were not to proceed any further, because this was exactly where we were supposed to be during those forty-eight hours. I can't thank the staff at Little Palm Island enough for making a memory that will last a lifetime for my husband and me. If you are in need of pampering, wanting to spend time in a piece of paradise, or wishing to get lost and decompress, I urge you to run (or fly) to Little Palm Island as fast as you can. I know that I'll be back.
— V —
If you are interested in arranging a flight to Little Palm Island (or to any location within the continental United States or Europe), please consider contacting Morris Jarmon or Ron Jarmon at Island Air Express, located at the Northwest Florida Beaches International Airport in Panama City Beach, Florida, at (850) 814-6407.
ARTICLE CATEGORIES