By Solange Jazayeri
Set against the backdrop of a flamboyant Chicago in the mid-1980s and the art scene of present-day Paris, The Great Believers by Rebecca Makkai is a beautifully written tapestry of love, friendship, and loss. This sprawling, profoundly moving novel is all at once raw, real, and heartrending, yet scene after intimate scene toggles between tears and bouts of belly laughs. It's no wonder it was named a Pulitzer Prize and National Book Award finalist and winner of many other prestigious honors.
The novel is both entertaining and thought-provoking, with ideas such as these: "And was friendship that different, in the end, from love? You took the possibility of sex out of it, and it was all about the moment anyway. Being here, right now, in someone's life. Making room for someone in yours."
The Great Believers opens with a celebration of life in honor of Nico Marcus, a charismatic man taken too soon by AIDS. He was loved and revered by many, and his memorial brings together a close-knit group of friends. From the outset, Makkai's characters are wide ranging and distinct. Chief among them are Nico's younger sister, Fiona, and Nico's friend Yale Tishman, whom we follow as the two protagonists in the interweaving chapters of the story.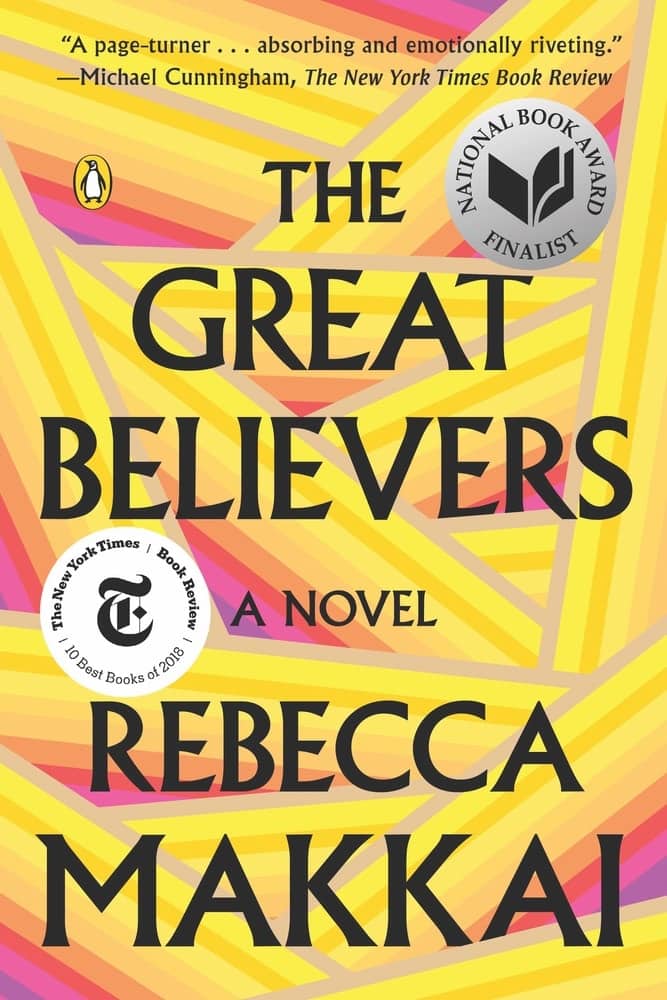 Yale Tishman, a fund-raiser and development director for an art gallery, finds himself in the fortunate circumstance of possibly inheriting an impressive art collection from Fiona's great-aunt Nora. It is to be a sizeable endowment to Northwestern University's permanent art gallery, should the collection prove to be authentic. But as Yale's career blossoms, the AIDS virus encroaches in on his happiness. Nora's remarkable life as a muse to various artists while living in Paris in the 1920s serves as a compelling subplot.
Thirty years later, Fiona visits Paris as she tries to reconnect with her estranged daughter. Staying with an old friend, a notable photographer who documented the Chicago of her youth, Fiona is forced to confront the aftermath of AIDS and how it colored her life and her relationships.
The Great Believers

is a poignant reminder of the deadly AIDS pandemic that spread at the cusp of a newly realized culture of self-expression and sexual liberation.
The Great Believers is a poignant reminder of the deadly AIDS pandemic that spread at the cusp of a newly realized culture of self-expression and sexual liberation. In Makkai's words, "This book is about a lot more than AIDS—it's also about the Paris art world of the 1920s, cults, Chicago, memory, and loss. I do want people to come away knowing, thinking, or feeling more about AIDS than they have previously. I don't want them to stop with my book—I want this to be the beginning of a lot more reading and conversation about what people remember from that time."
About the Author
Rebecca Makkai is the Chicago-based author of the novel The Great Believers, one of the ten best books of 2018 chosen by the New York Times Book Review, a finalist for the Pulitzer Prize and the National Book Award, winner of the ALA Carnegie Medal for Excellence in Fiction and the Chicago Review of Books Award for Best Fiction, and a pick for the New York Public Library's Best Books of 2018. It appeared in a total of twenty-one best-of-the-year lists. She is the author of two other novels, The Borrower and The Hundred-Year House, and the collection Music for Wartime–four stories from which appeared in The Best American Short Stories. Rebecca is the recipient of a 2014 NEA Fellowship, has taught at the Tin House Writers' Conference and the Iowa Writers' Workshop, resides on the MFA faculties of Sierra Nevada College and Northwestern University, and is the artistic director of StoryStudio Chicago.
— V —
---
Visit RebeccaMakkai.com to learn more and discover her other books.
Solange Jazayeri has an MBA in communication and leadership from the University of West Florida. As a reader, she enjoys books that delve into personal journeys of self-identity. As a writer, her research explores the intersection of love and identity in this new age of technology.
ARTICLE CATEGORIES