30A 10K Goes the Distance
By Jordan Staggs | 
Photography by Shelly Swanger
In the New Urbanism beach communities along Scenic Highway 30-A in Northwest Florida, you're likely to see people wearing sneakers almost as frequently as you see them in flip-flops.
The vacation destination has become a Southern favorite, and its eighteen-mile paved running and cycling path along the main corridor and miles of flatwoods trails attract active vacationers and encourage locals to explore on two feet or two wheels year-round. Thanks to this fitness-friendly mind-set and the warm temperatures most of the year, many organizations hold road and trail races, duathlons and triathlons, and even big events such as the Ironman along the Emerald Coast. Many of these races are the perfect opportunity not only to bring visitors to the region but also to support local nonprofit organizations. This type of support was the mission when Karen Meadows, Amy Stoyles, and Craig Baranowski founded the 30A 10K Thanksgiving Day road race in 2012.
"Our focus has always been on helping those in need, particularly families and children in our local community," says Stoyles, who is also the owner of Archiscapes Architects. "In the six years since we started our event, we have supported Donations 4 Danny, Shelter House, Anchorage Children's Home, Sandcastle Kids, the Emerald Coast Children's Advocacy Center, the South Walton Fire District, the Walton County Sheriff's Department's Juvenile Diabetes Research Foundation, the Repertory Theatre of Seaside, the Northwest Florida Guardian ad Litem Foundation, the Choctawhatchee Basin Alliance, and the Cultural Arts Alliance of Walton County. We try to rotate our charity recipients every two years so that we can help as many people as possible."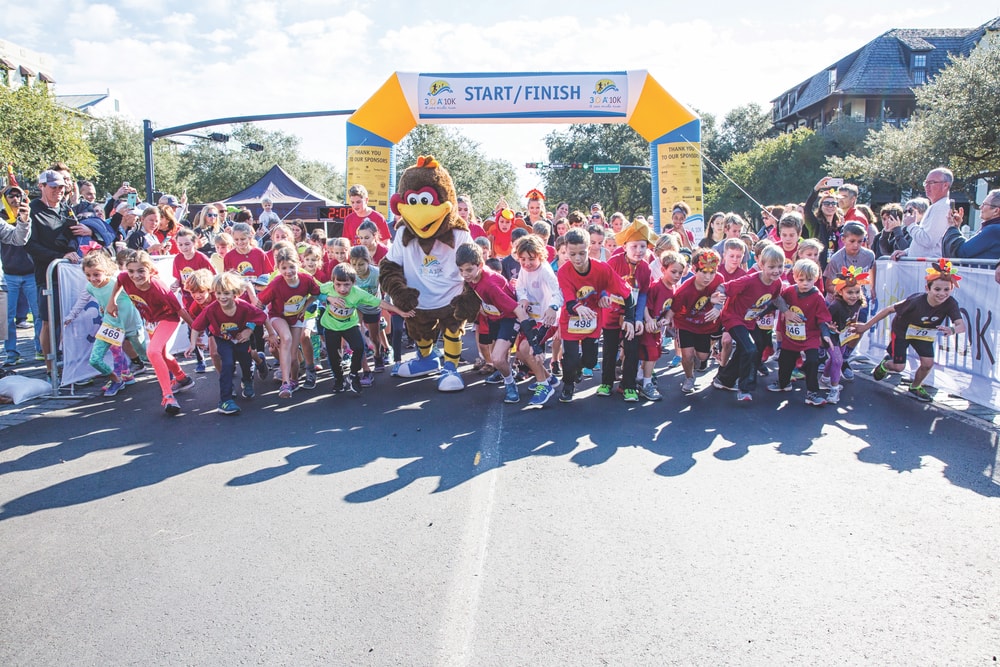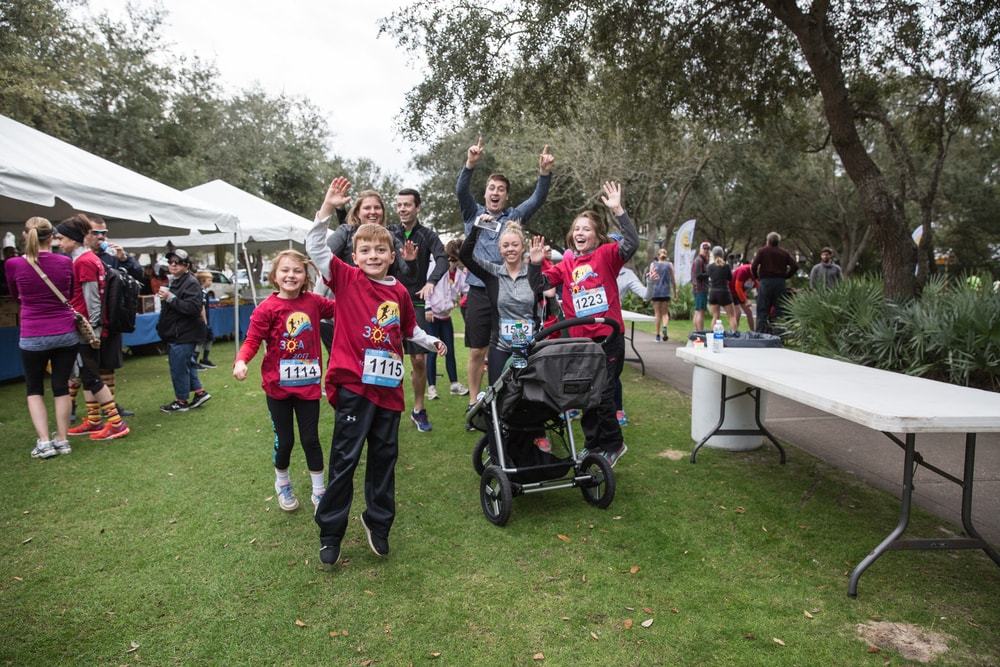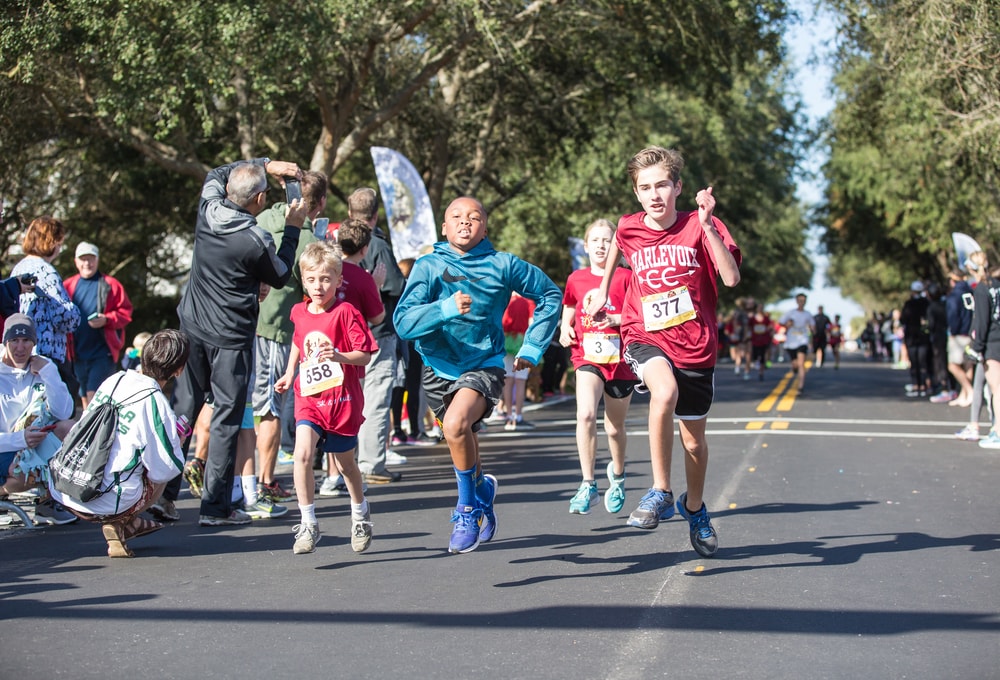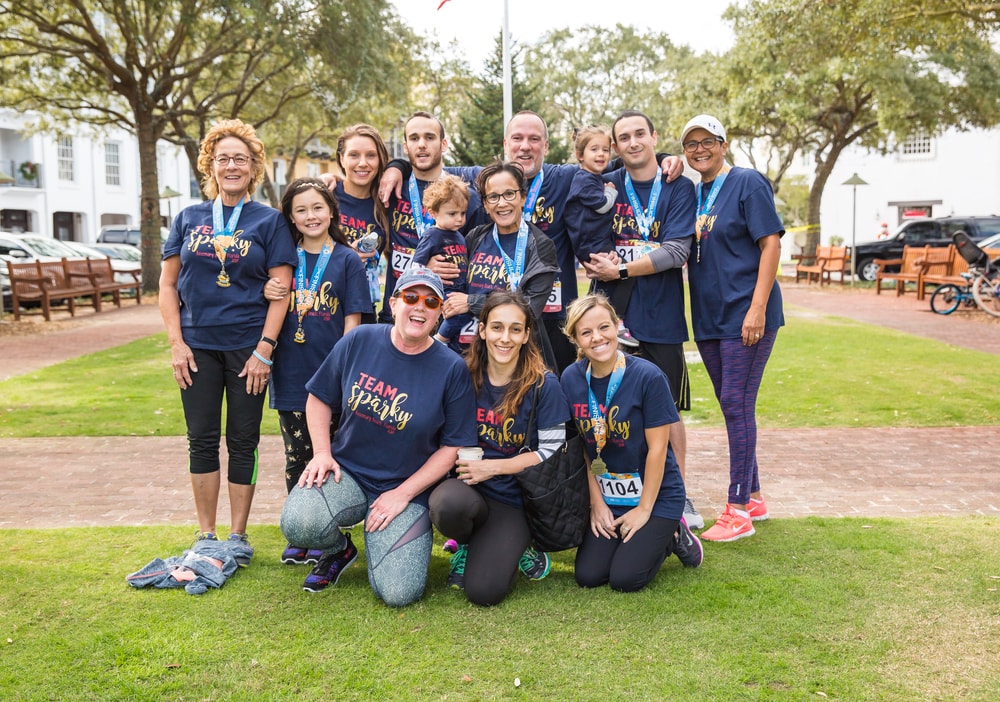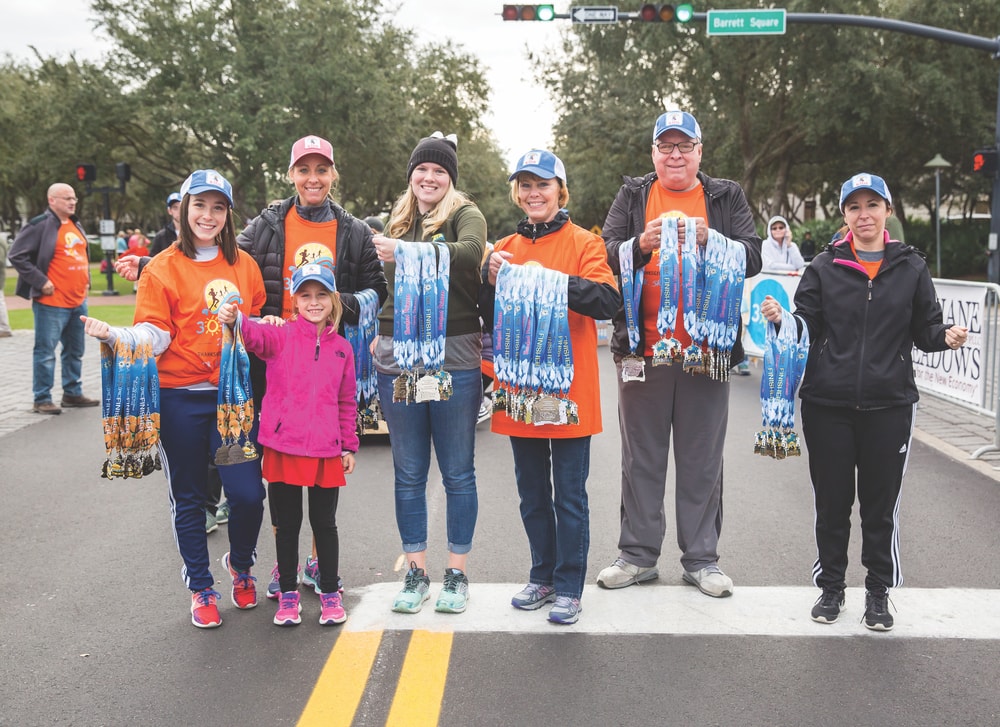 Since its inception, the 30A 10K has raised over $250,000 for the nonprofits mentioned, and more and more people show up to race and support the good causes every year. Eight hundred runners joined in the fun early on Thanksgiving morning in 2012—nearly three thousand ran in 2017. The event has grown to include a 5K race and a one-mile fun run for those looking for something shorter than 6.2 miles along Scenic Highway 30-A.
"While supporting globally minded causes and other initiatives is very important, there are still many underfunded charities in Walton County that have pertinent causes," Meadows chimes in. "We feel some of them are forgotten, and yet they are very close to our hearts and lives."
What better way to show thanks to those doing good in the community—and to feel guilt-free about having that slice of pumpkin pie later on in the day?
Since its inception, the 30A 10K has raised over $250,000 for the nonprofits mentioned, and more and more people show up to race and support the good causes every year.
Meadows, whose family used to run the Atlanta Half Marathon every Thanksgiving before they moved to the beach, says the 30A 10K has become a new tradition, and that the route and variety of distances make it approachable for any age or skill level. "Our 30A 10K racecourse is not only scenic, with views of our world-famous beaches and our unique coastal dune lakes, it also has minimal elevation and is a certified Peachtree Road Race qualifier," she says. "Back when I lived in Atlanta, I was always looking for that elusive flat 10K that would get me seeded for a faster time group!"
Meadows, who is also a certified running coach (most locals know her as Coach Karen), has even gone the extra mile—pun intended, of course—to help runners interested in doing the full 30A 10K. The race website includes a beginner training program and nutrition tips and information for those who wish to start training about twelve weeks before the event. The event's Instagram account, @30a10k, also posts motivational quotes and health tips throughout the year. "As a USA Track and Field coach and a competitive amateur athlete, I have found the mental side is the most challenging part of coaching almost everyone, including myself," Meadows says. "I tell my marathon runners to run the first two thirds with your head and the last third with your heart."
Working with the 30A Company, whose website 30A.com and social media accounts are beacons for fans of the area from all over the world, was a crucial component in growing the race in its first few years, Stoyles says. "Their marketing helped get us on the map for vacationers and local runners," she explains. "It was a huge help. As both their company and our race have evolved, we have developed new marketing strategies with them to promote our event, and we have a few more partnership surprises coming out this year that I know our runners will love. Stay tuned and get ready to run fast!"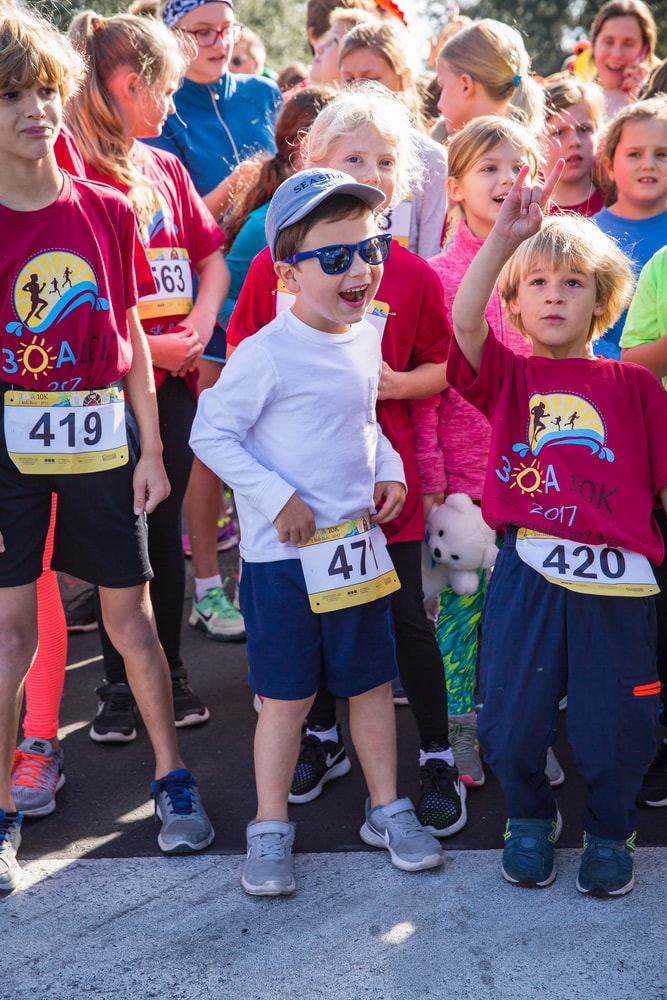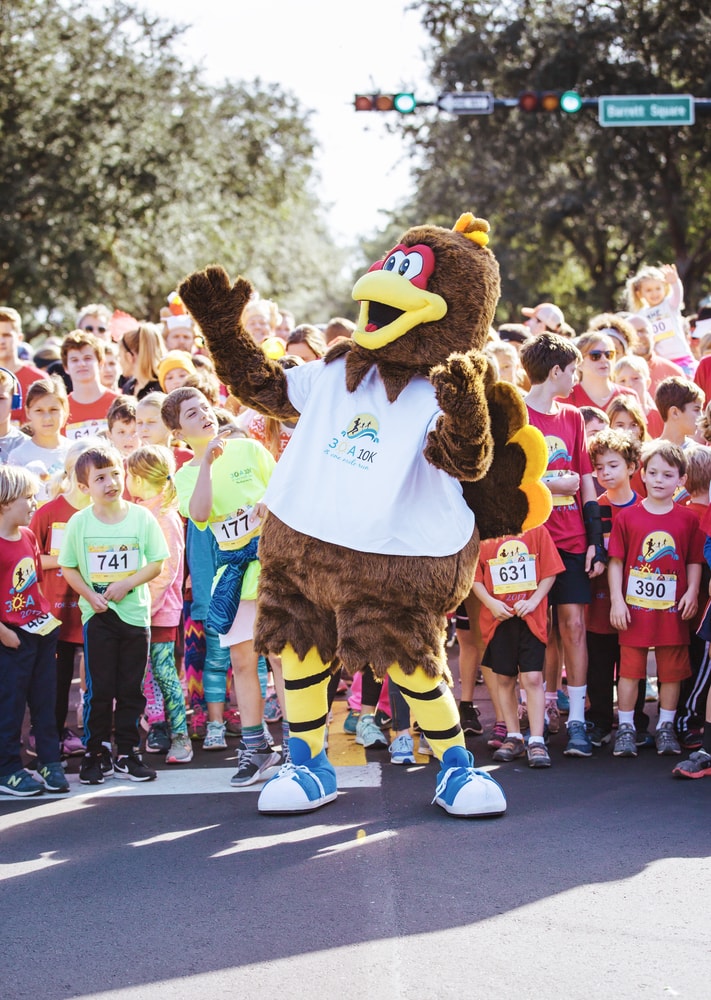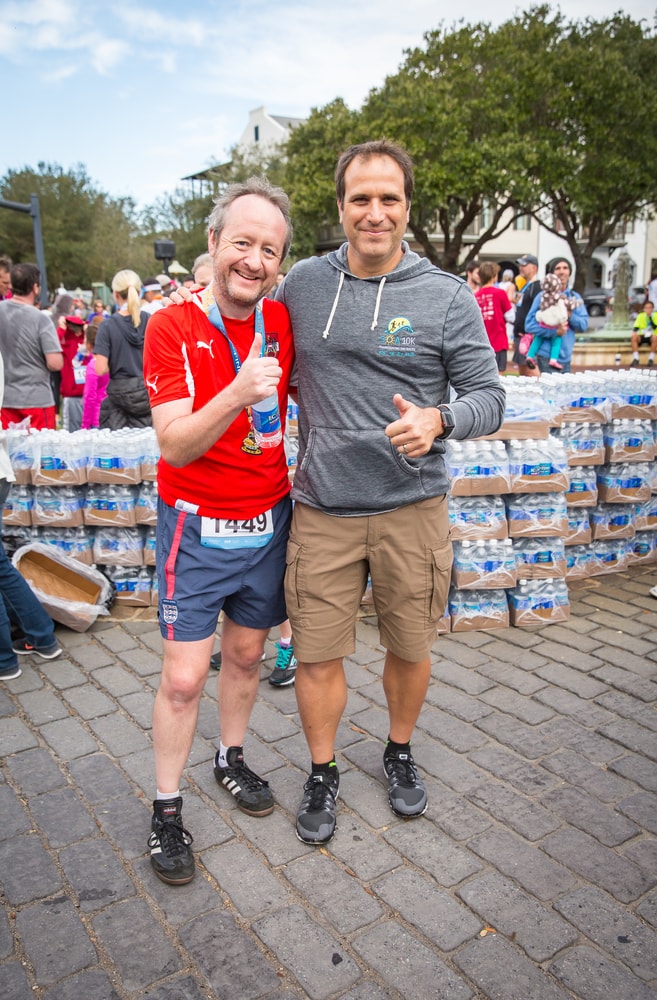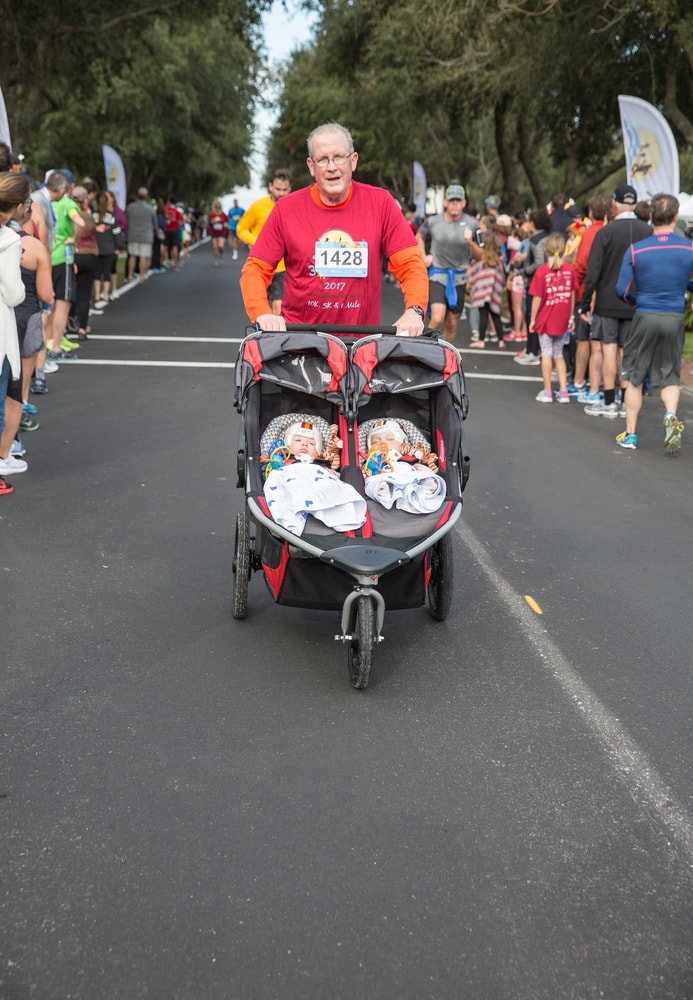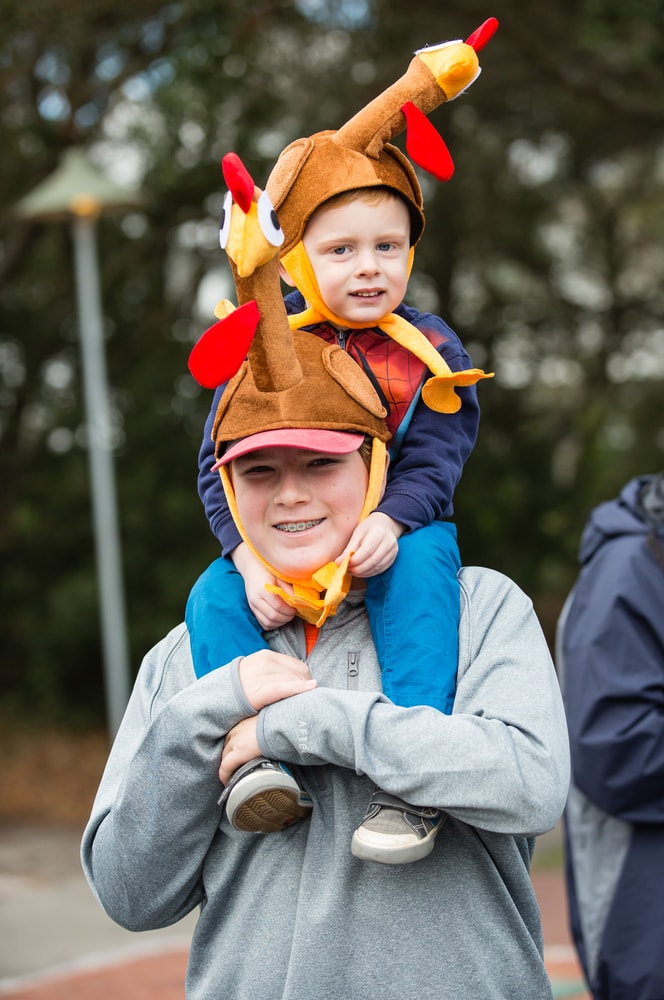 "The 30A 10K has become an important family tradition in our community," says Mike Ragsdale of the 30A Company. "The event has changed the dynamic of the entire holiday in our community. Instead of putting food and excess first, the 30A 10K makes 'giving back' our top priority. It's the perfect way to start every Thanksgiving."
Other valued sponsors "have been instrumental in helping us have a successful race," Stoyles continues. "Some of our biggest sponsors over the years have included the Rosemary Beach POA, Rosemary Beach Cottage Rental Company, 30A.com, Barefoot Princess in WaterColor, Ocean Reef Vacation Rentals and Resorts, O'Connell and Associates, Zarzaur Law Firm, Visit South Walton, Silver Sands Premium Outlets, Archiscapes LLC, Coach Karen LLC, Craig Baranowski with Scenic Sotheby's International Realty, and the St. Joe Community Foundation." VIE is proud to be joining the lineup of sponsors this year.
Rosemary Beach, one of the area's most beautiful communities, serves as the start and finish line for the race. Runners and walkers, volunteers, vendors, and supporters gather in the charming town square. Refreshments and activities abound, and the spirit of fun also runs rampant during this race. Many participants dress in fun costumes or bright colors—there have even been a few Thanksgiving turkeys and Pilgrim outfits trotting down 30-A over the years!
Baranowski says watching the 30A 10K grow annually and raise money for local nonprofits gives all the race directors a great sense of joy. "Every year Karen, Amy, and I stand at the first fifteen yards of the race and watch thousands of runners pass by," he says. "We stand in awe with a profound amount of pride, knowing that our community has supported our race every year to make it successful, and our sponsors, volunteers, beneficiaries, and the community make our race exceptional. We could not do this without the support of our city council, the sheriff, and the fire departments, and the support of the Town of Rosemary Beach."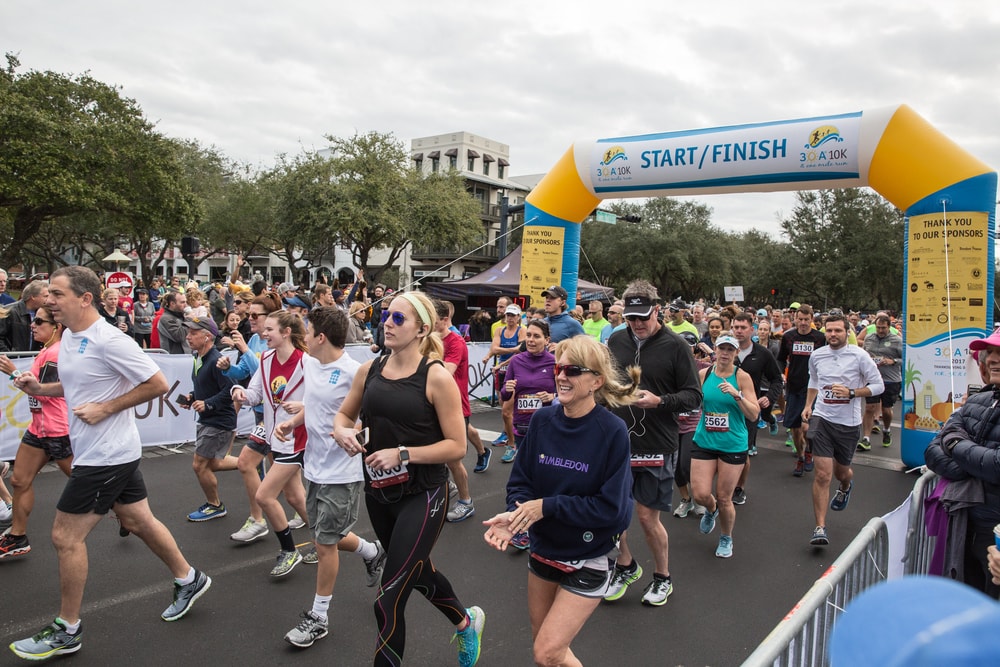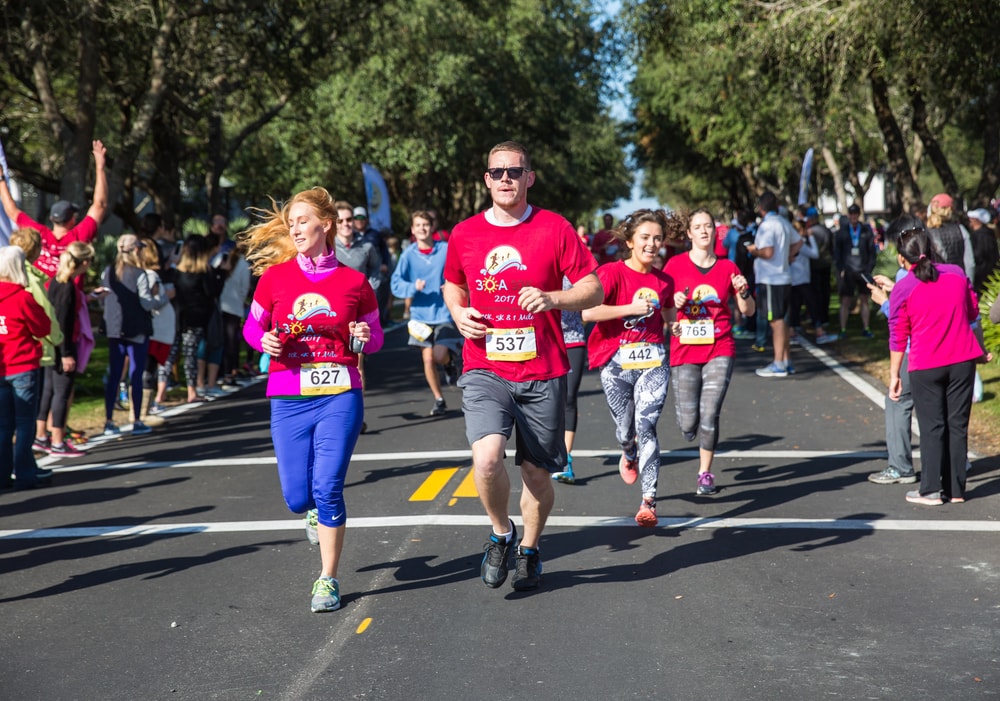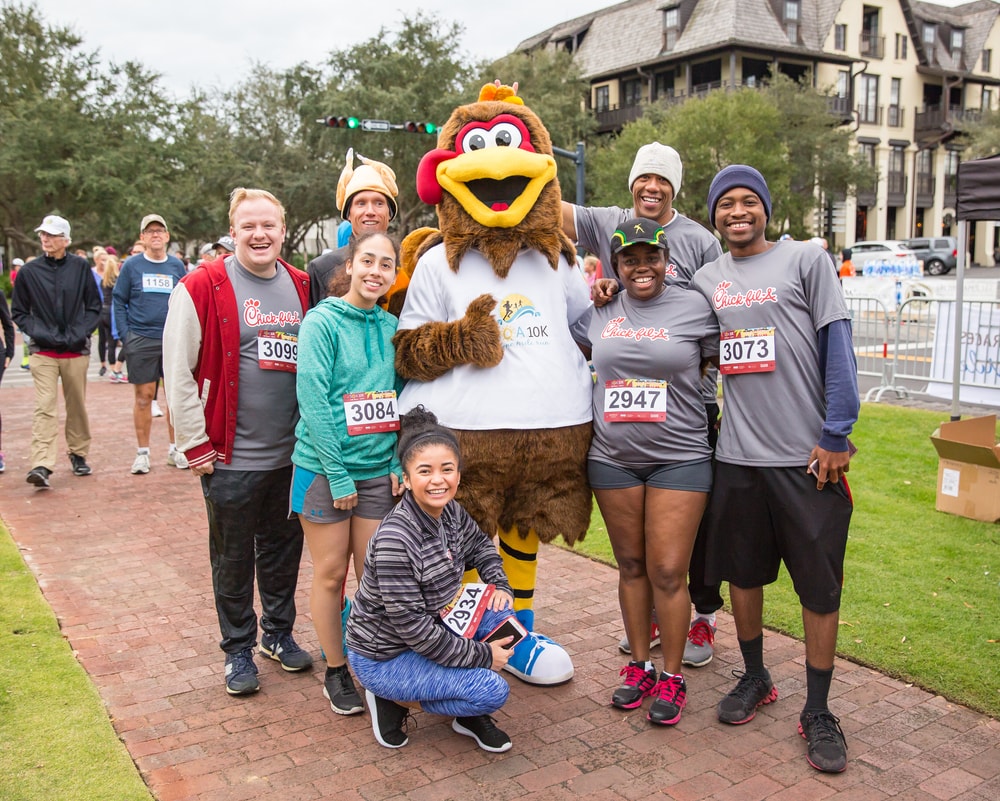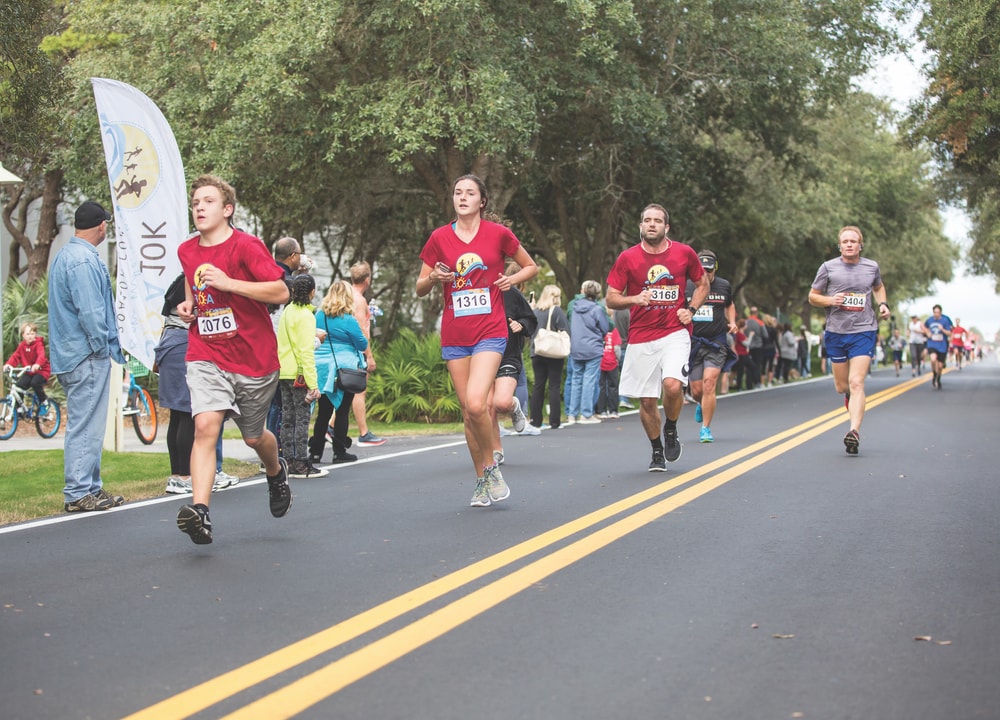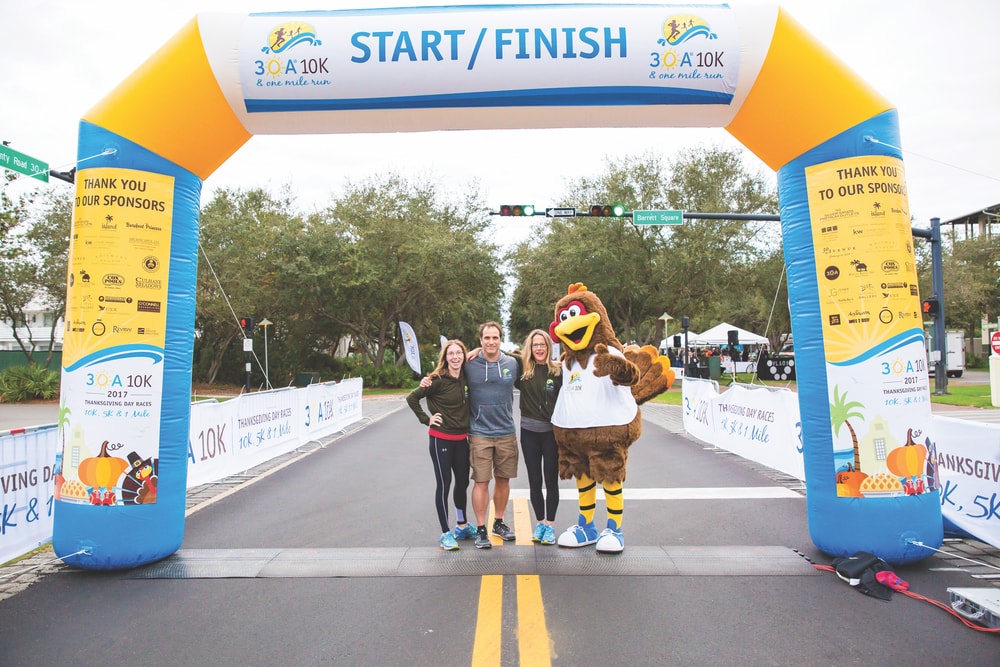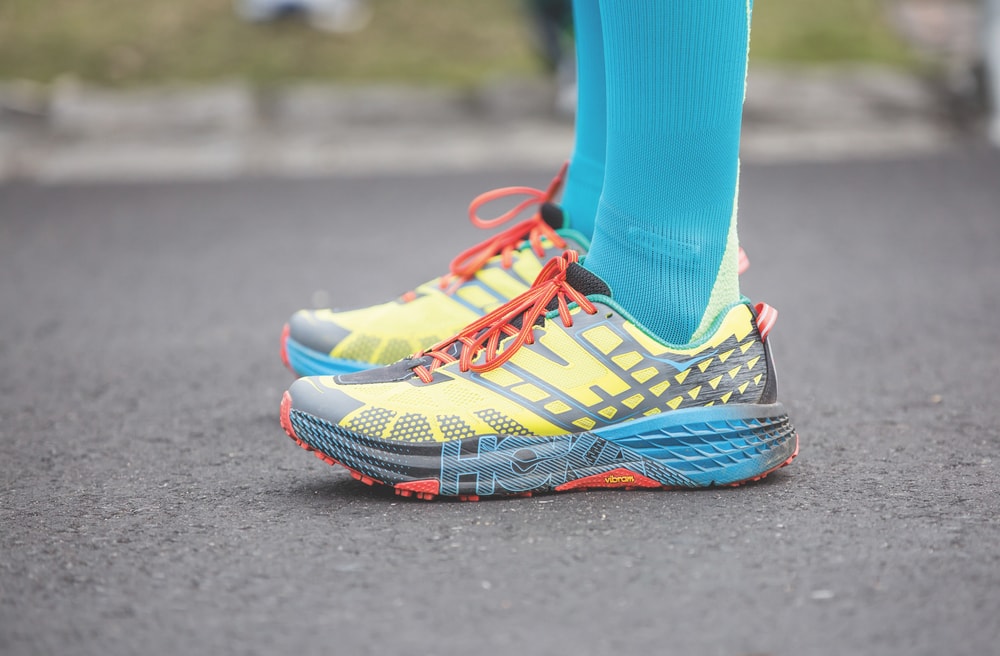 From those competing in costume to those who are just enjoying their time at the event, there are many laughs and memories made each year. Baranowski recalls the challenging but funny incident when the directors and volunteers didn't realize just how long it would take to unwrap three thousand race medals—which are designed by industry leader Ashworth Awards and feature a fun new design each year. "Handing out three thousand race medals to runners became a huge challenge, too," he admits. "Our volunteers would have hundreds of medals on their arms waiting at the finish line. We quickly discovered that the medals get very heavy after five minutes. Our volunteers looked like they were covered in Mardi Gras beads. Last year, I made a cart specifically to handle holding all the medals. It was an engineering feat, but it worked amazingly. Our volunteers were very happy!"
Volunteering is a perfect way to help support the 30A 10K even if you don't want to run or are unable to do so. Distributing race packets and T-shirts (which will be designed by 30-A artist Justin Gaffrey for 2018), helping with setup, handing out medals and refreshments, and many other essential tasks wouldn't be possible without a healthy staff of volunteers each year.
"It's so rewarding seeing everyone run," Stoyles expounds. "All the kids are giving out high fives, and you see families and friends of all ages running together to support these great charities. It's really a wonderful time." More than that, it's a chance to make a difference in the community and, for many people, in personal ways. "To me," Stoyles says, "running represents believing in yourself. It's a huge confidence booster for me. I went from thinking I could never do these things to not only doing them but doing them well. Directing this race is an extension of that; I see it as my opportunity to bring that love of running and self-confidence to others."
The 30A 10K and its committed team of directors prove that with a grateful heart, dedication, and a little help from friends, anyone can go the distance to do good in their community.
— V —
---
The 2018 30A 10K is set for Thursday, November 22. On November 21, The Hub on 30-A will host the race Packet Pickup and Fall Festival with live entertainment and activities for all. Volunteer sign-ups are open at 30a10k.com.
ARTICLE CATEGORIES