Hiking Grand Canyon's Most Dangerous Trail
By Steve Larese
Staring at a prow-shaped boulder jutting over the half-foot-wide trail, I feel my blood run cold despite the desert heat. Immediately to my left is a towering Supai sandstone wall; to my right is a sheer hundred-foot-plus plunge followed by more terraced drops. I allow myself a glance at the sweeping Grand Canyon and feel a wave of vertigo. Pastel mesas fade into its depths, and March snow still blankets the North Rim. Screwing up my courage and clearing my mind, I hug the boulder as best I can with my forty-pound backpack hanging over the edge and I gently swing my right leg out over the abyss. Despite the slope and the loose gravel, the ground on the other side feels solid. My footing has to be sure enough to support my entire weight and leave enough space for my left foot to land next it. My balance must compensate for the backpack wanting to pull me over the cliff. Without handholds for support, a slip here is certain death.
Dewey Surbey—a friend since middle school—and I are hiking Grand Canyon National Park's unmaintained Nankoweap Trail. It's rated by the National Park Service as the most difficult named trail in all of the Grand Canyon, and I'm feeling that with every fiber of my being right now. For most of Nankoweap's eleven miles, hikers skirt deadly drops on a sloped, rocky trail that's only a boot-print wide, with no water sources, and in full exposure. Over the miles, I've developed a slow-but-steady rhythm and a hyperfocus on the trail not unlike walking meditation. Daydreaming is dangerous. Morbidly, I find some reassurance in that most deaths on Nankoweap are caused by running out of water, not falling.
Taking a breath and clearing my mind, I gently shift my weight onto my right foot and bring my left around like a Tai Chi move in one of the most dangerous steps I've taken in my forty-five years. Safely on the other side, I exhale, take a second to center myself, and carefully move down trail to give Dewey plenty of room. A few minutes later he appears safely, shaking his head. "Man, that'll get your heart going," he says, carefully hiking toward me. "Yeah," I muster. Above the impossibly vast Grand Canyon before us, a raven circles on a thermal high, seemingly impervious to gravity.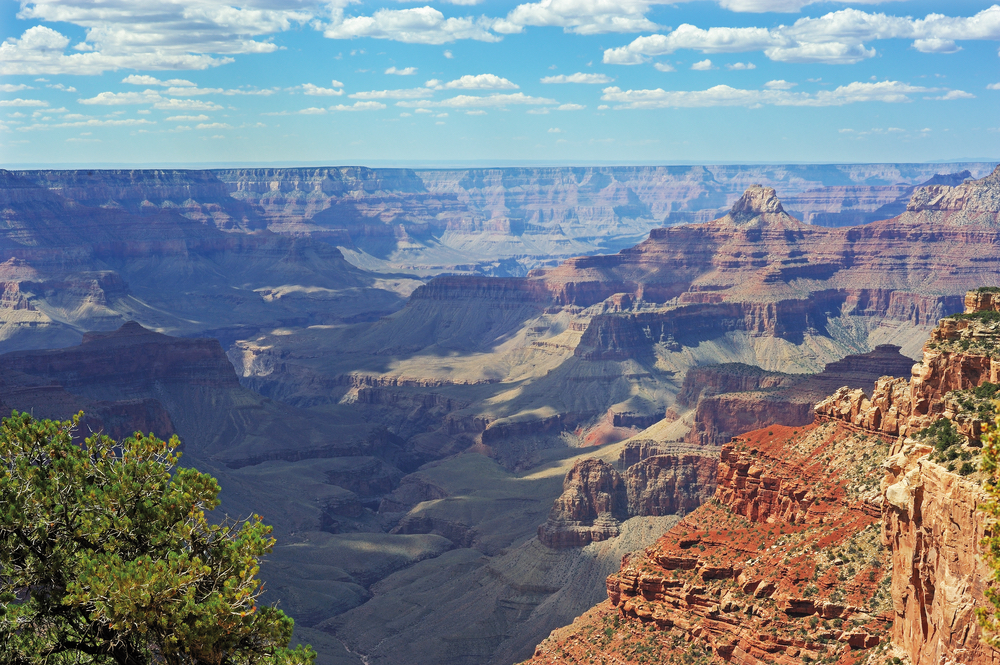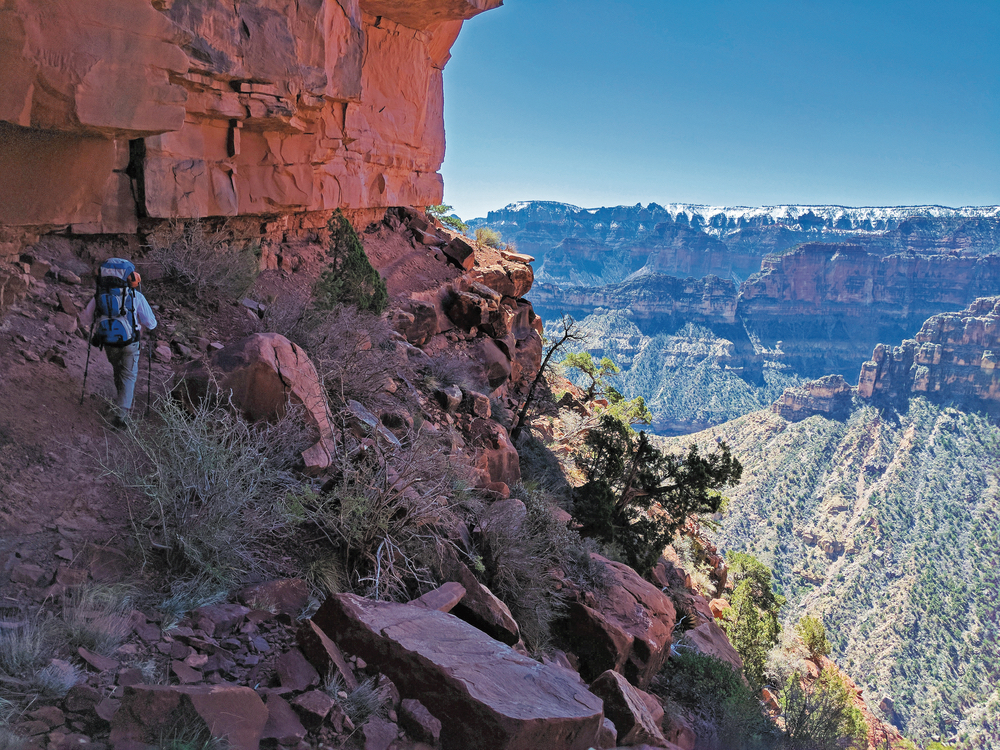 A Bucket List Adventure
Unmaintained, unpatrolled Nankoweap Trail in the park's northeast quadrant slithers like a snake from the North Rim and around Marion Point and Tilted Mesa as it drops to Nankoweap Creek. From here, hikers can continue to the Colorado River for a total descent of 5,640 feet, the longest rim-to-river descent in the Grand Canyon. A side trail near the river leads to nine-hundred-year-old Native American cliff ruins perched five hundred feet above the canyon floor. Having hiked several other Grand Canyon trails, I wanted to see firsthand these ancient granaries built by the Pueblo people who eked out a living farming in the Grand Canyon—the experience had become a bucket list item for me. Nankoweap's narrow, crumbling trail skirts miles of deadly drops, including the "scary part" just before Marion Point. Here, the six-inch-wide, gravelly trail is sloped and just a slip away from a hundred-foot-plus plunge off the cliff. This section has made Nankoweap infamous, but there are plenty of other sections just as potentially deadly. Of the thirty thousand backcountry permits issued for the Grand Canyon annually, fewer than a hundred are requested for Nankoweap. Those who have hiked it tell stories with fear, reverence, and excitement. YouTube has numerous videos of breathless hikers marveling in disbelief at the death-defying sections they've just completed. I had to do it.
Other deaths and rescues underscore the seriousness of undertaking Nankoweap. Falling is a legitimate fear, but heatstroke is a proven killer on Nankoweap.
As adventure-starved kids growing up in Oklahoma, Dewey and I sought excitement wherever we could. Hopping freight trains, night sailing during tornado season, and climbing empty buildings in downtown Tulsa substituted for the mountains and oceans we lacked. As soon as we could, Dewey moved to Oregon, and I to New Mexico. He'd be the perfect companion for hiking Nankoweap, and I knew he'd know exactly what we were getting into. A flight from Portland to Albuquerque and a seven-hour drive later, Dewey and I were at Saddle Mountain Trail 57 in the Kaibab National Forest like a couple of Labrador retrievers turned loose in the woods. From here, a three-and-a-half-mile hike through the Saddle Mountain Wilderness climbs 1,200 feet to the Nankoweap trailhead, where the forest gives way to the immense grandeur of the Grand Canyon.
John Wesley Powell and geologist Charles Doolittle Walcott oversaw the construction of Nankoweap during the winter expedition of 1882–83 to study the canyon's complex geology. The trail was little used after that, but in the past several decades it's achieved cult status among adventurers. Arizona Highways published an article in October 1996 titled "Grand Canyon's Scariest Trail" in which the writer decided to turn back. In June of that year, a group of Boy Scouts had run out of water on Nankoweap, resulting in a death. It was listed in 2011 among the twenty best National Park hikes by National Geographic. In 2014, a hiker died from heatstroke a mile from the trailhead. Other deaths and rescues underscore the seriousness of undertaking Nankoweap. Falling is a legitimate fear, but heatstroke is a proven killer on Nankoweap.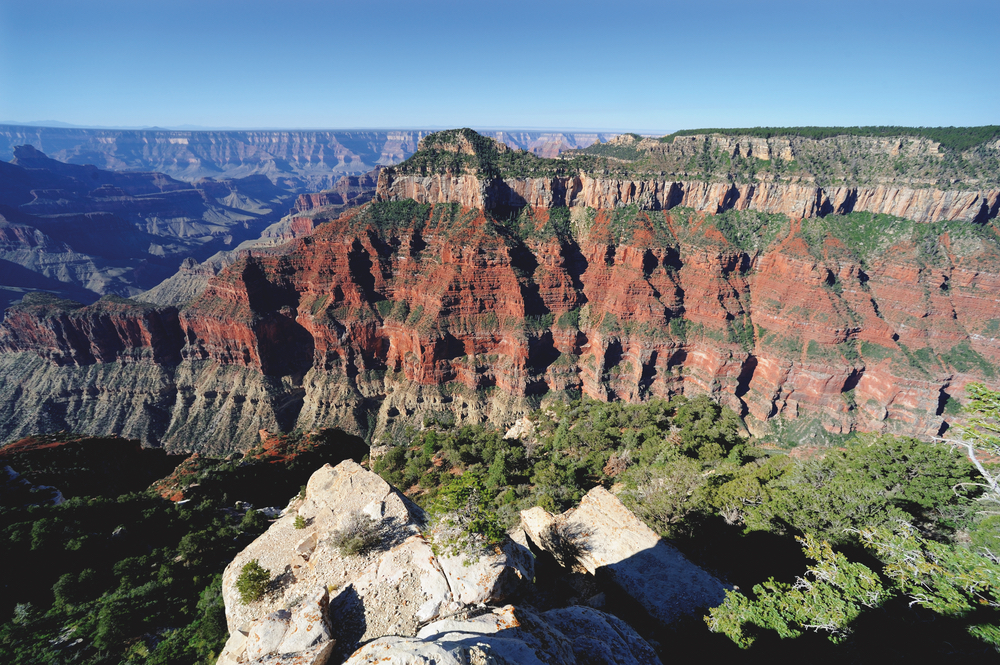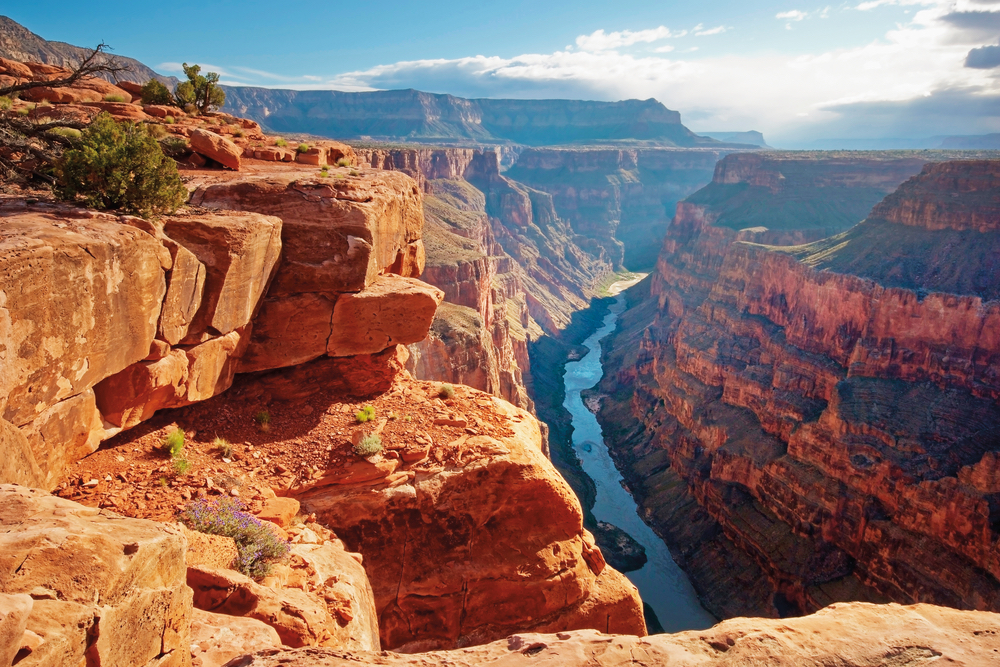 Slipping Away
Safely past the trail-blocking boulder and with miles of cliff-hugging trail behind us, Dewey and I take in the beauty of the inner Grand Canyon at Marion Point, the only safe place to rest before Tilted Mesa four hours away. The vista looks like a Thomas Moran painting. We're already a day behind schedule due to a missing sign, consumed in the 2016 Wildcat Fire in the Saddle Mountain Wilderness, and then snow flurries and howling winds that forced us to bivvy near the trailhead in an alcove covered in bear prints. We rest too long and will wish we had this time back. Three hours later we've traversed the ledge from Marion Point and are down-climbing eight-foot drops using juniper trees to reach Tilted Mesa. Taking a quick break and energized by our progress and the view, we pass up campsites and push for the creek three miles away. It seems tantalizingly close, as we can make out the green ribbon of cottonwoods and willows in the distance. It's 5:00 p.m., and we figure we can be eating creek-side just before sundown. We're fantastically mistaken.
The trail from Tilted Mesa drops 2,200 feet over three grueling miles that traverse ridiculously steep talus slopes, goat-trail switchbacks, and knife-edge ridges. Bright Angel shale slides ahead of us as we inch down a mile-long scree ridge. We probe each step with our hiking poles like insects with antennae. Poles weren't high on our gear list but now we couldn't imagine doing Nankoweap without them, whether we're putting weight on them, checking trail integrity, or testing for loose rocks before stepping. Our slow progress sees the setting sun skim across the landscape, creating a beautiful but disconcerting scene. Maybe I took a millisecond too long admiring it, or let my mind wander thinking about time, but in an instant, I'm sliding down the scree toward the valley. Plummeting shale sounds like crashing crystal as I arrest myself. Coming to a stop, all is silent. I'm only a few feet below the trail and not hurt. Then I see my pole. It takes a beat for my brain to accept what's happened. The pole is sickeningly bent at the lowest section, and my reaction is as if I'm looking at a broken leg.
I'm only a few feet below the trail and not hurt.
Then I see my pole.
"You OK?" Dewey asks from about twenty feet behind me on the ridge. "My pole's bent," I call back. Vocalizing the situation has made it real for me, and I mentally choke back a flash of panic. Shadows are turning purple with the setting sun. "I thought I was going to watch you slide down that whole thing," Dewey says as he carefully closes our gap. "How bad is it?"
"It's crimped," I reply, carefully getting my feet back on the trail as rocks bound down the slope with my repositioning. The pole section easily breaks off as I bend it back. The crimped end is too wide now to slide back into the pole. "Let's get off this before we lose all our light."
My accident is now threatening both of us, and I want to get us off this perilous ridge and somewhere we can camp for the night. But Dewey already has his Leatherman out. "Let me see it," he says, hand out. "No, man, I can make it down," I say, not sure how. "Let's get off this."
"Just give me a second," Dewey says, taking the section and sawing off the break. "OK," I concede nervously, "but let's get our headlamps out."
As the last of our sun fades, Dewey has sawed off the crimp enough to jam the section into the base of the pole. It's solid, and I quickly adapt to the shorter length. But it's dark now. Dewey's low on water, having cached a bottle earlier. We're on a dangerous talus slope, the trail is ill-defined, and we're still far from water. I should be at home with my family, not hiking in the dark inside the Grand Canyon on an exposed ridge flashes through my mind. But as with the boulder and everything else we've encountered today, I swallow my fear and try to think rationally. We've been looking only ten feet or so in front of our feet the whole day, and the headlamp provides plenty of light for that. We have food and water, are dressed properly, know where we are, and aren't injured. Dewey's thinking instills in me a shot of confidence. I pass Dewey a liter of water and we resume inching down the scree ridge. Despite the vastness of the Grand Canyon around me, in the dark I feel as if I'm in a cave as I carefully follow my headlamp's tunnel of light over the boulder-and-cactus strewn terrain. In an hour we reach level desert, and we pause frequently to look for cairns that mark the otherwise undefined trail. They lead us to a dry wash that we're sure leads to Nankoweap Creek. The sand beneath our boots feels like a beach and we're bolstered, knowing we must be getting close. It's the first time on Nankoweap that we feel like we can hike normally with a wide trail and no threat of plummeting off a cliff. In an hour, we see a wall of willows ahead in our lights.
"Is that water or the wind?" Dewey asks, listening intently.
"Water," I confirm. Nankoweap Creek is flowing strong on the other side of this dry channel choked with grapes and willows. I stay on the trail so we don't lose it as Dewey drops in to scout for a route through the seemingly impenetrable thicket. After a few minutes, he calls out that he's found a path, and I head toward his light. We push through vines and branches, then spill out onto the rocky banks of Nankoweap Creek. In no time, we're filtering water and cooking a late dinner under a billion stars at the bottom of the Grand Canyon. We leave the rain fly off the tent so that we can take in the moonless night, and a bright meteor streaks across the sky before I drift off to a fitful sleep. The thought of having to repeat tomorrow everything that we've already done—only uphill—races through my tired mind.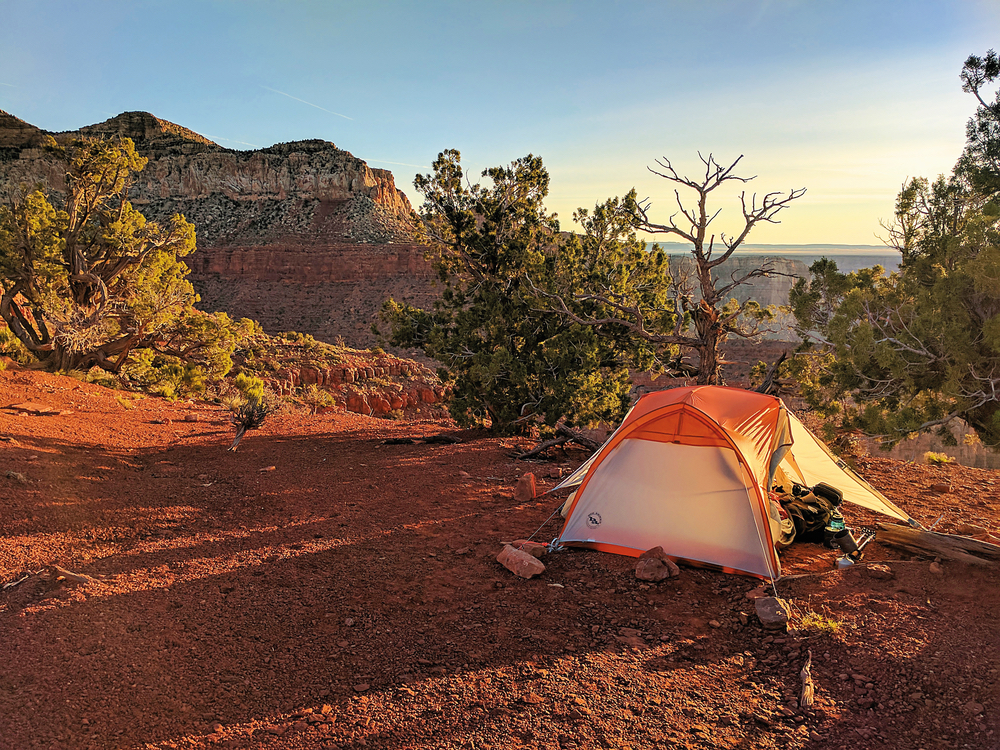 A Hard Call
Deep Nankoweap Canyon shields us from the sun's first rays, but my eyes crack open at daybreak anyway. Red clouds cast a pink glow on the cliff walls that I can finally see in the daylight. But I know what those clouds mean for the day.
"Red in the morning, sailor's warning," I say, not knowing if Dewey is awake yet. I feel a sense of urgency as I boil water for coffee. I know that with bad weather coming, the plan to do an out-and-back to the granaries three miles away, then hike back up and camp at Tilted Mesa is dangerous. As if reading my mind, Dewey stirs. "We can make the granaries, but we're going to catch weather," he says. "Your call."
We're so close. We've hiked the Nankoweap Trail, but it's seeing the granaries firsthand that I've dreamed of for years. There's now only a pleasant riverside hike between me and this iconic sight. But if there's one thing I've learned on Nankoweap, it's not to push our luck. Our backcountry permit has us leaving tomorrow, and Dewey has a flight the next day. And I miss my wife and kids.
Tomorrow we'll hike Nankoweap with more confidence and an earned sense of reverence like hikers before us.
"Let's get back up to Tilted and actually camp before dark for once this trip," I say. Dewey nods, and we drink our coffee knowing we've made the right call. Adventure is adventure whether or not it turns out the way you plan it—and it rarely does. But we've given ourselves permission to finally relax and enjoy being in the depths of the Grand Canyon, with plenty of cool water and a view that relatively few people have ever seen. Water bottles filled, we break camp and retrace our boot prints from the night before. My short pole is perfect for hiking the steep screes. But in the distance we see a violent column of rain heading our way, and the wind is picking up. Dewey pulls the tent's rainfly from his pack, and we hunker under it on the exposed slope as the wind begins to lash us. It feels like going through a car wash as the storm cell passes over, and we repeat this procedure throughout the day as the storm swirls back over and over us like a dark bird of prey. The weather has added hours to our hike as we climb onto Tilted Mesa, but shafts of sunlight start illuminating the Grand Canyon between dissipating showers. The air is crystal clear, and the mesas layering down to the Colorado glow with reds, oranges, golds, and yellows. We set up camp and get a hot dinner cooking, and I know we made the right call in not visiting the ruins. As a reward, Nankoweap has given us the most beautiful view I've ever had camping. The sky completely clears and stars begin to appear, and I find myself looking forward to revisiting the terrifying sections we passed on the way down. Tomorrow we'll hike Nankoweap with more confidence and an earned sense of reverence like hikers before us. At home I'll hold my family tighter and be all the more grateful for the food, clothing, and shelter we have. Drifting off to a sound sleep, I see a meteor flash across the sky. I don't make a wish, but I am thankful for the gift of adventure Nankoweap has given us.
—V—
---
Albuquerque-based travel journalist Steve Larese has another backcountry permit request in with the National Park Service to hike Nankoweap Trail again in the fall. Follow him on Instagram @SteveLarese.
ARTICLE CATEGORIES