By Sallie W. Boyles
As Joe Galati, president of Galati Yacht Sales, explains, certain people have a "boating gene." For them, owning a boat, whether it's a kayak or a luxury yacht, provides more than a playful diversion; it indulges a passion to venture out to sea. That yearning to be on the water is what launched the Galatis' family business over forty years ago and continues to fuel its success.
The dream began with Joe's parents, Anna Maria and Michael Galati Sr. Although he worked in his father's New York bakery, Mike (as everyone called him) most enjoyed helping out at a marina owned by a family friend. With a shared loved of boating and a sense that the lifestyle they desired could be found in Florida, the couple spent two years searching for business opportunities. They were visiting the state when they came across a marina for sale on (coincidentally) Anna Maria Island, a barrier island off the southwest coast of Florida between Tampa Bay and Sarasota. Although the marina had been destroyed by a tornado the previous year, the Galatis spotted potential in the debris. They bought the property and moved to Florida. Joe, the eldest of their five children, was just ten, so he and his siblings would grow up in the business of boating.
The marina demanded a full-on commitment of time and energy, but even the physical labor suited the Galatis. Without question, the children accepted their individual responsibilities—from pumping gas to servicing boats—when they were old enough to lend a hand. Learning from their parents, who openly discussed business decisions in the presence of the kids, the children gravitated to jobs that best suited their unique talents and interests. Today, Joe serves as president, a position he has held since his father passed away in 1992; Carmine manages sales for Galati Yacht Sales and runs PR; Fran heads human resources; Mike Jr. directs customer support; and Chris oversees activities in the Anna Maria yacht basin and spearheads the fishing side of the business.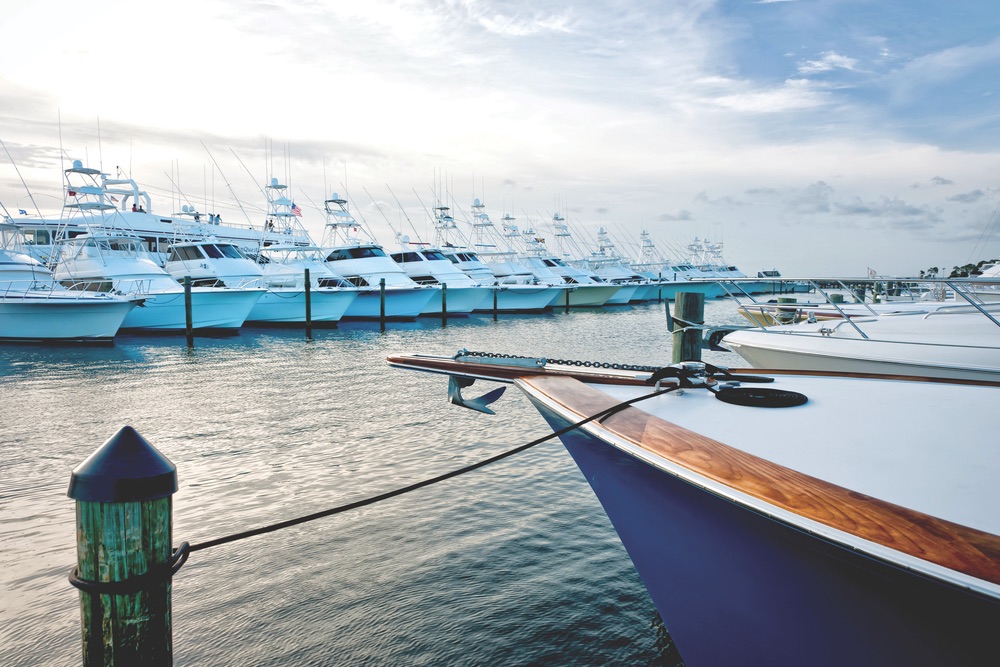 Their ability to get along and flourish individually presented good reasons for each child to come aboard full-time.
Outsiders often marvel at the way the five siblings run a company so smoothly. "We are all extremely different with separate skill sets," explains Joe, "so we defer to one another based on our expertise. We also share the same work ethic. As we learned about problems other family businesses faced, we realized how incredibly fortunate we were to get along as equal owners. In the early days, we didn't know any better; we took it for granted that all families operated this way."
Their ability to get along and flourish individually presented good reasons for each child to come aboard full-time. Joe and Carmine, in fact, were in their twenties and fully committed to the marina when their youngest brother, Chris, broke his neck in a diving accident. With Fran and Mike Jr. also helping part-time, Anna Maria and Mike Sr. knew the business would be in good hands while they focused on Chris and his recovery. In fact, they rented a house and stayed in Orlando while he was hospitalized there under the care of specialists. Although his injury left Chris a quadriplegic, he moved forward with his family's can-do spirit. A sports fisherman who has captured world titles, the husband and father of twins appears on televised fishing shows, making him the celebrity of the group.
The Galatis, however, became known in the boating world for their star treatment of customers. By the mid-1990s, their excellence in servicing boats, including warranty work, caught the attention of Viking Yachts. Eager to establish a service-oriented dealership, Viking invited the family to take over sales for their region of Florida. Accepting the offer, Galati Yacht Sales was born.
Today, Galati is not only Viking's number one dealership, but the company has also prospered in the luxury market as a preferred seller of numerous brands, including Tiara, Cruisers, Grand Banks, Maritimo, Princess, and Horizon. Galati also has a team of forty-four brokers, covering nine regions, who facilitate sales of pre-owned yachts. "We specialize in inboard powered yachts thirty feet and larger," says Joe. Prices range from fifty thousand to nineteen million dollars, and Galati's clientele is about evenly split between those who go out to fish and those who love to cruise.
Few dealers generate the kind of sales volume necessary to concentrate in the high-end market, but Galati's reputation lures buyers from all over. Competing with five thousand North American dealers through Boating Industry magazine's rigorous application process, Galati has earned a number one national ranking multiple times for best practices and, as a result, a place in the Hall of Fame among an elite class of winners. The distinction, therefore, has attracted an international clientele in addition to customers from across the country.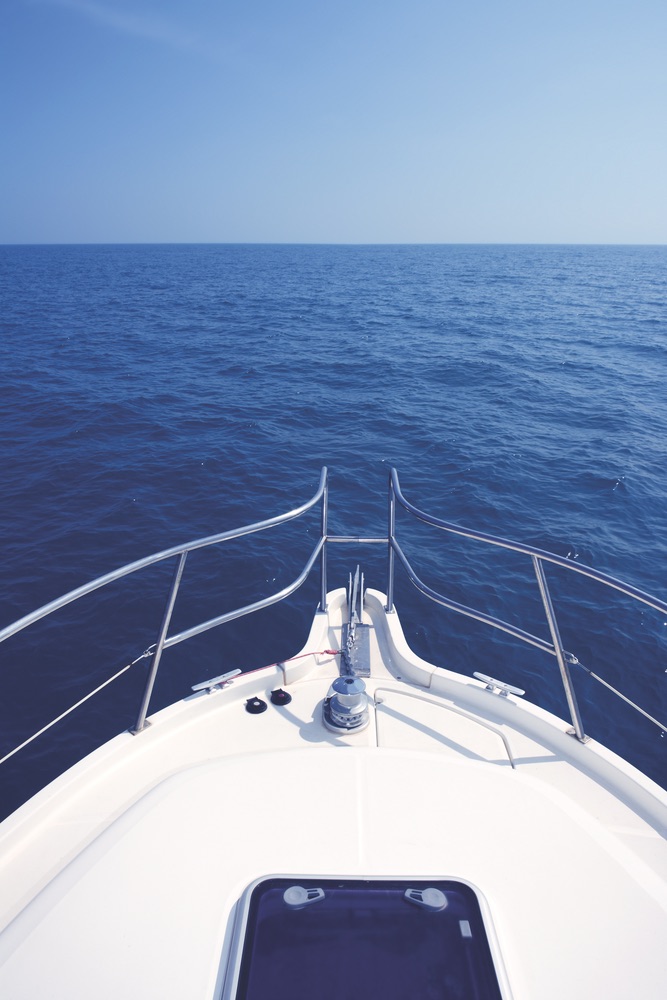 Dispelling the old saying about a yacht owner's two happiest moments being when the boat is purchased and when it's sold, the Galatis take proactive measures to prevent buyer's remorse. "We are big proponents of actively involving our clients in learning about their boats and taking them on the water," says Joe. All new owners, for instance, have access to a captain to teach them the ropes. "Some will require a week of training; others will need two hours," says Joe. "We want to make sure the customer is comfortable, so we adapt to the individual." Galati further hosts events like "Ladies at the Helm," led by captains and technicians, to give spouses and significant others firsthand experience.
Another Galati initiative combines learning and pleasure through destination trips, or "Rendezvous," an idea that Joe's wife, Jennifer, conceived and has managed since the 1980s. "We realized early on that it was important to create interest, so we design trips that give owners a reason to use their boats. It's something to look forward to on the calendar." With a lead boat to follow, new owners gain confidence on the open water. Likewise, seasoned and novice boaters enjoy the camaraderie shared with other yacht owners. While some trips are short, such as an April weekend voyage to the Sandestin Wine Festival in Northwest Florida, other Rendezvous entail lengthier cruises to places like the Bahamas and Key West.
"We plan about twenty-six different events, including fishing tournaments, year-round," says Joe. He also admits that Jennifer originated the Rendezvous concept with the intent to motivate the hardworking Galatis to take time for the lifestyle that they promote to so many others. "Jennifer knew that if she involved the business, we would take time off to participate," Joe says.
Being active in the boating community has certainly been good for business, but the resulting friendships are most treasured. "The Galatis are personal friends," says Al Binford, a loyal Galati customer who currently owns a forty-eight-foot Maritimo yacht. "They are probably the nicest people we have ever met; everyone likes dealing with them."
Retired from the RV business, which, like luxury boats, involves significant levels of discretionary income, Al notes that the Galatis would not have attained such success if they had made profit their first priority. "My point is that I know about customer service, but I learned even more by seeing how the Galatis treat people. Everything they do is customer oriented." The Galatis have helped him buy and sell a number of boats. "You start out small and keep going," he adds, explaining that trading up is common among boat owners.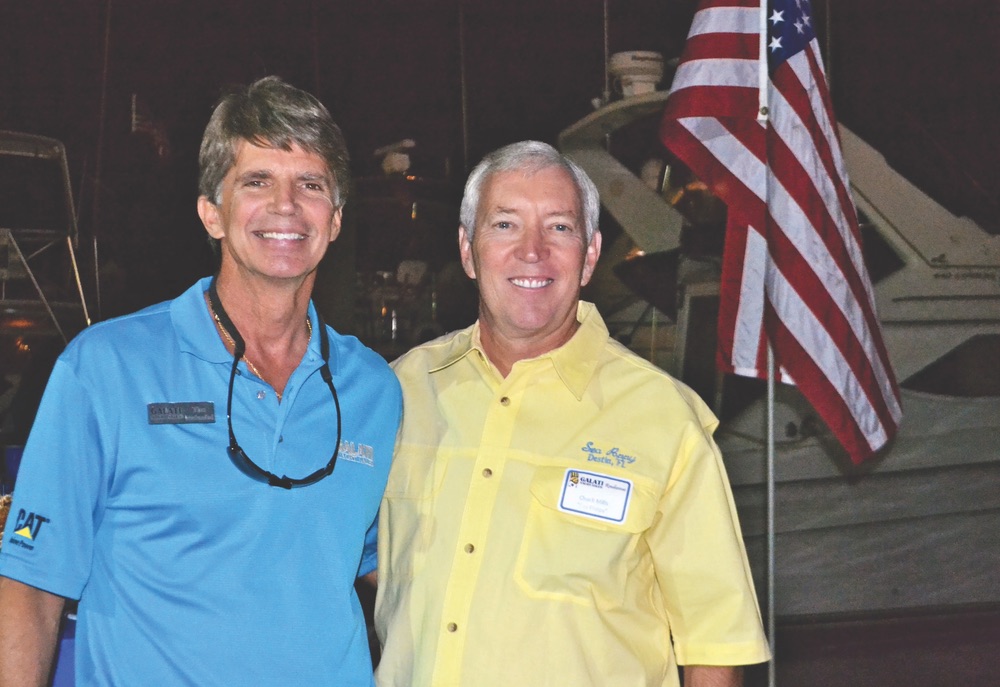 Al, however, met the Galatis when he contracted them to sell a fifty-eight-foot yacht that he and his wife decided was too large. "I then downsized to a thirty-two-foot fisherman, which I purchased from the Galatis, but I missed the bigger yacht." He returned to the Galatis to sell the smaller boat and guide him to the Maritimo, which they also service.
"The bigger boats are a little more complicated and need care, so it's important to find people like the Galatis who can do all the maintenance." Although he confesses, "It's not a cheap hobby," Al says he and his wife cannot imagine a better lifestyle. "We live on the water. Weekend trips don't require much planning, so we just take off."
In addition to trading up in size, boat owners also upgrade for the technological advances offered on the latest models. "The electronics are incredible," says Joe. A pod drive system, for instance, saves fuel while also providing a joystick that maneuvers a boat sideways, allowing a first-time handler to dock like a pro. Accordingly, GPS systems use radar and autopilots to chart waters. "If you're reef fishing, your radar will locate the fish," Joe says, "and your GPS will hold you in the spot, regardless of the current and wind." Like new car shoppers, those in the market for a new boat are further attracted to the hottest innovations in design.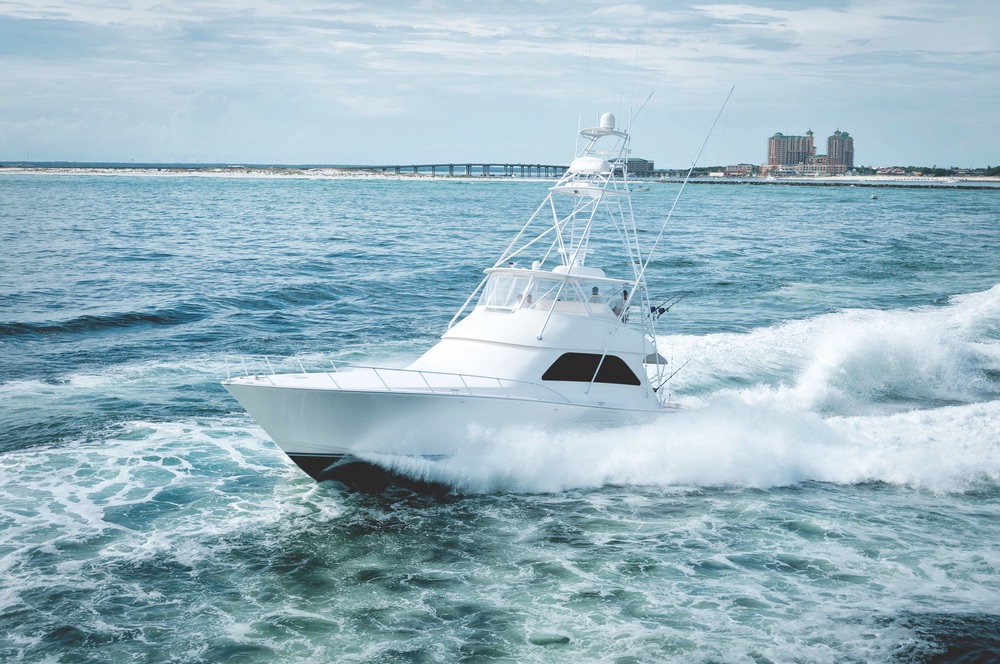 Chuck Mills, another customer and friend of the Galatis, has upgraded a number of times to accommodate his growing family of grandchildren on overnight voyages. "My grandkids call me Poppy," he reveals, which is why his forty-eight-foot Maritimo is named Sea Poppy. Chuck and his wife both grew up in Northwest Florida, and when they retired, they realized their shared dream was to return to the Gulf of Mexico, where they would buy a house by the water and a boat. They first purchased a sixteen-foot bass boat, but cruising became more enticing than fishing.
"We bought our last three boats from the Galatis," Chuck says. "We shopped around quite a bit but kept going back. You join their family when you buy a boat from them."
Both the Mills family and the Binfords are on board for a Bahamas Rendezvous, which has grown to a convoy of about fourteen boats. "As a father, I am excited to get the entire family involved in boating," Joe says. "On the water, out of cell phone range, you can relax or take part in activities that everyone enjoys."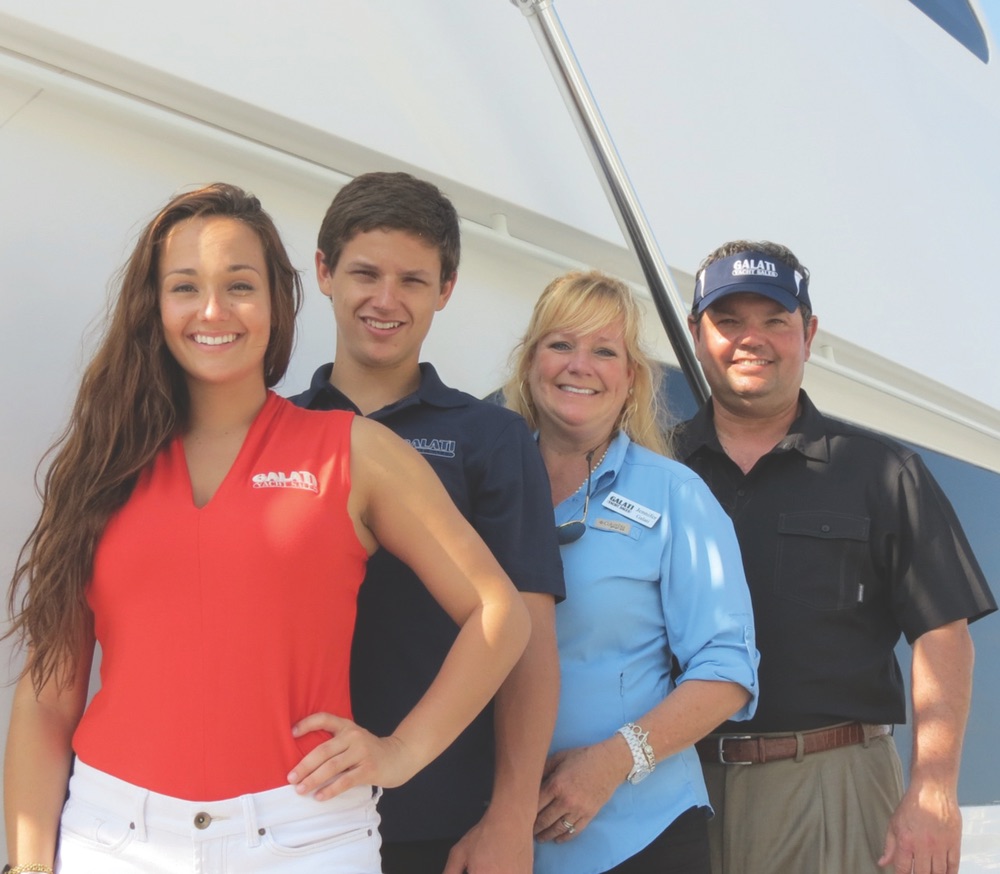 The "boating gene" has already begun to surface among the youngest Galatis, but whether they enter the family business will be a personal decision for each one to make. "Some of the kids, including mine, work events, like boat shows, and they help take care of boats," says Joe. "Several have shown an interest. My niece Angela currently works part-time handling our social media." Considering how the business has grown, he adds, "When my father passed away, my siblings and I took the ball and ran with it. We're looking forward to seeing what the next generation will do."
— V —
---
From where the Galati's stand today, the horizon certainly looks bright! Visit galatiyachts.com to learn more.
ARTICLE CATEGORIES