By Kristen Loyd |
Photography courtesy of the Loyd family
Small hands reach for the plastic sprinkles of color hidden in the playground equipment or nestled in the slowly greening grass of our community park. The children's parents amble behind, remembering their own childhood egg hunts. This year's Easter tradition continues with only a few notable changes, including the small drone buzzing overhead, filming our Saturday evening version of Easter morning.
Sunday brunch at grandma's house would have been a more customary event. But two husbands were leaving town Easter morning on TDY (temporary duty) orders, and the brunch hour conflicted with our friends' early shifts at the base hospital. Our shared life choice had destined us to dwell a long car trip or an expensive plane ride away from our extended families. So, we did what military members do: we made it work. Sometimes, this can be a more difficult endeavor, like when the moving van catches fire en route to your fourth new home in seven years or when you're pregnant during your husband's deployment in Afghanistan and you hope you can time the baby's delivery for his two-week mid-tour leave. Today, on Nellis Air Force Base (AFB), stakes are low as nine Air Force families gather for a potluck breakfast-for-dinner and Easter egg hunt celebration.
The hunt was courtesy of the on-base thrift shop, which sold my mom a dumpster-sized trash bag full of plastic eggs for three dollars. "What a great deal," she said, leaving me to find mates for each egg half. The park behind our houses never looked so festive, and if you don't believe me, you can ask our friend for the footage from his drone camera. Comm nerds—we love them and their love of tech. I should know: I married a communications officer.
I am a former active duty Air Force officer, currently a military spouse and the mother of two preschool-age boys. I'm also a new middle-school language arts teacher. Parts of my day and parts of my life look just like yours: juggling work, kids, and the house, and realizing you hate juggling, you get off work early, leave the laundry in the dryer, and go out for pizza. Job changes and promotions, family crises and vacations, sick babies and canceled plans, blessed grandparent babysitters, and worrying about the economy and terrorism have tempered our lives. The difference between my family and yours is nuanced, maybe no more than if you were to compare a farming community to a business community, but I'm biased: I lived the life before I chose it, as my parents are both retired Air Force veterans.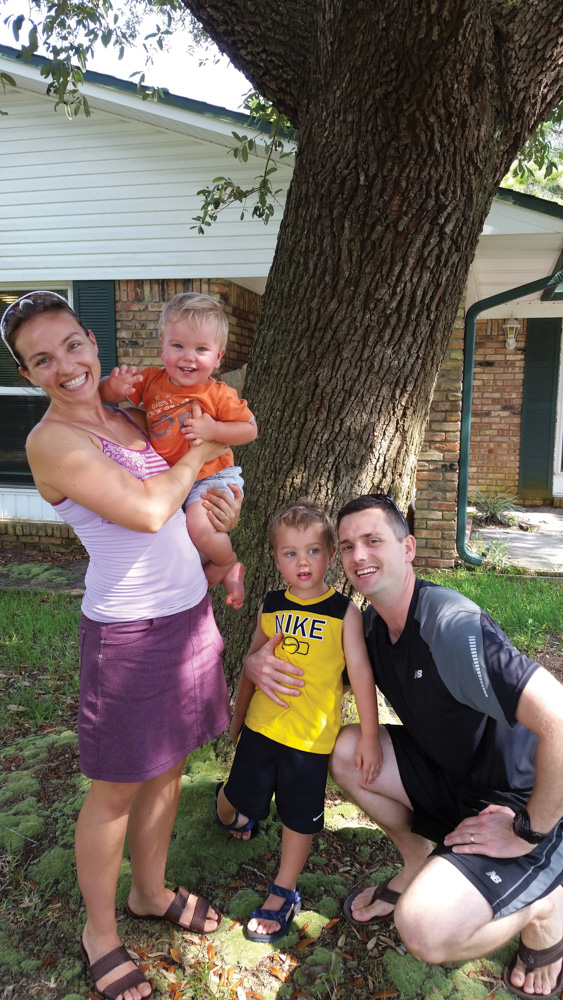 Karen and Richard McMillan met through a mutual college friend. My mom was struck in a movie-romance way, which made her rethink a noncommittal boyfriend who was living with his parents. My dad thought my mother was beautiful and outspoken, maybe even a little pushy, but she had to be as the oldest of five girls in a six-kid Air Force family. Her father's career in the armed forces made it easy for her to accept that my dad, at the time, was an airman.
They dated for eighteen months, married, and the Air Force moved them to Greece, where their first home was two modest rooms—sitting below the landlord's house—with an outdoor bathroom, a shower, and a kitchen sink. The water came from daily trips to the town well. They made it work—until a trip to the doctor confirmed that their means of distraction had yielded, well, me.
Outhouses and morning sickness do not mix, so my mom flew back to California and the family she had left behind. With a baby on the way, they decided my dad needed to go back to school to become an officer. I was born, dad left the military only to join the Reserve Officer Training Corps (ROTC) at Fresno State, and my mom joined the Army Reserve. Clearly, leaving the military is difficult once you have lived the lifestyle. It's comforting in the way the ritual of Mass is comforting. Muscle memory takes over and you hardly need to wait for the command before your body tells you to march to the next assignment. A vernacular of abbreviations and acronyms becomes a second fluent language. And, as in church, we stand with brothers and sisters who share our faith in something bigger.
I am a former active duty Air Force officer, currently a military spouse and the mother of two preschool-age boys. I'm also a new middle-school language arts teacher.
The McMillans added two sons to the family before my father commissioned. Once he did, our family, as with most military families, spent the next fifteen years in a perpetual game of ping-pong: California to Texas, to Arkansas, back to California, then to North Carolina, to Hawaii, to Alaska, and—finishing where it all started—to California, where my brothers and I started our own games. I would say the number of moves we made was average. There are urban legends about kids attending four different high schools; I attended two and one of my brothers attended three. Some members manage to "homestead" by checking multiple career boxes in different job positions on the same base with a permanent change of assignment (PCA) or by finding a permanent change of station (PCS) at another base close by. This path might include a yearlong unaccompanied or hardship tour overseas, where the family stays in the States. It comes with the risk of being passed over for promotion to the next rank.
The Air Force has an entire squadron dedicated to family services and quality-of-life programming. New commanders at all levels mention families in the same two ways during a change-of-command speech. They outline their intentions to improve or expand family programming, knowing that families are an important behind-the-scenes component of the overall mission. He or she will also thank his or her family for all their support and admit that the job would be impossible without their sacrifices. These addresses are sincere, as are the efforts toward easing stresses placed on families because of the demands of military life, but anyone will tell you that the surer career bets come at the cost of family. The active duty member and his or her spouse have to balance career goals and family happiness—which sounds like it could be a dilemma for any American family.
Civilian friends have the most questions about the following parts of service: separating from a home you just built and friends you just made, and leaving behind family, your husband, your wife, or even your baby (as was the case with my mother, who left for four months of basic and specialty training before I turned one). How do we do it? Why do we choose the military lifestyle? For me, the answer to both questions is the same: it's because of the people.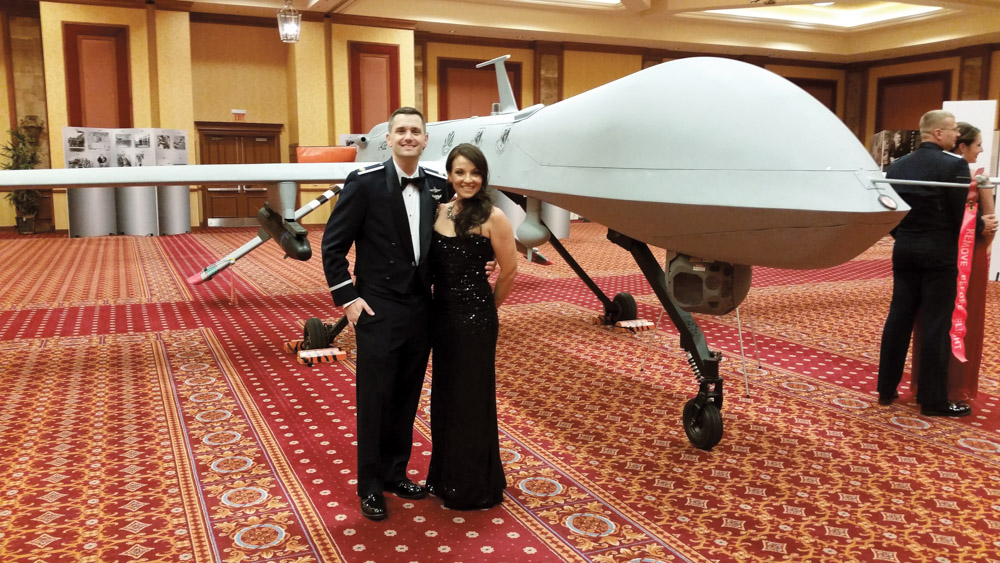 As a military "brat" (a term for kids of service members that evokes the transient lifestyle they are born into), you become adept at making friends quickly. In my experience, there is a confidence and openness to brats that is less common in their civilian peers. My youngest brother, Charlie, had a knack for making friends in the hotels we stayed in between moves. During the middle of my sophomore year, we moved from North Carolina to Hawaii, and by the first day of school, a group of teenagers who also lived on Hickam AFB introduced themselves, took me under their collective wing, and invited me to go to the movies that weekend. This is the result of honing our social skills in a wholly new cultural environment every couple of years. More importantly, in moving around the country, you come to understand at a young age that you won't find the same values in the Central Valley of California that you'll find in North Carolina's coastal plain. The life lessons about race, class, and culture that many do not receive until college, I received in elementary school, which is why I found most of my college friends and my husband in ROTC.
I received an ROTC scholarship to UC Davis during my senior year of high school. My actual ROTC detachment was at Sacramento State, which is where my husband, Nathan, went to school. He was a Marine brat, but his mother had threatened him with death if he joined the Marines. The Air Force was a compromise, and both his parents were very proud when he commissioned. Joining ROTC, I suppose, is a bit like being in a fraternity in the sense that you have a built-in community to watch out for you as you navigate college life and academics. As with fraternity life, you establish lifelong friendships. Our wedding party was mostly fellow cadets, and we went to a few weddings like ours. Behind these happy occasions, we were all faced with what would happen to us once we were commissioned because our classes were some of the first to serve in the military after 9/11.
I commissioned as a Services officer (now dubbed Force Support because it absorbed the Personnel and Manpower squadrons). While I was in tech school, I came to appreciate our unofficial motto: "Cradle to grave." On one end, Force Support cares for the youngest dependents at the child development center and, on the other end, we are responsible for search and recovery operations (recovery, not rescue), the honor guard, and mortuary affairs. Force Support handles everything in the middle, too: the fitness center, the youth center, the dining facilities, personnel issues, and all morale, welfare, and recreation programming and businesses. During my first assignment, I spent most of my time helping to deploy airmen from our squadron to various places in the Middle East and also to Dover Port Mortuary, where our enlisted folks worked as embalmers, sorted personal effects, or ensured that the men and women in their care were given final honors. With wars in both Afghanistan and Iraq, deployment rates were very high, and before the end of our first assignment together—at McChord AFB, Washington—Nathan volunteered for a 365-day deployment to Afghanistan. During this time, the English department at the United States Air Force Academy (USAFA) had offered me a sponsored master's degree with a follow-on teaching assignment. We knew we wanted a family, which is why Nathan chose to volunteer rather than receive a nonvoluntary deployment down the road. It's also the reason I decided to venture from my main career field in Force Support.
The Air Force has an entire squadron dedicated to family services and quality-of-life programming. New commanders at all levels mention families in the same two ways during a change-of-command speech.
During the first six months apart before our deployment, we talked every day over the phone or the Internet, sometimes keeping our webcams on while going about our separate lives, pretending the other was just in another room. The night before he left for predeployment training in Kansas, I stayed awake writing an essay for my Renaissance poetry class while he packed. I was done before he finished and fell asleep watching him organize his bags. When I woke up the next morning, the monitor showed an empty room.
Anxiety, depression, and anger lurked around the edges as Nathan prepared for a war zone and I adjusted to life without him. By the end of Thanksgiving, I was angry at Nathan for wanting to spend so much time with his new, soon-to-be-deployed unit during my visit, and he accused me of distancing myself during Christmas vacation.
A third of the way into our separation and my graduate school classes, I flew in to see Nathan off. This visit had to last us for six months, when he'd come home for two weeks of leave before finishing his time in Afghanistan. Entering the barracks to meet him, I saw a floor cluttered with sixty piles, each attesting to a different man's needs for an entire year. In the midst of this jumble, spilling out of five duffle bags and a cavernous rucksack, was everything Nathan needed for a 365-day deployment: chemical suit and mask with glasses inserted; an old green toiletry case he brought to officer field training; desert uniforms; LED flashlights; the good nine-millimeter holster his unit bought and the cheap one that was supply-issued; cold-weather gear; an engraved Leatherman my parents had bought him for Christmas; a laptop and noise-canceling headphones (for watching movies, playing computer games, and forgetting where you are); body armor and helmet to shield against blasted earth and metal; pictures of his parents, my parents, friends, our cats, and me; and a plastic sandwich bag containing a nightshirt I had worn for a solid week. His Sacramento State shirt was in its own bag in my suitcase in a Fort Riley, Kansas, lodging, ready to take its place on a pillow in Ohio. I would later send Nathan other shirts smelling of my perfume, body lotion, and shampooed hair. He kept them in plastic containers, away from the local air, and used them like smelling salts. The shirts returned months later, stinking with the chemical smell of burning waste.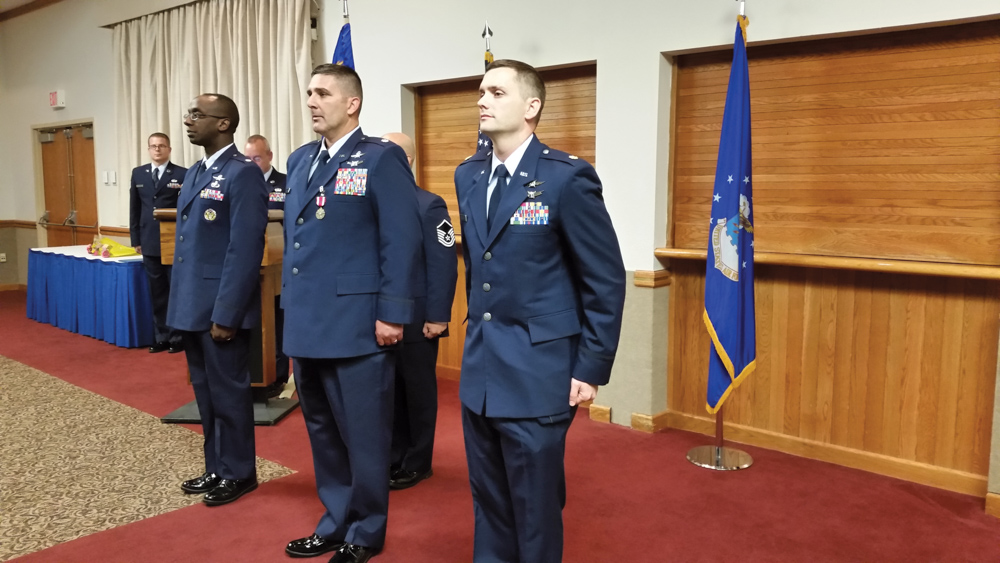 The conditions of our assignments could not have been more dissimilar. Ohio University, with its cobbled walkways and historical buildings, sits like a picture, nestled in the greenery of the Hocking Hills. My life was soft, liberal. I felt lonely without my husband, but my brat instincts kicked in and at the end of my first class, I followed the graduate students out of the classroom and downstairs to their assigned cubicles. For months, some assumed I was a teaching assistant who was never assigned a desk. When I wasn't busy with school, I made myself busy with my new friends so I didn't have to think about being apart from Nathan.
During yearlong deployments, spouses not yet accustomed to military life occasionally move back home to the support of family and old friends. No matter how welcoming the other families in your spouse's unit are, no matter how many activities the spouses' club offers, no matter how friendly the neighborhood, you can still feel isolated. The moment I stopped being busy was the moment the isolation began to seep in, so I threw myself into schoolwork and more than the occasional bag of cookies. When I realized my jeans weren't fitting, I reversed course and spent most of my spare time obsessing over calorie counts and working out at the gym. The one-year separation mark came after Nathan's two-week mid-tour vacation and we still had almost six months to go before we could live under the same roof.
We were no strangers to the long-distance relationship. Nathan and I married within a year of becoming a couple and immediately separated because Nathan commissioned and I had to finish school. When I graduated and joined the Air Force, Nathan received a deployment to Germany, and once he got back, I left twice for a few months of training, first in Alabama and later in Ohio, and so we completed our second year of marriage. Our third year was relatively normal and the stability even prompted us to buy a house. Despite our confidence in our ability to handle separation, we made a promise that no matter how bad things got during the deployment, we would make it work. We owe a lot to that promise.
As a military "brat" (a term for kids of service members that evokes the transient lifestyle they are born into), you become adept at making friends quickly. In my experience, there is a confidence and openness to brats that is less common in their civilian peers.
Visits, phone calls, Skype, letters, and care packages do their best. They are earnest in their efforts to bridge the distance, to play the surrogate, to fill the holes worn by time apart. Still, another year and a half apart after three years of marriage worried with good-byes will take its toll. The house we bought so happily became an albatross around our necks as it followed the market down. We fought about the list price and our agent. Fights about the house led to fights about money, which led to fights about how much of it we needed to start a family, which led to fights about which one of us would leave his or her career to take care of these hypothetical children, and so it went on.
Suddenly, it was Thanksgiving again, graduate school was over, and another moving van came to take our belongings to another rental home, this time in Colorado Springs. Communication between Nathan and me dwindled in the final months of separation, and I wondered how we would ever be the same. When a deployed family member returns home, they call the process "reintegration." It fits. Life goes on without you, and the path you wore fades like an unused trail, unmarked and overgrown. In our experience, it takes about as long as you were apart to return to something that resembles the relationship before the separation. Vigilance is key. Indifference is death. On top of the daily struggle to return to normalcy, military members have the added burden of post-traumatic stress. Nathan was angry and impatient. Even now, years later, the effects of war occasionally bubble to the surface during stressful situations, but I know it could have been worse.
I don't know what else to offer about how we got through this except to say we just decided to be married every day. We kept our promise. We also yelled. We were silent. We wrote lists. We read books. We talked to friends and family. We watched movies. We went on dates. We went on trips. We played video games (do not underestimate the power of play; kids know this and we would be wise to remember this childhood lesson). And, eventually, we made our way back to each other.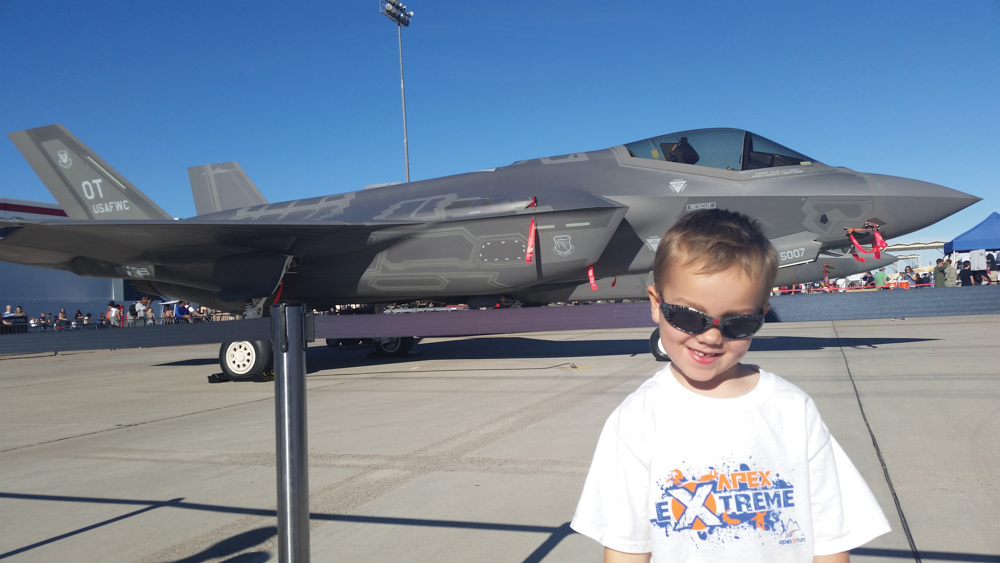 The family we imagined finally seemed possible, but as we decided to add kids to dual military careers and I became pregnant with our older son, Jude, the Air Force announced dramatic personnel cuts. Yes, even the military has to worry about layoffs. We took the coincidence as a sign, and at the end of the day, with the possibility of a deployment looming, I chose to separate from the Air Force rather than risk separating from my husband and new baby. The decision might have been more difficult if my husband was not in the military. I don't know if I could have given up the life that made me who I am; it's the life I want for my children. Jude has moved twice in his four years of life; our younger son, Maddox, has one move under his belt. Already, I see them making best friends out of strangers at the park and watch as muscle memory brings them to attention at the first sounds of "Retreat."
These days, we are enjoying the "sweet spot," that perfect assignment where your neighbors are also your friends and all the kids play well together. Recently, our cul-de-sac put together an impromptu Labor Day barbecue, complete with a bounce house, to welcome families who moved in over the summer. Lawn chairs, paper plates, bowls of potato salad, adults talking about work while kids were sneaking cookies off the dessert table between games of tag. This is a portrait of our family, the family we chose. In a year or two, we will leave to make a new home somewhere else and keep going like this until Nathan retires. What will we do then? What will we do with this reflex to serve? My guess is that we will find our friends, our former neighbors who know our history and understand our stories, and we will hold each other steady, as we do now.
— V —
ARTICLE CATEGORIES