By Tori Phelps | Photography by Brett Bulthuis
Mention "30-A" to people on Florida's Gulf Coast—and, increasingly, much farther away—and it evokes images of pristine beaches, independent boutiques, and roadside foodie gems. The enclaves along this celebrated stretch of road are universally appealing with a casual, colorful vibe that blurs town lines.
Then, you hit Alys Beach.
There's no need for a "Welcome to Alys Beach" sign. It's clear you've entered something different—something special—even in this sea of special communities. Dazzlingly white buildings, both private and public, fill the horizon. Everything feels fresh and new, probably because it is.
This is, in fact, the last beachfront town on Scenic Highway 30-A to be developed. "There's no more land like this," stresses Tom Dodson, vice president of sales for Alys Beach.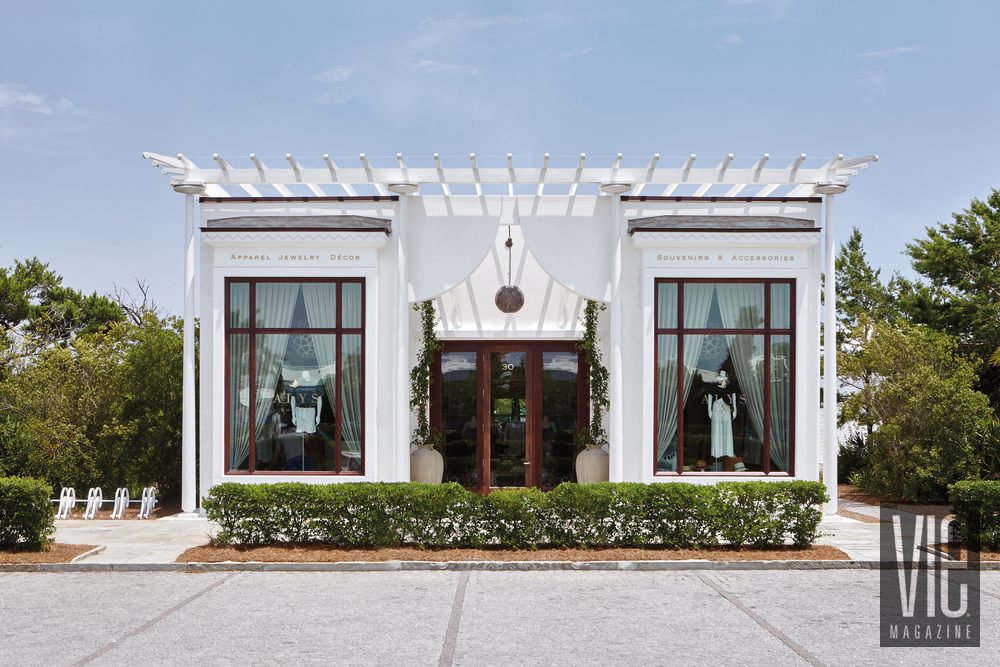 Dazzlingly white buildings, both private and public, fill the horizon. Everything feels fresh and new, probably because it is.
Alys Beach has been in the midst of a slow transition for decades, but this last bastion is picking up speed. While it's practically unheard of for everyone associated with an area—from homeowners to entrepreneurs to town officials—to agree on development, the people of Alys Beach are unanimously excited about what's next.
The area now known as Alys Beach can trace its modern history to the late 1970s, when the Stephens family, founders of the Birmingham, Alabama-based EBSCO Industries, bought it at an auction. They had been vacationing in the area for years, and the spur-of-the-moment purchase was intended to provide a retreat for the family and their employees. Smart man that he was, patriarch Elton Stephens named the 158 acres after his wife, Alys.
According to Dodson, the family was in no hurry to build on the land. They waited patiently, watching as other towns sprang up along 30-A, until they were ready to move forward. Then they brought in Andrés Duany, cofounder of the planning and architecture firm Duany Plater-Zyberk and Company (DPZ). The firm, headquartered in Miami, is a leader in New Urbanism, a town planning approach whose goal is livable, walkable design rather than sprawl.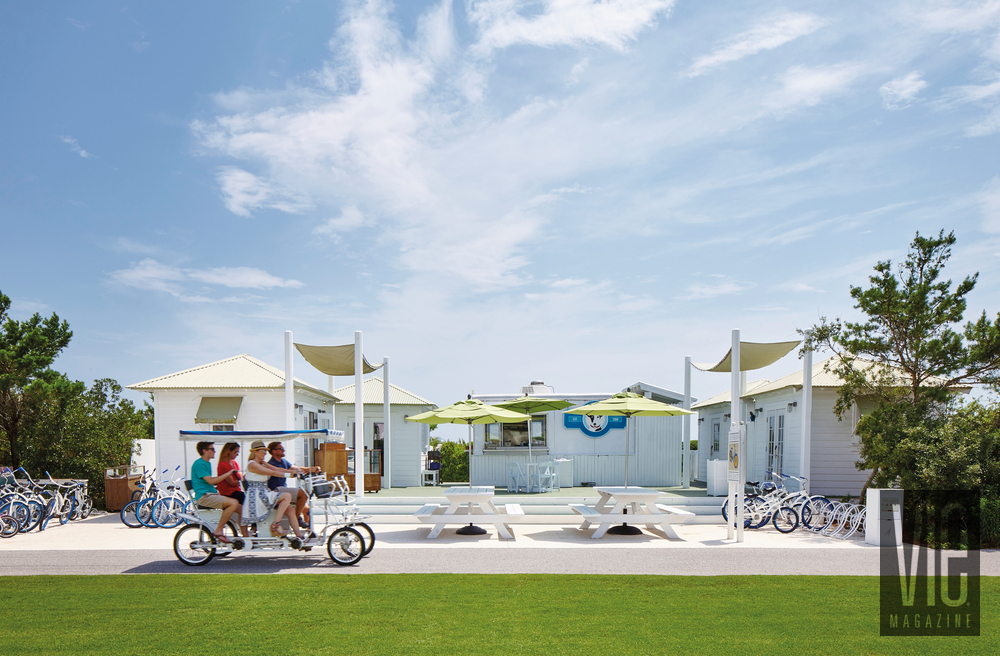 Duany had already showcased his unique vision on 30-A with the successful design of Seaside, an archetype of master-planned communities, and Rosemary Beach. These projects served as a 3-D resume for Duany, as well as practice-makes-perfect exercises—just in time for Alys Beach to come calling.
By mid-2003, DPZ had deployed the charrette, a collaborative planning process that coordinates the architectural, engineering, landscaping, and social aspects of a project. Later that year, Erik Vogt and Marieanne Khoury-Vogt came on board as town architects. In conjunction with DPZ, the couple wrote Alys Beach's distinctive design code. It includes elements like solid concrete and masonry walls (for hurricane resistance) and restrained yet sculptural architecture. Over the years, the design has evolved organically, Khoury-Vogt says, with the introduction of Moorish and Mediterranean flairs.
However, the original vision—the DNA of the place—has its foundation in more Western locales. The widespread use of courtyards was inspired by homes in Antigua and Guatemala, while the architectural style draws heavily from Bermuda.
Those courtyards are perhaps the biggest difference between Alys Beach and DPZ's previous town designs. They learned that while residents love engaging in public realms like parks and greenspaces, they want privacy at home. As opposed to front porches, which can feel more like a front-row seat to a busy boulevard, walled courtyards privatize the outdoors.
Ironing out all of these crucial details was a full-time job. Thus, Vogt and Khoury-Vogt, along with their children, became Alys Beach's first full-time residents. They left a private practice in Miami and moved into one of the first houses they designed—the smallest one in Alys Beach, Khoury-Vogt points out—where they've lived ever since. For them, it has been thirteen years of planning, more planning, and construction. Happily, all of that preparation is yielding results at last.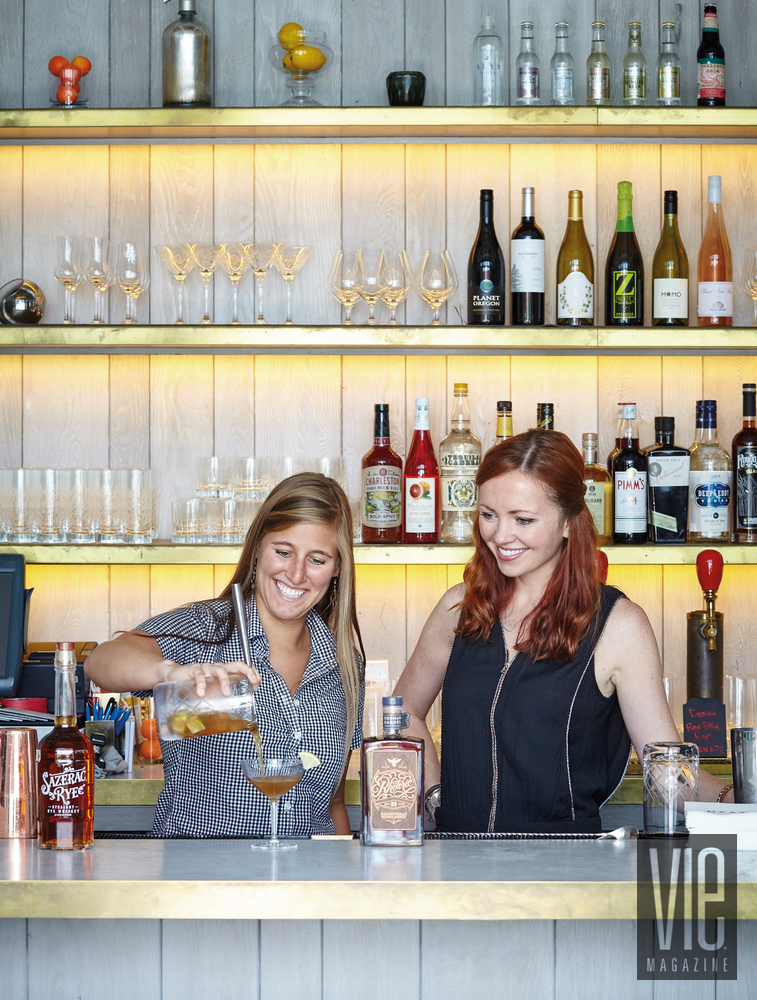 As to why it has taken this long, the answer is a combination of bad luck and patience.
Alys Beach broke ground on sixteen houses in 2004. What broke next was all hell. First came a season of intense storms, followed by a crippling worldwide recession, and last, but certainly not least, the devastating Deepwater Horizon oil spill in the Gulf of Mexico. Work didn't grind to a complete halt during that period, but the Stephens family was largely content to wait, keeping Alys Beach pristine while riding out the natural and man-made disasters.
The market turned around in 2011 and 2012, and the Alys Beach team has been working hard ever since to continue the growth of the town, Dodson says.
Indeed, the landscape has changed dramatically over the last few years, especially when it comes to commercial offerings. One addition is Alys Shoppe, a hot spot for clothing, home goods, and increasingly coveted items bearing the Alys Beach logo. People wander inside for coastal comfort decor and souvenir T-shirts, as well as encounters with manager Latrice Freeman. The former J.Crew corporate employee welcomes customers with a sincere smile and goes the extra mile as a matter of course. Within five minutes of starting a shift, for example, she's happily digging through back stock to hunt down the perfect pair of pants for a patron.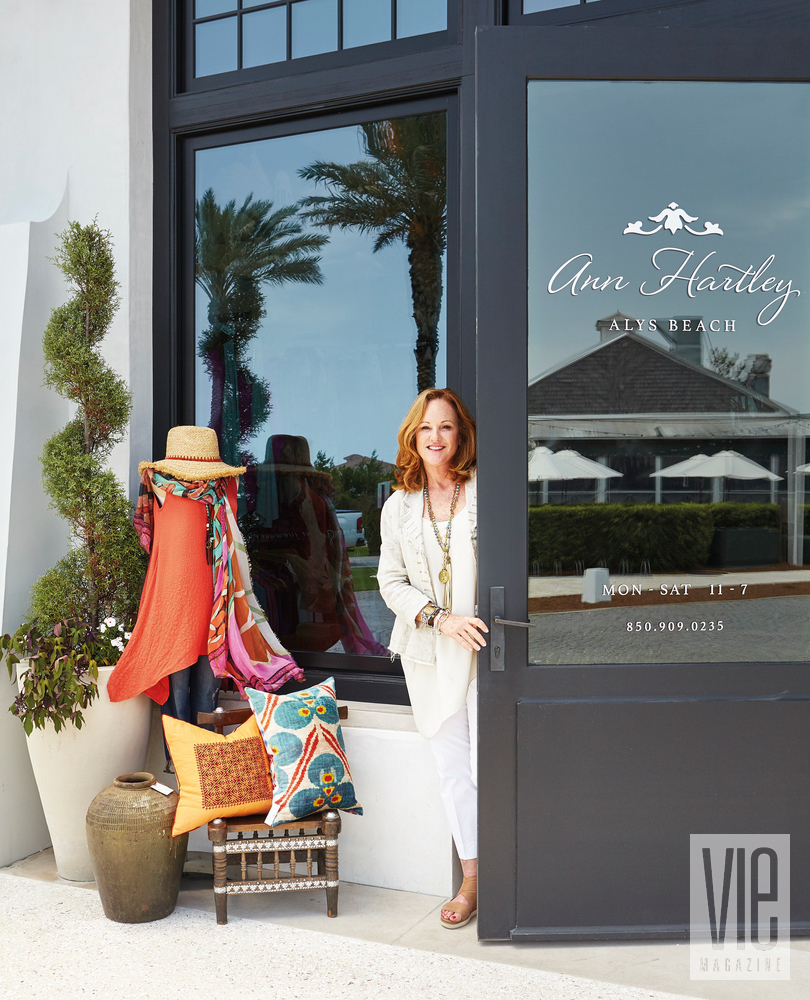 An exceptional customer service experience is what it's all about. "I love building lasting relationships, especially with homeowners," she says. "We know them by name."
Freeman's mission is for Alys Shoppe to serve as the town's corner store—the place you end up when you're out for a walk with no destination in mind. That's why she intends to add inventory like toiletries, sunscreen, and other essentials that will position it as a one-stop shop. Also, while the town has an upscale reputation, she stresses that Alys Shoppe is for everyone, from year-round residents to visitors enjoying a day at the beach.
A welcoming spirit and a desire to forge real relationships seem to be the hallmarks of Alys Beach proprietors. Ann Hartley, who launched her eponymous shop in March, counts handing out hugs to customers-turned-friends as one of the perks of her business, and there are plenty of hugs, since Hartley has been an integral part of the town for years.
She and her husband, George, opened staple restaurant George's in 2008—their third eatery on 30-A. The couple sold George's in 2015 and tried to settle into retirement. "We failed miserably at that," Hartley admits with a laugh.
She, especially, was anxious to get back to work. Alys Beach had just constructed a series of commercial spaces facing 30-A on Castle Harbour Drive, and the town offered to lease a space to Hartley. Though she had been focused on restaurants, Hartley decided to create something similar to a shop she had owned in Dallas twenty years before moving to the 30-A area.
Ann Hartley was an immediate hit. The boutique's eye-catching mix of apparel, jewelry, and home goods culled from Hartley's travels means a constant supply of one-of-a-kind finds. From an antique bronze necklace to a piece of decor unearthed at a Marrakesh souk, the surprisingly affordable collection is designed to amaze even fellow world travelers.
From an antique bronze necklace to a piece of decor unearthed at a Marrakesh souk, the surprisingly affordable collection is designed to amaze even fellow world travelers.
Hartley is having fun with her new venture, in part because this second chapter is taking place in her beloved Alys Beach. She and her family have been immersed in the town longer than nearly anyone, buying one of the first sixteen houses and becoming the second full-time residents. Even then, they saw the potential, and she has enjoyed watching it grow into what she believes is the premier destination on 30-A.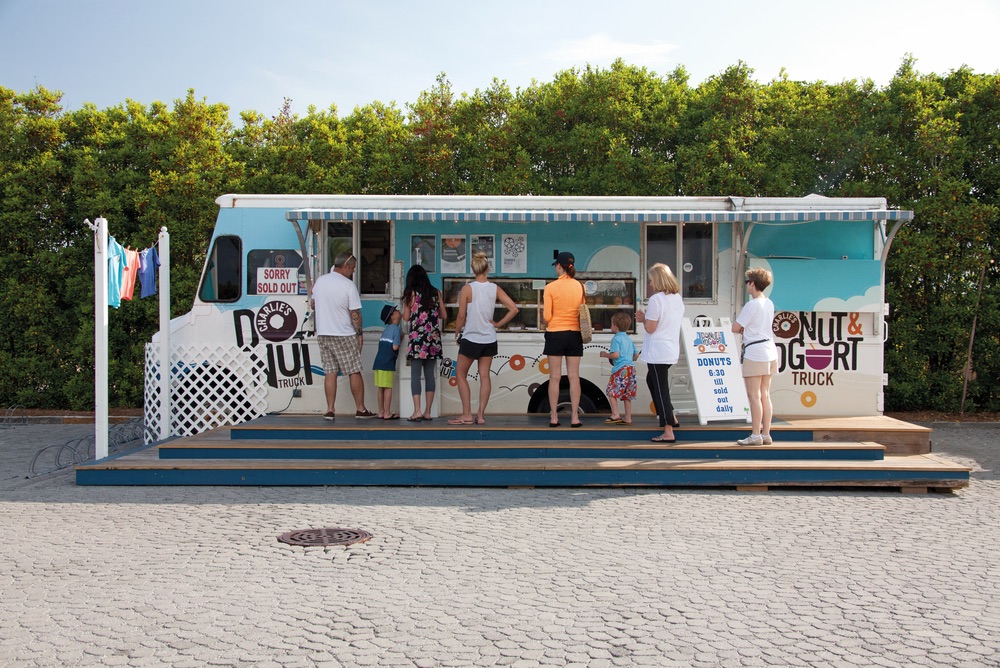 Alys Beach has always boasted an unparalleled setting and a carefully thought-out design, Hartley says, but there's a new enthusiasm now that it's really starting to pop out of the ground. "I know they have great things planned for the future, and it's starting now."
She doesn't have to look far to find evidence of that. Her Ann Hartley neighbors include Neat, a curated bottle shop with an adjoining tasting room, and a studio belonging to renowned photographer Tommy Crow. Those newbies join established destinations like George's, Charlie's Donuts, Caliza Restaurant, and Alys Beach Bike Shop.
The forerunner of them all, though, is Fonville Press. Much more than a coffee shop, Fonville Press is a community tradition. Residents and visitors gather at Fonville to eat, drink, and share life. It's housed in one of the first two buildings constructed in Alys Beach and is named after a close friend of the founding family. The iconic spot is a daily destination for about five hundred patrons who want to wake up with coffee, cool down with iced tea, and usher in the evening with a glass of wine.
Fonville Press does offer snacks, and manager Joe Papagni is planning a full kitchen add-on in the near future so that the shop can start serving full meals. It's an exciting change for Papagni, particularly in conjunction with what he sees happening around town. He's noticed a huge difference since he began managing Fonville Press four years ago, and it's a movement he loves being part of. "Guests are telling us they want more and are constantly talking about what's next," he says.
Papagni believes Alys Beach is delivering on its long-held promise, and the transformation is being done in a way that respects the natural beauty of the area and the distinctive architecture that drives the town's uniqueness. It's a total package that enthralls the hundreds of visitors and residents who come through Fonville Press each day, and it still thrills Papagni all these years later. "When people ask me how I'm doing, I always answer, 'It's another day in paradise,'" he smiles.
This might be the only paradise where people are clamoring for more development. The most important piece of that, Dodson says, is the town center, which is being built around the amphitheater. The Lucian, a mixed-use structure with a to-be-determined restaurant on the main floor and three levels of condos on top, is well under construction.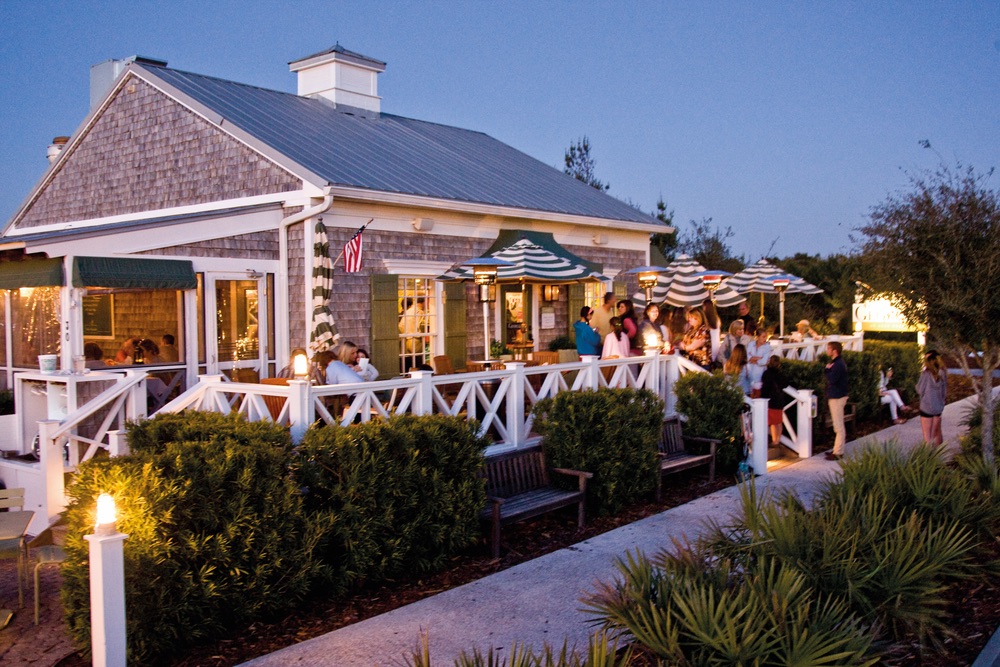 The condos sold out in a matter of weeks, something Dodson expects to happen again when the second town center building gets moving next spring. It, too, will be a mixed-use building with a restaurant and condos.
Another exciting project in the works is a state-of-the-art fitness center. The complex will offer separate areas for weights, cardio, and movement classes, as well as a recovery area with locker rooms, steam and massage rooms, and an indoor lap pool.
The third facet of the town center will be an owners' beach club. While the glamorous Caliza treats both homeowners and rental guests to a long list of exclusive amenities—a hundred-foot, zero-entry saltwater pool, a shallow family pool with a play fountain, a lap pool with a poolside iPod port for underwater music, and a spa whirlpool—the owners' beach club will be reserved for, well, homeowners. Among the facilities will be a pool, a restaurant, and a bar—all on the beach and all with those stunning views.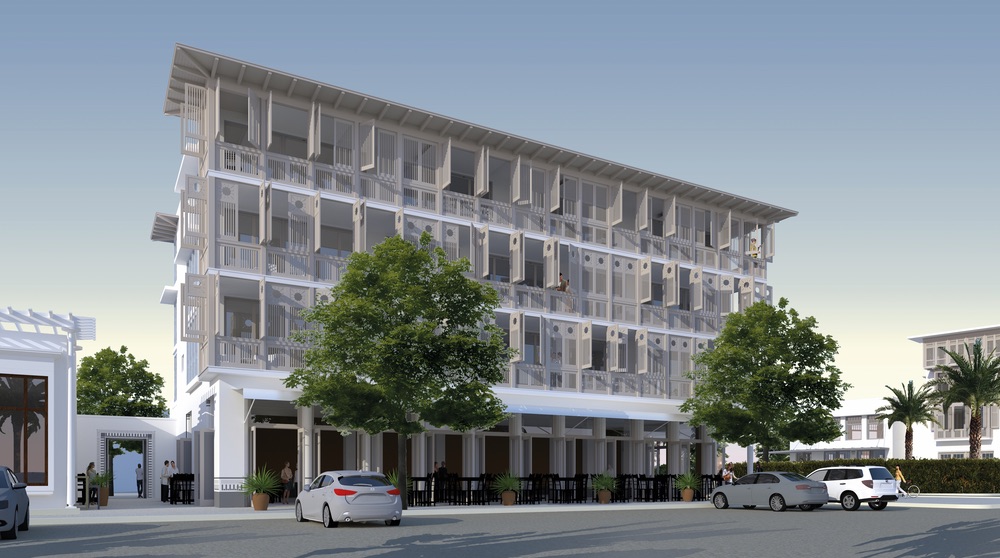 The town center elements, specifically, are what people have been asking for. Alys Beach is designed to be walkable, with easy access to the town center's many shops and restaurants. Dodson says the increased food and beverage offerings, with more to come soon, plus the new shops springing up are making that concept a reality. "There's a lot to do on 30-A," he concedes, "but now that we're developing our town center, you won't need to get in your car for anything."
As one of the architects of Alys Beach, Khoury-Vogt loves watching the blueprints literally come to life. It's conceivable, she says, that the corners along 30-A will be built out in as little as two years, offering residents and guests an even greater number of experiences.
She admits that sometimes she just wants to blink and have it all appear. In reality, though, she enjoys watching everything unfold. "It has been an amazing journey, this opportunity to help craft Alys Beach," Khoury-Vogt says of her nearly decade-and-a-half investment. "There's something special about seeing it evolve slowly and deliberately. If it had happened all at once, Alys Beach might not be what it is now."
— V —
---
ARTICLE CATEGORIES