Destin to Panama City Beach
By Sallie W. Boyles
Of all the places so joyfully explored and then shared within the pages of VIE, Florida's Emerald Coast, our home base, forever shines in our eyes. Breathtaking scenery and fabulous ways to enjoy life exist right outside our doorstep, from Panama City Beach to Destin, and the only way to see and experience as much as possible is to dive right in.
Mother Nature's Finest Work
At the heart of this region, twenty-six miles of powdery white beaches along the Gulf of Mexico, repeatedly glorified as Mother Nature's finest work, remained largely overlooked until visionaries put South Walton County, Florida, on the map in the 1980s. Seaside, thoughtfully designed with architecture to evoke the beach cottage town of bygone years, was the area's first New Urbanist community. Branded as Scenic Highway 30-A (or just 30-A), the stretch boasts sixteen coastal neighborhoods, old and new, and each emanates a distinct character and charm. Eco-friendly planning with ways to get around on foot and by bike not only facilitate a slower pace and village lifestyle, but the intention to preserve nature also means that the main attractions—beaches, state parks, and forests—remain unspoiled.
Rivaling the Caribbean and Mediterranean, the beaches of South Walton and throughout Northwest Florida have crowned the lists of numerous travel guides. From late spring through early fall, the clear emerald-tinted waters invite swimming, snorkeling, and floating for hours on end. Tranquil waves near the shore further entice first-timers and pros alike to grab Jet Skis, kayaks, sailboats, paddleboards, and other water toys.
Despite much publicity, South Walton's most exceptional phenomena—fifteen coastal dune lakes—often remain hidden in plain sight because people don't realize how rare and awesome they are. Averaging five feet in depth, the shallow basins (also existing in New Zealand, Australia, and Madagascar) formed at least ten thousand years ago when winds blew sand inland from the beach. Rainwater collected there, as did water from the Gulf, which periodically breached the sand berms. Over time, the back-and-forth flow of rain and seawater produced a brackish ecosystem that supports freshwater and saltwater species. Havens for flora and fauna, the coastal dune lakes also beckon ecotourists and any who crave solace. Many explore via kayak or stand-up paddleboard (SUP).
By no coincidence, the YOLO (an acronym for "you only live once") Board originated in Santa Rosa Beach. "The dune lakes not only offer a constant inspiration to share with our many visitors but also, for me, a way to continually develop options to get out and explore them to their fullest," says Tom Losee, YOLO Board cofounder. He also founded RUN/SUP, a company that encourages people to enjoy the gifts of nature while getting fit. Along with renting SUPs to locals and visitors, RUN/SUP provides cross-training and maps out courses. "We are truly blessed to have such a stunning example of nature's beauty in our own backyard," Tom adds.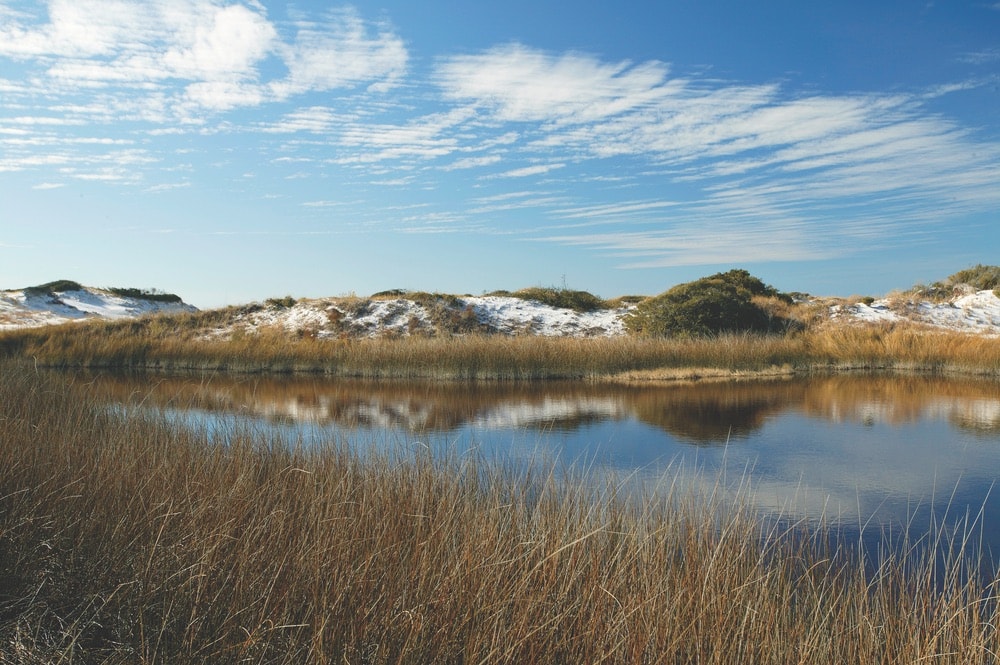 Another unique happenstance of nature, this one involving the continental shelf (the underwater ledge that borders every land mass), explains the prevalence of dolphins and big-game fish in this part of the Gulf. Nicknamed the World's Luckiest Fishing Village, Destin is remarkably close to deep, deep water. Upon entering the Gulf of Mexico via East Pass from Choctawhatchee Bay, the clear, desert-like shallows and white, sandy bottom transition quickly to rocky outcroppings and dark silt, a welcoming environment for amberjack, mackerel, porgy, snapper, and triggerfish. The real excitement, however, occurs twenty-four miles out at what is known locally as the Edge, where the continental shelf plunges to four hundred feet. In those depths, marlin, billfish, grouper, tuna, and wahoo congregate. Many anglers have set world records in Destin, home to the Cobia World Championships (March to May), the Crab Cruncher Classic (April), Sandestin's Emerald Coast Blue Marlin Classic (June), and the Summer Open Fishing Tournament (August).
For a one-of-a-kind, in-or-on-the-water experience, hop aboard a boat, a Jet Ski, or a SUP and head to Choctawhatchee Bay, immediately north of Destin Bridge, to Crab Island. At one time, the topographical feature was a tiny, crab-shaped island. Today, it's an immense sandbar beneath about three feet of water and a heavenly spot for swimming, floating, shelling, fishing, and socializing.
Island is also a misnomer for Shell Island in Panama City Beach. Technically, the seven-mile barrier between the Gulf of Mexico and Saint Andrew Bay is a peninsula best reached by boat (pontoon rentals are popular) or ferry. Pack the necessities—food, water, sunscreen—to visit this utterly wild sanctuary. Instead of concession stands, you'll encounter snowy sand dunes, a coastal scrub forest, and an inland lake, all supporting many different species: deer, ghost crabs, loggerhead and green sea turtles, and even the Choctawhatchee beach mouse.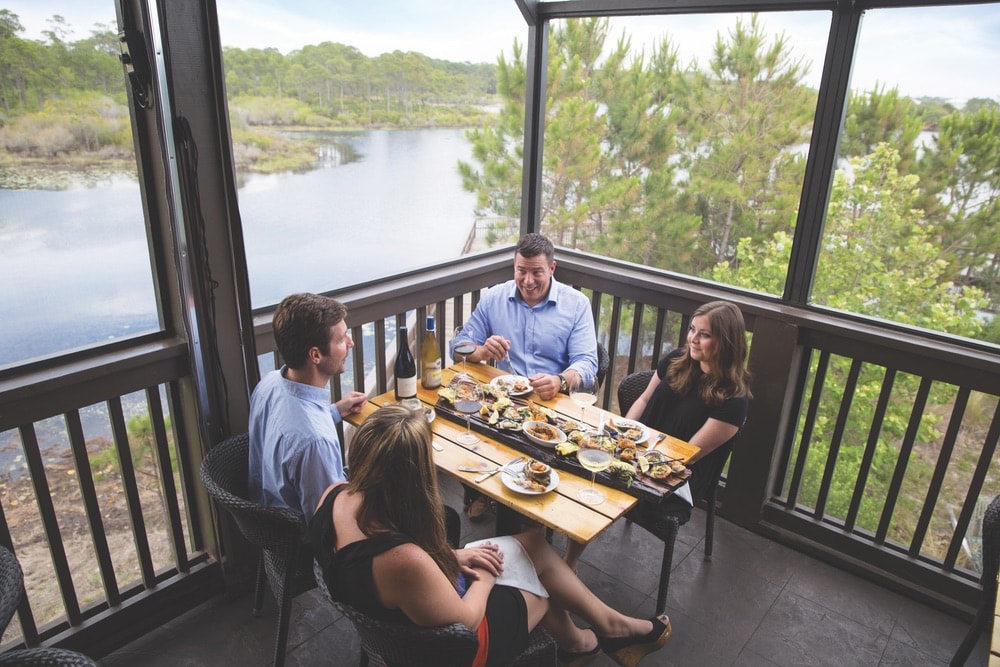 To combine nature with shopping and dining, the Timpoochee Trail may be just your speed. Eighteen and a half miles long, the paved bike path, named in memory of a Euchee Indian chief, runs parallel to Scenic Highway 30-A from Dune Allen Beach to Inlet Beach. Bikers who stay on the trail not only pass through all of 30-A's villages but also reach dune lakes, state parks with trails and camping, and beach access points.
Glorious Food and Spirits
Gone are the days when the menu choices in Northwest Florida boiled down to one question: fried, broiled, or boiled? An invasion of talented chefs, gathering inspiration from the abundance and variety of fresh land and sea ingredients, now pepper the region with innovative dishes. Many blend insights from traveling and studying abroad with traditional Southern recipes they've known since childhood. Different venues add flavor as well, so your well-rounded culinary exploration must incorporate a range of eateries: food trucks, beachside cafés, and fine dining establishments.
When on the go, The Meltdown on 30A, parked on Seaside's Airstream Row (or food truck central), makes a gourmet grilled cheese sandwich for which you'll want to wait in line. If you're wondering who's responsible for such decadence, the answer is acclaimed Chef Jim Shirley, owner of several other top restaurants in the area, including the Great Southern Café and The Bay.
For a crowd-pleasing pick, Bud & Alley's, a Seaside icon, is hard to beat. Serving breakfast, lunch, and dinner in an idyllic spot that overlooks the Gulf of Mexico, the hospitable eatery (owned by Dave Rauschkolb, a local who's regularly on-site) welcomes casual diners to take a seat, even in their wet bathing suits. Bud & Alley's—which also has an adjacent Taco Bar and Pizza Bar—was named to Florida Trend's Golden Spoon Awards Hall of Fame in 2017. Can't decide what to order? Go for the crab cake, which is oh-so delicate and mouthwatering!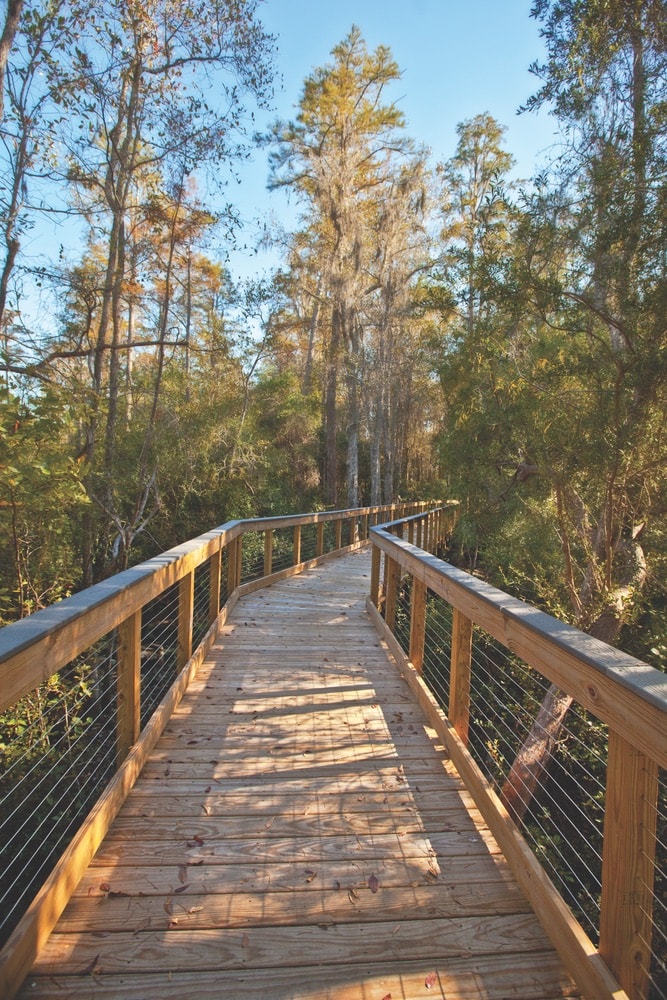 The name may prompt you to go elsewhere, but count on Stinky's Fish Camp in Santa Rosa Beach for fresh-from-the-Gulf, expertly prepared fare. "All ways," a theme at Stinky's, means that entrées, including the fresh fish of the day, are offered multiple ways, and selections, like the oyster bar's amusing variations, are quite imaginative and rich in flavor.
Of all the restaurants in Florida, only Seagar's Prime Steaks and Seafood (Sandestin) and Cuvee 30A (Inlet Beach) received Wine Spectator's 2017 Best of Award of Excellence for their representations of wine-growing regions and quality presentations.
"When Bud & Alley's first opened in January 1986," says Rauschkolb, "there were only five restaurants, including us, on 30-A. It's been an honor to be one of the pioneers of the culinary revolution that is now a rich tapestry of outstanding restaurants and quick-bite offerings. Of course, it's wonderful for those people visiting here but even more so for those of us who get to live here. With every new opening, it always seems like another jewel in the crown of South Walton. One thing is for sure: opening a restaurant on 30-A doesn't guarantee success, as the quality bar is quite high, and we certainly all benefit from that."
Annual celebrations of food, wine, and other spirits also cultivate refreshing trends that raise the bar for deliciousness. Wine reigns at Sandestin Wine Festival at the Village of Baytowne Wharf (April), South Walton Beaches Wine & Food Festival at Grand Boulevard's Town Center in Sandestin (April), Rosemary Beach Uncorked (October), and Seeing Red Wine Festival in Seaside (November). Craft beer is the star at UNwineD, a March festival at Aaron Bessant Park in Panama City Beach. Beer aficionados also love October on the Gulf with the Baytowne Wharf Beer Fest at Sandestin and Oktoberfest in Panama City Beach.
Beach Music
Where there's a beach, there's music. On the Emerald Coast, live bands play year-round, and some of the biggest names in music perform at noteworthy annual festivals. Panama City Beach hosts two chart-topping three-day events: Pepsi Gulf Coast Jam is a country music festival on Labor Day weekend with Grammy-winning headliners, industry icons, and up-and-coming acts. Meanwhile, SandJam (yes, the party is in the sand), premiering in April 2018, will present live performances from alternative rock bands (think Imagine Dragons and Kings of Leon). Festivals sell out to attendees from all over the country and abroad, so be sure to purchase tickets and reserve rooms in advance.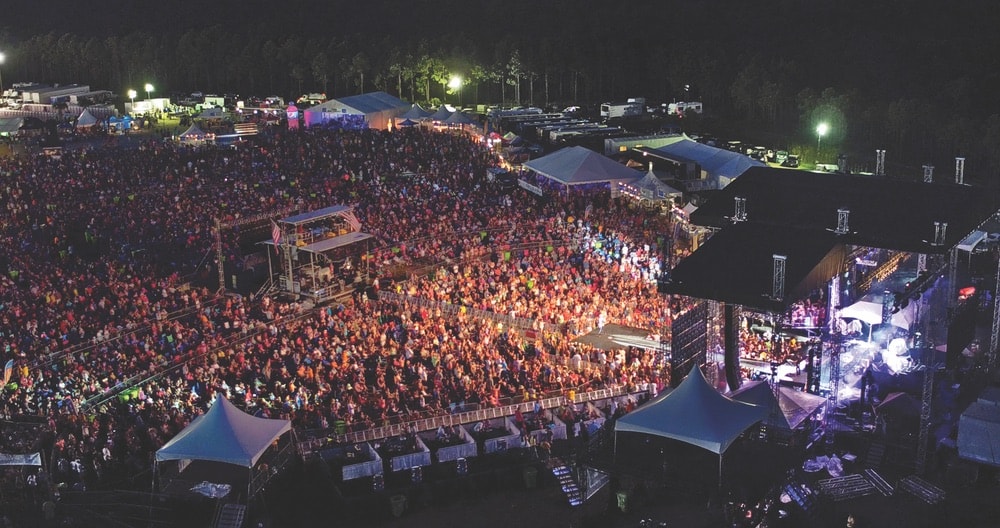 "One of the reasons I started these festivals in Panama City Beach is that I consider this a true destination," says Rendy Lovelady, executive producer of both events. "When we do surveys, people tell us they come for the beach, the food, and the music. And we attract a gumbo of people who want to hear different kinds of music—alternative, country, and singer-songwriter. This region is also a real melting pot of talent."
A talent component of both festivals heightens the excitement among fans and performers by showcasing new, original artists who compete on the stages of regional venues in the weeks and days leading up to the main event. The winning act then opens the concert on the final day. Competitors from all over participate, although many are local. "More and more, this area's becoming a real incubator for new, up-and-coming acts," Lovelady notes. "Panama City Beach is definitely a live music city. I live in Nashville and can tell you there are as many possibilities in this area to enjoy great live music."
And don't miss the 30A Songwriters Festival, which brings many of those Nashville songwriters who have penned hit tunes for huge artists to the beaches of South Walton for intimate performances each January.
Shopping by the Seashore
Northwest Florida has also become a shopping destination to rival any great city for art, fashion, food and spirits, and much more. For all the popular stores and brands, you could spend an entire day at Destin Commons, Grand Boulevard and Silver Sands Premium Outlets in Miramar Beach, or Pier Park in Panama City Beach, but you should also visit the locally owned establishments. Independent merchants are hallmarks of communities like Alys Beach, WaterColor, Seaside, Seacrest, Rosemary Beach, and Grayton Beach.
Even if shopping is not your passion, a gem or two will undoubtedly catch your eye. Assorted treasures include high-fashion footwear, trendy accessories, designer apparel, handcrafted jewelry, children's fine clothing, sporting equipment, amusing toys, cool souvenirs, Southern gourmet treats, one-of-a-kind furniture, coastal home accessories, and original art.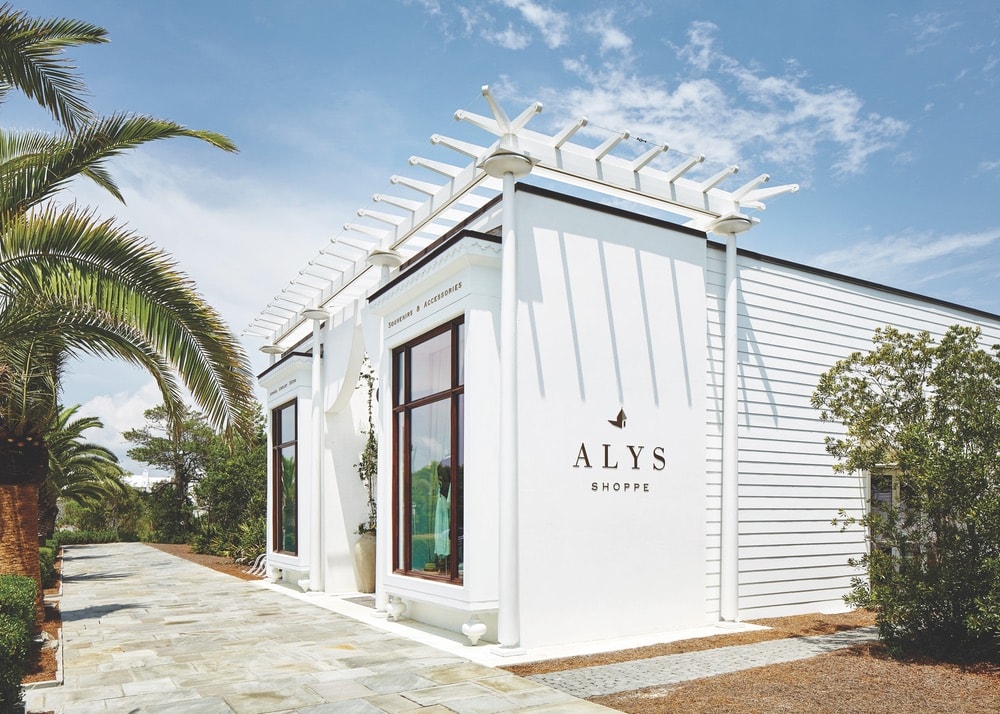 The Emerald Coast is home to a diverse community of artists. Don't miss the gallery of Mary Hong, who uses glass shards to create mesmerizing mosaics reflecting local scenery. Andy Saczynski is a contemporary mixed-media assemblage artist who recycles objects like wood, paint, and musical instruments for his whimsical and coastal-inspired work. Gordie Hinds paints in a nostalgic, Hemingwayesque style to capture snapshots in time, especially life on the Gulf, as well as his love of baseball, dogs, and the great outdoors.
"We have some really great artists down here," Hinds says. "If acquiring original art is important to you, or if you're looking for that one piece that does something good for your soul each time you look at it, then there's a good chance you'll find it—or the artist to create it for you—here. That said, it's easy to meet and talk with us about our work."
In addition to visiting artists and seeing their work in galleries, collectors have their choice of art festivals: Art in the Park (WaterColor) and ArtsQuest (Sandestin) in spring; the West Indies Market (Rosemary Beach) from spring to midsummer; Baytowne Art Walk (Village of Baytowne Wharf) and Festival of the Arts (Destin) in late summer and fall. Rather than displaying canvases, Digital Graffiti (Alys Beach) in May colors the town's white walls with a kaleidoscopic nighttime light show.
Cottages, Castles, Inns, and Resorts
Variety also pertains to the area's lodging. Pitch a tent at one of the beautiful state parks or get pampered at the best hotel. A rental could be a quaint cottage, a chic condominium, or a veritable castle by the sea. When choosing, compare the advantages of making your reservation directly with a homeowner versus a property manager. At Sandestin Golf and Beach Resort, for instance, hotel and condo guests (those who book via Sandestin) receive generous access to amenities and other perks. Notably, the Baytowne Marina at Sandestin also rents boat slips with resort privileges.
For the ultimate luxury home away from home, pristine Alys Beach is the neighborhood for you. Its spacious homes and vacation units are well appointed and perfect for a peaceful, isolated retreat year-round. Stop by charming Fonville Press for a coffee and breakfast before spending the day walking along a private beach or enjoying your cabana at the exclusive Caliza Pool. Shopping is on tap at NEAT Bottle Shop and Tasting Room, Ann Hartley boutique, and the Alys Shoppe, which is packed with high-end designer clothing, accessories, home goods, and Alys Beach merchandise.
Although a family-friendly theme plays along the coast, some retreats, such as The Pearl in Rosemary Beach, cater to grown-ups. By piling on the luxury in an intimate setting of only fifty-five rooms and suites, the elegant hotel, complete with spa, pool, grill, rooftop bar, and private beach, earns numerous accolades. A few distinctions bestowed in 2017 include Four Stars from Forbes Travel Guide, Four Diamonds from AAA, and Reader's Choice #8 of Top Hotels in Florida from Condé Nast Traveler.
A Destination for All Seasons
Every season in Northwest Florida has its own set of virtues. Summer is the best time for swimming and diving into activities; everything is open. Quite a few visitors fall in love with autumn and spring, when temperatures and humidity levels moderate, creating the most delightful setting for outdoor festivals. Winter, too, wins the hearts of those who treasure the deep-blue skies, the peaceful, quiet beaches, and the calm that descends after the holidays. That's precisely why so many lovers of nature, food, music, and art become permanent residents; they were once vacationers who couldn't bear the thought of leaving.
— V —
---
Head to VisitSouthWalton.com and VisitPanamaCityBeach.com for more information and trip-planning ideas!
Read more about the pristine beaches from COLA 2 COLA® when you explore our guide to Pensacola and Destin here here and the guide to Mexico Beach, Port St. Joe, and Apalachicola here!
ARTICLE CATEGORIES