Kimpton Aertson Is Nashville's New Luxury Hotel
By Janet Thomas  |  
Photography by Laure Joliet
You had me at the front door. Upon approach, I froze in my tracks, mesmerized by the beauty before me. My eyes widened and a sigh of delight slipped from my lips as I spotted the coolest modern chandelier I had ever seen.
The stunning light fixture belongs to the sublime Aertson Hotel, Kimpton's new chic boutique gift to Nashville. I had the good fortune of visiting this past June—it had just opened the doors a mere three hours before. Lucky me! The hotel was hosting its first signature Wine Hour with white and red offerings, plus light bites. What a welcoming first impression. The lobby area is smartly designed and has become an instant communal gathering place throughout the day and evening. Mornings are kicked off at the complimentary coffee and tea bar.
It had been several years since I'd been to downtown Nashville. As a young girl, visiting family near Franklin, Peytonsville, and Lewisburg, I loved Nashville as most did; the Grand Ole Opry and Opryland were every family's dream. I even had "kinfolk," Sam and Kirk McGee, who were some of the first members of the Grand Ole Opry, performing there often back in the day. Imagine my surprise when a relative recently pointed out their names on a yellowed concert poster adorning the walls of Nashville's famous honky-tonk, Tootsie's Orchid Lounge.
Fortunately, I was touring the "new" Nashville with the amazing Visit Music City to absorb a whirlwind update on all the news, activity, and growth. The vibrant Tennessee capital now has a hip vibe to it, and 2017 marks many a milestone: 125 years for Ryman Auditorium, 70 years for the Nashville Symphony, 60 years for RCA Studio B (where Elvis and a multitude of others recorded their hits), 50 years of Nashville Songwriters Association International, 50 at the Country Music Hall of Fame and Museum, 35 years for the iconic Bluebird Cafe, and 25 at Tin Pan South. The Schermerhorn Symphony Center and the Music City Walk of Fame each celebrated their tenth anniversaries in 2016.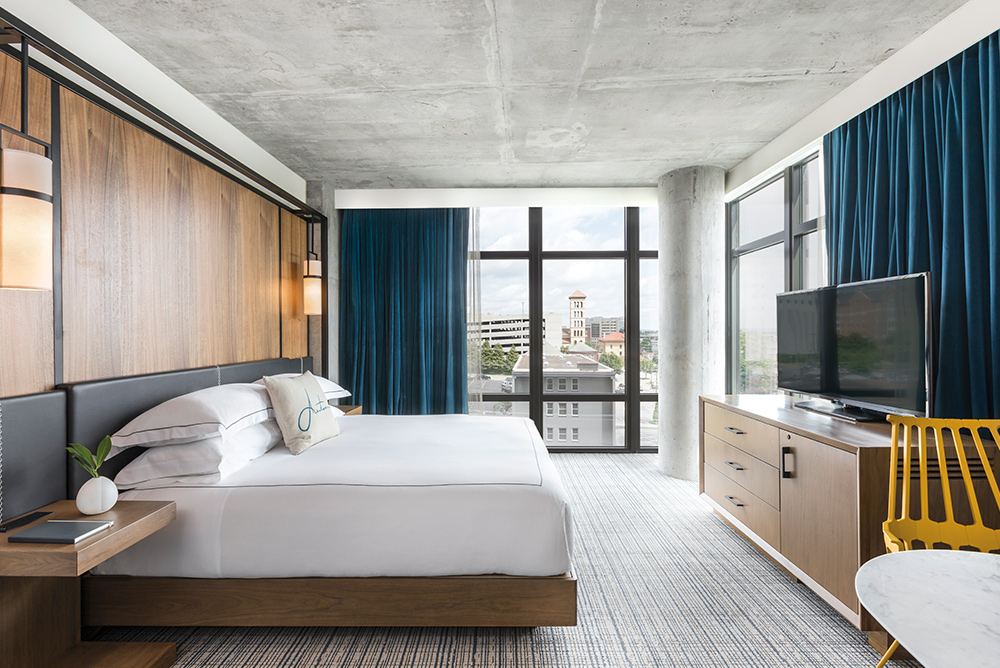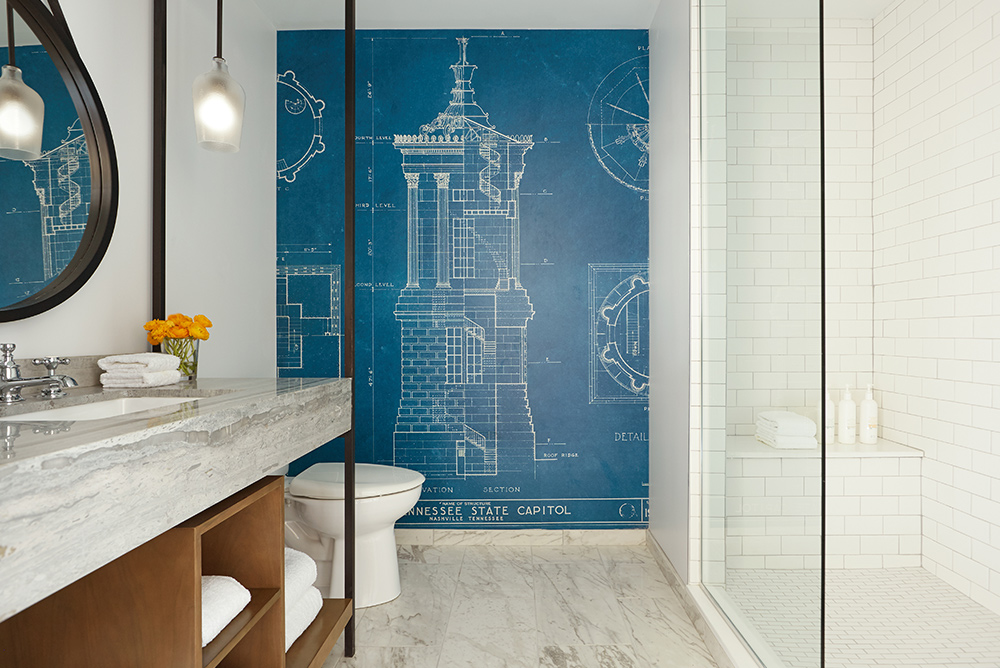 The Kimpton Aertson Hotel is an innovative addition to Nashville's lodging and dining scene with a perfect Midtown location near Vanderbilt University and Music Row. The Aertson's name pays homage to the Vanderbilt heritage: Jan Aertson of De Bilt, Netherlands, was an ancestor of railroad tycoon Cornelius Vanderbilt.
The hotel anchors Aertson Midtown, a new mixed-use community developed by Buckingham Companies that also features 350 on-trend apartment residences and prime retail space. The vibe is effortlessly sophisticated with just the right amount of edge. The hotel also partners with the Nashville Songwriters Association International (NSAI), which is the world's largest not-for-profit songwriters trade association. Together, these two organizations will offer NSAI's Songwriter Rounds Experience as part of incredibly cool event packages.
The Kimpton Aertson Hotel is an innovative addition to Nashville's lodging and dining scene with a perfect Midtown location near Vanderbilt University and Music Row.
Let's not forget the Kimpton Aertson's dining experiences! Room service for breakfast? Check. Executive chef RJ Cooper, who has cooked his way from New York City to Anchorage to Nashville and worked with the likes of Günter Seeger and Eric Ripert, supplies breakfast, Sunday brunch, and dinner via the Henley restaurant. My pasture-raised egg frittata arrived piping hot and plump with farm-stand vegetables and goat cheese. Add to that incredible Tennessee bacon (of course, I did what any respectable bacon-loving Southerner would do and crumbled some of the crisp, salty succulence atop the frittata). To balance things out, my "dessert" was a showcase of seasonal fruits and berries.
Don't miss dinner at Henley in person. It's lively and noisy—in a good way. The bar and restaurant blend to create an instant hot spot. Modern Southern specialties include Bear Creek Farm short ribs, okra and Appalachian tomato gravy, squash blossoms, and snap peas, plus hearty dishes like cobia, trout, quail, and a dry-aged rib cap with bone marrow.
For lunch, Caviar & Bananas offers everything from fresh salads and amazing sandwiches to frozé, the cafe's take on refreshing frozen rosé.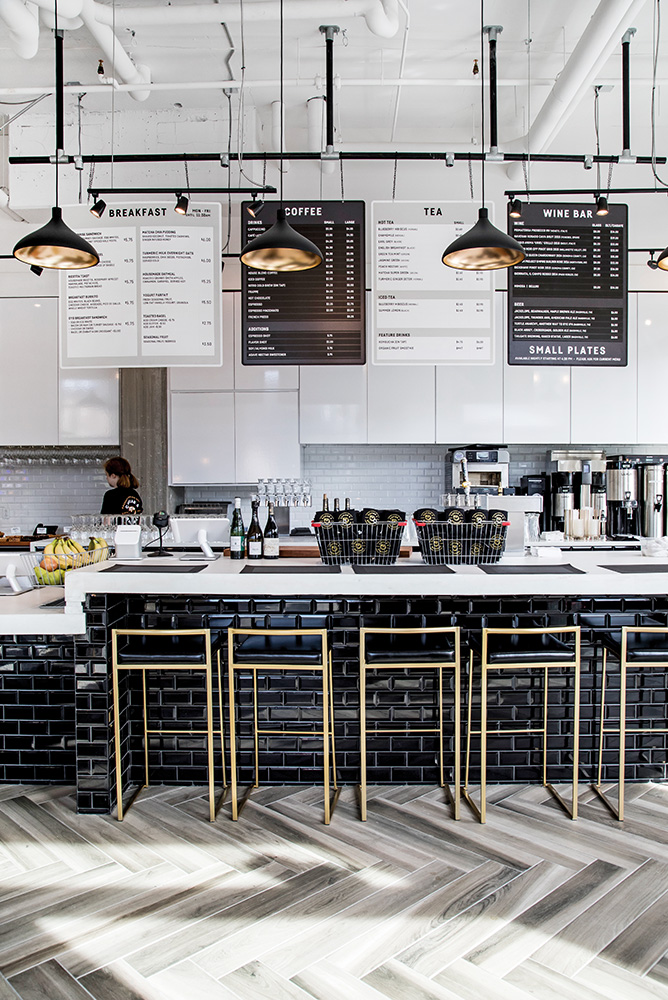 Coming soon to the Aertson Midtown development are a modern Mexican eatery called Nada and The Ainsworth, a bar and restaurant with a neighborhood feel. Also at your fingertips will be the Woodhouse Day Spa, boasting more than seventy spa services.
As for fitness amenities, the Aertson Hotel has a twenty-four-hour fitness center, offers yoga mats in each room, and provides complimentary bike rentals. The rooftop pool is the place to be on a warm, sunny Nashville afternoon, with wonderful lounging areas and views of the city. The hotel boasts 180 rooms and lots of meeting space (especially swanky are the seventeenth-floor ballroom and terrace) and is well equipped for groups, couples, and families. Even furry friends of all shapes and sizes are welcome at no extra charge.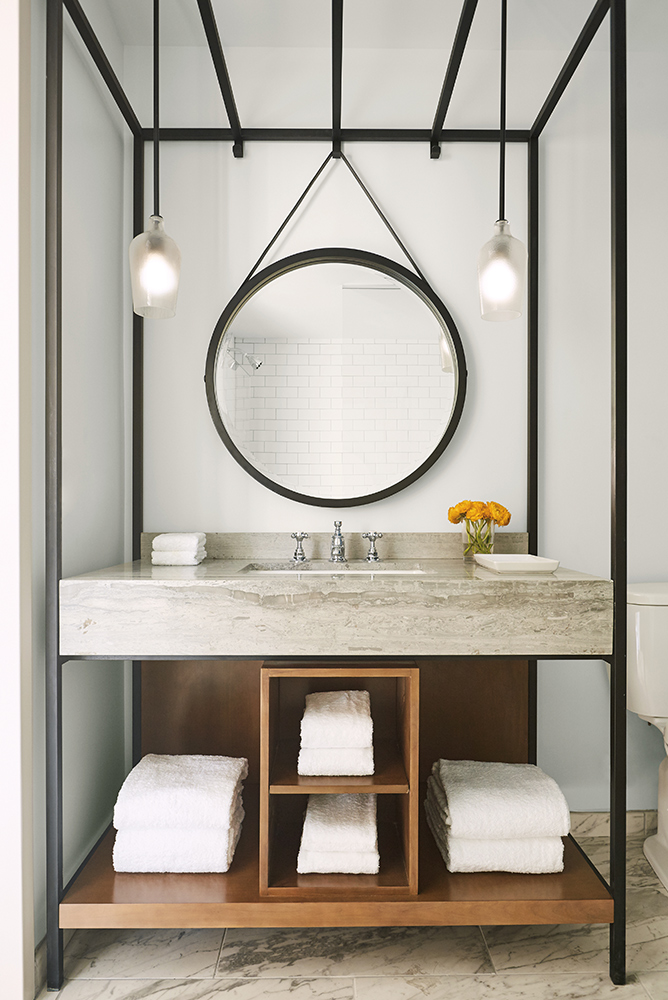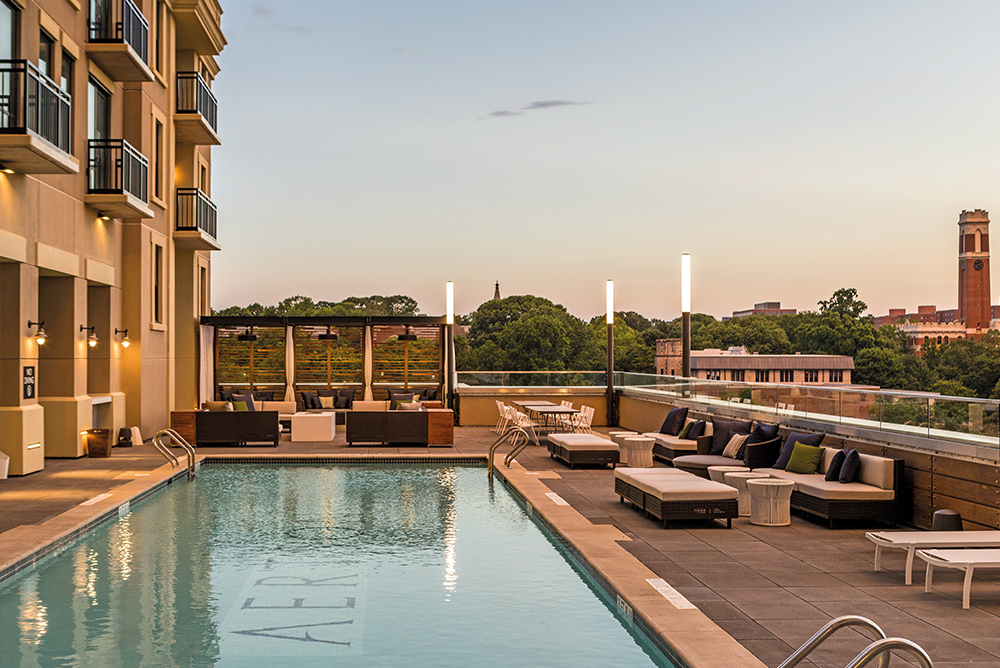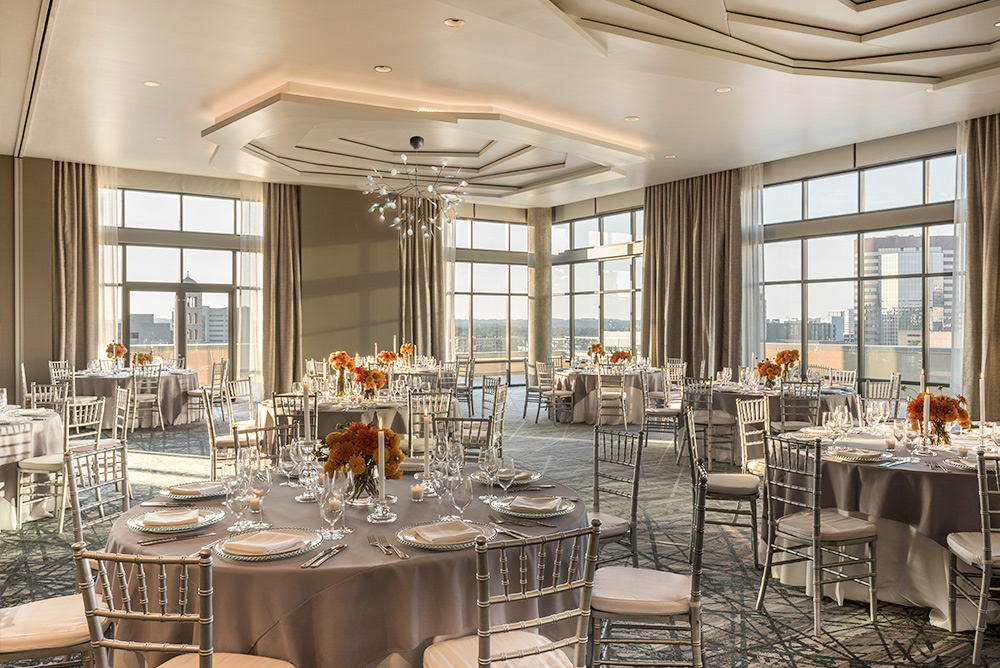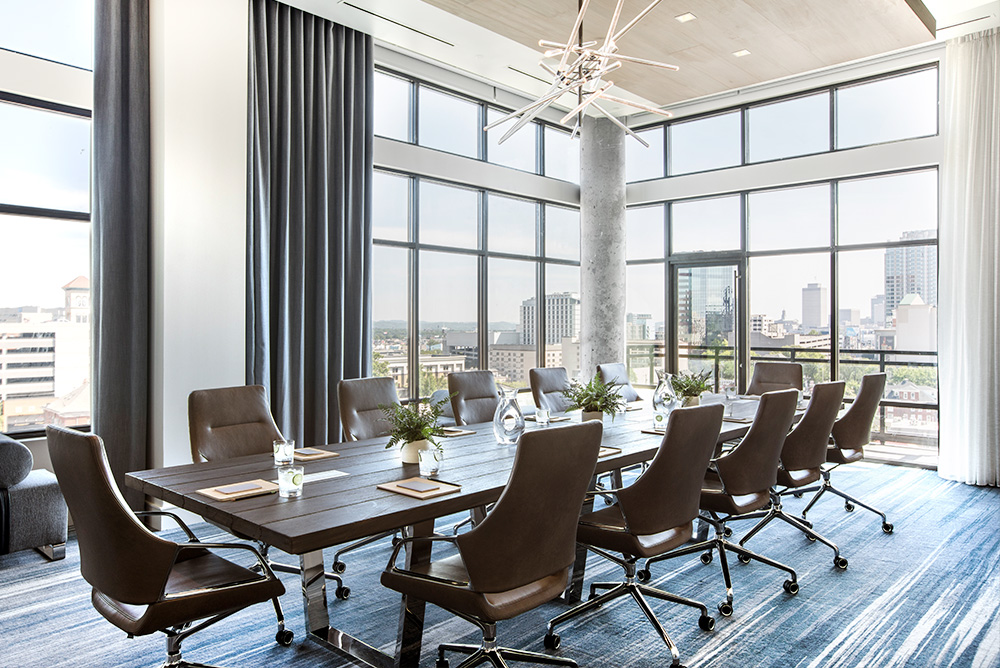 General manager and seasoned Kimpton expert Mark Hayes opened the Aertson Hotel and agrees that the art installations are an absolute showstopper and well worth a self-guided tour. Buckingham Companies enlisted Cynthia-Reeves, a contemporary art gallery, for the commissioned works of art. One of the first pieces you will notice is by JaeHyo Lee and is created with suspended stones and cable surrounding the double-sided fireplace. The work adds an earthy, textured, floating dimension to the lobby.
From the cool entryway chandelier to the floor covering and even the staff's business cards, you'll notice a purposeful play on lines. Add to that Anne Lindberg's stunning installation of hot pink and orange threads, which took days for the artist and her team to install near the first-floor elevators. Keep strolling for major pieces throughout the artsy Aertson.
Thank you, Kimpton Aertson, for creating a hotel that's a rare and perfect blend of sophistication, innovation, and edge.
—V—
---
Janet Thomas is a longtime writer and editor and a former editor-in-chief of American Airlines' luxury magazine, Celebrated Living. She is now joyfully beach-based along Scenic Highway 30-A in South Walton, Florida—when she's not traveling the world for a good story.
ARTICLE CATEGORIES