By Jordan Staggs
Whether you're spending a lengthy vacation in Boston or just visiting for the day, a few of these must-sees (and must-eats) should be on your to-do list!
What to See
The Freedom Trail
One of the city's most popular attractions—if not the most popular—the Freedom Trail is a two-and-a-half-mile walk through downtown Boston. It passes many of the city's most historic landmarks, including the Boston Common, the Massachusetts State House, the Benjamin Franklin statue, the Old South Meeting House, the site of the Boston Massacre, the Paul Revere House, Faneuil Hall, Old North Church, the USS Constitution, the Bunker Hill Monument, and more. Many of the official sites offer free tours or tours by donation, and there are many other landmarks along the way that are not officially part of the Freedom Trail but are exciting to see nonetheless.
The Black Heritage Trail crosses paths with the Freedom Trail and winds through the Beacon Hill neighborhood, citing important landmarks in a different journey to freedom. Visit the African Meeting House (the oldest surviving black church in the country), the Robert Gould Shaw and Massachusetts 54th Regiment Memorial, the Abiel Smith School, and several other stops commemorating the brave people who paved the way to ending slavery and furthered civil rights in Boston.
TheFreedomTrail.org; MAAH.org/trail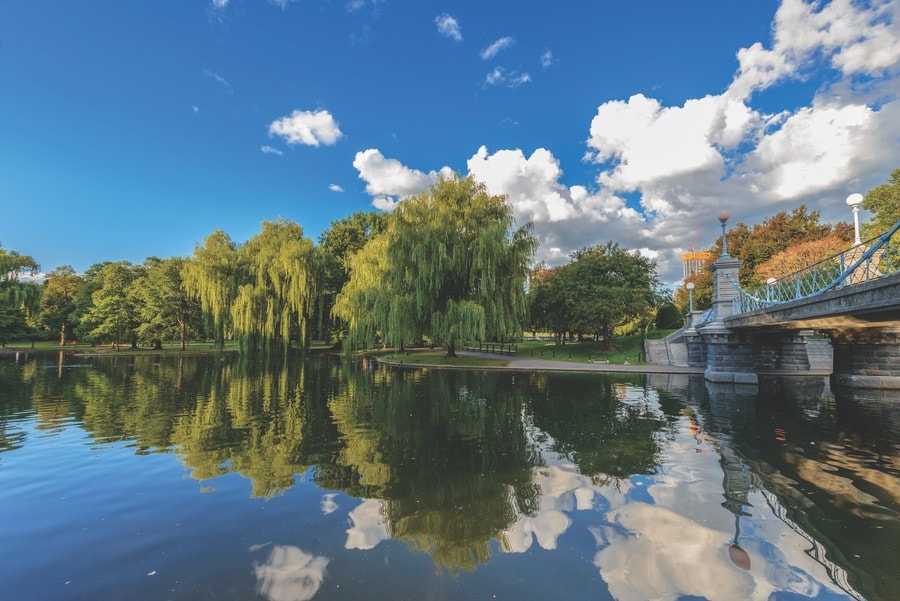 The twenty-four-acre park is adjacent to the famed Boston Common and is the oldest public botanical garden in the United States.
Public Garden
You've no doubt seen the photos of Boston's famous Swan Boats, which have floated lazily along the four-acre pond in Boston's Public Garden since 1877. The twenty-four-acre park is adjacent to the famed Boston Common and is the oldest public botanical garden in the United States. Its manicured paths, monuments and sculptures, rose bushes, flower beds, and more than thirty tree species are proudly maintained by the City of Boston.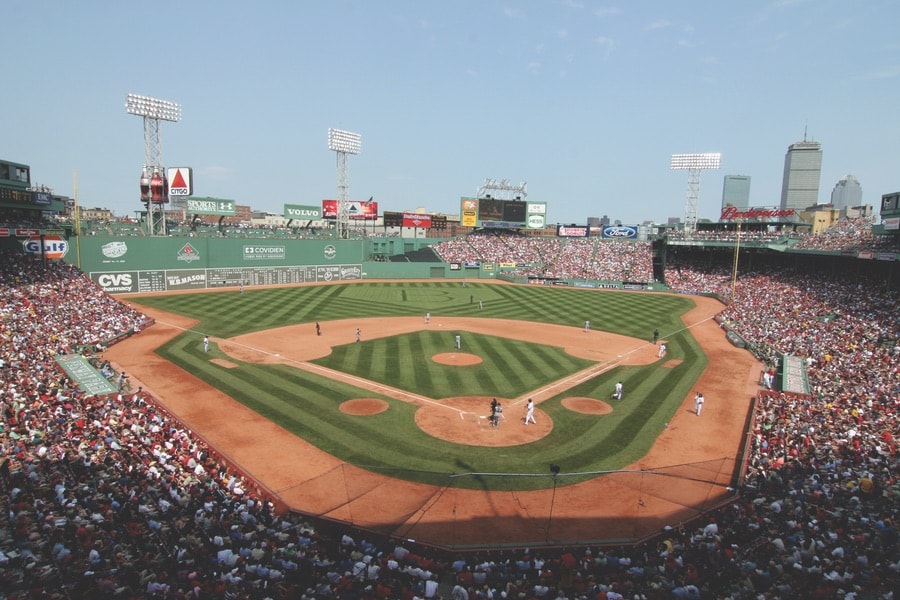 Fenway Park
Let's go, Red Sox! A trip to Boston just wouldn't be complete without taking in a game at Fenway Park. The baseball stadium was built in 1912 and is one of the country's most iconic sports venues. As notorious as the Red Sox–Yankees rivalry are Fenway's many quirky attributes, such as the thirty-seven-foot left-field wall and seating area known as the Green Monster, the ladder attached to it that was once used to retrieve home-run balls, the 1930s-era scoreboard set into the same wall, and the lone red seat in the right-field bleachers that signifies Ted Williams's 502-foot home run, the longest ever hit at Fenway. The park has the capacity to seat over thirty-seven thousand people, hot dogs and beers in the hands of many. Don't forget to visit the Cask 'n Flagon pub next door, voted America's top baseball bar by ESPN. When the Sox aren't playing, Fenway Park is also home to other sporting events and concerts throughout the year.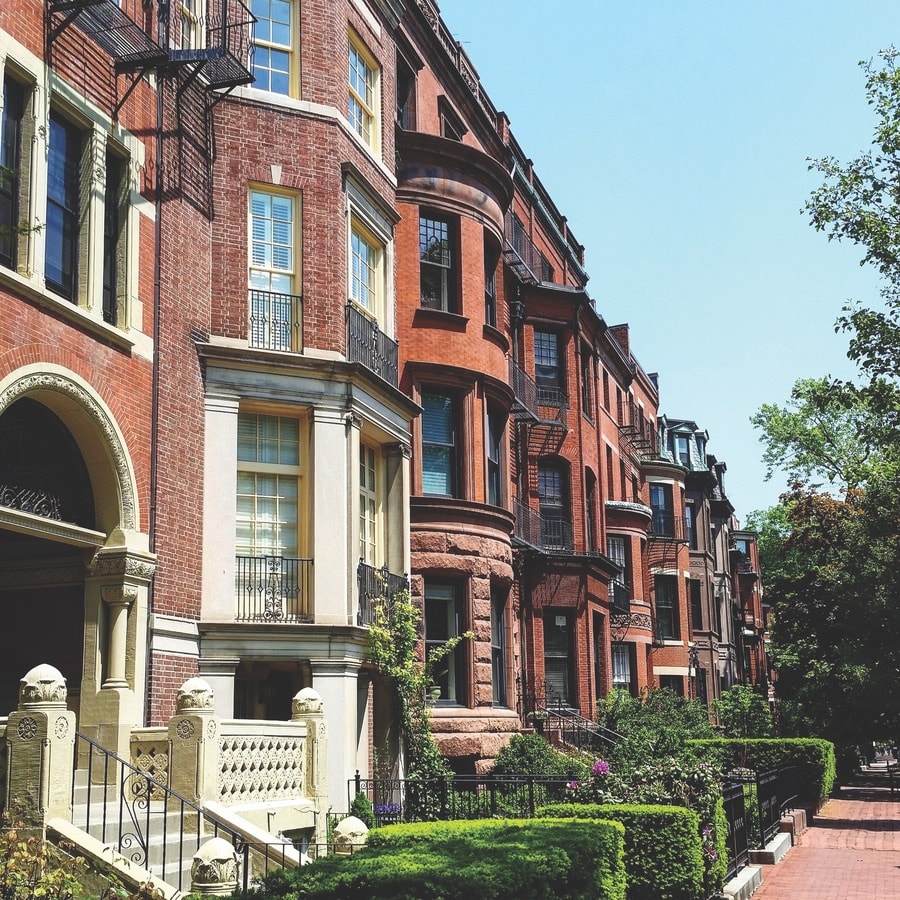 Newbury Street
Shopaholics, look no further than Newbury Street for designer storefronts including Burberry, Chanel, Diane von Furstenberg, Armani, Marc Jacobs, Dolce & Gabbana, and so many more. Hundreds of shops, trendy dining establishments, art galleries, and salons are present in these historic brownstone buildings, making a stroll down Newbury Street just as scenic as it is worthwhile for those searching for the perfect outfit or gift. Events along the street include pop-up shopping experiences, yoga and other wellness classes, gallery exhibits, and Open Newbury, a seasonal monthly event where it becomes a pedestrian-only street fair for a day. Walk beyond Newbury for more luxurious shops and restaurants in Boston's Back Bay neighborhood.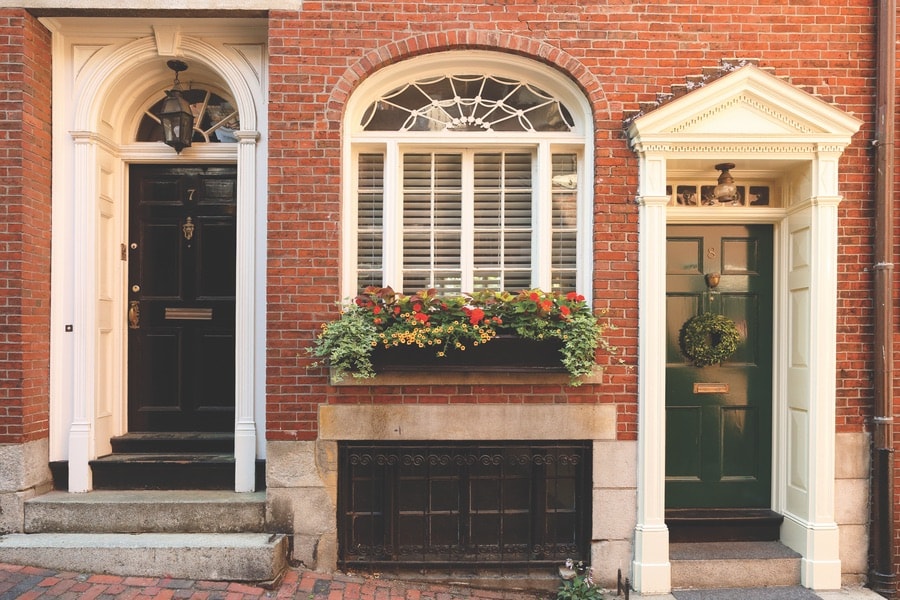 Beacon Hill
Historic Federal-style row houses, gas lanterns, brick sidewalks, and New England charm make Beacon Hill the quintessential Boston neighborhood. Photo ops abound as visitors will see the iconic Massachusetts State House at the top of the hill, the Greek Revival homes of Louisburg Square, and the cobblestones of Acorn Street. Suffolk University and Suffolk University Law School are also here, and while the neighborhood is now home to students and Boston elite, its origins are steeped in history. It contains many sites along the Black Heritage Trail, and its homes have belonged to many historical figures of Boston.
Faneuil Hall Marketplace
Faneuil Hall—the Hub of the Hub— has been a meeting hall and marketplace in Boston's North End since it was built by Peter Faneuil for the city in 1742. Before the Revolution, patriots used the hall for public meetings and gave impassioned speeches there, earning it the nickname the Cradle of Liberty. Since then, such provocative figures as Susan B. Anthony, Oliver Wendell Holmes, and Ted Kennedy have spoken there, carrying on the tradition. Today it remains a huge gathering spot filled with shopping, dining, and entertainment for Boston locals and visitors alike.
A Day on the Water
The Waterfront, running from the North End through the Financial District and Downtown Boston along the harbor, is a mecca for those seeking New England seafood and entertainment on the water. The New England Aquarium is a great family-friendly destination here, as are the carousel, fountains, food trucks, and public art exhibitions that line the Waterfront's wharves and marinas. On the opposite side of the city, the Charles River shore is home to Lederman Park and the three-mile Esplanade walkway full of playgrounds, lookout points, and sports and event venues. Concerts in the Hatch Memorial Shell amphitheater and the annual Fourth of July fireworks display draw large crowds to the Esplanade, but on any day it's a perfect place to walk, jog, or just sit with a book and watch the sailboats on the Charles.
Boston Public Library
The Boston Public Library, established in 1848, was the country's first free municipal library of its size. The present-day main branch on Boylston Street at Copley Square was completed in 1870 as architect Charles Follen McKim's "palace for the people." The Bates Hall Reading Room at the McKim Building is an architectural treasure with its elaborate coffered ceiling and wooden research tables. This is not just a destination for bibliophiles; speaking engagements, author visits, exhibitions, educational programs, and other events throughout the year are available to the public.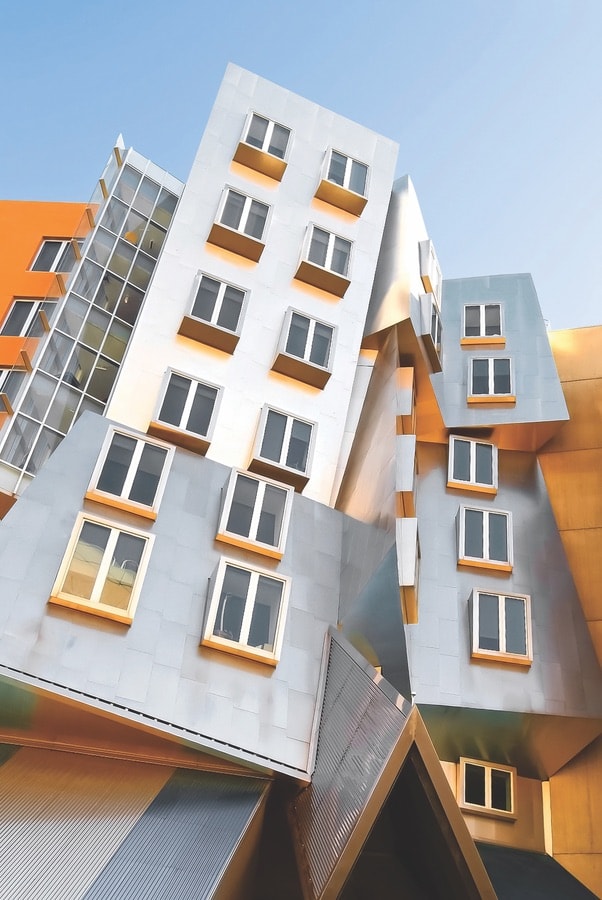 Museums Galore
With a cornucopia of fantastic museums in Boston, it's impossible to list them all, but we'll hit some highlights. One could spend a whole day touring some of these beautiful destinations for art, education, and history. The Boston Tea Party Ships and Museum is a popular stop on the Waterfront, where visitors can relive the famous incident during which Bostonians dumped 340 chests of British tea into Boston Harbor in protest of taxes levied by the monarchy upon the colonies. Tours are led by Samuel Adams himself. The Institute of Contemporary Art is your go-to stop for modern art exhibitions and the Museum of Fine Arts for more classic tastes, while the Isabella Stewart Gardner Museum offers historic fine art with a mystery to match—it is home to one of the biggest unsolved art heists in the world. History buffs also should not miss the New England Holocaust Memorial, the Museum of African American History, and more. The Boston Beer Museum is an obvious choice for those who love a good brew, while more family-friendly options include the Boston Children's Museum, the Museum of Science, and the Harvard Museum of Natural History.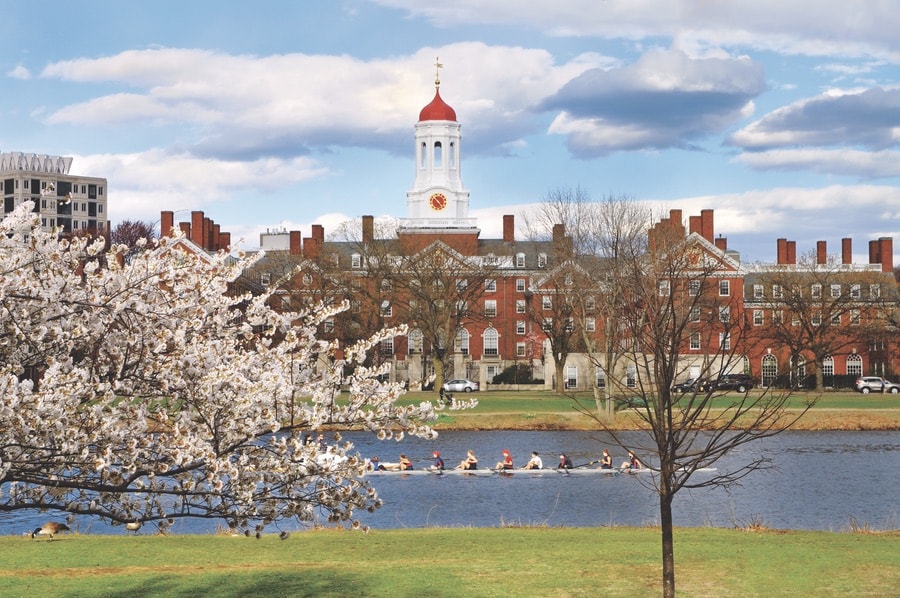 Harvard Campus
It's fitting that one of the most prestigious universities in the country has a beautiful campus to match. Although technically located in Cambridge, Massachusetts, Harvard's historic buildings and landscaped quadrangles are just a short jaunt across the Charles River from Boston and worthy of a day trip. Visit in fall to see leaves changing and feel the scholarly air of sophistication as the semester—and football season—get into full swing. Some campus highlights include Harvard Square, the statue of John Harvard, crew teams rowing on the Charles, the Harvard Lampoon building, and Harvard Yard (just don't try parking your car there).
---
Where to Eat
Story and photography by Tiffany Lopinsky
For most people, the first things that come to mind when they think of the Boston food scene are classic New England seafood and Italian cuisine. While Boston is full of restaurants that do seafood and Italian incredibly well, we have so much more to offer than lobster rolls and cannoli. Especially in the past few years, the food scene in Boston and its surrounding areas has boomed—from Japanese-Spanish fusion, to urban farm to table, to global tapas from James Beard Award–winning chefs, the Boston restaurant scene is incredible. With so many great spots, picking my ten favorites is a challenge, but here's a spread of some of Boston's best: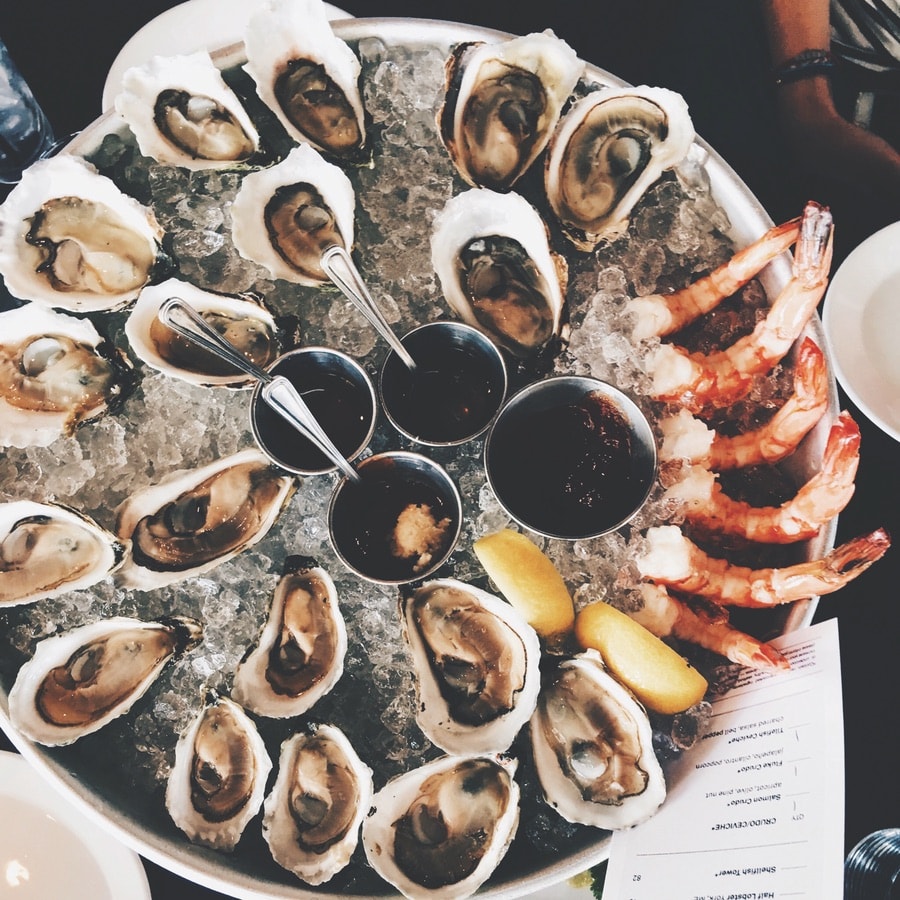 Row 34
Whenever a friend is visiting from out of town and asks me for a recommendation for a seafood restaurant, Row 34 is my go-to. With an impressive raw bar and a menu full of other seafood classics like clam chowder, lobster rolls, and fish and chips, you can't go wrong at this Fort Point neighborhood favorite.
383 Congress Street, Boston, MA 02210
Nebo
While Boston's North End is known for having incredible Italian spots, Nebo is one great Italian restaurant outside of Boston's Little Italy. Located on Boston's Waterfront, Nebo is a wonderful creation owned and run by sisters, Carla and Christine Pallotta, who were inspired by their Italian grandmother to get into the kitchen. From squid ink pasta to zucchini lasagna, their menu features a unique combination of classic Italian recipes and modern dishes. You can't leave without trying the Christoforo—their Nutella pizza—for dessert!
520 Atlantic Avenue, Boston, MA 02210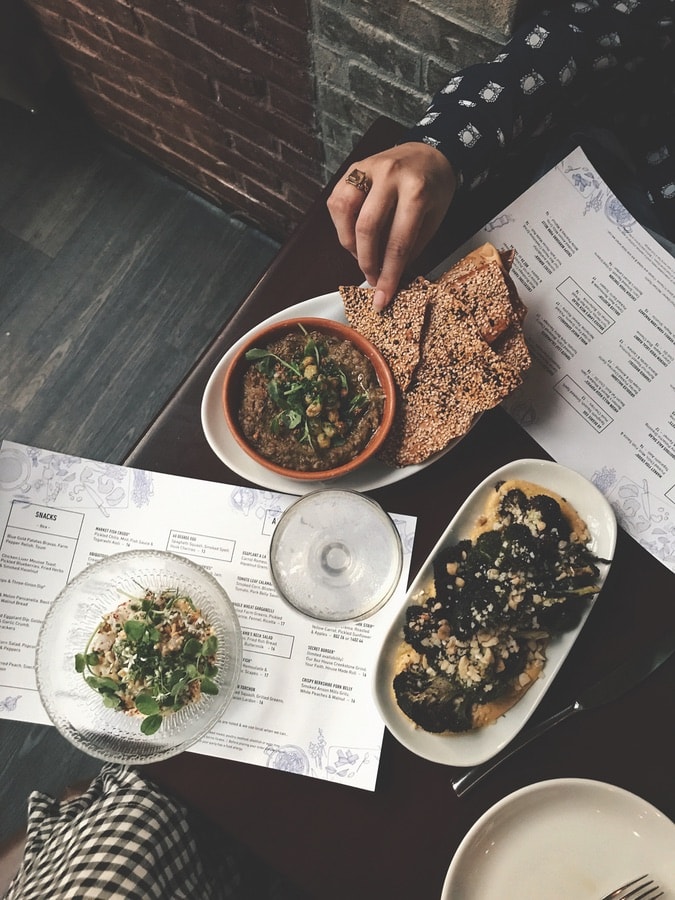 Alden & Harlow
Alden & Harlow is a wonderful modern American small plates restaurant in Harvard Square. The menu changes daily and focuses on everything fresh and local; I always have a great meal here. While they serve a huge variety of dishes, this is a spot that I love to bring vegetarians to. Acclaimed chef Michael Scelfo does an incredible job at making vegetables taste great. From their kale salad to charred broccoli to roasted beets, I always leave feeling full and nourished.
40 Brattle Street, Cambridge, MA 02138
Prezza
A cozy yet upscale spot in the North End, Prezza serves Italian cuisine with Mediterranean influences. Because of its unique approach and delicious handmade pastas, its one of my favorite spots in the neighborhood. A must-try is their Ravioli di Uovo, a ravioli stuffed with an egg yolk and ricotta, then tossed with butter and sage. It's perfection.
24 Fleet Street, Boston, MA 02113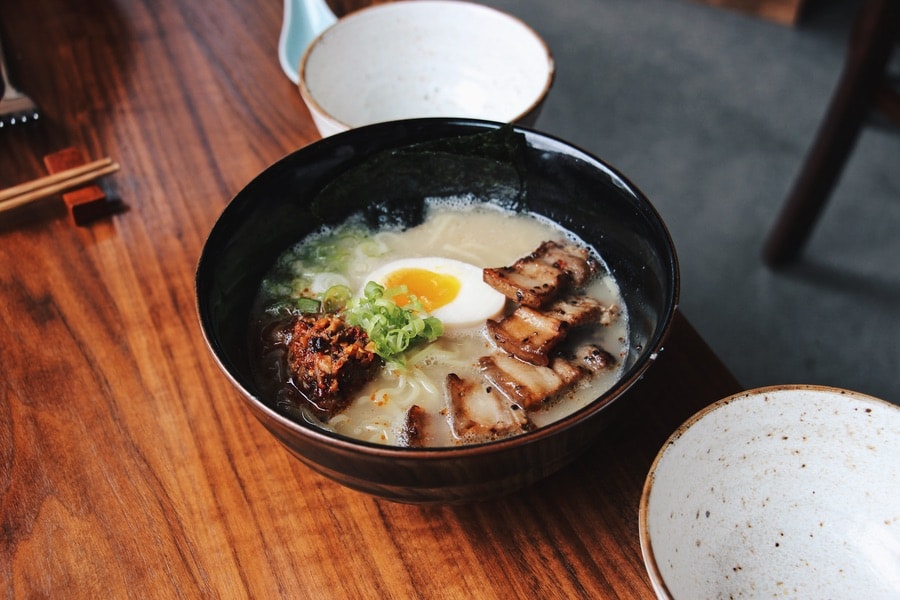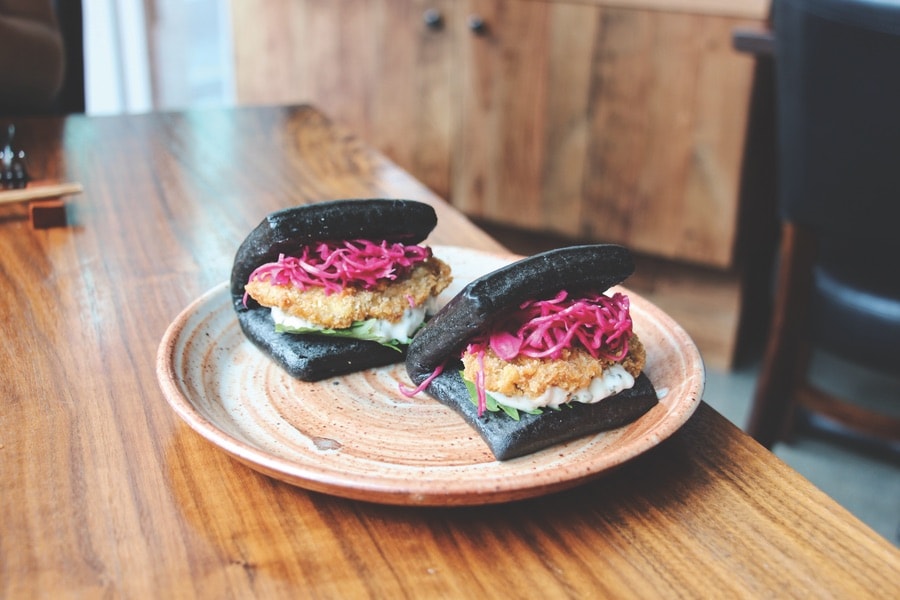 PAGU
With their Japanese-Spanish fusion cuisine and lots of pug-themed paraphernalia, PAGU in Cambridge's Central Square is one of the most interesting restaurants in the Boston area. Until dining here, I didn't realize that pintxos were the perfect prelude to ramen, especially when they're tied together with cocktails that bring in influences from both Spain and Japan.   
310 Massachusetts Avenue, Cambridge, MA 02139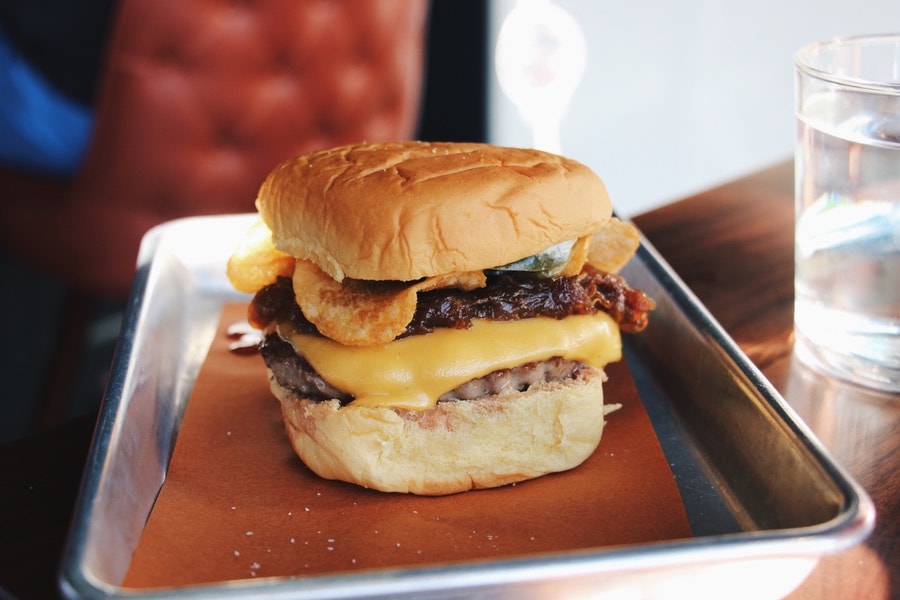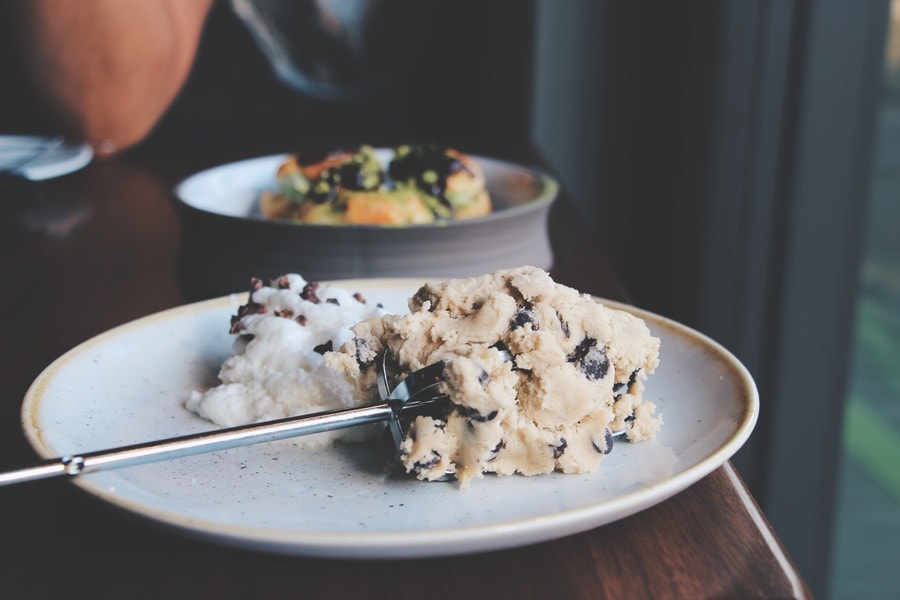 Little Donkey
Little Donkey is the latest Boston-area creation from chefs Jamie Bissonnette and Ken Oringer, the James Beard Award–winning duo behind the adored restaurants Coppa and Toro in Boston's South End. You might come in for their Instagram-famous chocolate chip cookie dough, served on a mixer beater, but you'll return for more of their impeccably crafted, global-inspired small plates and beautiful cocktails.
505 Massachusetts Avenue, Cambridge, MA 02139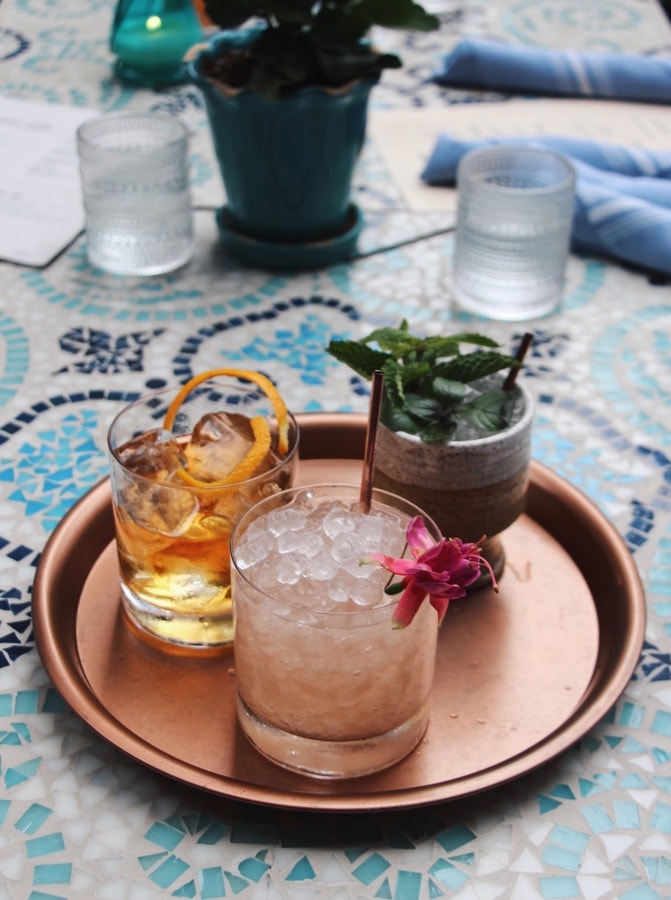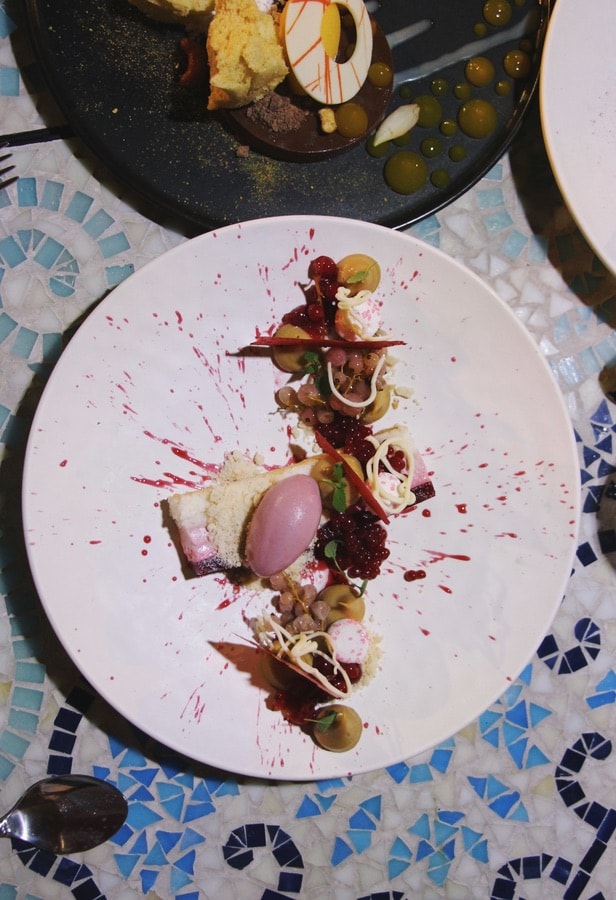 Cultivar
A recently opened modern American restaurant in the Ames Boston Hotel downtown, Cultivar is an excellent spot focused on seasonal and sustainable cuisine. They even have an on-site hydroponic garden, where talented chef Mary Dumont forages some of her produce for the menu. With great cocktails and great desserts too, all served in a beautiful eighty-eight-seat dining room, this spot deserves all the hype it gets.
1 Court Street, Boston, MA 02108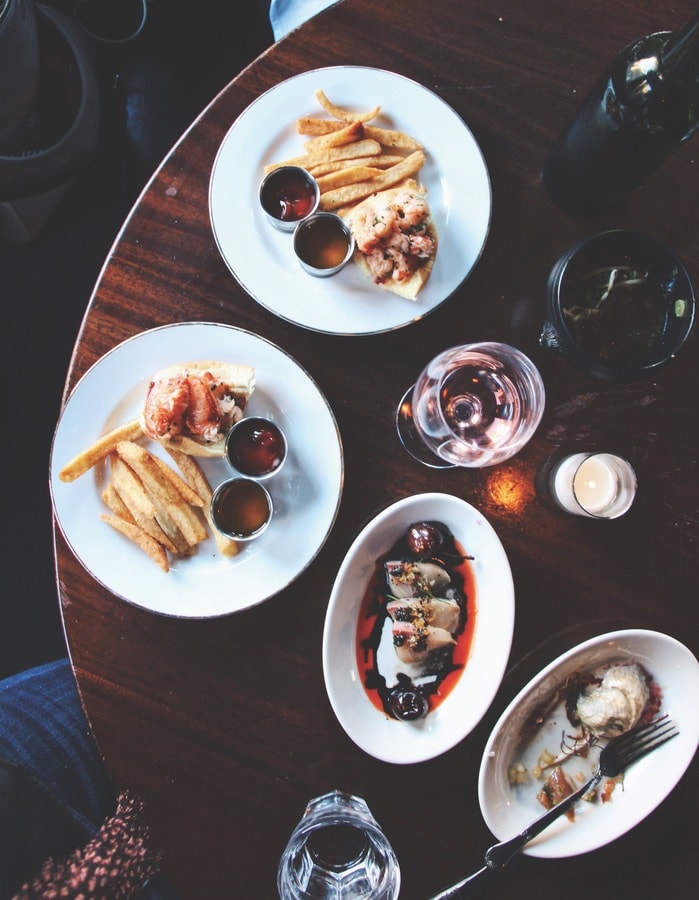 North Square Oyster
North Square Oyster is another recently opened spot that has grabbed the attention of Boston's gourmands. The restaurant is located in the North End, just a short walk from the Paul Revere House, so don't let the tourists deter you. North Square Oyster's beautiful composed oysters are a must, and you can't go wrong with their crudos or their fantastic lobster and oxtail Bolognese.
5 North Square, Boston, MA 02113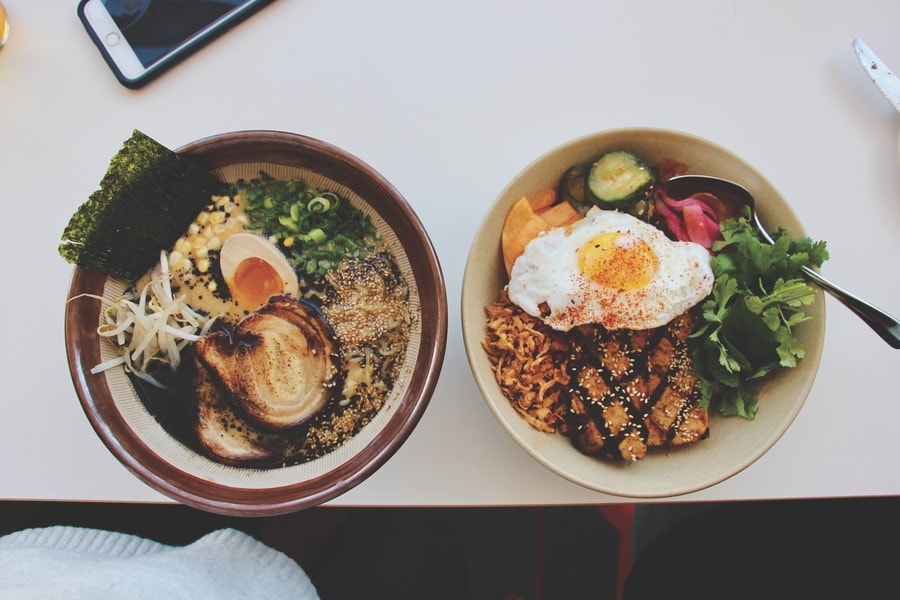 Little Big Diner
Little Big Diner's ramen, rice bowls, and draft cocktails make it worth the trek to Newton Centre, a little bit outside of the city. With only twenty seats and no reservations, you'll see the line on Sunday morning start to build before they open at eleven thirty. Come early to get a seat!
1247 Centre Street, Newton, MA 02459
Brassica Kitchen + Cafe
A no-frills foodie paradise, Brassica Kitchen + Cafe is an eclectic café by day and restaurant by night in Boston's crunchy Jamaica Plain neighborhood. Chef Jeremy Kean leads an incredibly talented culinary team, and I encourage you to let them guide you by doing the tasting menu, which is also available in pescatarian and vegetarian formats.
3710 Washington Street, Jamaica Plain, MA 02130
— V —
---
Tiffany Lopinsky is a Boston-based food blogger. She started her blog, Boston Foodies, in 2014 while she was a sophomore at Harvard. Tiffany has grown her audience to hundreds of thousands of readers across Instagram (@bostonfoodies) and her site, Boston-Foodies.com.
ARTICLE CATEGORIES