By Lisa Burwell
As a person who has a great appreciation for quality and craftsmanship, I am honored to be able to publish our annual Architecture & Design issue showcasing all things wonderful and lovely. The vanguards of fashion, dining, interior design, photography, art, and architecture featured within are extremely accomplished in their respective fields and are making the world more beautiful because they are in it! They are beautifiers, and the world needs them more than ever; the beauty they create helps to balance the chaos and add order to our lives.
I have had the great privilege of living long enough that I can see the wake behind me, and I marvel at how accomplished some people are and what they can achieve—those with fierce determination, who do not take no for an answer and must make their mark in the world even if it kills or financially ruins them. These are the creatives, the beautifiers. To be one of them takes guts, time, talent, and energy. This is not about creating something pretty—it is about creating a sense of place and substance. It is about perseverance and craftsmanship.
I've lived on Scenic Highway 30-A in Northwest Florida for twenty-five years, and on a few occasions have thought of it as "architectural nirvana." The architects, interior designers, builders, and developers along this stretch of beach are like no others; they create magnificent homes, not to mention the New Urbanist towns of Seaside, Rosemary Beach, WaterColor, WaterSound, Alys Beach, and, debuting soon, Kaiya. There are pioneers and visionaries that have paved the way here. Robert and Daryl Davis's Seaside was the first New Urbanism community, created with the founders of DPZ, husband-and-wife team Andrés Duany and Elizabeth Plater-Zyberk. Their vision of European town meets Nantucket, Charleston, and Savannah, complete with live-work spaces and a local grocer, was to be the antithesis of suburbia, where cars isolate people from a sense of community. The concept took off and grew into an anomaly that became an architect's dream town. Residents and tourists alike embraced Seaside as their own special beach town.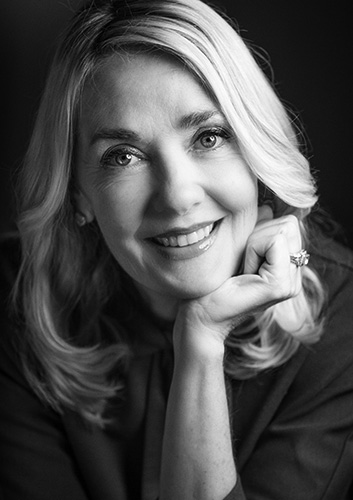 I've heard Duany say that Alys Beach was his favorite New Urbanist project, and by learning from past mistakes with other communities, he created his Sistine Chapel there. Enter another married architect duo, Erik Vogt and Marieanne Khoury-Vogt, the town architects of Alys Beach and Kaiya, which they are bringing to life with developer Jason Romair. Read all about them in Tori Phelps's feature article "New Urbanism Placemaking Is an Art Form in Northwest Florida." The Vogts continue to create beauty, and their attention to detail and perfection shine brightly.
There is so much beauty in this issue, but what's beyond beautiful is watching the captains of their own destiny create magic! I met Kevin Boehm twenty-five years ago when he lived at the beach and had a funky little wine bar called Indigo. He has since become a restaurant mogul with his partner, Rob Katz; they now lead the award-winning Boka Restaurant Group with twenty locations in Chicago. Read all about it in "Living the Dream: A Taste of Chicago" by Jordan Staggs, and don't miss our Chicago travel spotlight by Kelsey Ogletree.
Make sure to read Melanie Cissone's "If the Walls Could Talk," expounding on how fashion designer Christian Siriano continues to break barriers and create beauty all around him! His newly opened atelier, The Curated near Fifth Avenue in New York City, was designed with a retro-glam reflection of the early-1900s townhouse it occupies; the end result is exquisite and makes other retail venues seem pale in comparison.
At their core, the beautifiers possess an innate knowledge of beauty, and they continue to define and defend its purpose. They have a desire to create a legacy, and we're all the better for that!
To Life!

—Lisa Marie
— V —
ARTICLE CATEGORIES