By Anthea Gerrie |
Photography by Rob 't Hart, courtesy of MVRDV
When Ghislaine van de Kamp was pregnant with her second son, she and her husband realized one huge room above their workshop in Rotterdam, the Netherlands, was not going to cut it as a family home much longer.
"Our eldest lived in a kind of indoor shed in the middle of the studio, my husband and I slept behind a curtain, we all shared one bathroom, and, with a new baby coming, we conceded we'd have to move to the suburbs for more space," says Van de Kamp, the widow of the late, world-famous theatrical wig maker Sjoerd Didden.
But the family is still living above the shop, thanks to having one of the world's most visionary architects for a friend. Winy Maas, whose practice, MVRDV, is known for its vibrant, playful use of color, confesses to an obsession with using every available inch of urban space. He persuaded his friends that instead of moving out of the city, they could simply move up. So, while the studio remains the heart of the house, it now boasts sleeping arrangements comprising a trio of cornflower-blue toytown-like houses on the roof, accessed via separate spiral staircases.
One contains a bedroom and a bathroom for Van de Kamp, the other a pair of bedrooms with en suite bathrooms and toy storage space for the boys.
Jan, the older of the two sons, is now grown. He breaks off from helping his mother braid a handmade wig to show me around the dazzling roof space (Van de Kamp has kept the wig business going since Didden's death in 2015). As we ascend, Jan points out that he and his brother have their own private staircases, the two curling around each other in a playful double helix. But this was no mere architectural jest by Maas, who strongly felt that it was time for a family who had lived in the same room for so long to have their own spaces clearly delineated.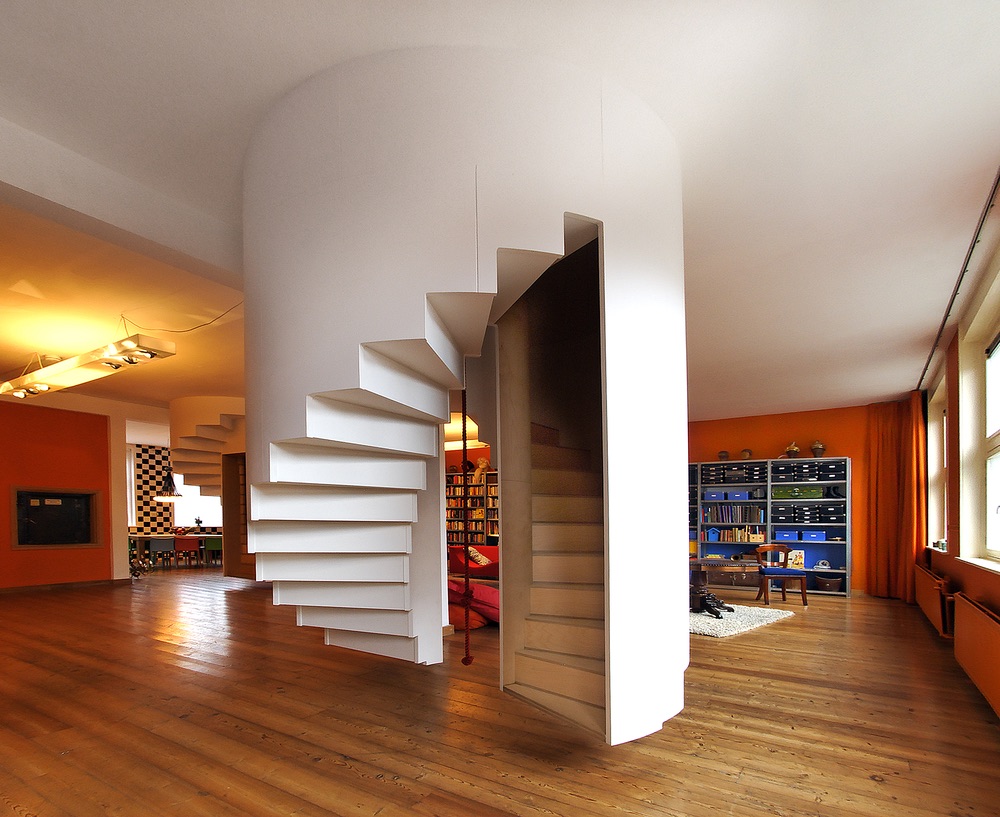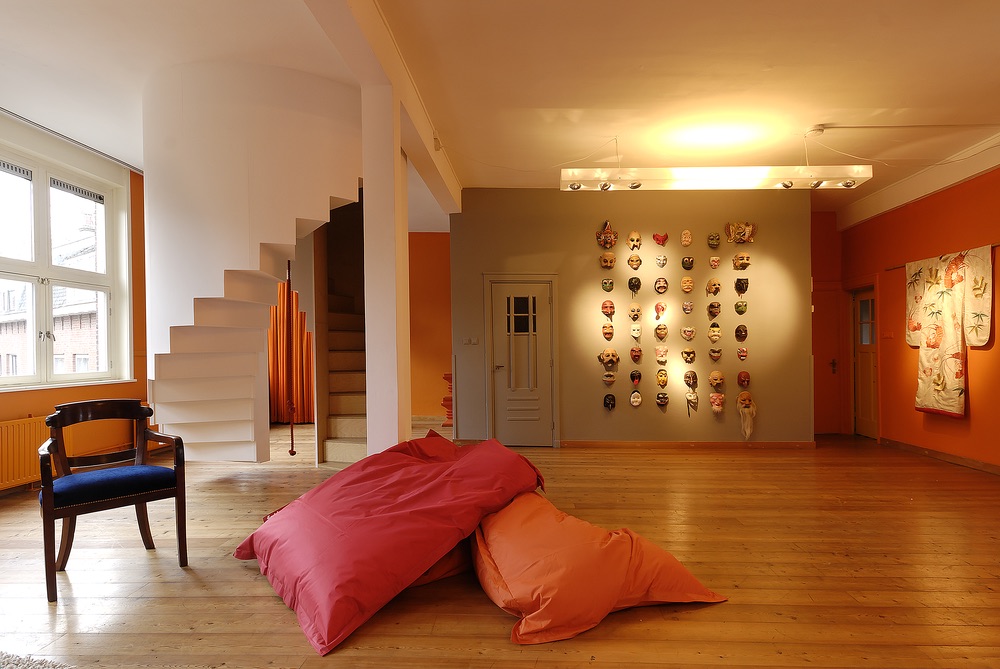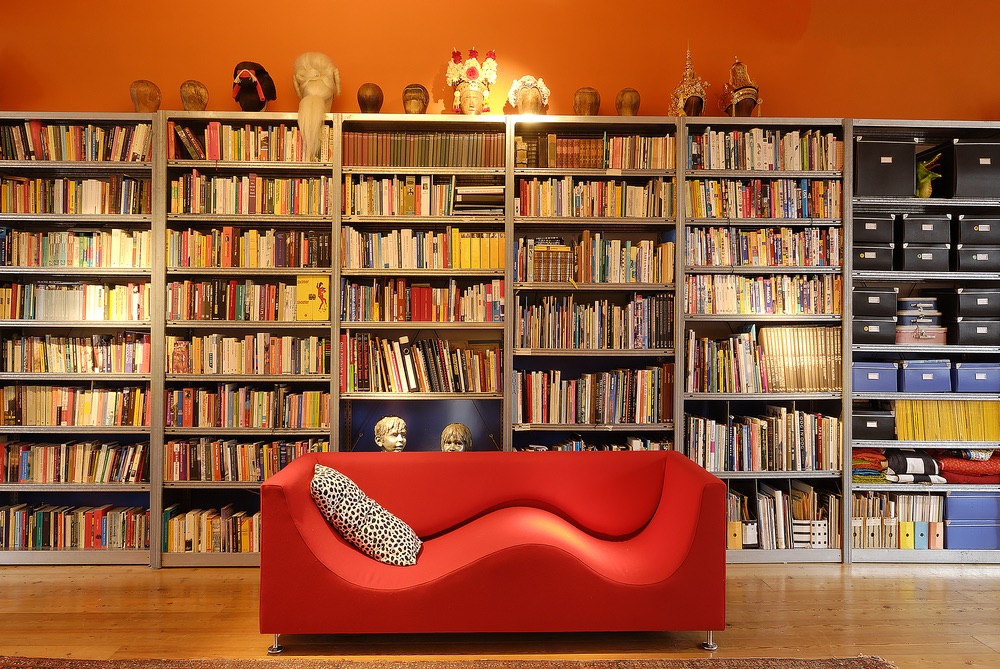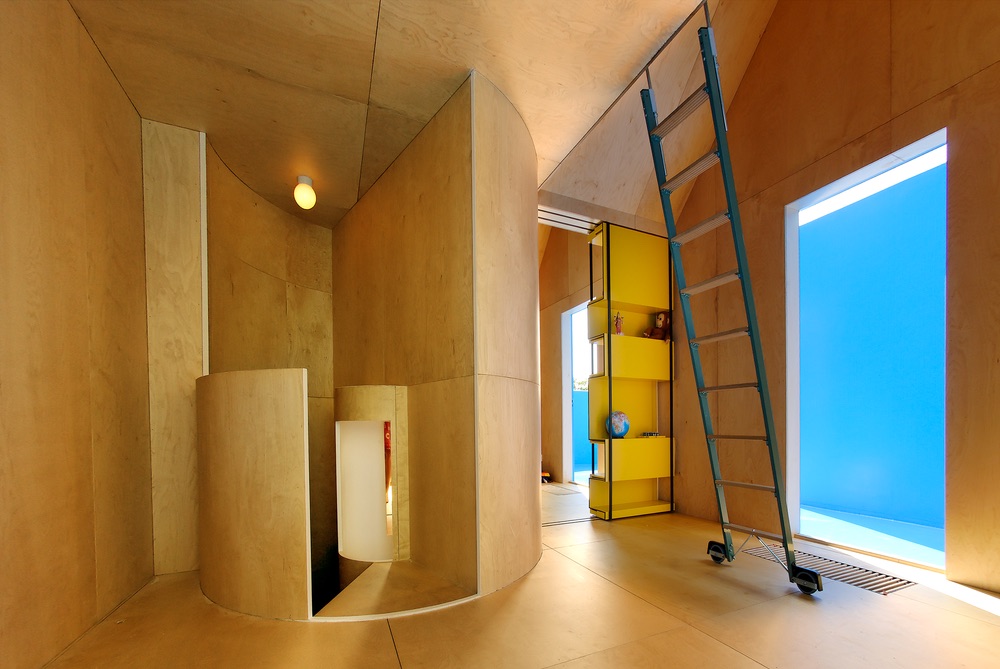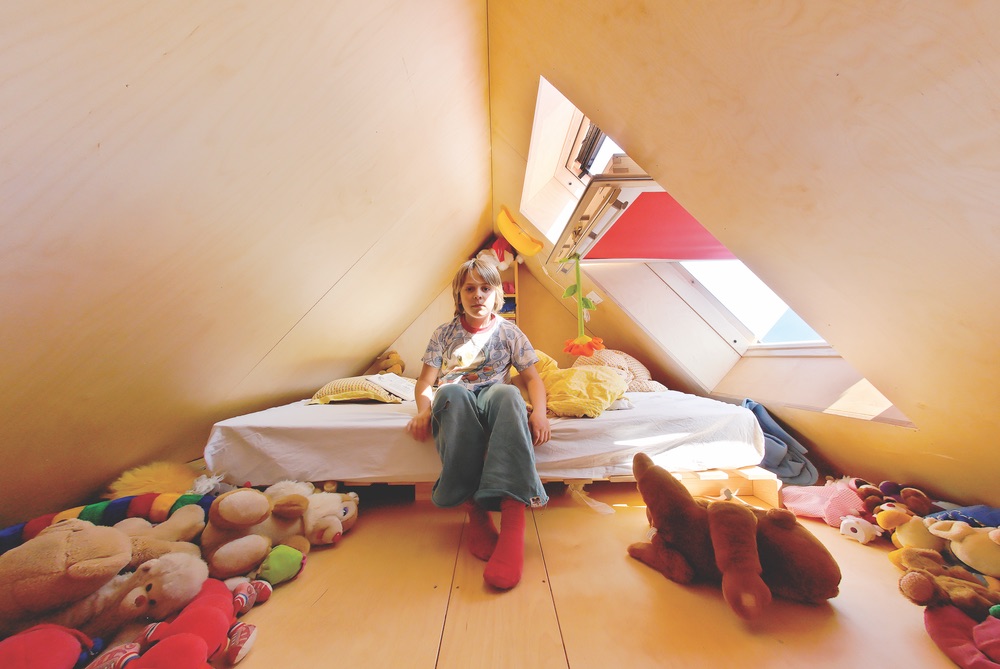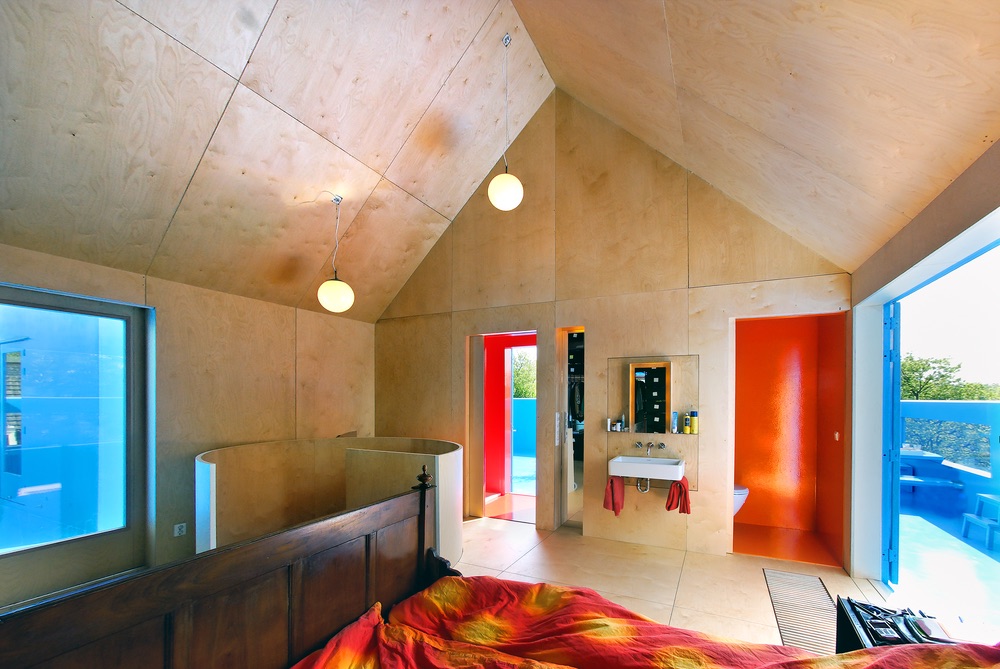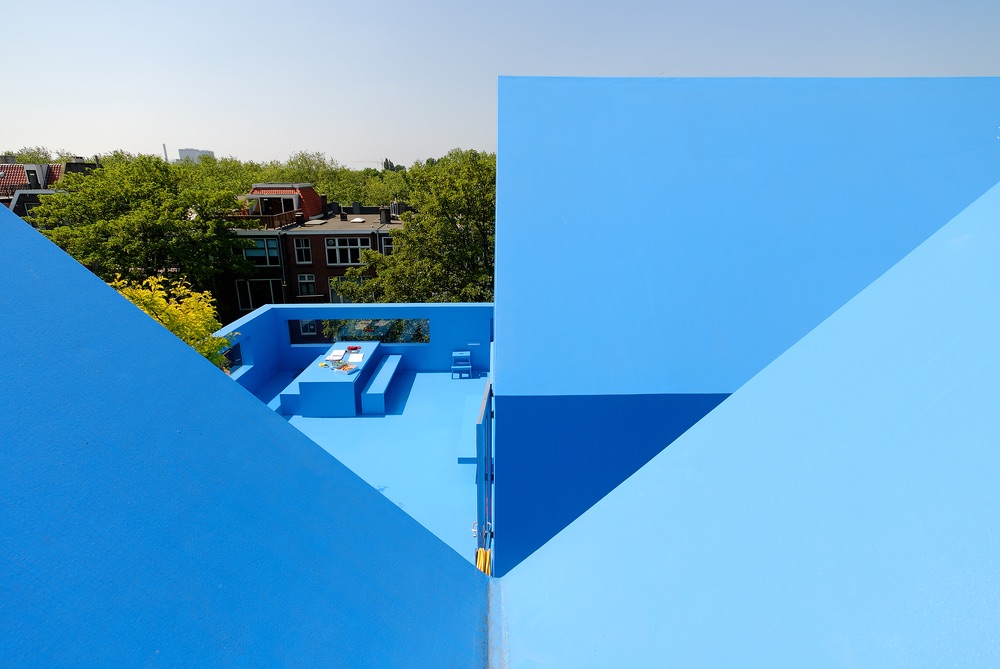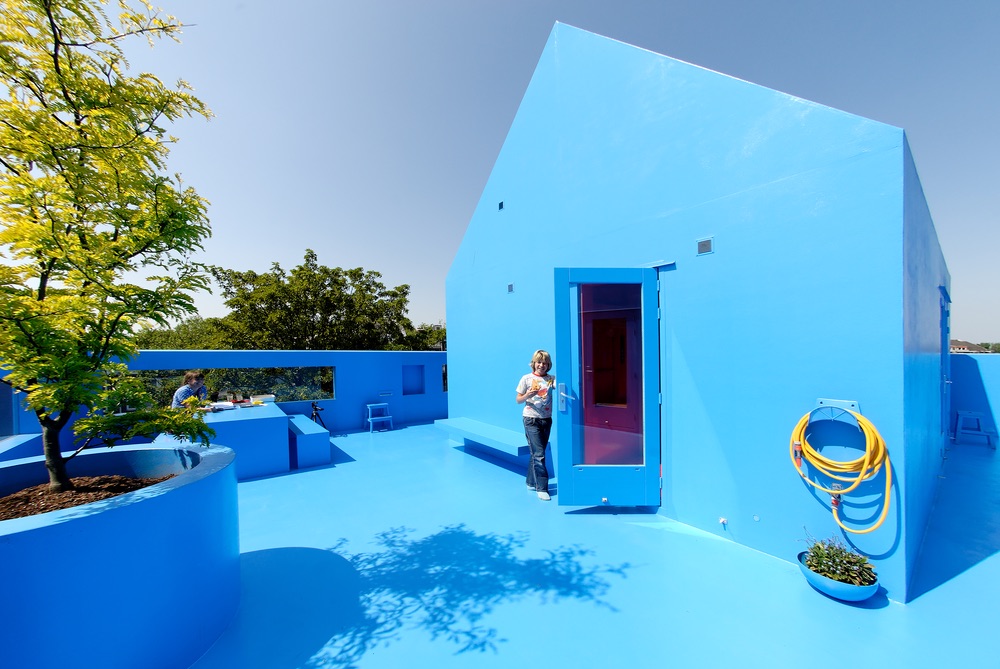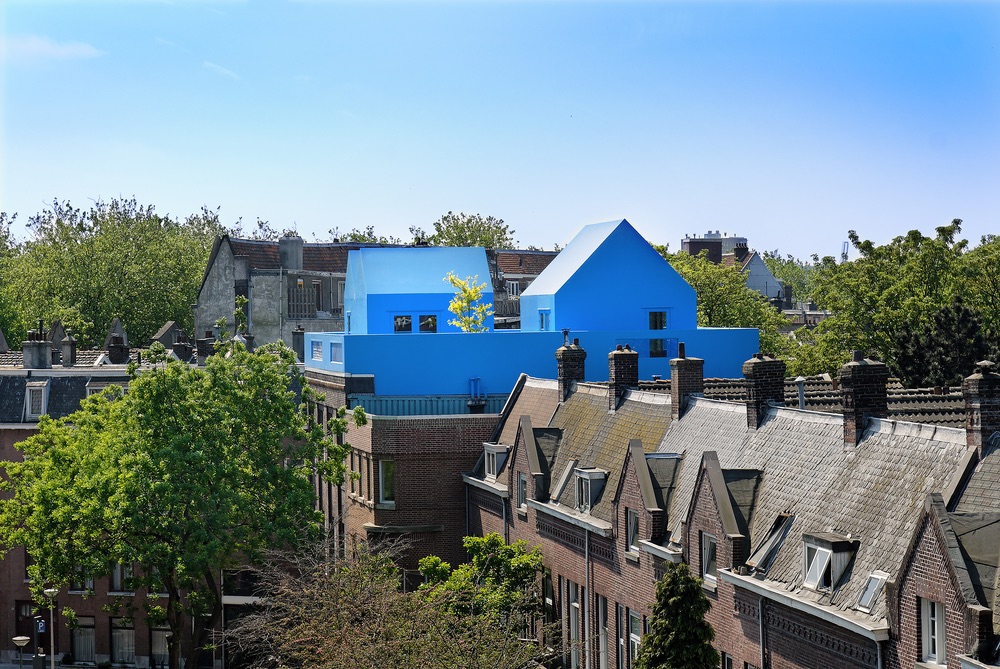 Upstairs, it's all about color—acid-yellow patio furniture and a scarlet bathroom for Van de Kamp making for an eye-popping contrast with what's surely one of the most startlingly vibrant blues on the Pantone chart. Is this shade, whimsically described by the architect as "a new heaven," too bright to live with? "It was picked by Winy, and we never questioned him," says Van de Kamp, who remembers the shock of coming home from giving birth to her second son and having to adapt rapidly to her new surroundings.
But if the couple was shocked, it was in a good way; before his death, Didden spoke of the joyfulness he got from brushing his teeth in a new, bright-blue space that made him feel like every day was starting well. And, clearly, they were not worried about what the neighbors would think when a matching parapet was added, making this audacious extension—the first project that MVRDV realized in its hometown—visible from many vantage points in the city.
Didden Village, or the Blue House as Rotterdammers have nicknamed it, is on view to the public once a year as part of Rotterdam Rooftop Days weekend. And it has persuaded other locals to make the most of their roofs, if only to create eco-friendly gardens. The environmentally minded city of Rotterdam, in turn, now gives subsidies for green spaces on rooftops.
— V —
---
Visit MVRDV.nl to see more projects.
Anthea Gerrie is based in the UK but travels the world in search of stories. Her special interests are architecture and design, culture, food, and drink, as well as the best places to visit in the world's great playgrounds. She is a regular contributor to the Daily Mail, the Independent, and Blueprint.
ARTICLE CATEGORIES