Kelsey Ogletree | Photography courtesy of Marianne Angeli Rogriguez
Filipino American trailblazer Marianne Angeli Rodriguez is painting her own path, embracing color and community in Covington, Louisiana.
When looking at the original pieces created by the incredibly talented Rodriguez, one cannot help but notice the vivid use of color. Hot-hued pinks and reds, neon greens, and rich blues explode off the canvas in eye-catching artworks. Although she was initially hesitant to use traditionally feminine colors, remarking, "I didn't want to feel typical, loving pink so much," she ultimately decided to use these colors to her advantage. One look at a Rodriguez painting will elicit a feeling of joy and excitement to any viewer.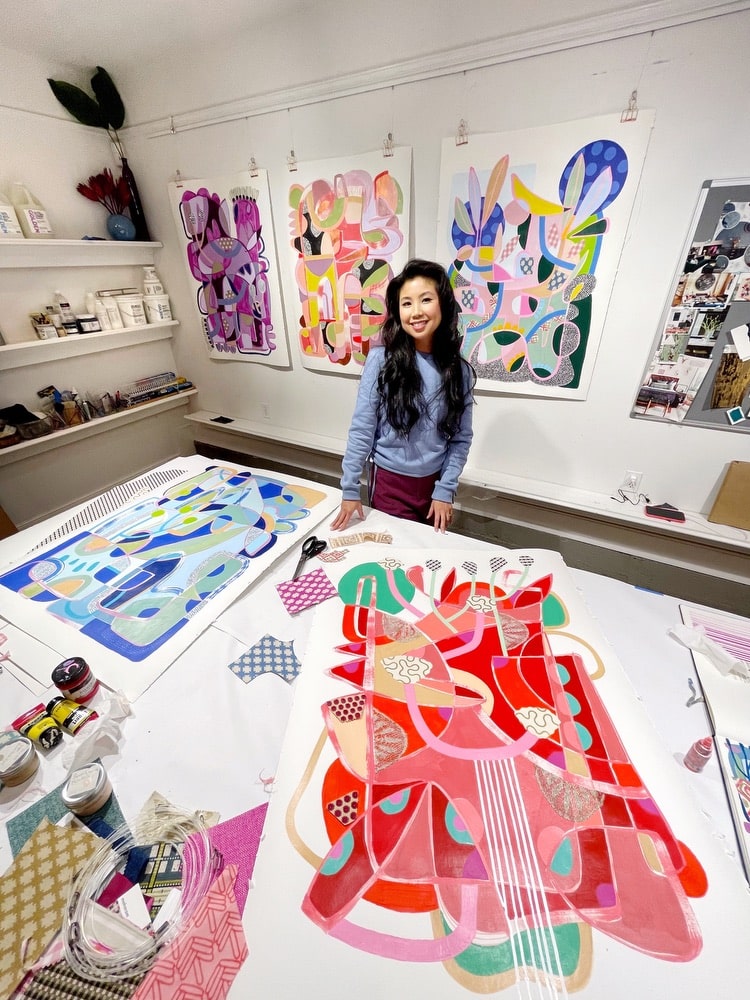 Growing up, the Filipino American never dreamed of becoming an artist. She was born in Manila and moved with her parents and two older brothers to New York at the age of seven. "My parents were very appreciative of art," says Rodriguez, "but being first-generation immigrants, it was always their hope I would go into something more stable." After attending Hunter College, she planned to pursue diplomatic work and land a role within the United Nations. However, her career path diverged, and she fell in love with the world of fashion. Rodriguez decided to go back to school for womenswear design at the Fashion Institute of Technology. "That opened up my world," she recalls. "Being around artists made me realize I should have gotten in touch with my creativity sooner."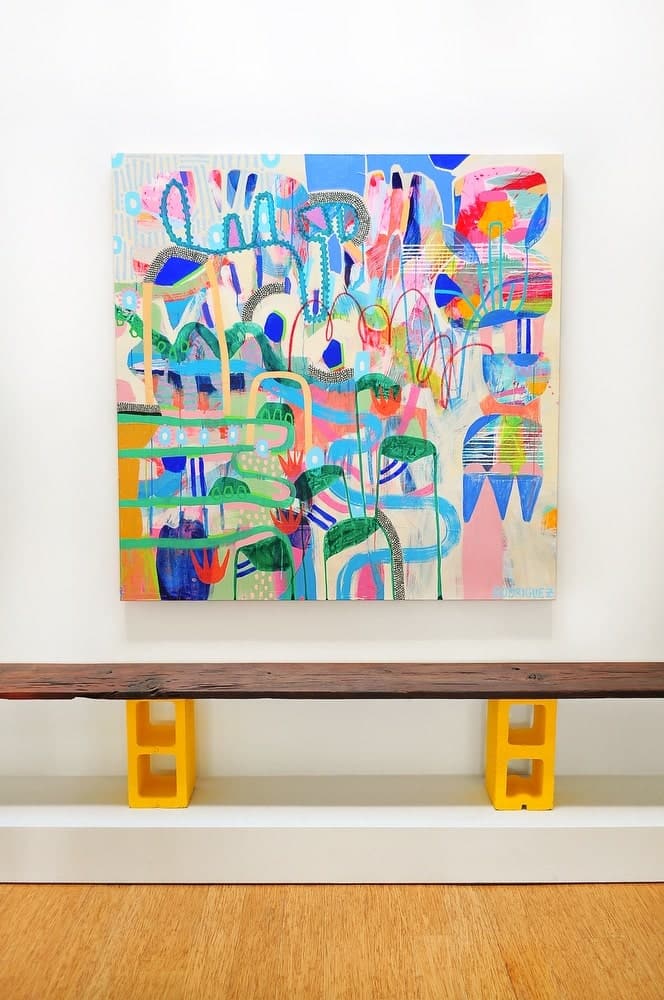 After several moves, including a big one to New Orleans, Rodriguez eventually landed in Covington, Louisiana, where she now lives with her husband. She started a business from her garage, taking classes to learn how to build a website, photograph and market her work, and manage the behind-the-scenes details of being an artist. "You don't learn this in art school," she says. Although the process was tough, it was essential to the successful February 2020 launch of her gallery in downtown Covington.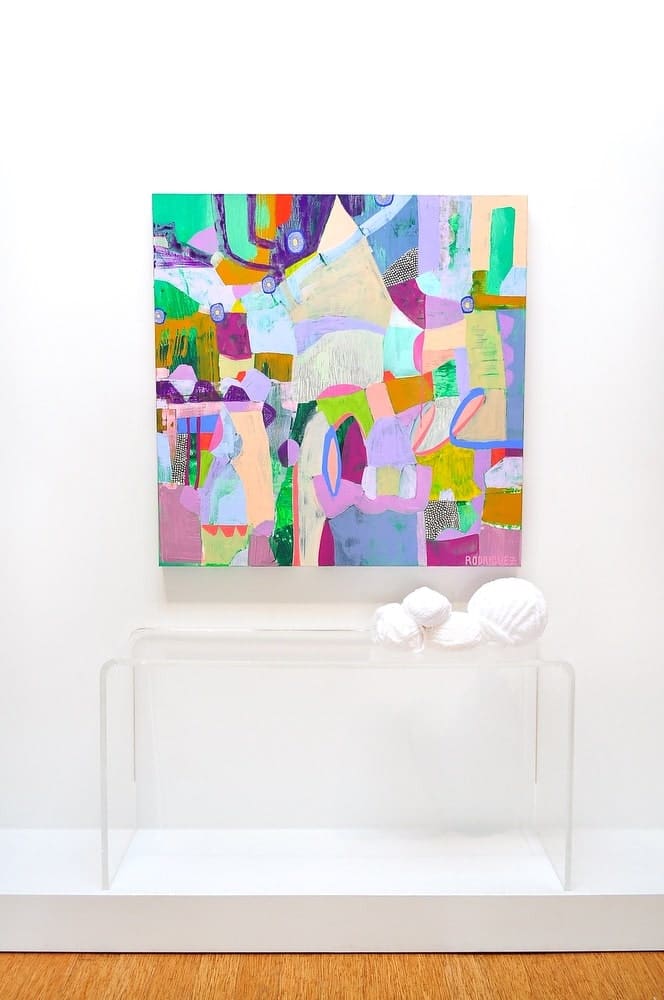 Opening a new store two weeks before a global pandemic would scare even the most experienced artists, but this did not stop Rodriguez. She shifted her approach when foot traffic dwindled, drawing upon her marketing skills to sell her work through Instagram (@marianneangelirodriguez). Social media has become a tool that's helped her overcome insecurities around sharing her pieces online. Marianne came to realize she was the best advocate and voice for promoting her work. "As an artist, you're putting value out into the world, and it's up to you to meet the eyes of those who want to connect with that," she says.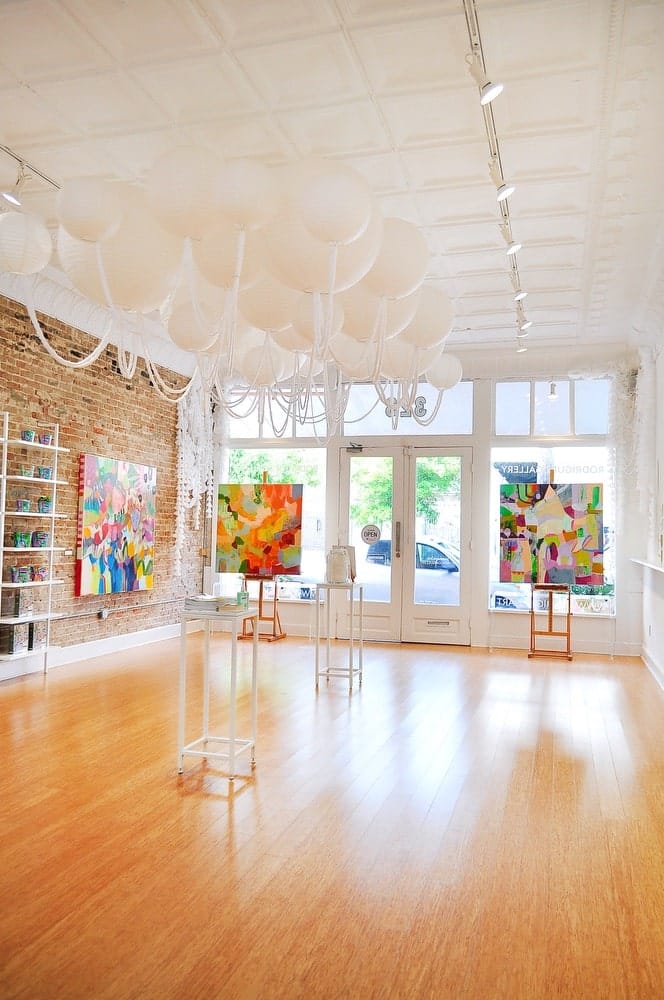 Being in Louisiana, Rodriguez says many painters render traditional Southern scenes with flora and fauna. While she appreciates the artistry, she maintains her unique style by focusing on her own work. "I love all that, but I try not to look so much at other painters, as I don't want that to infiltrate my consciousness," she says. It was a leap for her to present such bold, contemporary, large-scale art in Covington. Still, she wanted to stay true to things that inspired her—the feeling of being at a festival, a ceremonial dress, or even the shapes of jewelry.
Her mixed-media works, which incorporate pieces of textiles and fabrics she's been collecting from her time in New York's Garment District—and even scraps from old wallpaper books—are among her most striking creations. Although her vibrant, abstract pieces are among her most recognizable, she is not blind to the beauty of simplicity. Included in some of her best-selling items are terra cotta pots called Peace Planters. Painted with black-and-white or multicolored faces, the planters "evoke a sense of mindfulness and peace within everyday life." It is no surprise that her customers are so fond of them.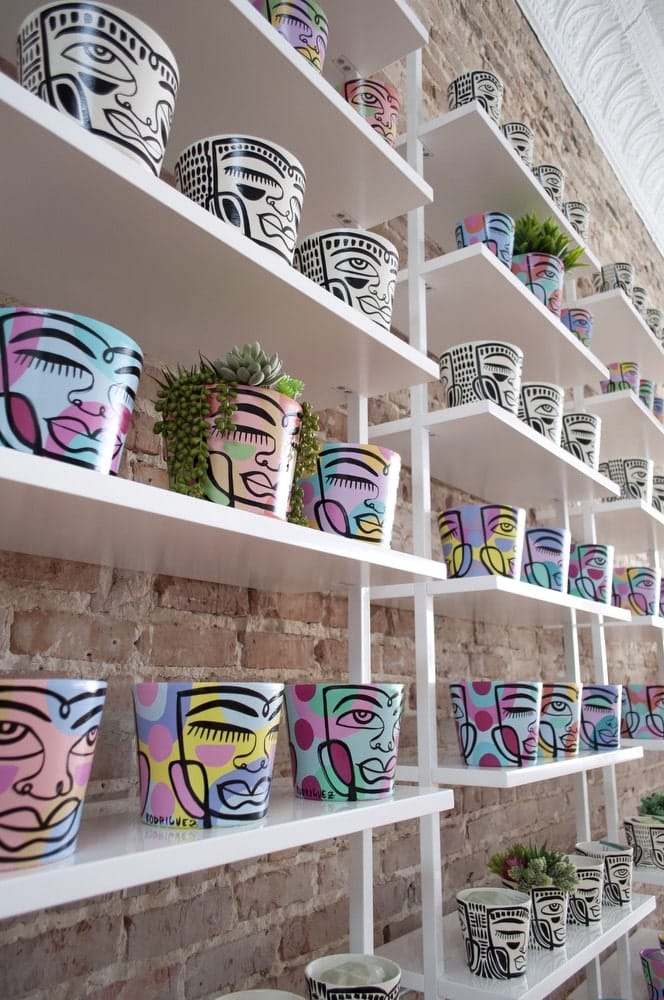 As abstract and filled with whirlwind color as her pieces can be, Rodriguez needs a clean workshop to be at her best. "I will spend an entire day cleaning up—clutter really disturbs my flow," she says. Unfortunately, she's had to spend a lot of time cleaning up lately. Covington was hit hard by Hurricane Ida in late August and is still facing months of recovery. Rodriguez's gallery was spared, with only minor flooding in her studio, but her home experienced more substantial damage. Personal challenges aside, mere days after the hurricane, she was already looking for ways to help others. In September, she held a hurricane recovery sale, donating 10 percent of the profits to a local art and beautification initiative.
Rodriguez anticipates her work will be on hold for a bit longer while she focuses efforts toward the recovery of her community. She is anxious to get back into creation mode, experimenting with various canvas sizes and expanding her mixed-media works—salvaged wood from a fallen tree at her home could even make an appearance in an upcoming piece, she shares. She stocks her studio, now reopened, with sparkling water and crunchy snacks and tunes into upbeat music, such as that of duo Polo & Pan, to get in the zone. Her five rescue pets (two dogs and three cats) are faithfully by her side, hanging out in the gallery on a typical day, even drawing in visitors who might not otherwise stop. "We joke that the animals are our salespeople," she says. "People won't notice the art, but they'll notice the cats—and end up buying a print."
A Miniguide to Covington
Aside from her eponymous gallery, which you can spot by the brightly colored planters outside, here are a few more local favorites Marianne Angeli Rodriguez recommends to visitors.
● Lola: A favorite spot for date night or getting together with friends, this charming restaurant is set inside an old train station. The kitchen is an actual caboose, and there's seating in a train car. Lola.kitchen
● Southern Hotel: "The recent renovation of this historic property is amazing. I always send people here. The owner is a huge supporter of the arts and collects my works," says Rodriguez. SouthernHotel.com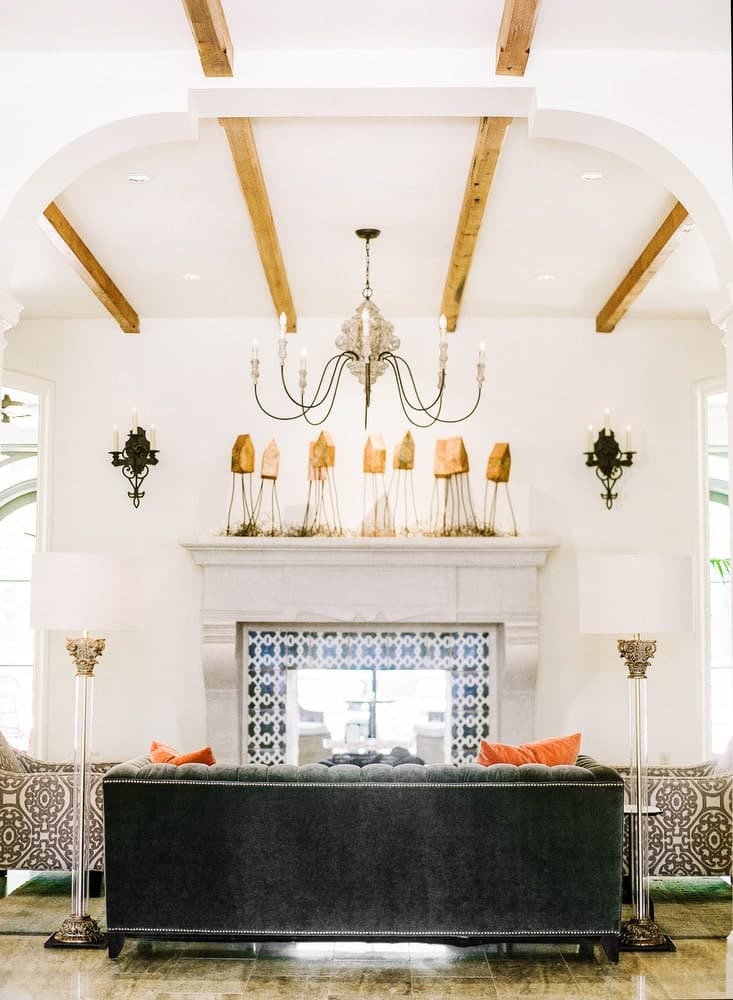 ● The English Tea Room & Eatery: You'll feel transported to London in this cute spot, which serves more than two hundred teas and has a red telephone booth outside. EnglishTeaRoom.com
● Columbia Street Landing in Bogue Falaya Wayside Park: Rodriguez says, "I call this a secret garden—you would never know it's there if you're not from here." LouisianaNorthShore.com
- V -
---
Visit www.Rodriguez.art to learn more or follow on Instagram @marianneangelirodriguez. You can also visit Marianne Angeli Rodriguez Gallery at 323 North Columbia Street in Covington, Louisiana.
ARTICLE CATEGORIES