Making a Difference
By Ilona Kauremszky
Swirling in a hypnotic dream, massage after massage, Thailand conjures every divine thought in a kingdom of wellness.
The soft hint of kaffir lime emits a world of calm inside my secluded pleasure dome of rustic luxury, while the sweet sound of silence pervades my perch on the edge of a tropical isle. Guests staying at the Six Senses Samui indulge in the most popular pastime here: R & R.
Nature reigns supreme at this wellness retreat nestled on the lush green island of Koh Samui. There are no cell phones, no digital distractions, only the cadence of methodic breathing as a master Thai masseuse, right on her A-game, pulls out the knotty city stresses from her clients' muscles.
Thailand has been ranked consistently in the top ten of the Happy Planet Index for sustainable well-being, as the Thai are famous for their warm, friendly spirit and their home is blessed with beauty and happiness. This Southeast Asian destination between the Gulf of Thailand and the Andaman Sea has attracted nobility, tycoons, and bohemian nomads in search of paradise. The climate, while humid most of the year, reaches a comfortable average temperature of between 75 and 82 degrees Fahrenheit from November through February, when Western tourists flock to the island resorts.
These days, wellness scribes also attest to the Thai brand of healthy living that is best enjoyed year-round.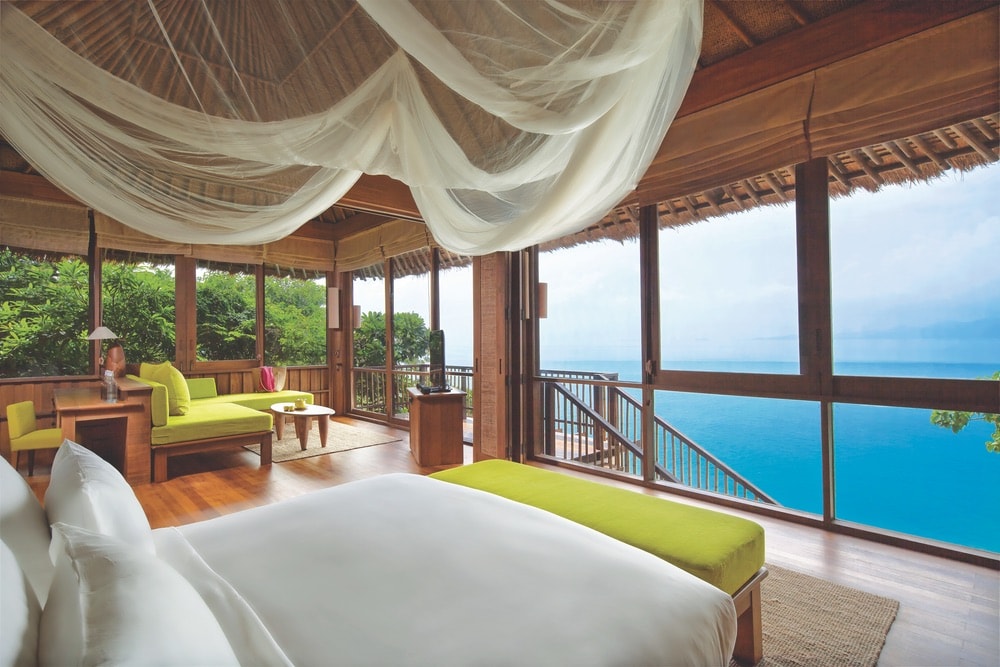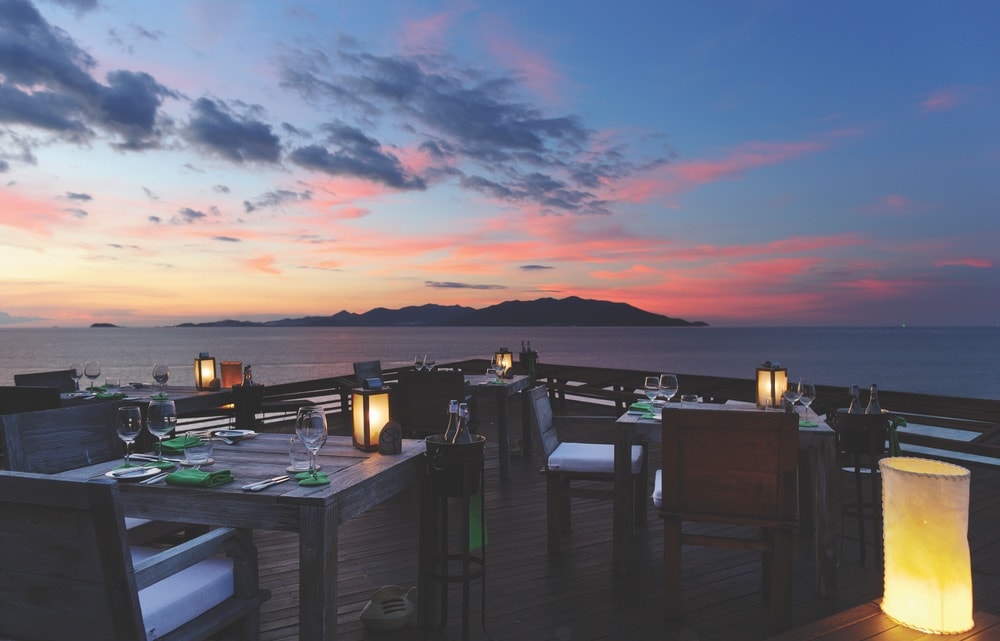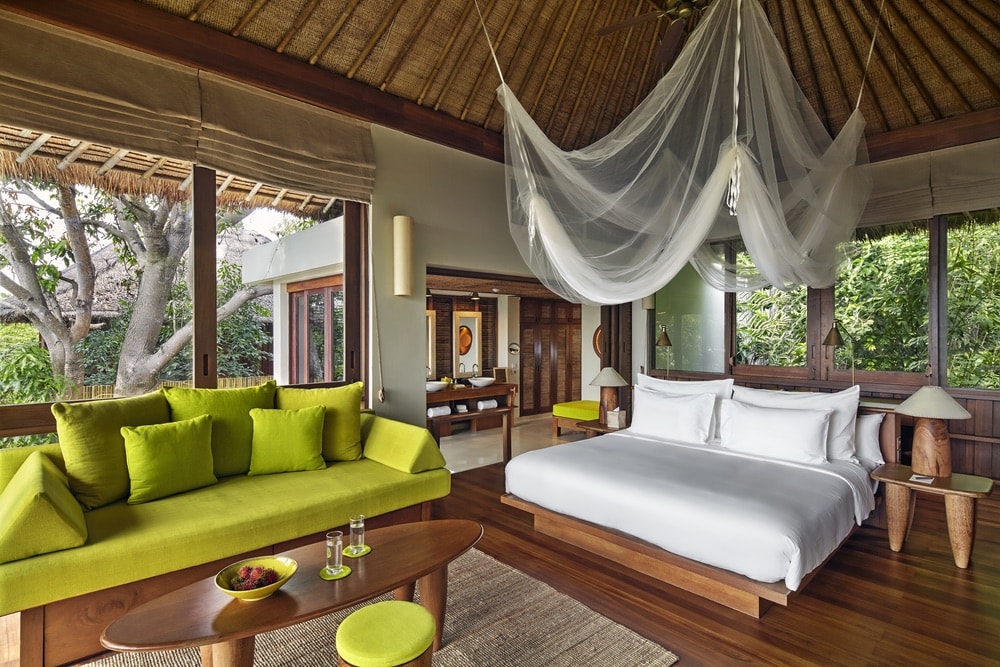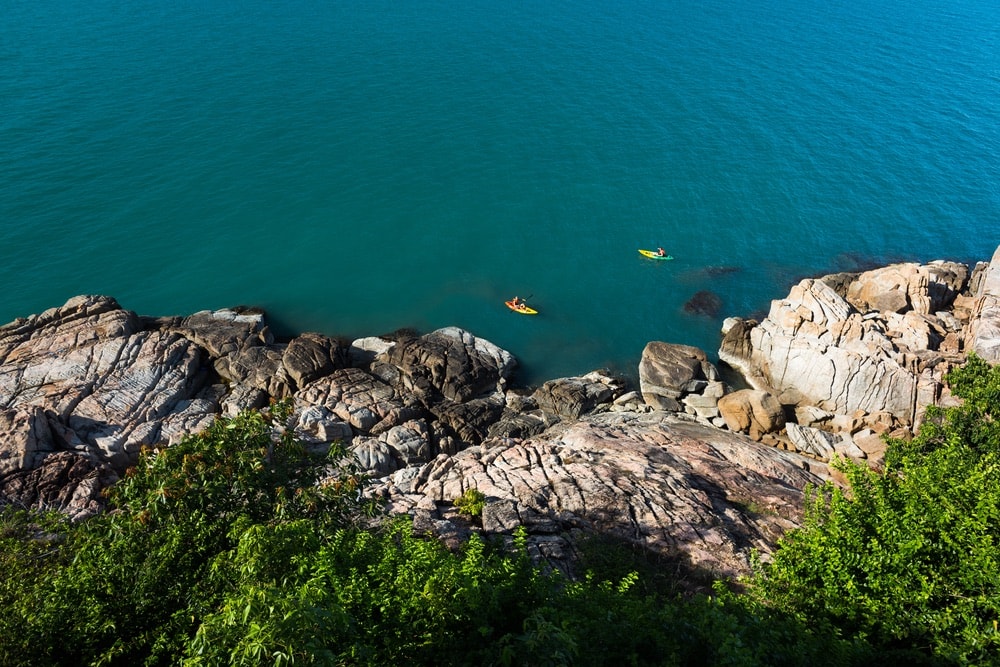 At this particular palm-studded oasis on Koh Samui (the island was once nicknamed Coconut Island for its profusion of coconut trees) lurks a mad scientist named Gary Henden. As the general manager at the Six Senses Samui, the British expat extols the virtues of sustainability and the prospects of healthy eating and keeping a happy balance. Guests staying at the secluded Green Globe 21–certified resort have an on-call butler, known as a guest experience maker (GEM), who can indulge all sorts of whims, including a tour of the property's new on-site sustainability program.
Dubbed Farm on the Hill, this permaculture environment was established last year and features a twenty-acre garden of indigenous plants, eighty chickens, twenty goats, a modular aquaponic system for organic produce, and a composting and recycling depot that, Henden adds, was born from a landscaping necessity. "We had a large volume of organic waste like branch trimmings, unutilized gray water, and a lack of nutrient-rich soil," he says as we twist and turn through the groves of passion fruit and gnarly butterfly peas to see a separate section devoted to recycling.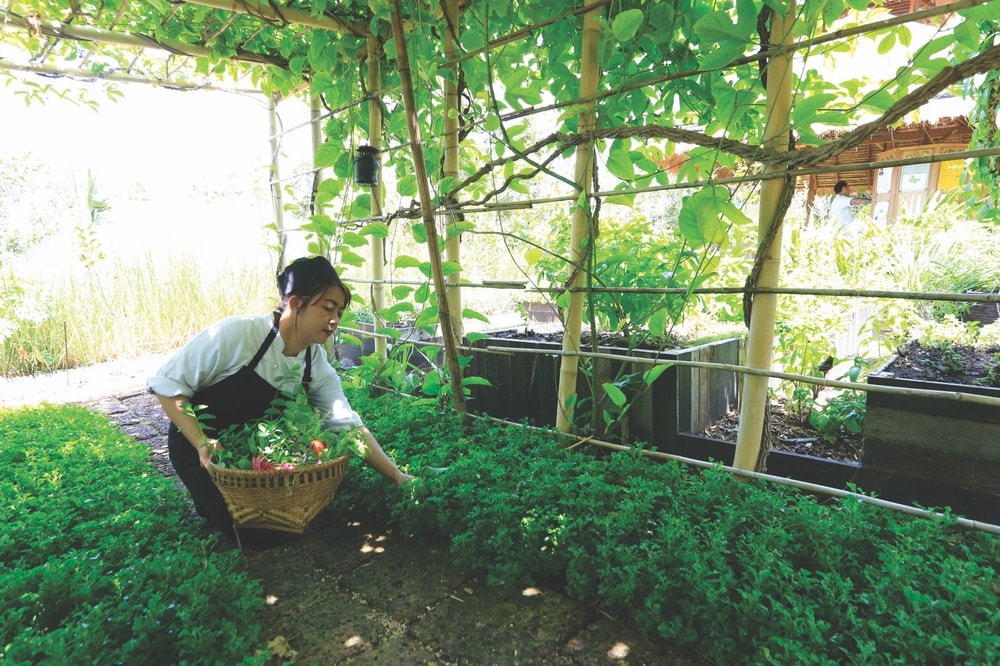 The enclosed site contains a natural reed bed system to filter and remineralize gray water, a compost bed for soil regeneration, biofuel containers for natural products, and a bio-charcoal system for various uses. "Farm on the Hill started as a small homegrown initiative to support our commitment to sustainability in the resort and our operations," Henden says, "yet in a short time, it has grown into a positive example of what can be done with strong conviction and minimal funds. The project has inspired the team and the local community, who actively participate in its upkeep and, in some circumstances, have replicated it at their own homes."
It's clean, healthy living.
Studio Naenna
Set at the base of one of Thailand's most spiritual mountains, a thriving indigo sanctuary blends spirituality with craft. It's also where Patricia Cheesman allows me into her inner sanctum to meet an ancient Mother Goddess at Studio Naenna.
An eco-textile maverick with forty years under her belt, Cheesman has authored numerous books and revived over a hundred traditional designs. She smirks as she whispers, "Meet the Goddess of Indigo," an affectionate nickname she uses to describe her ageless indigo dye. Our hands dip deep into the bubbling blue vat during an indigo tie-dye workshop.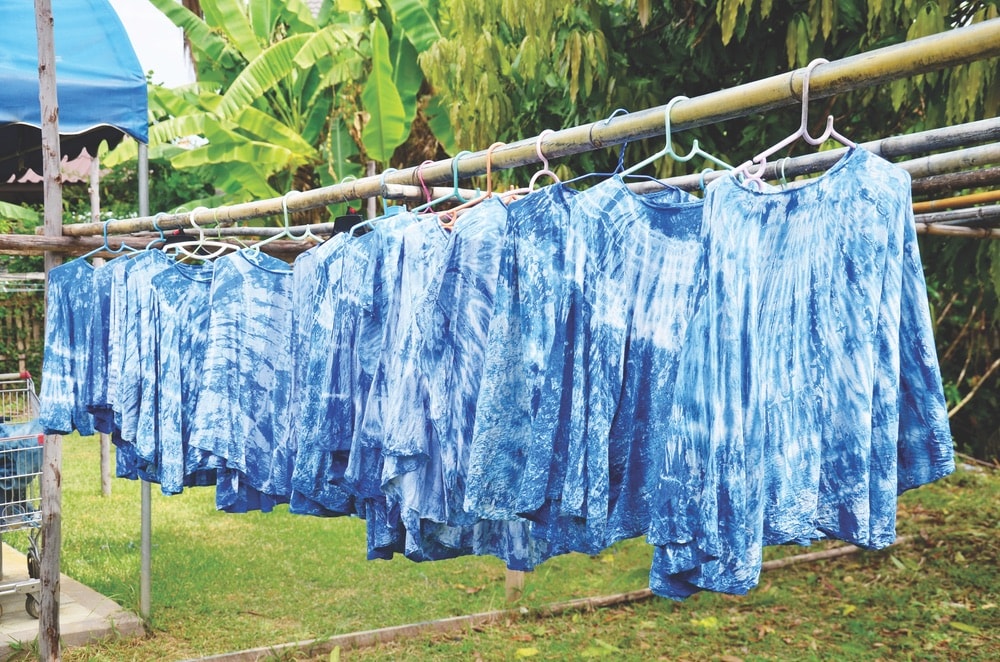 Inside their traditional Thai house near Doi Suthep mountain in Chiang Mai, the indigo tie-dye queen, alongside daughter Lamorna, has also resurrected the intricate art of heritage Thai weaving. On any given day, visitors can experience the exquisite weaving techniques of weft ikat, a type of patterned design, in a community project called Weavers for the Environment. Cheesman created the organization in 1992. "The craft is an alternative to migrating to the city to find work and allows these women to work from home with flexible hours," she says and adds, "It's not just the weavers benefitting; it's the extended family because we do fair trade. They get a good income from their work."
Patricia and her lead weaver, whom she mentored, train and offer satisfying, life-sustaining work and skills to young women mainly from two nearby hill tribes, the Karen and the Hmong.
While luxury brands like Neiman Marcus have sought after the highly skilled weavers and their quality handmade products, Cheesman notes that she has no interest in expanding the fair trade project. "Our aim is to maintain the culture. This means members weave in their homes, and the studio is the only outlet for their magnificent creations."
Later, over fragrant tea infusions in Cheesman's jungle garden, she rolls out ribbons of exquisite textiles in Thai silk and cotton fabrics with some creations in three shades of blue. "Like my clothes that are ten to fifteen years old, these beauties appeal to those who know they're going to get exquisite quality that won't biodegrade," she says, widening her grin.
Slow fashion rules.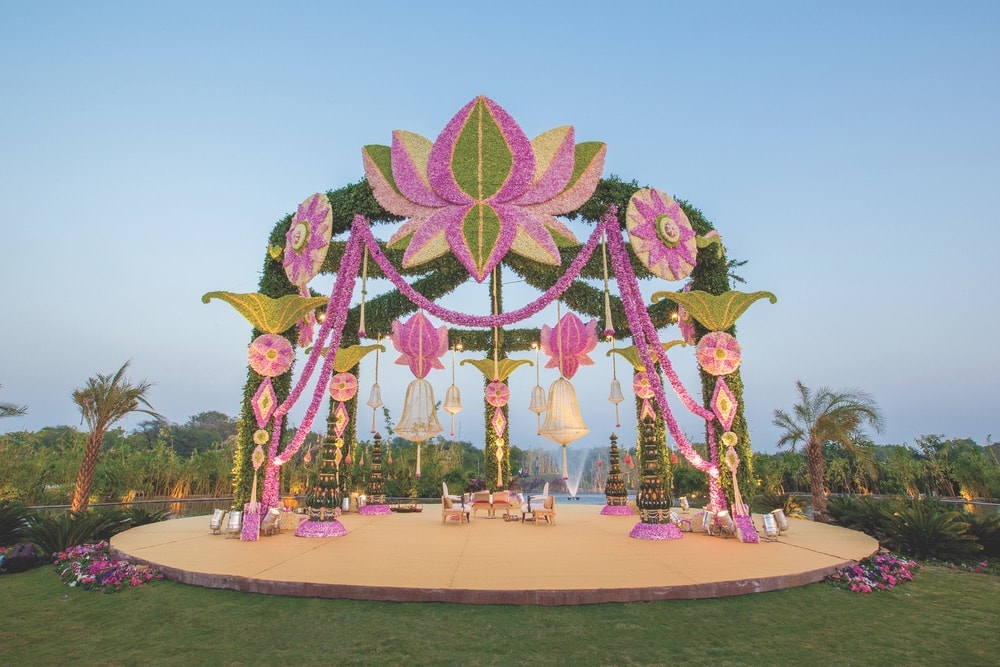 The Museum of Floral Culture
It was at the edge of an old royal district in Bangkok that the floral heavens united. As if in a giant perfume bottle, the fragrances of wild orchid, jasmine, tuberose, and sweet dok champa (frangipani) mingle at this otherworldly spot.
Flower lovers participate in a traditional Thai flower workshop and tour the restored century-old Thai mansion, now home to the world's first and only museum devoted to Asian floral culture.
The visionary behind this concept, Sakul Intakul, leads me through his blossoming parade. "Flowers are life," he whimsically gestures, fluttering his trademark purple fan before him.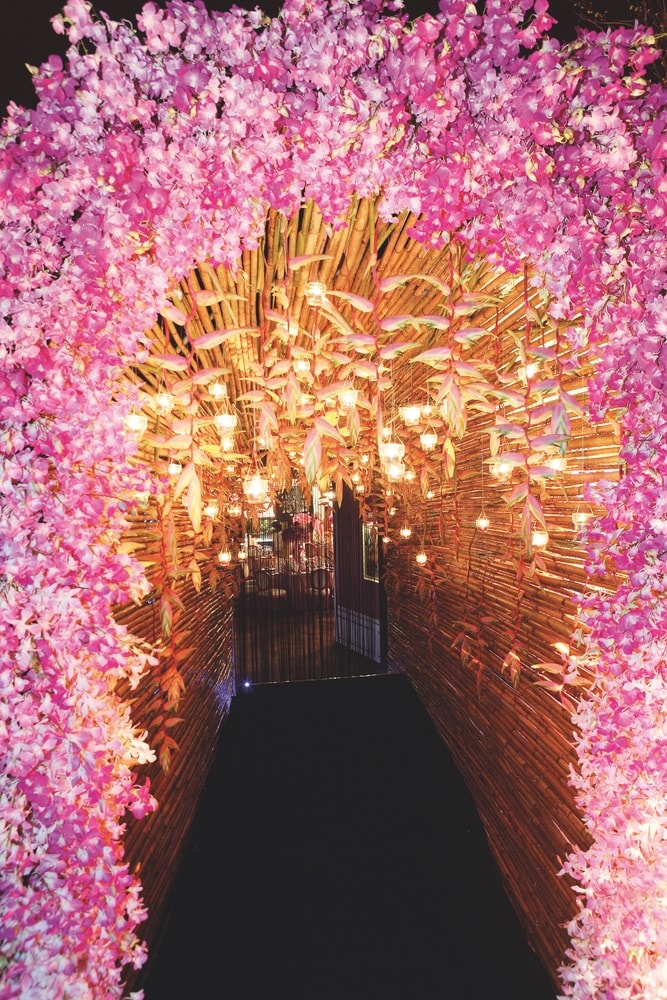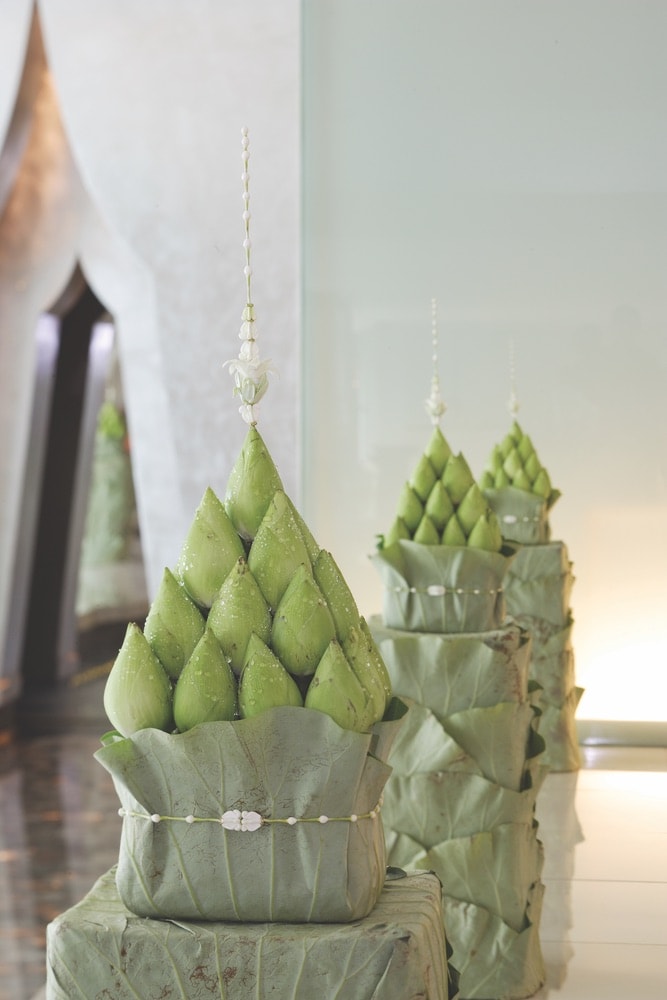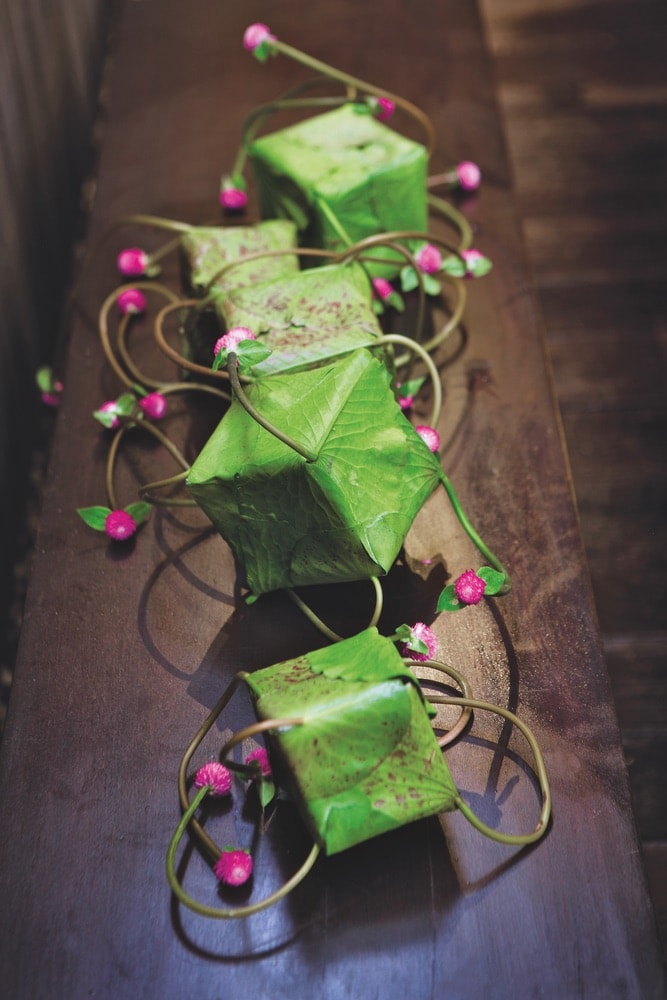 Flower motifs adorn the interiors everywhere while one wall is devoted to photographs and awards from Intakul's personal collection, revealing his extraordinary talents. The Bangkok resident has served as the royal floral designer for Her Majesty Queen Sirikit of Thailand and has designed floral installations for notable events such as the red carpet at the Rome Film Festival, hotel openings like the Bulgari Resort Bali, and Indian weddings. Next year, at the Chelsea Flower Show in London—considered the world's most prestigious garden show—Intakul will display an ode to Thailand's blossoms with a sculpted floral art piece. (Its design is currently under wraps!)
But the Baron of Blossoms or the Wizard of Flowers, as Intakul has affectionately been named, finds one of the best thrills in life lies in simple everyday beauty. "When a flower blooms, the universe rejoices," he smiles warmly, waving his purple fan yet again as we sit in his garden workshop ready to dive into a mound of jasmine petals set before us. "In Thailand, when jasmine flowers are woven together into a phuang malai, they symbolize friendship."
Indeed.
— V —
---
Reserve Farm on the Hill for an authentic Thai barbecue and take in a private sunset tour of the grounds: SixSenses.com/Farm-on-the-Hill.
Advance reservations are needed for a Thai indigo workshop at Studio Naenna: Facebook.com/StudioNaenna.
For more details on the Museum of Floral Culture: FloralMuseum.com.
For more travel information on Thailand: TourismThailand.org.
---
Ilona Kauremszky is an award-winning travel journalist who has worked with leading publishers worldwide, including Fodor's and Michelin, and such publications as The Globe and Mail, the National Post, the Toronto Star, the Boston Herald, Canadian Geographic, ELLE, and more. When not writing, she collaborates on the digital TV channel mycompasstv.
ARTICLE CATEGORIES