Bold and Beautiful Women
By Kelsey Ogletree | 
Art by Talula Christian
Talula Christian isn't a household name (not yet, anyway), but this Boston-based painter is rapidly raising her profile in the art world. She's collaborated with brands to showcase her patterns, such as on shoes for Bucketfeet, pajamas for Soma Intimates, and labels for Link Wines USA, and created scores of colorful paintings that are at once whimsical and glamorous—and often dotted with Swarovski crystals, glitter, and pearls.
"I just like everything to sparkle," says the self-described "overly serious" Christian.
Serious or not, Christian is best known for her playful Marie Antoinette–inspired paintings, a series that combines many personal aspects for the artist: her costume and wig design degree, her love of old movies, and her admiration for strong women.
She shares her talent with the world through her Etsy shop and Instagram account (@talulachristianart). In fact, every Antoinette painting she's sold—including her wildly popular reprints of U.S. Supreme Court Justice Ruth Bader Ginsburg—has been purchased through social media, perfectly illustrating the evolving way that technology impacts art in this digital age.
Christian hasn't always lived in a high-tech world. Her calling in life first became apparent as a young child growing up in small-town Missouri, armed with only paper and crayons.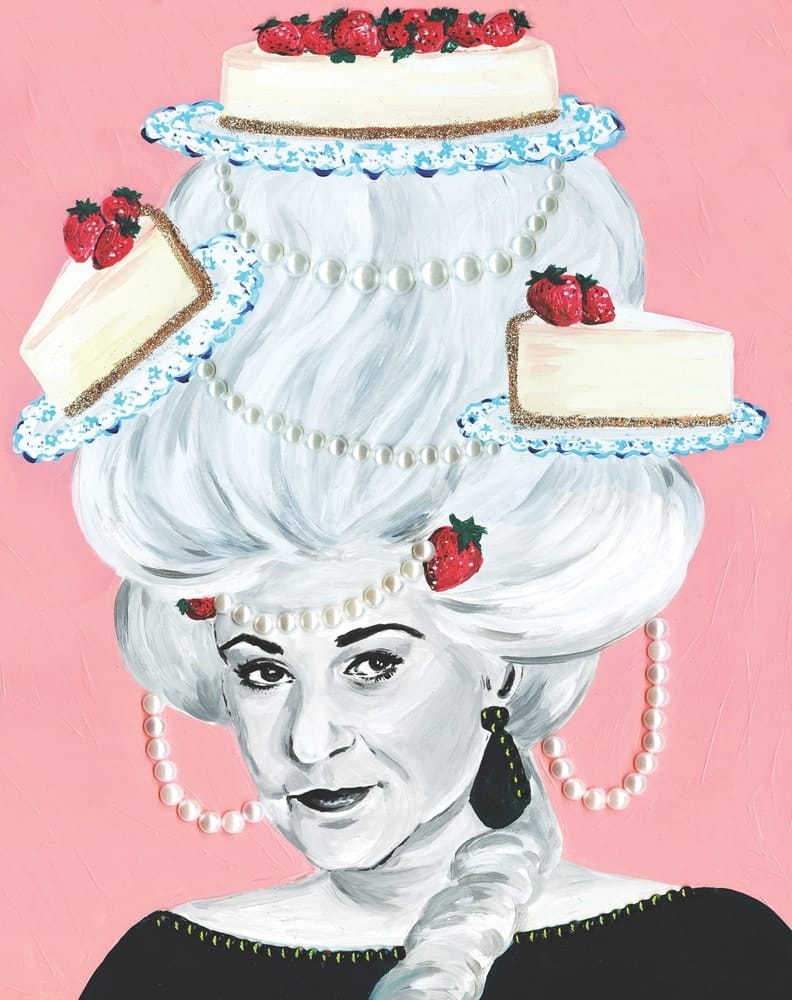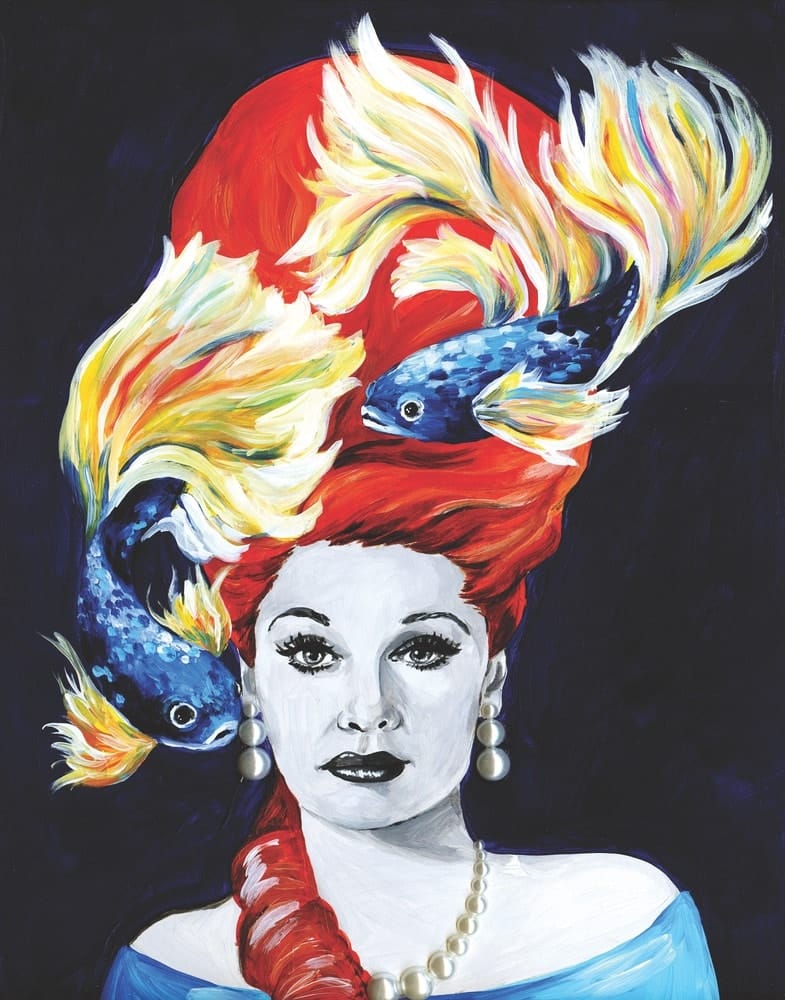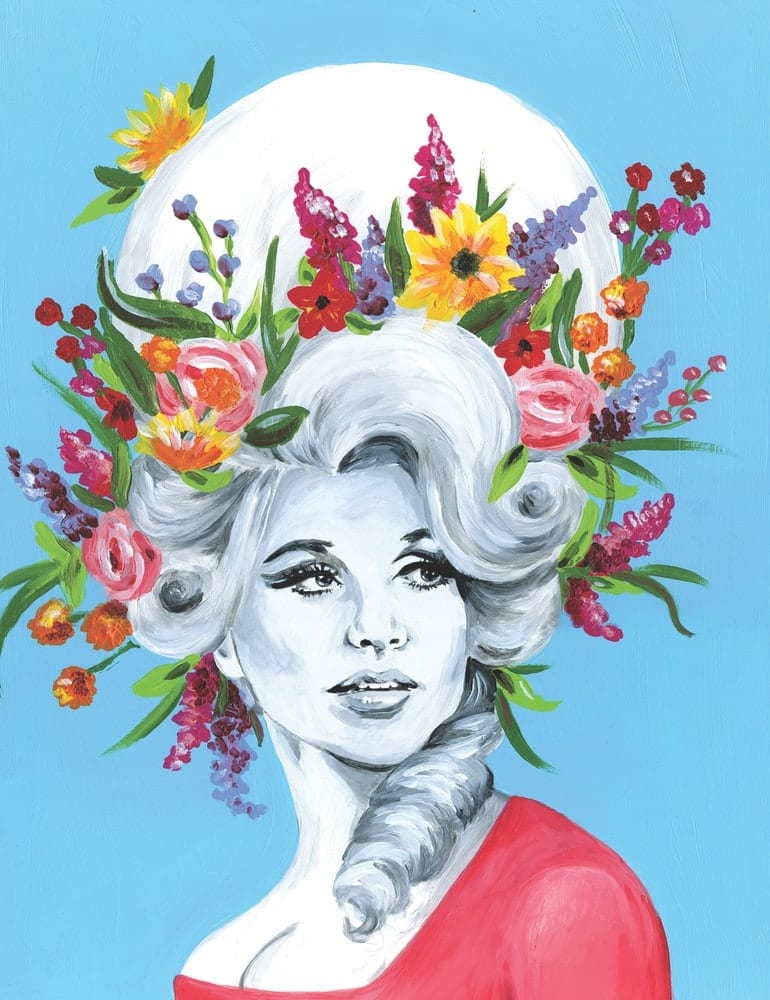 "When I was in kindergarten, my art teacher approached my parents," says Christian. "She said she thought I was talented and that they should try to cultivate my artistic side."
While she never took art lessons or enrolled in any formal training, her parents always encouraged her to be creative, stocking up on supplies and letting her experiment with art.
Christian's grandmother, also a painter, worked with her to develop her illustrative work; however, as Christian got older, she discovered she had a passion for portraits. She spent a lot of time doing graphite drawings of children and parents through her college years. That came to a halt in 2011.
"I got burned out on the portraits—there are only so many smiling kids you can draw," says Christian.
Then, her grandmother passed away, and her drawing style changed. She picked up illustration as an adult for the first time and discovered how her beloved family member was still influencing her work. "I realized I was drawing in the way my grandmother had taught me as a kid," she says.
"I want to feature women whom I feel were trailblazers, who are strong, and who deserve that word

celebrity

."
She was living in Boston by that time, where she'd moved on a hope and a prayer—and without a job. (That was nine years ago.) Without very many connections in the area, she opened an Etsy shop online to sell her watercolors, and it began to take off.
A few years later, in 2014, Christian randomly started a sketch of Elizabeth Taylor, featuring the actress with dark locks piled high atop her head and a ship nestled among the curls. Something sparked in the artist. Next, she started on a similar illustration of Dolly Parton. Little did she know at the time that these drawings would soon become her calling card.
"They were just little pencil sketches I did one night after I'd had a couple of glasses of wine, and I didn't know why I was drawing them," she recalls. "In a few weeks, I had a bunch of them, and they were all I wanted to draw." It was the beginning of her ongoing Antoinette series.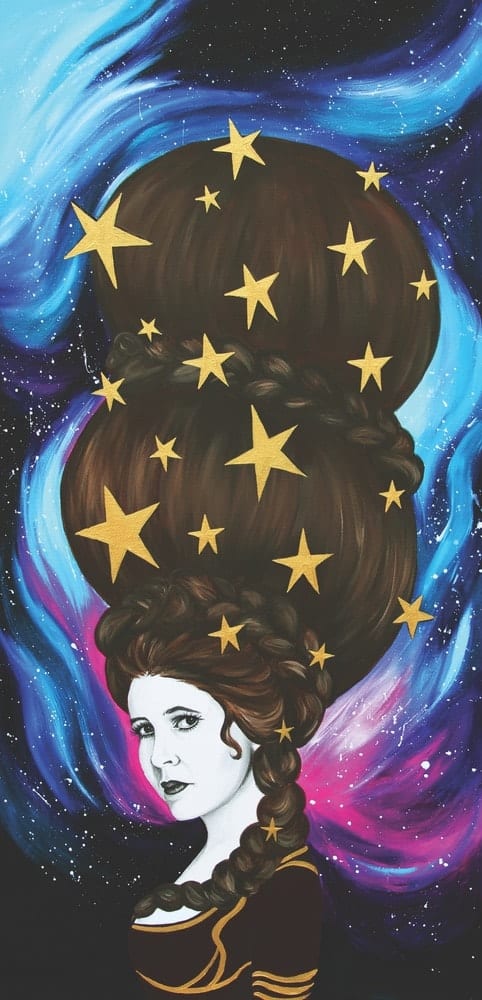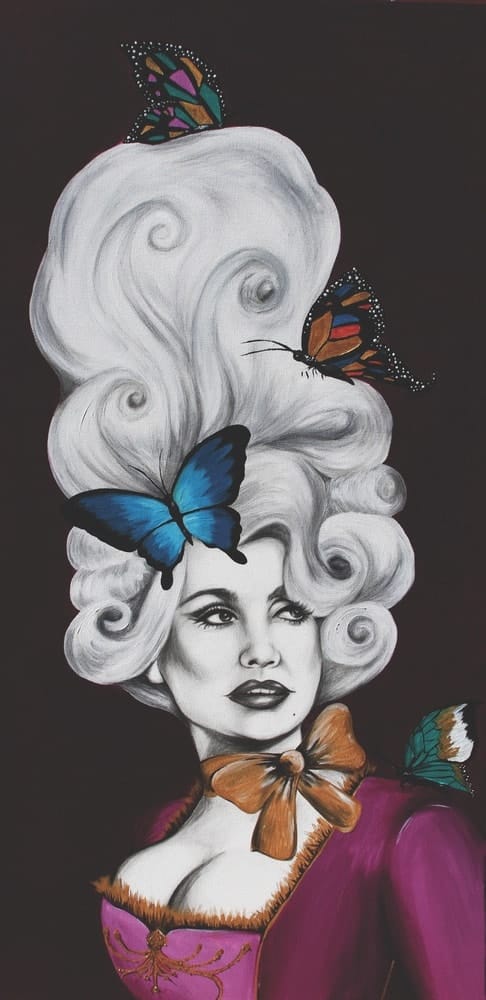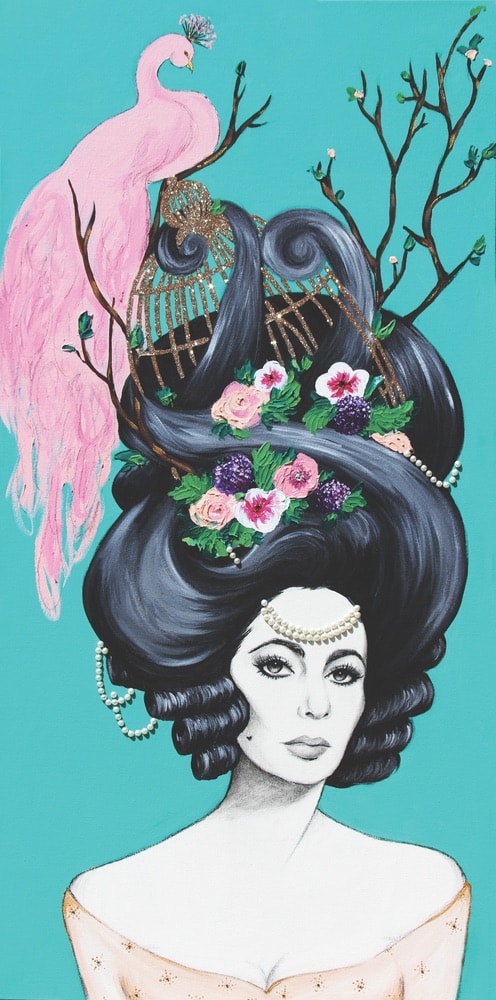 She began to connect the dots, understanding why these images of glamorous women were popping into her brain and onto her pages. As a kid, she was obsessed with old movies, which led her to pursue a degree in costume design. As an only child growing up in a rural area, she kept company with the likes of stars such as Doris Day and Ginger Rogers through their films, dreaming of a day when she could pursue something bigger.
"I had a mini Oscar in my room. I was into having that lifestyle of fame and overindulgence," says Christian. "Looking back, the Antoinette collection is a mix of that world I was creating as a kid—of celebrity and excess—that also plays on society's obsession with those things in general."
To this day, Christian still relies on Hollywood for inspiration, often turning on movies like Harold and Maude as she works in her home studio. She's created Antoinette paintings of a wide range of stars, from those of yesteryear (like Lucille Ball, Audrey Hepburn, and Julie Andrews) to today (Adele, Carrie Fisher, and Beyoncé, inspired by her Vogue cover). The older generation of actresses is still her favorite genre to paint, though.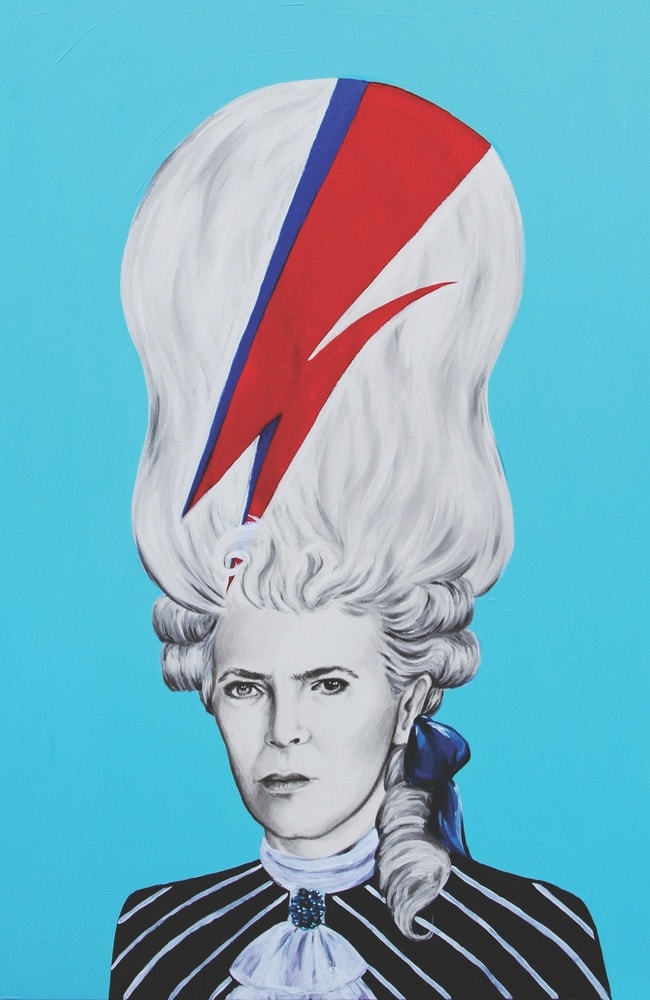 "I'm not as inspired by people today," Christian admits. "Now there is so much instant fame, with people like reality stars. I want to feature women whom I feel were trailblazers, who are strong, and who deserve that word celebrity."
Although Instagram has been a wildly successful tool for growing her business, Christian says she has yet to tag Beyoncé in the painting she created in her image. While a few of Christian's works, such as the Antoinette of Ruth Bader Ginsburg, have been released as limited-edition reprints, the Queen Bey painting is one of a kind.
Instagram also allows the art-buying process to be very personal. Christian sold her Antoinette of the Golden Girls when it was just a sketch after she posted a progress photo on her account. The couple who purchased it was able to follow along during the creation process, leaving comments on what they liked and offering feedback.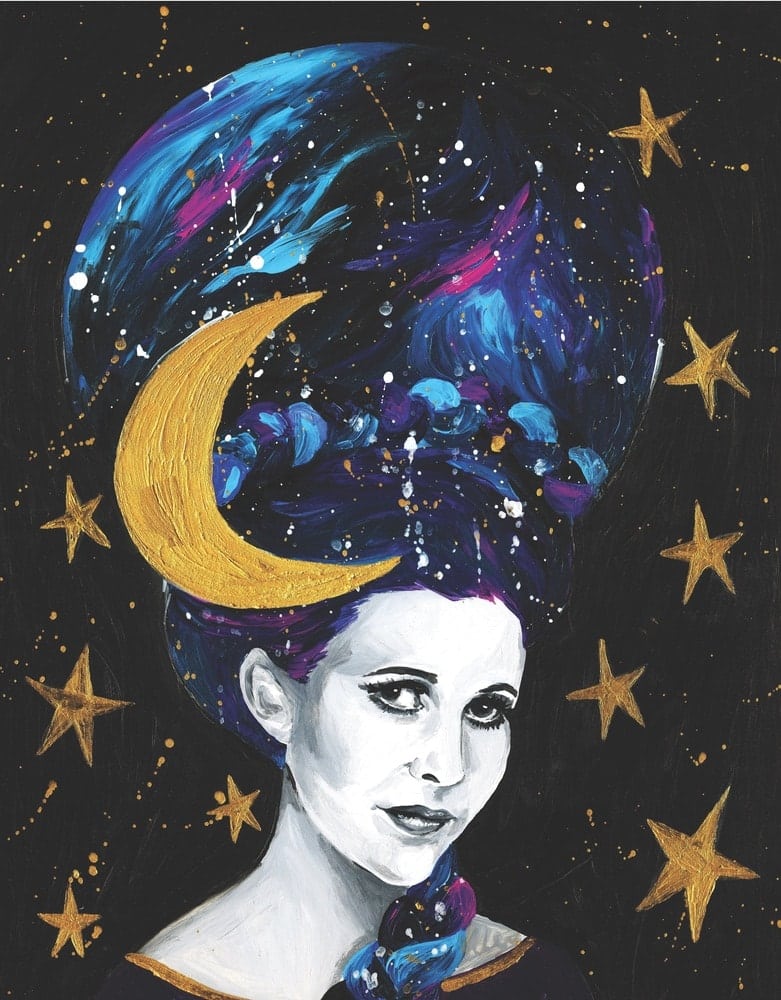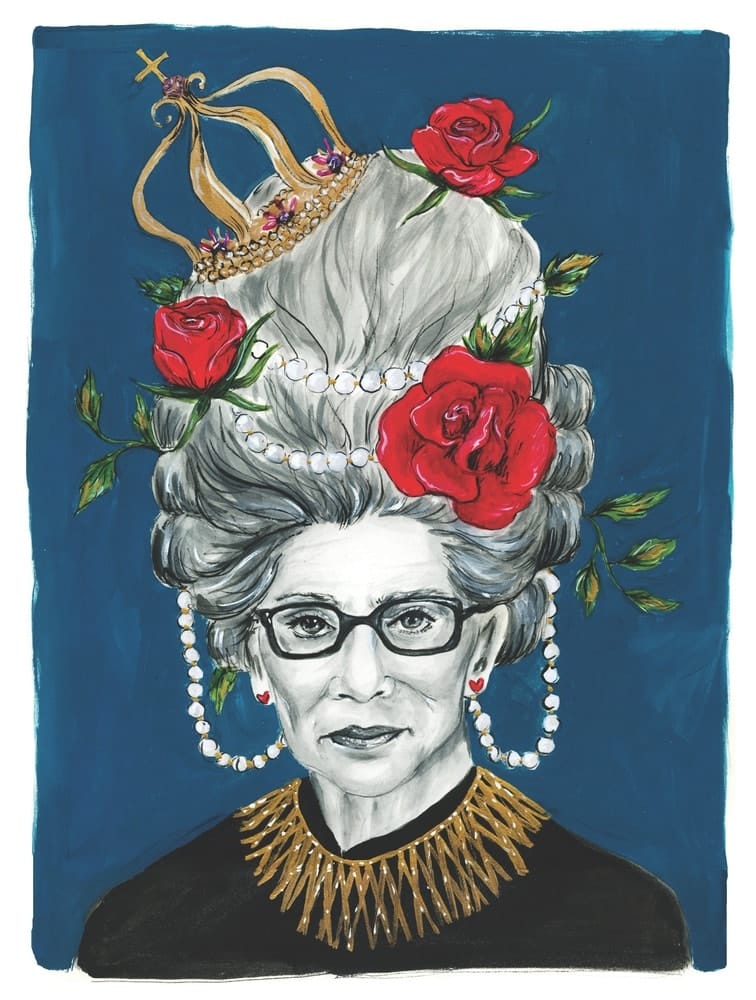 "It was a nice journey of creating something together," says Christian. "That blind faith in the piece helped me a lot as an artist to believe in my work."
Little by little, her confidence is growing, and it shows in her pieces as her Antoinette series continues to get brighter and bolder—sort of like Christian herself. She's even added a few fellas to the mix with portraits of icons David Bowie, Elton John, and Freddie Mercury. This summer, she hopes to gain even more wind in her sails through her newest collaboration: a licensed illustration that will appear on the hull of a racing yacht.
While her works portray profiles of the glamorous set, Christian doesn't need anything fancy in her day-to-day life to be inspired. Simply looking at what she's created, a symbol of how far she's come, is enough to keep her moving forward.
"I have Antoinettes hanging all throughout my house," says Christian, "and it's nice—it feels like my own little world."
— V —
---
Visit TalulaChristian.com or follow her on Instagram @talulachristianart to see more.
Kelsey Ogletree is a Chicago-based writer covering travel, wellness, and design for publications that include Robb Report, Shape, Architectural Digest, and more. Always on the hunt for stories and forever a notetaker, she never leaves home without her mini Moleskine and at least two pens.
ARTICLE CATEGORIES