By Suzanne Pollak
Hassan made pasta like an Italian grandmother, with a mound of flour and an egg in the middle. He rolled the dough into sheets like antique linens, so thin you could almost see through to the other side, with a texture that only a handmade object can obtain.
Hassan was my favorite person in all of Africa. He was our cook in Mogadishu, Somalia—the only real chef we hired while living in six countries over eighteen years, and he was an expert at feeding an entire family. He was also the largest man I've ever seen. His kingdom was the kitchen. It lay at the back of our house, a narrow room with a single, skinny, horizontal window high on the wall. Surprisingly for such an enormous person, Hassan's specialty was small, tender, delicate homemade pasta, and it was the best I've tasted to this very day. He made pasta just like an Italian grandmother because he learned the skill from the wife of a former Italian ambassador.
I was a young girl when I hung out with Hassan in his kitchen, peeking around his tree-like girth and under his strong arms to watch him roll the dough, all the while absorbing lessons that lodged in my soul. He poured a mountain of flour on the counter and cracked eggs in the flour's well, then whipped a fork to incorporate the flour and egg mess into a smooth ball. He rolled it into sheets so supple he could flip them like bedclothes drying on a line in the wind. It took no time, made easier by his substantial yet graceful weight behind the rolling pin. Out of this dough he formed shells, tubes, strips, strands, bow ties, triangles, and pillows—all as light as feathers.
Everyone, schoolchildren and their fathers alike, came home for the midday meal, then returned to school and work after eating and resting. At these meals, our family ate like Italian royalty. Hassan prepared pasta daily, and our houseman, Farah, served it. Farah was my second favorite person in Africa. When we left Somalia, he gave each of us a piece of sculpture—five presents he bought for a family he would never see again. I cried when I said good-bye to these two men who made such an impression on my young life.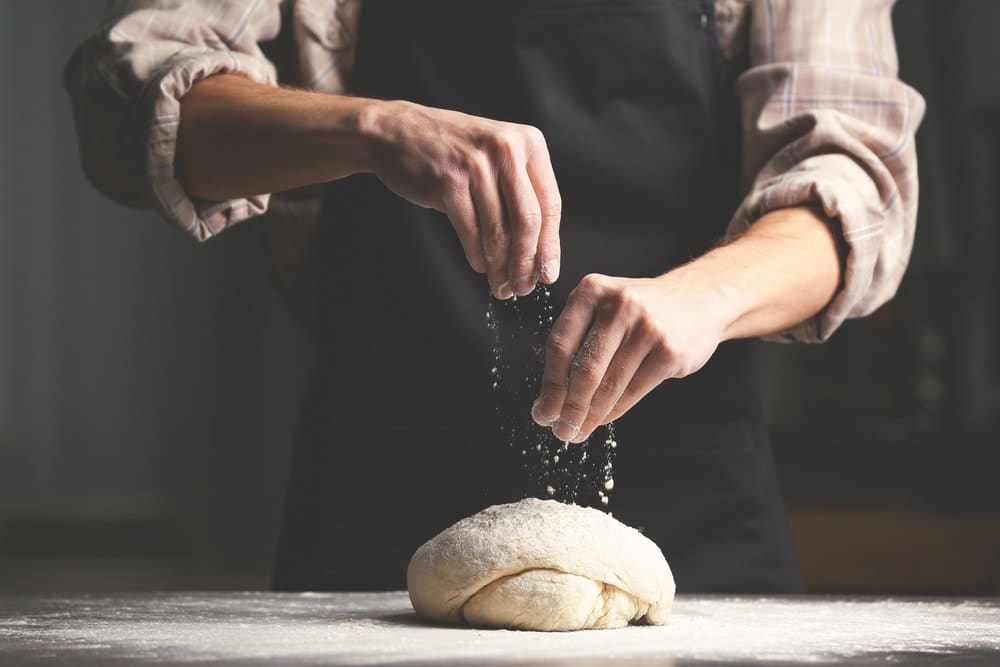 Hassan lived in a room right outside the house, off of the kitchen. One morning I saw him leaning over the kitchen counter while my mother picked pieces of sharp glass from his backside. I wondered, Did he fall backwards into a plate of glass? What type of accident was this? In those days, parents didn't give out "adult" information to questioning children, and my mother certainly didn't believe in letting children in on any secrets, so his glass-studded behind remained an exotic mystery to me. I felt his pain, embarrassment, and vulnerability in that moment, which made me feel even closer to him—like we were a pair.
From Hassan, I learned that food is a way to connect to emotions: love, longing, comfort, and safety. I always make food for those I love, admire, and want to impress. I taught my children too. In the days when I fed four teenagers, each a sports fiend and a bottomless pit, we made pasta every night as a first course. (If we didn't, within twenty minutes of a one-course dinner, they would ask what else there was to eat.) We cooked all the recipes in Giuliano Bugialli's books—I met him when we were judges in a bread contest, and we were the only ones to agree on every loaf—and every pasta recipe in Marcella Hazan's volumes too.
From Hassan, I learned that food is a way to connect to emotions: love, longing, comfort, and safety. I always make food for those I love, admire, and want to impress.
In those days, our kitchen looked like the Hogwarts kitchen might have, but it was years before Harry Potter existed. Broomsticks connected one counter to another, newly made pasta strips dangling over their handles to dry. The kitchen was a forest of noodles, a field of farfalle; the afternoon decoration on the counters and air space seemed magical. While I taught my children (well, at least my youngest son actually learned) how to make pasta like Hassan, I also picked up what was going on in their lives. Did you know that making pasta together is one way to get teenagers to talk?
Making pasta can entice new people into your life too. The first night Pat Conroy came into my kitchen, I wooed him with fettuccine, requiring him to make it with me. That spontaneous lesson led to writing a cookbook together. The annoying problem with "no carb" eaters in today's world is the removal of one of my most trusted weapons in a secret seduction arsenal. No sparks lie in substituting limp, tasteless zucchini noodles for one of the tastiest pleasures on earth. These frauds lead to nothing.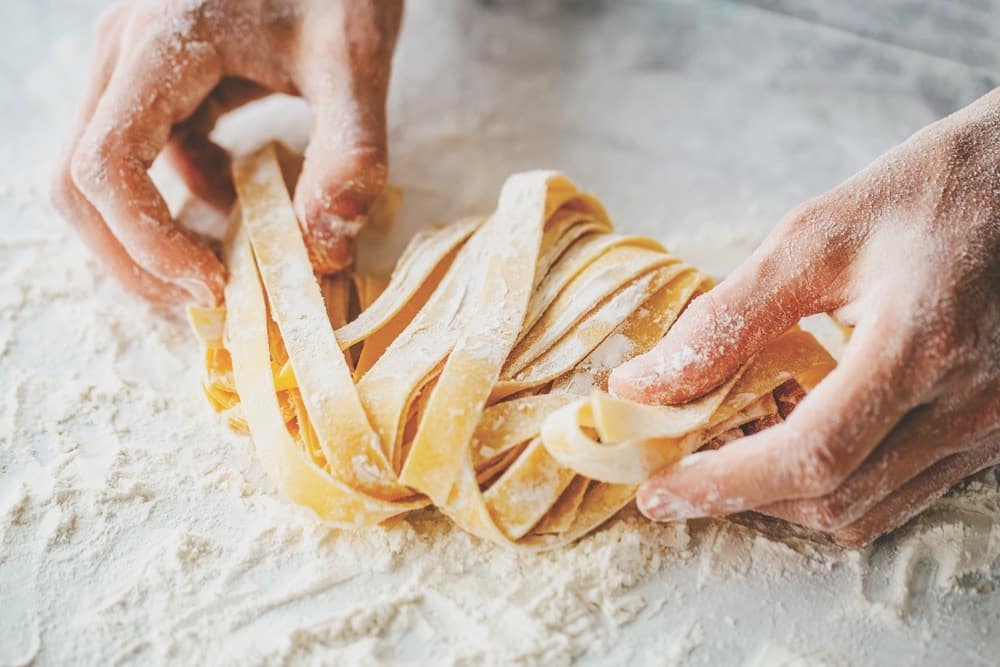 Be warned, though: when the urge arises to feed handmade pasta to a small crowd (more than four people), first courses are the only way to go. There is too much work involved otherwise, unless you are an Italian grandmother or an executive chef whose daily duty is making pasta. And if you are making it for two, how much is too much? For every three eggs, plan on feeding two people, unless you are famished. When a recipe says "one pound serves six people," I disagree. One pound serves three to four people in my house. I can eat a half pound myself (and sometimes I overdo it and eat three-quarters of a pound, but that's when I start feeling sick). Pasta is easy to overeat because it's so good.
When Hassan made pasta, he served small first-course portions as Italians do. Eating his homemade pasta each day was especially satisfying because I knew the very next day, I would eat something just as delicious. Isn't that one of the ultimate treats in life—to experience simple pleasures day after day and then have memories that last forever?
— V —
---
Suzanne Pollak, a mentor and lecturer in the fields of home, hearth, and hospitality, is the founder and dean of the Charleston Academy of Domestic Pursuits. She is the coauthor of Entertaining for Dummies, The Pat Conroy Cookbook, and The Charleston Academy of Domestic Pursuits: A Handbook of Etiquette with Recipes. Born into a diplomatic family, Pollak was raised in Africa, where her parents hosted multiple parties every week. Her South Carolina homes have been featured in the Wall Street Journal Mansion section and Town & Country magazine. Visit CharlestonAcademy.com or contact her at Suzanne@CharlestonAcademy.com to learn more.
---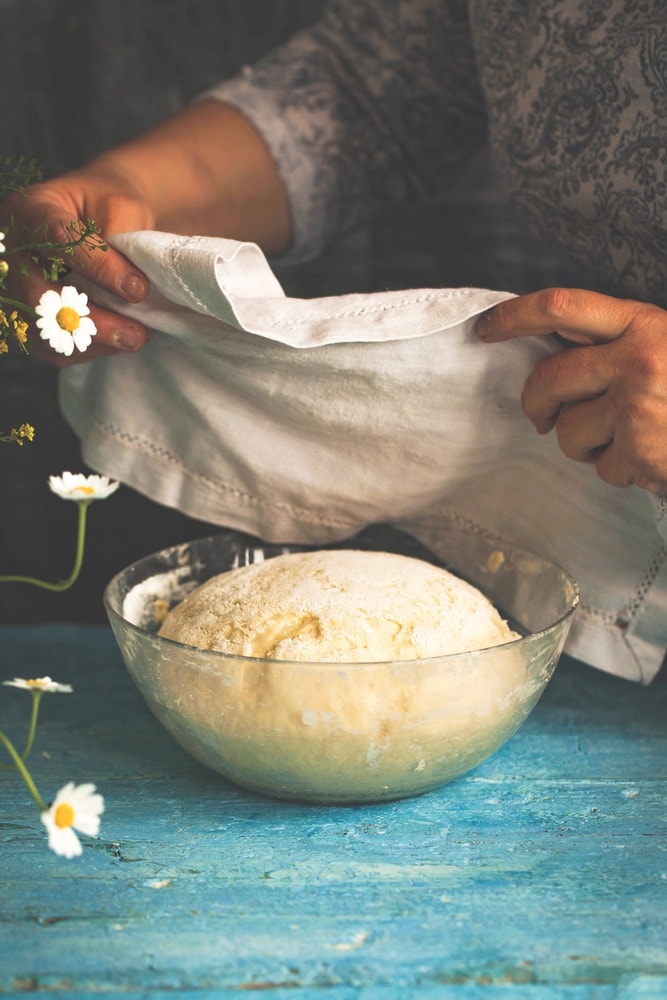 Perfect Pasta Dough
Ingredients:
3 large eggs
3 cups unbleached white flour
Directions:
Pour flour out on a clean, dry, smooth work surface and make a well in the center of the mound. Keep the sides of the well high enough and thick enough that the eggs will not leak over or through the flour. Slowly pour the eggs into the well.
Hold a fork in one hand and lightly beat the eggs, slowly incorporating the flour from the sides while you use your other hand to keep the well from collapsing. Gently sweep the flour up the outer sides of the well to build a thicker wall, and, at the same time, let a little flour fall from the top onto the eggs as you beat them. You will use less than half the flour for the actual pasta dough. (If the eggs do manage to seep out beyond the wall of flour, all is not lost. Use the fork to push some flour over the puddle of eggs on the countertop and scrape the mixture back into the central mass.)
When the mass begins to resemble dough, remove excess flour from the countertop. Wash your hands to remove extra flour from them.
Now start to knead the dough. If the dough is too sticky, add a little flour (sparingly). If there is too much flour in the pasta, the dough will dry out, becoming difficult to roll. Using the heels of your hand in an under/over motion, knead the dough, rotating it frequently, until it feels smooth and elastic—at least ten minutes.
When the dough is smooth and satiny, sprinkle it with a light dusting of flour, cover the ball of dough with a clean dish towel, and let it rest for half an hour. You will need to rest, as well, because the next step is rolling out the dough!
If these directions aren't quite clear to you, you can pay a visit to the Academy of Domestic Pursuits in Charleston, South Carolina, for a private lesson!
Divide the dough into three sections (or one section for every egg used) to make it more manageable when rolling. Rolling the dough by hand instead of using a pasta machine makes pasta that is uniquely yours because you can roll it out to the exact thickness you desire and cut it into the precise width you want.
Uncover the dough and knead it a few times. Using a rolling pin (preferably a pin about twenty inches long without handles, for better control), roll back and forth across the dough about six times. Turn the dough ninety degrees and roll back and forth again. Repeat this process until the dough is stretched to the desired thickness (about 1/8 inch or less).
Using a sharp knife, cut the sheet of dough into strips: 1/16-inch wide (tagliarini), 1/8-inch wide (fettuccine), or 1/4-inch wide (tagliatelle). Drape noodles over a thin rod (or broom handle) to dry.
If you are serving the pasta immediately, bring a large pot of salted water to a boil and cook noodles for less than a minute. If you decide to wait (recommended), carefully gather up the noodles and curl them into loose nests, placing them on clean, lightly floured dish towels. (The flour will keep the pasta from sticking to the cloth as it dries.) Depending on the thickness of the noodle, the cooking time will be anywhere from forty-five seconds to three minutes. To test: snip off the end of a pasta strand and taste.
If these directions aren't quite clear to you, you can pay a visit to the Academy of Domestic Pursuits in Charleston, South Carolina, for a private lesson!
ARTICLE CATEGORIES