By Suzanne Pollak
Now that every entertainment event has a red carpet, fashion has become a "Who are you wearing?" moment. But whenever I hear that clichéd question, I wish the answer would be, "I am wearing the artistry and craftsmanship of hundreds of people, created with centuries of tradition." If you want to see what I mean—if you want to understand how the exquisitely skilled work of so many people behind the scenes ends up on the red carpet—the best place to start is by watching Dior and I, the 2014 fashion documentary that gives us a behind-the-scenes view of the fabled couture house.
Christian Dior, one of the most important twentieth-century couturiers, changed how women dressed when his "New Look" first appeared in 1947. The tiny-waisted, voluminous-skirted silhouette used yards and yards of fabric—such opulence after the fabric rationing of World War II. The House of Dior has continued to define fashion for the last seven decades, even after the designer himself passed away in 1957, first under the brilliant Yves Saint Laurent, who was only twenty-one at the time he took over for Dior, and then under the creative direction of other well-known designers.
During all those design decades, Dior dresses played a role in the entertainment world as a favorite of stars. Elizabeth Taylor received her 1961 Oscar for BUtterfield 8 wearing a Dior Haute Couture gown with a lemon-yellow chiffon bodice and ivory silk-faille bubble skirt, tied together by a moss-green taffeta belt and embroidered with silk flowers and bees. Marilyn Monroe posed in a daring black backless Christian Dior Haute Couture dress for photographer Bert Stern's iconic 1962 image, "Looking Over Shoulder."
But for me, the most memorable Dior moment during which fashion and entertainment collided was in 2013, when the young film star Jennifer Lawrence tripped over the hem of the billowing skirt of her strapless cream-colored ball gown (at the time the most expensive dress ever worn to the Oscars) on her way up the staircase to accept her best actress Oscar. As she stood up and playfully shrugged off her fall, taking her place at the podium with a smile, she ushered in another new fashion era: Instead of a stiff and carefully curated fashion moment, as we see with so many others, what we got was a truly modern star wearing a truly gorgeous dress in a truly modern style—her own. And the designer behind that dress seen 'round the world was Raf Simons, the Belgian creative director of Dior from 2012 to 2015 and the fascinating subject of Dior and I.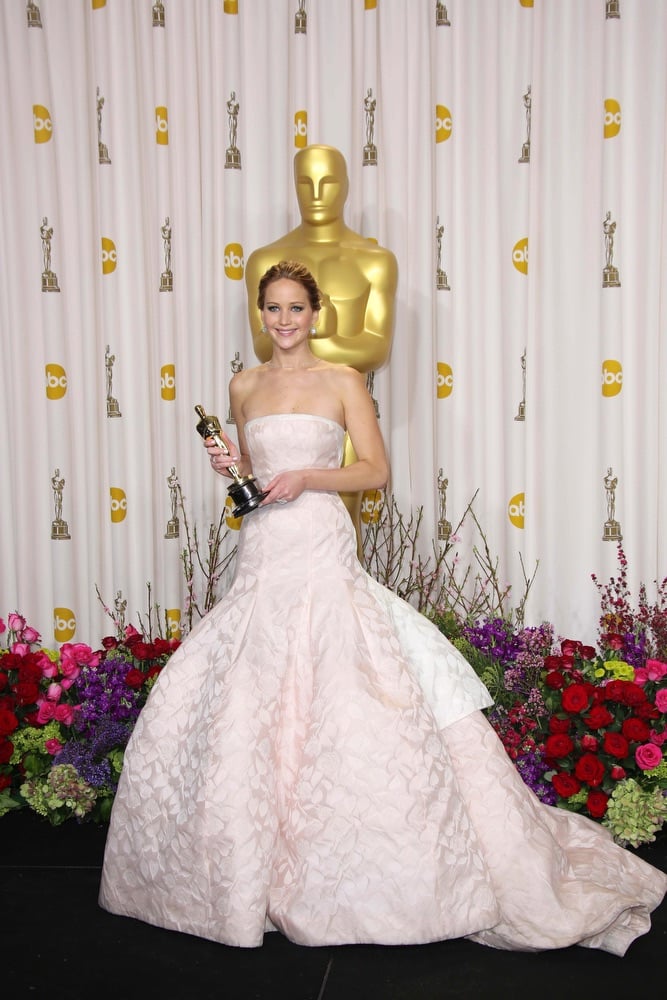 The film title refers to the connection that Simons feels with the originator of the couture house through the journals and design work Dior left behind, revealing the parallels in their views and practices. But it also references the dedication that the veteran seamstresses and craftspeople, some of whom have worked for Dior for forty years, have in perpetuating his couture legacy and the bond created with the individual designs that only their skills bring to life.
Directed by French filmmaker Frédéric Tcheng, who also directed the fashion documentary about Diana Vreeland, The Eye Has to Travel, the film follows Simons as he conceives and creates his first-ever haute couture show in just eight weeks—a huge, complicated undertaking that usually requires five or six months. Although the resultant fashion itself is gorgeous and captivating, the best thing about this film is the chance to watch creativity at work.
Instead of a stiff and carefully curated fashion moment, as we see with so many others, what we got was a truly modern star wearing a truly gorgeous dress in a truly modern style—her own.
And it isn't just the creativity of Raf Simons and his longtime collaborator, Pieter Mulier. Through the documented footage in the ateliers and workrooms, we are privy to every step through the eyes and hands of those who cut and shape and stitch and bead and embroider—exquisite skills that make Simons's ideas come to life off the paper and onto the models, whose physical form adds yet another dimension to design. And in the bigger picture, we see the challenge they all face in respecting traditions—haute couture is French, after all—while implementing Simons's own ideas and influences, the pressure and tension created by his desire to add a modern edge to the classic couture world that the workers know so well.
Another bridge between the entertainment world and Dior is the 2022 period comedy-drama Mrs. Harris Goes to Paris, an enchanting film about the connection between a woman's dreams and how a coveted designer dress brings about their fulfillment. Set in post-WWII London, the film features Mrs. Harris, played by British actress Lesley Manville, who has a dream that she must own a Christian Dior gown. She is a widowed cleaning woman who saves her pennies, increases her workload, and lives in some discomfort to decrease her utility bills for light and gas—in short, she does everything possible within her world to raise the then princely sum of five hundred pounds. When Mrs. Harris takes her hard-won savings to Paris and the House of Dior, she encounters obstacles, including snobbery from the couture director, Claudine (French actress Isabelle Huppert). I don't want to reveal too much of the plot because it is a lovely film for you to see, but as a woman who works with her hands (cleaning) as well as her head (making her clients' homes run more smoothly), Mrs. Harris has a deep understanding of those she encounters in the ateliers, and the many seamstresses who work there end up as her champions, wanting her to realize her dream.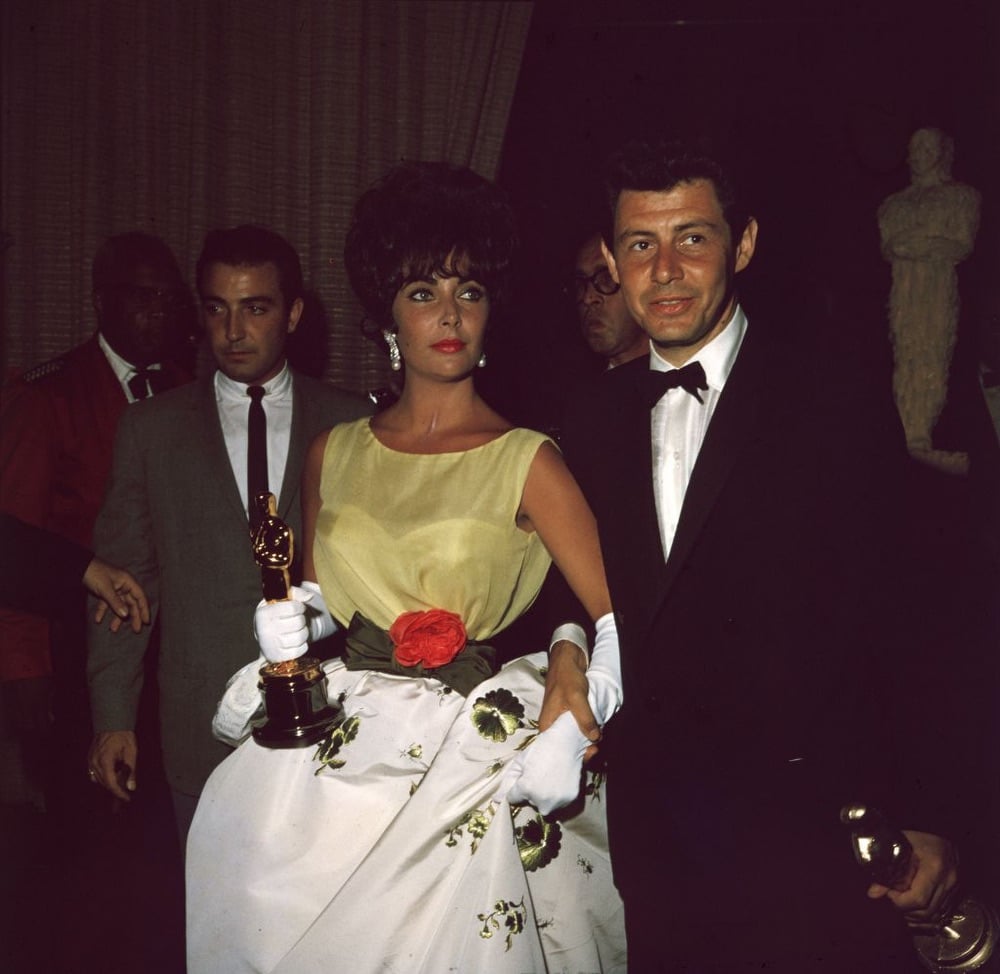 What I will say is that I loved watching how an individual's wild dream can be actualized in ways that the dreamer never imagined, changing not only the course of her own life but the lives of the people around her. This so-called "nobody"—as the haughty Claudine called Mrs. Harris—could move a mountain because of the unique combination of her working woman's common sense combined with her feminine desire for a seemingly unattainable dress. Watching the movie made me run to my closet and look at my most beautiful clothes, especially the dress I wore to my wedding in the summer of 2023.
Although mine is not a couture Christian Dior gown, the long sequined slip dress (from the designer Catherine Holstein at her fashion house, Khaite) represents and celebrates my dream come true—finding true love in my mid-sixties. It also helps me impart an important message to my five granddaughters: Women of any age have dreams to fulfill while wearing clothes that make us feel like the stars of our own lives—even if we may trip along the way.
— V —
---
Suzanne Pollak, a mentor and lecturer in the fields of home, hearth, and hospitality, is the founder and dean of the Charleston Academy of Domestic Pursuits. She is the coauthor of Entertaining for Dummies, The Pat Conroy Cookbook, and The Charleston Academy of Domestic Pursuits: A Handbook of Etiquette with Recipes. Born into a diplomatic family, Pollak was raised in Africa, where her parents hosted multiple parties every week. Her South Carolina homes have been featured in the Wall Street Journal Mansion section and Town & Country magazine. Visit CharlestonAcademy.com or contact her at Suzanne@CharlestonAcademy.com to learn more.
ARTICLE CATEGORIES