Endless Summer
Interview by Sally Neal | Photography by Sydney Jeter
Art is defined by the Oxford Dictionary as "the expression or application of human creative skill and imagination, typically in a visual form, producing works to be appreciated primarily for their beauty or emotional power." When most people think of art, they probably think about paintings, sculptures, songs, or dances, not necessarily fashion—especially swimwear. That is unless you're Jane Spivey Nicholson, the owner and designer of summer of spivey, a bespoke women's swimwear brand based on the Northwest Florida Gulf Coast along Scenic Highway 30-A.
From utilizing sustainable materials to perfecting the hug of fabric on a woman's body, Nicholson is on a mission to create a bathing suit fit to be hung in the Louvre (or at least all over the beach). Like art, not all swimsuits are created equal. Some make you feel comfortable, some stop you in your tracks, some are designed with a deeper purpose, and some are just fun to look at. summer of spivey (sos) strives to be all of these wrapped into one brand, setting out to make women feel their best in a bathing suit.
We caught up with Nicholson to talk about the art of swimwear!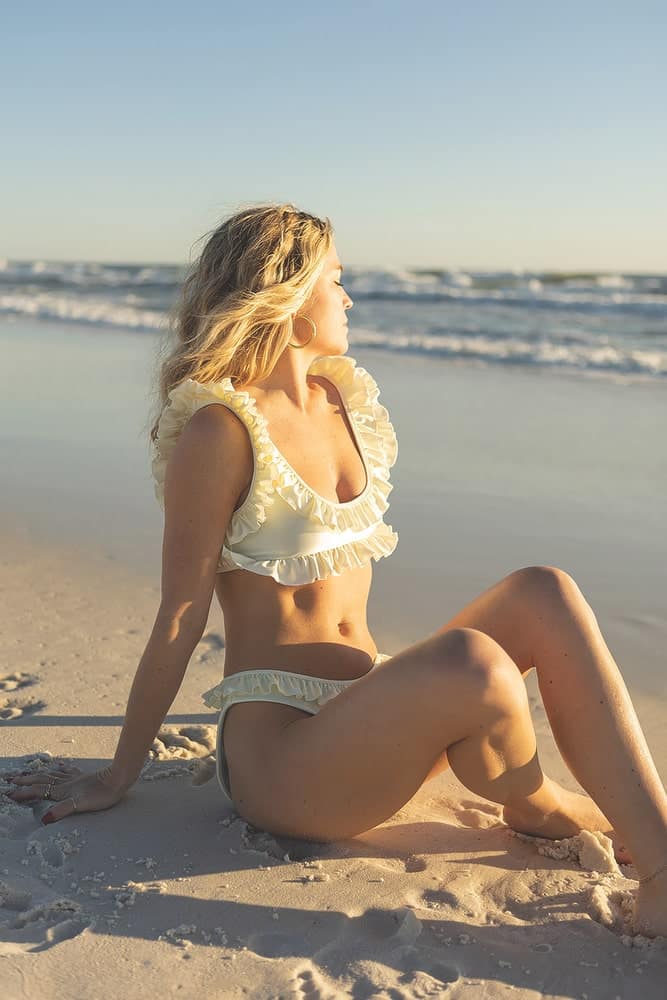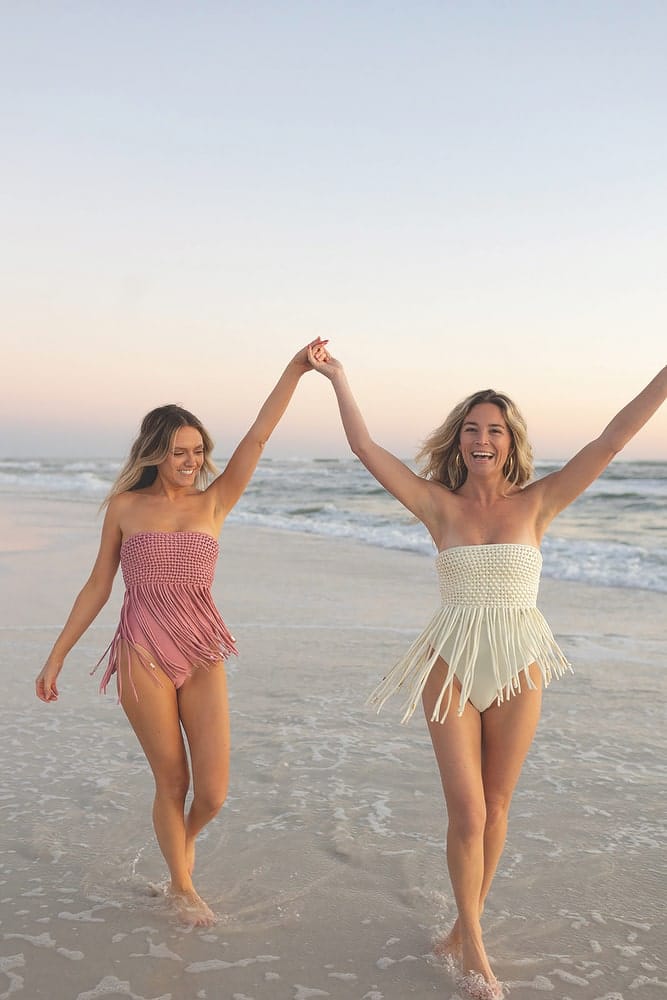 VIE: Tell us a little about yourself. What led you to create a swimwear brand?
Jane Spivey Nicholson: I am from the fabulous Mississippi Delta and attended Mississippi State University for my bachelor's degree in fashion design and merchandising. I had an incredible college experience. With MSU being an agriculture-focused school and the fashion design department housed in the department of agriculture, I got a very textile- and sustainability-focused education on fashion, and I am so thankful for it. My college sweetheart, Brandon, and I married in 2020 and have been chasing dreams together ever since—now beachside!
Since I was a little girl, I have been beach- and swimsuit-obsessed. When a design professor of mine told the class that the hardest things to sew were a swimsuit or a wedding dress and urged us not to choose either for our projects, I thought, "Wait a minute—designing a swimsuit is all I have ever wanted to do!" Every one of my projects after that was entirely swimwear-focused. I have had my sights set on creating my own swimwear brand ever since. It truly brings me so much joy and fulfillment; it feels like God's purpose for my life is to make this brand to help each woman shine confidently in her own skin and style.
It feels like God's purpose for my life is to make this brand to help each woman shine confidently in her own skin and style.
VIE: How would you describe summer of spivey in your own words? What sets it apart from other swimwear brands?
JS: To me, getting lost in the details is where you can find summer of spivey. At its core, sos is unique, impeccable quality, versatile, and noticeable. I want anyone to look at one of our swimsuits and instantly know it is by summer of spivey.
Our mission is to have a great sense of style, encourage standing out in the crowd, make pieces with love from start to finish, and create transformative pieces that can be worn in many ways. These are all at the heart of sos.
Where and how the pieces are constructed is so important to me—sos is made by skilled artisans in Bali who are paid well, love their craft, and create these art pieces with love and precision!
I want sos wearers to feel confident at the local country club pool, on the beach in the Bahamas, on a yacht in Miami, or chasing kids in their backyard. Display your personal style as the pieces evolve with you; you can convert one swimsuit into ten different looks so that you can do more with less.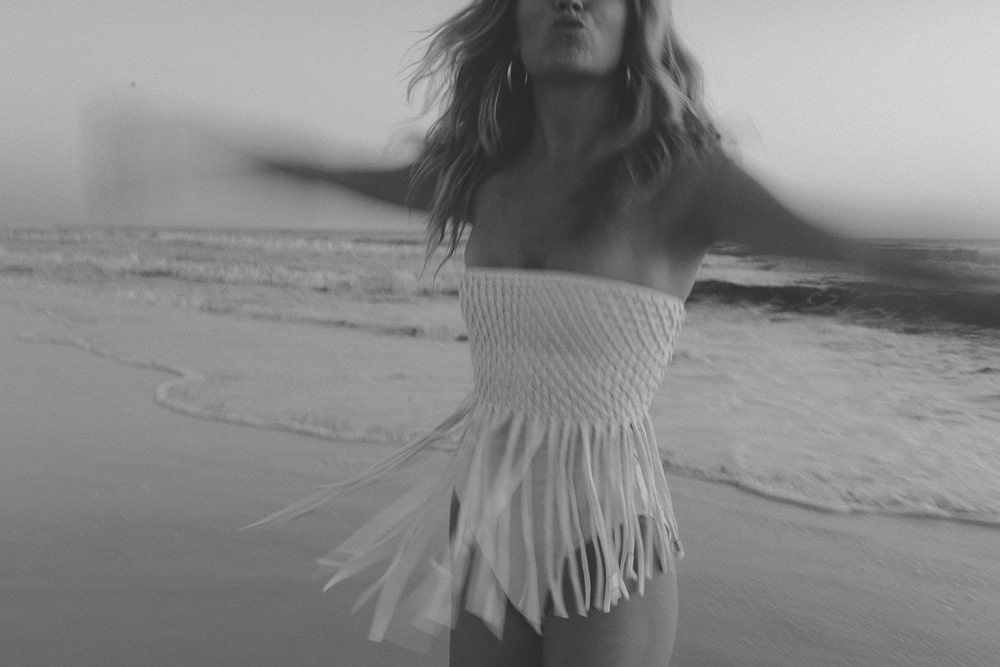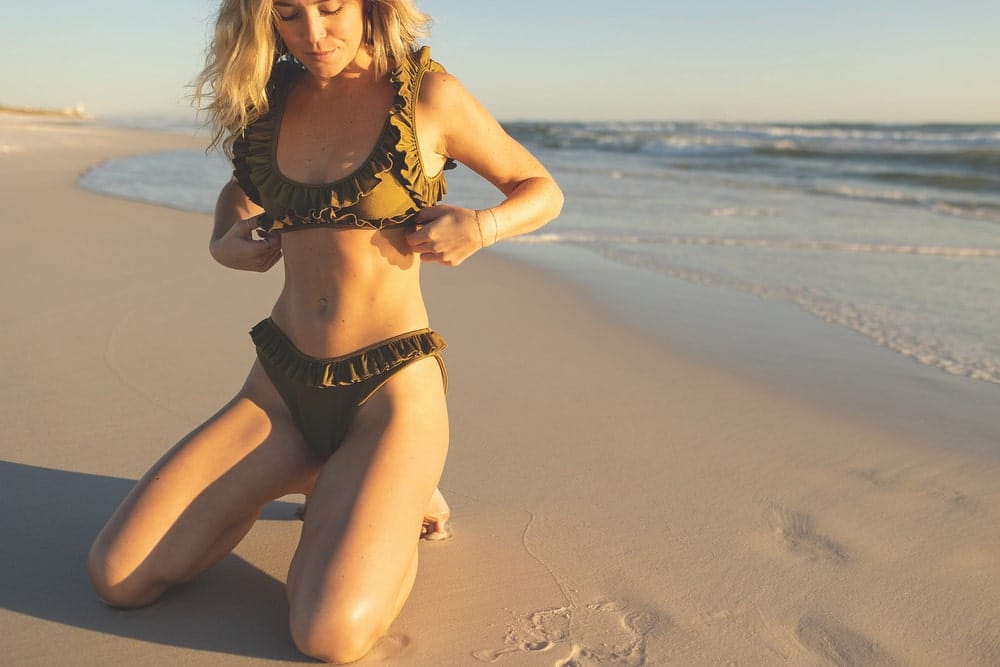 VIE: What is your favorite part of the design process?
JS: The initial design idea sparks the excitement, but the final "showman's sample" in the final color and fit is the most thrilling to unbox! I have loved color forever, and choosing the colors and textiles of a collection is one of my favorite parts, harking back to my time at Mississippi State. The material makes the suit!
VIE: How does it feel when you see someone wearing one of your swimsuits out and about?
JS: It is a pinch-me moment every time! The first time I saw a total stranger in one of my swimsuits walking around Grayton Beach, I felt like I was living in a dream come true. Seeing someone in my favorite spot wearing my design is truly surreal!
VIE: Tell us a little about your swimwear collections. What have been some of your favorite designs and why?
JS: I launched the brand with the "first light collection," filled with celestial hues in the most gorgeous, slightly shimmery fabric. Choosing a favorite suit, I imagine, would be like choosing a favorite child. Still, the swimsuit that has been my greatest accomplishment so far—because of the near-impossible design—is the seagrass woven one-piece. It took many rounds of sampling because it was unlike anything they had ever made, and it came out to perfection in the end! The frill bikini top and bottom are also favorites of mine, especially to wear as a fun crop top with wide-leg pants. The top can flip from a higher cut with more modest coverage to a lower cut, perfect for tanning.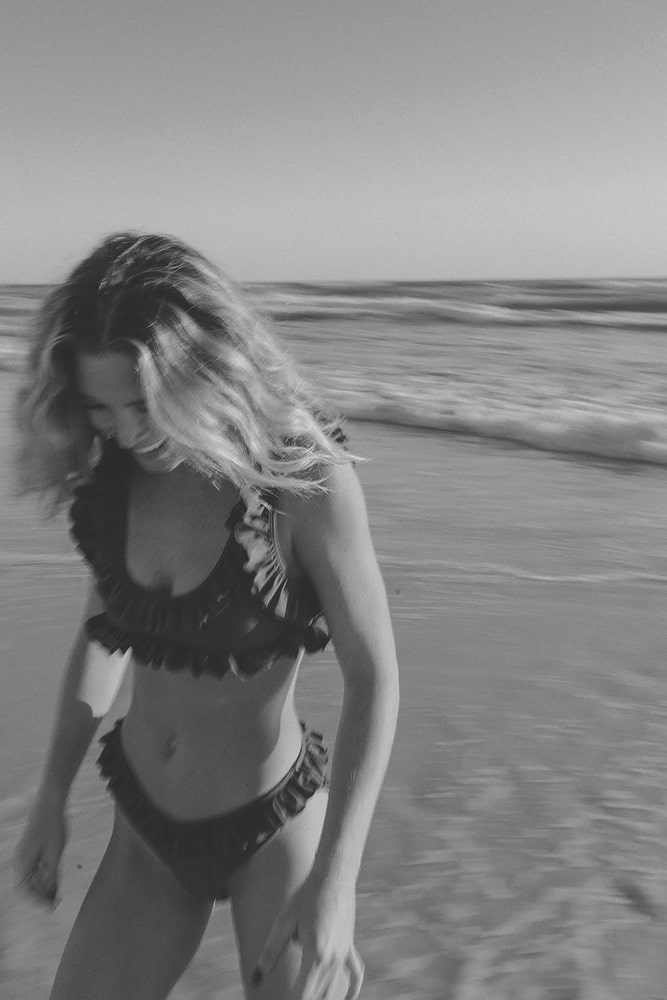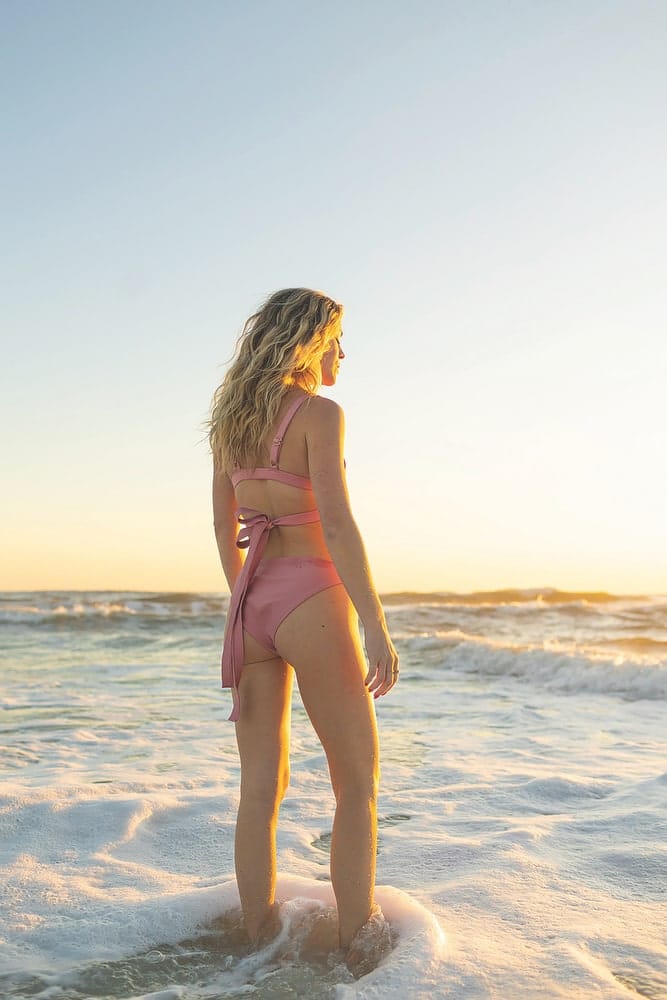 VIE: Tell us a little about what makes each piece unique. How do you think art and swimwear go hand in hand?
JS: I am so blessed that my life has been full of art and inspiration; my mom always had an art project for us to do, and creativity was abundant. I strive to fill summer of spivey designs with art. Looking to the unexpected for inspiration is my favorite and where the design process always starts for me. Designing is full of art—creating a swimsuit from the spark of an idea to drawing the design by hand, then CAD, then patterning and sampling; it is like putting the pieces together to create a work of art. I want all summer of spivey swimsuits to be works of art, beautiful and unique. Even more, I want the women who wear them to feel like a walking work of art to be "oohed" and "aahed" over when they wear them!
VIE: What is the most challenging part about your business? What is the most rewarding part?
JS: Finding my manufacturer was incredibly difficult because I wanted the best of the best to bring these designs to life. Getting a business off the ground is scary and daunting, but jumping into the deep end without fear and trusting that God put this dream in my heart for a reason got me through all the scary parts.
The most rewarding moments are when customers share how confident or beautiful they feel in their summer of spivey suits! Seeing how incredible the suits look on so many people never gets old.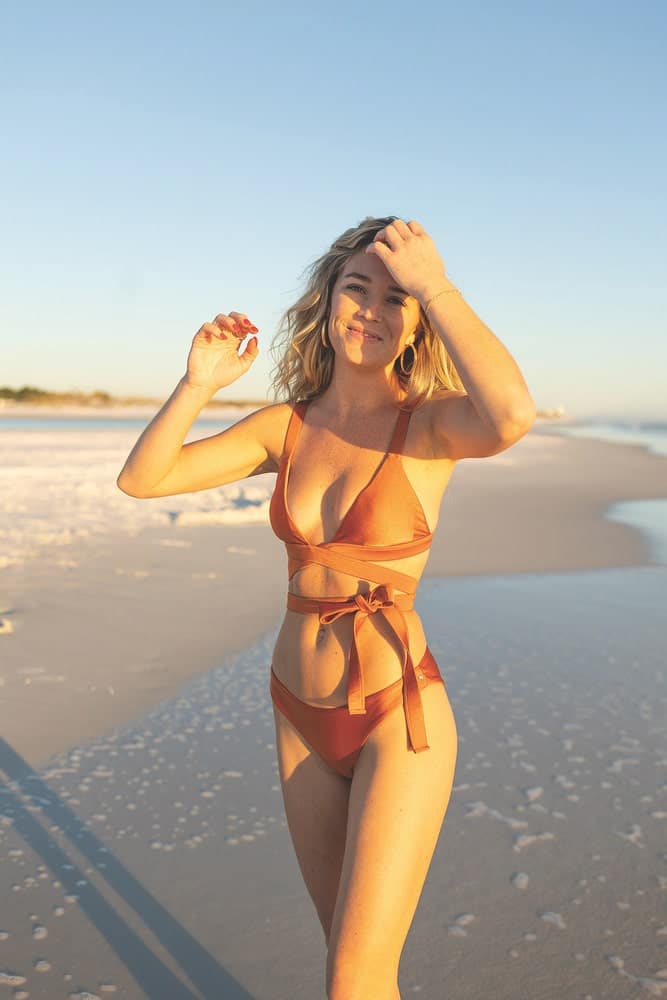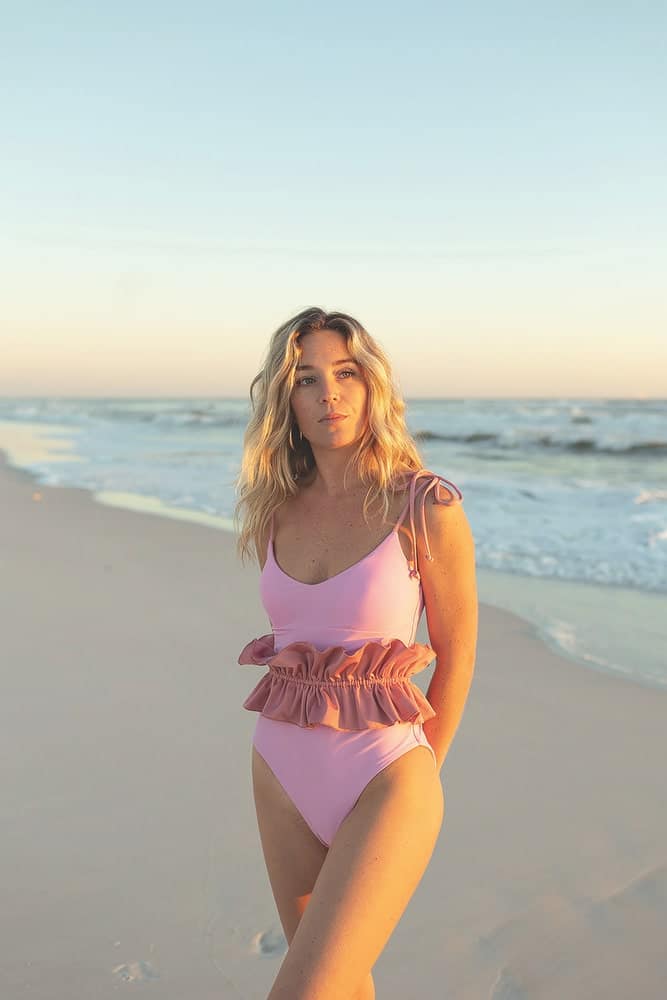 VIE: Are there any upcoming projects or events you'd like to share?
JS:Right now, I am working hard designing and dreaming about the next collection! Hopefully, a trip to Bali is also on the horizon to meet the artisans who bring sos to life and to gather lots of inspiration. You can also catch summer of spivey trunk shows and pop-ups along 30-A and beyond. Be sure to follow us for those event dates!
— V —
---
Visit summerofspivey.com or follow along on Instagram @summerofspivey to learn more or shop.
ARTICLE CATEGORIES