By L. Jordan Swanson |  
Photography by SharpByCoop Photography
Art is probably not the first thing that comes to mind upon hearing the word "knife." But for Gregory and Silvia Giovannelli of Miramar Beach, Florida, the two words are as inseparable as they are as a couple. Gregory and Silvia opened Art Knife Gallery, which specializes in exquisite knives by world-renowned artisans, in 2008. When Gregory was just six years old, his dad gave him his first pocketknife (which he still has), thus igniting his passion for collecting custom knives.
"I met Gregory while he was doing business here in Miramar Beach, and we fell in love that weekend. He immediately invited me to Texas to visit him," said Silvia, reminiscing. "On that visit, I asked him what he would like to do in life and he said he would like to turn his passion of thirty-something years into a business, and I encouraged him to run with that."
"The next morning, Silvia took me to Eckerd's and printed off a business card with our picture—we came up with a name that night," added Gregory, who has been attending knife shows since 1972 when he was in high school. "So, within twenty-four hours of my wish, Silvia made the dream come true." In 2008, just two months after meeting, Gregory moved from Texas to be with Silvia in Miramar Beach—and a little more than a year later the two were wed.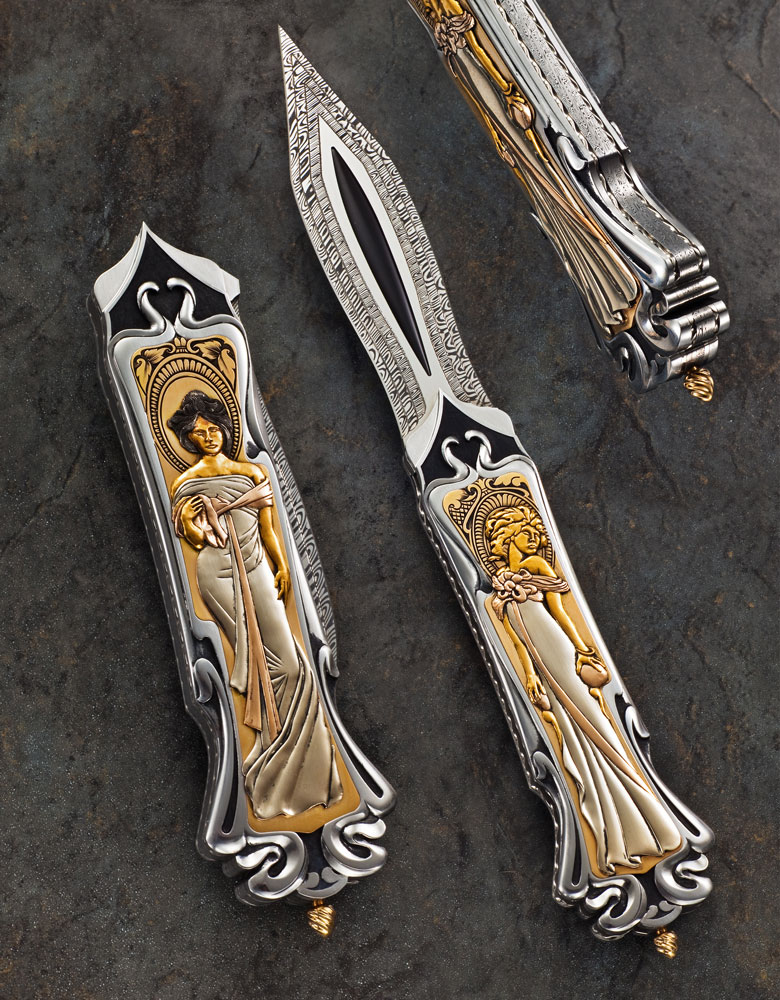 Just five months after starting their business, the couple journeyed to Italy for their first custom knife show together. "That's what I love about the business—we get to travel together to interesting places," said Silvia. It affords the couple the luxury of traveling about twice a year to destinations like France, Italy, Russia, and beyond. In 2013, the two plan to attend an invitation-only custom knife show in Dubai. "It's not what you might think—a group of rough, tough guys selling and trading knives. It's a real family affair," she said. Adults and children alike attend these knife shows. Silvia explained that, many times, a husband and wife duo will design knives together and present their pieces at these shows. Many international collectors attend the shows ready to spend some serious cash with their "suitcases of money," as Gregory described.
Art Knife Gallery's ambition is to collect an assortment of specially crafted knives from popular artists who are passionate about their craft and pair them with collectors equally passionate about obtaining a truly unique knife. "Instead of putting a painting on the wall, they put a knife like this in a shadow box or in a display case," Gregory said of an art knife he was holding during the couple's interview with VIE. The couple uses their website, ArtKnifeGallery.com, to sell and ship knives to their customers around the world. They depict it as an international art knife business and consider themselves "art purveyors of an unusual medium."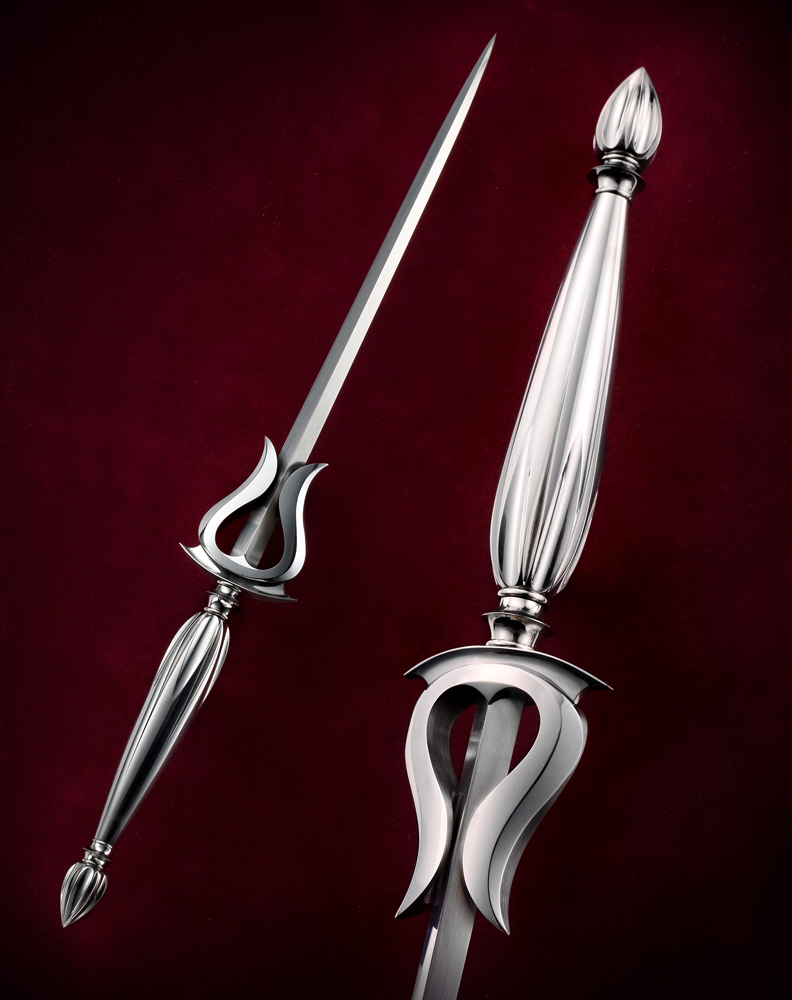 They depict it as an international art knife business and consider themselves "art purveyors of an unusual medium."
Art Knife's target audience is made up of art collectors—people who appreciate a different kind of art. "Instead of going to a painting exposition, they go to a custom knife show," Gregory elaborated. A specific artist holds a reputation among his or her admirers much like artists of other mediums do. Some of the knife makers whose works are especially popular are Robert Weinstock, Anders Högström, and Arpad Bojtos. Weinstock, who approaches knife making as a sculptural exercise as a result of studying sculpture in college, fashions his knives by carving, grinding, and sanding a piece of steel and adding an inlay with a hand drill. Högström also believes strongly in handwork, fashioning distinctive looks by incorporating steel, ivory, and leather into his pieces. Bojtos uses mostly hand tools like chisels and hammers to create his knives, which are primarily based on his favorite themes—animals, mythology, and history.
Certain knives speak to their owners just as works of art do. Former knife maker Dan Dagget, who is now an author, created the art dagger featured on the Art Knife Gallery business card. This knife is special to the couple because it was the "muse" for their business, after its exquisite lines grabbed Gregory's attention and convinced him to buy it.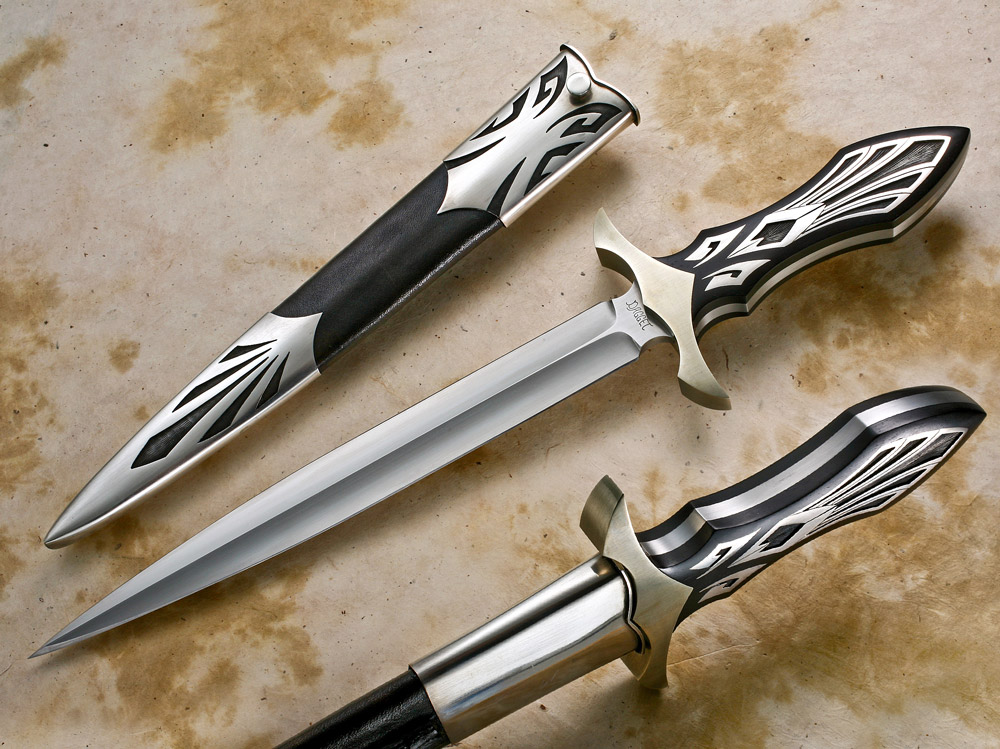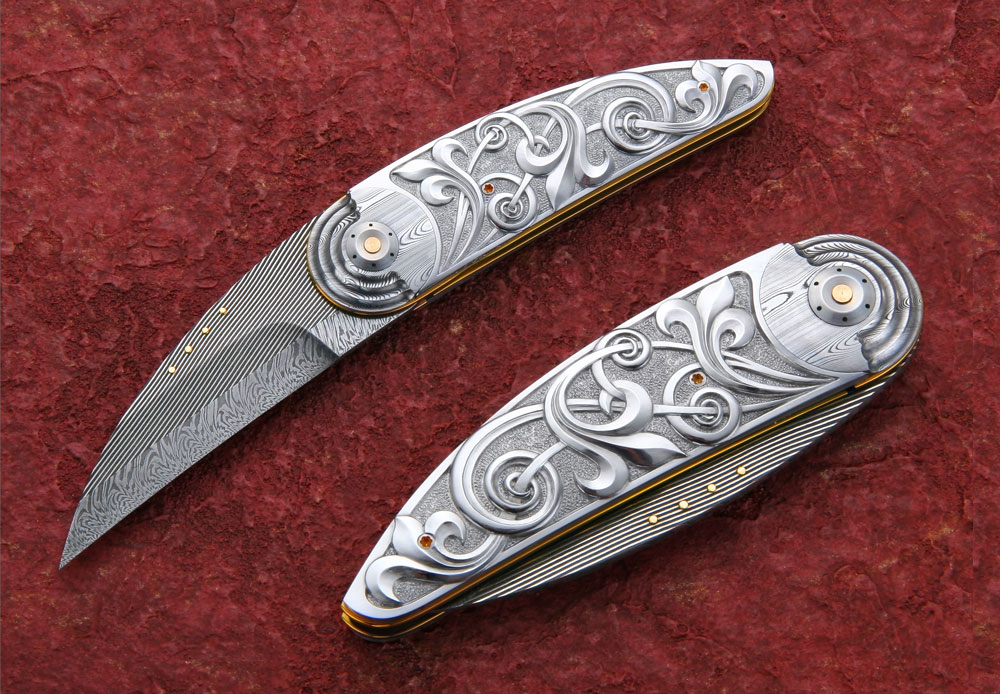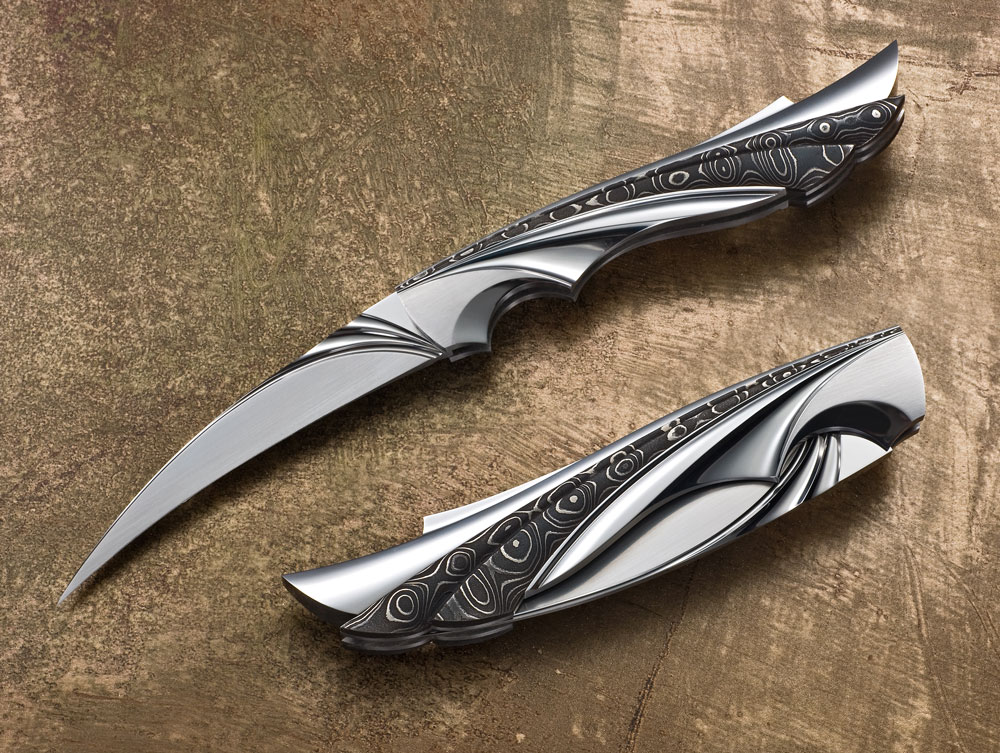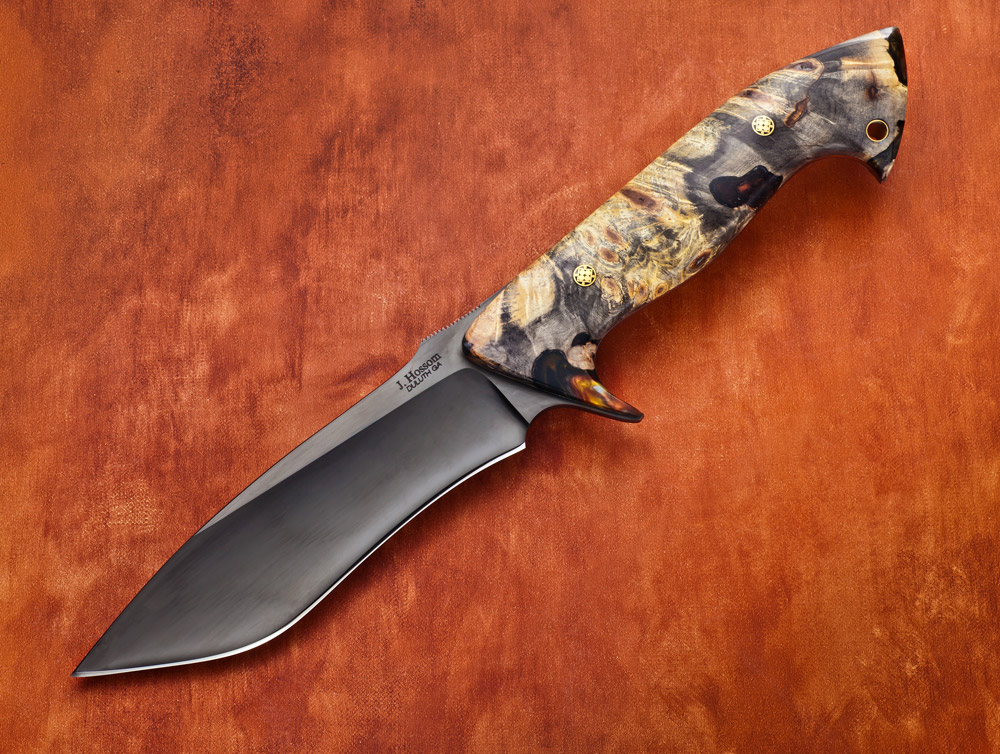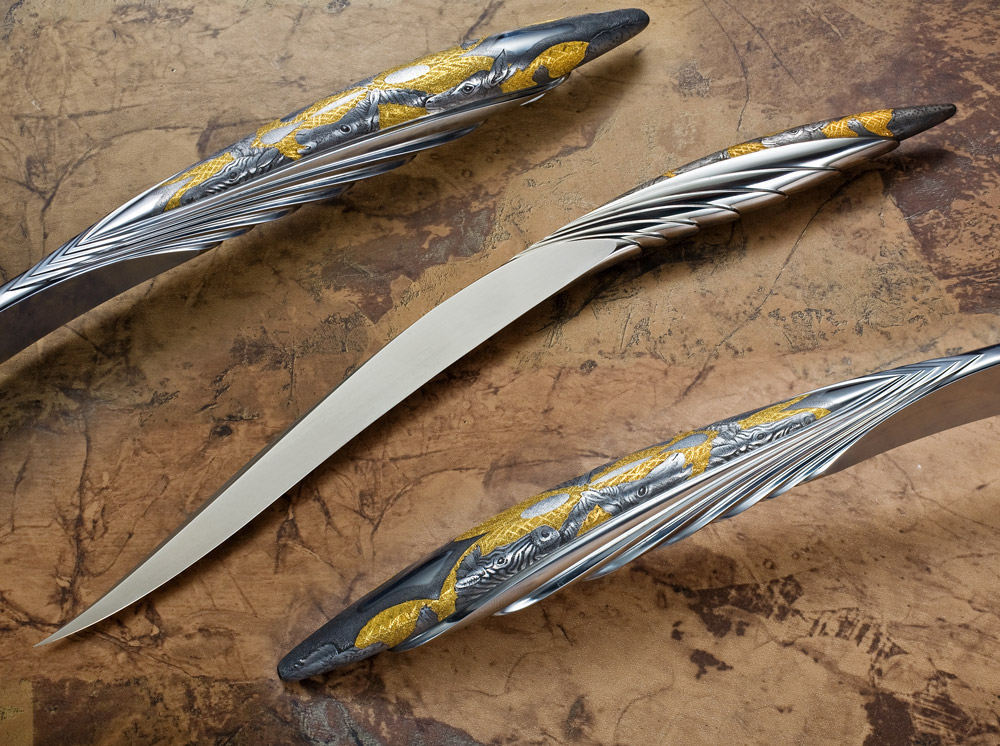 In order for artists to achieve the layered effect of their knives, Damascus steel is often used. Steel is heated in a forge and then removed to "fold" and hammer it. The process is repeated until about 1,500 individual layers have been formed, which gives Damascus steel its swirl-like appearance. Depending on the maker, one of these highly specialized, custom art knives can range in price from about $1,000 to $180,000. The Giovannellis' recent sales have consisted of a $44,000 knife and a $50,000 knife.
On average, Art Knife Gallery sells about fifteen knives per year. "We have had up to twenty-five pieces for sale at one time," said Gregory. "However, our availability averages from eight to ten pieces at any given time." Currently, folding knives seem to be the hottest commodity among knife collectors, but the popularity of fixed knives is likely to return in a few years. The business has a diverse clientele. It even serves celebrity clients who make repeat purchases due to their high satisfaction with Art Knife Gallery's unique finds.
Gregory expressed that their business aspiration is to be able to continue to enjoy their international adventures while having their travel expenses paid for. But Art Knife Gallery is only a part-time passion. The couple's main focus is on their full-time partnership in another business—namely, Direct Builder Supply, Inc., a custom millwork company that serves the Scenic Highway 30-A corridor and specializes in antique timbers and beams.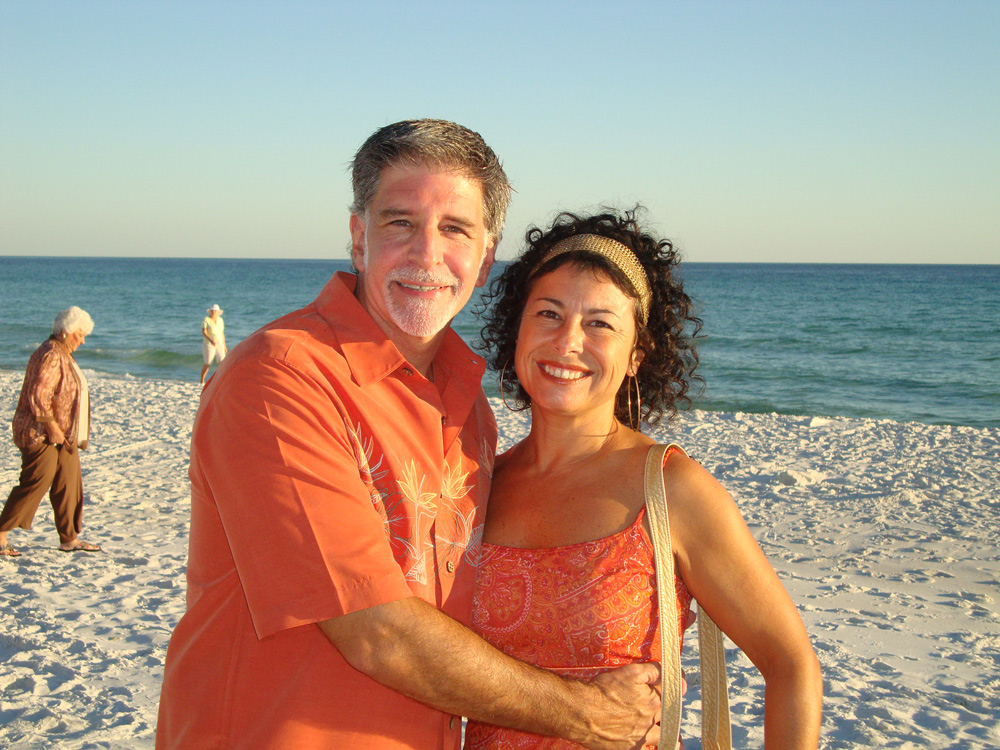 "We've been having a blast. It's been so exciting," said Gregory of running two companies with his soul mate, Silvia. "We've met so many great people. The knife-making and collecting community is like a second family." This adventurous couple proves that, with support from each other and a positive outlook, a passion of any kind can be turned into a successful business model.
— V —
---
For more information on Art Knife Gallery, please contact (850) 502-6126, Artknifegallery@gmail.com, or visit ArtKnifeGallery.com.
ARTICLE CATEGORIES