Fall Fashions Showcased at Mercedes-Benz Fashion Week in NYC
By Amanda Crowley | 
Perry Ellis 
Photography by Gerald Burwell
As the lights dimmed in the theater, the music began pulsing through the speakers; like waiting through the calm before the storm, we sat in dark anticipation tapping our feet to the music, when suddenly the fashion show began. The lights rose over the runway, illuminating the models as they showcased the finest in men's casual fall attire. Sitting on the edge of my seat, I was consumed with the atmosphere in the room. Unsure of where to fix my gaze, my eyes darted from the model journeying down the runway to the audience members furiously documenting the latest fashion trends to my camera screen, making sure I was capturing every moment. The sound of cameras clicking furiously was surprisingly audible over the music.
Of his line, Perry Ellis creative director John Crocco said, "I appreciate good designs that are timeless, classic and tasteful." His fall collection is just that. In keeping with the season's trends, the color palette consisted of neutral earth tones in light grays, tans, blues, and browns. Perry Ellis featured a fall look for men in a variety of furs, knits, wool coats, and fur-lined suede, along with the classic shirt, tie and sport coat. Thick cable-knit sweaters, wool jackets, and scarves are cozy, warm, and in style for fall 2011! For a sportier look, Ellis paired charcoal gray dress slacks, a turtleneck sweater, and a suede vest. He accented many outfits with knit hats for those extra cold fall days. Each look was completed with either dress shoes or wool socks and boots. Showcasing looks sure to transcend seasons to come, the show was a hit, as evidenced by the applause of the audience. Taking a different spin on the typical final walk, the Perry Ellis models sauntered barefoot in colorful sweatshirts and white long-john-style pants, ideal for those cold fall days when relaxing by the fire with a good book is all you need!
Perry Ellis is a look for everyman: simple and classic, stylish and comfortable!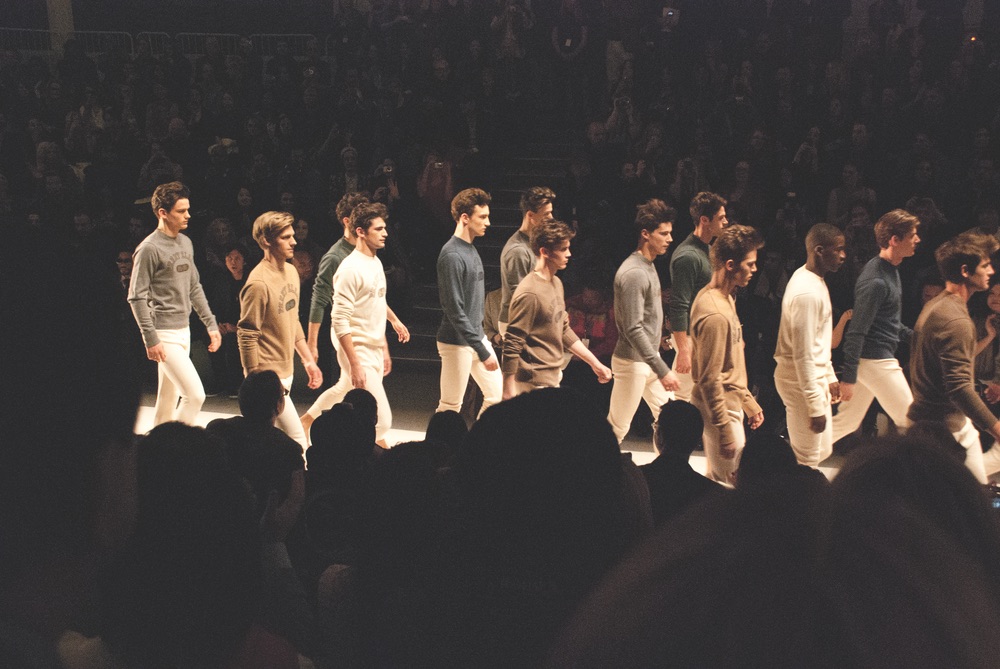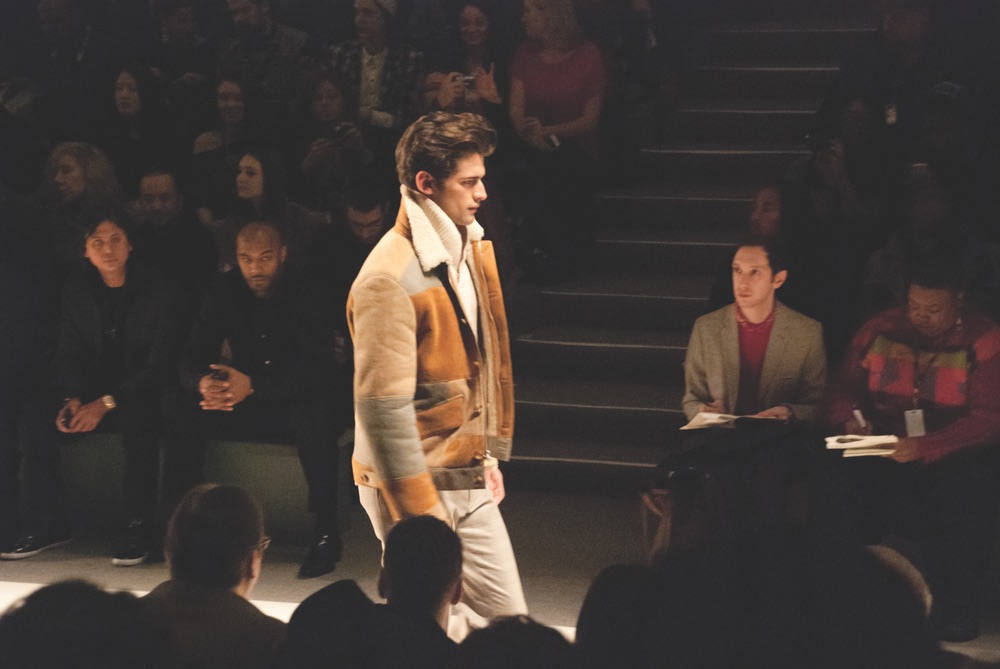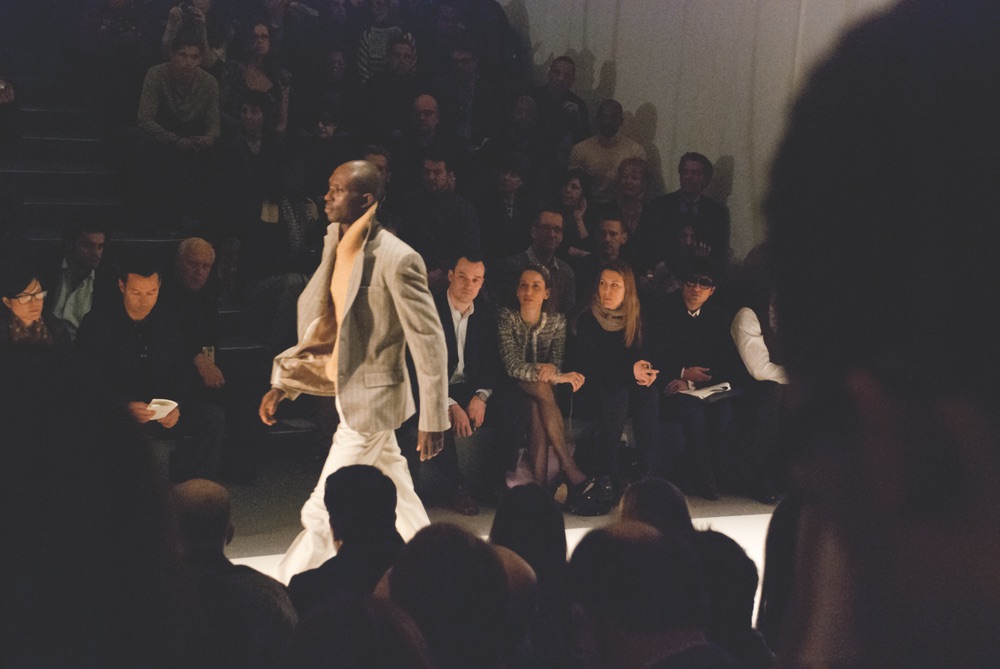 Vivienne Tam 
Photography by Frazer Harrison
Vivienne Tam's fashion show on Saturday, February 12 was the second collection we were privileged to attend. Walking up the steps to Lincoln Center, we could feel the excitement and anticipation in the air. The theater, a larger venue than our first show, was standing room only, with buyers, writers and fashionistas alike. When the lights dimmed, I eagerly awaited the start of the show and Vivienne Tam did not disappoint.
Tam's presentation was not only a fashion show but also a look into Chinese culture. Garnering influences from the 600-year-old Chinese Kun Opera, Tam combined new and old, paying tribute to the past while creating a style for today's modern woman. Drawing from the performers' costumes, movements, and music, Tam's designs emulate these with the use of patterns, designs, and layers of jewel tones.
To be fashion forward for fall 2011, Tam recommended a color palette consisting of neutral grays, blacks, creams, and the occasional splash of green or red. Many of her designs could be worn right off the runway, and are perfect for both day and evening looks. Tam's structured outerwear, sweaters embedded with Swarovski gems, and woolly A-line miniskirts were flirty with intricate detail and appropriate for the fall when paired with black tights and suede boots. In creating her cocktail dresses, Tam layered lace, embroidery, and crochet over silk in a variety of weights. While combining culture with couture, Tam created garments that were playful but still very grown up: perfect for women of all ages.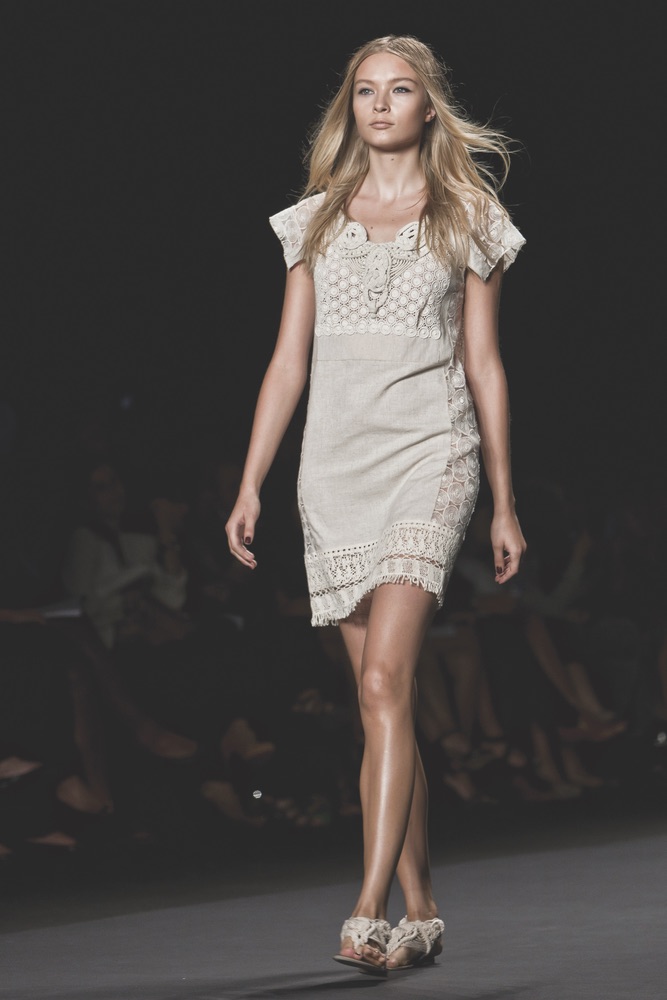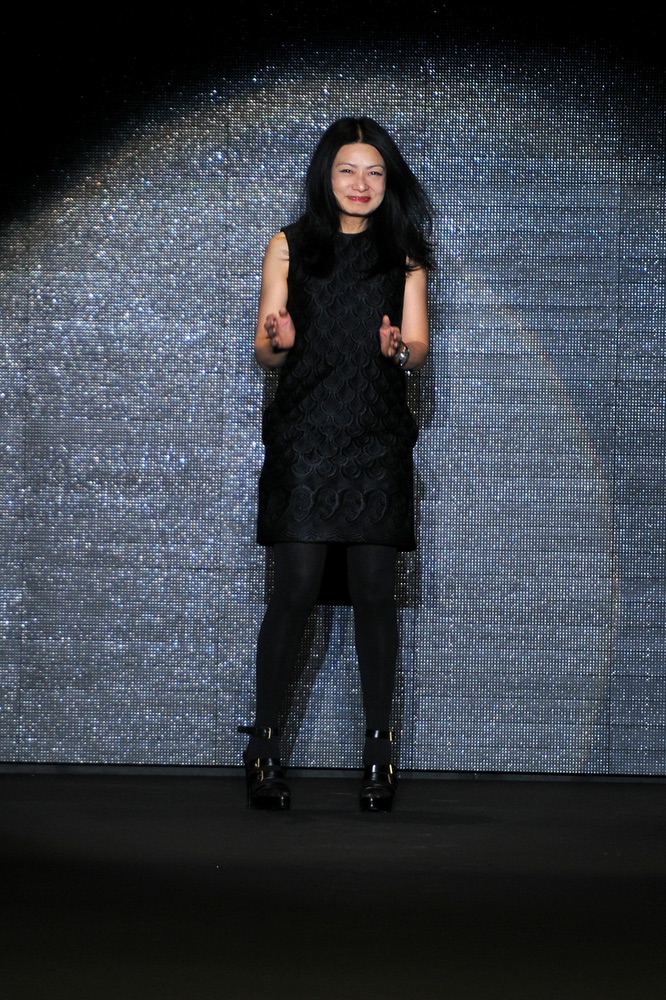 Zang Toi 
Photography by Gerald Burwell
After a day of sightseeing and shopping in the city, VIE returned to Fashion Week at 9 p.m. for the last show of the day: Zang Toi. Standing off to the side at the end of the runway, I could practically reach out and touch the models walking by; and after seeing what Toi had for fall 2011, I was tempted! Instantaneously, cameras flashed and classical music filled the room—and every light went on, illuminating the tent, turning night into day. Toi began the show with a collection of geometric dresses and coats in a combination of nude cashmere and wool, accenting the look with black tights and heels. Tailored wool suits adorned with fur collars in charcoal gray paired with deep green jackets came down the runway next. His timeless and elegant dresses were the embodiment of the classical music filling the room. Models walking with a measured gait allowed significant time to admire the details. Charcoals, blacks, and nudes popped on the runway when paired with vibrant emerald green. Adding a splash of color to natural-toned outfits is a must for fall 2011. Toi used combinations of silk, cashmere, wool, and fur throughout the show. Hair, styled in a beehive fashion, was sophisticated and stylish, allowing the focus to be on the clothes.
Jill Zarin of The Real Housewives of New York City took the final walk down the runway in an elegant black strapless dress with beautiful intricate detailing covering the skirt. Zarin's friend, Ramona Singer, also of The Real Housewives of New York City, clapped and cheered for her friend from her front-row seat. Toi received a well-deserved standing ovation as his models kept pace down the catwalk one final time.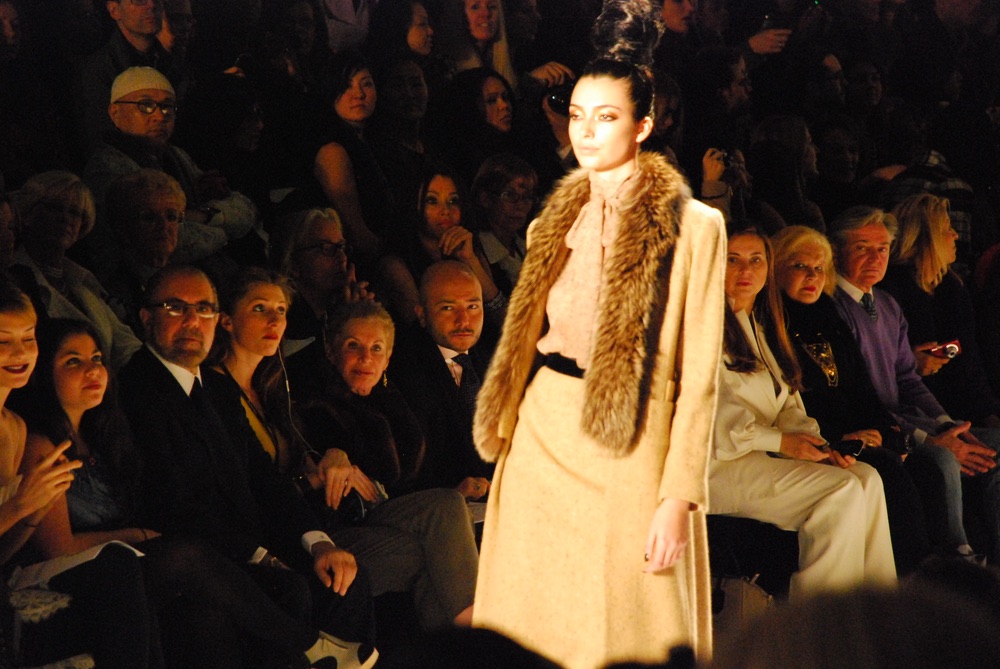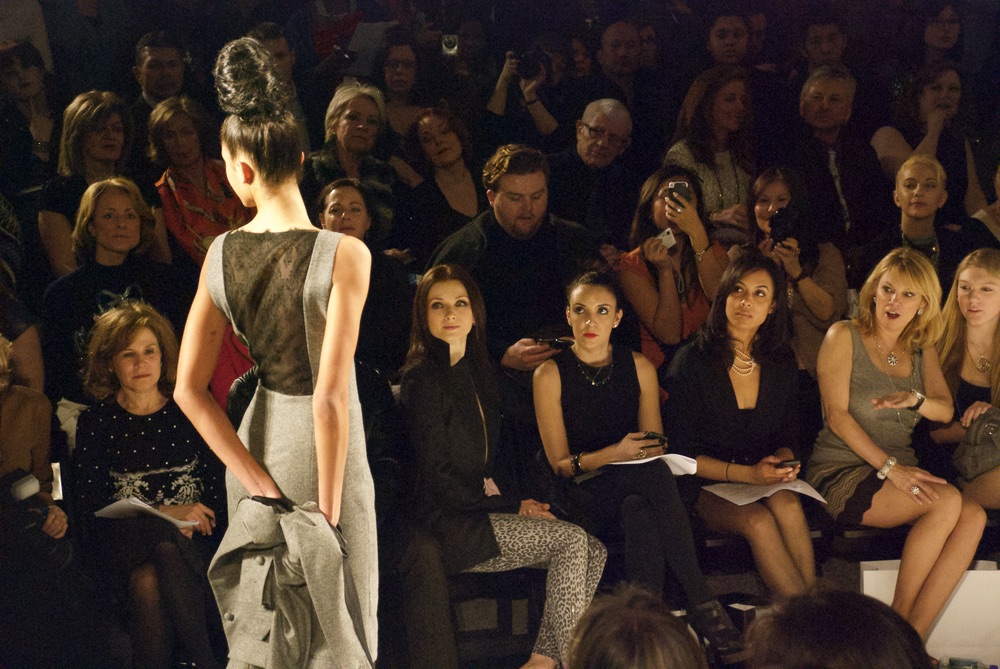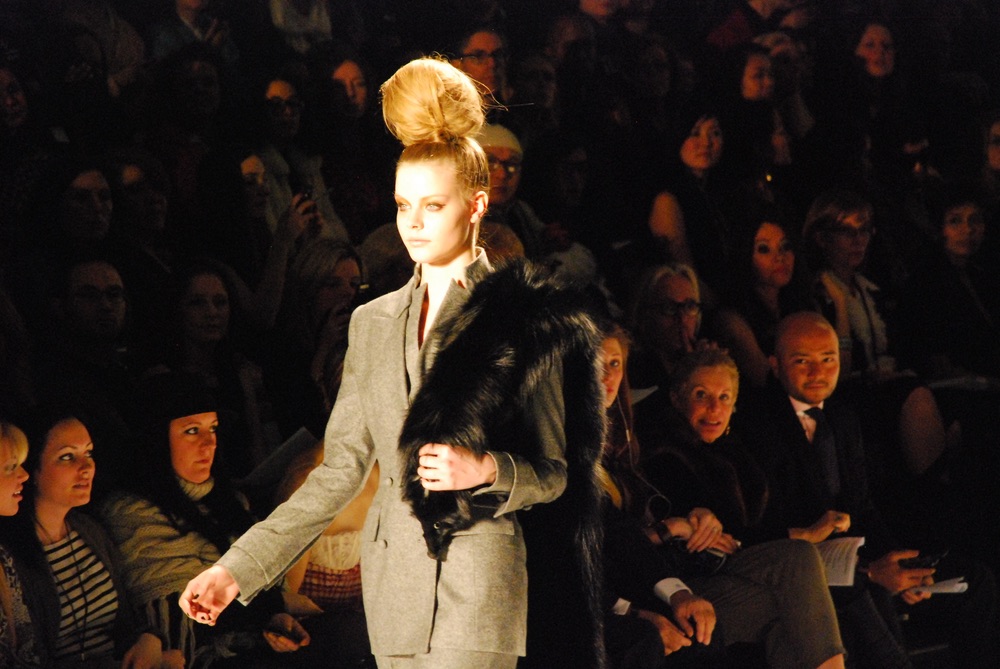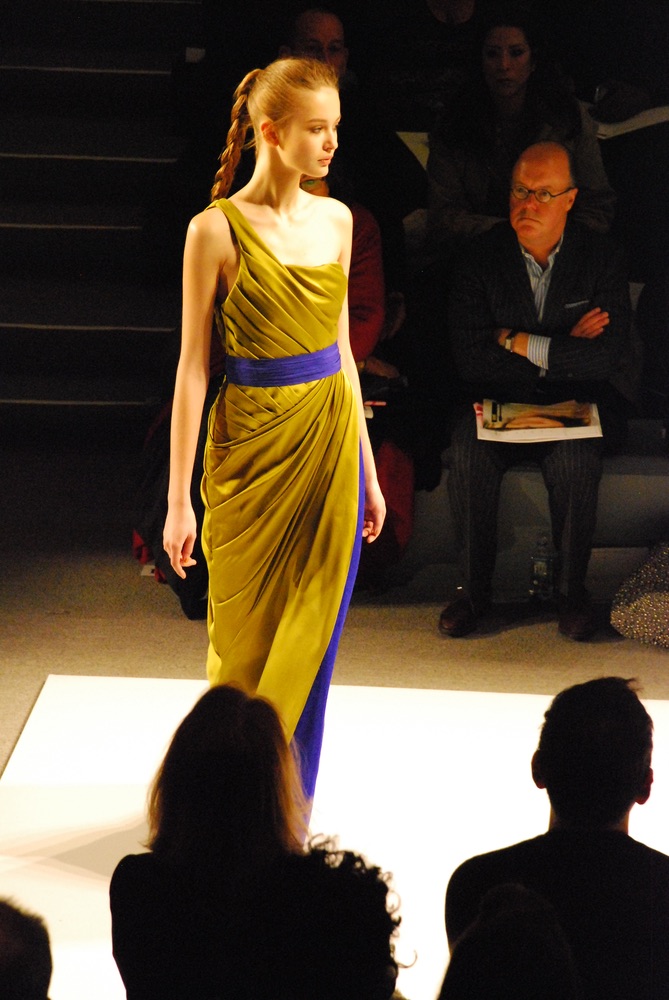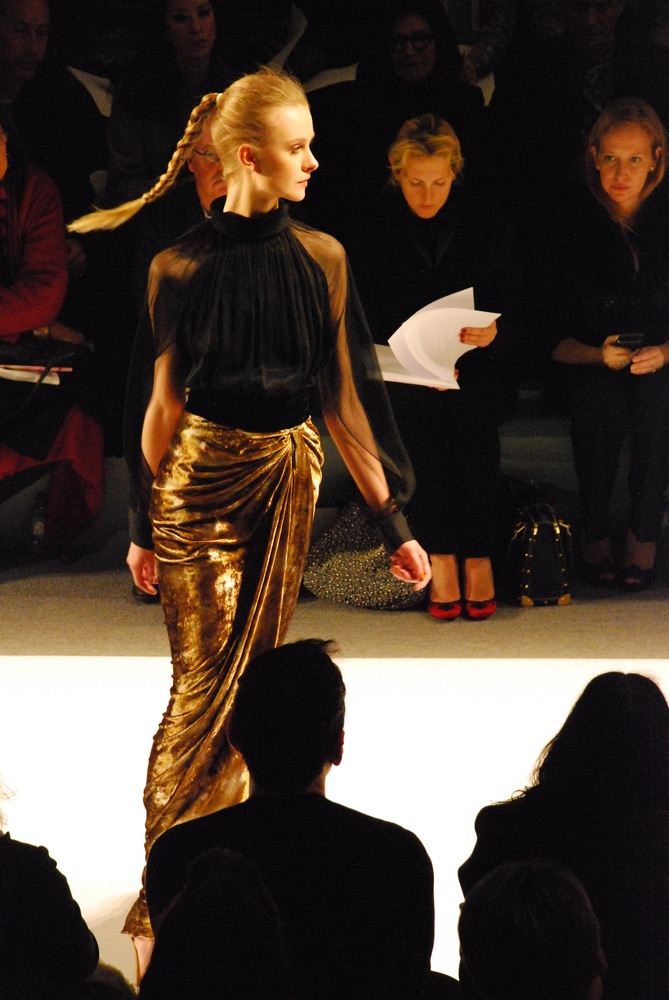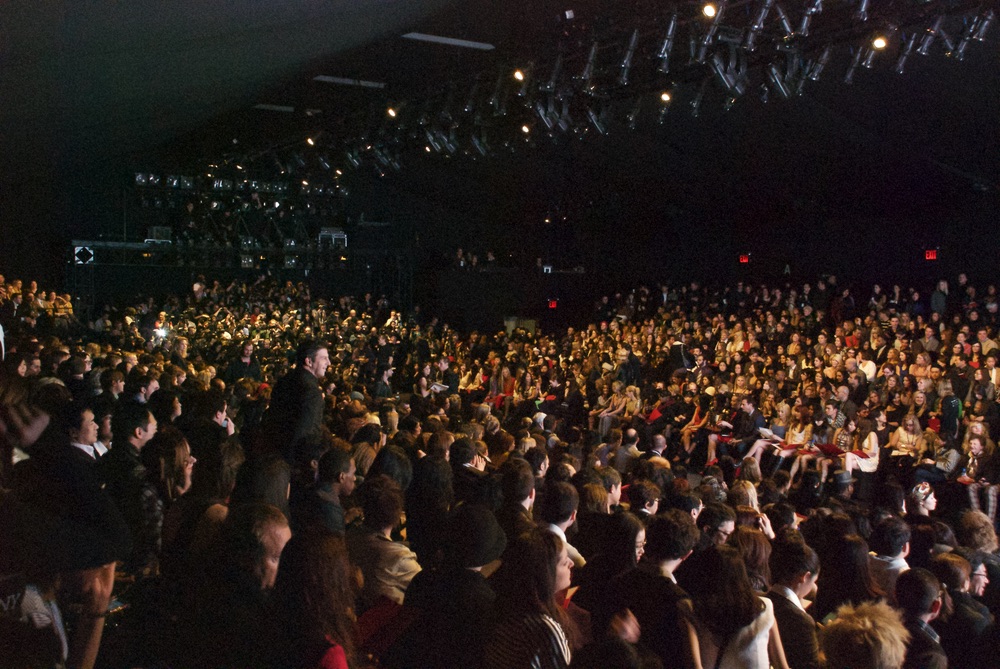 Carlos Miele 
Photography by Gerald Burwell
At 11 a.m. on Monday, February 14, Carlos Miele showed his Fall 2011 collection, and, while it was our last fashion show of the week, it was not one to be forgotten. The music was upbeat and youthful, just like Miele's fall line. The models donned braided ponytails—a youthful look, both fresh and simple. Influenced by his Brazilian roots, Miele used a wide variety of colors from black and white to vibrant greens and blues and warm reds and golds. Fur wraps and vests, as well as duchess hoods, in dark browns, black, winter whites, and gold were seen throughout the show and will surely be seen in stores this coming fall—perfect for keeping warm while looking luxurious! Miele paired simple-cut dresses with intricate detailing—just enough to put his own spin on a classic look. He uses geometric shapes, patterns, and varying necklines to flatter a woman's figure. He knows how to accentuate different parts of the body: strong triangles and V-necks for elongation; shoulder detailing for a more triangular shape; and fitted bodices with flowing skirts that allow his designs to work on every woman. High waistbands and belts added flair to the dresses. A combination of prints and textures make Miele's line ideal both for the jetsetter and the girl who enjoys a bit of luxury and is not afraid to experiment with fashion. Miele's designs ranged from jumpers to evening gowns and capes. Many of the individual pieces in Miele's collection can be incorporated into a woman's wardrobe; style and elegance should not suffer in the face of practicality; rather, they should be embraced and combined.
For the two finale dresses, Miele displayed his very popular print of choice, which was taken from blown-up satellite photos. What better to brighten a dreary fall day than a colorful couture dress?
Adrienne Vittadini 
Photography by Mike Coppola
Adrienne Vittadini is no newcomer to Fashion Week and neither were the models she chose to represent her collection. Keeping it simple, Vittadini showed a mere thirteen designs but used seven of the most well-known models in the fashion industry. In fact, her show seemed to be more about the models than the clothes. Vittadini displayed a Euro-American sportswear look in grays, blacks, and cream, appropriate for all ages and sizes. At the young age of 79, model Carmen Dell'Orefice was joined on the runway by Niki Taylor, Carol Alt, Roshumba, Pat Cleveland, Frederique van der Wal, and Irina Pantaeva. While they may have left their twenties long ago, their confidence and poise on the runway stole the show.
Badgley Mischka 
Photography by Frazer Harrison
Designers Mark Badgley and James Mischka were inspired by old Hollywood glam for the Fall 2011 collection. A foggy urban backdrop set the mood. Sitting front row was Rumer Willis, the new face of Badgley Mischka, along with Kelly Osbourne and Kellie Pickler. To create this season's look, Badgley Mischka used crepe de chine, chiffon, taffeta, and tulle in various combinations. Dresses that left the audience speechless: a crushed velvet number with beaded shoulders, a magenta one-shoulder gown, and a strapless black taffeta with a black bow. It wasn't all gowns; some looks evoked a younger, funkier feel, such as lace-knit pullovers over sequin-and-tulle dresses.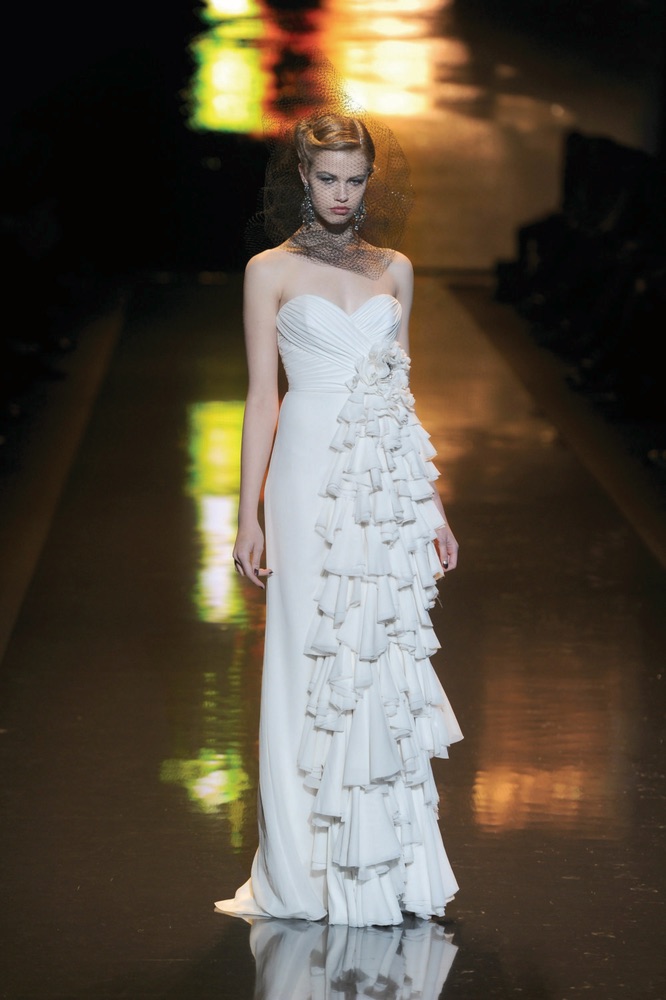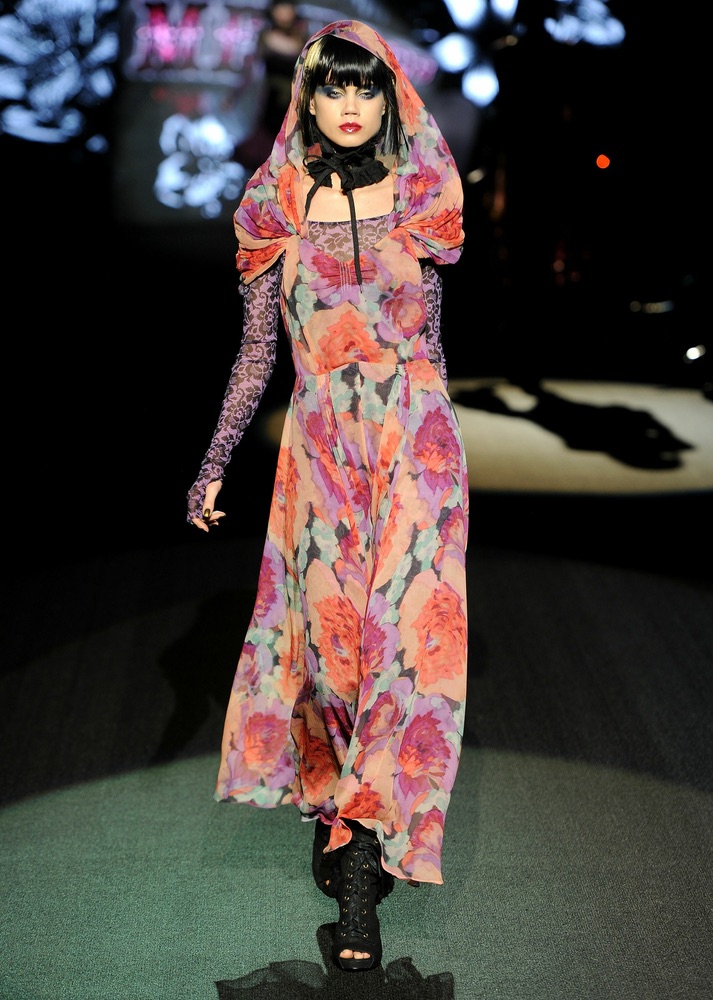 Calvin Klein Women's Collection 
Photography by Fernanda Calfat
A well-established name in fashion, Calvin Klein is never one to disappoint. This year, creative director Francisco Costa presented thirty-four looks to a star-studded audience, including Kate Bosworth, Zoe Saldana, and Kerry Washington. The collection was youthful and sophisticated for the woman who has a sporty vibe and a fast pace and doesn't want to sacrifice style. Using a variety of sleek and willowy fabrics, the color palette consisted of natural tones, such as truffle, wheat, zinc, and white smoke. Each look was completed with thick ankle strap heels.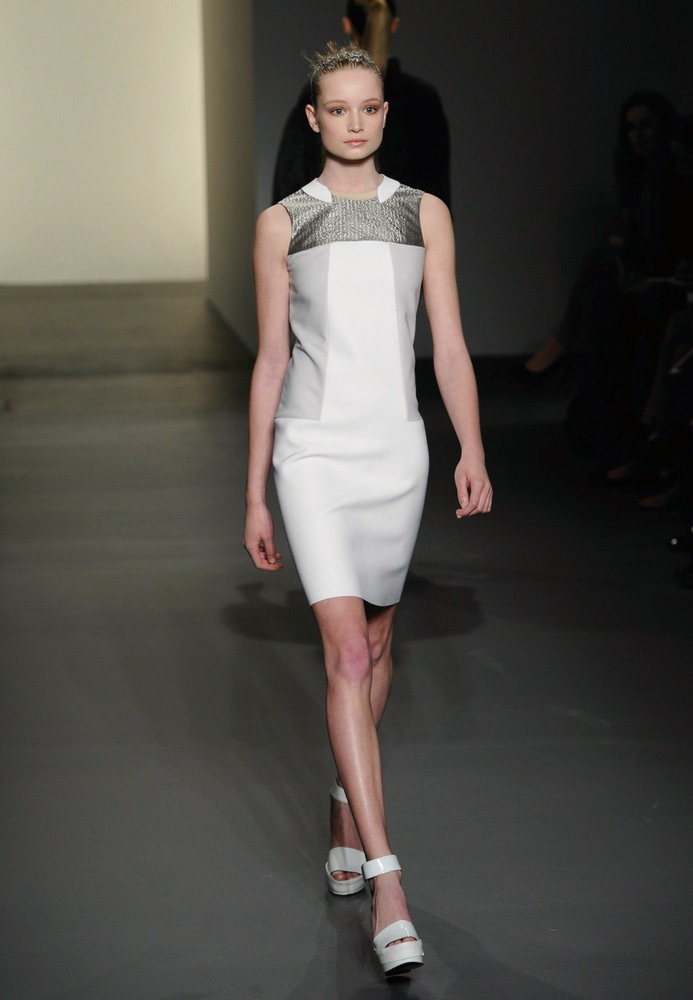 Carolina Herrera 
Photography by Peter Michael Dills
Elegance and grace are two words that define and embody designer Carolina Herrera—and her fall collection. Belted flannel coats over pencil skirts gave way to bold, embellished blouses paired with wool pants, while velvet belts and capelet collars accented the garments. The designer's signature sweeping silk skirts and evening gowns done up in minty turquoise and cocoa silk chiffon and organza left the audience in awe. With her feminine take on fashion, Herrera's designs are not only chic but also timeless and sophisticated. Whether her signature white blouse and black slim-fitting pants, which she is often seen wearing, or the dark gray wool felt dress coat and amethyst velvet belt, Herrera delivered a line with linear structure, clear-cut lines, and defined waists. Low-heeled, embroidered shoes by Manolo Blahnik were practical and sophisticated and could not have fit more perfectly with the collection.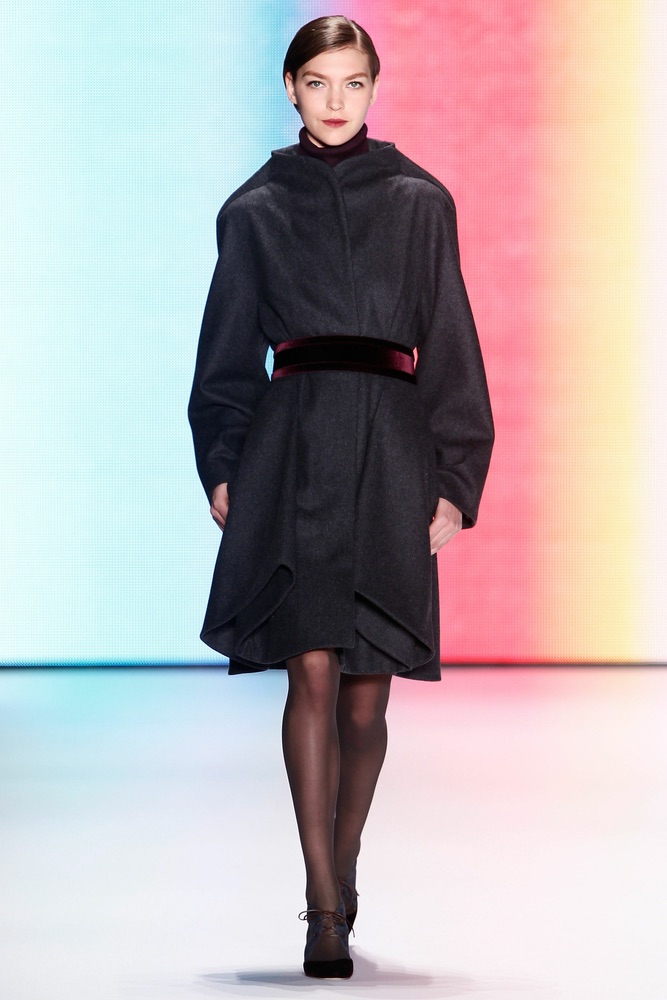 Dennis Basso 
Photography by Frazer Harrison
To call Dennis Basso's fall collection luxurious would be an understatement. Fur was in full force at this star-studded show. The audience included Star Jones, Hoda Kotb, Kelly Rutherford, and Johnny Weir. Basso's inspiration was traditional men's haberdashery and the collection incorporated a lot of texture. Cashmere cable knits and chiffon skirts gracefully made their way down the runway, layered with a myriad of fur vests and jackets. If there's one thing to keep in mind for this coming fall, that's the fabulousness of fur and how it's oh so in style! His phenomenal craftsmanship and impeccable taste for fashion made the show a success.
Diesel Black Gold 
Photography by Fernanda Calfat
The term "vintage" has been thrown around the fashion world for some time; styles recycle and become "in" again. Sophia Kokosalaki's designs for Diesel Black Gold took a fresh spin with their timeworn yet timeless style. Fabrics in maroons, olive greens, navies, and neutrals were used to create garments that were neither passé nor overly trendy. Victorian-style booties, silk blouses buttoned to the neck, corsets, and brocade prints referred back to the 18th and 19th centuries, while snakeskin and leather pants and dresses provided the fashion progression required in today's market. For the men, military-inspired blazers and fur-layered wool coats gave a stylish yet still masculine look.
DKNY / Donna Karan New York 
Photography by Peter Michael Dills / Randy Brooke
Donna Karan's Fall DKNY line encompassed sleek city looks in black, cream, and navy infused with a distinctly New York flavor, effortless and chic. Along the back walk was a neon sign—"Something New York"—displaying the collection's theme. If a place can be translated into clothing, Karan is the master. The graphic lines, popping colors, and contrasting textures were a nod to the London of the '60s with a twist of New York from the late '70s. Combinations of orange and tan and red and pink were seen on angora sweaters, mini-dresses, and knits, along with black skinny and flair trousers—all ready to wear off the runway (and affordable, too!).
Karan's Donna Karan New York line was both feminine and elegant—a mixture of urban meets uptown. A palette consisting of neutrals and fabrics with intricate cuts and draping caught everyone's eye. Everything from the dresses, blouses, jackets, skirts, and gowns exuded seamless elegance. Karan used sheer fabrics along with long white gloves with fur cuffs. Focusing on the fit of the garment is one of Karan's abilities; she creates clothing for real women that will look just as exquisite off the runway as they do on.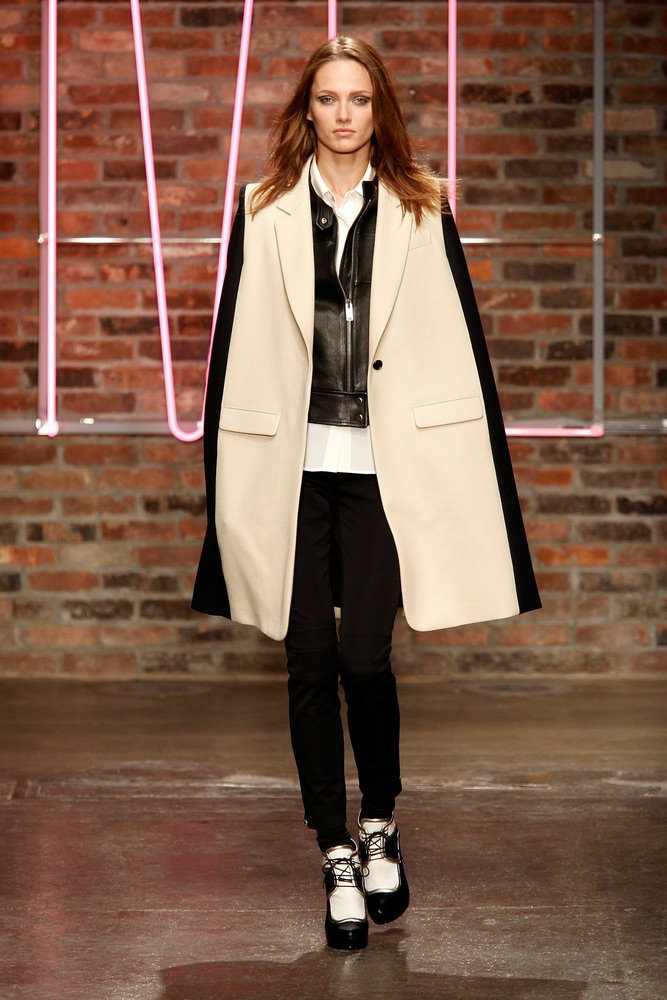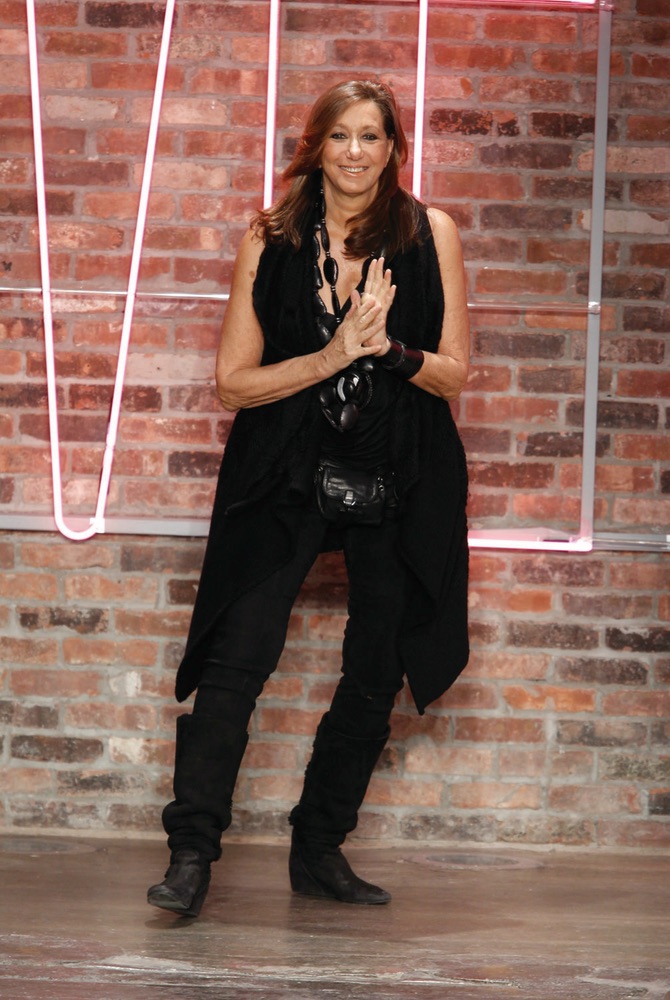 Herve Leger by Max Azria 
Photography by Frazer Harrison
The iconic bandage dresses that Herve Leger is known for, and celebrities and socialites worldwide love, were once again a hit. This season, the dresses took on a warrior style using leather, chains, studs, and an array of prints and below-the-knee metal-detailed boots: a line perfect for strong, independent, and confident women. Zippers lined the backs of nearly all of the dresses and added to the futuristic look of some of the shorter ones, fitting in with this season's metallic trend. The color palette concurred with other fashion constituents: beige, nude, black, chocolate brown, and cream were shown in the collection—subtle enough for the detailing to come through without overpowering the look.
J. Mendel 
Photography by Frazer Harrison
J. Mendel's collection focused on the unique and interesting motif of tribal body art. Imitating aboriginal tattoos, diagonal lines and circular curves were carefully shaved into the mink overcoats. Mendel's famous gowns also followed this trend with sheer sleeves bearing beadwork. The contrasting sleeves in Mendel's coats were an interesting idea that he executed beautifully, whether the sleeves were of silver fox or wool felt. Each design was shown with a long silk scarf embellished with beads and fringe.
L. A. M. B. 
Photography by Frazer Harrison
Gwen Stefani herself is a fashion icon with her too-cool-for-school attitude, so it comes as no surprise that her Fall 2011 line was nothing less than spectacular. Navajo prints, lots of plaid, menswear-inspired looks, and more were found in the six categories of the show: Soldier Girls, Ragga Muffin Girls, London Girls, Buffalo Girls, Mod Girls, and Glamour Girls. With only eight looks, the Soldier Girls section was short, consisting of army green and tightly tailored looks. Sexy, sleek, and cool designs done up in warm tones and Navajo-inspired prints were modeled by the Ragga Muffin Girls; Rasta hats were featured as a key accessory in this group. The London Girls took over the catwalk in plaids and killer '70s-inspired leather motorcycle jackets and skintight leather trousers and pants. For a more refined look, Stefani presented the Buffalo Girls with elements like chic navy trench coats over camel cropped trousers and oversized menswear looks. Mod Girls came next wearing black-and-white leopard print, polka-dot and striped dresses. Closing the show was the Glamour Girls: black evening gowns accented with gold accessories. On the last night of Fashion Week, Stefani closed her show by walking hand in hand with son Kingston down the catwalk.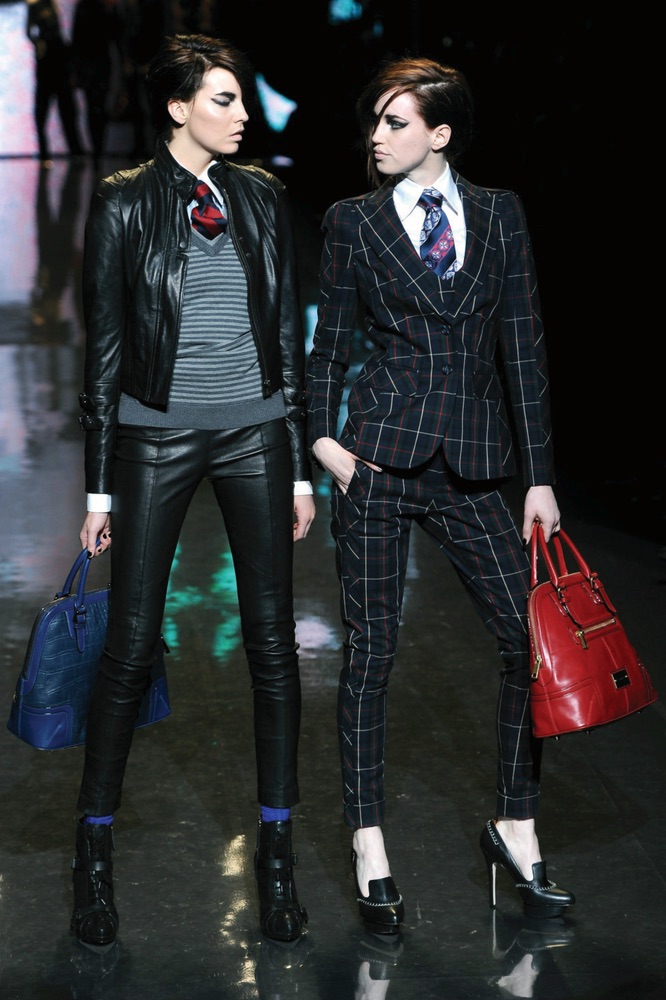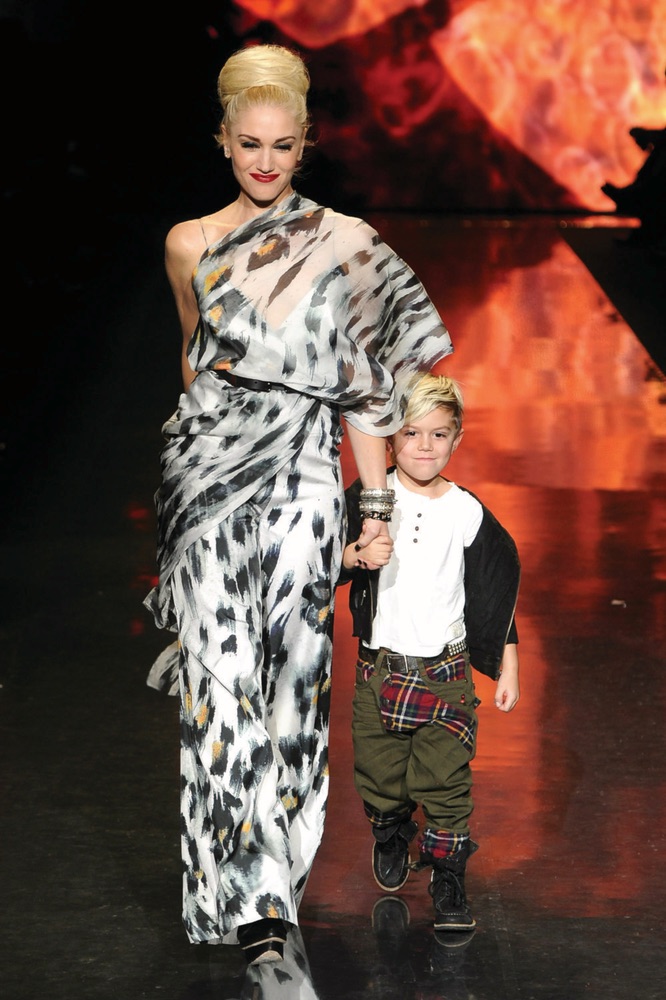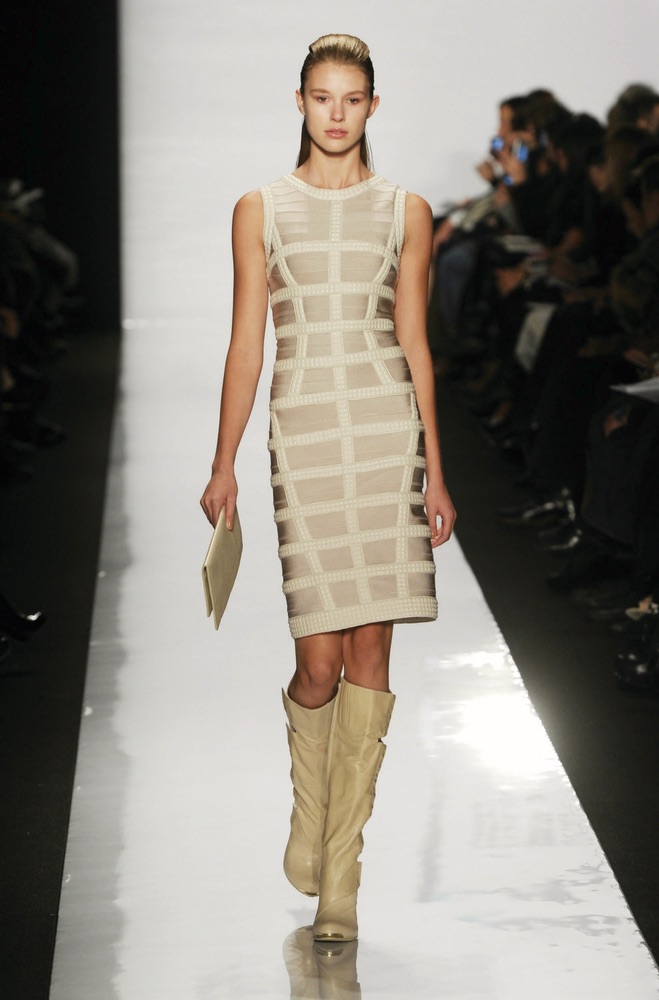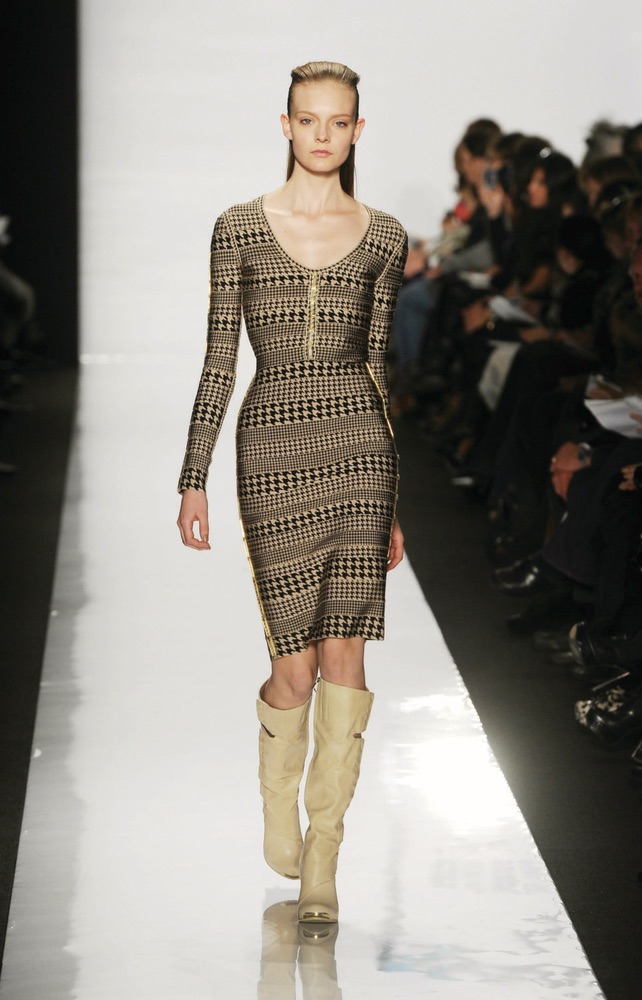 Marc Jacobs / Marc by Marc Jacobs 
Photography by Fernanda Calfat / Jemal Countess
Marilyn Manson's "The Beautiful People" was playing through the speakers, and tufted vinyl padded the walls and lined the runway as Marc Jacobs presented his eponymous collection. The line had a look of '40s meet the future with boxy tops, couture lines and polka dots, and tight, high-waisted pencil skirts. Dresses with oversized pockets at the hip (to emphasize small waists), cap sleeves, and open backs graced the catwalk. Jacobs used a variety of materials like crocodile, lamb, sheared fox, sheared beaver and cashmere, along with cellophane and polyester. The garments were all wildly imaginative, and could only have come from the mind of Marc!
Marc by Marc Jacobs, a more affordable line of designer clothes, celebrated its tenth anniversary this year by presenting a 1970s-inspired line of preppy outfits. Suits in a variety of fabrics, including corduroy, velvet, and tweed, along with simple belted dresses and skirts in grays and blacks, made for a flirty yet sophisticated collection for the upcoming fall.
Michael Kors 
Photography by Frazer Harrison
Celebrating thirty years in the business, Michael Kors presented a line that embodied his brand of effortless, casual glamour. Inspired by the '70s, Kors showed tailored suits in gray wool felt with high waists and wide pants legs; there were sequined gathered jersey looks as well. Tunic tops with deep V-necks contrasted with slouchy cashmere knits and tan jersey dresses, but still fit perfectly with the line. In keeping with the fall trends, Kors paired the looks with plenty of furs throughout the show.
Monique Lhuillier 
Photography by Frazer Harrison
Known for her pretty and flirty dresses, Monique Lhuillier opened her Fall 2011show with something a little different, a muted leopard print. Yet when Lhuillier does animal print, she does so in a feminine, not edgy way. There were also looks in ecru and some in vivid red on the runway, but the majority of her collection was black. Lhuillier's designs were delivered in an abundance of lace, chiffon, and feathers. The textures and dramatic silhouettes of the gowns were perfectly crafted.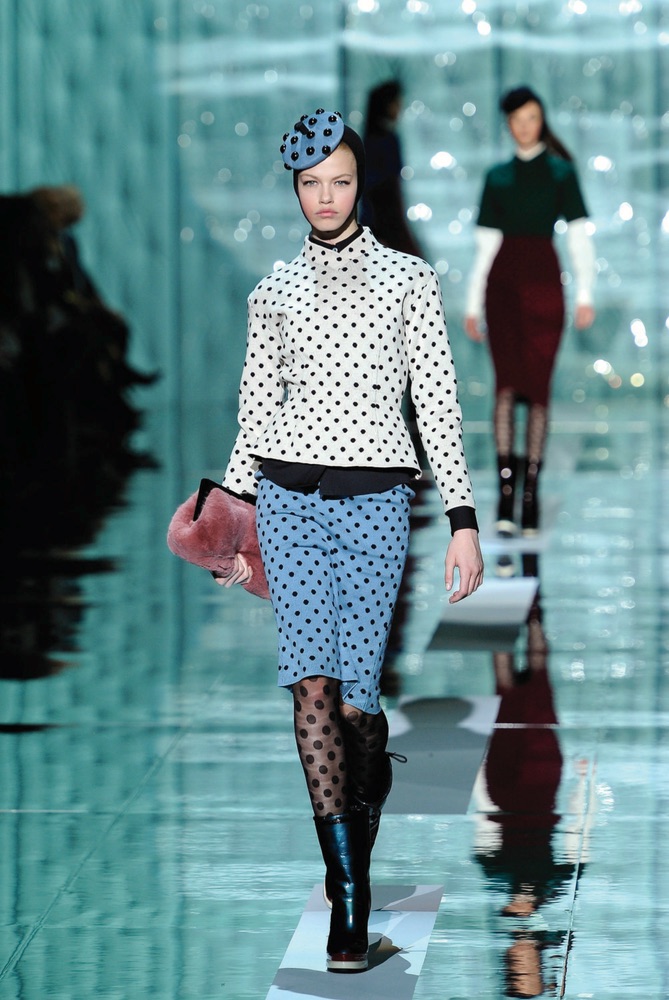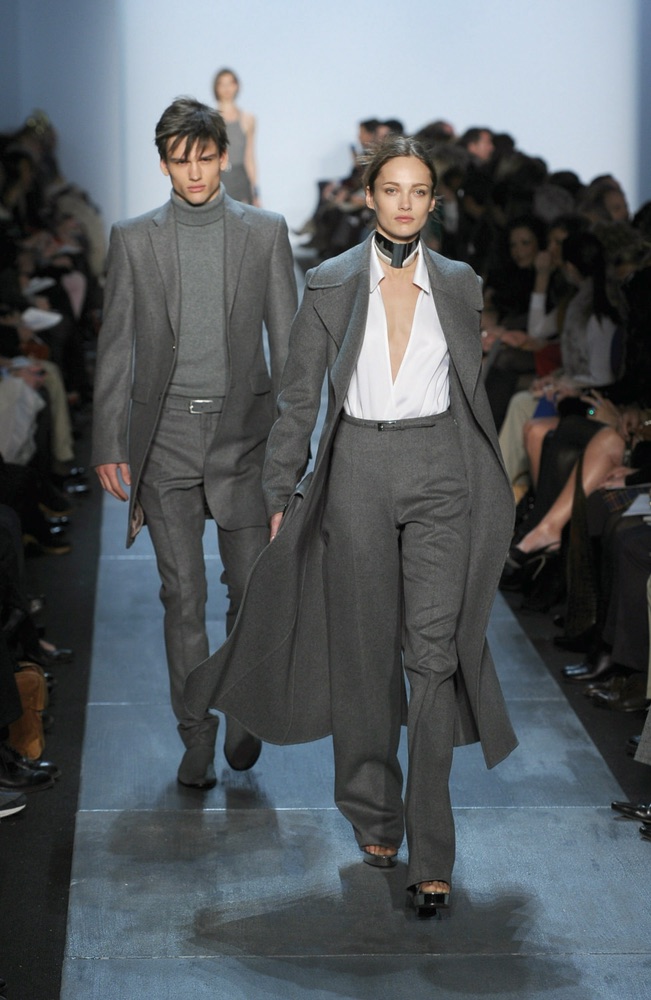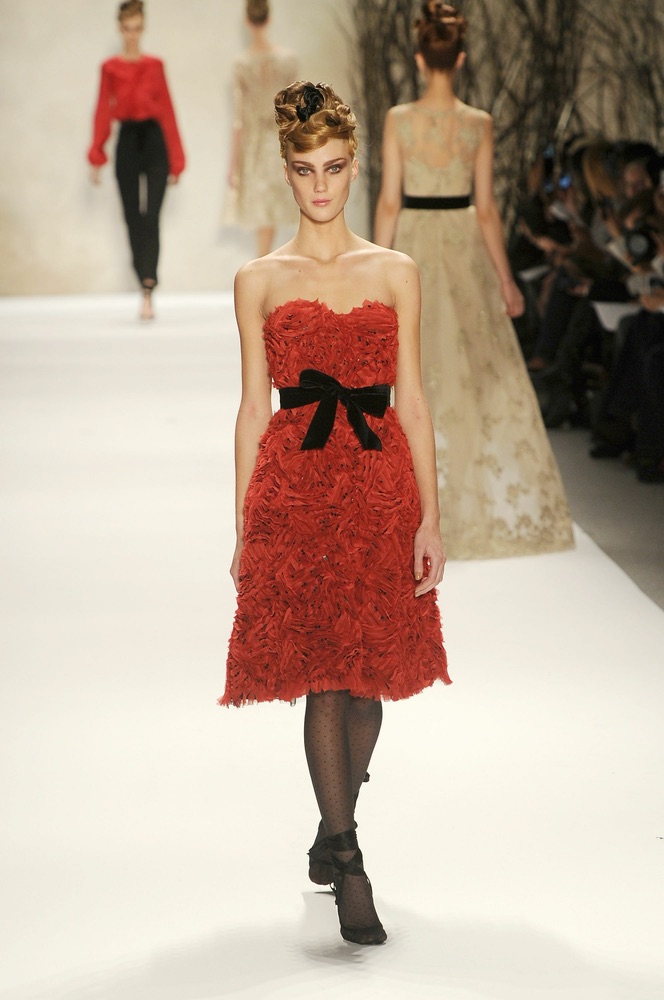 Nanette Lepore
Photography by Frazer Harrison
Nanette Lepore's collection was filled with her signature ruffles and whimsical tiers. Lepore combined textures, showing chunky knits with iridescent silk dresses in soft, light colors, particularly blues and creams. Not limiting herself to light hues, Lepore also presented edgier pieces in black with lace and leather accents for a more daring look. Throughout her designs, silver chiffon detailing and beading glistened.
Prabal Gurung
Photography by Stefan Gosatti
With his name on everyone's lips, this up-and-coming designer brought his A game to New York to show his fall collection. Taking more risks and moving away from the structured dresses he became known for, Prabal Gurung incorporated lace, extravagantly woven knits, and dyed furs. The collection was shown in combinations of red and white, red and hot pink, and white and purple, with pieces in silver and a profusion of black thrown in for good measure. Some of Gurung's most popular looks were the fitted black wool cloqué dress adorned with Swarovski crystals and ostrich feathers, the silver and ivory hand-painted silk chiffon and organza gown, the elegantly sassy one-shoulder red dress, and the frilly red blouse shown with pink boot-cut trousers and black belt. Prabal Gurung is sure to be creating the finest in women's fashion for years to come.
Naeem Khan
Photography by Frazer Harrison
We don't know what is cooler: Naeem Khan's fall line or the fact that 90-year-old style icon Iris Apfel was sitting front row at his show on February 17, 2011! Khan's designs included multicolored paisley prints, cocktail looks detailed with Far East–inspired threadwork, and sheaths adorned with fringe and beading. Coming down the catwalk in six-inch Christian Louboutins, models wore short and long pieces ornamented with ostrich feathers and silver paisley beading. Khan's attention to detail and fearlessness when it comes to fashion provided some of the hottest looks for evening wear.
Ralph Lauren
Photography by Fernanda Calfat
For the fall 2011 season, Ralph Lauren turned away from his usual American West style and traveled to China for inspiration. As a remix of David Bowie's "China Girl" played, models wearing dangly jade earrings, bright red lipstick, and red lacquered heels walked down the catwalk displaying a collection of mostly white and black looks. White blouses paired with simple black pants and knee-length skirts were followed by impeccable black evening wear, which included sleek and sexy dresses in fluid silk, panne velvet, and sable. Fittingly, some of the dresses had mandarin collars. Mr. Lauren once said, "Don't be today's look. Be a look that is timeless. Don't try to be yesterday's news." His fall collection is just that: timeless and sure to be talked about for years to come.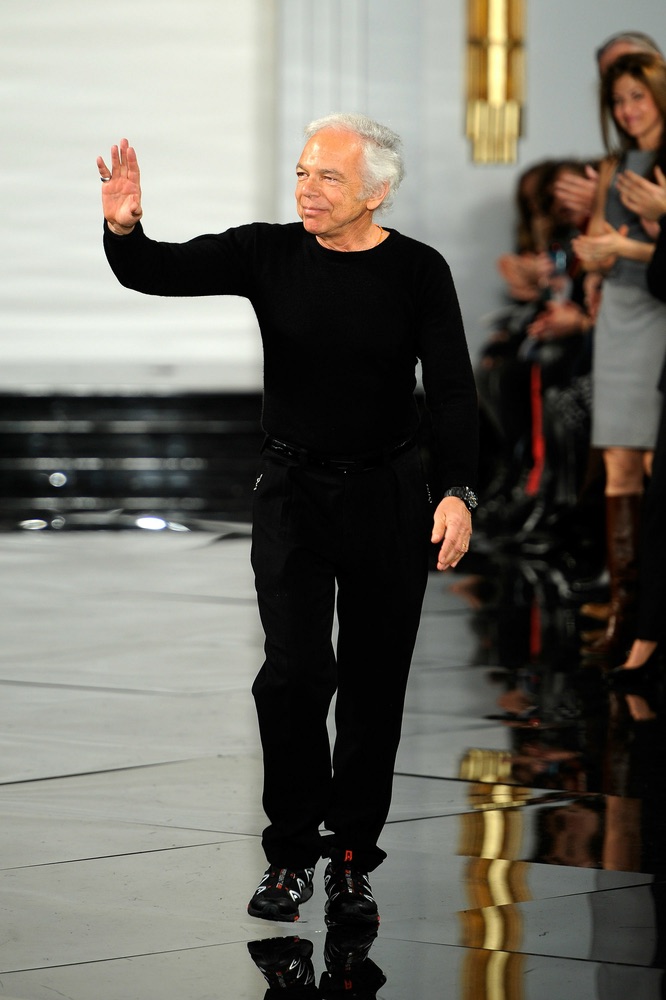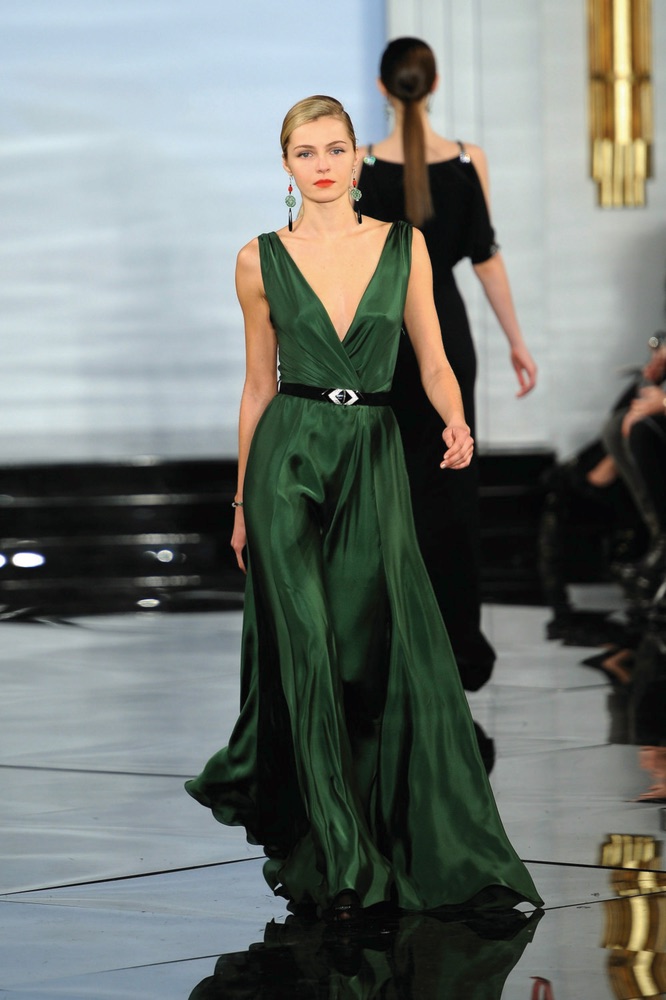 Tommy Hilfiger
Photography by Frazer Harrison
There will always be a preppy vibe to Tommy Hilfiger's designs, but this fall he is stepping out of the box, adding a new twist and calling the look Bohemian Prep. Latex-looking leather trenches with tightly belted waists, menswear-inspired suits, bohemian dresses, and a strong color palette of burnt reds, grays, and blacks made for a great show. Some of these were slightly non-gender-specific looks, but with enough femininity that is sure to appeal to his client base.
Tibi
Photography by Frazer Harrison
Metal-shuttered city storefronts served as the backdrop for this show. Inspired by the '90s, Amy Smilovic's collection keeps it cool for day, and then turns the Tibi girl into the belle of the ball for night. With less focus on '90s grunge and more emphasis on the simplicity and sleekness of the decade, daywear included boy blazers, trousers, and sweater dresses, some accessorized with hot pink beanies and arm warmers. Transitioning into evening, the looks were more sophisticated—lace, metallic brocades, and Rococo prints. Overall it was a wonderful collection that any woman could wear!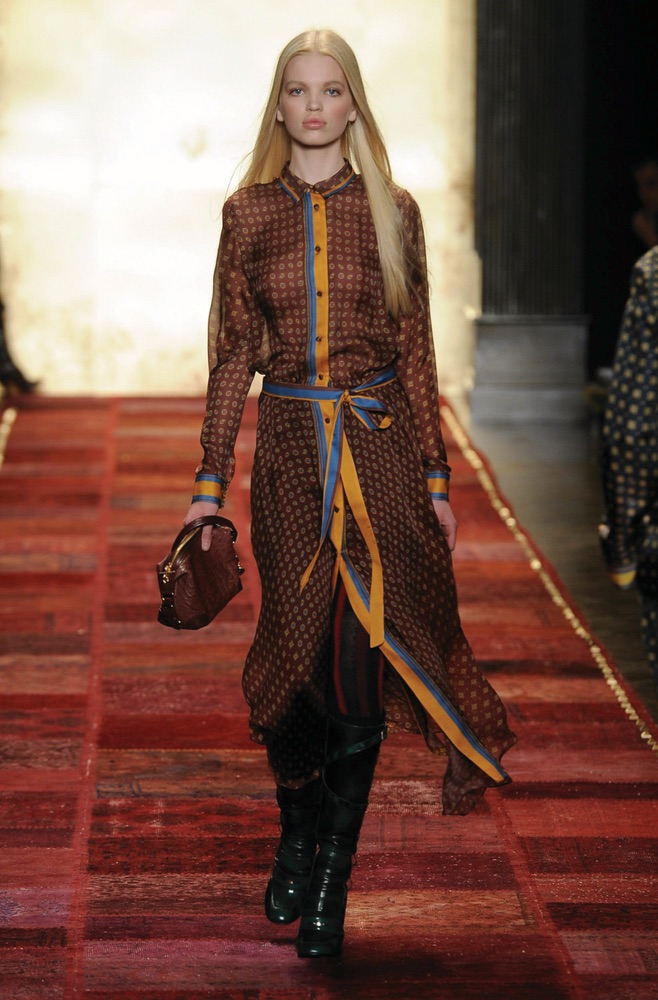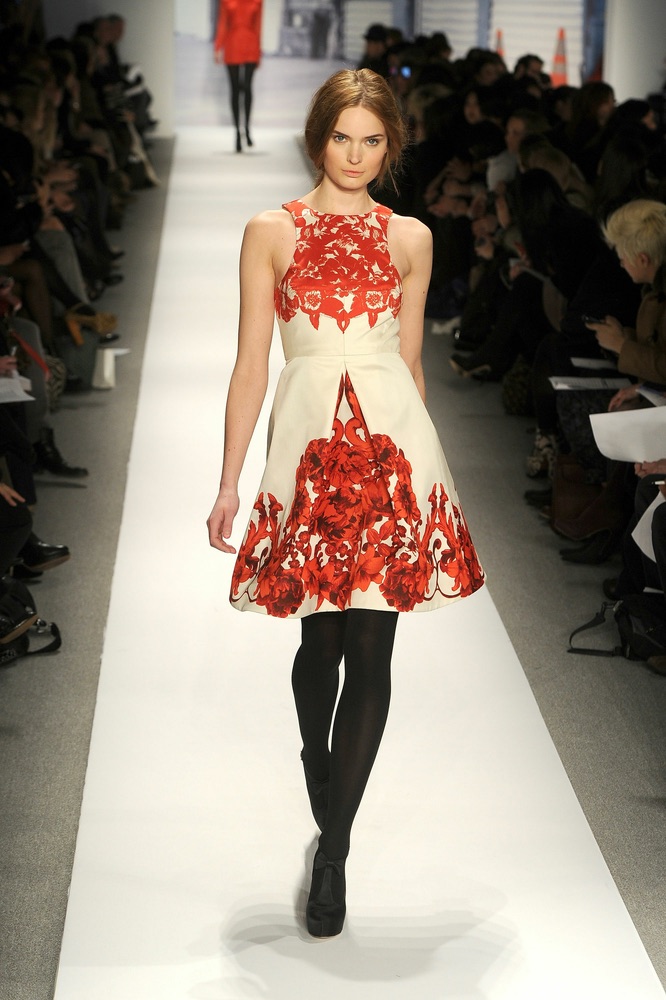 Venexiana
Photography by Frazer Harrison
Designer Kati Stern presented her gigantic collection—sixty-nine looks to be exact—for Venexiana at Fashion Week this February. As the show began, Alex McCord and husband Simon van Kempen (from The Real Housewives of New York City) looked on from their front-row seats as models with red lips and dark eye makeup came down the runway in wool suits and sheath dresses. Then, the real gems—jewel-toned, floor-length ball gowns done up in rich velvets and taffeta came out one after another. In the true spirit of fall 2011, two of the models carried red fox furs! Venexianna was full of glamour, ending with two lavish wedding gowns!
Vera Wang
Photography by Jemal Countess
Romance was in the air at Vera Wang's Fall 2011 show. Her inspiration was the English aristocracy of the 1930s, but Wang added a modern twist. There were two main areas of focus: parka jackets (either lined or trimmed with fox—luxurious and functional at the same time!) and chiffon pleated gowns. The dresses, some with dropped waists and others with racerbacks, came in a multitude of colors, including pewter, wine, ivory and mustard. She also showed some of the parkas with the dresses for a youthful look (and a chilly night out on the town!). From the oversized hood jackets to the leather and mesh creations, Wang paid close attention to detail. Platform boots and leather gloves were the perfect juxtaposition to the feminine dresses—a look sure to be seen on many chic dressers this fall!
— V —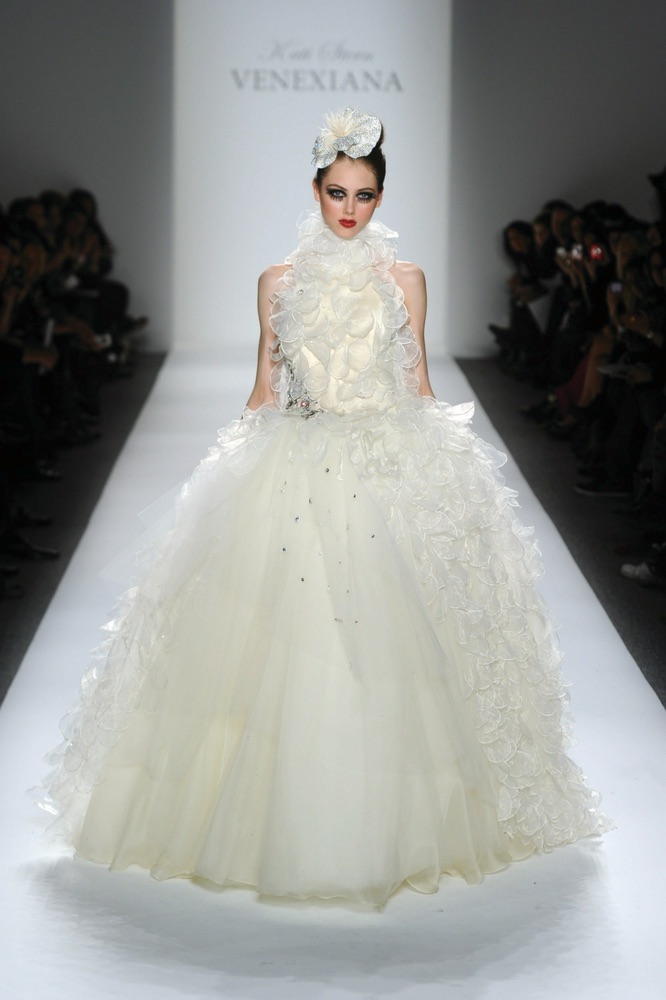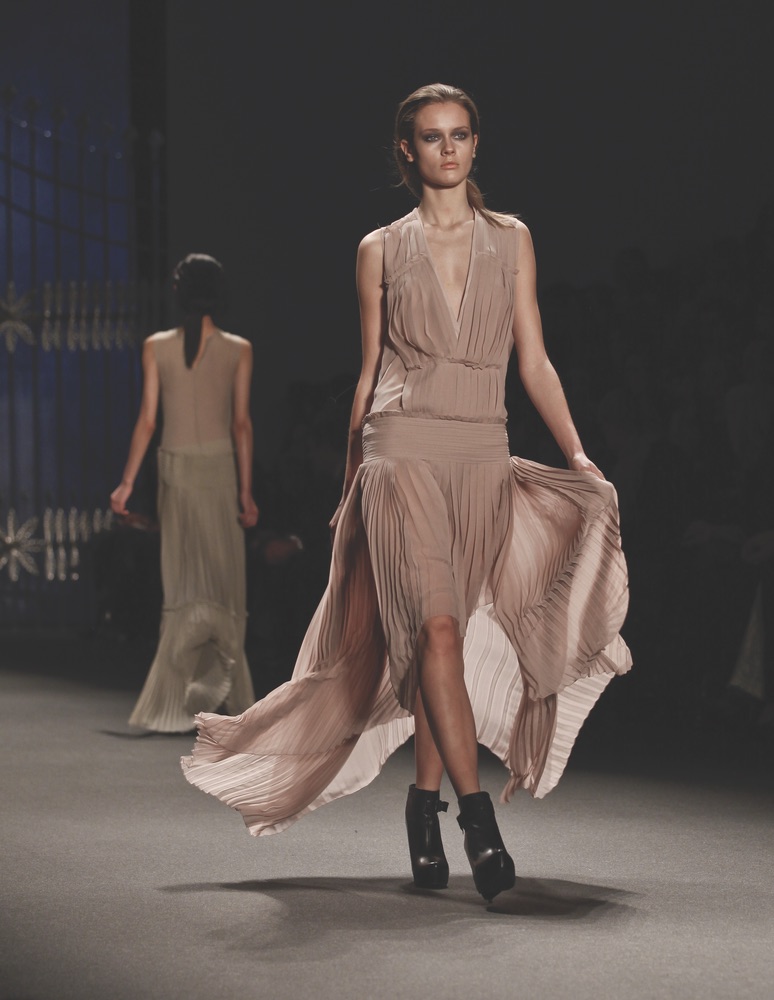 ARTICLE CATEGORIES