By Rhonda Cloutier
Headliner Carrie Underwood came to the Emerald Coast on Wednesday, May 5, 2010, with Craig Morgan and growing country music sensations Sons of Sylvia. Don't fret if you missed this concert because the successful Play On Tour has added several new dates and venues, making a stop October 23 at the Mobile Civic Center, with Billy Currington replacing Craig Morgan for the fall/winter leg of the tour. If that date doesn't work for you, go to Ticketmaster.com to see the full schedule. This is a family-friendly concert that you don't want to miss!
Carrie, winner of season four of American Idol and recently named Academy of Country Music's Entertainer of the Year, used the stage and the air above it to create a high-energy, chock-full-of-surprises, rollicking good time!
But before we get to Carrie, let's meet Sons of Sylvia. Formerly known as the Clark Brothers, Ashley, Adam, and Austin Clark won a reality television talent show, The Next Great American Band (NGAB), two and a half years ago. The show, which debuted in October 2007, had an unfortunate time slot on Friday night and did not get the viewership the producers had anticipated. (I believe that if it had been broadcast on a Tuesday or Wednesday like American Idol, the viewership would have been drastically different.) Regardless, NGAB provided a showcase for the talented Clark Brothers. Using atypical instruments—mandolin, Dobro (resonator guitar), and fiddle—and powered by Ashley's driving voice, they managed to knock off all the other bands and win the title of the Next Great American Band. The passion in their playing moved NGAB judge Sheila E. to tears (and me along with her)! I knew I was going to be a fan of their music for life. But it wasn't just their music—when people talk about having the whole package, this band has it in spades.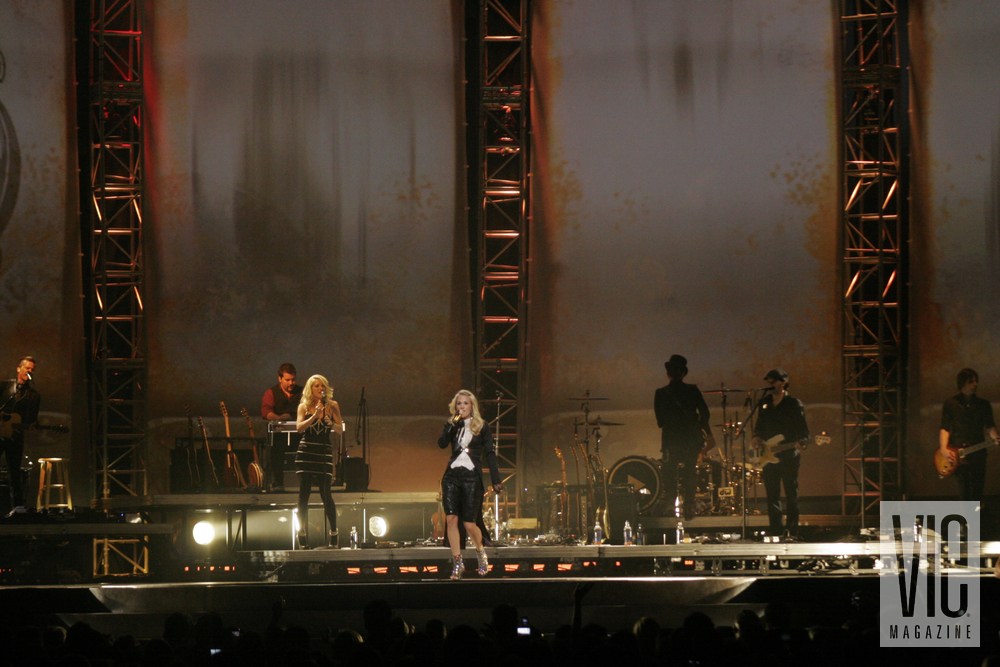 Their father, Freddy Clark, is a preacher who has led old-fashioned tent revivals for over forty years. Most of his family of eleven children either played an instrument or sang bluegrass/country/gospel-fused songs during the revivals. They learned to play their instruments from their dad, who didn't read music, but used his ears to teach and play. Studying musicians at bluegrass festivals along the way, the Clark Brothers picked up tips from the masters plying their trade. A few years later they, along with a couple of their older brothers, formed a band, which met some bumps in the road and ultimately disbanded.
Ashley, an extremely gifted fiddle player, began playing with Carrie Underwood as a member of her band. Adam had his own gig with the country group SHeDAISY, and Austin played with both. While watching a promo for NGAB on American Idol, Adam, Ashley, and Austin decided to make a video and submit it to the show. They were selected for an audition where they sang "This Little Light of Mine," leaving the judges stunned by their passion and intensity.
The prize for winning the competition was a recording contract, so for the past two and a half years, the brothers have been writing ferociously, recording and whittling down the best tracks to release. The end result is a dynamic, rock-edged fusion of country, gospel, soul, and pop. Since its release and their appearance on American Idol a few weeks ago, the album has gone to number one on the pop charts of iTunes and, this past June, was at number thirty-three on Billboard.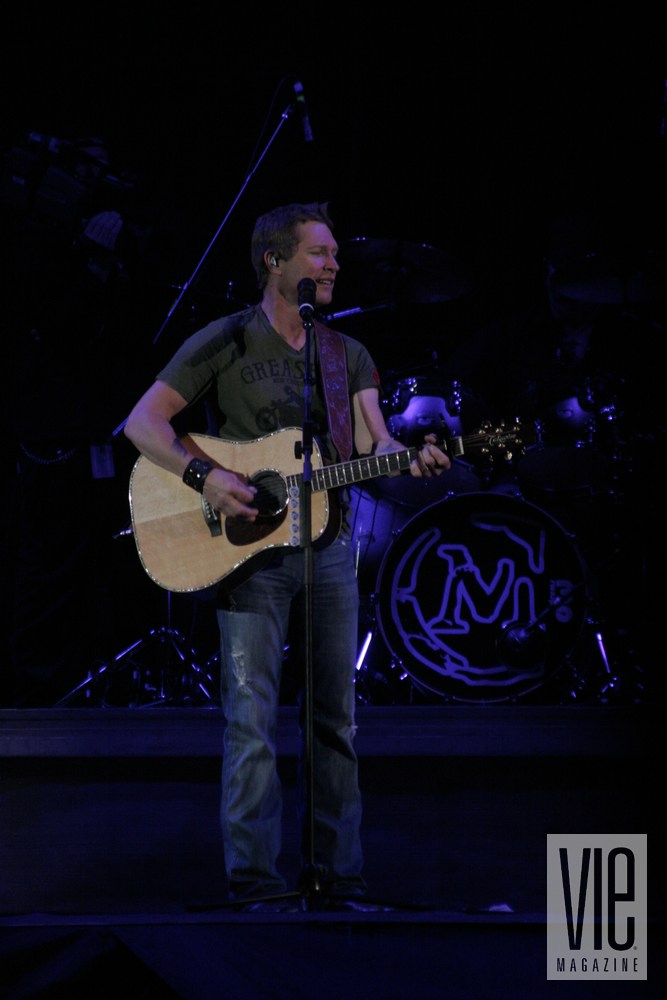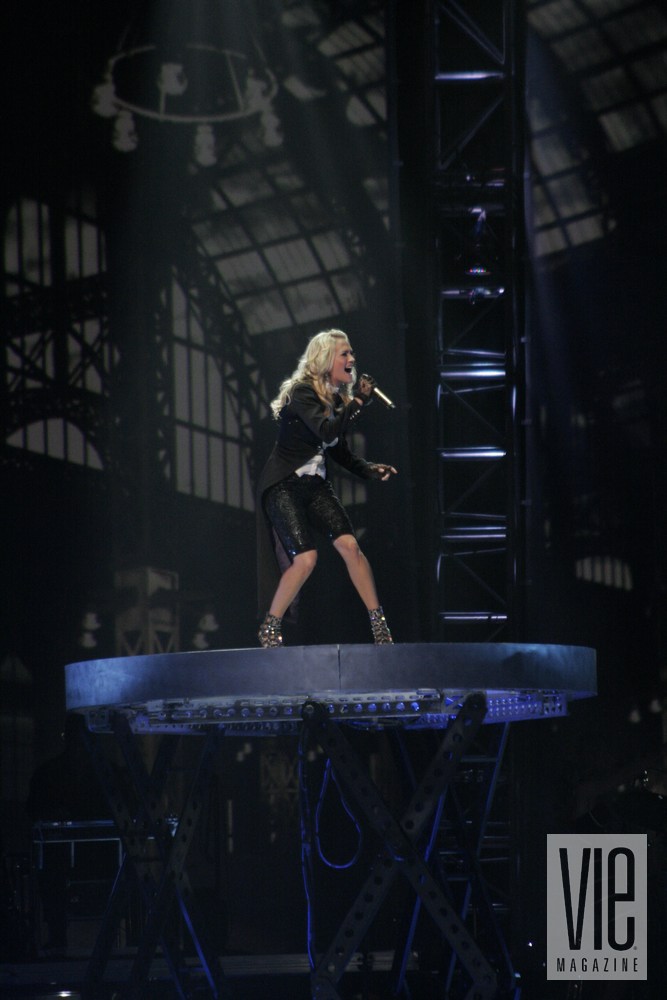 Not only do they open the Play On Tour for Carrie, but they are also featured on her CD of the same name, and they perform with Carrie on "What Can I Say."
They opened with a medley of "The War Within" from their Revelation CD and followed that with "Gimme Shelter," a song they performed on NGAB; Austin's stellar slide guitar produced dark, haunting licks.
Before starting in on "Revelation," the title track of their CD, Ashley stated that the lyrics were based on his life experiences. It starts out "I was born the day John Lennon died"—an interesting fact! I think this is one of their best songs, and it made everyone sit up and take notice.
By the end of their set, the crowd had clearly warmed to them. At first, it seemed that most of the audience were wondering who these guys were. Then the crowd started listening and by their last song, "Love Left to Lose," they had gained quite a few new fans. When Carrie called them back on stage for "What Can I Say," they had a captivated audience. Carrie's and Ashley's voices blend beautifully together on this song; I think it is one of the best on her CD.
Craig Morgan's set appealed more to the traditional country music lovers, and, based on the response of the crowd, he was well received. I had left my seat to get in line to meet Sons of Sylvia, but from where I was standing, he sounded pretty good.
On to the main event! Carrie Underwood is a star; there is no doubt about it. I don't think I have been to a concert before where the headliner was a female, but I can tell you that 99 percent of the people there were there to see her.
I did have the privilege to see her perform "I Told You So" live with Randy Travis on American Idol last March, and I think it was that performance that won me over as a fan. I didn't watch American Idol the year she won, so I missed watching her rise to the top.
I lost count of how many songs she sang, how many wardrobe changes she had, and how high her heels were, but one thing I can tell you is that every song stood out and I would be hard-pressed to call out a favorite.
There wasn't a dry eye in the place when she performed "Jesus, Take the Wheel" and "How Great Thou Art," her powerful voice leading her own revival, filling up the entire arena and making believers out of all of us.
"Temporary Home" also made me cry. If I had to pick my favorite outfit, it would be the one she wore while singing this song—she was a country belle in a blue denim shirt, wide leather belt, and white hoop skirt with yellow lace flowers. My husband noticed she had a matching leather microphone pack on her back as well.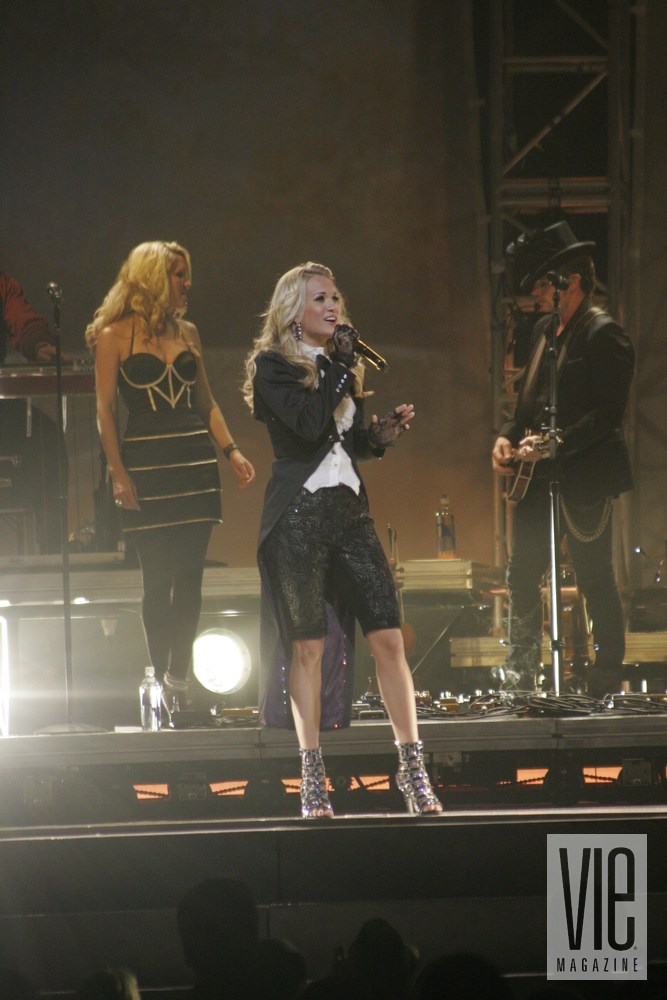 One of the more interesting outfits she wore was during the song "Change." She rose up from below the stage on a pedestal, and it appeared she was wearing some type of metal dress. The dress took on attributes of a Lite-Brite from the '70s; illuminated graphics bounced off the dress! The best part was when the song was over; she walked out of the dress—it was a dress form!
The other number that left fans with their mouths wide open was "Take Me Home, Country Roads." We were seated at the side of the stage, where a large cloth-covered object sat on the floor between us and the stage. The crowd was awestruck as a '50s vintage blue pickup truck, emblazoned with Carrie's name across the back, was lifted into the air on a monorail-like system. Carrie held on to a microphone stand in the back of the truck and took a ride high above the crowd. As the truck made its way through the entire arena, Carrie had a bird's-eye view of every fan there. The crowd was on their feet in appreciation, and the cheers were deafening.
She put on a larger-than-life show; but at the end of the day, props and costumes aside, her voice needed no embellishment. Well done, Carrie Underwood!
— V —
ARTICLE CATEGORIES