Recipes and photography by Stacey Little
It's almost Turkey Day, and you can be thankful for Stacey Little and his online recipe and storytelling mecca, Southern Bite. They're here to help you prep some great Thanksgiving recipes that are sure to please the crowd! We know that turkey and ham are usually the entrées of choice for this special occasion, so we asked Little to share some of his best side dishes, an appetizer, and a dessert to take the stress out of planning what you'll serve your family and friends this year.
Little is a true Southerner from a long line of cooks who have a genuine love for feeding people. His blog and The Southern Bite Cookbook focus on easy-to-make, convenient recipes designed to make family dinners—excuse me, suppers (in the South)—a breeze for busy cooks. From football-season snacks to holiday favorites and everything in between, you can find it on SouthernBite.com!
---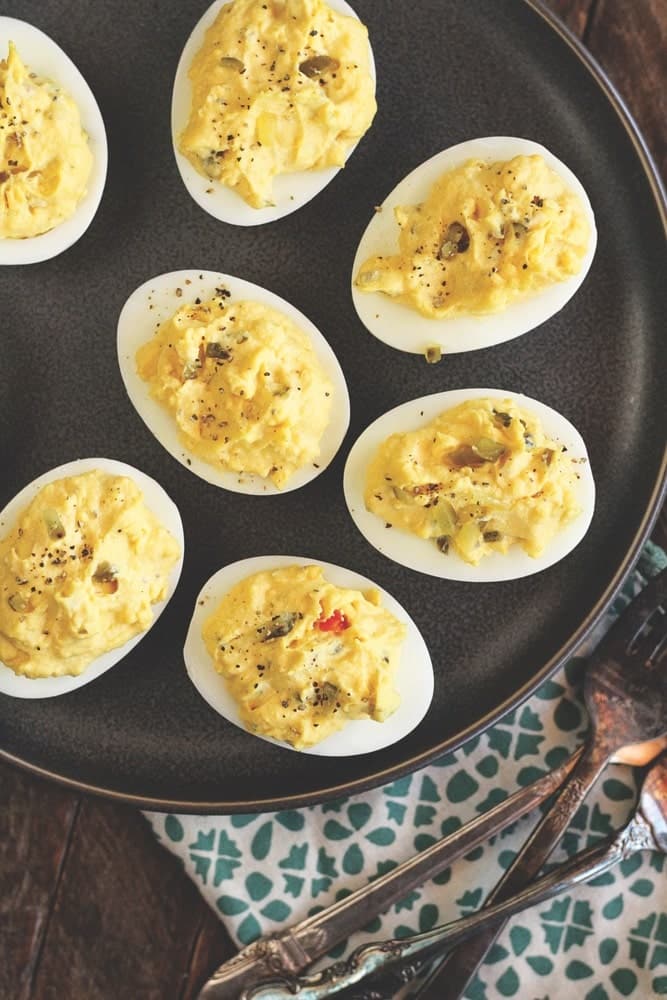 Classic Southern Deviled Eggs
Yield: 12 halves
Total time: 35 minutes
"You know, recipes like this are funny because everyone has their own way of making them," says Little. "Oddly enough, every recipe I've seen and all the eggs I've seen that other people have made have paprika on them as a garnish, but I never once saw my mom make deviled eggs with paprika. Not once. Now, I always say that the way your mama did it was the right way, so I've included paprika as an optional sprinkled garnish here.
"The other thing I like in mine that's a little different is that I prefer dill relish to the much more popular sweet relish. This recipe works with both, but I've just never been a huge fan of sweet relish. In fact, when I was a kid, mom would make potato salad for me separately and chop up dill pickles in it rather than sweet ones like everyone else's. Wasn't she sweet to do that?"
Ingredients
6 large eggs
3 tablespoons mayonnaise
1 1/2 teaspoons yellow mustard
2 dashes vinegar-based hot sauce
1/4 teaspoon garlic powder
1 1/2 tablespoons pickle relish (sweet or dill)
Salt
Pepper
Paprika (optional)
Directions
For easy-to-peel eggs, it's better to steam rather than boil them. To do so, add about 1/2 inch of water to the bottom of a medium-size saucepan with a tight-fitting lid. Add a steamer basket if you have one, but it's not necessary. Over medium-high heat, bring the water to a boil. Turn the heat off. Carefully add the eggs to the basket or just to the bottom of the pan. Cover and return to a boil. Steam for 12 to 15 minutes. (To check the doneness, you might add an extra egg and check it at 12 minutes to judge the cook time.) Once cooked, place the eggs in an ice bath until they are completely cool.
Peel the eggs and slice them in half lengthwise. Carefully scoop out the yolks and place them in a small bowl. Use a fork to mash up the yolks. Add the mayo, mustard, hot sauce, and garlic powder. Mix until smooth. Add the pickle relish. Add salt and pepper to taste. Spoon the mixture equally into the whites. Sprinkle with paprika if you desire.
---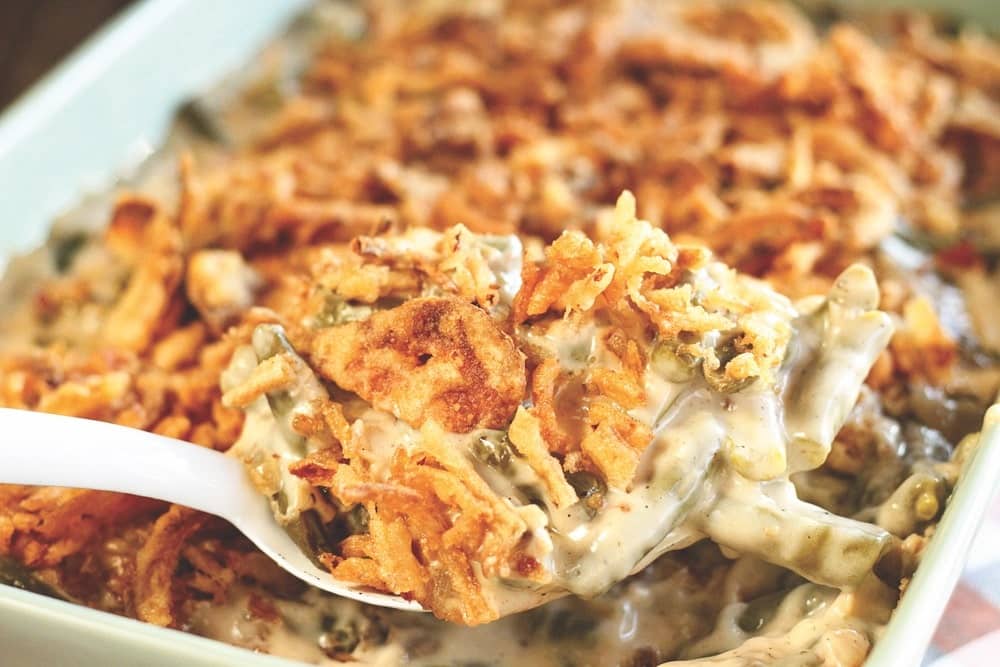 Ultimate Green Bean Casserole
Yield: 8 to 10 servings
Total time: 50 minutes
"Every year around this time, folks take to Facebook to announce all the things they are thankful for, and while I'll stop short of criticizing folks for it, I just can't help but wonder why it has to be only this time of year to be thankful," shares Little. "Shouldn't we be thankful every single day of our lives? I often find myself lost in reflection (mainly having something do with my little boy) and realize just how lucky I am—how lucky we all are. If we all stop and think about it, we'll realize that despite whatever it is that we're facing, we've all got a lot to be thankful for.
"As far as I'm concerned, green bean casserole is just about as important as turkey and dressing on my Thanksgiving table. It's just not Thanksgiving without it. And while I know there are those out there who balk at the idea of condensed soups, it's just not the same without it. I've tried gussied-up versions that eliminate the soup, but nothing comes close. Here's my ultimate take on the traditional Thanksgiving classic."
Ingredients
6 strips bacon
1/2 yellow onion, finely diced
1 1/2 cups button mushrooms, chopped
3 cloves garlic, minced
2 (10.5-ounce) cans cream of mushroom soup
1/4 cup milk
1 cup shredded Monterey Jack cheese
Salt and pepper
4 (14.5-ounce) cans cut green beans, drained
1 1/2 cups French-fried onions
Directions
Preheat the oven to 350°F and lightly spray a 13 × 9-inch baking dish with nonstick cooking spray.
In a large skillet, cook the bacon over medium-low heat until crisp. Remove and drain on paper towels, then crumble. Drain away all but about 2 tablespoons of the bacon grease, then return the pan to medium heat. Add the onions and cook, stirring occasionally, about 5 minutes or until translucent. Add the mushrooms and cook, stirring occasionally, for 5 minutes or until the mushrooms are golden brown. Add the garlic and cook for 1 minute. Stir in the undiluted mushroom soup and add the crumbled bacon. Stir to combine. Stir in the milk and cheese. Stir until the cheese is melted. Add salt and pepper to taste. Fold in the green beans until well combined.
Pour the mixture into the prepared dish. Top with the fried onions. Bake, uncovered, for 30 minutes or until the casserole is hot and bubbly.
---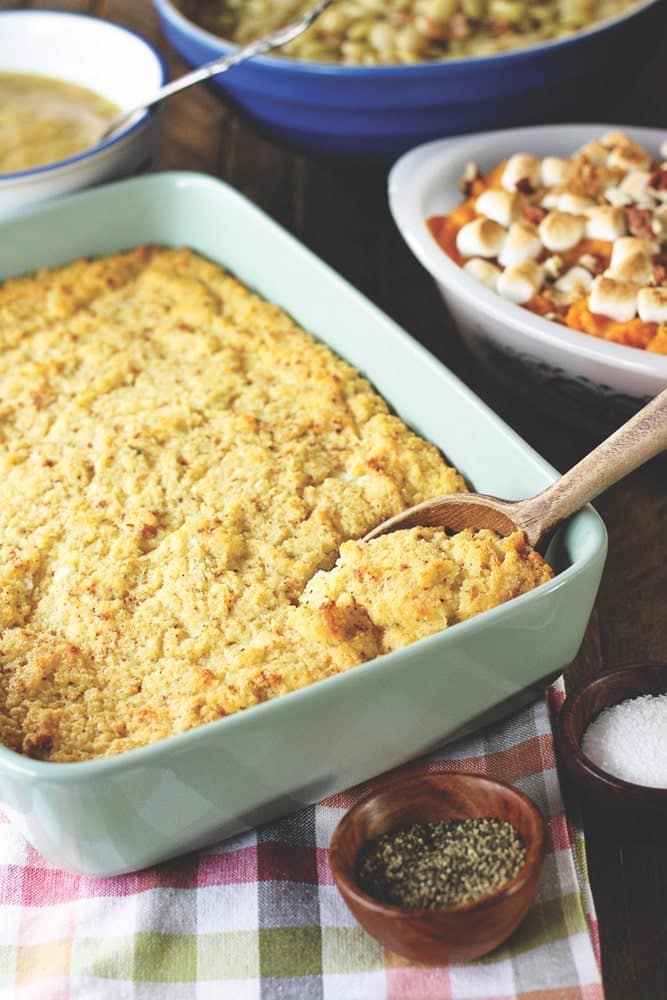 Southern Cornbread Dressing
Yield: About 8 servings
Total time: 55 minutes
"What are your must-have Thanksgiving sides?" Little asks. "Mine is cornbread dressing. After sharing this thought on Facebook a few years ago, several folks asked for my family recipe. This is the one my family has used forever. It's simple, easy, calls for just a few ingredients, and in keeping with my family's particular tradition, doesn't include any sage. Now, if you just have to have sage in there, add it. No biggie!
"A couple of things to keep in mind: the mixture should seem pretty soupy when you pour it into the baking dish. If it's not, it's going to end up dry. Add more broth if you think you need it. Don't like onions? Feel free to leave them out. Want the flavor of onion without the crunch? Just run them through the food chopper or blender before adding them.
"And when it comes to the salt and pepper, feel free to taste it and add it to your liking. Since there are no eggs in the recipe, there's no harm in grabbing a taste. It's actually one of my favorite things to do at Thanksgiving. I just love to grab a spoonful right before it goes into the oven. Y'all enjoy!"
Ingredients
7 cups crumbled cornbread (Use Little's recipe for Easy Cornbread found within this recipe's page at SouthernBite.com!)
1 (10.5-ounce) can cream of celery soup
1 (10.5-ounce) can cream of chicken soup
2 cups chicken broth
1 small onion, finely chopped
1/2 teaspoon salt
1/4 teaspoon black pepper
Directions
Preheat the oven to 350°F. Lightly spray a 13 × 9-inch baking dish with nonstick cooking spray.
In a large bowl, combine the cornbread, cream of celery soup, cream of chicken soup, broth, onions, salt, and pepper. Pour the mixture into the baking dish. Cook uncovered for 30 to 45 minutes or until golden brown.
---

Easy Caramel Pecan Cheesecake
Yield: 8 to 10 servings
Total time: 1 hour 20 minutes
"I am so excited to share this recipe with y'all. But first, let me take you on a little trip: In the fall of 2016, I had the amazing opportunity to take a trip with the National Pecan Shellers Association to be a part of the pecan harvest in Albany, Georgia. Pecans are something I know. My grandparents have lived in a pecan orchard for my entire life. When I create recipes that involve nuts, I almost always use pecans. They're easy, versatile, and delicious. And while I admittedly learned a lot about harvesting, processing, and packaging pecans on an enormous scale, the thing that I took away from that trip was a connection to a delightful family named the Willsons. They own Sunnyland Farms in Albany and have been providing the country with the highest quality pecans, candies, and baked goods since 1948. Sunnyland has become my source for the highest quality pecans. I used them in this cheesecake because despite its being easy, it's something I wanted the best ingredients for.
"I always tell folks, when you're on a budget, look for recipes that use pecan pieces rather than halves. They're more affordable and work just the same in most cases. There's no reason to buy the more expensive halves only to chop them up for your recipe. This recipe calls for halves on the top because they're prettier, but I promise you large pieces will work just as well.
"Many cheesecake recipes call for a water bath, and you've got to be all fussy about keeping it from cracking when baking. Well, guess what? It's gonna crack. But you know what else? We're gonna cover that sucker with the most delicious caramel and pecans; no one will ever know about that little ol' crack. Y'all are seriously gonna love this one!"
Ingredients
9 full sheets of graham crackers, crushed (about 1 1/2 cups crushed)
1/2 cup finely chopped pecans
4 tablespoons butter, melted
4 (8-ounce) packages cream cheese, softened
1 1/4 cups light brown sugar, firmly packed
2 teaspoons vanilla extract
4 eggs
For the topping:
2 cups pecan halves
4 tablespoons butter
1/2 cup light brown sugar, firmly packed
1/3 cup heavy cream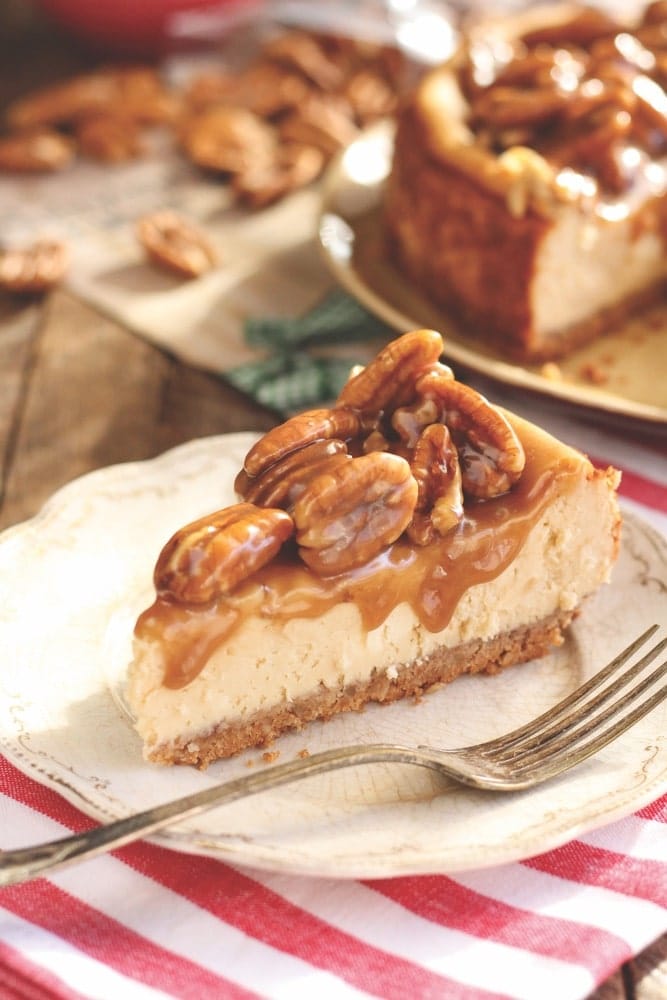 Directions
Preheat the oven to 350°F. Lightly spray a 9-inch springform pan with nonstick cooking spray.
In a medium bowl, combine the crushed graham crackers, pecans, and butter. Stir well. Pour the mixture evenly into the bottom of the springform pan and press firmly to create a crust.
In the bowl of a stand mixer (or with a bowl and hand mixer), combine the softened cream cheese, brown sugar, and vanilla until well combined. Add the eggs and mix well.
Pour the batter onto the crust. Lightly tap the pan on the counter to get out any air bubbles.
Bake for 40 to 50 minutes, or until the center is almost completely set. Cool and then refrigerate overnight to allow the cheesecake to firm up before serving (or at least 3 hours for those impatient folks).
To make the topping, preheat the oven to 325°F and spread the pecans on a rimmed baking sheet. Bake them for 7 to 10 minutes or until just fragrant. In a medium saucepan, combine the butter, brown sugar, and heavy cream. Cook until bubbly, then stir in the toasted pecans. Cool to room temperature before pouring over the cooled cheesecake.
— V —
ARTICLE CATEGORIES