Old Hollywood Glam Debuts Again
By Ainsley Rogers  |  
Photography by Romona Robbins
It has been said, "Everything old is new again." Decade-defining pop culture fads characterized by movies, celebrities, music, and television are duplicated and celebrated anew every few years. From Katharine McPhee's interpretation of Marilyn Monroe in the new series Smash to the fashion industry's celebration of the retro look (thanks to cable network AMC's Mad Men), as well as a new breath of life for big-band, swing, and jazz music due to musicians Bruno Mars and Michael Buble, clearly old Hollywood glamour has "debuted" again.
In a celebration of this Tinseltown glam, we sought to re-create Hollywood glamour at its finest by featuring a feminine yet sexy shoot channeling the epitome of the bombshells of yesteryear. Destin-based designer Anna Hawke's new vintage-inspired swim line for Hawke Couture Summer 2012 was just the ticket.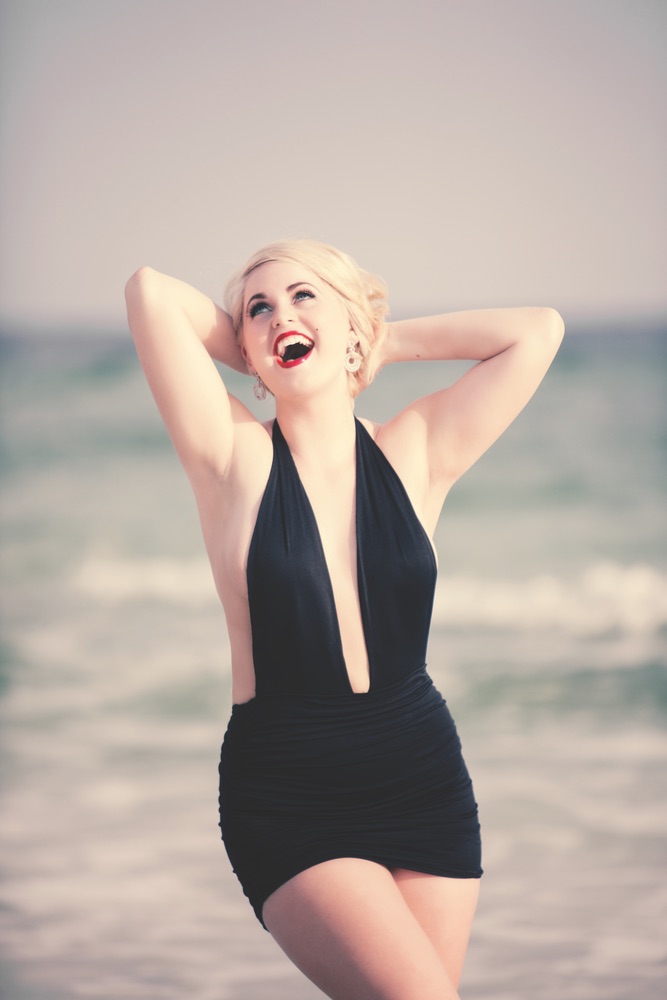 After graduating from Auburn University in fashion design, Hawke Couture designer Anna Hawke attended Parsons in New York City, where she developed a passion for her craft. Having had influential teachers and experiences in the fashion industry, the designer then packed her bags and moved to Destin, Florida, to pursue her first swimwear line. "I've grown up around the water and feel like it becomes a part of who you are," says Anna of her endeavors.
Anna began designing Hawke Couture in the spring of 2011. "It has been a challenge and therefore a very rewarding experience to see my ideas brought to life," she explains.
"I design swimwear because I love the challenge of creating a couture piece of clothing in which you can run around on the beach, dive into the water, and come out looking glamorous." Thus, her first collection, Hawke Couture Summer 2012, is born.
Inspired by Marilyn Monroe's iconic seaside photo shoot, Anna sought to design a line of suits that celebrates a woman's natural appeal. "Marilyn's effortless glamour has gotten lost in today's society," she says. "I wanted to create an overwhelming nostalgic feel to Hawke Couture and to celebrate being a lady. I want a woman to feel beautiful in her suit, not just sexy."
From the "little black dress" one-piece that highlights a woman's curves to the bikinis that frame her shape, each piece screams femininity and creates a unique silhouette that channels the pinup era—which is sure to make a splash.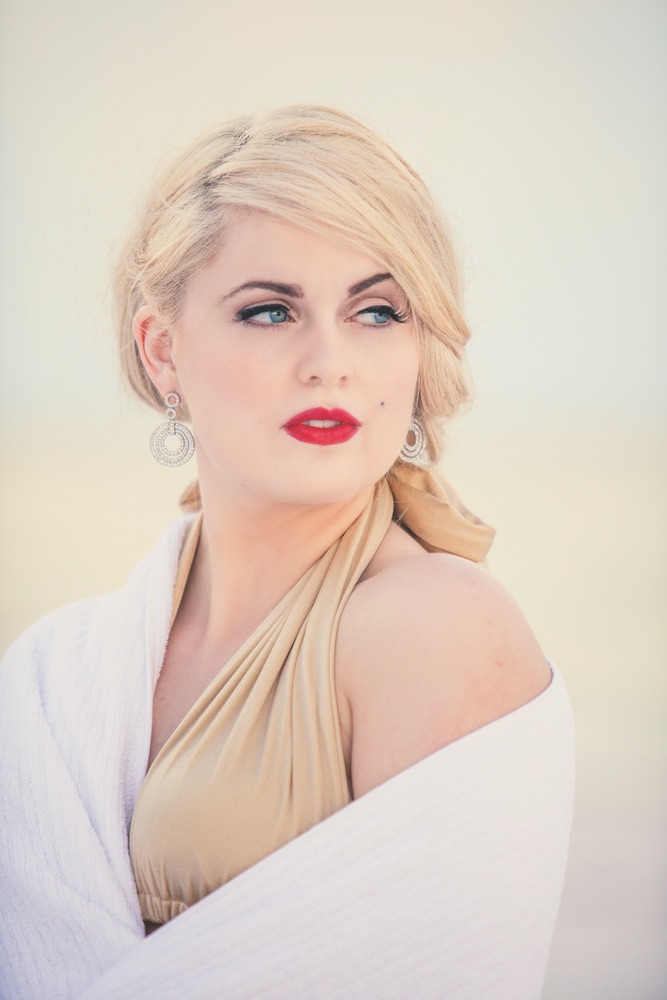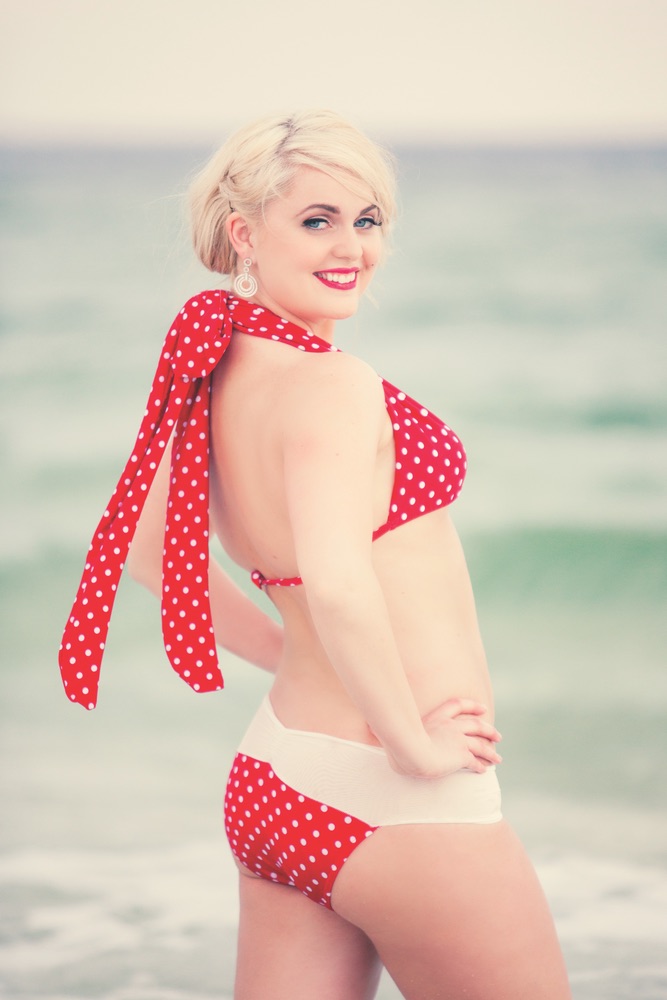 Anna, who is also the manager and buyer for Luxe Apothetique, a women's boutique located in the Destin Commons, has begun to design a dress line for the shop as well.
For the photo shoot, model Brooke Miller channels a chic Hollywood glam effortlessly.
Photography by Romona Robbins. Makeup by Natasha Vaughan. Creative direction by Lisa Burwell, Tracey Thomas, and Ainsley Rogers.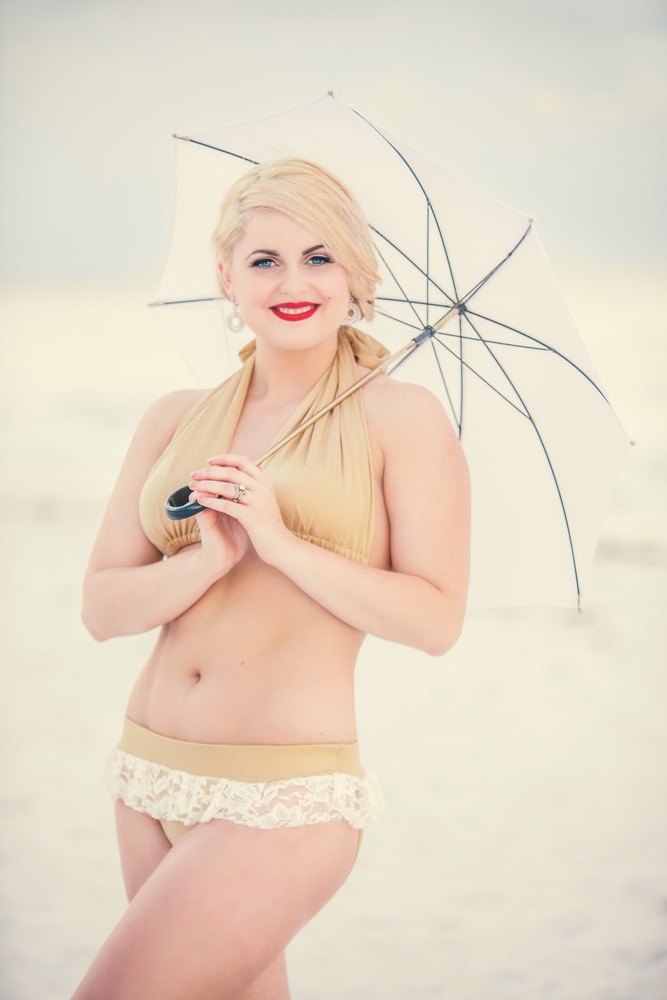 — V —
---
Hawke Couture is available at:
Luxe Apothetique – Destin, Florida Luxe Apothetique – Austin, Texas Blue Elephant – Austin, Texas A Town – Austin, Texas
ARTICLE CATEGORIES