Living Well at Somerby Santa Rosa Beach
By Susan Vallee | 
Photography by Brenna Kneiss
The sunny attitude of Scenic Highway 30-A seeps into all facets of life in Santa Rosa Beach, Florida—including assisted living communities. While it might feel daunting to help choose a place for aging parents or loved ones, Somerby Senior Living takes a truly personal approach, which is as Southern as Robyn Hughes's South Georgia accent. The busy director of sales and marketing at Somerby Santa Rosa Beach admits her upbringing has had a big influence on how she approaches families at the residence.
"My granny always taught me not to talk about myself but to ask others to tell me about themselves," Hughes says, "so that's what I do here. When I meet with families, the first thing I do is say, 'Tell me about your mama's life. What all did she do?' Soon they're telling me about how their mama was an artist, or their daddy was a general. I take that information and put it into a form that I share with all of our associates."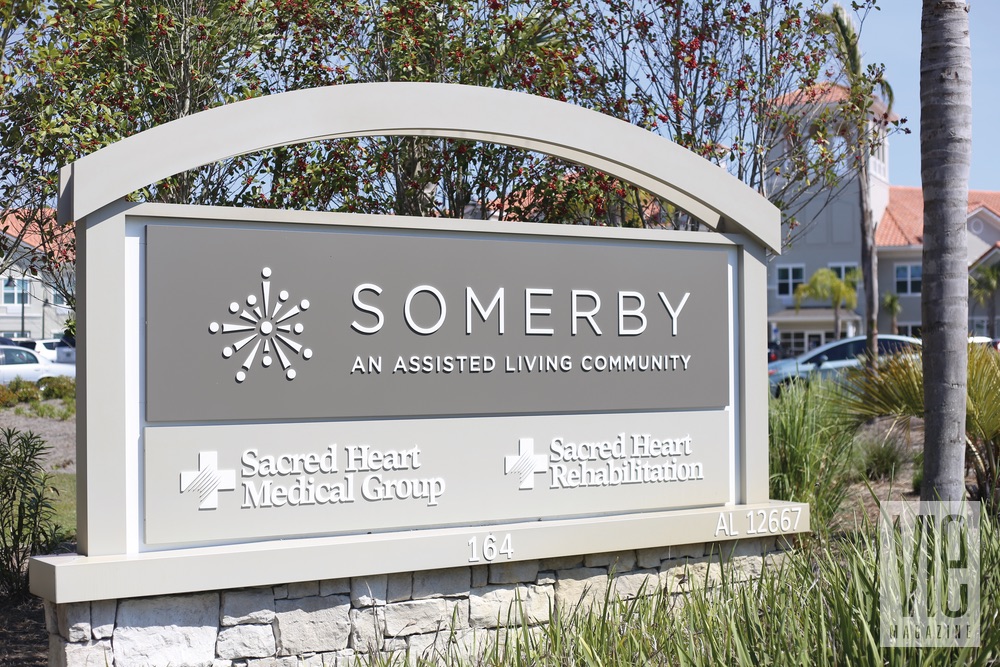 She's not just talking about the nursing staff. Hughes takes these stories and shares them with the kitchen staff and custodians and anyone else who will meet the new resident. By the time she's done, everyone is prepared and ready to meet the man or woman behind those personal tales. "It's great because our new residents are nervous about moving here," she says. "This gives our staff a way to remember them so they can spark a connection."
Sparks of connection are important at Somerby. It's a theme that runs central to the care the staff provides. From sparking conversations to connecting with residents with dementia, creating a strong social fabric is what sets Somerby apart from other assisted living communities.
"The Somerby Spark—our approach to retirement living—is purpose filled, joyful, resourceful, inspired, honest, and people centered," says Hughes.
Somerby offers different programs for assisted living and memory care. Each month, memory care residents are evaluated to make sure their care is on pace with their fluctuating dementia, and, if need be, the director of health services will also evaluate their levels of support.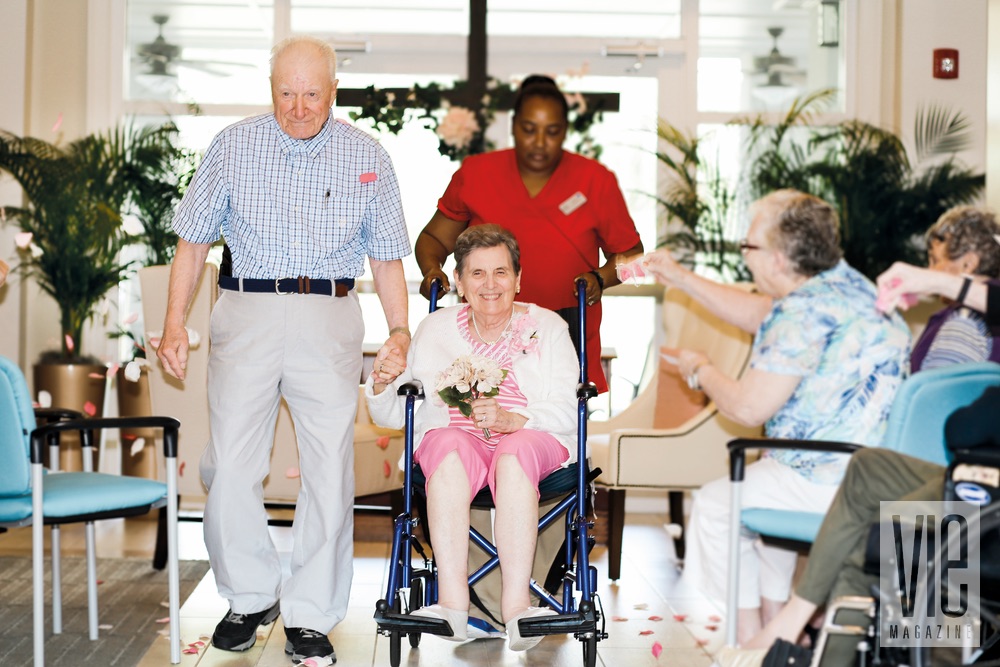 "We meet the resident where they are on their personal journey," reads the Somerby website. "Our goal is always to help that person feel a sense of accomplishment, no matter how small."
Part of achieving accomplishments comes from a sense of independence and personal freedom. Somerby was designed with this in mind. The beautiful community has two wooded (and gated) walking trails, gardens, and other outdoor spaces for relaxation. It's a concept finely tuned by Dominion Partners, which operates seven other Somerby Senior Living communities in Alabama, Georgia, South Carolina, and Tennessee.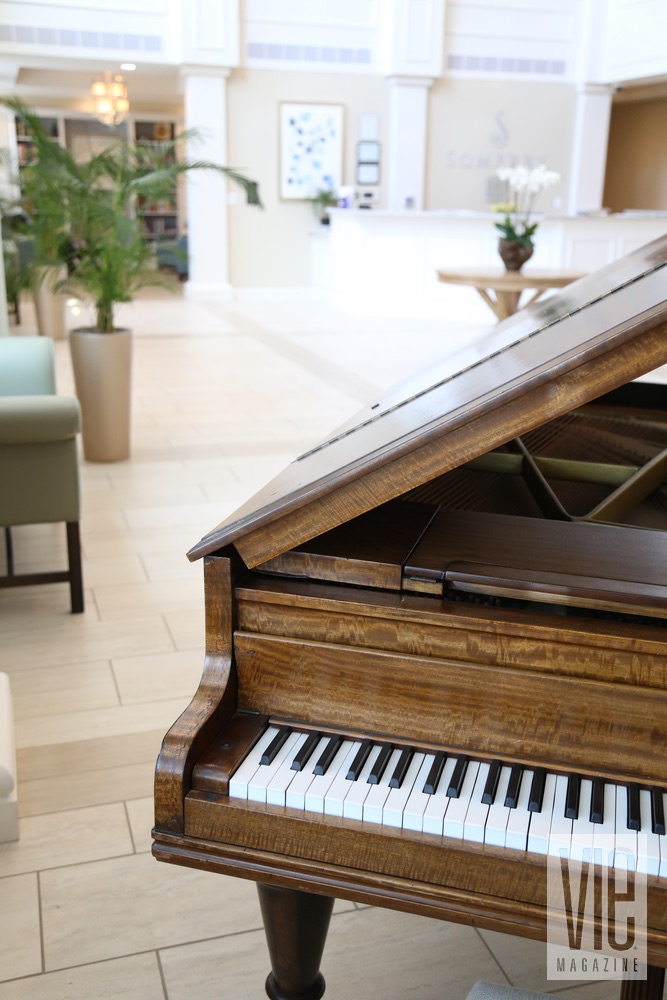 Three days a week, residents are taken on supervised excursions. These might be as simple as a trip to the grocery store or as indulgent as a dinner at The Bay restaurant. "We take some residents who have significant memory loss to Arnett's Stables," says Hughes. "It's such a beautiful thing to witness. Those horses just lean into their arms." Other days, the residents bake and package dog treats and then deliver them to the Alaqua Animal Refuge in Freeport. "We try to incorporate a variety of activities here," Hughes continues. "We have bingo, we go out shopping, and, of course, we have a popular happy hour. They love cocktail hour; that's just the generation that we're serving here." On-site speakers and events are also held at Somerby and are based on topics that residents are currently interested in.
Through an innovative partnership with Sacred Heart Hospital on the Emerald Coast, the community is also able to simplify health care for families. For example, when a new resident relocates to the area to be closer to family on 30-A, he or she probably needs to find a primary care physician and specialists nearby. The staff at Somerby Santa Rosa Beach works with Sacred Heart Hospital to establish that local network of doctors, so families don't have to worry.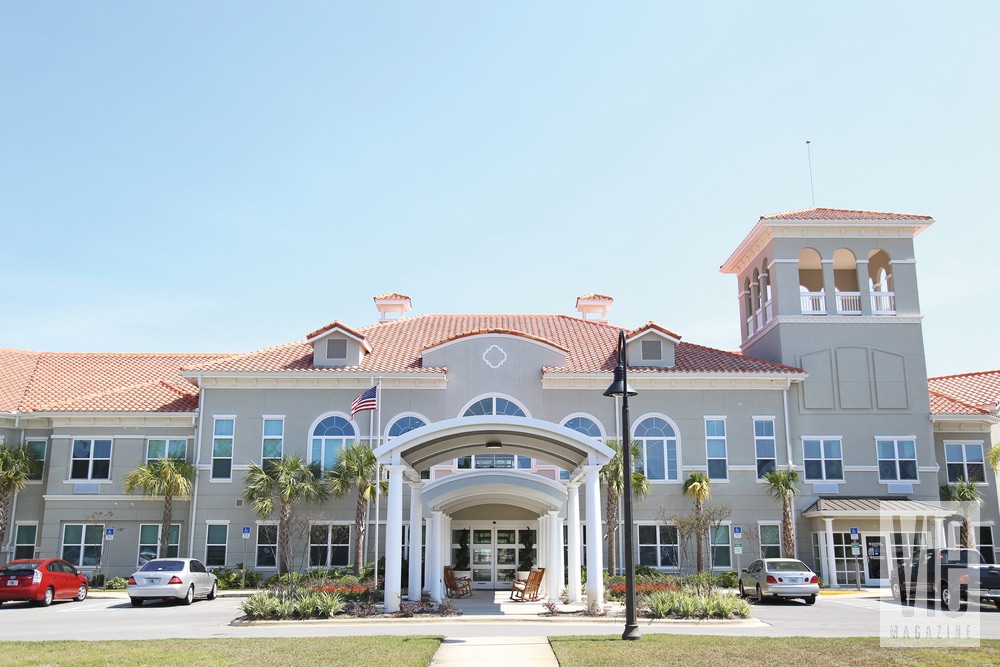 "Sacred Heart has a designated space in our building for therapy services and a medical office that serves our residents," says Hughes. "This means residents can participate in the aquatic therapy classes, or they can visit with their Sacred Heart primary care manager without leaving the building.
"For us, truly, it is all about that connection," she continues. "We take the 'spark' seriously here. When I'm touring families, I can see that they are immediately impressed by our gorgeous building—and don't get me wrong, it is impressive—but I don't think that's what's important. It's not the beauty of the building that matters; it's the beauty of the people. I want to sell our people, our incredible group of dedicated associates. That's what matters here."
—V—
---
ARTICLE CATEGORIES