Alabama's Renaissance City
By Jordan Staggs
When planning a weekend getaway, Northwest Alabama might not be high on many travelers' lists, but those who have visited the area known as the Shoals can tell you that maybe it should be.
The city of Florence, the hub of the Shoals, is located on the Tennessee River and surrounded by creeks, woods, and abundant wildlife that have made it a haven for outdoor lovers. But there's something for everyone—Florence's downtown area near the Tennessee River has undergone a revitalization in the past decade that has put it on the map in recent years as a tourism destination.
Stay
When choosing your headquarters in town, you really can't go wrong with the Marriott Shoals Hotel and Spa. Spacious guest rooms come in all sizes, and many have private balconies and river views. Relax in the lagoon-style pool and get pampered at the full-service spa. Don't get too relaxed to go out and enjoy an evening listening to live music and enjoying food and drinks at Swampers Bar and Grille, the hotel's in-house restaurant and bar named for the FAME Studios house band that went on to found Muscle Shoals Sound Studio in 1969. (The Swampers were immortalized in the lyrics of Lynyrd Skynyrd's "Sweet Home Alabama.") The hotel also boasts a huge conference center and meeting spaces on property and is kid friendly, with a playground and splash pad a short walk from the pool area.
Upon arriving at the Marriott Shoals, guests may also notice an unusual structure outside: the Renaissance Tower. This twenty-six-story monolith was built in 1991 as a tourist attraction housing the Alabama Shoals Aquarium, which featured over four hundred species of fish, plants, and other wildlife, and an observation deck that was also home to the Renaissance Grille. Since Marriott bought the property, the restaurant has been transformed into a unique casual fine dining experience known as the 360 Grille. Patrons can watch the scenery slowly change as the restaurant rotates for 360-degree views of Florence, the Tennessee River, and Wilson Dam.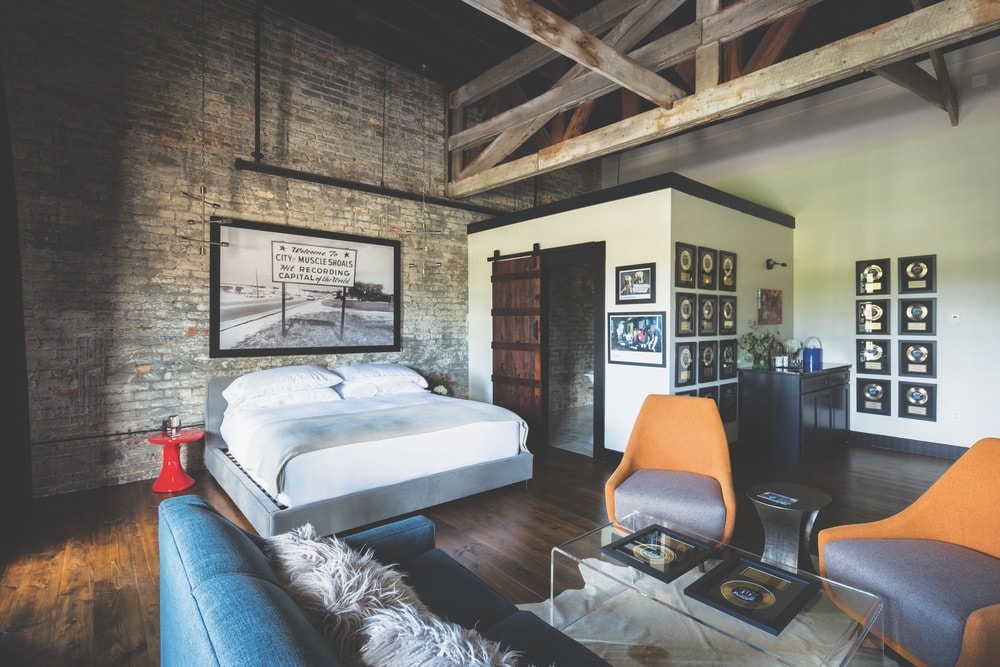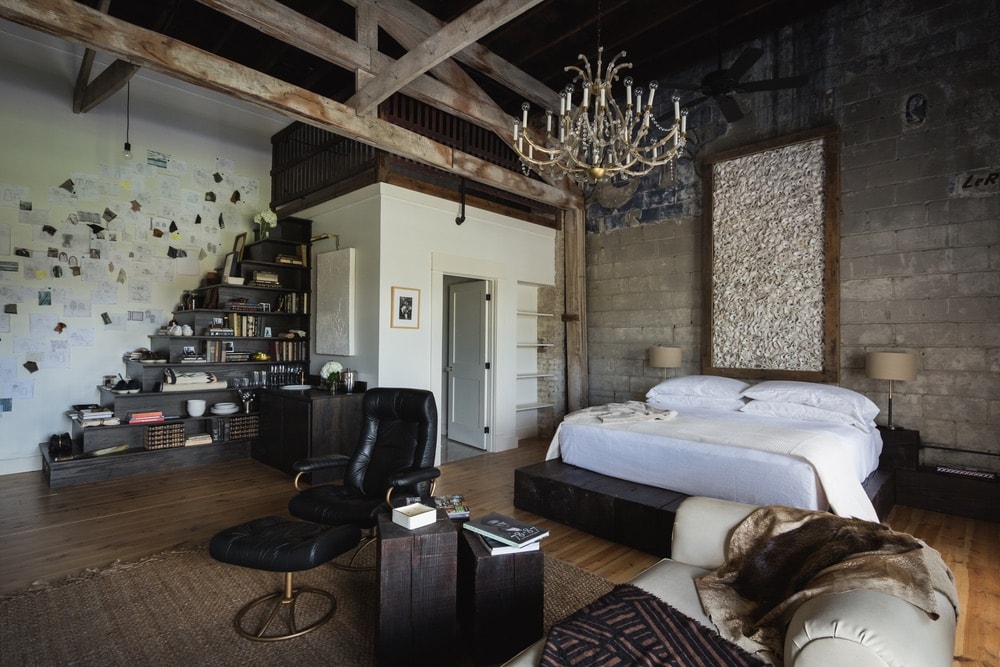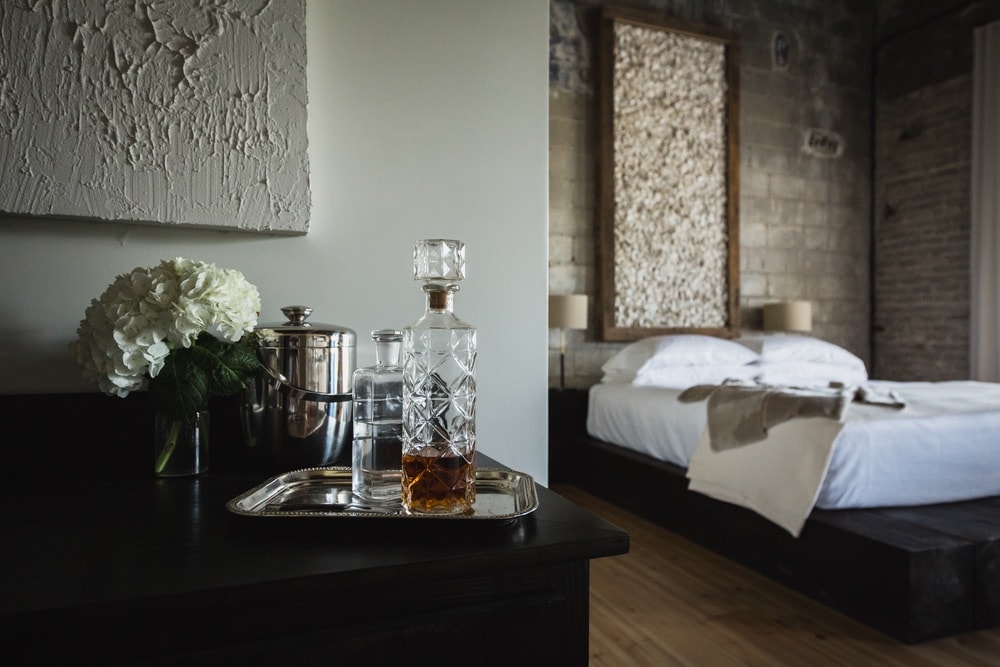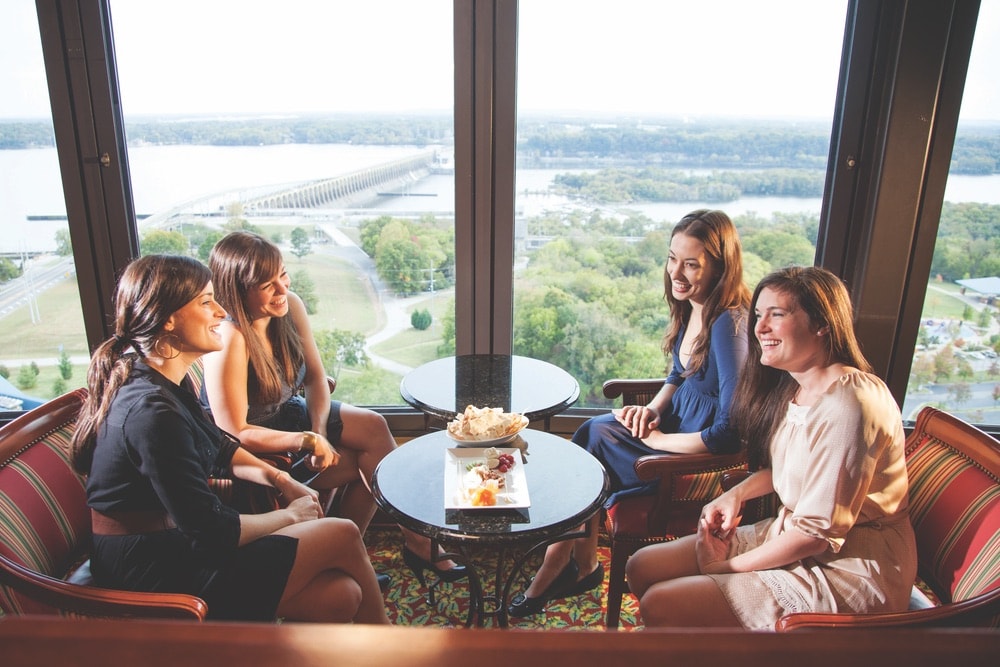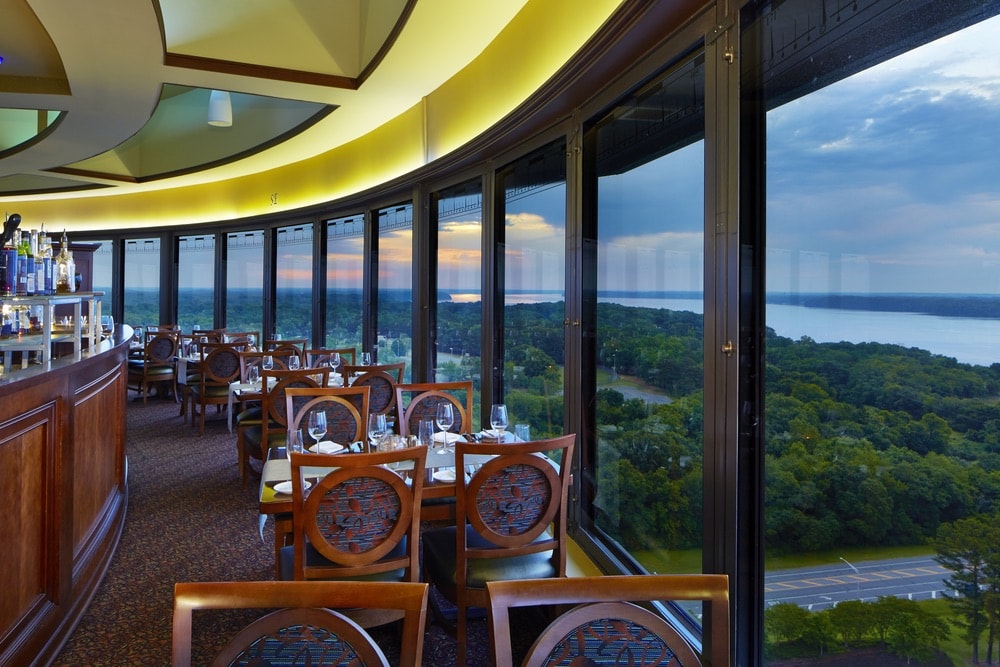 For those seeking a hotel experience with lots of local flavor, the newly opened GunRunner Boutique Hotel offers ten luxury suites and a "hands-off" approach—guests are not required to check in and are instead provided keyless entry codes for their suites, along with access to the rooftop lounge and 3,200-square-foot common area. Each suite is uniquely decorated and named for a Shoals area icon, such as the Lion's Den, which sports deep purple and gold accents in honor of the local University of North Alabama, whose mascot is a lion, or the Sam Phillips Suite, so named because the legendary record producer was born just a few blocks away. "The themes of our suites were chosen specifically to showcase our deep cultural heritage and talent," says the GunRunner's website. "They include current and legendary musicians, world-class fashion designers, architectural icons, thoroughbred racehorses, historical landmarks, and outlaws who helped shape the fabric of this corner of northwest Alabama."
Conveniently located in downtown Florence, the GunRunner is also situated above Turbo Coffee and the old-school, new-cool Greasy Hands Barbershop—just in case you need your caffeine fix and a trendy trim while you're in town.
Eat
Once you've settled in, it's time to eat! Downtown Florence is brimming with delicious food, but one absolute must-stop for lunch (or even just dessert) is Trowbridge's. Opened in 1918 by Paul Trowbridge, this tiny ice cream parlor and sandwich shop is a Florence institution and is still run by Trowbridge's grandson. The atmosphere and decor have barely changed in the past century. The food is simple—sandwiches such as chicken salad, egg salad, and even peanut butter and banana are staples on the menu—but it's the hand-dipped ice cream that made the place famous. Indulge in the shop's signature orange pineapple flavor, or, if you're really in the mood for ice cream, try the Oh-My-Gosh, a massive chocolate brownie topped with a scoop of vanilla, whipped cream, caramel syrup, and a cherry.
For delicious home-cooked Italian entrées, specialty drinks, and an intimate atmosphere, head to Ricatoni's Italian Grill for lunch or dinner. (The ravioli with tomato cream sauce is a favorite, as is the freshly baked bread with a signature blend of herbs and olive oil for dipping.) Rosie's Cantina serves up Mexican-inspired dishes with Southern flair in a vibrant and beautiful downtown building, while the Pie Factory is the place for pizza lovers to try handmade specialty pies and calzones or build their own creations. Legends Steakhouse is a regional chain that has been serving steaks, seafood, and Southern favorites for three decades.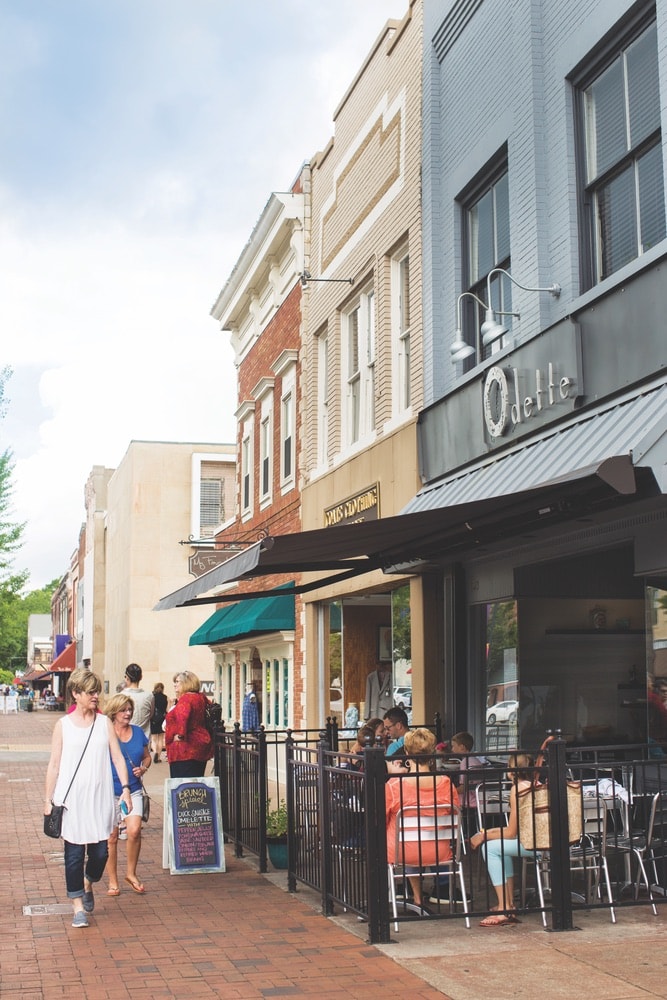 Odette, a newcomer to the Florence restaurant scene, will not disappoint those seeking fine dining downtown. The café is open for lunch, "snack" time, and dinner, Monday through Saturday, as well as Saturday brunch and late-night (until 1 a.m.) on Fridays and Saturdays. Odette's ingredients are sourced from local purveyors and implemented to create "American fare with Southern and international influences" by chef Josh Quick. The bar's expansive cocktail menu is impressive, along with the largest bourbon selection in the state of Alabama.
Drink
Libations are never in short supply at Wildwood Tavern, located next to the iconic Shoals Theatre in downtown Florence. With a mission to "Keep Florence Funky," this small but lively pub draws a crowd from both the university and the local community. Beers on tap are rotated on a near-constant basis, while signature cocktails, created by Wildwood's owners and staff, include Matt and Tyler's Tonics, Hannah's Hard Stuff, and Reggie's Remedies. The tavern also serves delicious flatbread pizzas, gourmet hot dogs, sandwiches, pasta, and more daily, with menu options until 2 a.m. for the night owls.
If you're ready to party, live music is on tap at FloBama, a concert venue-plus-barbecue joint in the heart of downtown.
In case you hadn't noticed, live music is rarely in short supply here. Native Americans gave the nearby Tennessee River the name "Singing River," and with the abundance of recording studios, the area is known as a place musicians and songwriters can escape from the hustle and bustle of Nashville while still getting their hours in the recording booth.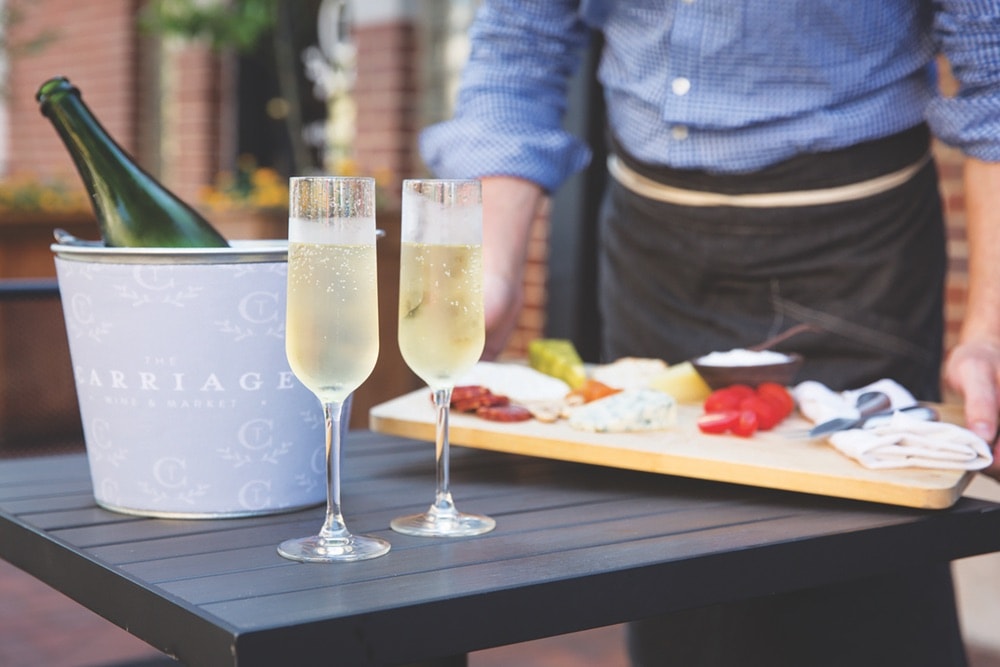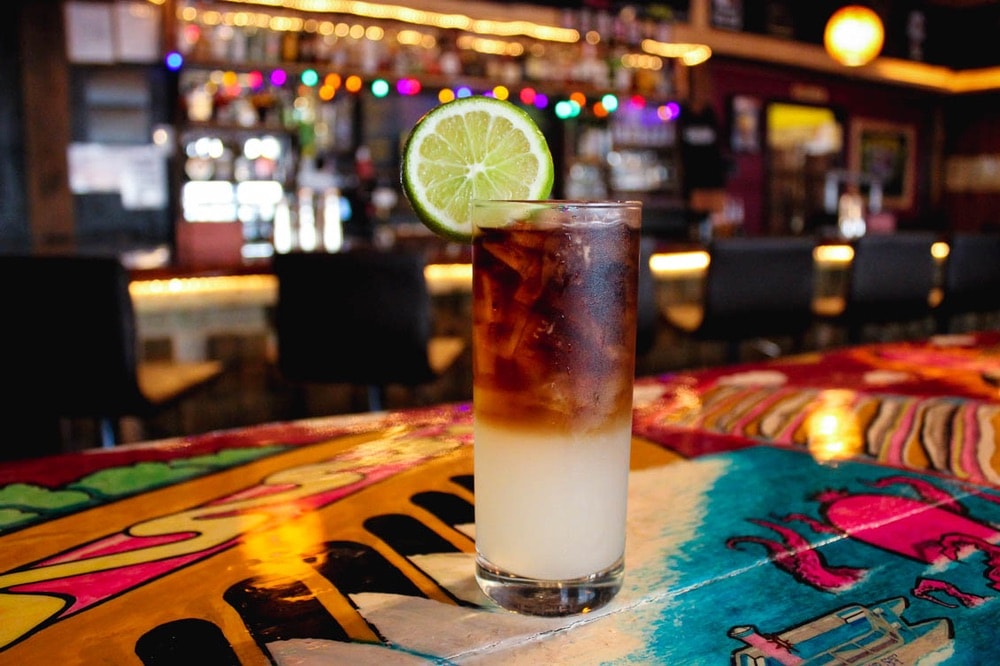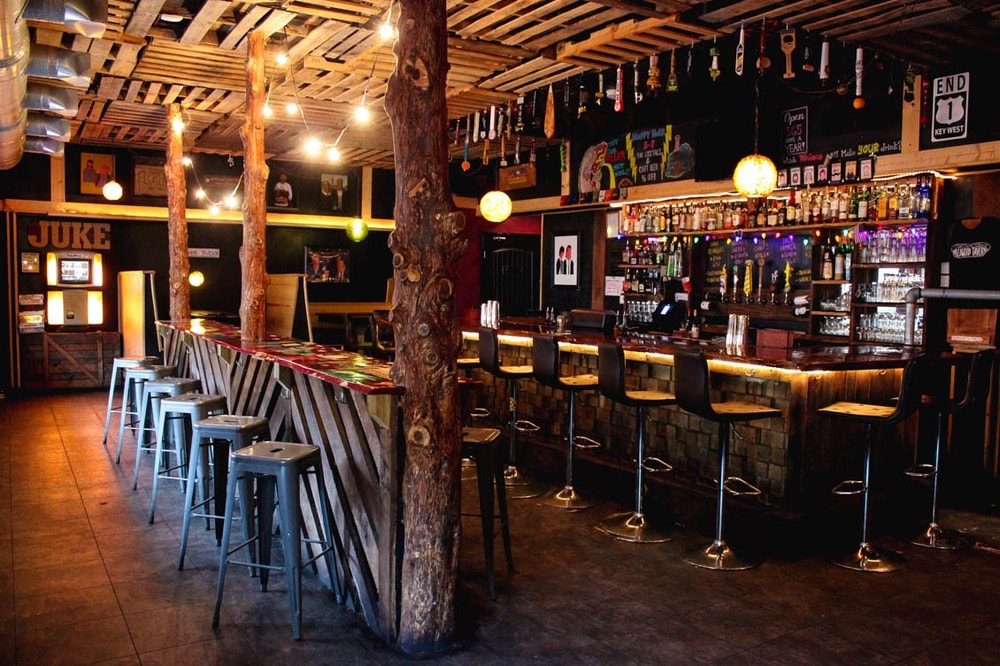 On the Rocks is another lively downtown spot for live tunes, drinks, and craft burgers. Singin' River Brewing is the town's first craft brewery and taproom, open Tuesday through Saturday until 9:00 p.m. Try craft beers such as IPAcalypse NOW, the Swamper, and Shoals Oktoberfest when you visit the taproom, which also supplies a steady stream of entertainment with its Singin' River Live concert and event series.
Beer isn't everyone's thing, and even in the South, we respect that these days. Enter The Carriage Wine and Market, the area's first wine retailer and tasting room. The Carriage's mission is to spark curiosity in its patrons, encourage them to try new flavors, and, in the spirit of Southern hospitality, make sure everyone has a really good time. Market items and bites are locally sourced and always fresh—according to the website: "Like, really fresh; you can even come hug our farmer." The team behind The Carriage also established the Florence Wine Fest in 2016, and the event is set to return with over a hundred wines to taste along with local chefs' food pairings and, of course, live music. The festival takes place March 9 and 10, 2018.
Be Merry
Family-friendly entertainment and a celebration of local culture abound during First Fridays in downtown Florence. Every first Friday of the month, artists, musicians, and retailers take to the sidewalks for a small street fair, and many restaurants and bars offer specials for the night. But it seems the event that locals most look forward to each year is the W. C. Handy Music Festival, which celebrates the life of Florence native William Christopher Handy, known as the Father of the Blues. "Handy Week" features live music just about everywhere in Florence, Muscle Shoals, Sheffield, and Tuscumbia (collectively, the Shoals area). This year's thirty-seventh annual festival runs July 20–29.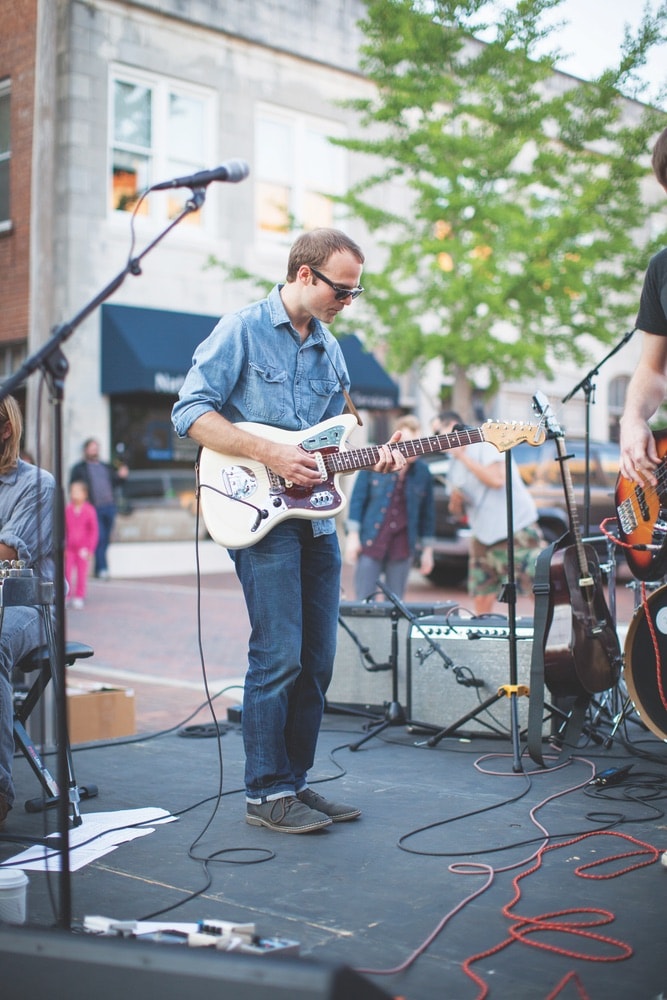 For a change of pace, visit October 28–29 and enjoy the annual Alabama Renaissance Faire downtown at the Kennedy-Douglass Center for the Arts, Wilson Park, and the Florence-Lauderdale Coliseum. The fair features vendors, costumes, special events, games and competitions, music and entertainment, and more medieval revelry at one of the nation's largest all-volunteer-organized events, now in its thirty-second year.
You don't have to wait until fall for arts and entertainment at Wilson Park. On May 19 and 20, the 32nd Annual Arts Alive crafts festival will take over with hundreds of vendors selling original paintings, jewelry, photography, craft items, and more.
See and Do
Even when there are no festivals or events going on, there's plenty to keep visitors occupied when they visit the Shoals. The Alabama Music Hall of Fame plays the tune of music history to those who visit its halls, while a stroll around the University of North Alabama campus is delightful in any season, but especially in fall when you might catch a home-field Division I football game. If you're visiting during the day, you might even get to see the school's mascots, Leo III and Una, a brother-sister pair of lions that live on campus in a $1.3 million habitat built specially for them in 2002.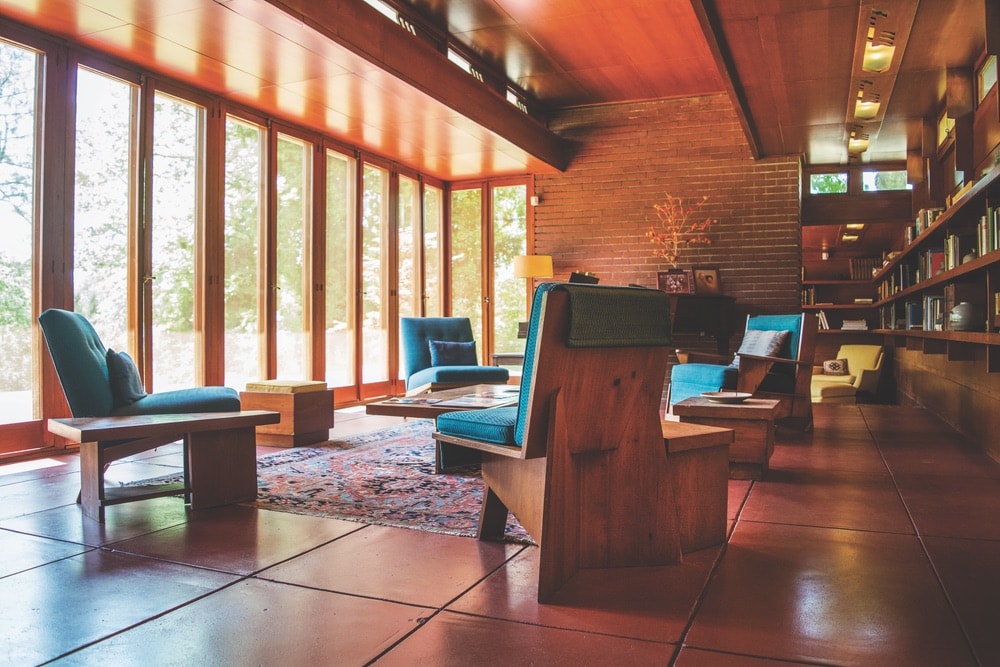 Another attraction unique to Florence is the Rosenbaum House, the only building in Alabama designed by renowned architect Frank Lloyd Wright. The residence underwent an extensive restoration in the early 2000s and reopened as a museum in 2004. Other museums in Florence include the Children's Museum of the Shoals—an interactive children's museum fostering learning through play—and the Indian Mound and Museum, located at the site of a forty-two-foot-tall mound built by early Native Americans. The museum opened in 2017 and contains Native American artifacts dating back over ten thousand years, arranged in chronological order from paleo to historic periods.
Lovers of history might also wish to take a detour from Florence to Tuscumbia, where the home and grounds of Ivy Green beckon thousands of visitors each year. This is the birthplace of the celebrated humanitarian Helen Keller, who was both deaf and blind. For over thirty years, live performances of William Gibson's The Miracle Worker have been held on the grounds each summer. The play celebrates the life of Keller and the trials and tribulations she underwent as a young girl along with her teacher, Anne Sullivan.
Shop
Shopping might not be the first thing people come to Florence to do, but that doesn't mean you shouldn't. Downtown is bustling with trendy local shops, as well as two high-end designer flagship stores. Billy Reid and Natalie Chanin are both Florence natives who hit the big leagues and then came back home. Reid now has stores across the country, but it's in Florence that his heart truly lies. It's here he hosts his annual Shindig weekend, during which he invites musicians, actors, designers, chefs, and other artists to curate concerts and events with tickets available to the public. Chanin's legacy lies in big-city style with Southern comfort. She founded her brand, Alabama Chanin, with the mission to create the perfect cotton T-shirt—and things only escalated from there. Now designing luxurious yet incredibly cozy items and homewares, Chanin has opened her process up to the public with The Factory in Florence, which features creative workshops, a retail space, and a café.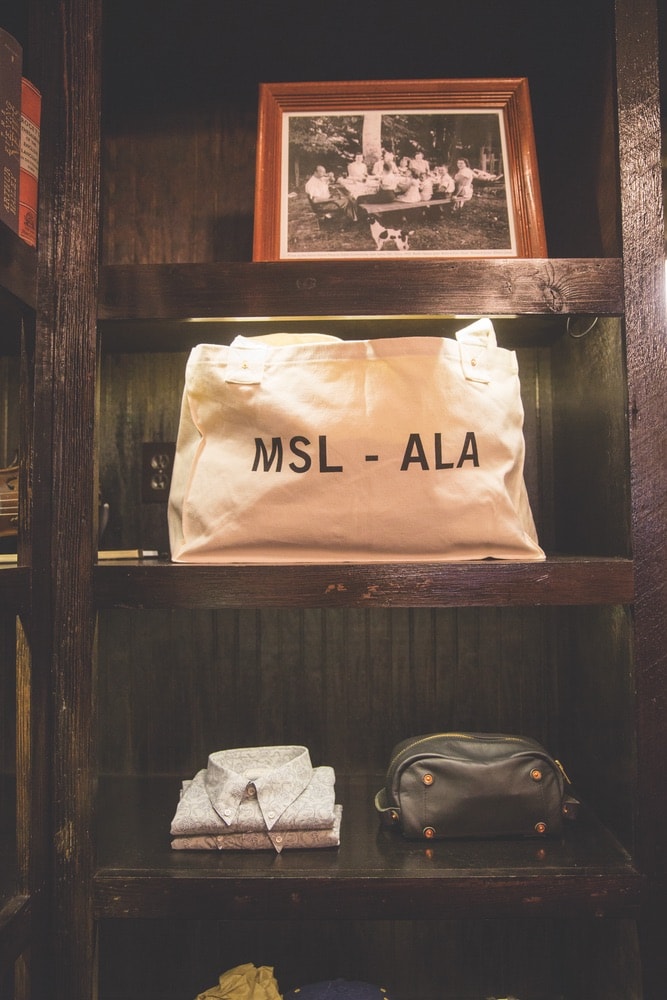 Explore
For all its music history and trendy revitalization, the Shoals' legacy still truly lies in the outdoors. Hunting and fishing are part of the local culture, and the lakes, creeks, and streams that feed the Singing River have played host to many professional fishing tournaments. Largemouth and smallmouth bass, bluegill, crappie, catfish, stripe, and bream are in abundance through much of the year, and there are plenty of marinas and boat slips available for public use. Other fun on the water includes year-round kayaking and summertime favorites such as waterskiing, wakeboarding, tubing, pontooning, and swimming.
Hiking, running, and mountain biking are available for on-land adventurers to enjoy. The Shoal Creek Preserve boasts three hundred acres of creeks, bluffs, forest, and waterfalls to explore on four and a half miles of trails. Deibert Park, adjacent to the Children's Museum, probably offers the area's best playground and jogging trails. A short drive from Florence, Joe Wheeler State Park has everything from hiking trails and fishing to a restaurant, a beach, and a swimming area. It also offers outdoor lovers an alternative idea for where to stay, with accommodations that include campgrounds, cabins, lakeside cottages, and the resort lodge.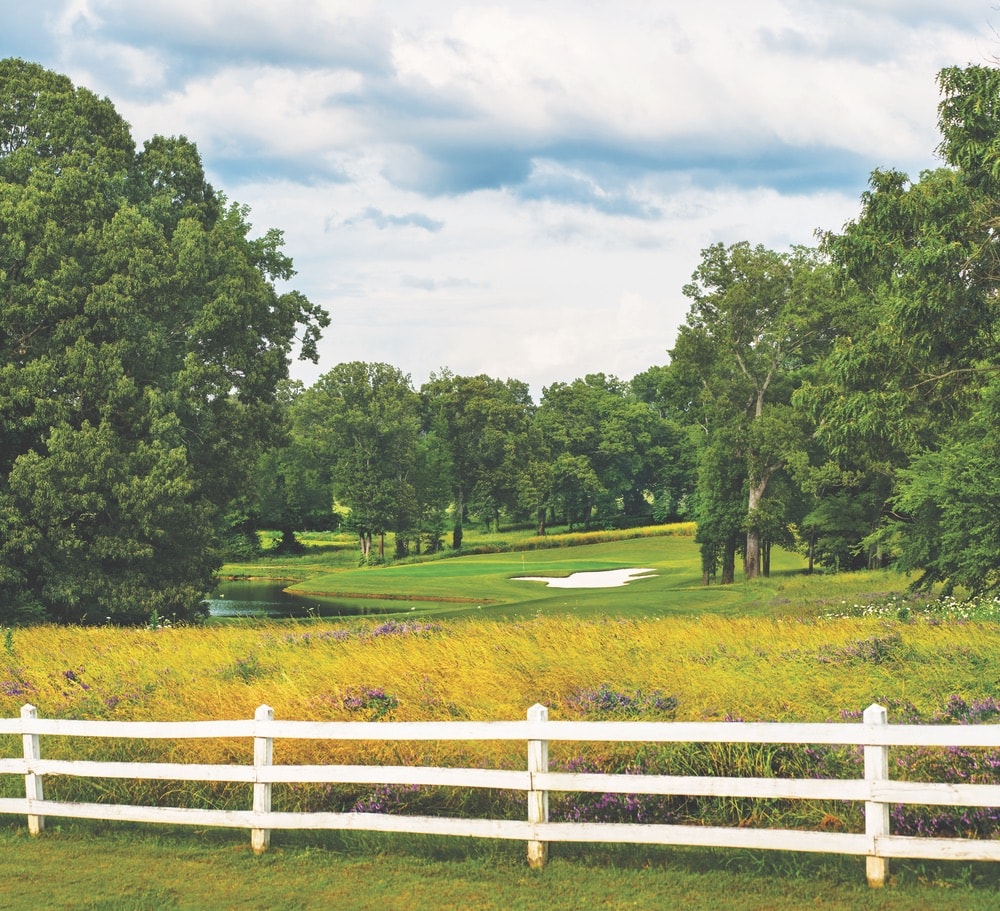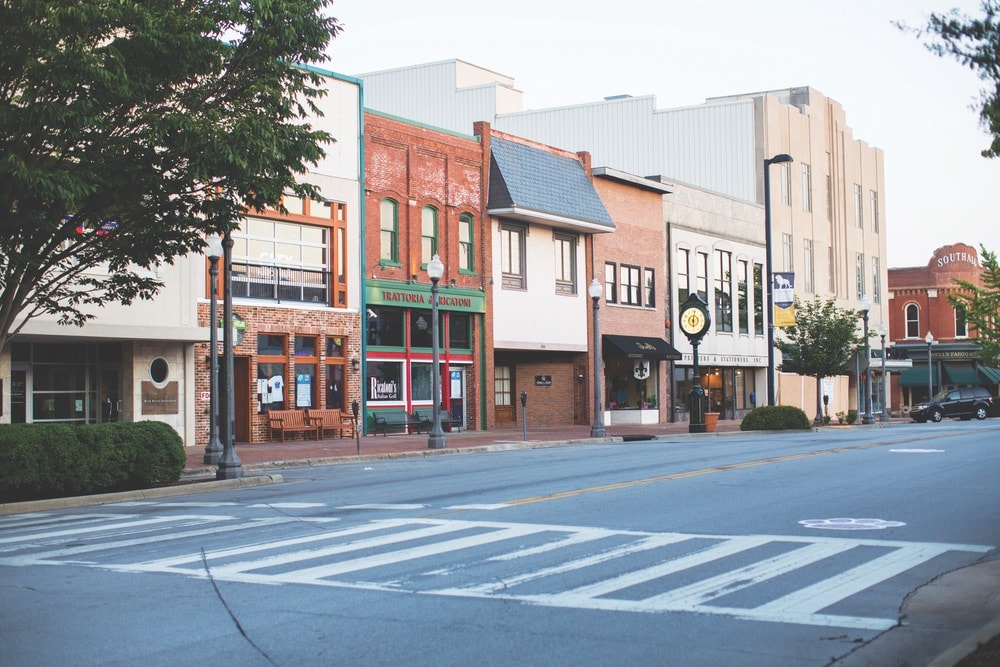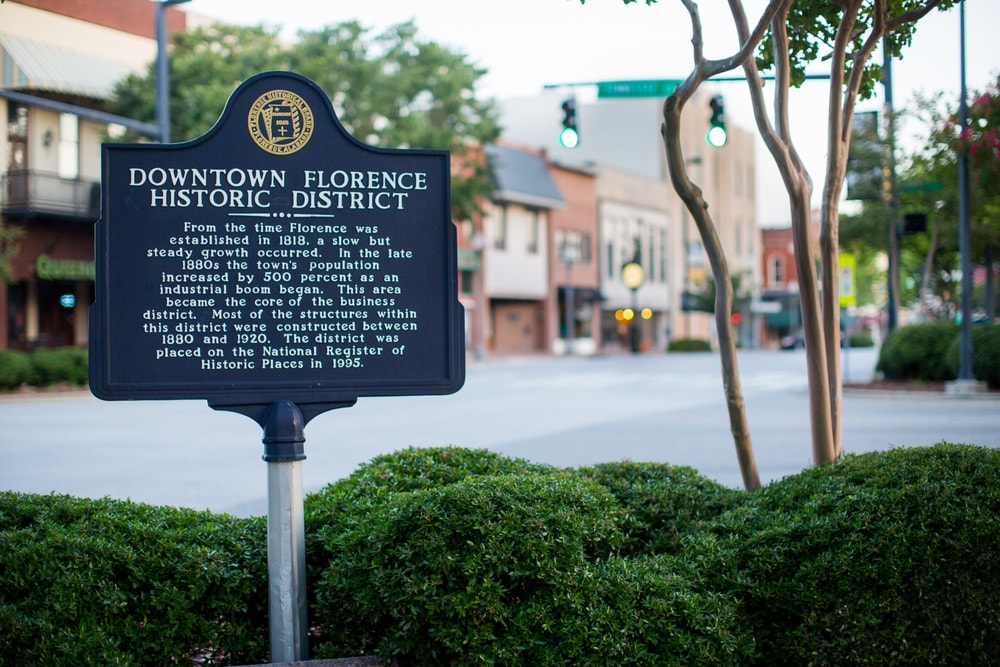 Golf is also a popular attraction, with several top-notch courses including the Shoals Golf Club, which offers two championship eighteen-hole courses—the Fighting Joe and the Schoolmaster—as part of the esteemed Robert Trent Jones Golf Trail. Blackberry Trail Golf Course and Turtle Point Yacht and Country Club each offer challenging and scenic eighteen-hole courses. Professional golfer Stewart Cink grew up in Florence and hosts his annual charity golf tournament at Turtle Point.
Now that you've explored, shopped, dined, and celebrated in the Shoals, it's time to go home—but if you're headed to Nashville or southwest through Mississippi, it's recommended that you take a ride on the Natchez Trace Parkway. This 444-mile route is maintained by the National Park Service and has limited access points, one of which is just west of the Shoals. The hills, forests, rivers, and lakes along this route are a testament to the beauty of the American South, reminding travelers that sometimes taking the slower, more scenic route isn't such a bad thing.
— V —
---
Learn more and plan your trip at VisitFlorenceAL.com.
ARTICLE CATEGORIES