Bringing Sophisticated Flair to a Southern Coastal Home
Duce May of Duce & Company Interiors brings over twenty-two years of experience designing homes along the Gulf Coast and a lifetime of taste to The Heritage team. His style ranges depending on the project, but his ability to deliver a fresh, elevated design is always consistent. For The Heritage – A VIE Legacy Show Home, May maintained the Southern coastal traditionalism conveyed by the home's architecture, but he added some haute couture flair. It is a show home, after all!
Anchoring the furniture in the home is the Ralph Lauren Home modern collection, which brings a sleek sophistication with clean lines and rich wood. The legacy brand's signature Americana look was the starting point for the home's interior design inspiration. From there, May built a cohesive overall design incorporating bits of flair through his genius use of color, tile, surface finishes, lighting, and accessories. The house presents a surprise in every space through May's unexpected yet carefully made choices while epitomizing a sense of home.
Aptly dubbed "A VIE Legacy Show Home," creating a space that lived up to this sense of generational value and timeless style was important. Thanks to May's trained eye, all the furniture, artwork, and mementos feel like a lifelong collection. He walked us through his process and shared some of his favorite moments from the collaboration—check out the conversation below!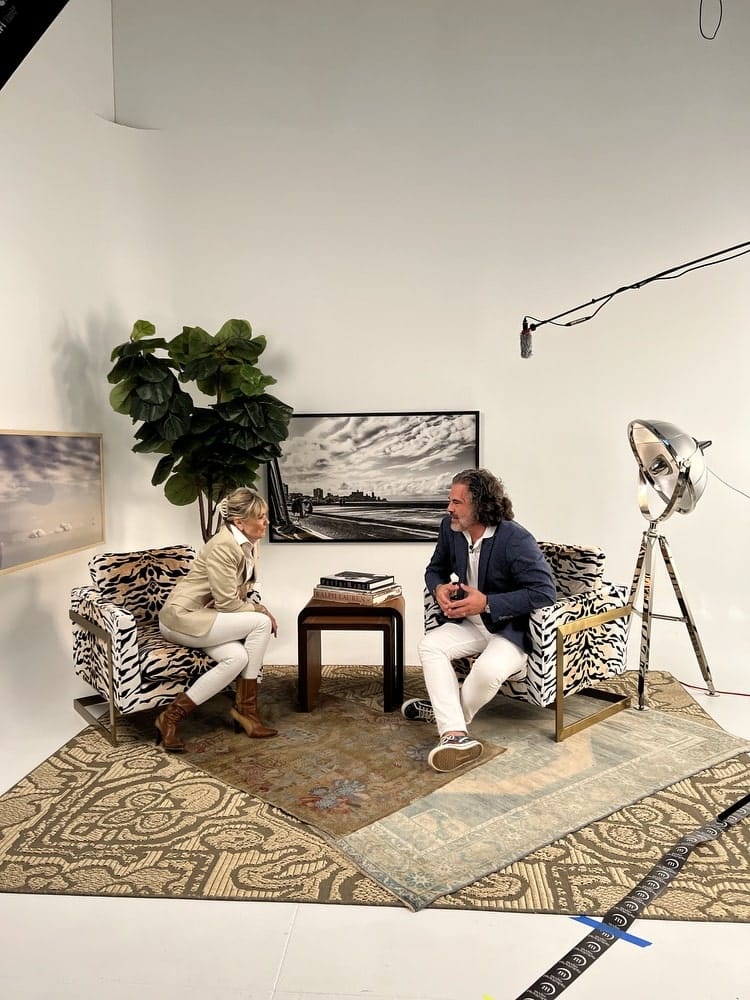 VIE: How did you connect with Carl and Tamara Tricoli, the founders of Bella Mare Real Estate Holdings and developers of the show home and eight other Heritage Dunes custom homes?
Duce May: First of all, Carl and Tamara went to a luncheon at a house that I had done. I think they appreciated the quality of the work and not necessarily the style. Soon after that, they went to a dinner party at another house I designed, and they liked the style of this home. So when they heard that I was the designer, they thought it was interesting because neither of the houses looked alike—but my style is always unique for every project. So Tamara came into my store, which led to me coming over for dinner at their home. At dinner, they offered me the opportunity to design The Heritage Show Home and the eight other houses, to which I responded, "OK, let's do it!"
VIE: Describe how you approach a design project.
DM: I have to be inspired by something I love, then take it and run with it. For The Heritage, that was the Ralph Lauren look. But interestingly, for this project, the starting point was the structure because it looks like a house you could have had a hundred years ago or now. So then I imagined the outside would probably be all neutral, and the inside could be semi-neutral, but I can't be all neutral—that's not my thing. I tied in the unexpected pops of color in the tile, decor, pillows, and even the yellow cabinets in the laundry room. That pop of fun in an otherwise classic look is very Ralph Lauren.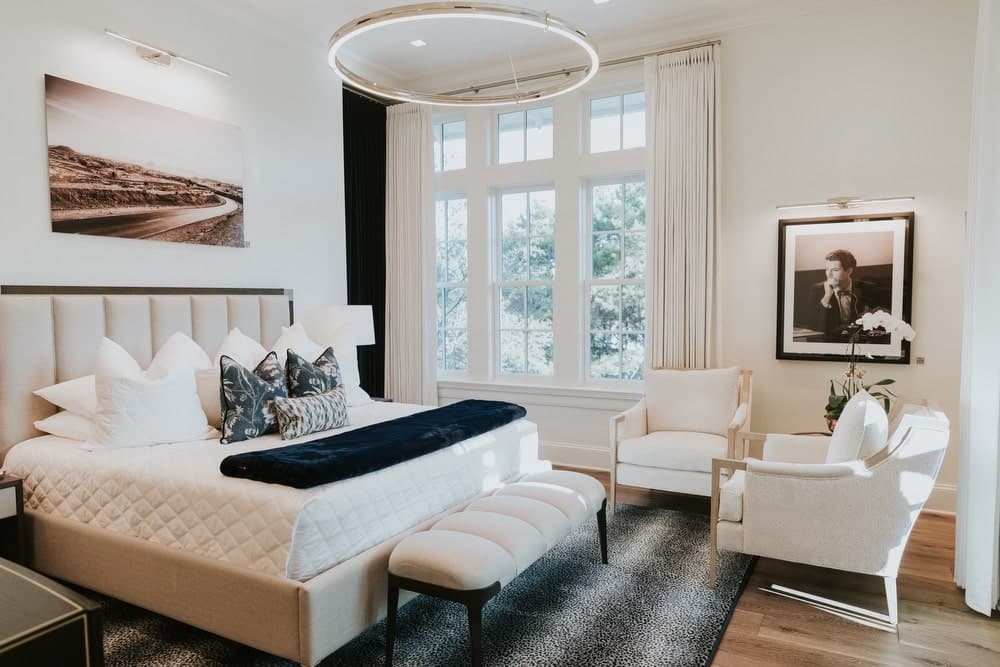 VIE: How did you choose the furniture that would go into the home?
DM: I imagined what I would want in this home that would be unique yet keep the Ralph Lauren theme. I pictured beautiful wood, rich fabrics, a little pattern, Persian carpets, unexpected case goods, stunning beds, and pretty linens. Still, I wanted to keep it traditional with a little twist like a fun fabric, oddball pillow, groovy accessory, or piece of art. All the details look like someone collected them over many years, not all at once, which is The Heritage aesthetic.
When I met the architect Gerald Burwell and learned about his old-school traditional yet elevated style, I knew I had to reflect this in my design. For instance, the cabinetry is more contemporary, and I've used some colors I don't think people would expect. Therefore, I think it's visually stimulating with his traditional style and my slight twist.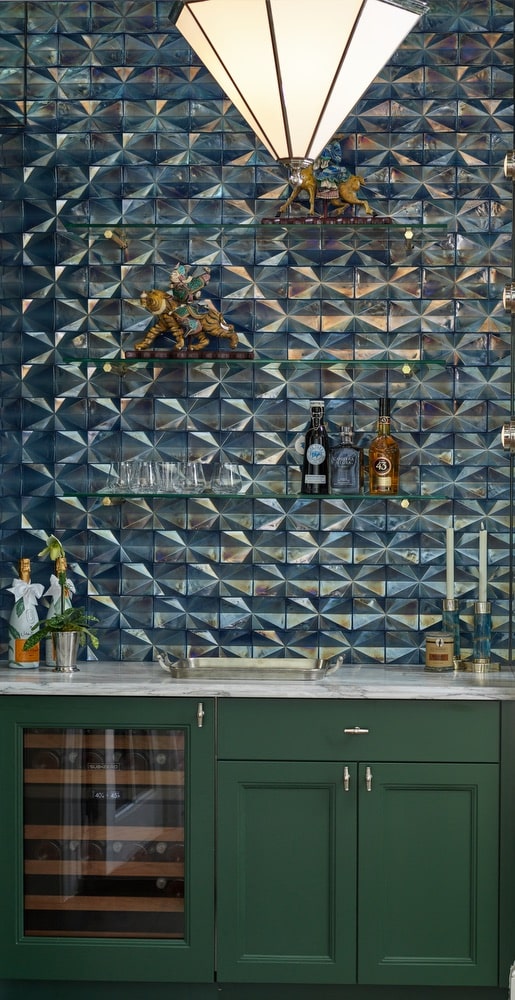 All the furniture, artwork, and mementos feel like a lifelong collection.
VIE: What part of the home's design is the most surprising?
DM: The bathrooms are unbelievable, and none of them is similar to the next. You will see pink in one bathroom, gold in one, and pearl in another. They're not cookie-cutter, making walking from space to space memorable. It's fun for everyone to choose a favorite. Another honorable mention is the lemon-yellow laundry room cabinets, which are happy and unexpected.
VIE: Why did you suggest the tower on the home be closed instead of open, which was the original plan?
DM: Open outdoor space would have undoubtedly appealed to some people, but the closed room gives you an intimate space that can still be open if preferred, thanks to the Euro-Wall folding windows. It's a beautiful observation space to read a book, play a game, or have a cocktail, and when it's cooler out, you can open the windows and get that fantastic breeze.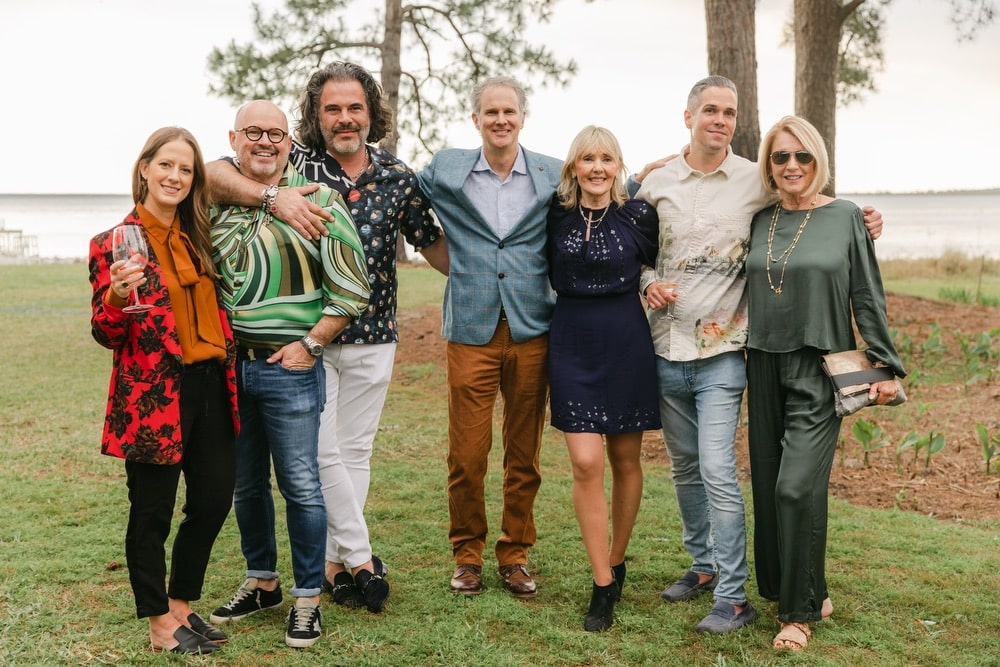 VIE: How was it working with Julian Lennon's art curator, Wendy Posner?
DM: The opportunity to work with Julian Lennon's team has been an incredible experience, and I love that the home can tell a story through Lennon's photos. All of the pieces capture a moment in time. Despite all being unique, they bring cohesiveness to the home. There can be a disconnect when too many people are involved or you have a lot of different artists or styles in one house, so this close partnership was a testament to keeping a clear vision in The Heritage.
VIE: Tell us about the Ralph Lauren Modern line, which is present throughout the home.
DM: It's relatively new for the brand and very sophisticated with a city look. The collection has beautiful lacquered woods, leather, clean lines, and polished stainless pieces that are beautiful together but still allowed us to use additional fun textures to give it a little break. So it's not necessarily for a more sophisticated buyer but for someone who wants a cleaner look that's still comfortable to live with, which is perfect for this home.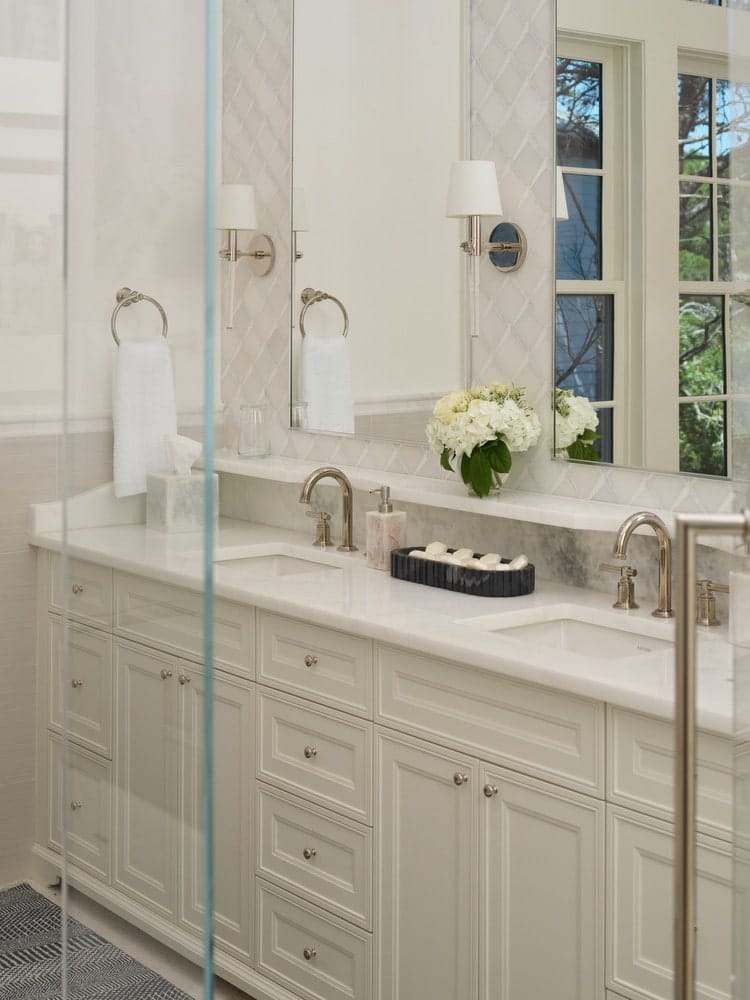 VIE: What was your proudest moment working on this project?
DM: My most proud moment of the whole project was when I opened the doors, and people could experience the completed interiors for the first time. I have been very secretive about the project all along, so it was satisfying to see everyone's reaction—I wanted to create that moment.
— V —
---
Visit DuceandCo.com or follow them on Instagram @duce_and_company to see more!
ARTICLE CATEGORIES