Discover Castle Elvira
By Xenia Taliotis | Photography courtesy of Castle Elvira
"I looked with timorous joy towards a stately house: I saw a blackened ruin . . . The lawn, the grounds were trodden and waste: the portal yawned void. The front was . . . perforated with paneless windows: no roof, no battlements, no chimneys—all had crashed in.
"And there was the silence of death about it: the solitude of a lonesome wild . . . What story belonged to this disaster? What loss, besides mortar and marble and woodwork, had followed upon it? The calamity was not of late occurrence. Winter snows had drifted through that void arch, winter rains beaten in at those hollow casements; for, amidst the drenched piles of rubbish, spring had cherished vegetation."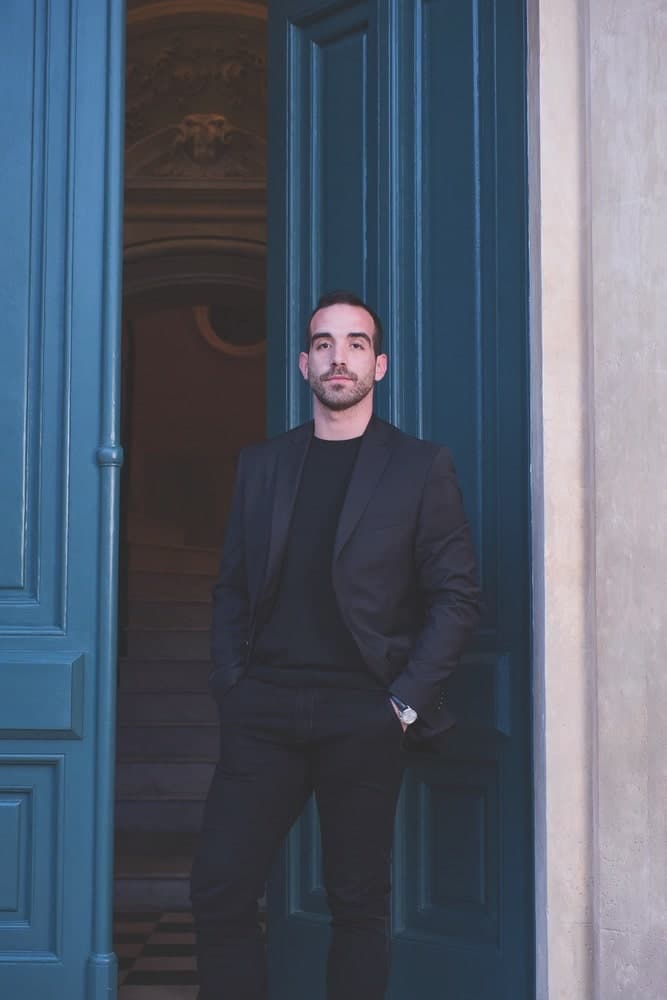 These paragraphs from Charlotte Brontë's nineteenth-century novel Jane Eyre capture the moment Jane returns to find Thornfield, the house where she had discovered what it was to love and be loved, in ruins. They are a fitting description of the sight that met Steve Riseley and Harvey B-Brown when they first saw Castle Elvira in Puglia, Italy, in 2018. Now an exquisite boutique hotel, the castle had been abandoned for more than a century and was as dilapidated and shrouded in the same "lonesome wild" as Thornfield upon Jane's homecoming.
"We had to hack our way through thirty-seven acres of brambles, weeds, and wilderness to reach it," says Riseley, "and when we got to it, we could barely see its beautiful pink-and-gold facade for graffiti. Inside, we had to tread carefully, testing the floors step by step in case we fell through them. It was a ruin, but sometimes it's not what your eyes see that counts, but what your mind envisions. We saw what it could be."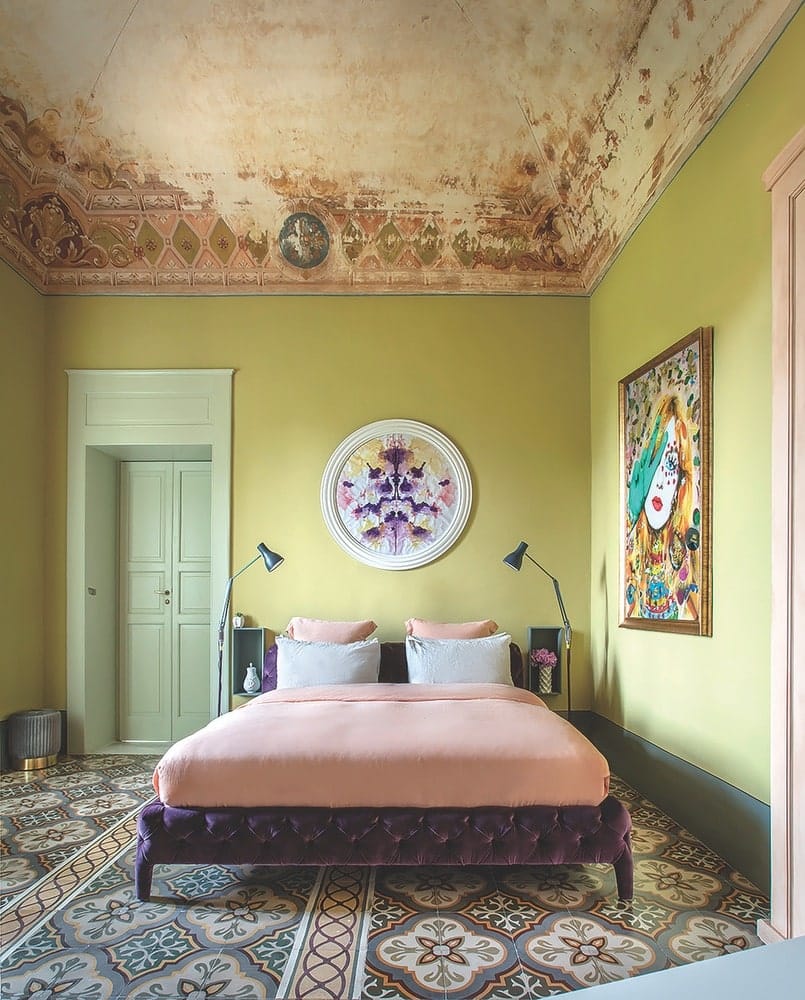 Riseley and B-Brown found Castle Elvira almost by chance. They had sold their home, a few miles away, as a turnkey—with all contents included—and, unencumbered by possessions, wanted a renovation project.
Knowing the couple liked a challenge, their realtor looked online for the worst property he could find and showed them Elvira as a joke. Riseley says he knew it was right for them on the strength of that image and remained undeterred even after a site visit revealed it to be in a worse state than the photo had suggested.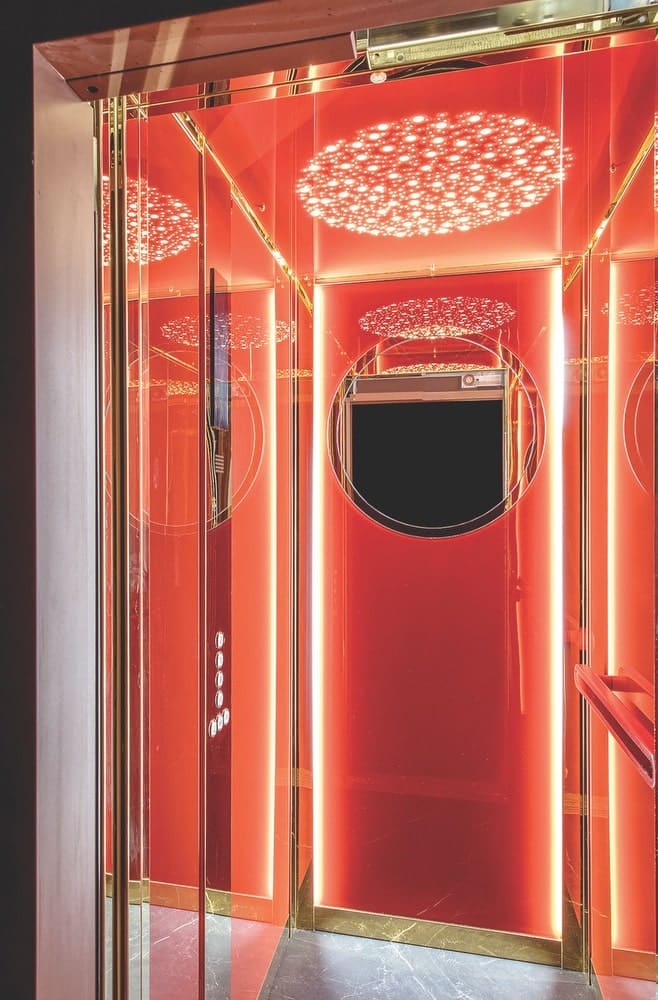 "It was a huge undertaking," says B-Brown, "but we were enchanted by it. We felt it had been waiting for us. There was something so romantic about it, like a scene from a fairy tale—this sleeping beauty waiting to be discovered and brought back to life by love. We thought we could be the ones to make that happy ending happen. Plus, my mum reminded me that I had always dreamed of living in a castle, so this was my chance to make my dream come true."
Sometimes it's not what your eyes see that counts, but what your mind envisions.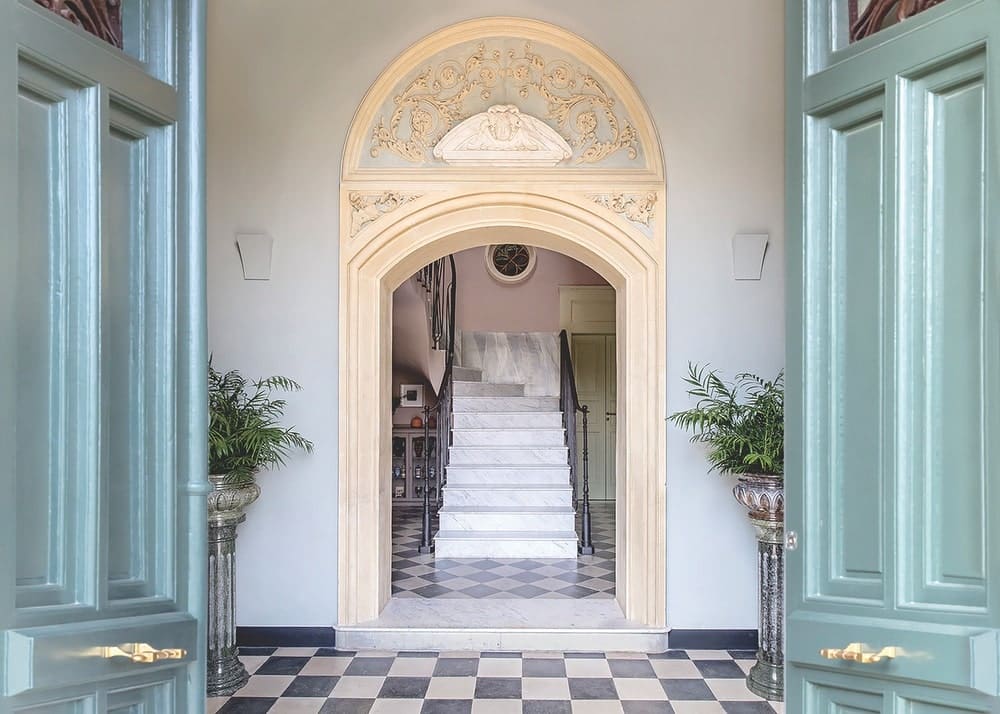 Riseley and B-Brown say their commitment to restoring Elvira is a love story, which is fitting given the castle's past. Its heartbreaking narrative (believed true until proven otherwise) suggests it was built sometime in the 1800s by a couple who gifted it to their daughter, Elvira, on her seventeenth birthday. Eager to show her gratitude, the young girl prepared a magnificent supper for her parents. Unfortunately, she died that night from a poison mushroom she had picked in the woods. Her grief-stricken parents sealed up the castle and left Puglia forever. Over time, the gorgeous interiors—frescoed ceilings, ornate tile floors, cast-iron filigree window grates—were looted, vandalized, or ravaged by the elements. The stairs rotted away. Winds howled through paneless windows, and birds nested in the pretty-in-pink turrets. Stone by stone, brick by brick, the castle succumbed to its destitution.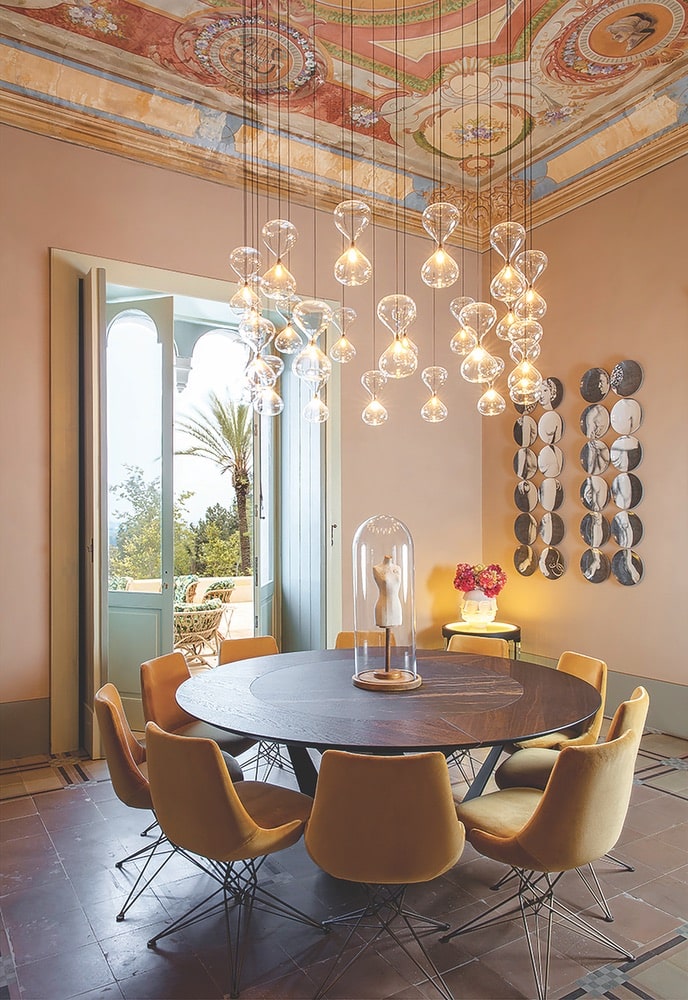 In 2018, when B-Brown and Riseley finally came to its rescue, it was little more than a shell, yet they were determined to re-create a historic property rather than create a pastiche. "Our goal from the start was to retain the essential character of Elvira," says B-Brown. "The inspiration for our renovation came from what remained. We salvaged as much as we could, even using old floor tiles to make a table for the restaurant. We wanted the castle's past to remain visible, to inform its future."
The couple wanted people to see that history. Look up at the ceilings, which were gently cleaned, brushed, and sealed, and you'll see the murals as they were found—faded with patches of flaking paint. Look down at the floor, and you will see that the geometric tiles have been re-made to reflect what was there before.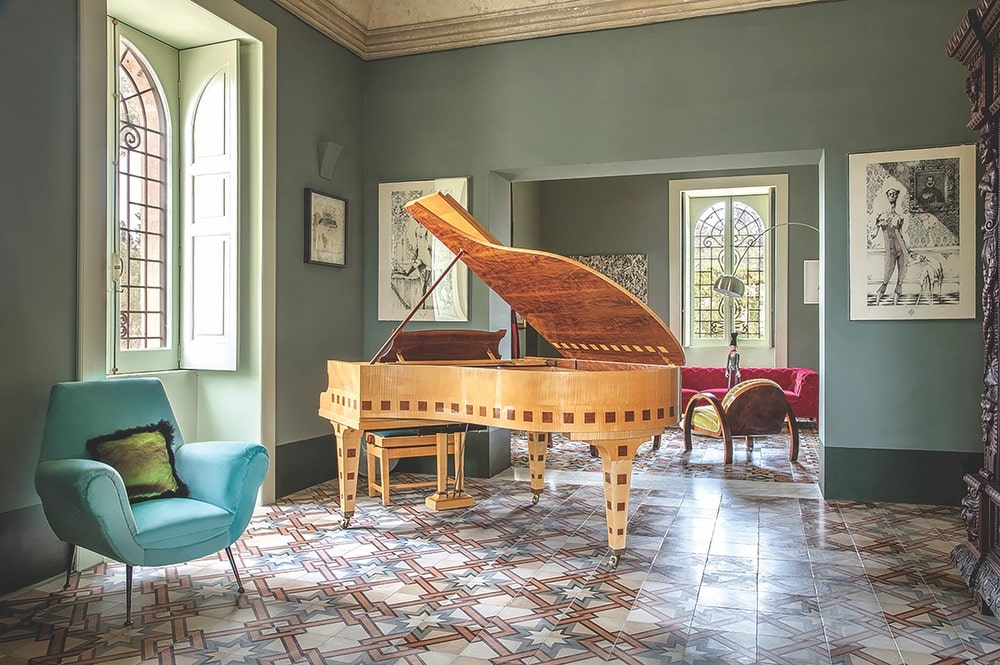 Craftsmen were tried, tested, and, if necessary, changed until Riseley found people who could work iron, build traditional stone walls, and make banisters and stairs from bare wood. Importantly, he also looked for artisans who shared his vision for an "unfinished" look. "There is a tendency to overdo properties until there is no trace of what they had once been, and that's not what we wanted. We made the building's tradition and heritage our focal points and worked from there, picking up on the colors and motifs we discovered."
The result is an ode to joy, hospitality, and indulgence. The castle's original eight bedrooms have been reconfigured to form four luxurious suites, with a private salon per each pair to give guests more privacy. Each suite has a different personality, but each adheres to Riseley's strict aesthetic that nothing must disturb the visual serenity of the space. Consequently, smart televisions were integrated into retro-style mirrors, and a sophisticated, eco-friendly under-floor heating and cooling system eradicated unattractive air-conditioning units.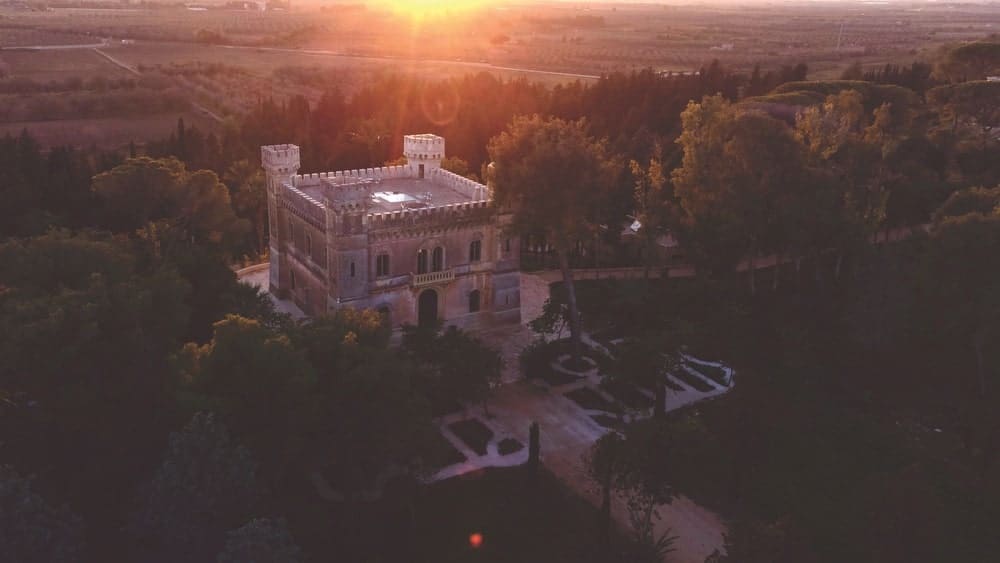 We made the building's tradition and heritage our focal points and worked from there, picking up on the colors and motifs we discovered.
The couple describes Castle Elvira as a luxury residence rather than a hotel, and their individual and joint tastes are stamped throughout, just as they would be in a home. Those with an eye for design will spot sofas by Arketipo, beds by prestige furniture maker Timothy Oulton, Cattelan Italia chandeliers, IB Rubinetterie brass taps, pure linen bedding, alpaca wool blankets, and pieces by Fornasetti on every shelf and table.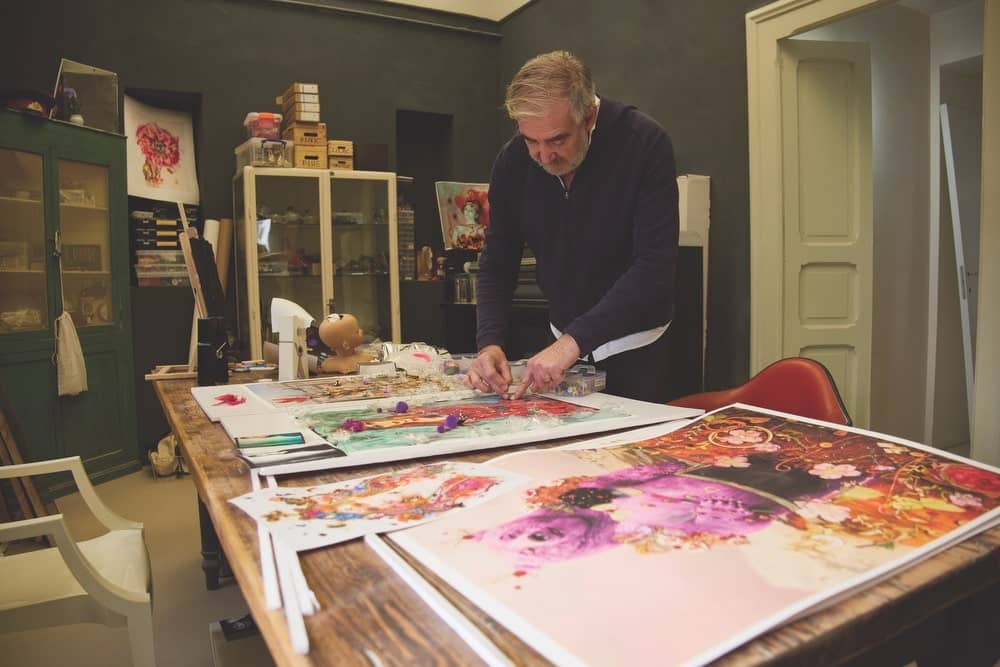 The lounge, the heart of the castle, is a showstopper filled with more art—including portraits by Adored & Adorned, the collaborative name B-Brown and artistic partner David Scheinmann work under—and a rare inlaid Bechstein grand piano, which guests are welcome to play. Downstairs, the former aquifer is now a cinema, and the terrace on the roof is a heavenly pop-up bar for sundowners.
On the grounds, now planted with fruit and nut trees, herbs, and flowers, is a lovely restaurant for all-day dining. The menu is regional cucina povera, which translates as "poor cuisine" or, in other words, rustic and homemade. Staples include local specialties such as orecchiette served with slow-cooked sausage ragu, tender meatballs, and pizzas made in the wood-fired oven. Dine-anywhere options are also available. Guests can contact the concierge on WhatsApp to have meals and drinks delivered to the pool, their rooms, or the gardens.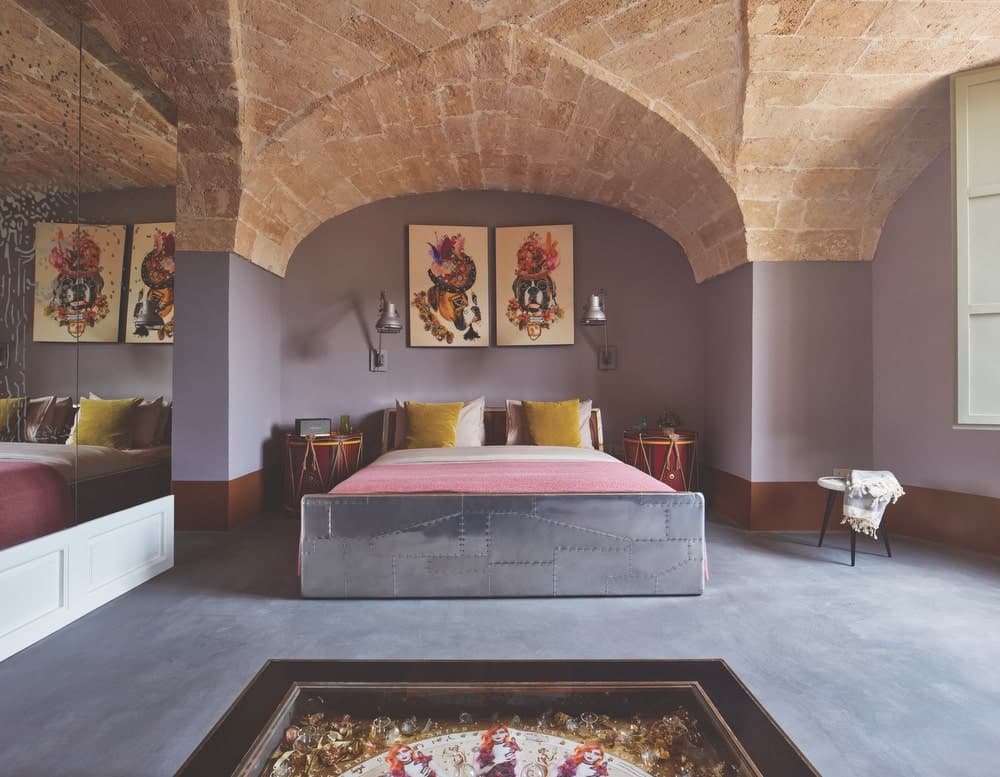 Visitors can book suites separately or, B-Brown says, in their entirety for weddings, bar mitzvahs, and other celebrations. "Though the castle was the first to open, we also have a two-room cottage, a masseria (farmhouse) with two additional suites, and a one-suite tower with a circular bed and a huge sandstone bath on its roof terrace. Guests can come alone or with all their friends. After nearly two hundred years, Castle Elvira is finally celebrating life. Come join her party."
— V —
---
Xenia Taliotis was a guest of Castle Elvira. Learn more or book your stay at CastleElvira.com. Rates for a double room with breakfast start from €299 ($305) per night. Exclusive hire of the whole estate (the castle, cottage, tower, and masseria) for up to 22 guests start from €3,641 ($3,715) per night or €22,938 ($23,403) per week and include breakfast.
ARTICLE CATEGORIES