One Closing at a Time
"As you know, Destin and South Walton really are small, close-knit communities where, as in most businesses, relationships are very important. We have been fortunate to establish great relationships within our community through work, church, and family as well as community and school activities," says Kirby Williams, cofounder of Shoreline Title in Grayton Beach, Florida. "We are even more fortunate that many of those relationships are more than working or professional ones: they are genuine friendships. It is our goal that our clients and customers feel the same way! We celebrate the fact they entrust us with resort vacation, primary, or secondary home purchases or commercial real estate transactions."
Community is the backbone of Shoreline Title, which was founded in 2017 by Kirby, Christy Mooney, and Farrar Barker. Each brings a wealth of knowledge and experience to the business, which specializes in title services, real estate law, and corporate law—the latter two through its sister company, Barker Williams, PLLC. Christy has been in the title business in Florida's Okaloosa, Bay, and Walton Counties since 2000, Farrar has practiced corporate and business law in the Florida Panhandle since 2012 after practicing in Atlanta for four years, and Kirby has been a real estate attorney in Walton County since 2001 after practicing in Montgomery, Alabama, for four years. The founders of Shoreline Title all previously worked together, along with Laken Kirkland and Debby Davis, at what was then known as Clark Partington Hart Larry Bond and Stackhouse, a well-respected regional law firm.
"The two companies—Shoreline and Barker Williams—complement each other well, as this wonderful piece of paradise that we live and work in thrives on small businesses and real estate," says Farrar. "Christy manages the real estate closings and is supported by Debby and Laken. Debby also welcomes clients and customers as our receptionist, while Laken also supports Kirby and me as a certified paralegal. Mary Blake Williams is our bookkeeper and office administrator, keeping track of expenses, planning events, and doing all the behind-the-scenes things. Having the two companies in the same office can be challenging at times, but since many real estate clients and investors have related business needs, the accessibility makes for a seamless process for each client. We've all worked together for some time and have had little turnover, so our clients know what and who they are getting when they reach out to us."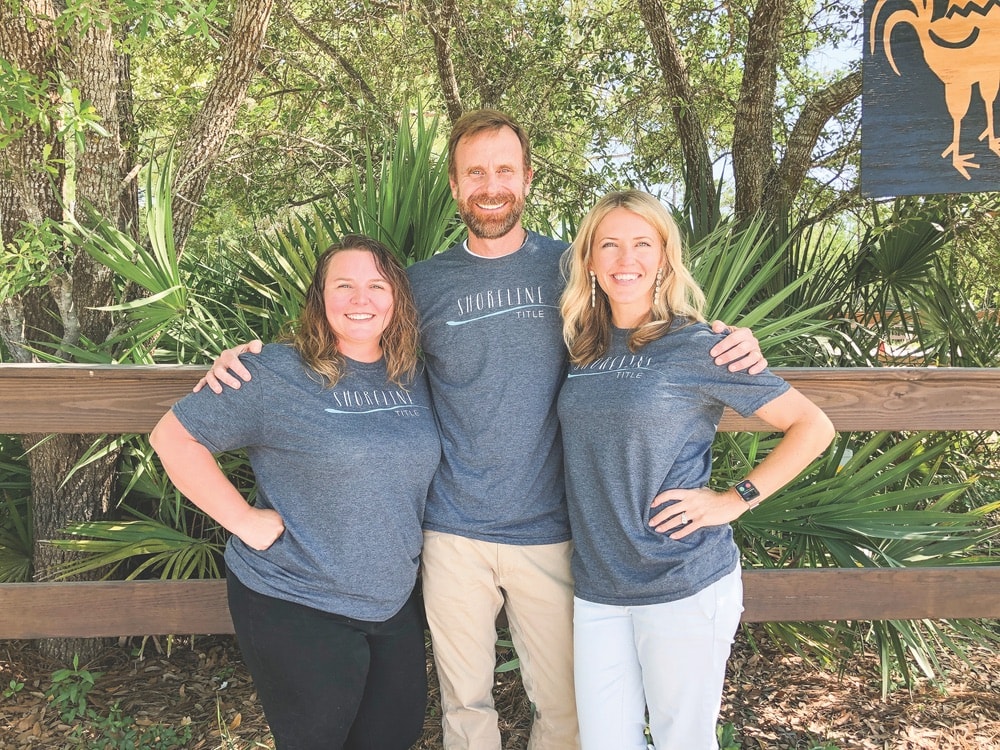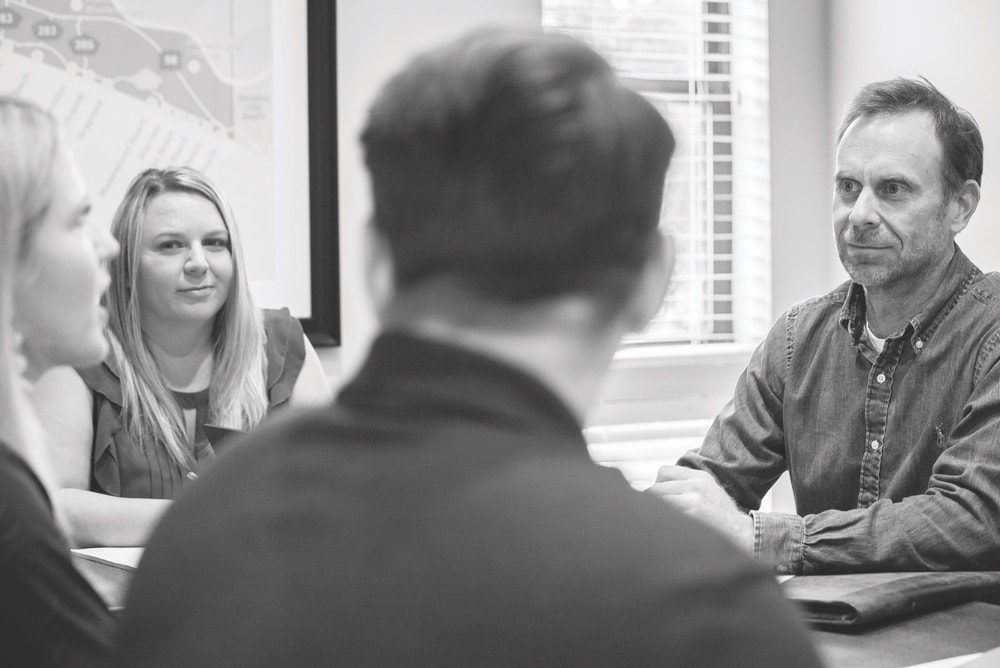 Spend even a few minutes in the lobby at Shoreline Title, and you'll notice right away that these coworkers really like each other. Theirs is a culture of mutual respect and kindness, which is extended to every client who walks through the door. Perhaps this is partially because of their shared history and the many returning clients who have become like family over the years. Even the office pets have a special bond.
"We have been blessed with good clients and customers who trust us again and again with their high-quality work, particularly when there are several good title companies in the area for them to choose," says Christy. "The fact we have a real estate closer with twenty years of title experience and two attorneys with over thirty-five years of combined legal experience involved in the day-to-day operation of Shoreline Title sets us apart from many other title companies. While we believe our clients and customers appreciate the friendly, low-pressure atmosphere at our office, we also believe our professionalism, responsiveness, knowledge of the process, quality work product, and focus on exceeding expectations also set us apart. We appreciate a reputation for integrity, honesty, and serving our community well and don't want to take these attributes for granted."
"We have been blessed with good clients and customers who trust us again and again with their high-quality work, particularly when there are several good title companies in the area for them to choose."
When the partners formed Shoreline Title in 2017, the commitment to their neighbors was extended well beyond just the work; they also made a promise to give back a percentage of profits and a portion of their time each year to help people in need. This has led to Shoreline Title working hard to support various ministries and organizations that provide food, medical care, and more. In just the past few years, they have worked with Sandcastle Kids and Lighthouse Family Retreat of Walton County. With the help of local partners, both of these organizations serve families coping with pediatric cancer by hosting them at our beautiful beaches and meeting their every need while down here. In addition, they've provided financial assistance to other local service organizations, such as Caring & Sharing of South Walton, Special Olympics of South Walton, Westonwood Ranch of Freeport, and Food For Thought of Okaloosa and Walton Counties.
"It has been an incredible blessing to all of us to be able to partner with organizations in our community and beyond to work toward accomplishing their missions," Kirby says, "whether that's feeding families in Nicaragua or Haiti, serving families whose children are battling cancer, providing relief for hurricane and fire victims, or supporting our local youth sports and theater programs. While we love helping people through the closing process, our passion comes from being able to help those outside the four walls of our office."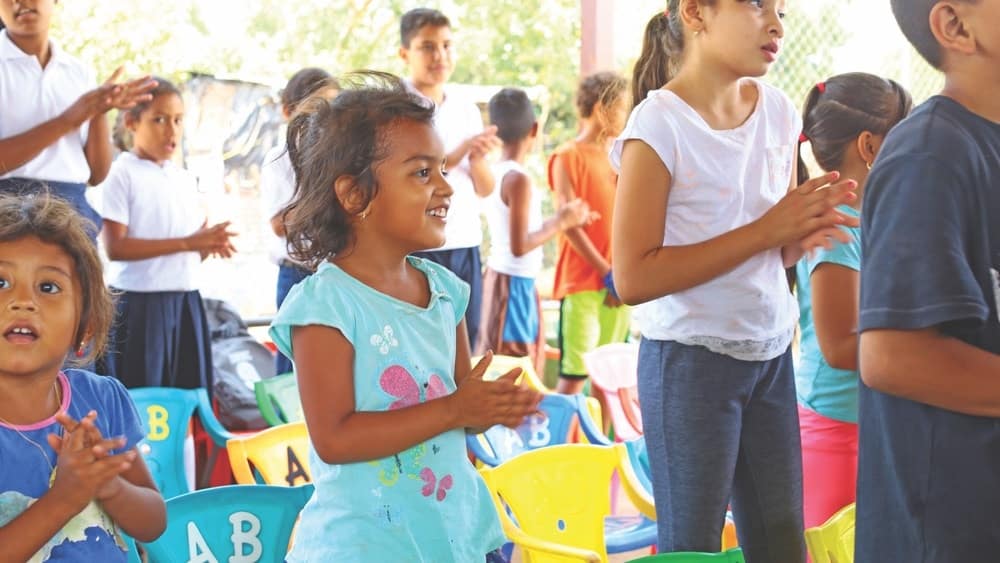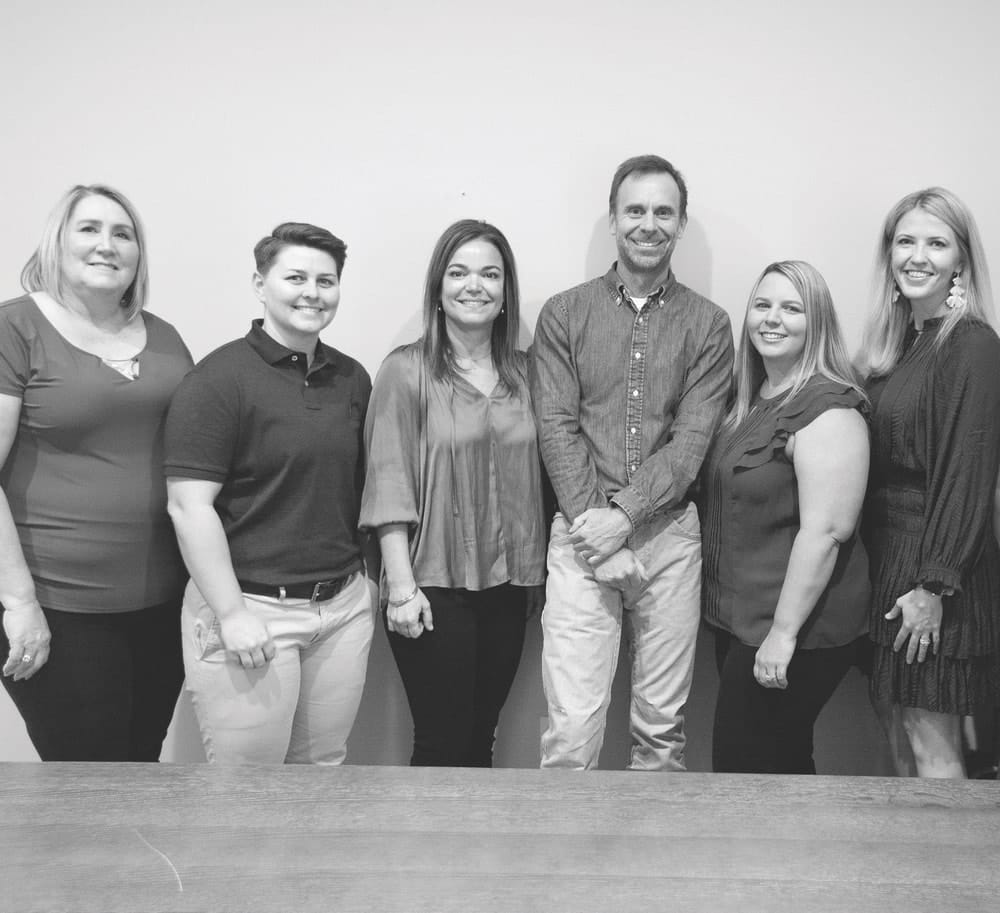 Shoreline's support stretches beyond their home area to regional nonprofits, including St. Jude Children's Research Hospital and Embrace Florida Kids (United Methodist Children's Home), as well as global programs in Nicaragua, Haiti, Puerto Rico, and Africa.
"Shoreline loves its relationship with Twelve Churches, which serves the people of León, Nicaragua," Kirby adds. "In the fall of 2019, we partnered with Clay 30A, Beau Interiors, and Pizza by the Sea on the Nourish Nicaragua campaign to meet the needs of Twelve Churches in Nicaragua. As you may imagine, the COVID-19 pandemic is hitting Nicaragua pretty hard—food prices have escalated and their tourism industry is nonexistent. There are tremendous needs, and Twelve Churches is one of only a few ministries that still have boots on the ground serving the people during this time. If you feel led to give to the people of Nicaragua, please contact us and we'd be honored to put you in touch with Twelve Churches."
— V —
---
Visit ShorelineTitleLLC.com to learn more.
ARTICLE CATEGORIES