Bob White's Favorite Books
By Michelle Hayes Uhlfelder
Have you ever popped by Sundog Books in the heart of Seaside, Florida? Chances are you unknowingly interacted with the beloved Bob White, co-owner of the bookshop with his wife, Linda.
Since the humble beginnings of this iconic independent bookstore in 1986, most days you could find Bob at the front table rearranging each book stack to precise ruler measurements—likely an excuse to greet customers with a hearty "Let me know if I can help ya!" paired with his trademark Mississippi accent that dripped with charm.
Without a doubt, one of his greatest joys was recommending reads to customers and engaging with those who sought the prize of a good story. And boy, were they in the right spot, because Bob White had a nose for sniffing out the best authors.
Down-to-earth and easy to talk to like any good Southern boy, Bob was utterly delightful with that dry sense of humor he possessed. Customers, staffers, friends, and family alike recount the times when a twinkle came to Bob's eye and he uttered a riotous line that left them rolling on the sandy wooden floors. And Bob loved it when that happened—he absolutely lived for that reaction.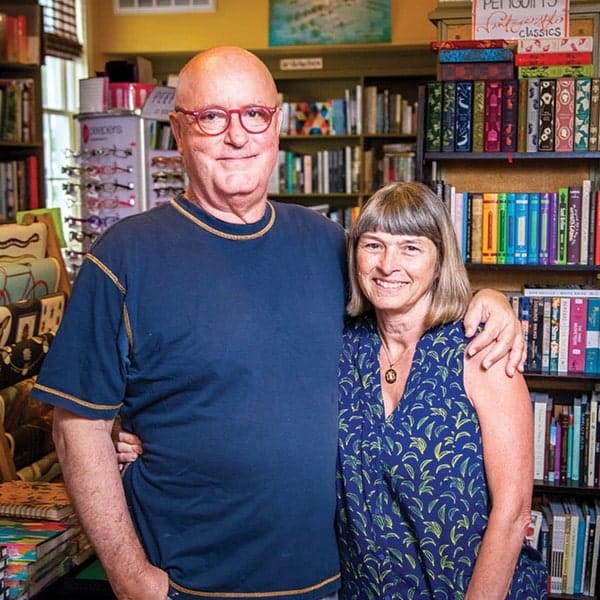 Bob passed away in January of 2023, and the South Walton, Florida, community came together to celebrate his life and legacy. This outpouring of love and support exemplified the kindness he showed to everyone throughout his time in Seaside and the genuine feeling of family among the town's merchants and residents. Thank you, Bob, for shining your light on Seaside.
It's safe to say Bob saw himself as much more than just a bookshop owner or a bookseller but as a steward of these incredible stories and a door to the world of literature.
Their many staffers, who count him and Linda as mentors, dear friends, and the family they chose, regularly walked into the bookshop to find Bob's personal books waiting for them, with their names attached and a quick scribble of "I think you will really like this!" This was the mark of a read that will knock your socks off. It meant you had less than seven days until he started dissecting plot points with you, so you'd better read fast.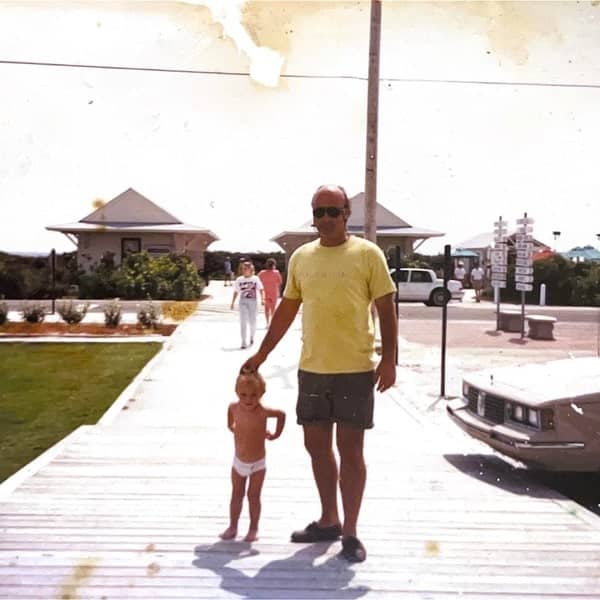 Linda and Bob were always the first to throw up their hands to anyone in need, on staff, or within the community. The charity work, countless donations, and silent outreach conducted over nearly four decades from this bookshop are a credit to the couple's generous spirit. The impact of their combined legacy within the town's extended footprint will never be fully known because so much of what they have done for others has been a whisper. From helping a single mother needing support, donating thousands of books to prisoners in need of literature, and every other circumstance you can think of, they are the kind-hearted, silent heroes who rarely make the news.
Next time you're at Sundog Books, be sure to look at Bob's Staff Recommendation Shelf. Pull a book or two from it—don't worry, the staff replenishes his picks. Bob would want you to read his selections. Then, if he were still with us, he would put his arm around your shoulders and, in his honey-thick Southern accent, tell you exactly why this particular book is the read just for you, just for this moment—all with a twinkle in his eye.
Bob's voice in our community was a voice of intelligence, brilliant humor, and rebelliousness.
Bob, we'll continue to honor you always at Sundog Books. We'll keep your memory alive within these walls and pass on your book recommendations just as you would want us to. We love you dearly.
Bob's Best Book Recommendations
Selected by longtime Sundog Books staffers Bryan Beasley of twenty years and Jay Ramsey of ten years:
Razzmatazz by Christopher Moore

Lark Ascending by Silas House

Crossroads by Jonathan Franzen

Nightcrawling by Leila Mottley

The Actual Star by Monica Byrne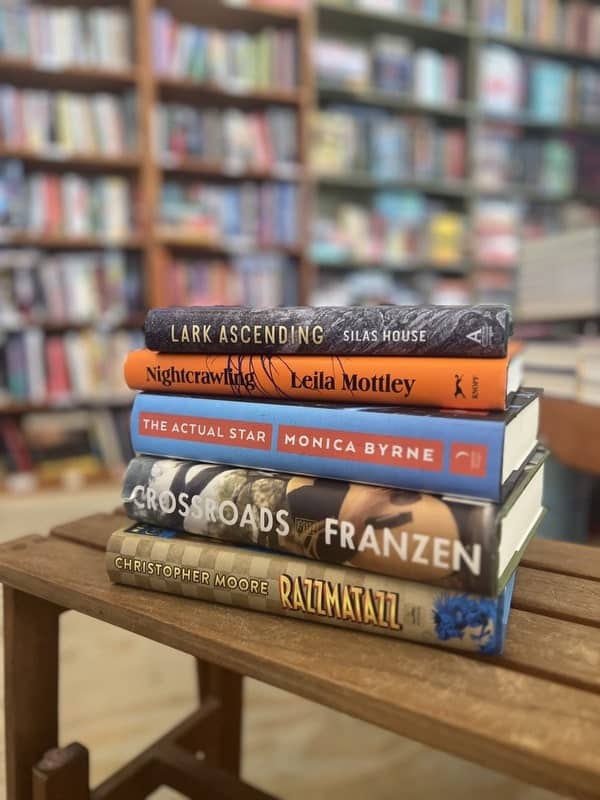 Remembering Bob White: Words of Wisdom
"I only read fiction, because I can't handle the truth." —Bob White, in response to someone asking for a non-fiction recommendation
"If you're having trouble getting into literature, just focus on reading one page a night. Start small." —Bob White
"Bob, though you have shuffled off this mortal coil, your spirit lives on in the magical temple to books you helped create. Thank you for everything. You brought the world to us, dear friend." —Micah Davis, president of Seaside Community Development Corp.
"Neighborliness makes places like Sundog Books work; we, Bob's neighbors, celebrate his vision and his achievement. Sundog will always have a place in this neighborhood that he helped pioneer, and Bob, himself, will always have a place in our hearts." —Robert Davis, co-founder of Seaside
"Time spent with Bob was just easy. It was a moment to let your hair down. He was someone you could be your authentic self with, no judgment, because Bob was his true self through and through, always. I treasure every morning spent side by side helping customers together. He made working for the bookshop an absolute joy. He was the best of the best." —Michelle Hayes Uhlfelder, longtime friend and Sundog Books staffer for five years
"As a bookshop employee, Bob always stood up for us if there ever was an impolite customer. He was a wonderful man to work for." —Kathy Clemmons, staffer of Sundog Books for seven years
"I had the honor of interacting with Bob almost every day for the last thirty-five years. I always enjoyed his sense of humor, his perspective on life, and the time spent building our businesses side by side together over the years. I will miss him dearly." —Charlie Modica, owner of Modica Market
"Robert and Daryl Davis allowed my father and mother (the Modicas) and Linda and Bob White to create their dreams in Seaside. A market. A bookstore. A community. Bob was a part of my daily life as store neighbors. He was always full of laughter and vibrant. I affectionately called him 'Uncle Bob,' and of course, I never read enough for his liking." —Carmel Modica of Modica Market
"Bob's voice in our community was a voice of intelligence, brilliant humor, and rebelliousness. Always there for a fascinating conversation; politics first and foremost, and pretty much anything under the sun. Bob will certainly be greatly missed, but we can take comfort in the certainty that every time we step into Sundog Books, his spirit will be in the folds of every page. I know I won't be able to walk through those doors without thinking of him." —Dave Rauschkolb, owner of Bud & Alley's Waterfront Restaurant
— V —
---
This story was originally published by Seaside, Florida. Read along at SeasideFL.com for the latest news from this charming New Urbanist town, and visit SundogBooks.com to learn more about Seaside's independent bookstore.
ARTICLE CATEGORIES